This article may contain affiliate links; if you click on a shopping link and make a purchase I may receive a commission. As an Amazon Associate, I earn from qualifying purchases. 
When I used to regularly perform closet makeovers, the most common issue I saw was women stockpiling clothing. They'd find a sweater they liked, and would purchase two in black, three in other colors, and often have a few still with tags on stored carefully for the time when the ones in rotation needed to be retired. They'd have ten pairs of jeans, all the same cut from the same designer. The entire closet would be the same exact silhouette of jacket, just in different prints and fabrics. Most of the time, such closets were often full of garments with tags still on and dust on the shoulders.
While buying in multiples can be quite sensible, a lot of times such stockpiling and over-buying is a waste of money and a killer of personal style. Women often do this because they find themselves hard to fit and shopping a stressful and unpleasant experience. By purchasing multiples, they feel they can shop less often and have a wardrobe full of pieces that fit and flatter. They fear that if they return to the mall they won't have such success, so they stock it up.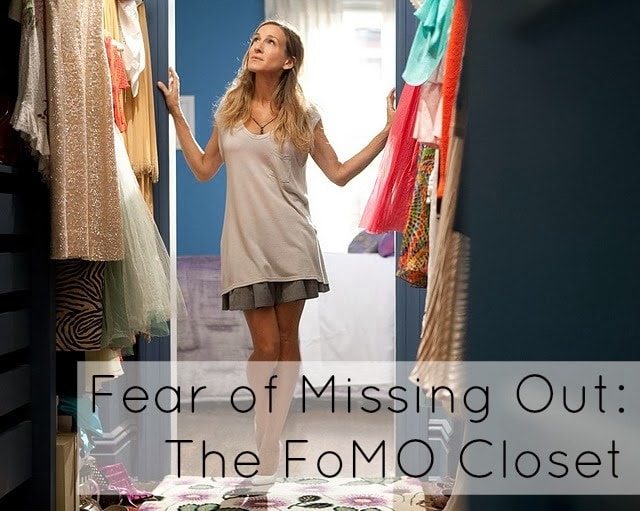 FoMO, or Fear of Missing Out is a hot phrase these days, and usually used for people who seem to have a Smartphone surgically attached to their hand. But it can also be used for many clothing shoppers. Fear that your favorite company will discontinue that cut of jeans, that your signature lipstick color will be retired, that you will no longer be able to find that certain style of sweater that you love so much. Such fear, that you hoard pieces, even if they aren't in your favorite color or quite the right fit, just because anything similar may end up no longer in existence.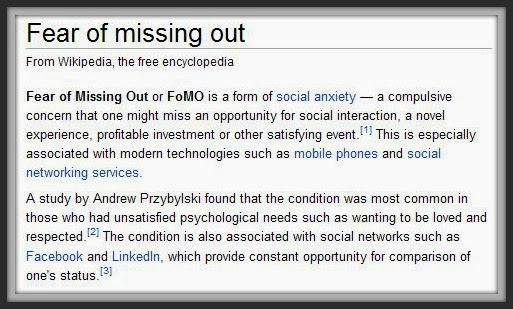 Wikipedia's Definition of FoMO
The thing is… fashion is fluid. What seems to be a "classic" in 1993 isn't in 2003 or 2013. Not only that, your body is also fluid. No matter how many hours you put in at the gym, age and life experiences will change your figure. Finally… YOU are always changing. With life events, education, experience and exposure to new things your brain and personality and soul will change. When you force yourself into a very specific wardrobe and stockpile pieces, you're actually making fashion more complicated and frustrating.
When I started this blog, almost my whole wardrobe was from Ann Taylor, J. Crew, and Banana Republic. I bought v-neck merino sweaters and wide-leg lined trousers with tab waistbands by the truckload because I felt they were classic, versatile, and flattering. Eight years later, I don't own either type of garment because they just aren't right. While such pieces can still fit and flatter, they seem too old, too dowdy for my current self. If I had stayed the same size, I likely would have stuck with those pieces instead of spending money on more and therefore missed out on truly honing my personal style.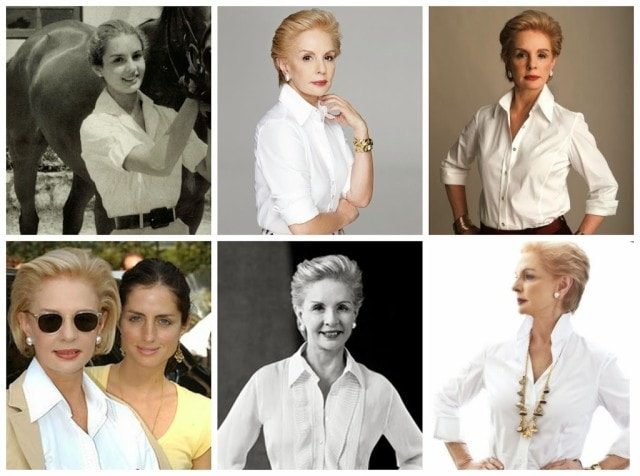 Carolina Herrera is known for her crisp white shirts, but the details change to stay current and flattering.
Now I know many of you will bring up style icons who have uniforms – Carolina Herrera and her white shirts, Michael Kors and his black blazers with jeans and a crew tee shirt. The thing is that even these individuals with signature uniforms change it up with the years. The cut is slightly different, the wash on the denim may change or even the length to adjust the break. Classic pieces change ever so slightly from season to season – a turtleneck may be a bit taller or looser, a cuff may be more pronounced, a pencil skirt a tad more tapered, a heel width more narrow or the shape more curved.
Shopping is scary, no matter your age or figure. But insulating yourself with a bulging wardrobe of dated "classics" and not-quite-right-but-better-than-nothings isn't any better of an existence. It's more stylish to wear the same great outfit every day for a year than have months worth of ensembles that aren't quite right and don't give the right message.
I'm not saying purge your entire wardrobe, but realize you may have a FoMO closet. Take a serious look at your wardrobe – do you really need all of it? Does all of it fit and flatter the current you? What small steps and simple garments can take your current closet and make it feel fresh and stylish? Try on what you own, and stand in front of a full-length mirror with good lighting and be honest with yourself and your shopping habits. You may realize that some things are discontinued because they honestly aren't that flattering or appropriate any more.
You can't know who you are or what you want if you're hidden under a FoMO wardrobe. Be it a closet full of tweed blazers and knee-length skirts or sequined cocktail dresses and leather leggings, shopping in such a manner will not help your style, your sanity, or your soul. It's scary to let go, but you can't fly if you never leave the nest.
Follow Me | Twitter | Facebook | Instagram