This article may contain affiliate links; if you click on a shopping link and make a purchase I may receive a commission. As an Amazon Associate, I earn from qualifying purchases.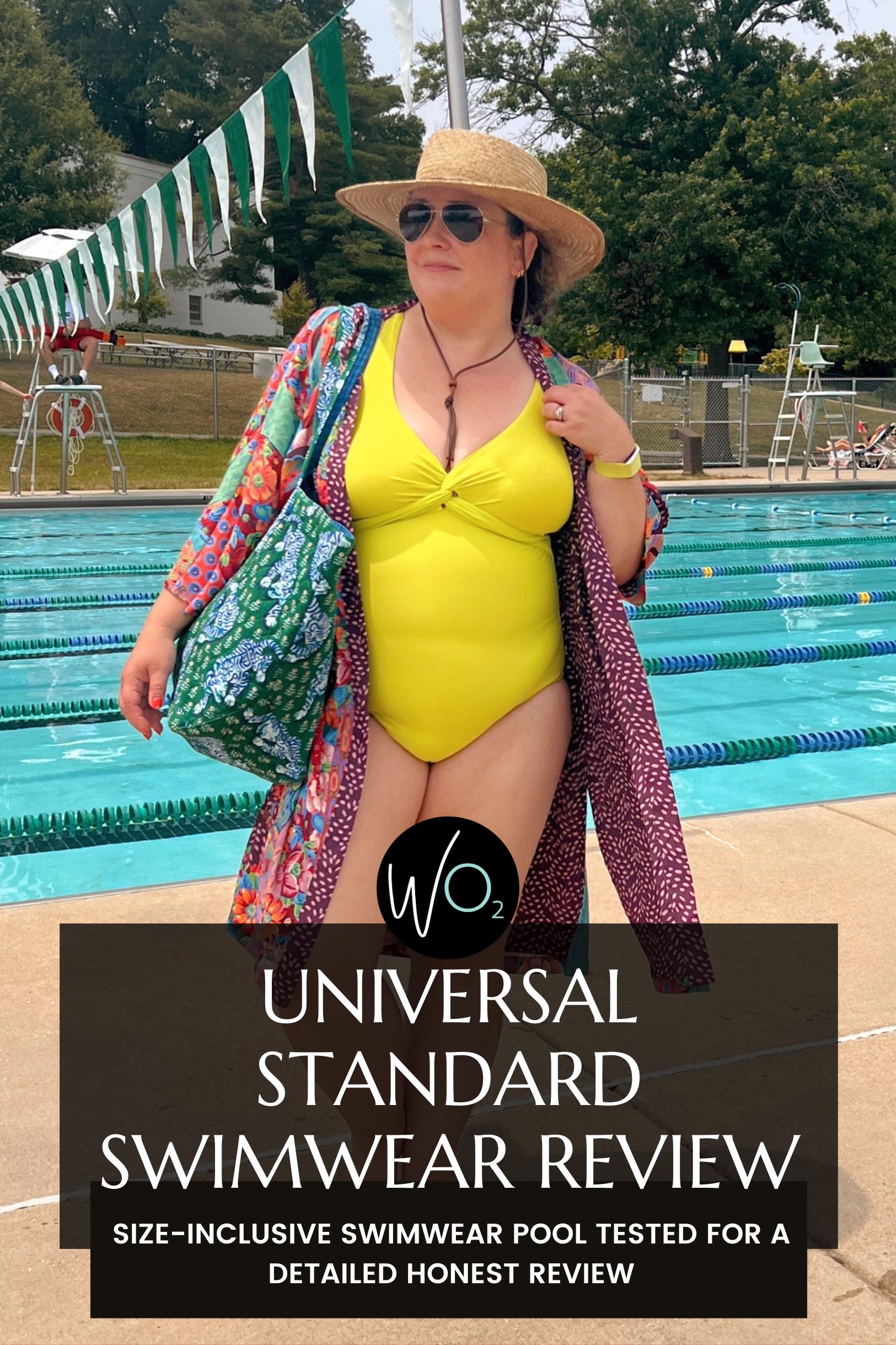 Several weeks ago, Universal Standard reached out asking if I would like to try their upcoming swimwear collection. The collection was so new, they didn't even have photos of the products, just drawings. As a Universal Standard ambassador since 2017 and a regular customer of the brand, I was excited to hear they were launching swimsuits and said yes. I chose the one-piece in what looked like a highlighter yellow color (one of my favorites). The suit arrived, I've worn it to the pool, swam some laps and did some somersaults to provide a detailed Universal Standard swimwear review.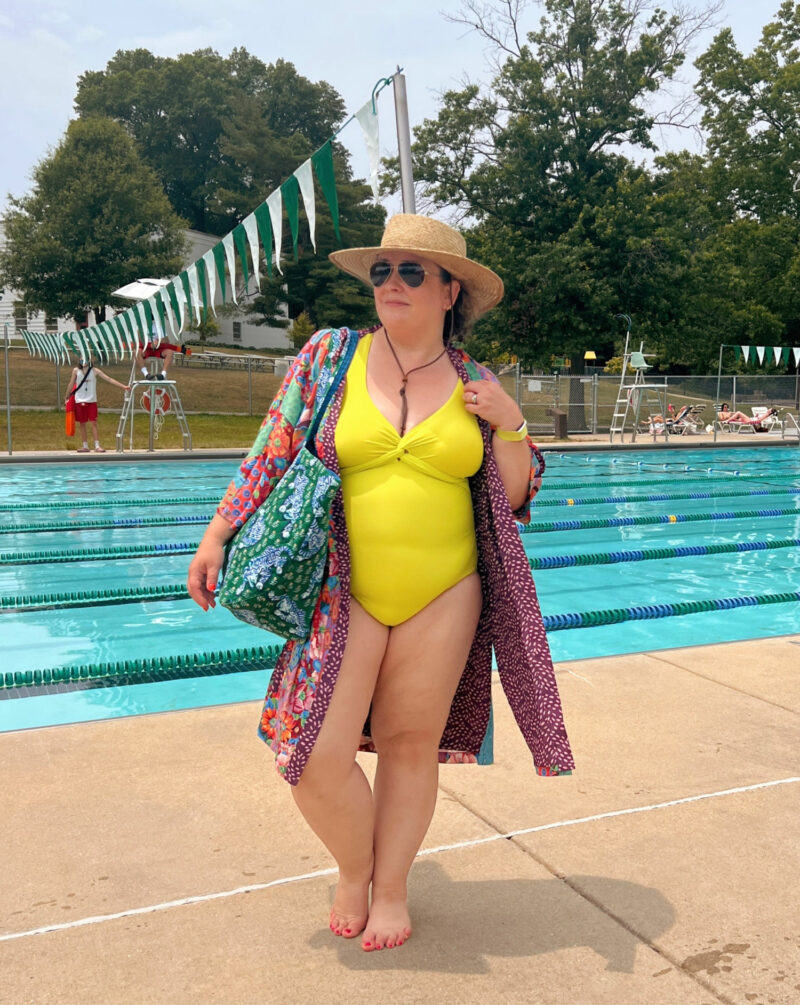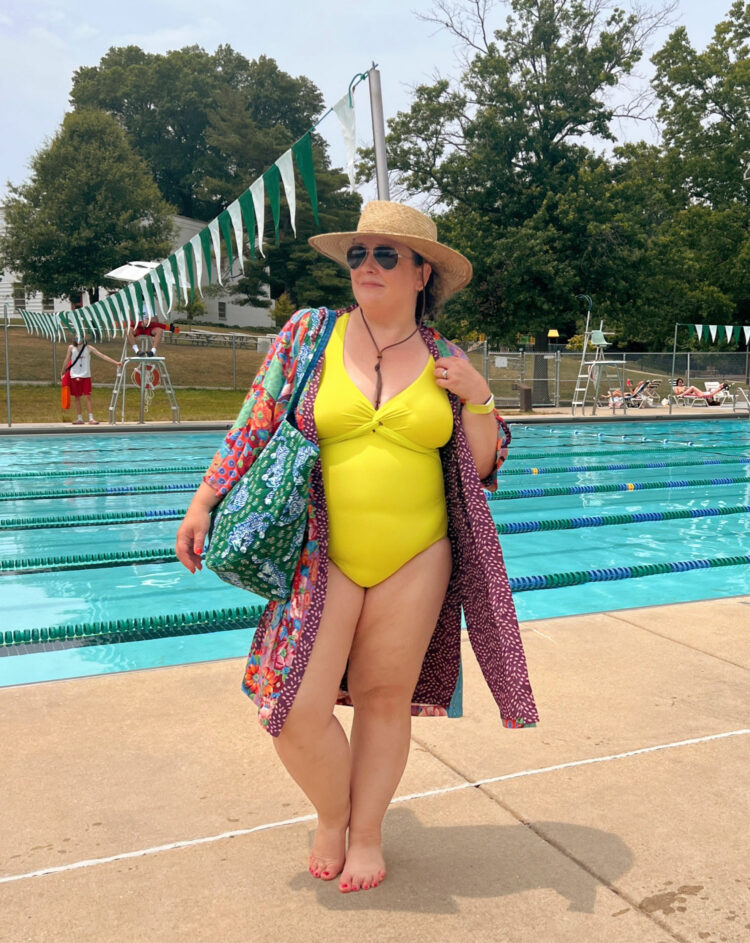 Universal Standard Swimwear Review
As mentioned, I have been wearing Universal Standard since 2017. While I do get the occasionally opportunity to receive free product in exchange for social media promotion, I am not paid by the brand to do any sort of content here on Wardrobe Oxygen. While Universal Standard has a great range of diverse models, most of them are far taller than I (5'3″). Knowing that I am the average height of a woman in the United States, I figure me modeling Universal Standard clothes may be helpful to others so I want to have these reviews as shopping resources.
Universal Standard's Swimwear Collection
The entire Universal Standard swimwear collection is now available. This is a limited edition collection which means there is a limited number of pieces available. However, if the Universal Standard Swimwear collection does well, it may be restocked and/or updated with improvements and additional styles. Thinking of Universal Standard's linen collection, it has returned for three summers, each time having some of the original pieces but also switching it up with new silhouettes and colors just for that year. I can see Universal Standard's swimsuit collection to be similar.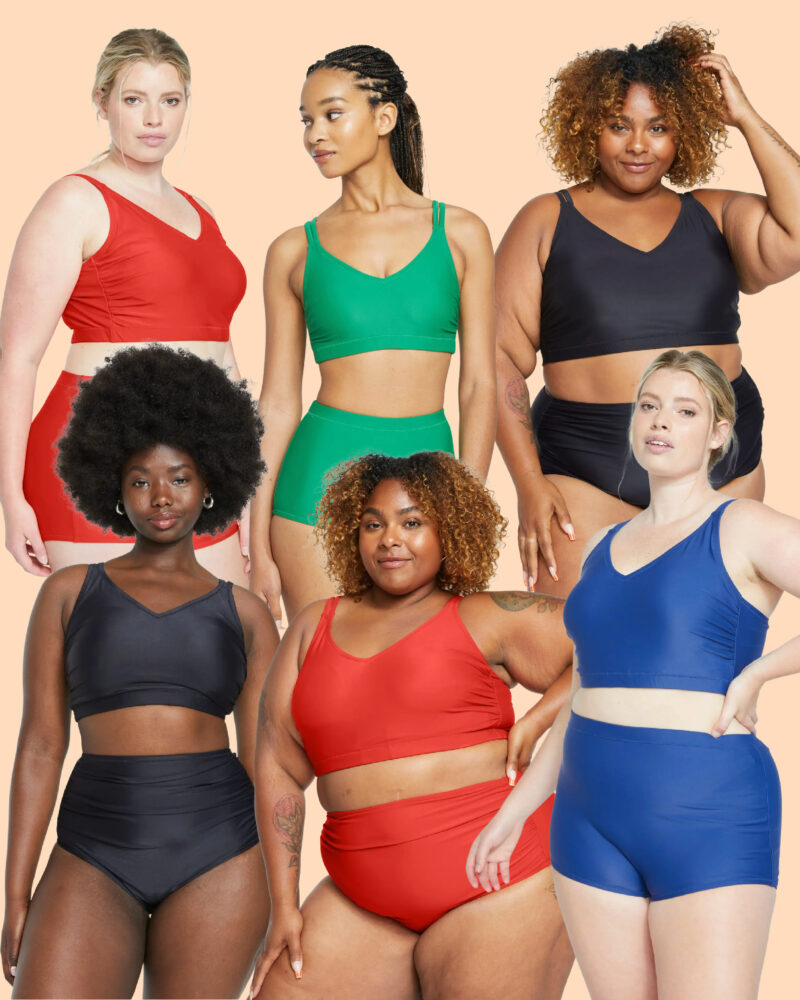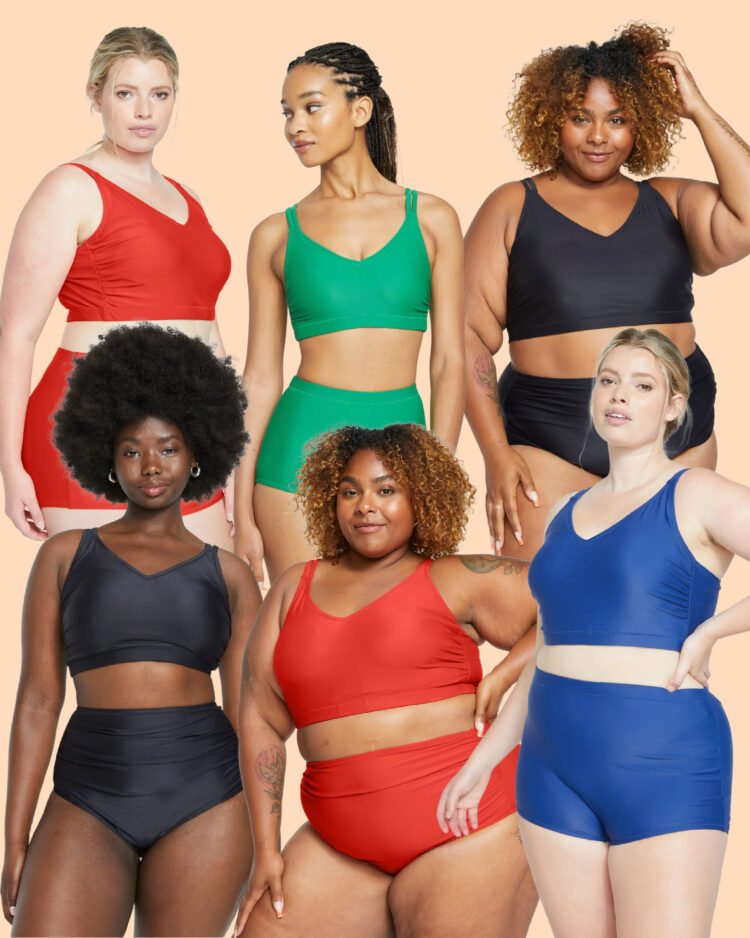 The Universal Standard swimwear collection is available in the brand's full size range of 4XS (00/0) to 4XL (38/40). There is The Swimsuit (which I received), a swim dress, a swim shortie, two different styles of separate bottoms, and three styles of separate tops (one which is a tank).
Most styles of Universal Standard Swimwear are available in more than one color and I have found that the pieces perfectly color match other items from Universal Standard. For example, the Bright Melon swimsuit matches the Bright Melon swim shorts and the Bright Melon Thames Fog top. I have seen folks on social media wear the suit with the Bright Melon linen shirt and it too looks like a perfect match.
Universal Standard Swimwear Review
I am 5'3″ with a 36 F chest. I never buy non-cup sized swimwear because of my bust. Being over 40, having my body change over the years due to activity, lifestyle, pregnancy, breastfeeding, and more, my curves are soft and blessed by gravity. I have only found cup-sized swimwear to provide the lift and support I desire and I like a thicker suit with layers or "tummy control" to support my belly and subtly lift my rear. I didn't have high hopes for Universal Standard's swimsuits which have neither tummy control nor cup sizes.
Does the Universal Standard Swimwear Fit Large Busts?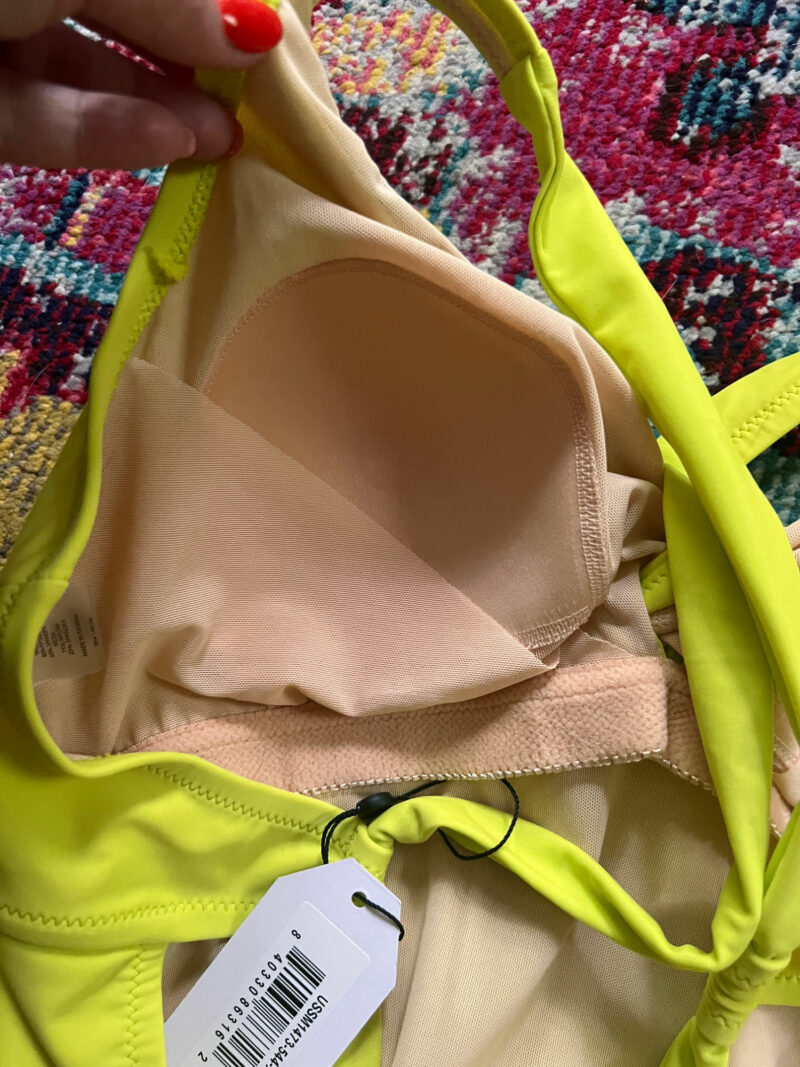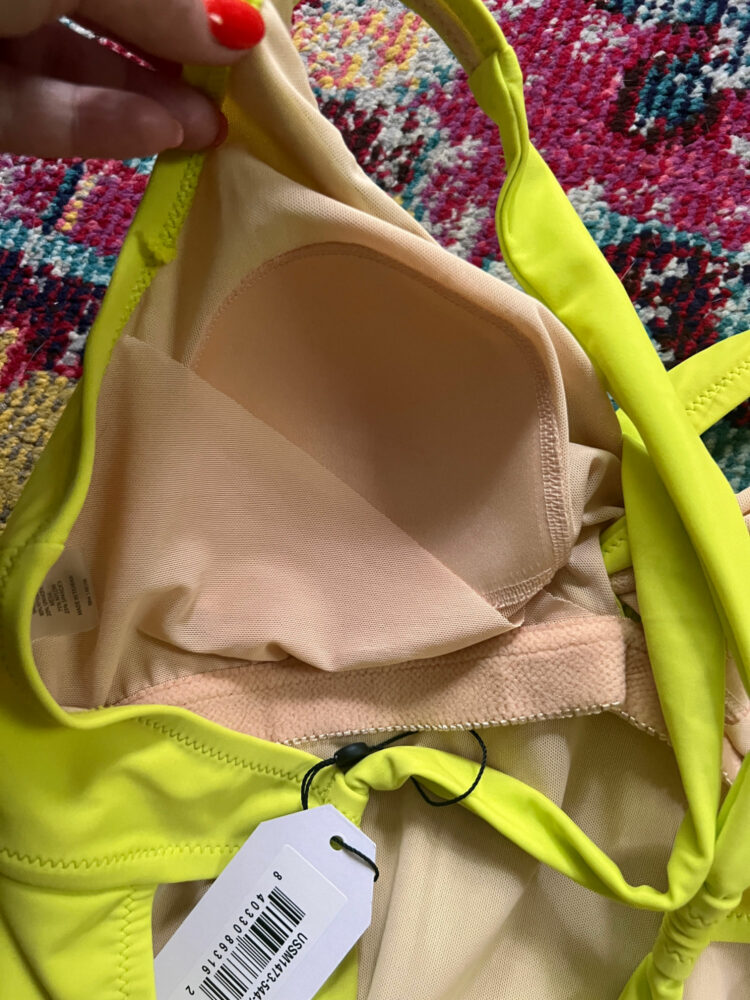 I was pleasantly surprised. The Swimsuit (Universal Standard's most traditional one-piece) is not bra-sized, but well covered and supported my bust. The swimsuit has a shelf bra design with an elastic band below the bust, sewn-in soft cups for shaping, and side panels made of a power mesh that keep the breasts from sliding into one's armpits while offering support. The design completely covered my breasts; no extreme cleavage and no side boob!
How is the Universal Standard Swimwear Designed?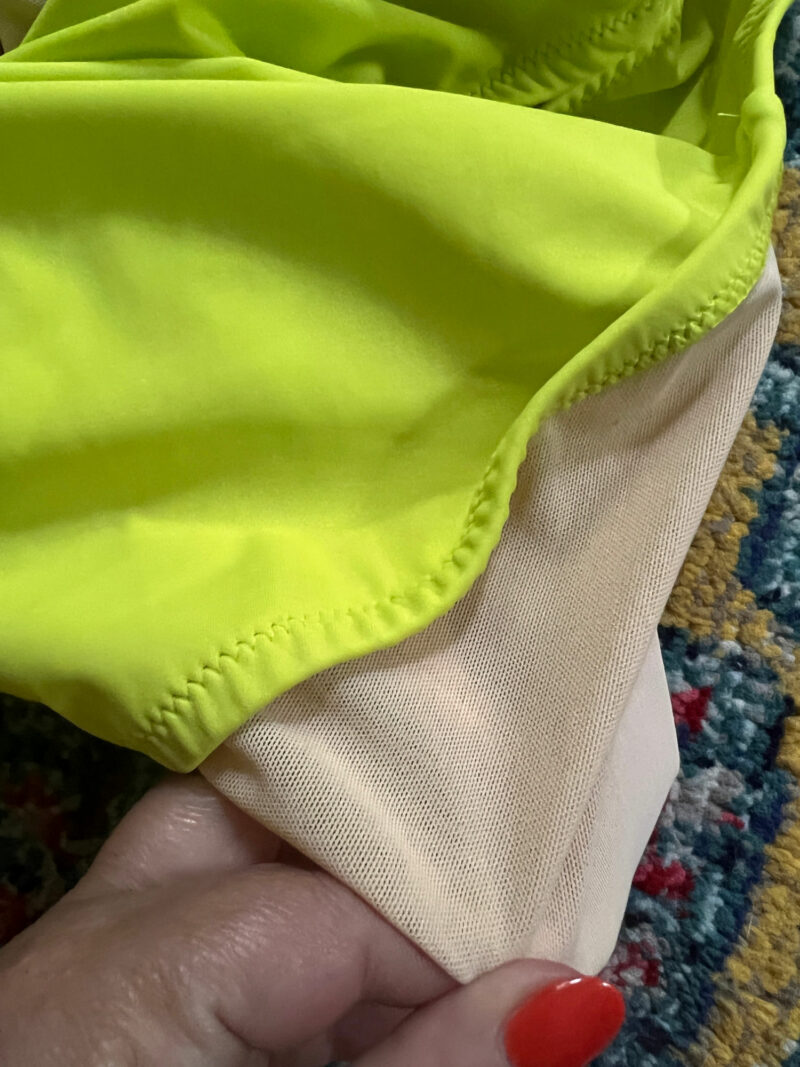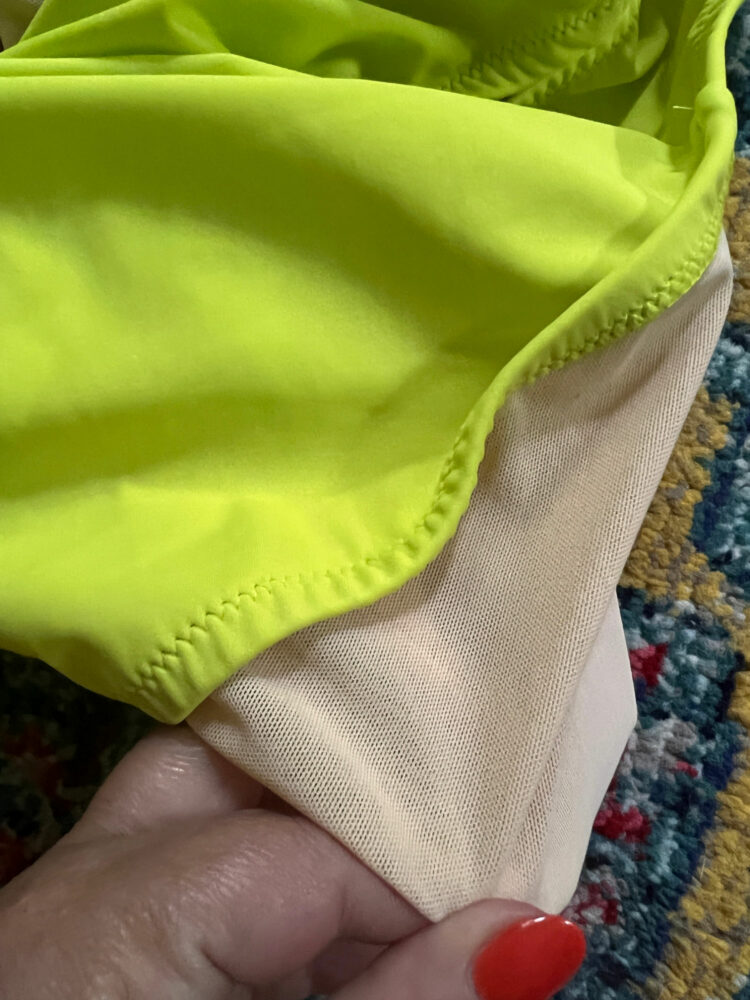 The entire suit is lined in this power mesh. It's a tight knit that stretches but doesn't stretch out. Putting on the suit I was impressed by how this fabric contained me without being restrictive. It's not like a Miraclesuit which really compresses, but it contained more than Summersalt or Andie swimsuits.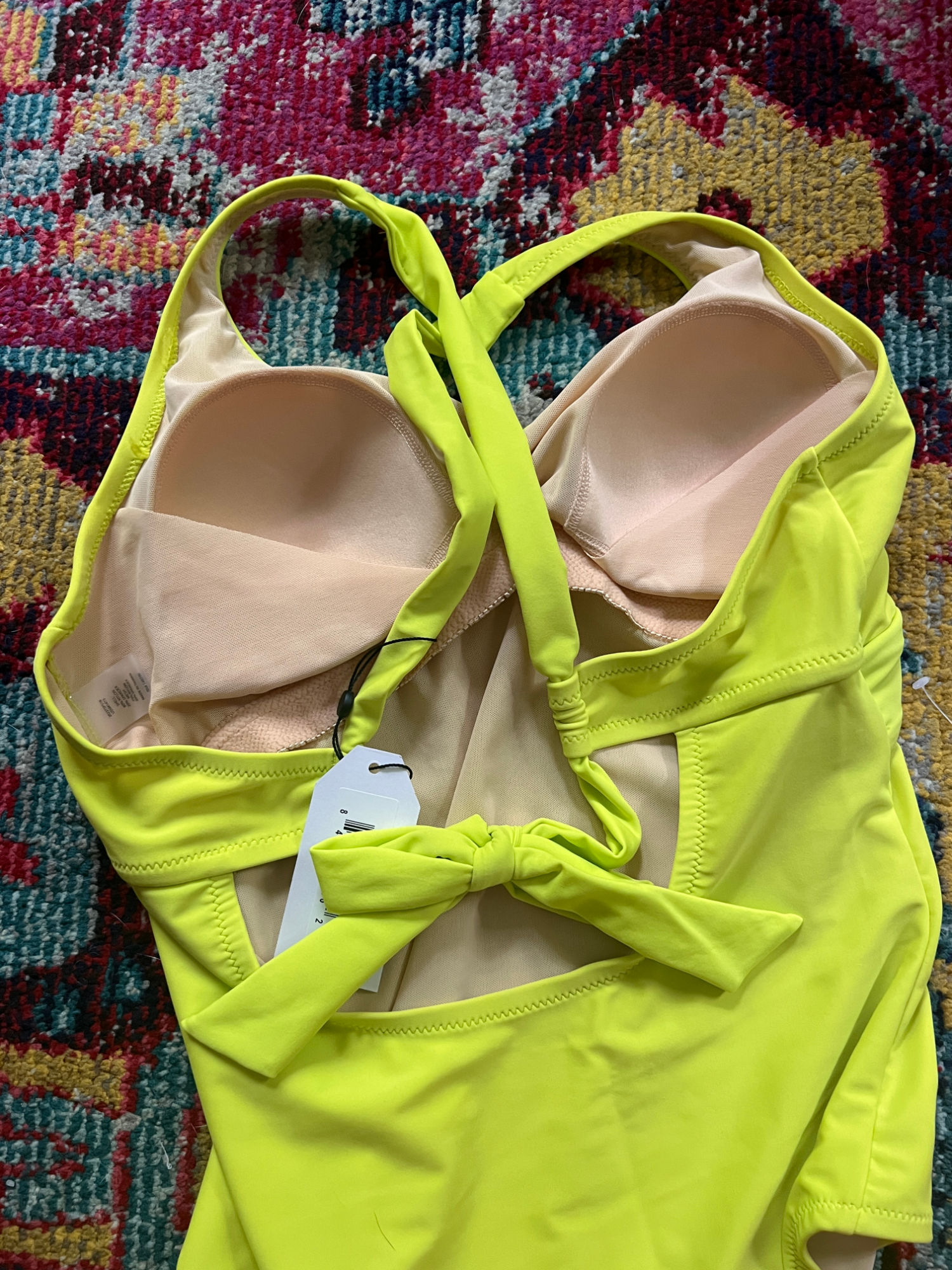 The straps are wide, and go through loops that connect to the sides of the suit, and then can be tied to adjust the strap length but also the tightness of the bust area. You can play with where the straps lie on the suit to customize the fit; think like having one set of hooks for a corset (but much softer and more comfortable).
Is the Universal Standard Swimwear Adjustable?
The straps, even with the suit cinched for my short self, didn't dig in. My big bust is used to having neck pain at the end of the day from straps doing the hard lifting; this suit is so well designed the straps don't have to dig in to hold things in place.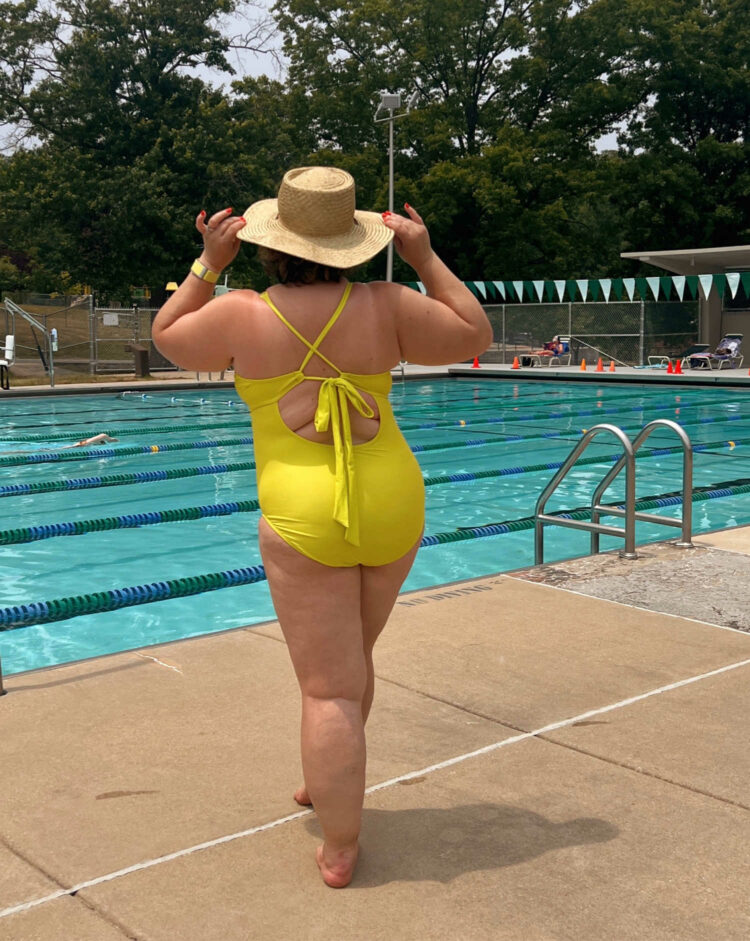 The suit comes tied in a pretty bow. I recommend trying it on without untying to see if you need to adjust the straps. Then remove the suit, untie and adjust the straps and retie before putting back on. This isn't like those viral social media suits that you yank the strings to cinch the suit; I think it would be pretty hard to tie the suit while wearing it. Even with the straps shortened, you can still get in and out of the suit as easily as any other one-piece bathing suit.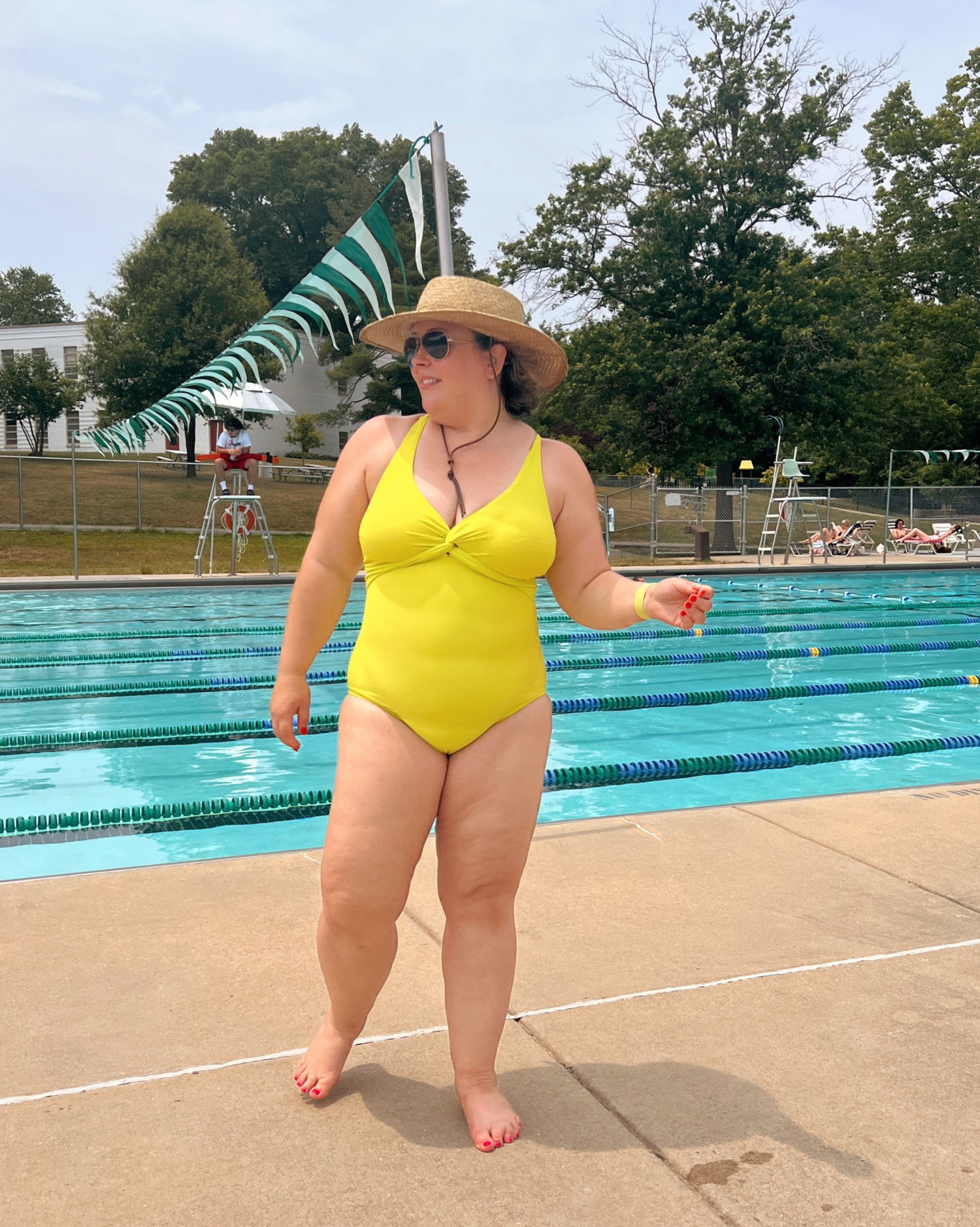 I wore the suit to the pool. I dove in the water, did somersaults, swam a lap or two, and in general had a fun hour in the pool. Nothing shifted, the suit didn't bag out or collect water, and the ties on the back didn't annoy me. My daughter said they'd fill with water and look like pillows, but it "wasn't weird or anything." I climbed out of the deep end via the ladder and didn't have to do any adjustment to ensure everything was covered.
Issues with Universal Standard Swimwear
I only have two issues with The Swimsuit from Universal Standard, and I wonder if both would be remedied with a different one in a different color.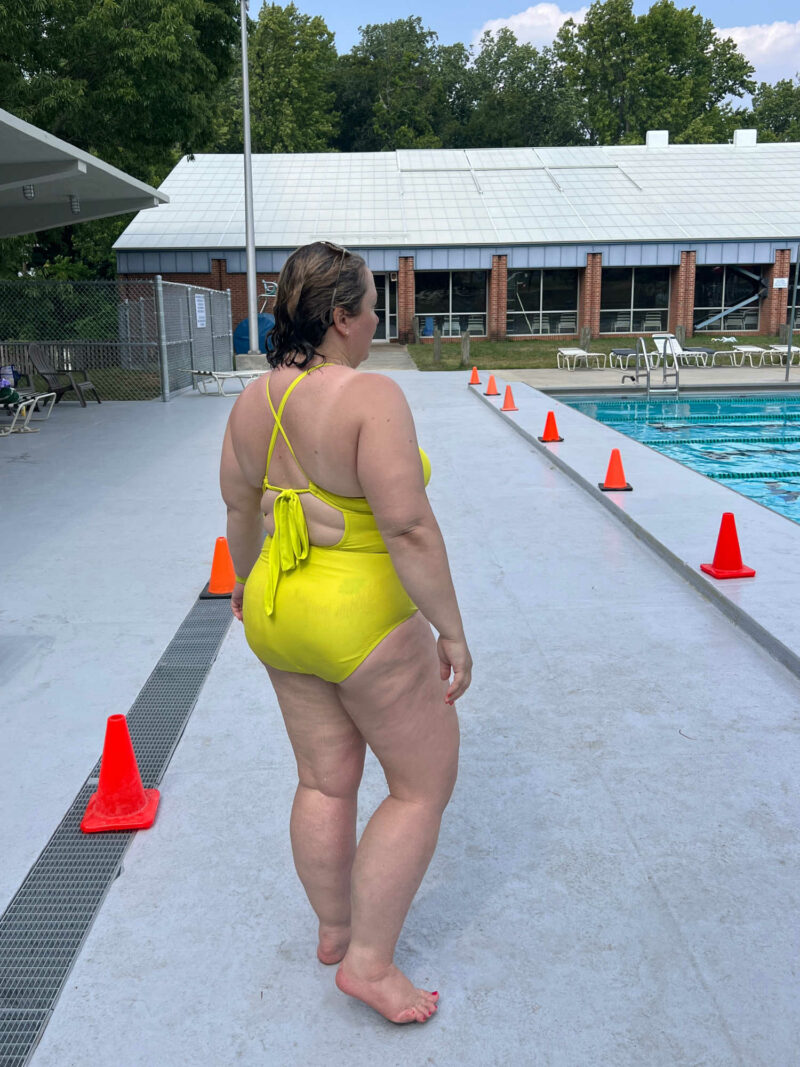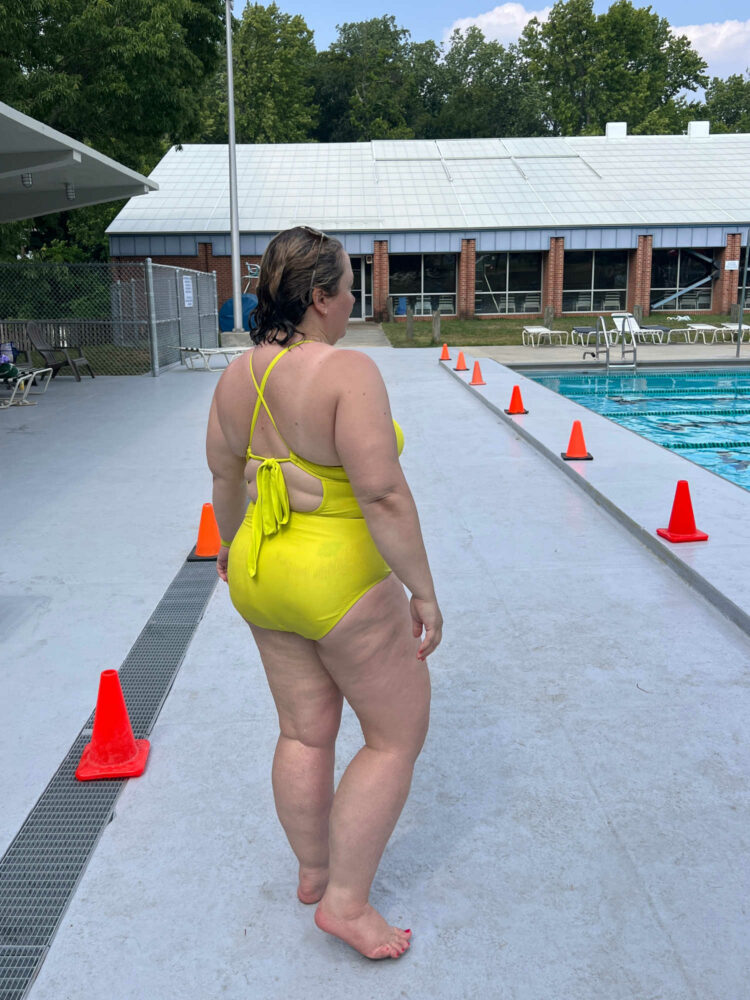 The Bright Melon is a gorgeous highlighter color, but like many light colored swimsuits, even when lined, it can be sheer. It covered the private bits I didn't want to show through a swimsuit, but you could see my black graphic tattoo that is on my hip/lower back. Also with the lighter color is was more obvious to see the shape of my nipples and the dent of my belly button. I think any of the other colors would fare better wet than this one; I wish I got the orange or green as I think I would have felt more covered.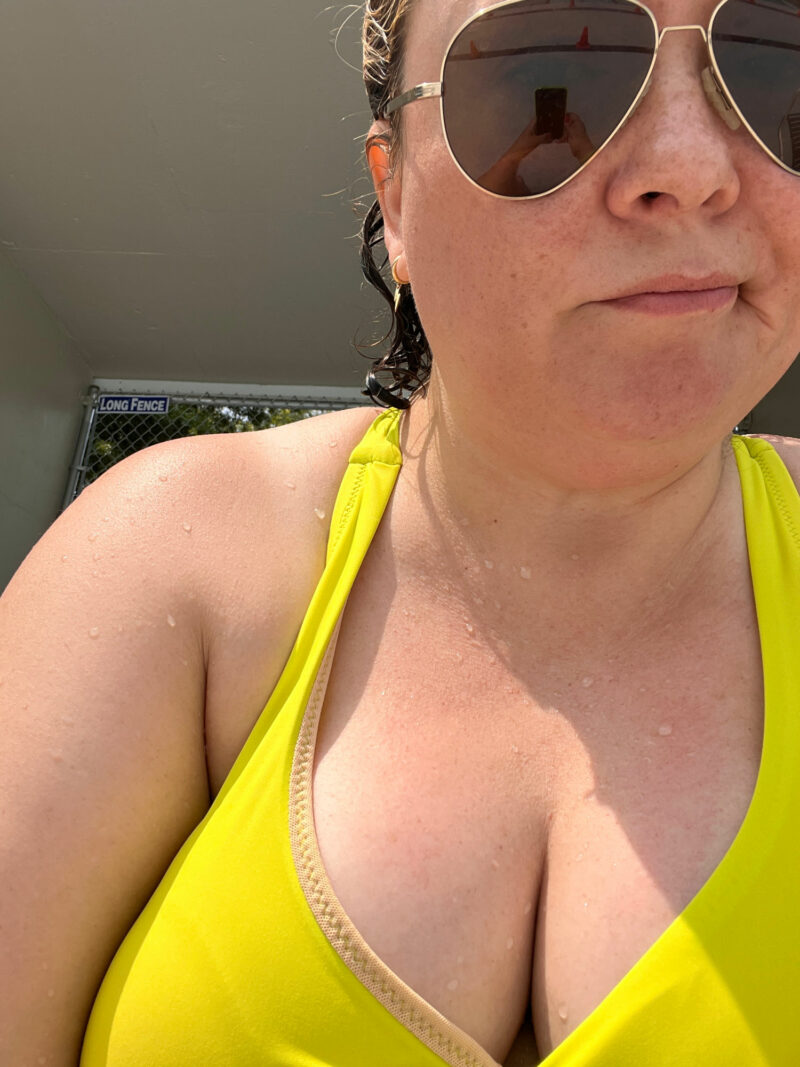 The other issue is that I had one cup's edge fold over, exposing the power mesh. I was able to adjust the suit to cover it back up, but it would sometimes pop out again. The power mesh is beige and very close to my skintone so it didn't really show on me, but not all people are the same color I am. Some topstitching would prevent this from happening; it's the kind of detail I wouldn't be surprised is added if they relaunch swimwear next summer. Also this may just be an issue that happened with manufacturing this one suit and may not be an issue on others. I look forward to seeing it on more influencers and non-models.
Is the Universal Standard Swimwear Worth It?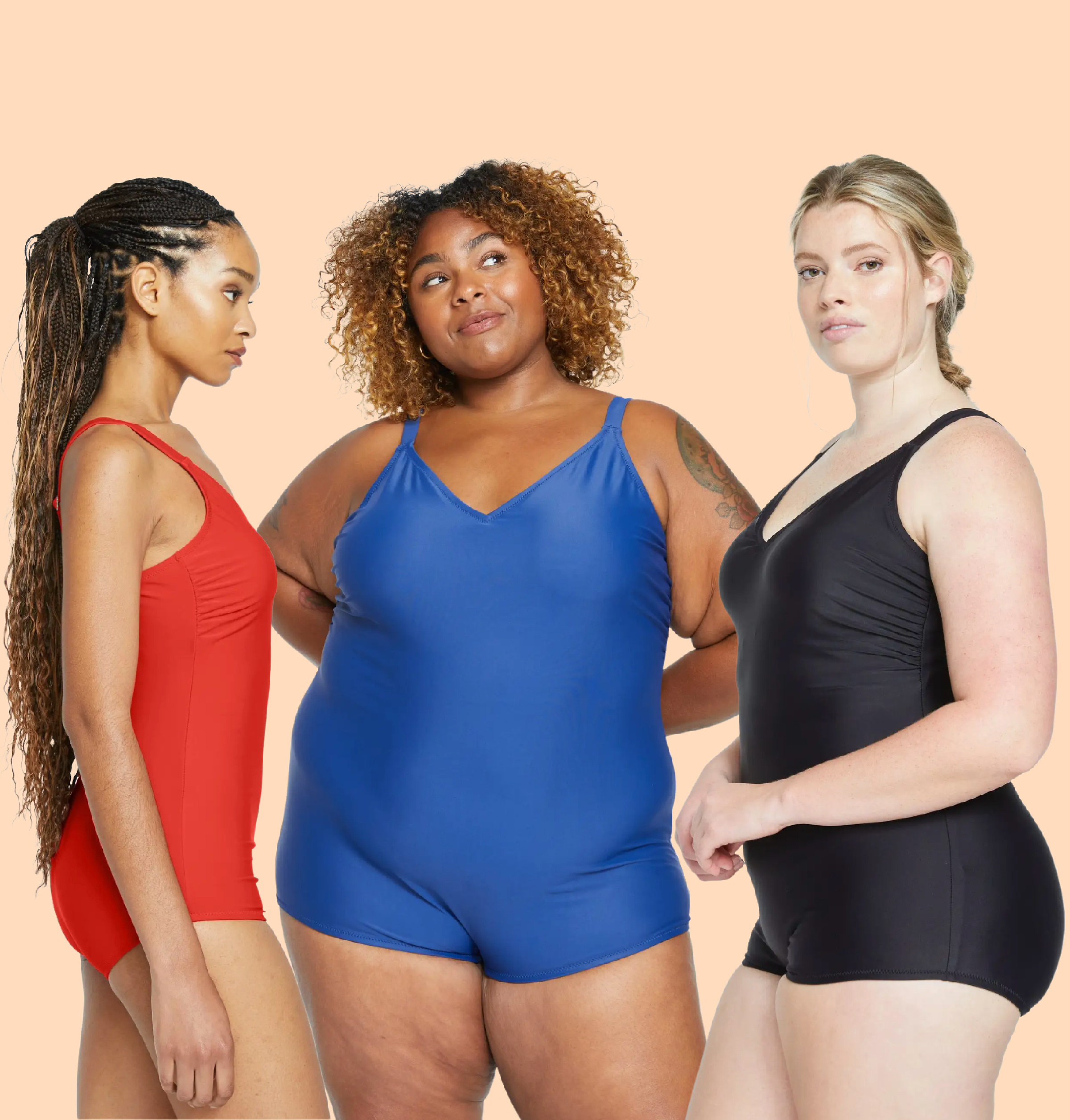 Universal Standard's swimwear collection is not cheap. I have had many on Instagram and in the Wardrobe Oxygen Community share their shock at the pricetag. However, I want to explain how freaking REVOLUTIONARY these suits are. This swimsuit, while not perfect, is the same design whether you wear a size 0 or a size 40, whether you're an A cup or an H cup, whether you are shaped more like an apple, a pear, a starfruit, a triangle, a hexagon, or a cloud of fog. Dude, that takes some serious design, technology, trial, error, and passion.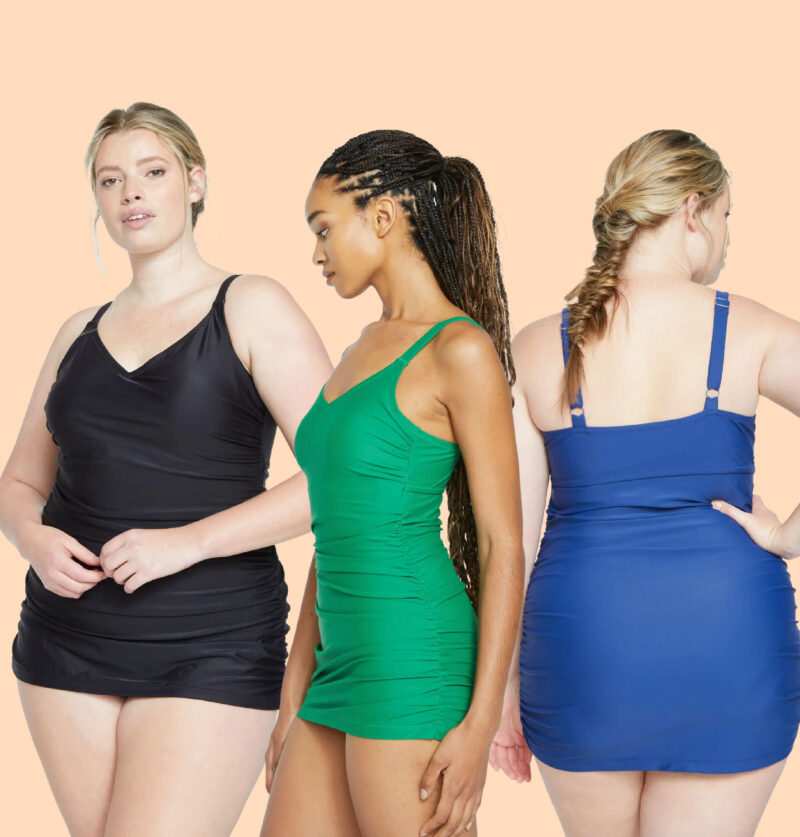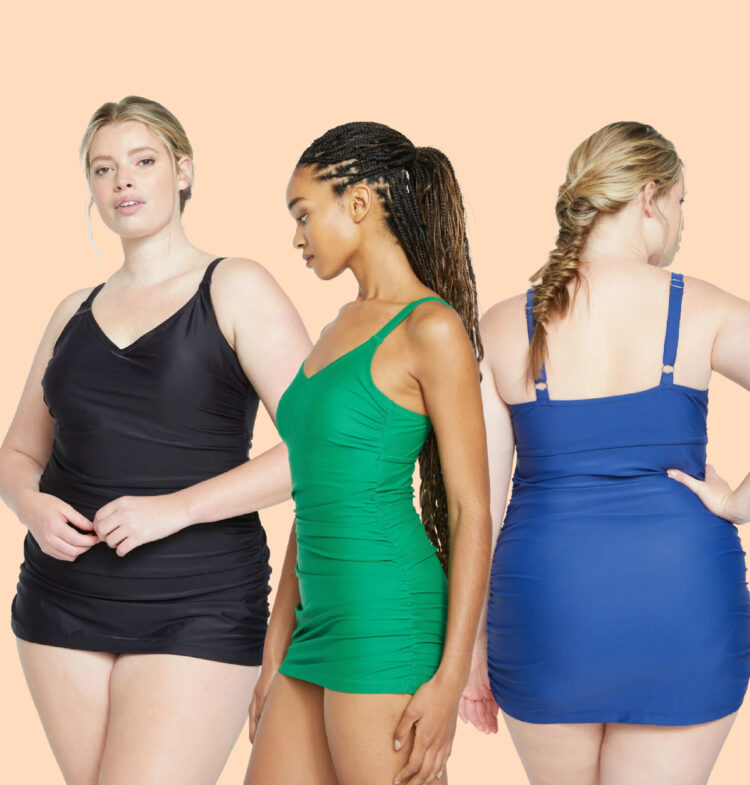 Name another brand that is so size-inclusive and so passionate about it that they didn't create a separate design for half the size range. Name another brand that offers all the styles and all the colors to all the sizes. No ending the cool colors and patterns at size 12, no limiting the plus size and large busted to basic black and maybe a tropical floral print, no having the plus option be a completely different design, no deciding who can and who cannot wear a sexy suit, a practical suit, a versatile suit, a suit that makes them feel great.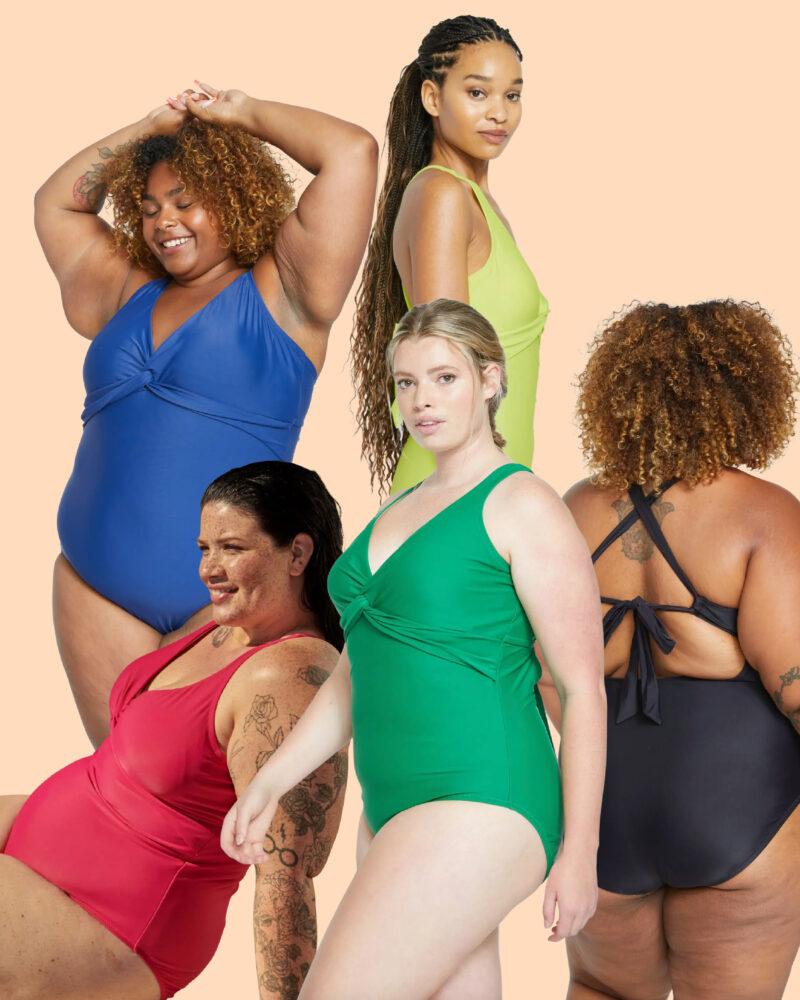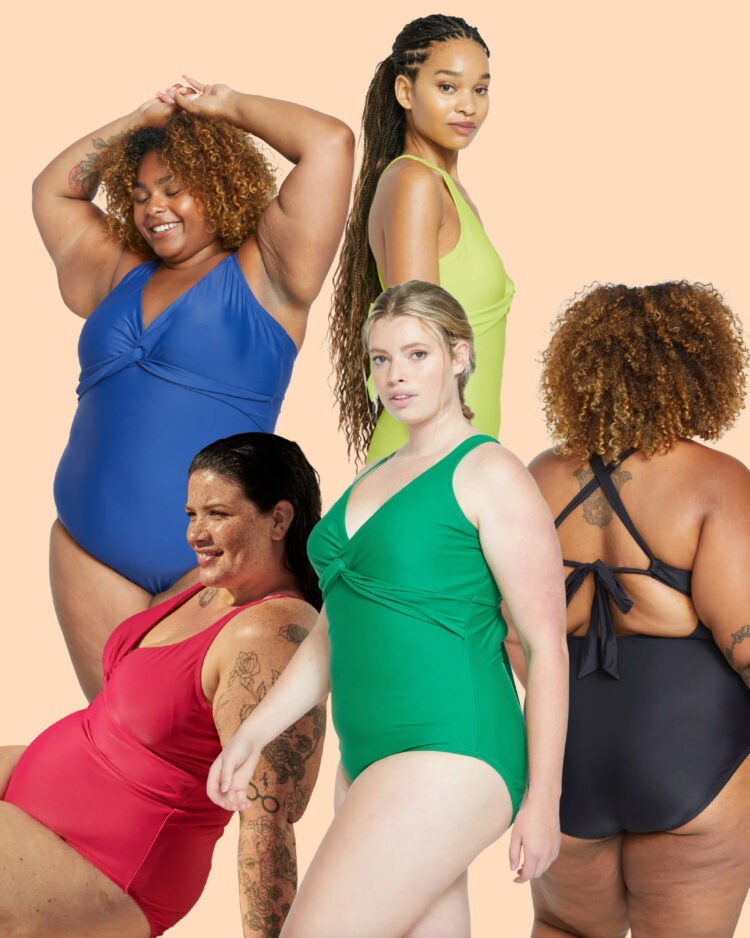 Seriously, let this soak in. Look at these different bodies, all wearing the same exact suit I am wearing. And we all look great in it. That is, pardon my French, fucking fantastic. It is so fantastic it is why I am not raging about how the pale-colored suit I chose shows my tattoo and belly button. It's why I continue to share Universal Standard, wear Universal Standard, and buy Universal Standard. The brand is not perfect, and the prices are not low, but damn if other brands would try just a bit to be as inclusive and innovative, this would be a much more wonderful world to live in.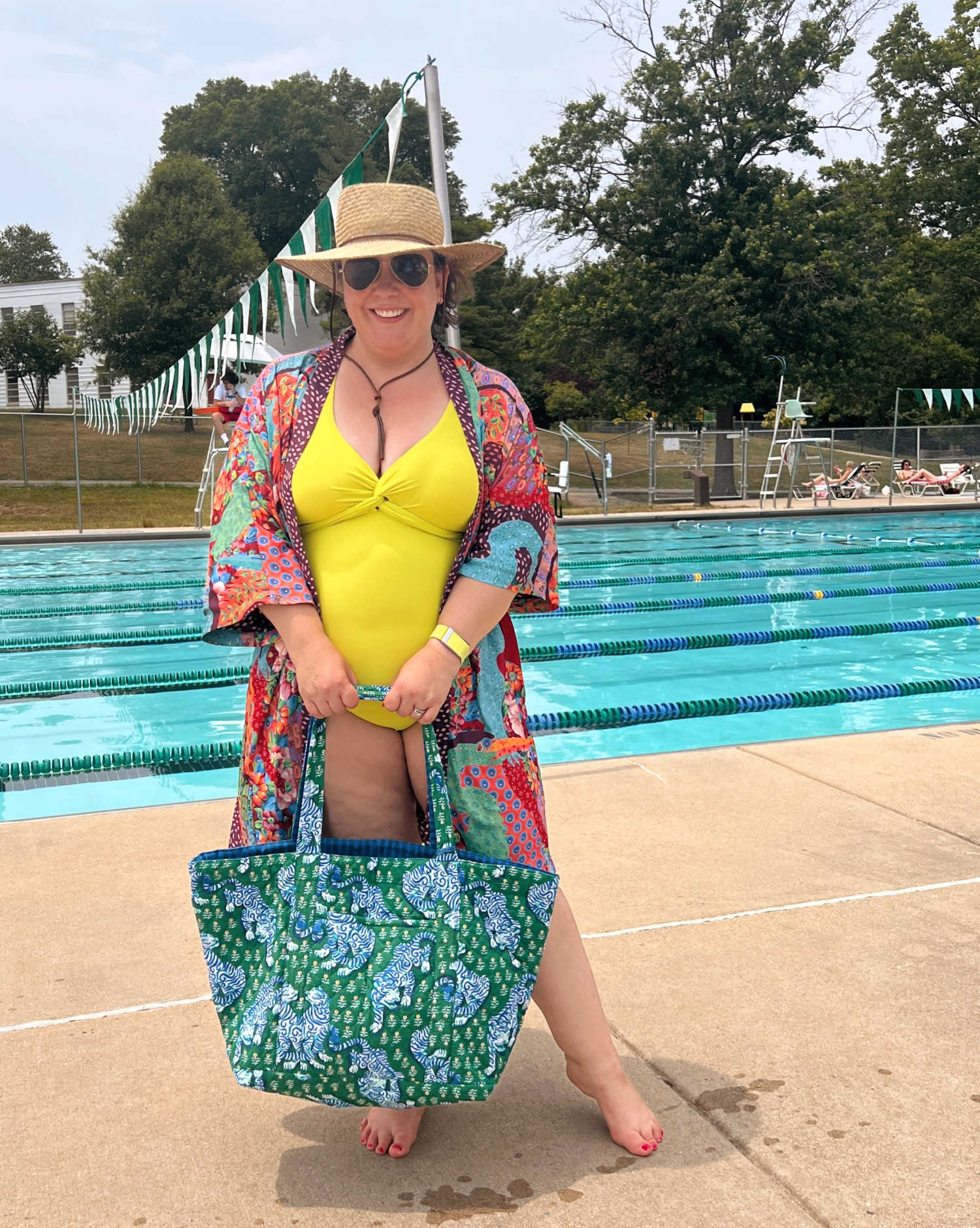 While I will be keeping this neon yellow swimsuit for a romantic getaway with my husband, I am excited for Universal Standard swimwear. I can't wait to see it on other bodies, hear how the other designs fit and work, and hope that Universal Standard brings it back next summer with even more versatility, innovation, color, and fun.
Update: I know captions aren't easy to read, so I am sharing my outfit details again. I am wearing The Swimsuit from Universal Standard in size XS with an old Chico's ruana seen in this capsule wardrobe, this Printfresh tote (use WARDROBE_OXYGEN for 15% off), and an old Lack of Colour hat (previously seen here). Chico's doesn't have this same ruana, but they do have a great selection each year of kimonos and ruanas cute with a tank and jeans or with a swimsuit; I have a few. Here's a link to their latest collection.