This article may contain affiliate links; if you click on a shopping link and make a purchase I may receive a commission. As an Amazon Associate, I earn from qualifying purchases. 
Job interview… those two words can create all sorts of fear and loathing in people. Having to sell yourself, but not too hard. Make a good impression, try not to have sweaty palms, fidgety hands, spinach in your teeth. And then of course, what on earth are you to wear???
Job interview attire used to be as predictable as a military uniform: a suit, preferably navy. For women, a skirt that came to a conservative length, sheer hose, sensible pumps. Little makeup, simple hair, one small accessory, no perfume. You are to show class, intelligence, sensibility and are of course selling your brain and skills, not your sense of style.
In this day and age, interviews are not so cut and dry. Yes, there are interviews that take place in a conference room where you are surrounded by bigwigs who are trying to stump you while seeing if you are a good fit for their company. Some interviews are still conducted on opposite sides of a large mahogany desk, but many are far different. Sitting in a Starbucks yesterday, I saw three separate interviews taking place. Went into the neighboring Barnes and Noble and saw a fourth. When I worked in retail we often had interviews as auditions – have the potential employee spend an hour on the floor and see how she interacted with clients and worked under pressure. When recruiting management, interviews often took place over a salad at California Pizza Kitchen or a latte at the Nordstrom Espresso Bar. With the variety of job and interview styles, so is there a variety of interview attire.
Just as with a wedding or any other special event, you often get fashion clues by the locale. You wouldn't wear the same thing to an evening wedding at an historic mansion that you would for a daytime wedding at a strawberry farm, you shouldn't wear the same thing for an interview at Starbucks for a start-up ad company that you would for an IT job with the government at the CIO's office.
A few basics, no matter the type of interview…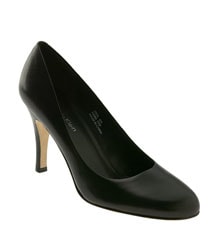 Shoes:
Unless you are applying for a very creative field, shoes should be sensible – no spiky heels, straps, funky wedges or adornments. Unless you know the culture of this company, I suggest being safe and wearing a closed-toe shoe. I mention a classic pair of black leather pumps in my staples – these are the perfect shoe to wear on most any interview with any style of dress. If you are not a pumps person, a heeled loafer, a sleek boot with at least a kitten heel, or a closed-toe t-strap heel can look stylish and sophisticated. I would shy away from wearing flats with your suit – this is a time where you want to look confident and have great posture. Heels, even a slight one can provide that bit of lift that will add to your overall appeal.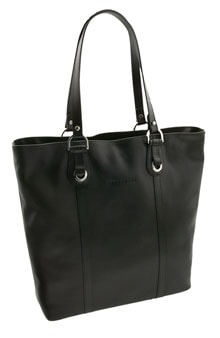 Bag:
As for your bag, your best bet is a sleek and simple tote – large enough to hold your resume, planner, cell and lipstick for a touchup, but nothing so bulky that you look as though you plan on staying for the weekend. I have a black leather tote I bought on sale at J. Crew over five years ago – the straps are stiff and work well over the shoulder or held in the hand. It is an open-top style with a zippered center dividing compartment. It looks professional enough to double as a briefcase, but stylish enough to work as a regular purse and compliment my attire. Make sure your bag as well as your shoes are polished and in the best of shape – people do judge one on her shoes and bag. If you don't have this sort of bag, consider borrowing one from a friend for the day. If you require a laptop for your interview, try to attend the interview with just your laptop bag (tuck your necessities in the side pockets and leave your purse at home or in the car) so you give off an efficient and low-maintenance vibe.
Hair:
Keep it simple, and keep it fitting with your personality. If you are a long layered lady, there's no need to pull it into a severe bun. I have been the one to interview ISDs and Sr. Project Managers for the military and government agencies, and the one to hire a makeup artist or personal shopper. In every field, it is good to see you have a bit of personality and a human touch. Stay away from accessories like clips and headbands and bows, if you want to hold your hair back do so with a hair-colored elastic or very subtle barrette. Keep it soft – no severe slicked back styles, fancy bangs, super-gelled curls. You want to be attractive, but not look as though you're trying to attract attention.
Cosmetics:
A bit of makeup finishes a polished look. If you are not one to usually wear makeup, consider a touch of concealer and a tinted lip balm just to look finished. If you are a cosmetic-holic like moi, tone it down a bit for the big day. Stay away from shimmers, sheens and metallics. Eye shadows should be subtle, and neutral shades like taupe and khaki. Blush should look like a natural flush and no more, mascara should darken and lengthen but not be obvious, and lips should be a natural hue – a pinky brown works on most every skintone and in a subtle gloss or dewy lipstick will be pretty yet professional.
As for perfume, I do agree it can be distracting and unprofessional. If you feel naked without your fragrance, consider a light body spray or only half the application of your usual fragrance. Nothing is worse than a stuffy conference room with the smell of dry-erase markers, coffee, carpet cleaner and Chanel no. 5. When I have had been interviewed or interviewed others, I have switched out my signature Burberry London for Bath and Body Works' Breathe Energy body spray, applied only to my collarbone and upper arms. This gives enough so that there is a fresh, attractive scent but cannot be smelled unless in very close proximity to me.
Your hands will be on display, shaken multiple times, at rest on the desk or table and often times will be in motion as you speak. Keep them cared for – moisturize a few hours beforehand so they are soft but not greasy. Give yourself a mini-manicure but keep your polish colors very subtle. A soft pink is always a safe bet – your natural color, only prettier. The Americanized version of the French Manicure (stark white tips, pink or tan opaque nail) is not sophisticated. I have often wondered about a woman's true personality when I see the long thick acrylic tips with the chalk-white tips and have heard supervisors snark on interviewees who have had such nails. It is considered the equivalent of a dark orange Mystic Tan, an anklet or frosted hair in many circles. Consider what impression you are giving the next time you go for your bi-weekly fill in and polish touchup. Sometimes natural is better.

Accessories:
Remember that what you are selling at an interview is you, not your outfit. Accessories should be kept to a minimum, having at most one piece that is strong. A necklace that compliments the colors of your outfit, a brooch, a solitary bangle, an elegant watch. For the interview, consider leaving at home your jingly charm bracelet, your multiple small necklaces you have received as gifts, your many rings, your toe rings, anklets and any timepieces that are very trendy or athletic-inspired.
What to Bring:
Bring your planner or Blackberry so you can schedule a possible second interview (or even your start date!) on the spot. Have a nice looking pen (no chewed ends or logos from your local Curves or Realtor) to use, and have a notepad either in the planner or separate to take notes and jot down dates and numbers. Bring a copy of your resume – the resume they may have received via Monster or another job search website will be covered with ads and weird graphics and it is always nice to receive a fresh copy (on nice resume paper) to review during the meeting. I place mine in a blank envelope to keep it protected. Bring your cell or Blackberry, but put it on vibrate or turn it off during the interview. Have powder and lipstick for a quick touchup in the car or lobby before entering the establishment. If you are asked to bring a portfolio, ensure it is in top-notch condition, current and professional. References aren't asked for as often as they were in the past, but it's good to have a second envelope ready with references if you are asked to submit them.
A few ideas for a few different fields and interview styles…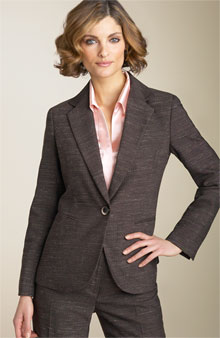 Interview at the Corporate Office:
This is the time for the true "interview suit". Unlike the past where only certain suits were apropos, there is more leniency in what colors and styles are acceptable.
A skirt seemed to be standard and proper, but now women are able to express power in trousers as well. Do not feel that you need to wear a skirt; however if you prefer a skirt hose is a necessity. A sheer pair is a good choice year-round. Black hose can seem either tartish or dowdy – they are not as basic as they were a few years ago. If you wear black hose, I recommend that they are very sheer, with a gray or black suit and gray shoes. As for tights, they often look a bit too trendy or childish and think should be reserved for once you have the job and can dress more casually.
As for suit colors, a neutral like gray, black, navy, dark brown are always good. If your coloring allows it, a taupe or camel can be quite lovely as well. If you are interviewing for a creative job (arts, advertising, marketing, entertainment) you can often be a bit bolder with colors – an ivory suit with black accessories will be well remembered, colors like olive and red can look professional while still showing your personality. Keep the suits solid and simple – no funky contrasting-color lapels, decorative embellishments or couture details. Think Tahari, Ann Taylor, Theory, Jones New York. It can come from somewhere else, but it should have that classic, simple yet elegant style.
The shell or shirt under the suit is a great place to show your personality. Don't stick with basic white or ivory, there's nothing wrong with a bit of color, even in the most conservative of companies. I remember when I interviewed for a very serious government contractor, the woman who interviewed me wore a black suit with very faint pinstripes in white and teal. She wore under the suit a beautiful teal silk knit tee and a necklace of glass beads in the same teal shade. She looked very serious, professional, yet had a sense of style. I used to have a very dark olive suit that almost looked gray and would spice it up with a salmon-pink sleeveless tailored shirt underneath. A navy suit can still look serious when you replace the white shirt with one in a pale lilac or French blue.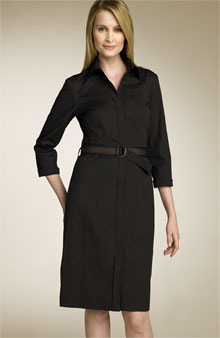 Casual Interview or Interview at Coffee Shop or Café:
Are you meeting here because it is a virtual office, or because the interviewer wanted a convenient and casual environment?
If it is the former, I would suggest you dress a bit more professionally (suit) to show that you can be trusted to meet with clients and give the correct image of the company. These days many more companies are having their employees telecommute 100% with the corporate office hundreds of miles away. You want to show that you are professional, sophisticated and can sell the company perfectly.
Often interviewers decide to have a more casual environment to see a potential employee's "true colors". The concept of chatting over coffee sounds far more appealing and will often let one's guard down to be more candid with her responses. For this type of interview, you still should maintain a level of professionalism, but can take it down a slight notch. A tailored shirtdress with closed-toe pumps, tailored oxford with suiting trousers and heels, a blazer with a shell and trousers; these would all be fine alternatives. Think of the level between true business casual and business attire. No need for the pinstripe suit and attaché, but leave your jeans, chinos and kicky sandals at home. Also consider solids and very subtle patterns (pinstripes, tweeds, subtle plaids) so you are not lost in the design.
As for accessories, you can kick them up a notch… but a very small notch. Maybe a beaded necklace that hits your collarbone, an artsy brooch on your lapel, a silver and turquoise ring you bought on your last trip to Santa Fe. Only one accessory should be strong, and it shouldn't be so strong that it is the focal point of your whole look. With an interview, the focal point should be you and your face.
Interview at Fine Dining Establishment:
Be it lunch or dinner, some interviews will take place at an elegant restaurant. For day, I think it is safe to say the same attire for a corporate office interview will be appropriate; for an evening meal consider a more elegant version of your suit. Take your black suit and pair it with a solid-colored shell in maybe silk, or with a more dressy neckline (u-neck, surplice, etc.). Accessories should be simple but have a bit more glitz – a strand of pearls, diamond studs, a simple amber pendant on a delicate gold chain. Other than that, you should still exude professionalism before panache – don't go overboard with shine, sparkle or strappy heels. Makeup should still stay subtle – this is a dinner, not a cocktail party.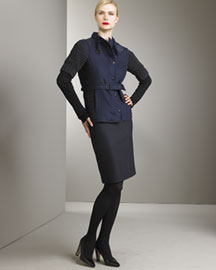 Interview with a Creative Company:
Yes you want to look innovative and hip and current, but you also want to look reliable and driven and professional. You are able to marry the two in the workplace, not it is time to marry the two in your wardrobe. Cargos and witty tee-shirts may be commonplace in the office once you're hired, but isn't what you should wear to sell yourself.
Instead of the classic suit, consider a more adventurous jacket with classic trousers – a white jacket with black piping and a funky button closure, maybe a wide belt over the jacket, pairing a great skirt with a wrap top instead of a traditional blazer. Even if it's creative, I suggest keeping at least one thing traditional – have a funky top with classic skirt or pants, a simple top with an animal-print pencil skirt. Then you are safe if the interviewer is a tad more conservative.
Creative does NOT mean sexy. Sexy never fits into the workplace unless you work at Agent Provocateur or Hooters. Keep cleavage to a minimum, trousers and skirts at a comfortable non-tight level, hemlines near the knee and absolutely no strappy tops (personally, I think sleeveless is inappropriate as well).
But feel free to wear the bracelet you made, your signature necklace, carry your metallic blue leather motorcycle bag… just don't be artsy overkill so that you are a creative mess. Keep it simple.

A Few Non-Fashion Tips:
1. Firm handshake, eye contact, don't fidget.
2. Always have a question or two ready because they ALWAYS ask, "do you have any questions?" A good stand-by is, "why do you like working for this company?" I know I liked being asked that because I can sell a different level of the corporation and I can read the interviewee, when her eyes light up, when she seems bored by what I am telling her.
3. You probably will be Googled. I highly recommend on a monthly basis to Google yourself and see if anything pops up that would embarrass you. If your Facebook/Friendster/MySpace pages are searchable by your name, consider making them private and the profile picture very innocent. Along these lines, I know my company loves it when they find a person on LinkedIn. It confirms that what you have on your resume is accurate, and being networked with current and past employees makes it seem that you are liked and respected in the workplace.
4. Don't tell too much about yourself. The interviewer may be very personable and friendly and you may find out you have the same alma mater, grew up in neighboring towns and both did a semester abroad in Spain, but that does not mean you should tell about your partying ways in Madrid, how you despised your Econ teacher or what church you attended in your childhood. Feel free to tell them you are married, that you have children but don't go into detail. Sounds terrible, but even a mother and wife when deciding between two people of equal caliber would choose the person who has a more flexible schedule and time to dedicate to the company. Unless asked, do not tell them if you are in school, never tell them your ethnicity or religion or political affiliation.
5. It's not always the best idea to put your sorority on your resume. Now if in conversation you find that your interviewer was in ABC and you are in ABC, then by all means let her know. However, unless this is your first job out of college and while in school you were the chapter president while maintaining a 3.8 and being in a few academic organizations, it doesn't have to be part of the interview. Those who didn't partake in a Greek organization in college will often see those who did as more like the cast of Animal House than a respectable woman who worked hard in classes and in bettering her chapter. If you know your audience is one who would respect the philanthropy and dedication of being in a Greek organization, by all means include it. As a member of a sorority, I know that we aren't all ditzy drinkers; my sorority experience made me the hard-working, multi-tasking personable employee I am today. If you do include it, also include all the community service, volunteerism and leadership roles you have taken so it helps explain why you feel it an important part of your experience.
6. When asked what you do outside of work (and this is a very popular question) be ready with intelligent and interesting responses. Shopping, hanging out with friends, spending time with your children and "I don't know, I work so much!" are not good responses. If you scrapbook, then you dabble in various arts and crafts. If you blog, tell them you love to write and read. If you love to putter around your yard, nothing sounds more virtuous than weekend gardening. If you are active in your church or temple community, don't talk about the church itself but what you do (work at a soup kitchen, mentor inner city children, fund raise for a local women's shelter). If you have nothing to say… maybe you need to do something about it. Do you volunteer in your community? Even one night a month attending city hall meetings or supporting the Neighborhood Watch shows you can multi-task, you're interesting and you're eager to make a difference in this world and possibly in their corporation.