This article may contain affiliate links; if you click on a shopping link and make a purchase I may receive a commission. As an Amazon Associate, I earn from qualifying purchases.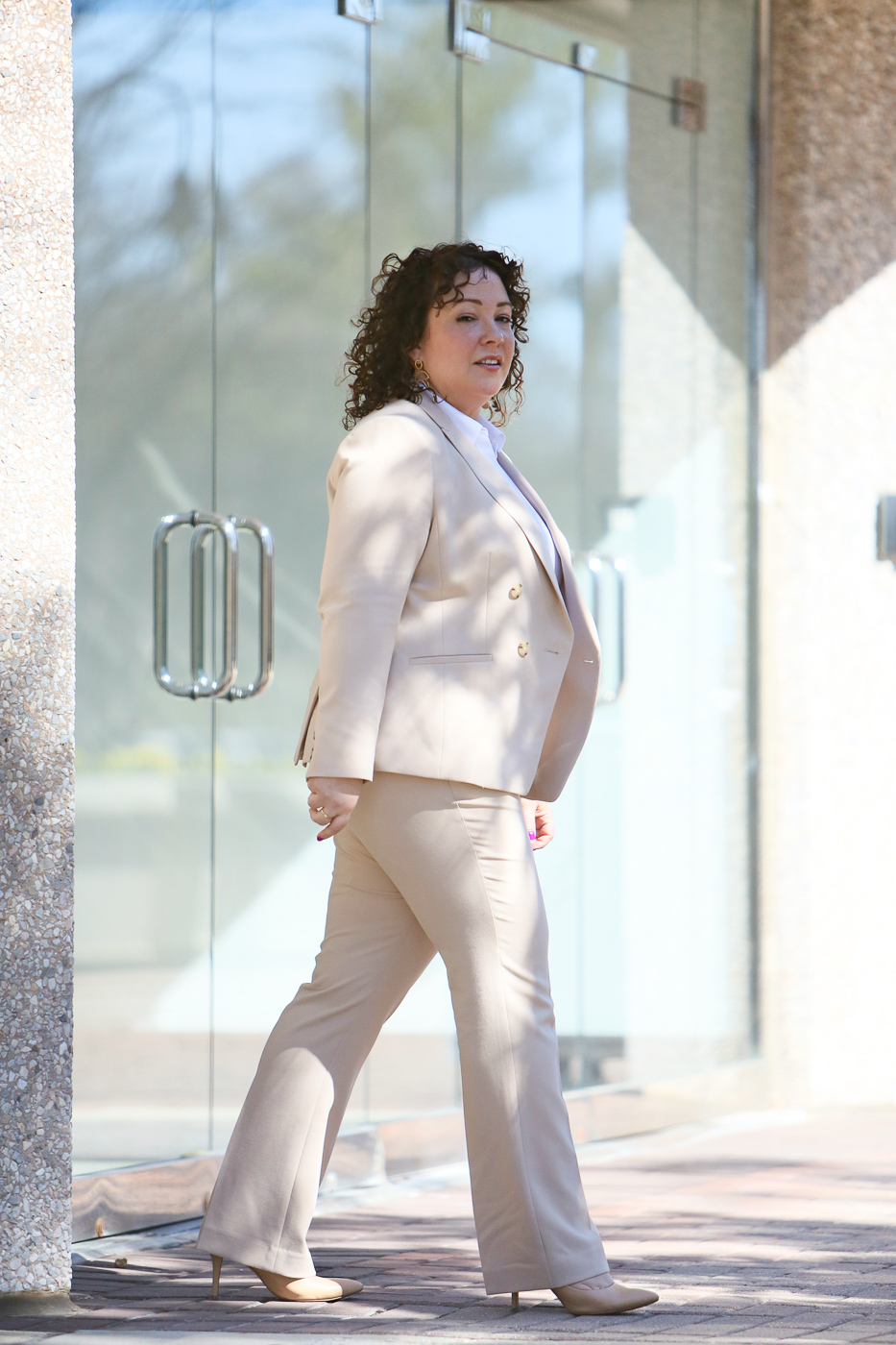 Y'all know I love a suit. Since leaving Corporate America I find I actually wear more suits. My old office atmosphere was more the black pants/merino sweater in the winter/silky tee in the summer kind and the need for a work suit was maybe once a year. But now, I love suits for all sorts of occasions. Wedding? Blogger event? Date night? Speaking at a conference? Want to feel fierce when I feel like poo poo even if I'm running errands? A suit works (though when it's worn to Target the shoes are sneakers, not pumps). Wear the pants alone, the blazer alone, I find I get so much wear and am less likely to be tired of it come the end of a season. Even better when I can find suiting that fits my petite curves.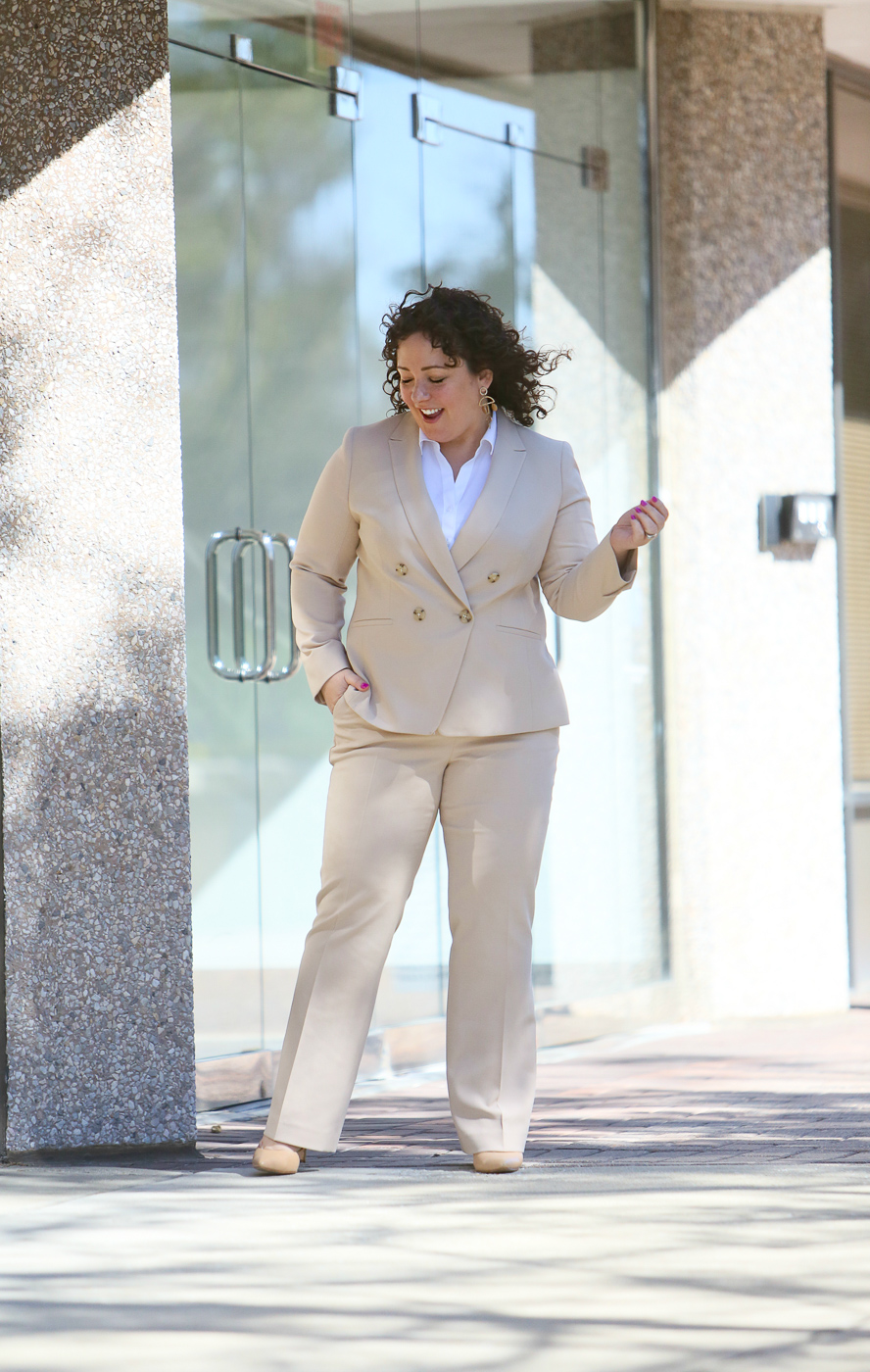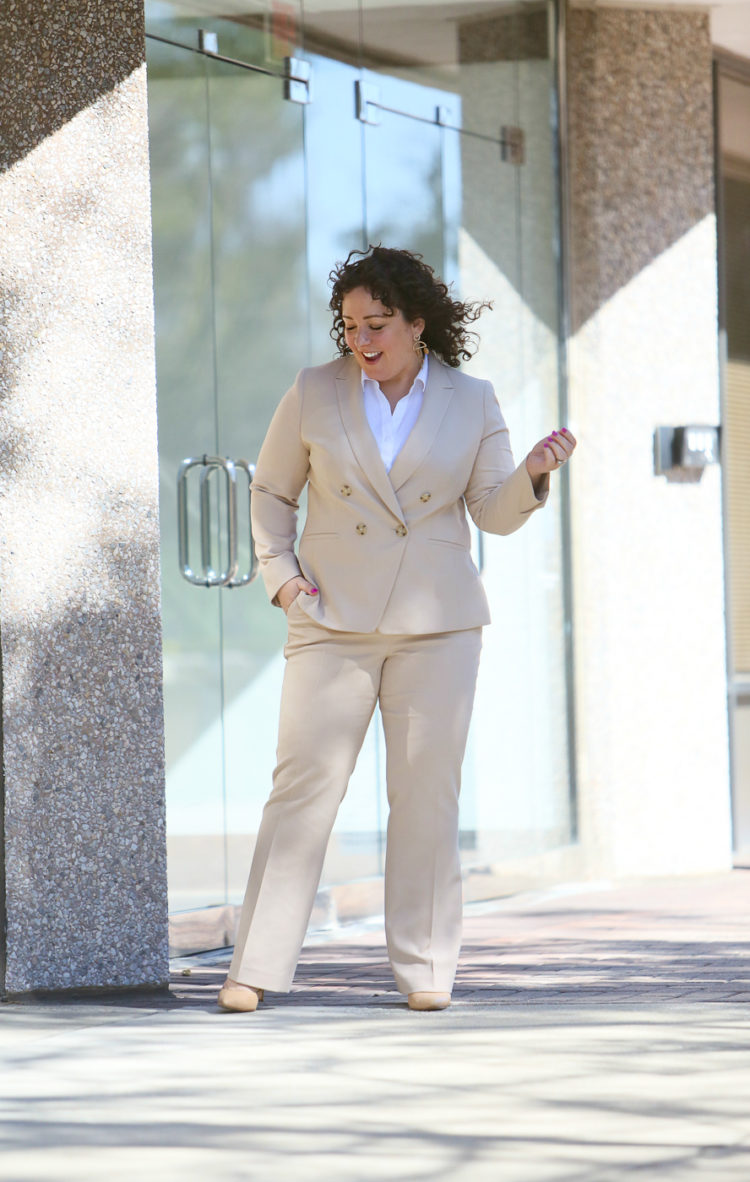 Blazer: Luxe Italian Double Weave Double Breasted Blazer c/o Talbots (14 Petite) | Pants: Luxe Italian Double Weave Barely Boot Pants c/o Talbots (14 Petite) | Shirt: Sleeveless Perfect Shirt c/o Talbots (14 Petite) | Shoes: Nine West | Earrings: Old (found almost the same ones on Etsy)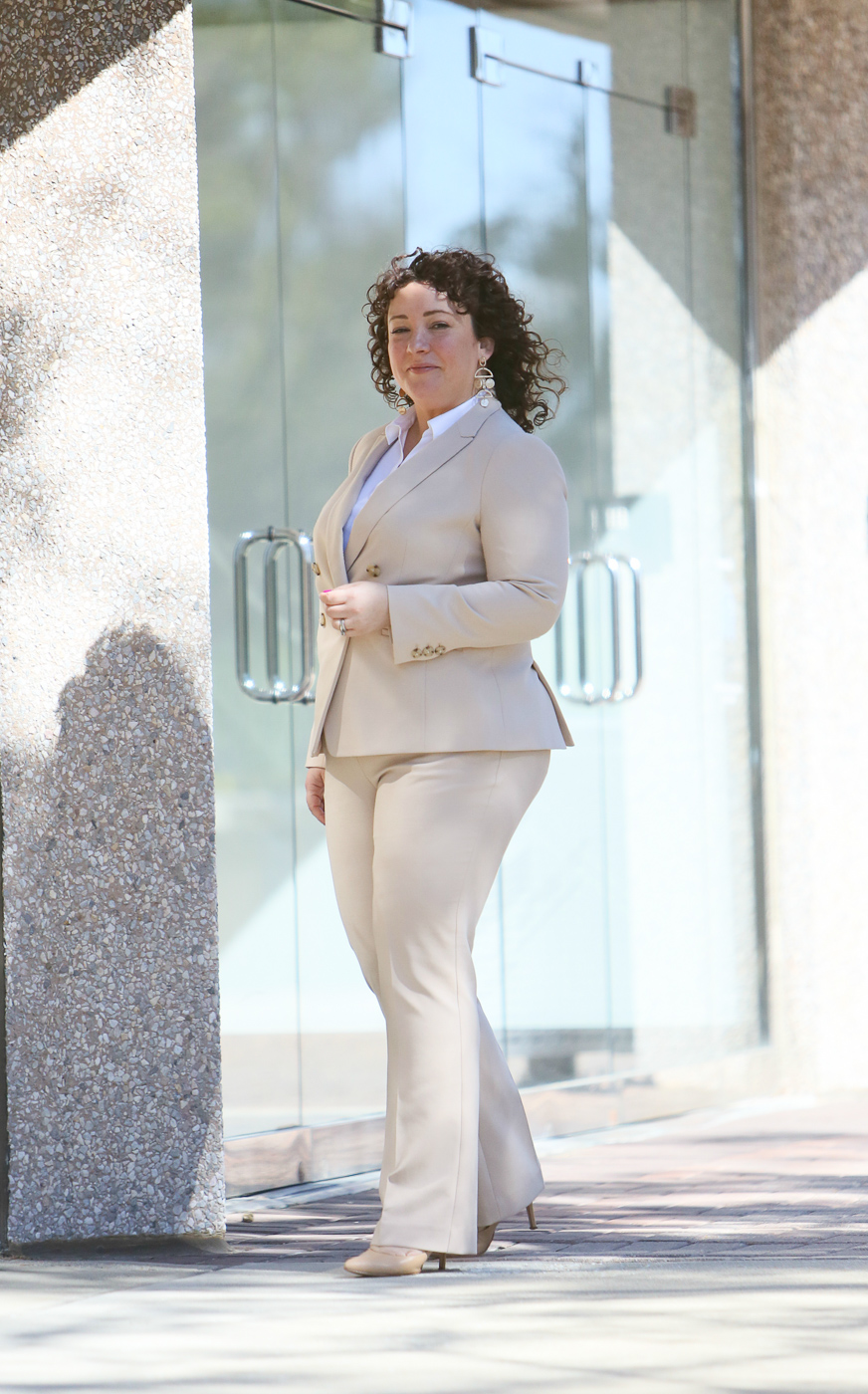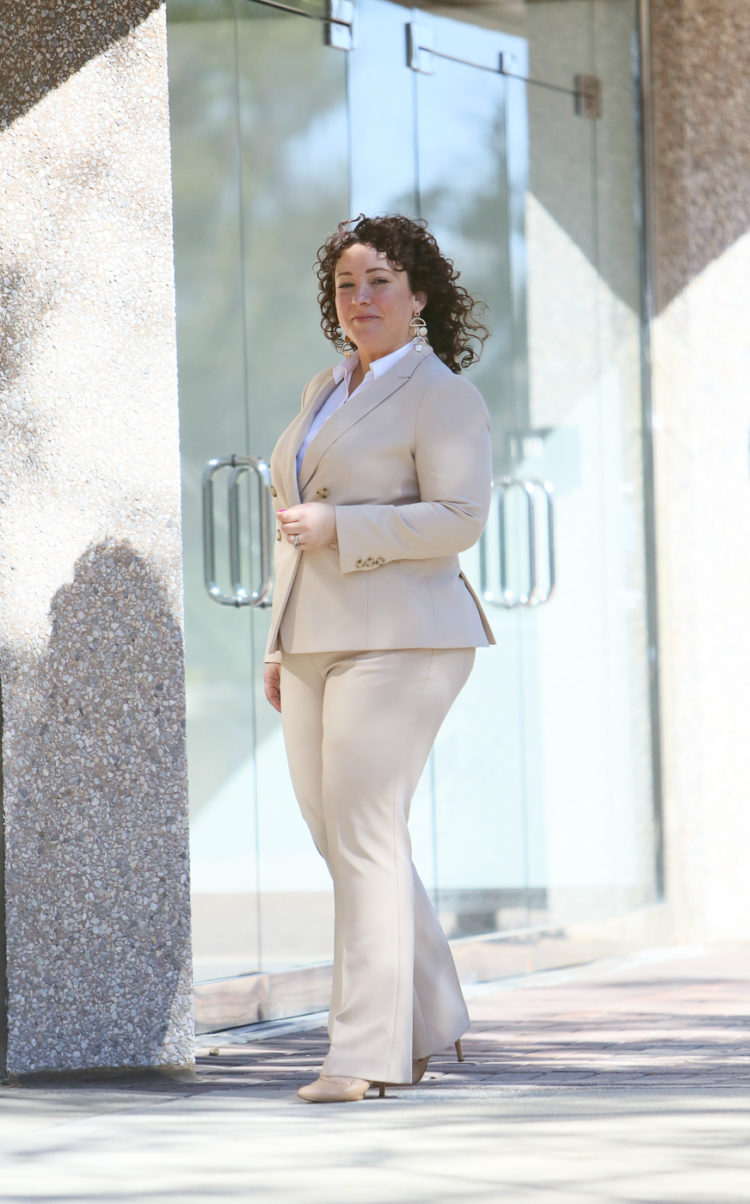 This isn't my first luxe Italian Double Weave suit from Talbots; I also have this one in a dark red from 2018 which is still in my wardrobe. The fabric is pretty perfect. It's soft, it stretches, but it looks professional and polished and can also dress up beautifully for day weddings and similar events. When I saw this putty-colored suit I had to try it. Talbots suiting fits me so great right off the rack (or out of the box) and I liked the idea of a tailored double-breasted jacket with a feminine cut. I also love that this suit comes in Misses, Petite, Plus, and Plus Petite to size 24. This is the suit right out of the box, no tailoring. For reference, I'm wearing a 14 petite in both pieces and I am 5'3″. I usually wear a 14 petite in Ann Taylor; for J. Crew and Banana Republic I do better sizing up to 16 or 16 petite and tailoring down so I can accommodate my bust, shoulders, and legs. I wear a 12 in cabi and Universal Standard.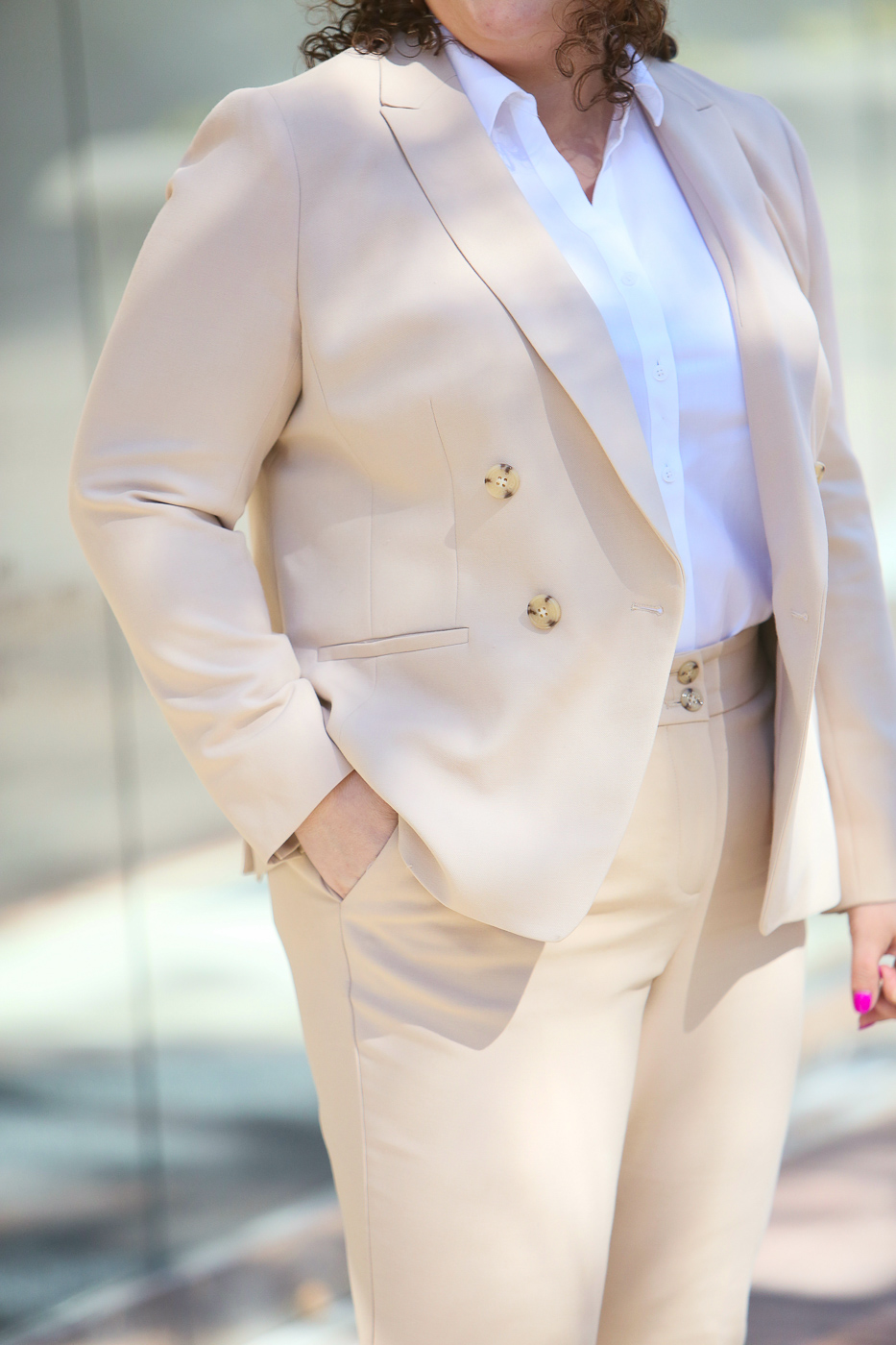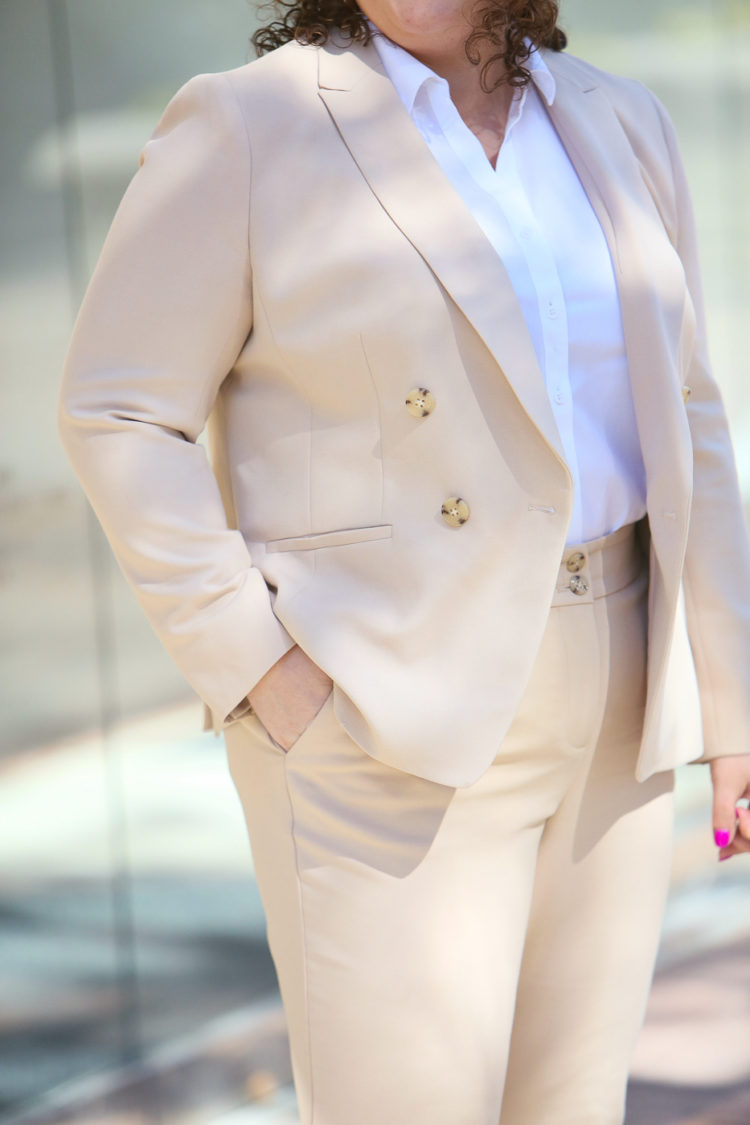 I didn't expect from the photos on the website that the jacket would be so short and the pants so long. I originally envisioned wearing the suit with my white loafers but it didn't look right. The proportions are more feminine and if I were to wear flats I think I'd go with a pointy-toe flat or maybe a kitten heel. I tried my leopard kitten heel pumps but the color was too strong unless I wanted to switch out the shirt for a darker color. I was really digging the light neutral effect with the white shirt so I pulled out my trusty beige Nine West pumps. I've had these same pumps for years and also have them in black; when I worked in an office I'd replace them every year or so because they'd get all sweaty, stretched out, and the heels nicked too much for the cobbler to remedy. Now with my new life, they only are worn for special occasions but I still find them to be relatively comfortable for the height and the color and silhouette classic enough that they've looked stylish all these years. Also, the price is quite reasonable!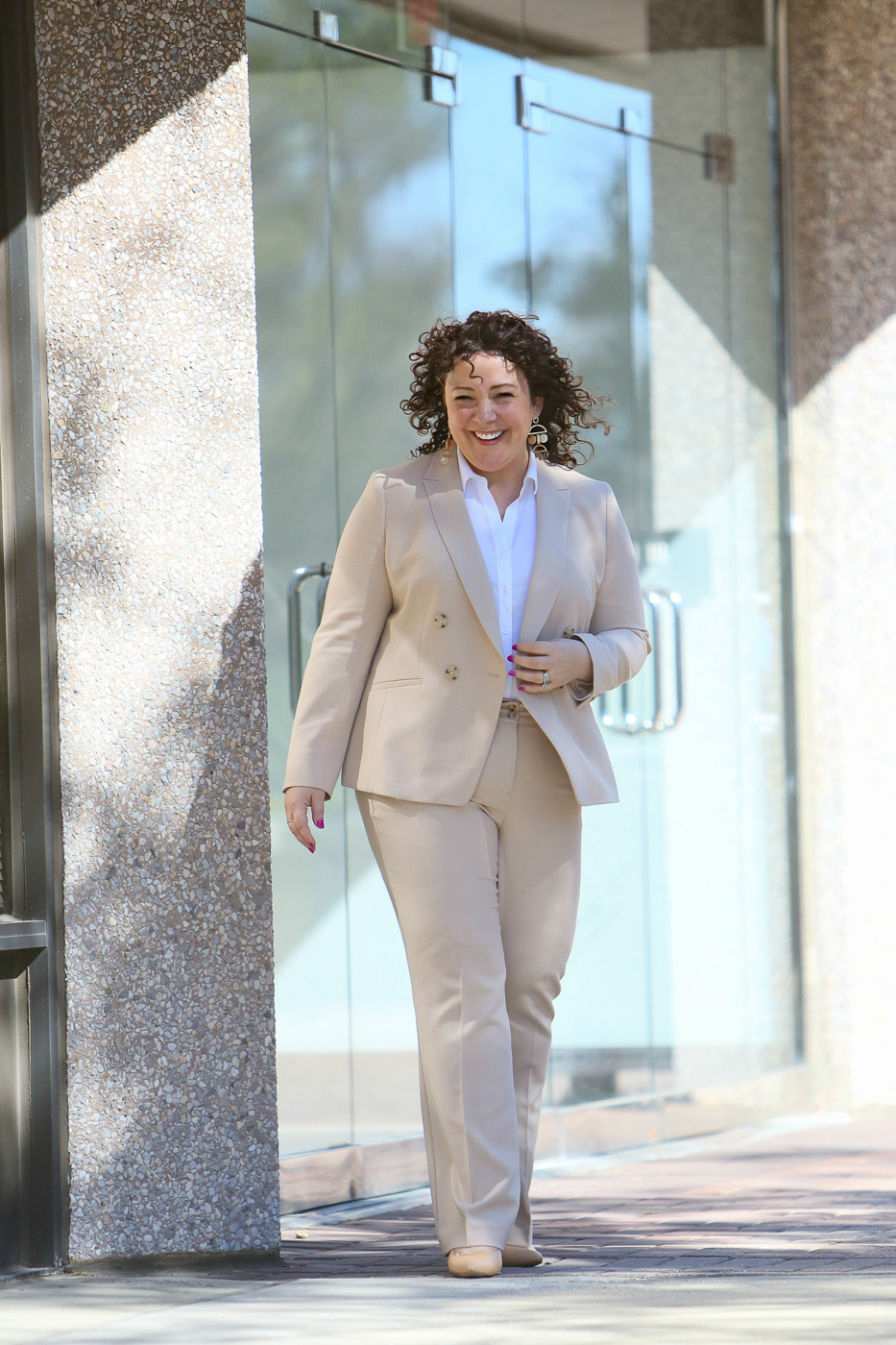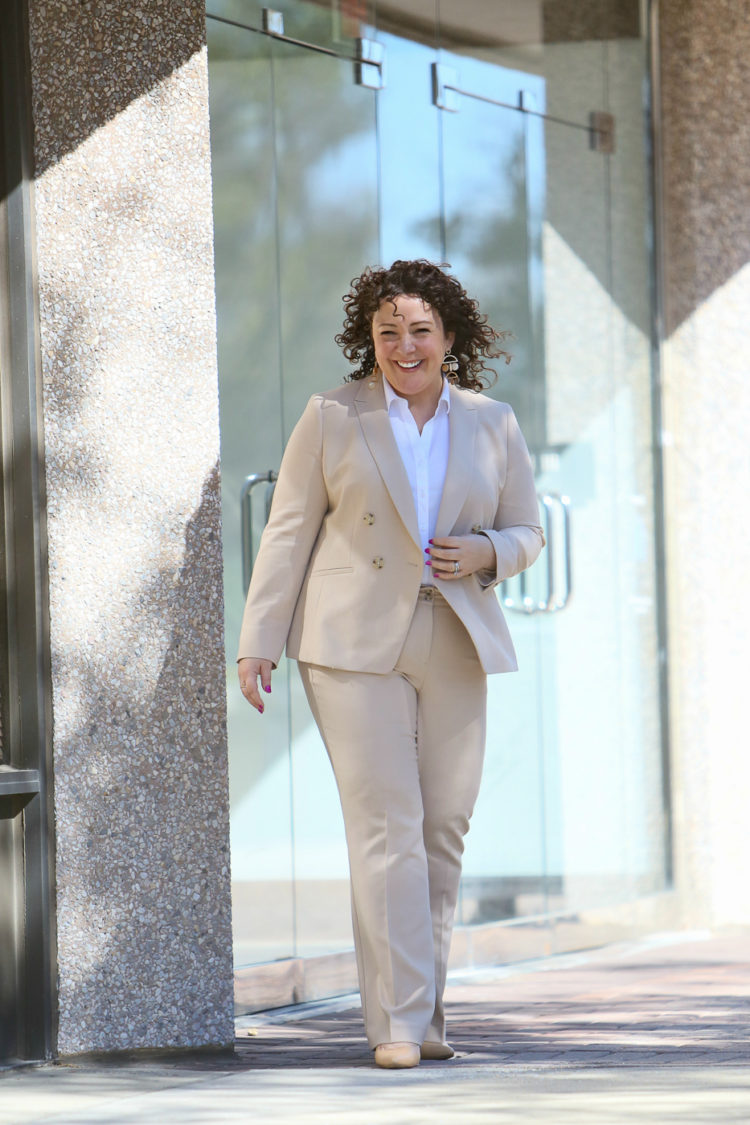 The white shirt is sleeveless, which I like because I get hot, but also because I have pretty solid arms and shoulders. I appreciate fewer layers under my blazers! I was torn between a 16 and a 14, worrying the 14 wouldn't accommodate my bust but knowing in the past a 16 is too loose in the neck and wide in the shoulders. I have two safety pins holding the shirt closed but it fits beautifully everywhere else. I am an F cup; if you're smaller I think this would fit quite beautifully (it's also wrinkle-free!).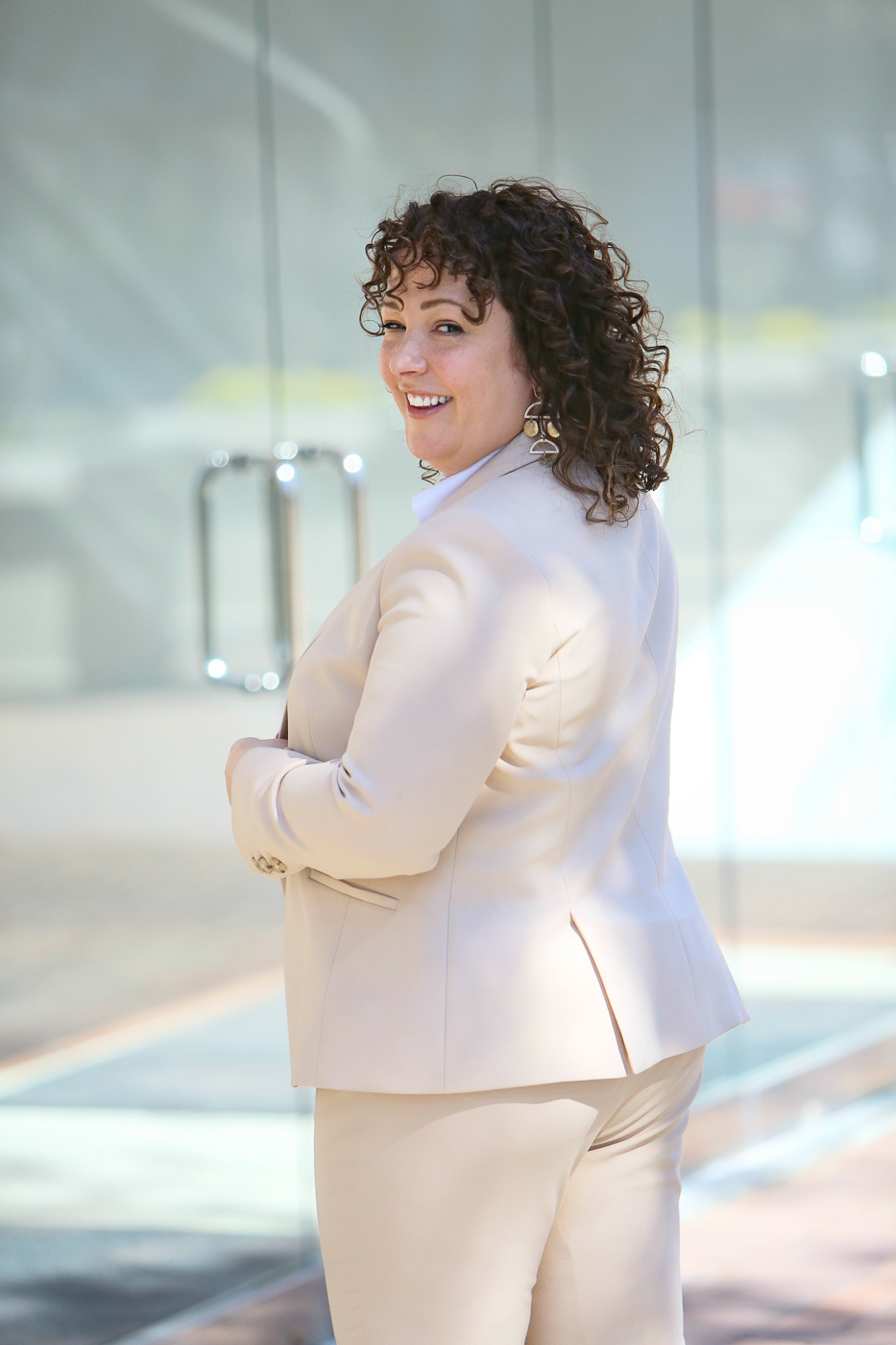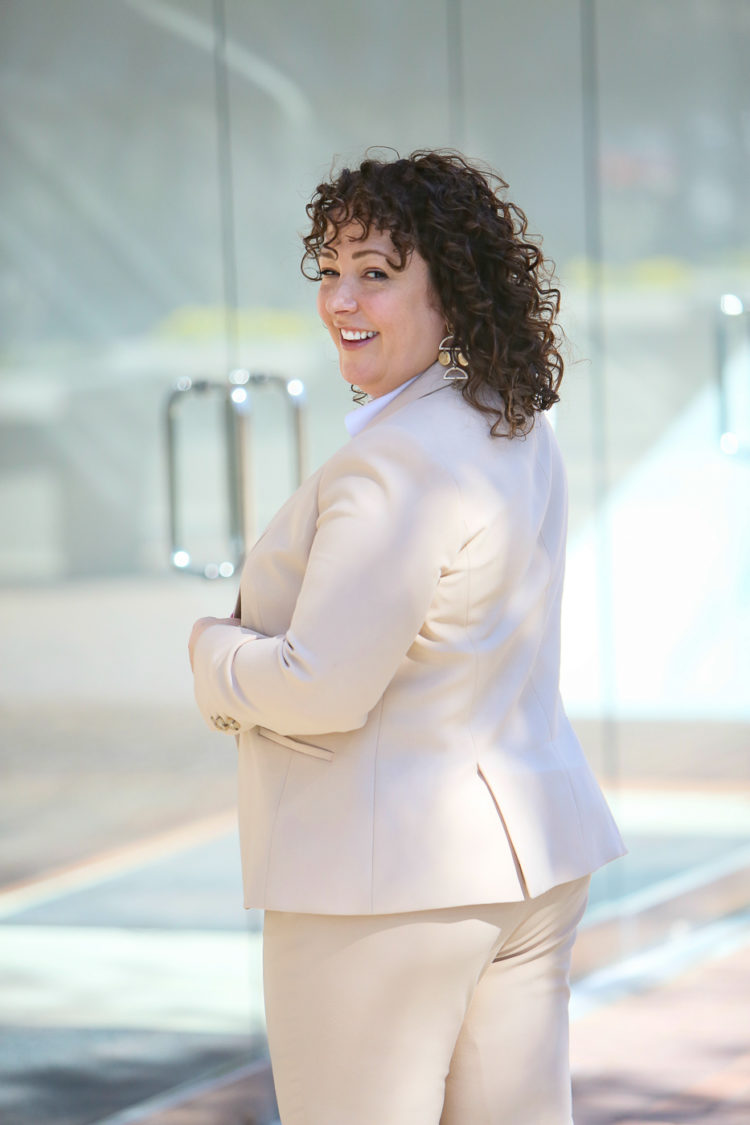 As for the earrings… I bought these several years ago on sale from Shopbop along with a few other items. I believe it was when I was trying to figure out what to wear to the rewardStyle conference. I totally thought I put them back in the box to return and somehow missed them and didn't realize until I got the email confirmation for the return missing them. I found them in the box under my bed of course after the return window. It's funny, back then I found these earrings boring – too small, I didn't like the brushed metal, and they seemed to be everywhere. And now in 2020, I'm digging them again.
Shop the Post: