This article may contain affiliate links; if you click on a shopping link and make a purchase I may receive a commission. As an Amazon Associate, I earn from qualifying purchases.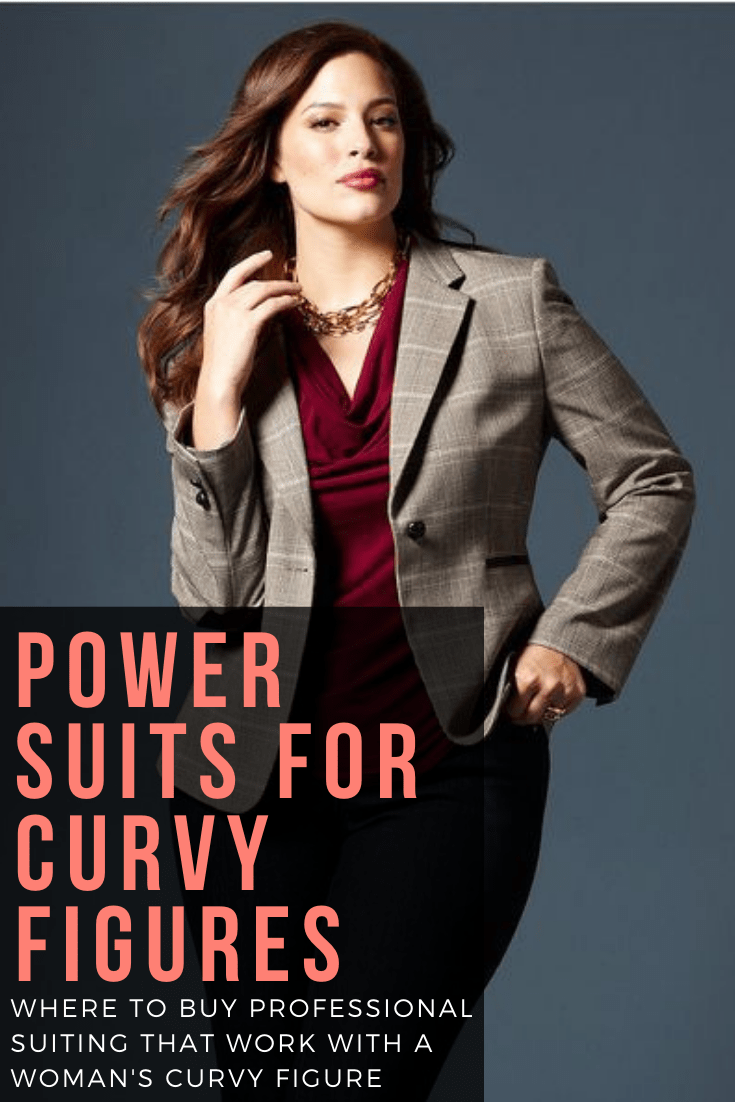 A reader emailed me asking for work suiting advice.  She is looking for a power suit but has a curvy shape.  She wanted to know if I had any suggestions on where to find a great suit for curvy women:
For years I struggled to find suiting to accommodate my soft curves. I am 5'3″ with an F-cup bust and in the past decade have varied between a size 12 and 16. Every suit I found was either too boxy or looked like it was leftover from the cast of Melrose Place (remember the super tight and short suits Amanda Woodward would wear?).
Luckily in the past couple of years, brands have caught on to the need for great suiting for curvy frames while trends have made suits stylish for everyone, not just stockbrokers. Below I share my favorite places to shop for suiting for curves along with some photos of me in suiting from the retailers I have shopped from.  The other retailers I recommend come from feedback from multiple Wardrobe Oxygen readers.
The Best Retailers Offering Suiting for Curvy Women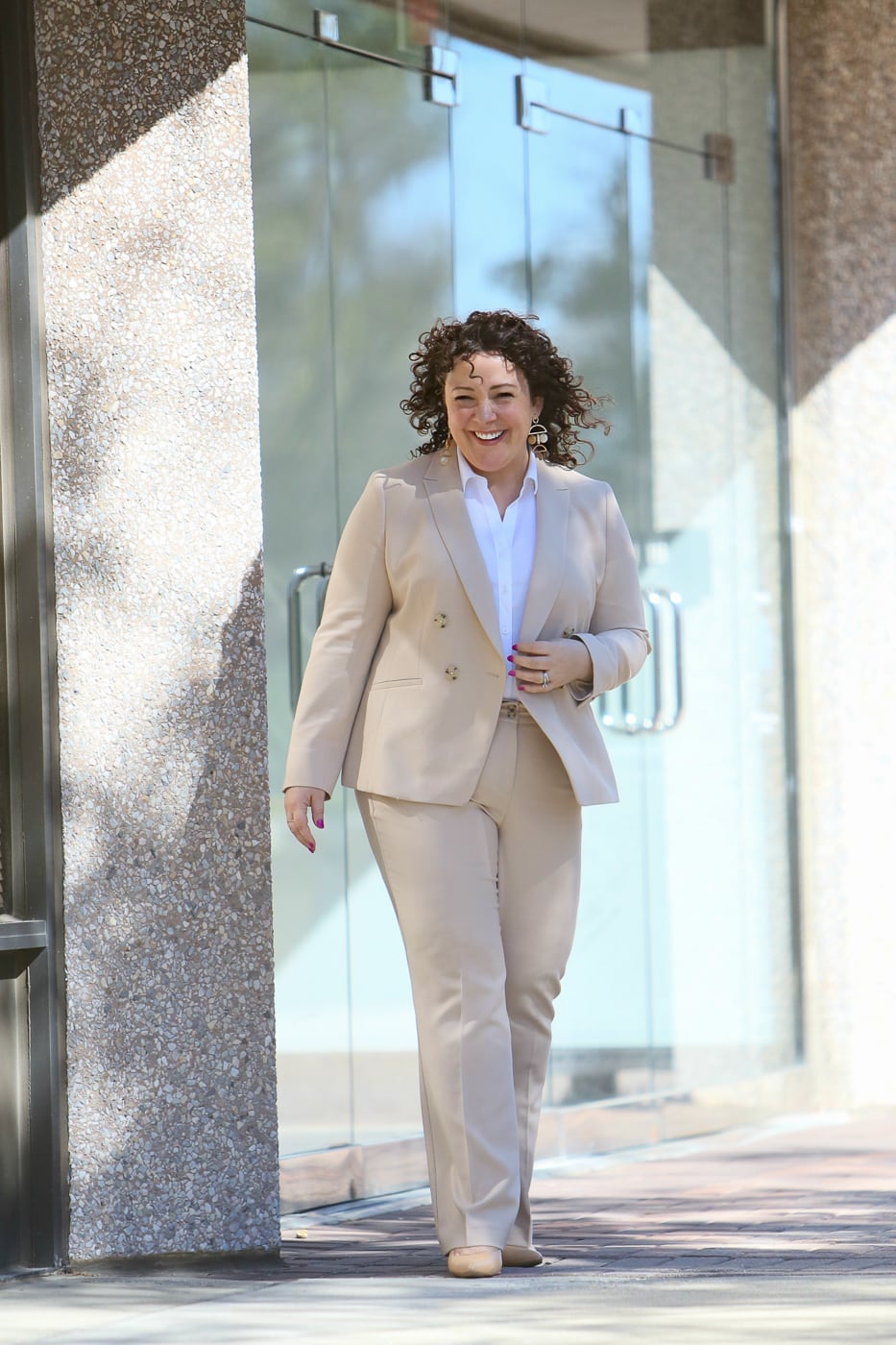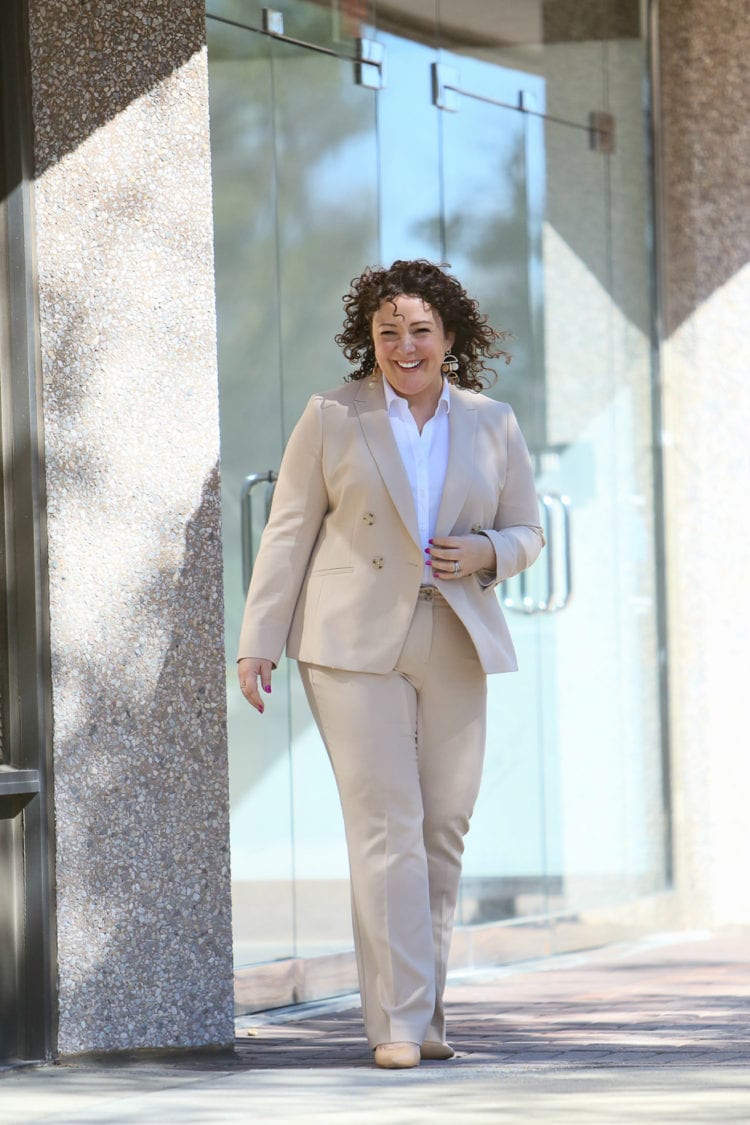 Talbots
At Talbots, I can find suiting for my 5'3" size 14 curvy body and they fit right off the rack. Offering most of their suiting in misses, petite, plus, as well as plus petite, you can create a more custom fit for your unique shape. Talbots suiting is clean, classic, shaped for a woman's figure. You can find a great pantsuit in a solid color or subtle pattern that will be classically stylish now and seasons from now. The quality is excellent, and the customer reviews help you know which size to purchase and if the silhouette will work for your form.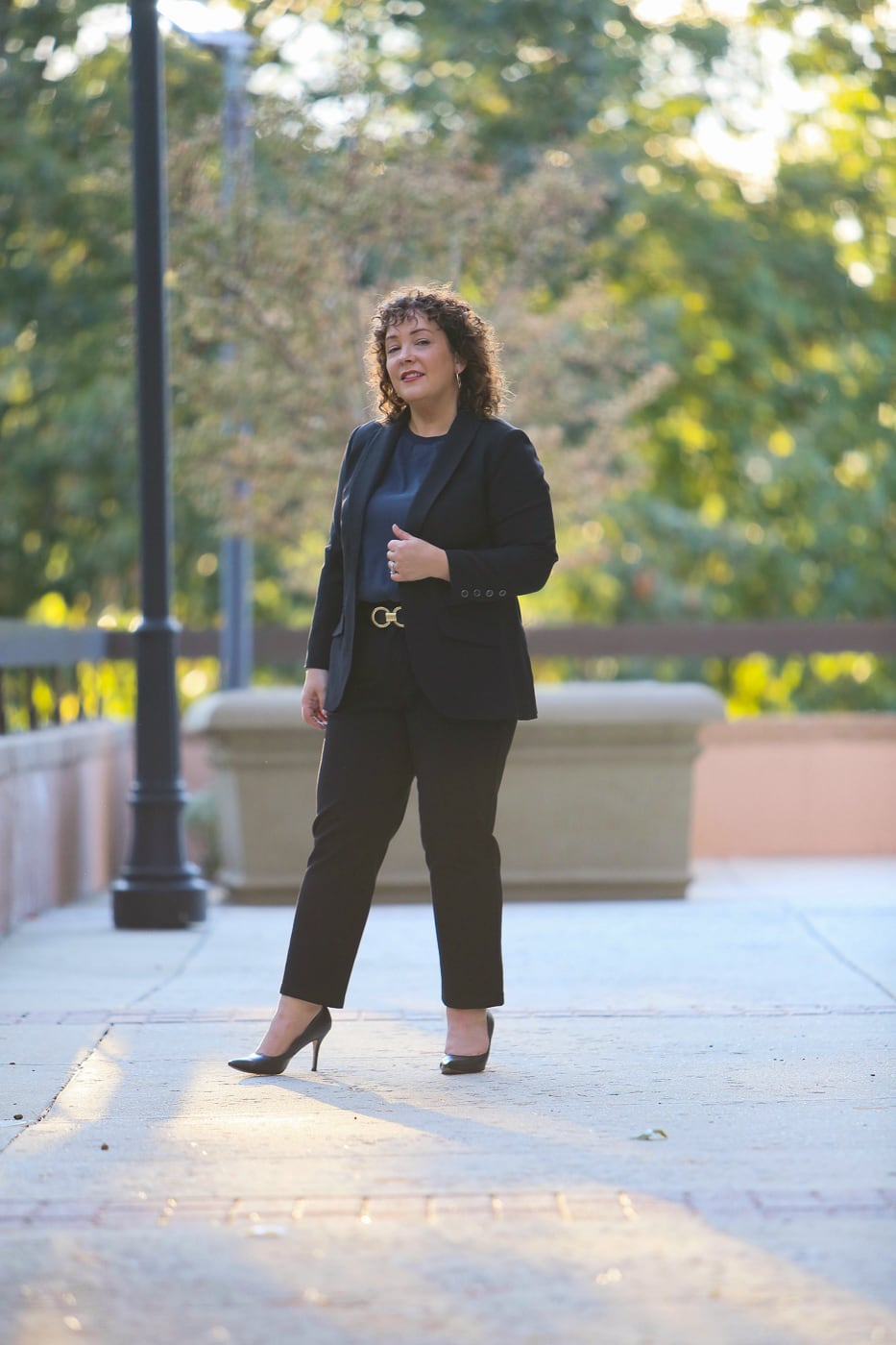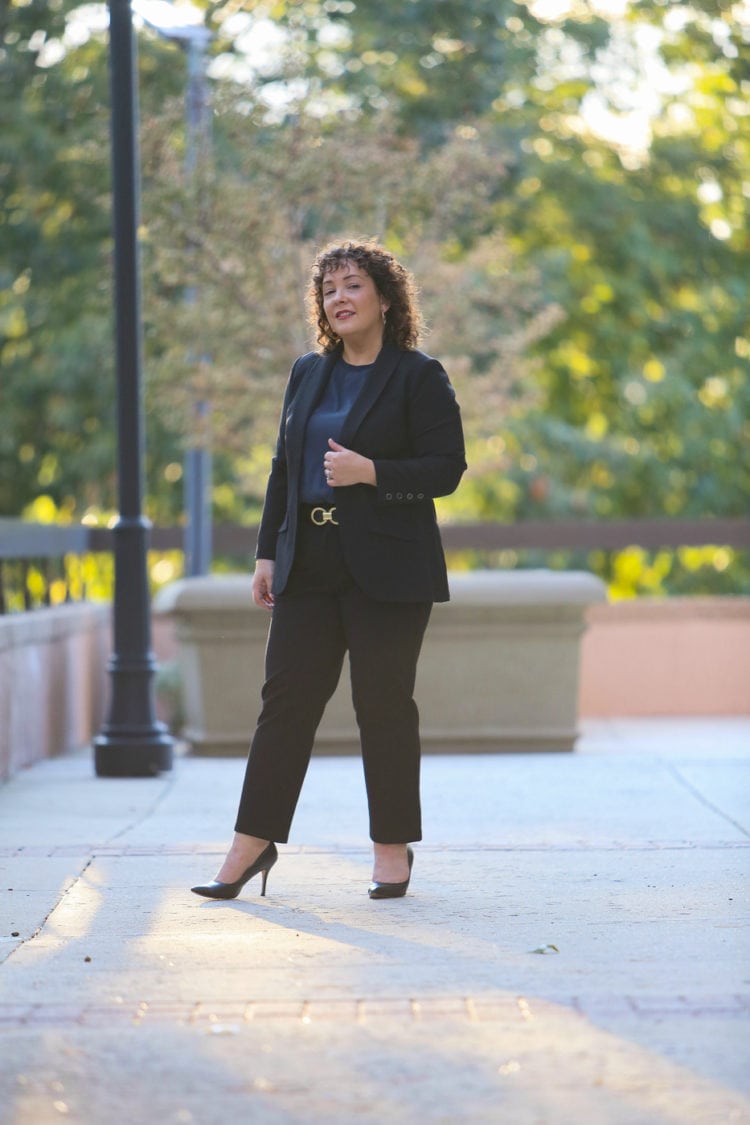 Universal Standard
I'm glad you mentioned Universal Standard because I think they do offer great suiting pieces – good quality, classic styles, and a size range from 00-40 with some pieces available in petites. They have suiting in ponte, a classic stretch wool suiting fabric, and a classic luxe twill suiting fabrics. Each fabric has one blazer and a variety of skirts and pants to coordinate. I love how they will show the same piece on a variety of bodies at different sizes so you can better assess how it will fit on your frame.
Universal Standard has a unique sizing system where 4XS is 00/0 and 4XL is 38/40. Every item, regardless of style or color, is available in every size. The Universal Standard size chart is very detailed and I recommend measuring yourself and if unsure, contact their customer service to ensure you order the right size.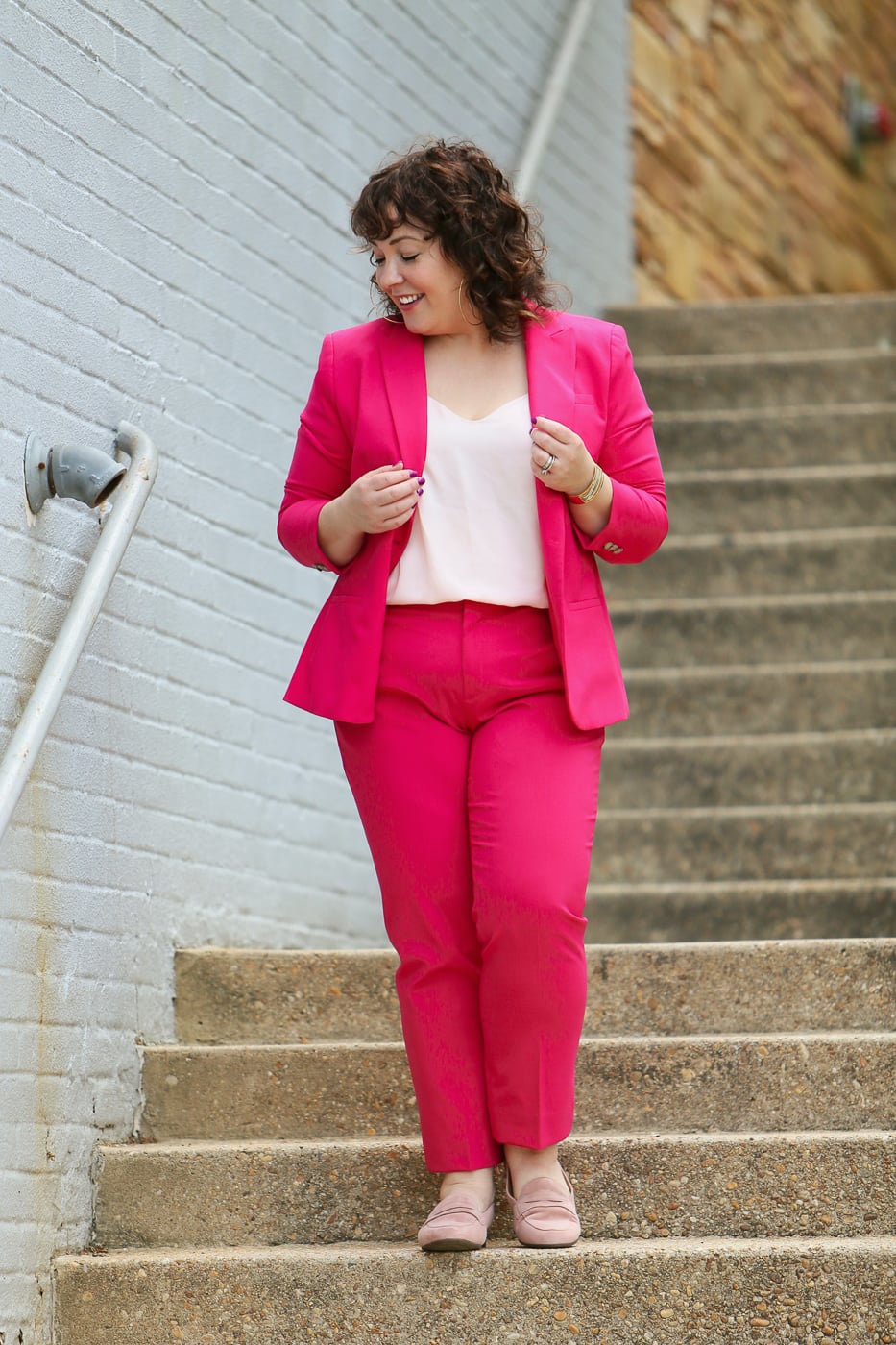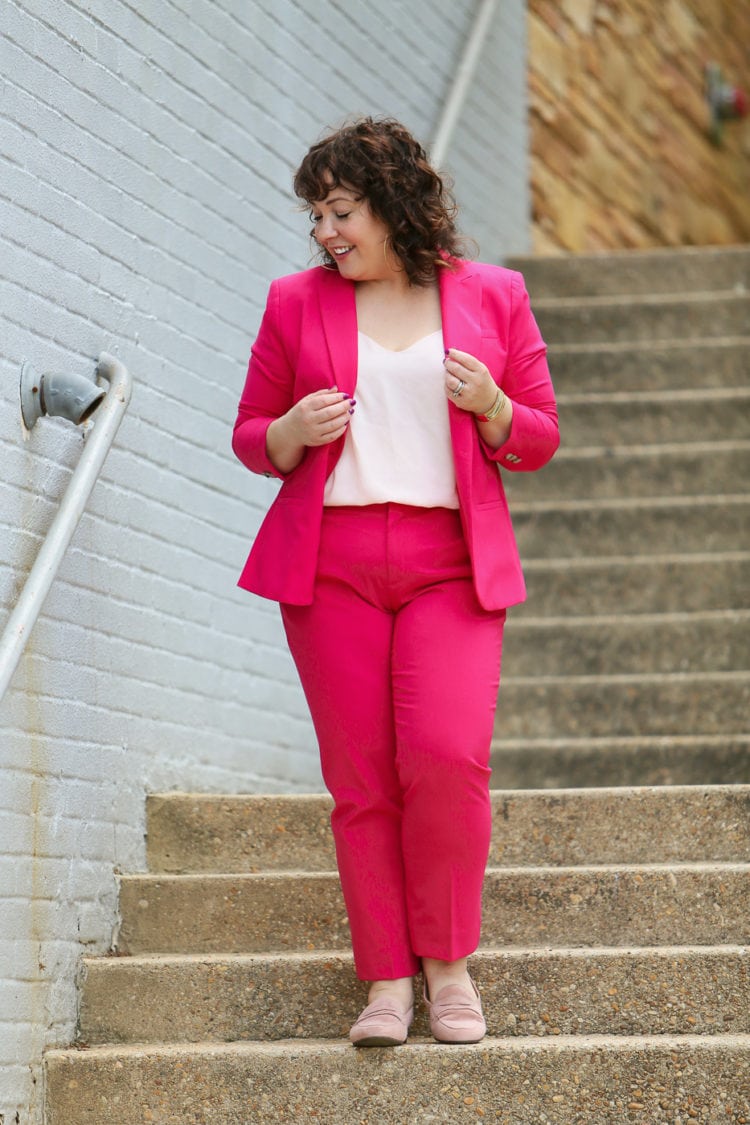 Banana Republic
I've had surprisingly good luck finding suiting that fits my curves at Banana Republic. Offering sizes 0-20 and most pieces with tall and petite options, you can achieve a better fit before visiting a tailor. Often employing stretch and tech fabrics that resist wrinkles and are travel-friendly while offering a variety of jacket and pant cuts for different frames, the suiting is very curve-friendly and a lot of it is also machine-washable.
If unsure, I recommend sizing up with the blazer and then visiting your neighborhood tailor or seamstress to shorten the sleeves and do a minor nip or tuck along the torso for a custom fit.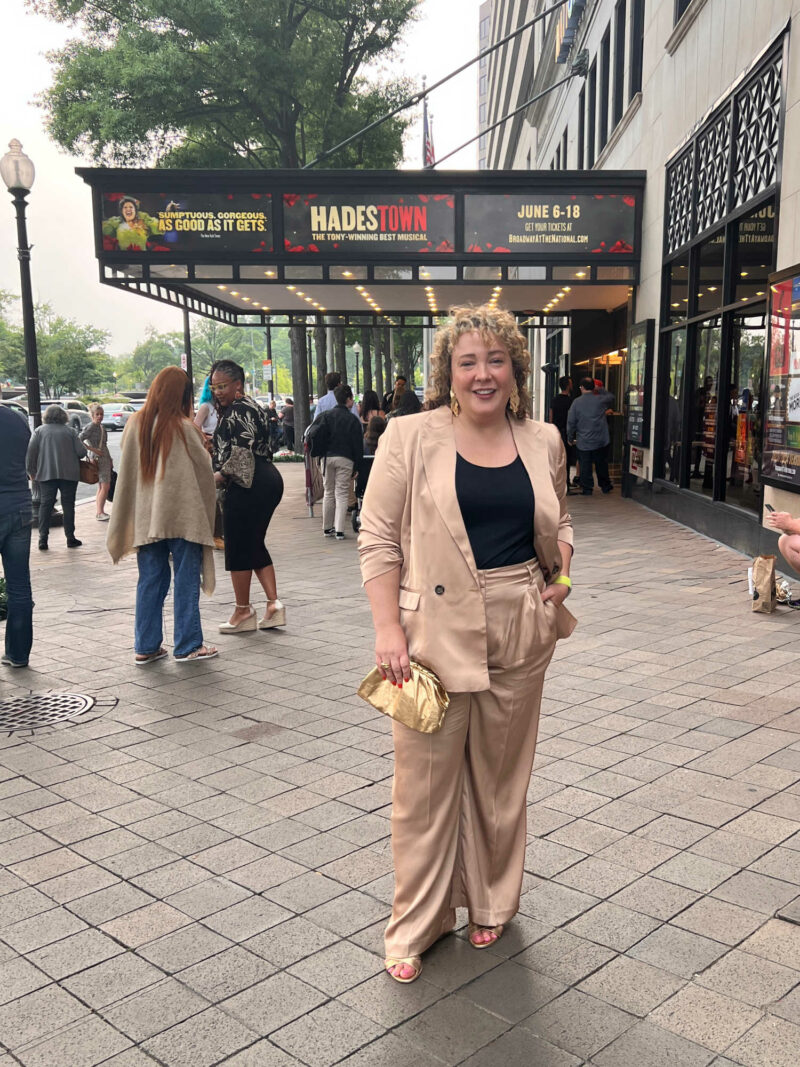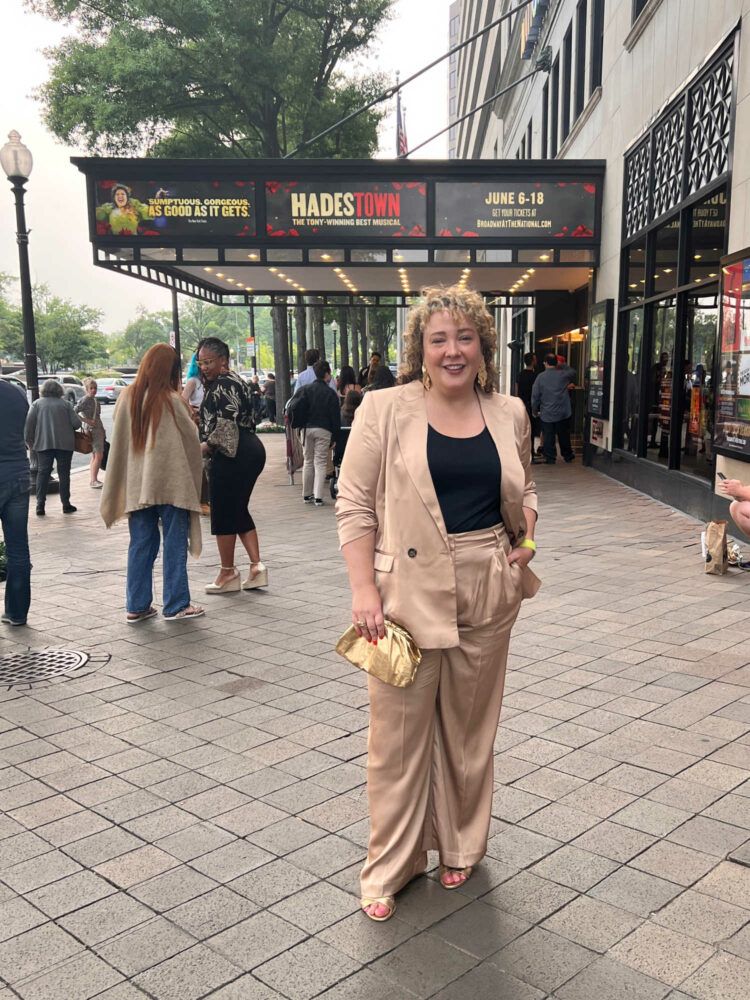 Ann Taylor
Ann Taylor carries suiting up to size 18 with petite and tall options, and a specific category of suiting pants and skirts in curvy fit. I have had a lot of luck with Ann Taylor suiting in the past year or two, finding the curvy fit works really well with my frame and the jackets having great fit over fuller shoulders, arms, and bust.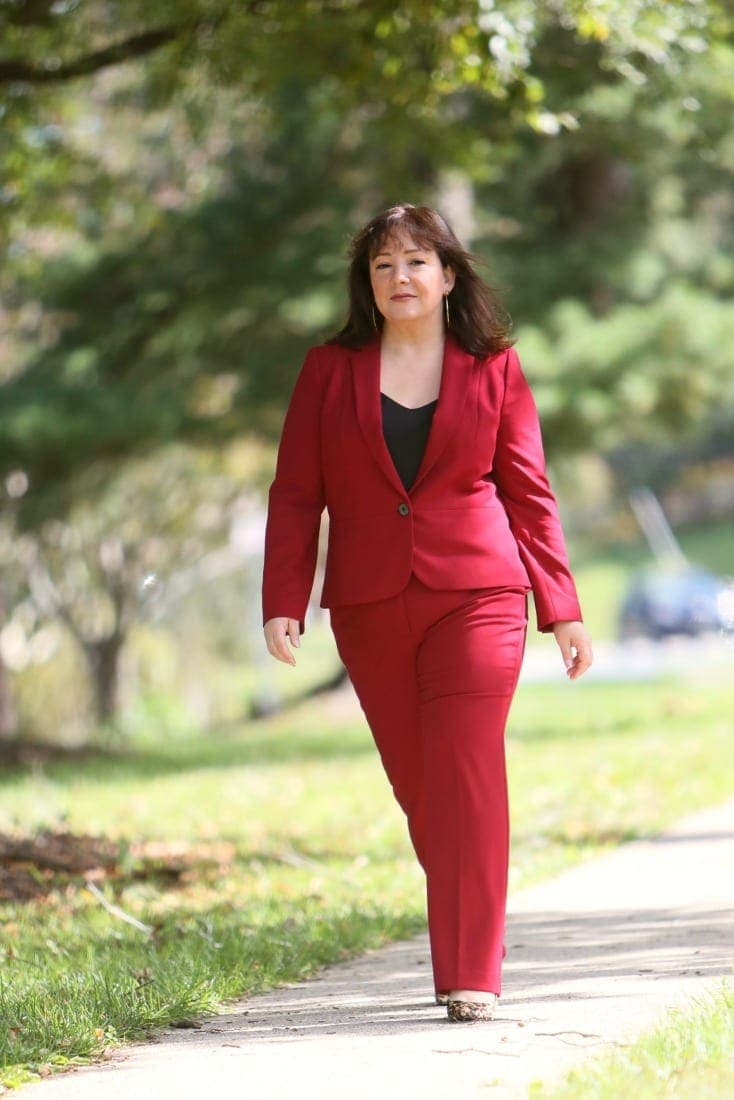 Of Mercer
Of Mercer was created for businesswomen who want to look powerful but also embrace their feminine side. Offering 00-14 as well as 14W-20W, Of Mercer offers matching suiting separates in three different classic fabrics, all with stretch to work with a woman's curves. Fit is important to Of Mercer and they have a detailed size chart and online instructions on how to measure yourself to find the right fit.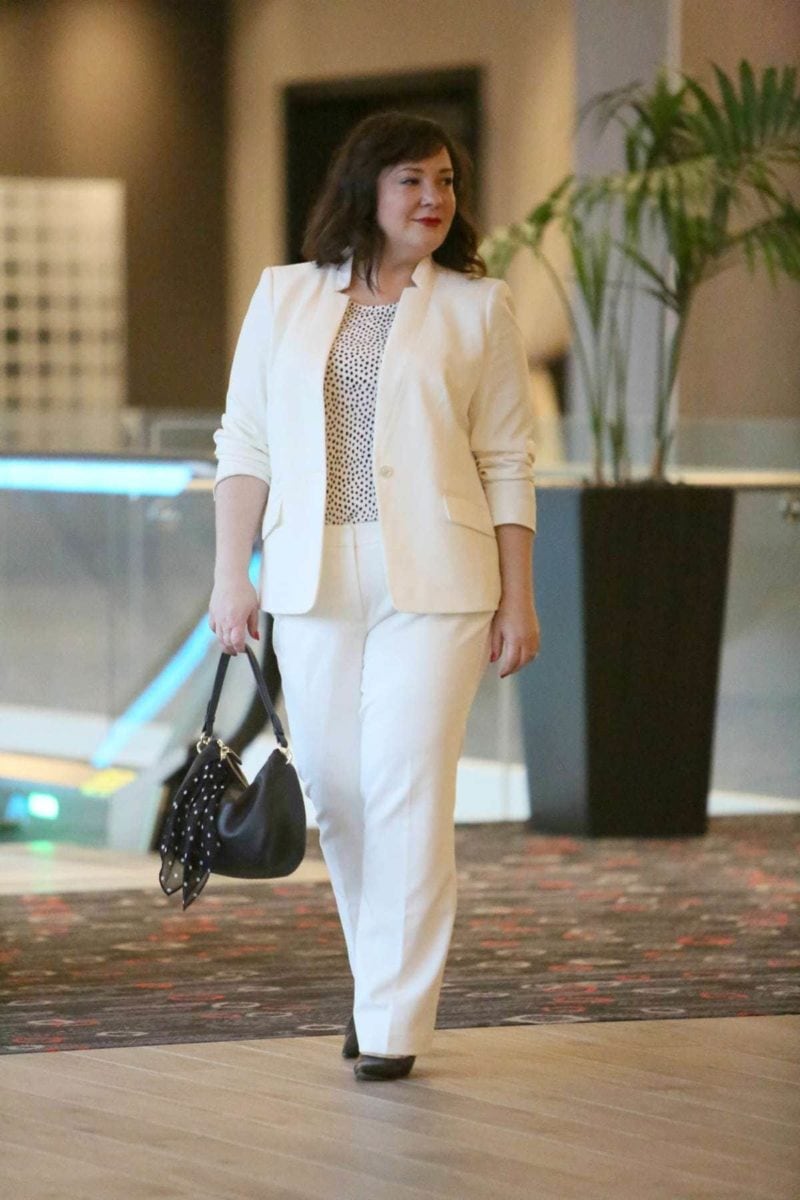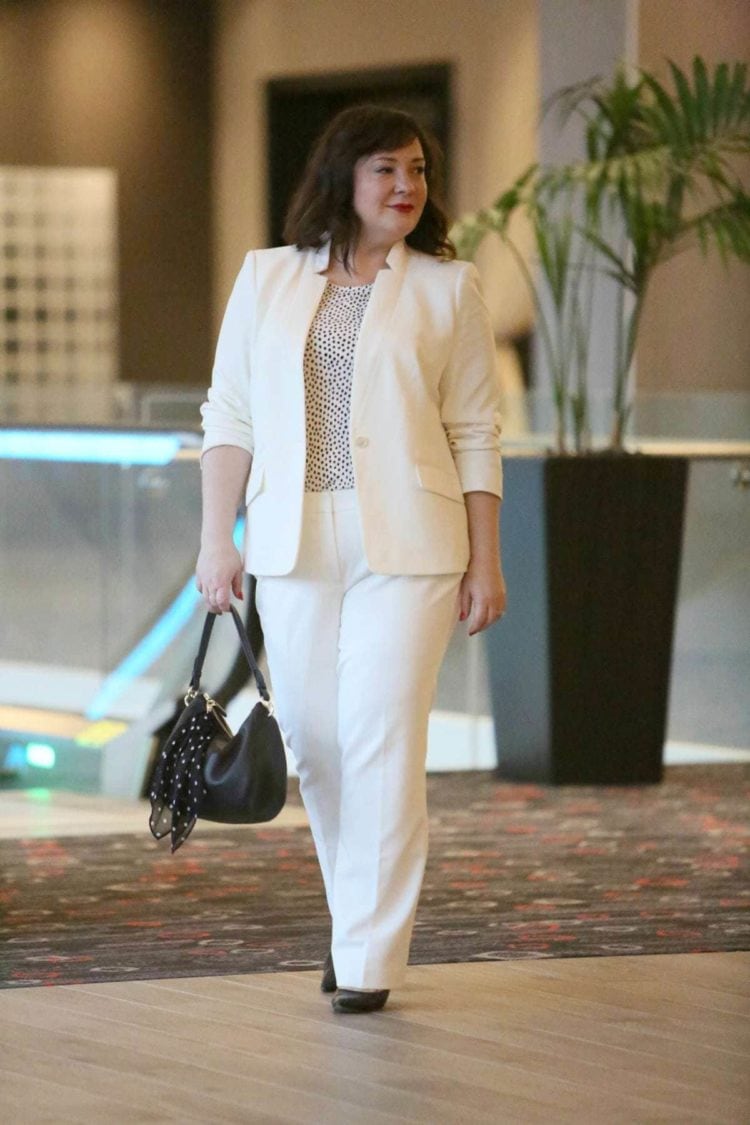 Sumissura
Wish it was possible to get a custom-made suit without being a millionaire?  Wish such a feature was available without leaving your home?  Sumissura creates custom-made suits for women and when I say custom, that goes beyond your body's measurements.  Being able to choose fabric, label style, fit, even number of buttons on the cuffs, Sumissura gives you the luxury of designing the suit perfect for you without spending an arm and a leg (custom suits are under $300). 
I have never used Sumissura, but I love the idea of it and love how they don't have a size limit.  If the idea of creating a suit from scratch is overwhelming, Sumissura carries popular business suit designs already set up and you can just enter your measurements to get it made for you.  Sumissura also offers dresses, trenches, and more made to fit.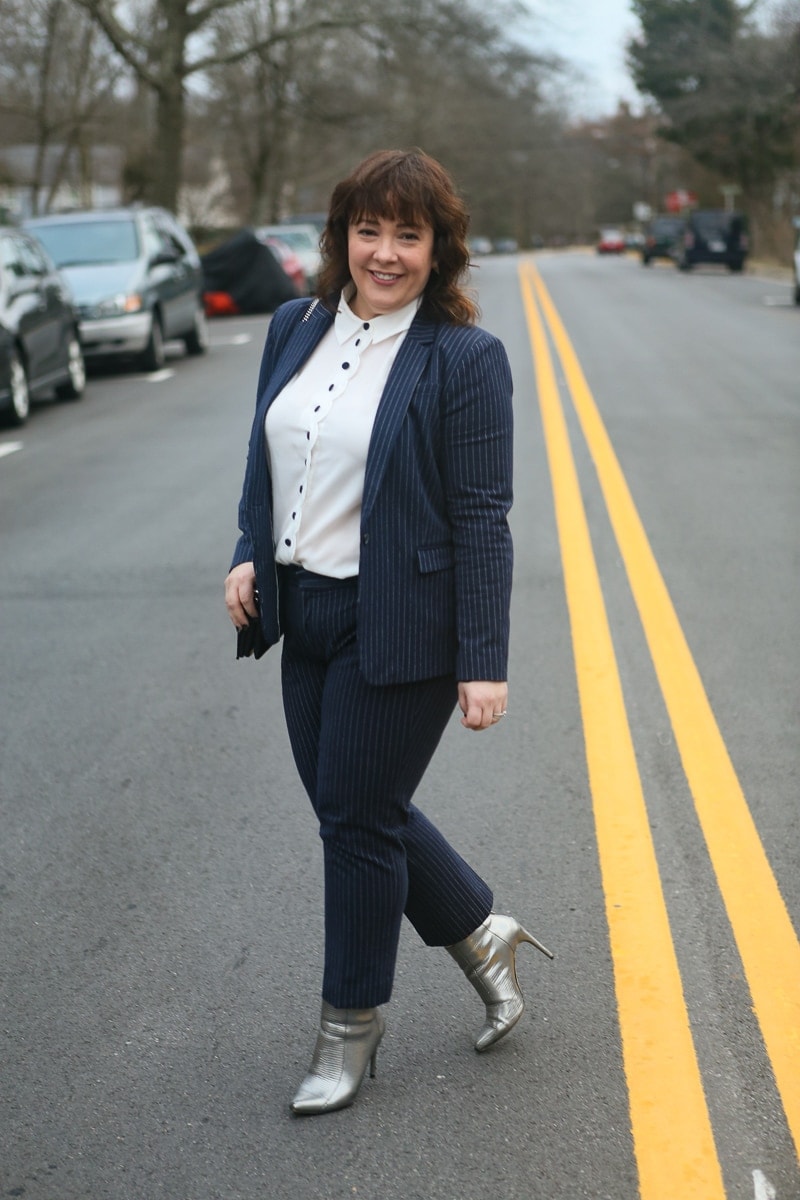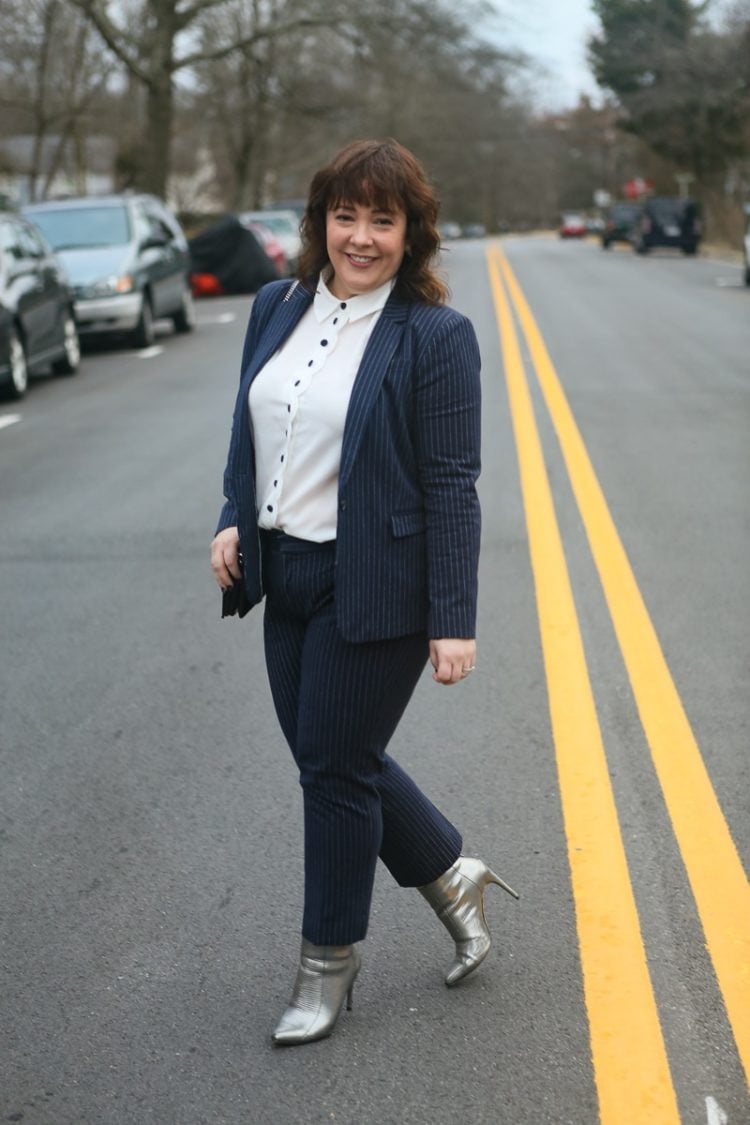 Tips for Curvy Women Buying Suiting:
Size up, tailor down. To make sure there is room for your curves, purchase a size up. Ensure the sleeves are roomy enough for your upper arms and shoulders, even when wearing a blouse, that your bust doesn't cause the jacket to pull, that you can sit comfortably in the trousers. A tailor is your secret weapon in making any suit look twice its pricetag and give you twice the confidence and air of success.
Consider a single-breasted, one-button style. A one-button style creates an hourglass shape, working with a curvy frame. It also looks more current and looks good when left unbuttoned.
Consider a "column of color".  If you wish to minimize your curves, creating a column of color with your blouse and pants the same color will elongate the frame.  If the color is dark, it will recess under the blazer making your figure less of the focus.  No need to have it black with a light-colored blazer; other dark colors will work and the blazer doesn't have to be high contrast to achieve the effect.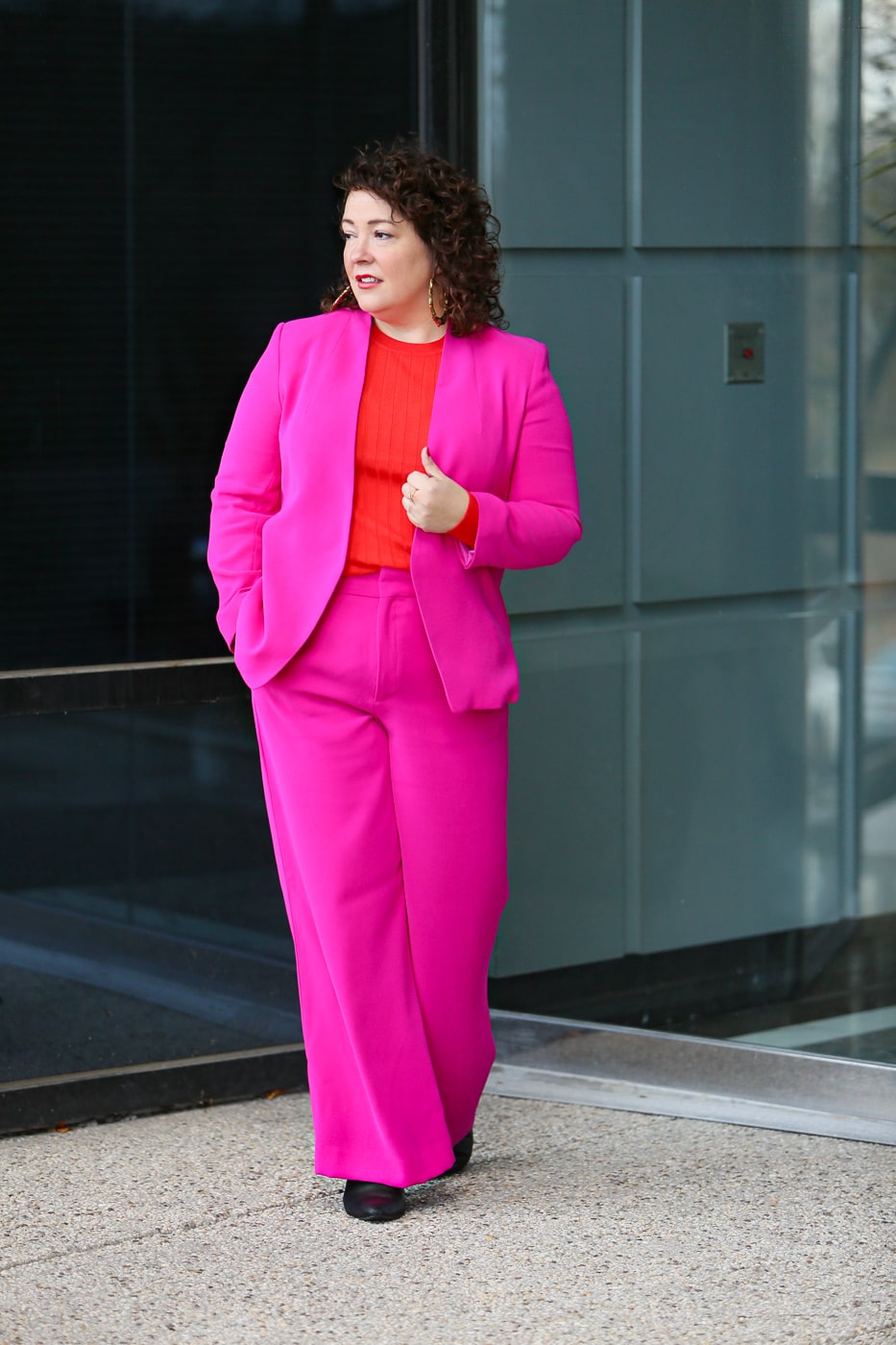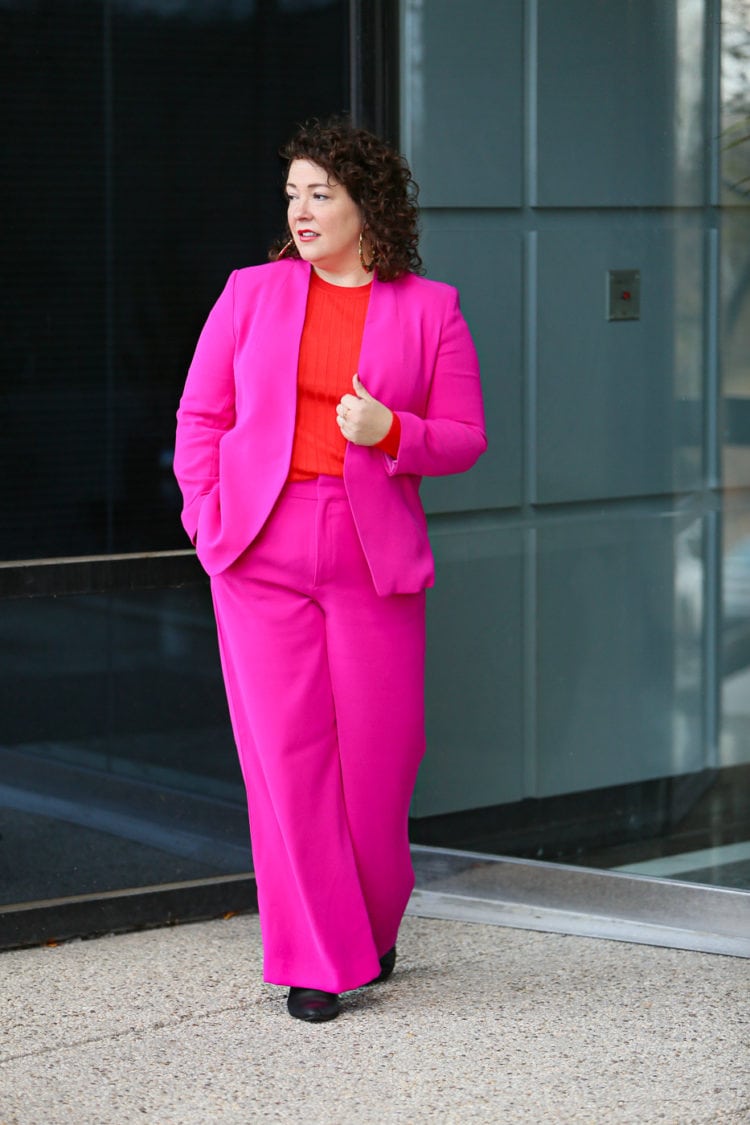 While this list is not exhaustive, these retailers are known to carry professional looking suiting season after season, offering fabrics and fits to work with a woman's curves. If you are reading this article and know of another retailer that regularly offers professional suiting for curvy women, do share it in the comments to benefit other women looking for this workwear must!