This article may contain affiliate links; if you click on a shopping link and make a purchase I may receive a commission. As an Amazon Associate, I earn from qualifying purchases. 
Gosh it has been a while since my last beauty review! I have been pretty busy the past few months, so in general I have been sticking to my makeup "uniform" (Almay Smart Shade foundation, Laura Mercier Secret Camouflage, NARS Orgasm blush, Revlon ColorStay shadow quad in Neutral Khakis, DiorShow mascara). However, I have tried a couple new items, and all the ones below can be found at your neighborhood drugstore.
In my last beauty review, many of you sang the praises of Revlon's Lip Butters (sorry Disqus issue has the comments missing). So much so, I went out and purchased one (Berry Smoothie). You're right – it feels amazing on the lips, it hydrates, and it gives a pretty pop of shiny color. It's hard to explain this product – more like a creamy sheer lipstick than a tinted lip balm – I find you can wear one layer as a soft stain, or build for more pigment so it almost ends up looking like a creamy almost-opaque lip gloss. I like Berry Smoothie which is a neutral mauvey-rose color that is like my lip color but better. I can put it on sans mirror and know it will look great. These aren't long-wearing lipcolors, but they don't leave a stain or ring on the lips and keep my lips feeling hydrated and smooth.
Since purchasing Berry Smoothie, I have also added Lollipop, Fig Jam, and Cherry Tart to the collection. Lollipop is a bright, almost neon hot pink that has been my go-to bold lip color this spring. Fig Jam is a bit too brown for my skin and makes me feel like my '90s self, but I think it would look gorgeous on someone with more bronze or brown of a skintone (I sometimes mix with other colors to make them more day-friendly). Cherry Tart is by far my favorite – with my fair skin it makes me feel like Snow White, or possibly Blair Waldorf (her makeup has been pretty awesome the end of this past season). Soft, shiny, lush, not sticky and a gorgeous sheer red.
The only issue I have with Revlon Lip Butters is that like real butter, they melt. My Lollipop was in the outside pocket of my bag on a hot day, by time I got from my office through the Metro to my home, it had softened enough that the stick of lipstick had disconnected from the tube and smeared on the inside of the cap (I now wear it with a lip brush). The Berry Smoothie did the same thing, and now is a bit messy to use. Cherry Tart I keep in the deep dark recesses of my purse and will only twist up the bare minimum to apply to help preserve the product. This issue is enough that I hesitate purchasing another during the warmer months.
I succumbed to the hype and bought a BB Cream. While I like my Almay foundation, I prefer a lighter weight product come summer. I was at CVS getting allergy meds for Emerson and grabbed a tube of this on the way to the register. I chose Light/Medium.
At first, I hated this stuff. It felt cheap on the skin, looked greasy, and disappeared within an hour or two. Then I tried it without my Philosophy Vitamin C/L'Oreal Youth Code serum cocktail and it worked far better. It's a bit heavier than a tinted moisturizer, but not as thick or heavy as a traditional foundation. My best luck was to apply it to very dry skin, while still damp apply my concealer over it, let it set and dry completely before applying any other makeup. By doing this, I like it better and wear it a couple times a week. However, I hate going without my "cocktail" and prefer to be able to use a second sunscreen for the best coverage. So while I learned to like the Garnier BB Cream, I won't be buying another tube when this one runs out. In fact, as the weather gets warmer and my face gets greasier, I may stop using this product all together.
I have never been a huge fan of tinted moisturizer – I have tried some of the most popular brands and don't get the hype, finding my skin to look just the way it did prior, just a tad more greasy. Garnier's BB Cream provides more color and coverage than a tinted moisturizer, but isn't heavy or as opaque as a foundation. It isn't the best choice for one with oily skin or is prone to being uber sweaty in the summer, but is a great alternative to foundation for those with dry or normal skin.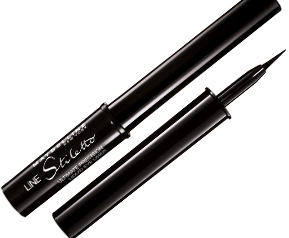 I have used Maybelline's Ultra Liner since college. While many find a brush for liquid liner to be messy, I work better with it than a felt tip. However Ultra Liner is very shiny, very black, and as I have gotten older I find it to be a bit costumey on me unless I am purposely doing a retro-inspired look. I wanted a liquid liner that was easy for me to control, didn't have a shiny finish, was not black, but not a lighter brown than my eye color. After reading a ton of reviews (and seeing it was on sale at drugstore.com and they had double cash back with Ebates) I chose Maybelline Line Stiletto in Brownish Black.
Fan. Big Fan. This is exactly what I wanted. While it is considered a felt tip, it's a long and flexible tip that holds a lot of pigment. The formula is thinner than Ultra Liner, but it's not watery like other brands I have tried. The color is a dark brown with a slight gray tinge which makes it look more natural. It's a soft matte finish, dries quickly, doesn't irritate my allergy-prone and contacts-wearing eyes, doesn't flake, and washes off easily with CeraVe come the end of the day. A very thin line right in the lash line just makes my lashes look fuller, a slightly thicker line provides drama that is still appropriate for the office, the daytime, and a day when I am not wearing a bold red and a smirk. Did I mention I am a big fan of Maybelline Line Stiletto? Because I am. Big fan.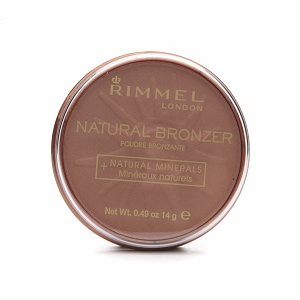 It's… fine. Very low pigment which is great for a fair-skinned lassie, but makes it hard if you actually want to look bronze or use it as blush or contour. No sparkle, which is something that makes me happy. Top doesn't screw on, so it's not something you can pop into your makeup bag. However Rimmel Natural Bronzer doesn't crumble away like many bronzers; I expect it to stay intact for me to reach pan based off of usage, not disintegration. However, I am not feeling the love for the actual product like I have for higher-end brands like Cargo, Tarte, and Laura Mercier.
Have you tried any new drugstore beauty products? Any you love and think I should try out? Let me know in the comments!
Follow Me | Twitter | Facebook