This article may contain affiliate links; if you click on a shopping link and make a purchase I may receive a commission. As an Amazon Associate, I earn from qualifying purchases.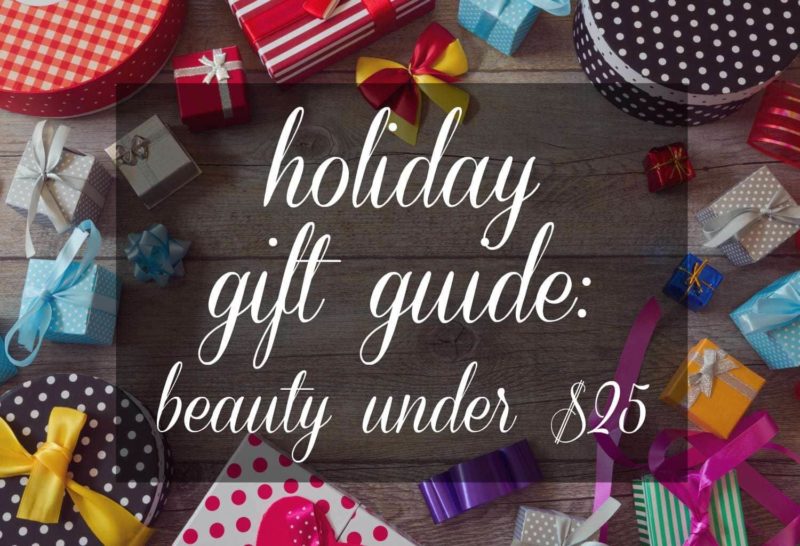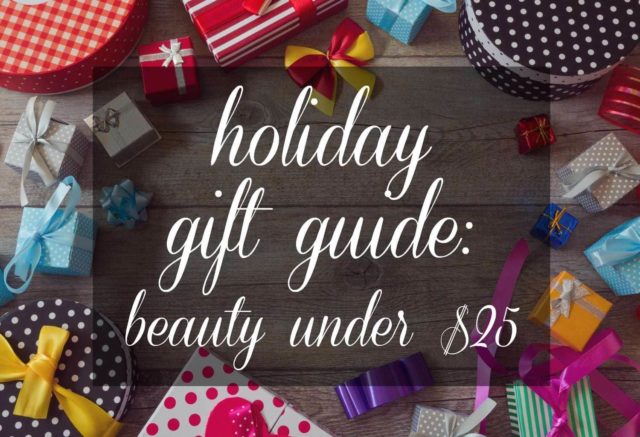 Whether it's your friend, your babysitter, your niece, or your neighbor; a gift of beauty or pampering is usually welcome. For this gift guide I'm keeping all items $25 and less so they can be part of a larger gift, a possible stocking stuffer, or the right size token of friendship.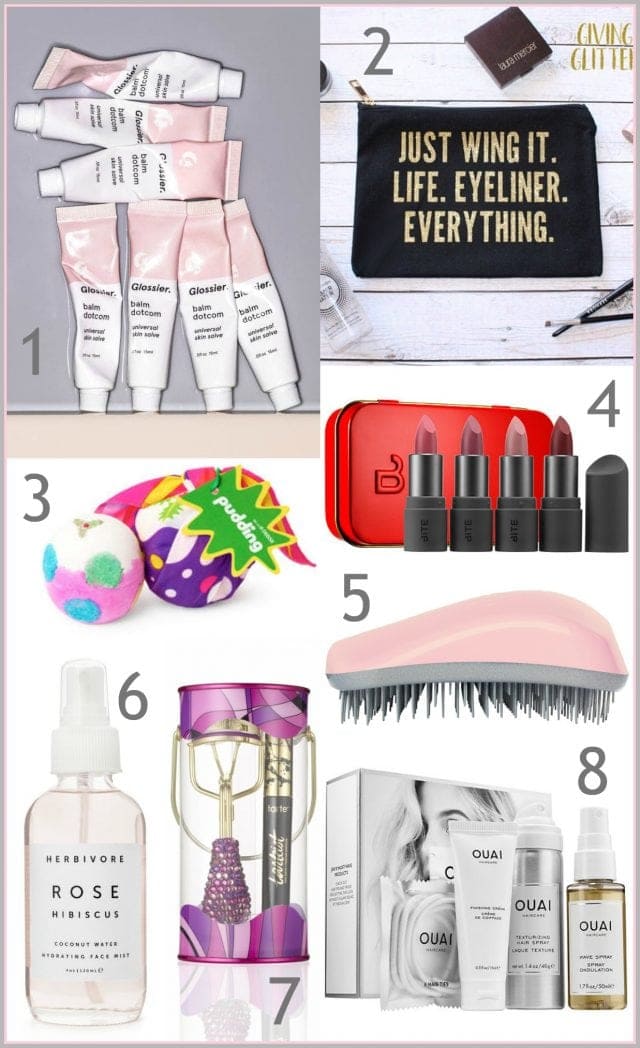 Impress the 16-35 year old beauty lover on your list by gifting this recent cult favorite. Created by the beauty editors behind the popular blog Into the Gloss, Glossier has received a lot of hype and has proven to be worth it. Balm Dotcom is a universal salve that will be a welcome gift this winter. Super hydrating, it's great for lips, cuticles, that red raw place under a runny nose. Not tested on animals, paraben free, fragrance free, and looks super cool in your makeup bag. $12.00 at Glossier.
I love Etsy for unique and fun gifts and this one from GivingGlitterCo fits the bill. Cute message for a makeup bag, the font is available in 12 different glitter colors and unlike many makeup bags, this one is machine washable. Don't like this message, this shop has dozens of other great messages and plenty of glowing reviews. Gift it alone, or tuck in it some beauty samples or any of the other items in this gift guide for a present that's sure to please. $15.00 and $3.10 shipping via Etsy.
Have you ever experienced a bath bomb from Lush? You should, they are so much fun, so relaxing, so yummy smelling. The Pudding bath bomb is a relaxing blend of scents including lavender, and it comes already wrapped in one of Lush's knot-wraps which becomes a 27" square scarf you can wear. Not the right scent or wrap for your loved one? Lush has a great variety of bath bombs and many different knot-wraps to choose from for the perfect personalized gift. If you don't know about Lush, it's a pretty awesome company. Cruelty free, handmade, ethically sourced, and as fresh of ingredients as possible, and they give so much to charity. $12.95 at Lush.
My friend Sarah turned me on to Bite Beauty two years ago and I have become obsessed. It seems obvious to have a product on your mouth made from edible ingredients, but in fact most lipsticks are not. Bite Beauty is made with natural ingredients, as they say, that are good enough to eat. But is the product any good? Oh yeahhhhh. Highly pigmented, hydrating, weightless coverage, a yummy smell, and long wearing, I'm a complete Bite Beauty convert. This set of four neutral lipcolors (I have Fig and love it) in a reusable tin will be a welcome gift to any beauty addict, health nut, or luxury lover. $25.00 at Sephora.
Emerson's hair is like her father's – thick, relatively straight, but with that little bit of wave and bounce that creates the most insane tangles. And like her father, she has a sensitive scalp making hair brushing before school torture. The Dessata has been a lifesaver, and I find it does better than other detangling brushes. The bristles are a bit longer, a bit firmer, and they can wiggle through knots quickly and relatively painlessly. All this, and they're under $10 and come in some super fun color combos. $9.99 and free Prime shipping via Amazon.
This is one of those decadent beauty products you would never buy yourself. But that's what makes for an amazing gift! This delicious-smelling spray can be used after cleansing to tone and hydrate, as a prep before applying makeup, or a mid-day refresher. This elegant glass bottle looks beautiful sitting on a dressing table or in the medicine cabinet. Made in the USA, everything from Herbivore Botanicals is organic, plant made, and cruelty free. $16.00 via Urban Outfitters.
Perfect for the young adult beauty lover on your list, this gift set has a great mini mascara paired with the most sparkly fabulous lash curler I've ever seen. Tarte is not only a trendy brand, it's a brand that is free of parabens, mineral oil, phthalates, triclosan, SLS, gluten and is vegan and cruelty free. $20.00 at Tarte.
Another cult favorite, OUAI is a line by celebrity hairstylist Jen Atkin. Known for styling the hair of fashionistas such as Christina Hendricks, Kim Kardashian, Jennifer Lopez, and Gwen Stefani, when she came out with a haircare line it took the beauty world by storm. No animal testing and no parabens, this gift set from OUAI contains the brand's Wave Spray, Texturizing Hair Spray, Finishing Crème, and four hair ties and is made to work on any hair texture. $25.00 via Sephora.