This article may contain affiliate links; if you click on a shopping link and make a purchase I may receive a commission. As an Amazon Associate, I earn from qualifying purchases.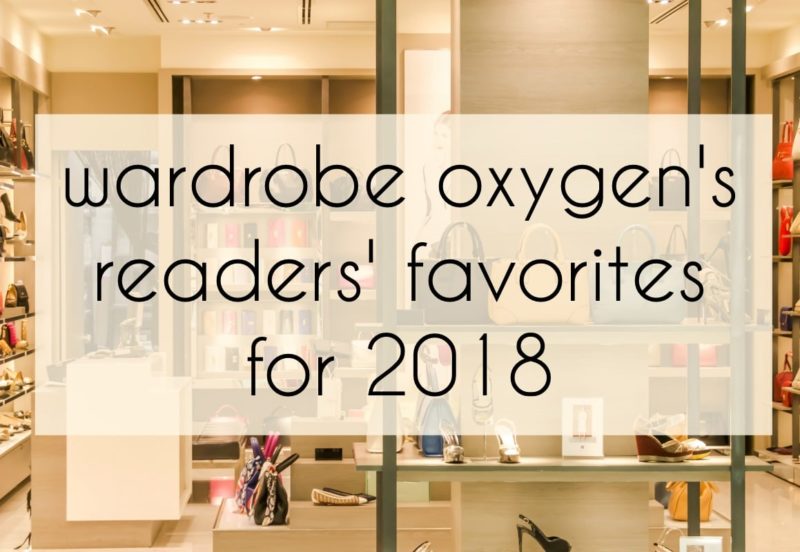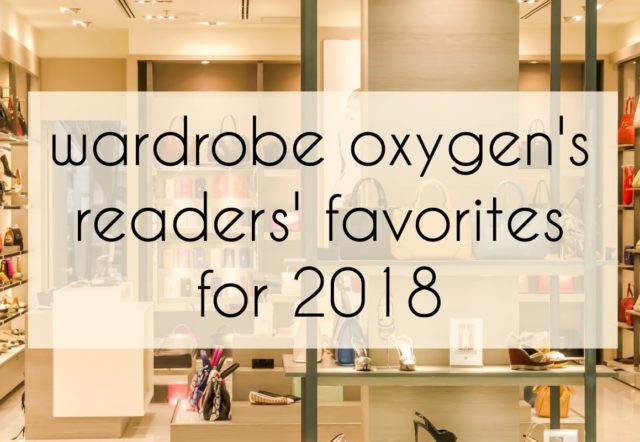 I did a post like this last year but the end of 2018 was so wonky for me I missed a lot of my year-end posts. I find these posts so interesting on other blogs and thought you too may enjoy it. When using affiliate links, I get some great analytics that help me track what is clicked on the most and how much of each item is sold.  Below, I share the most purchased items on Wardrobe Oxygen for 2018.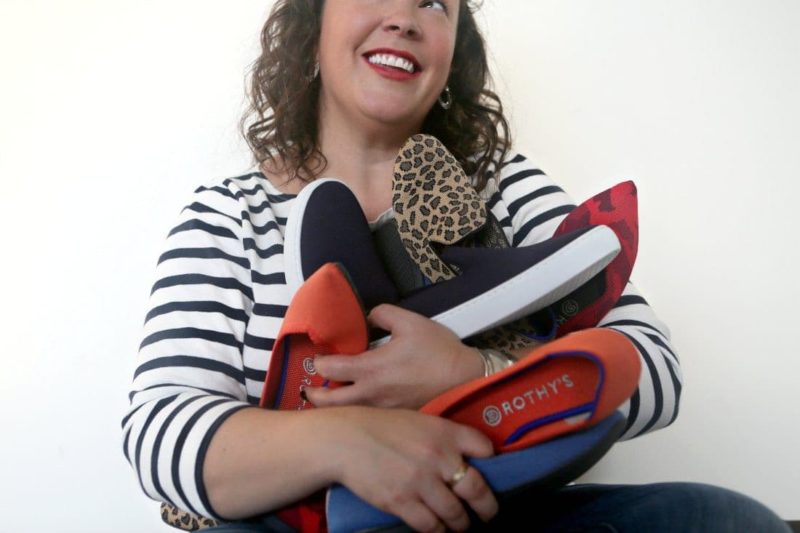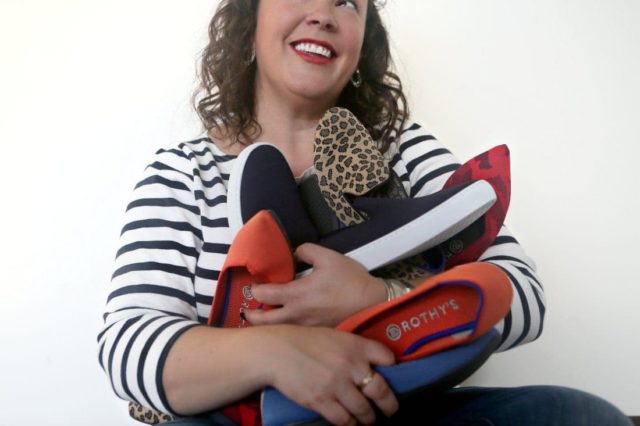 Rothy's 'The Point' Flat
This is no surprise as my Rothy's review posts are two of my highest traffic posts for 2018 and they were worn in several posts in 2018. Y'all love you some Rothy's flats, so much so that in 2018 I was able to gift so many pairs to readers thanks to my $20 referral credits. But on top of that, many of you used my affiliate link (it's a one or the other, if you use a $20 off first purchase link affiliate links do not work) and I sold tons more. I currently own and wear two pairs of Rothy's 'The Point' flats; black and persimmon. I love the elongated toe, love that they're stretchy, love that they're machine washable, and love that they're made from recycled water bottles!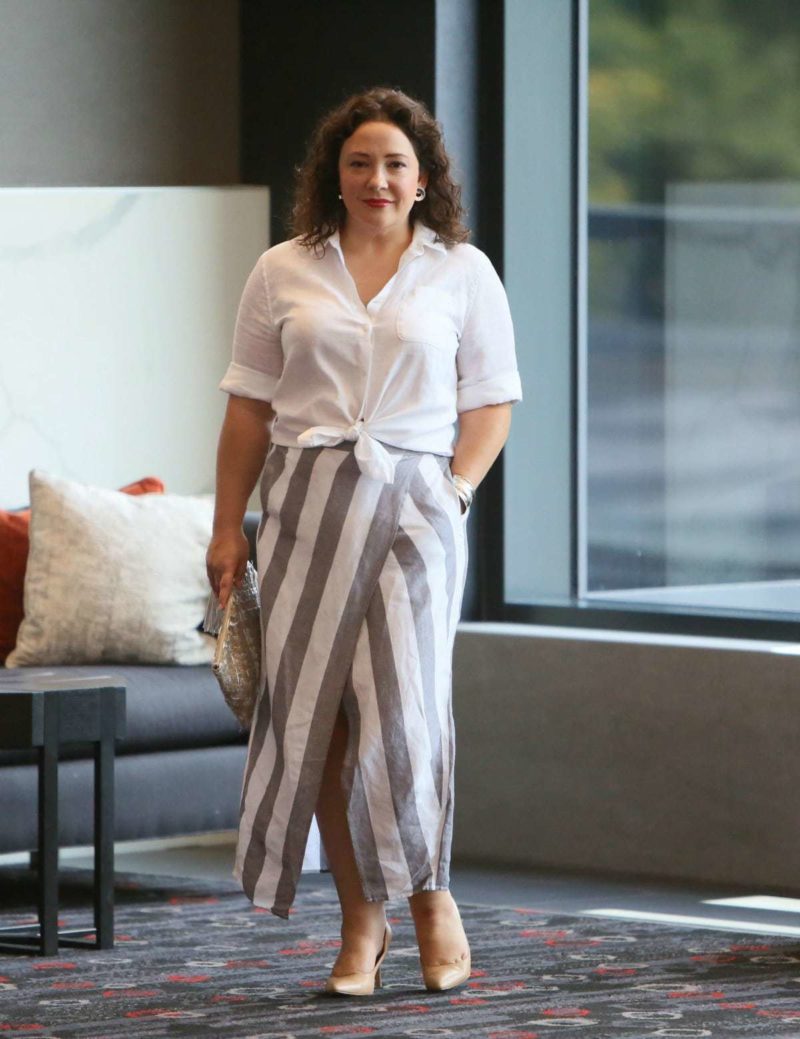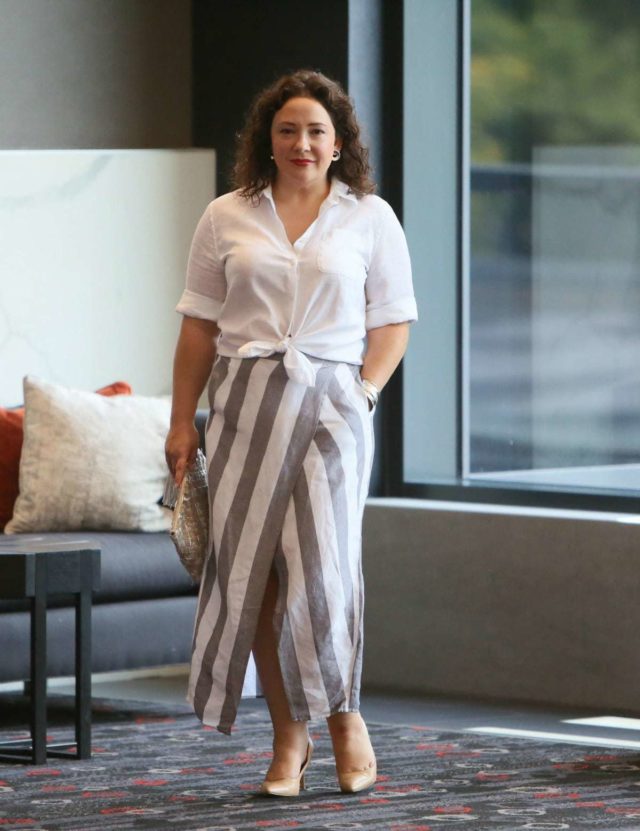 Madewell Stripe Overlay Skirt
This one has perplexed me for months. I wore it on the blog at the beginning of August. In the post I shared I didn't really like the skirt and in fact, I ended up returning it as I never wore it past the outfit post. I totally envisioned it with a fun t-shirt and sneakers but it didn't look good with anything other than heels and the slit was a bit wide when I did more than stand and sit with crossed legs. But a ton of you liked it and bought it. It was leaps and bounds the best-selling item on the blog for August and the second most popular item sold all year long. I hope it worked out for you better than it did for me.  This item is sold out, but below I share some similar concept pieces: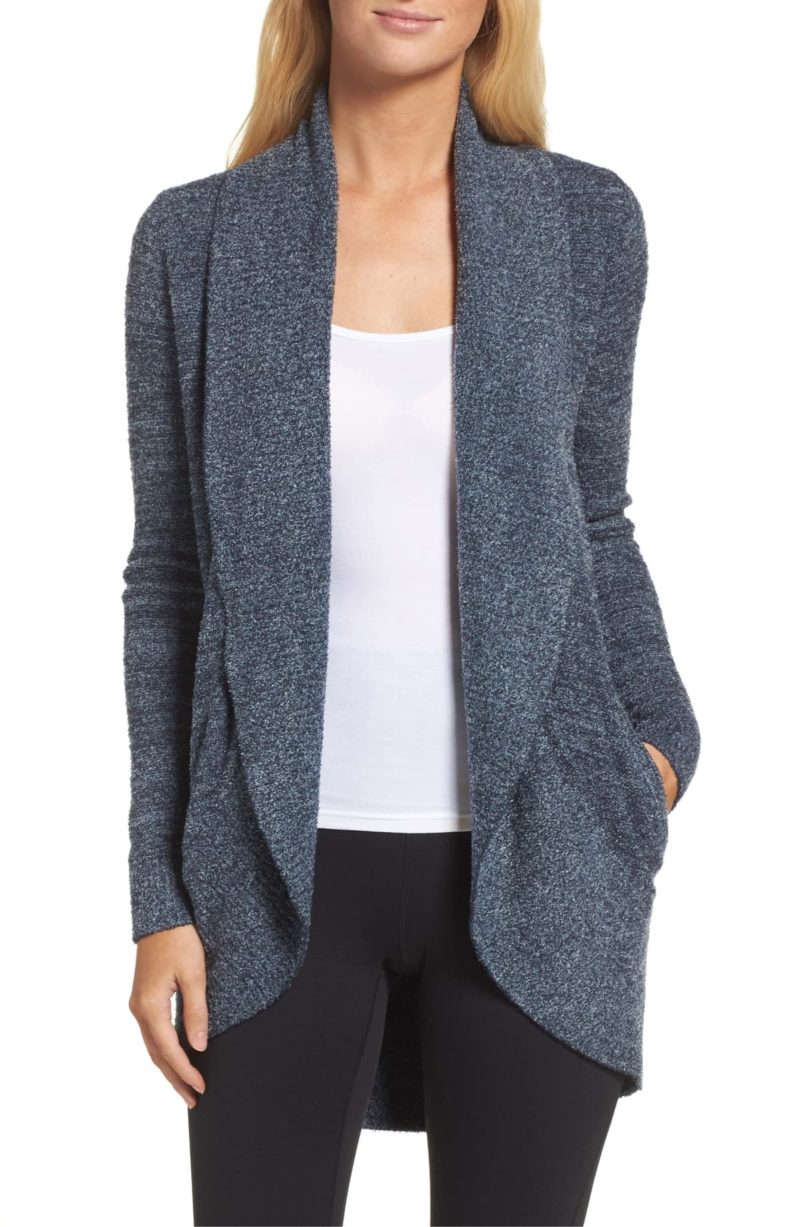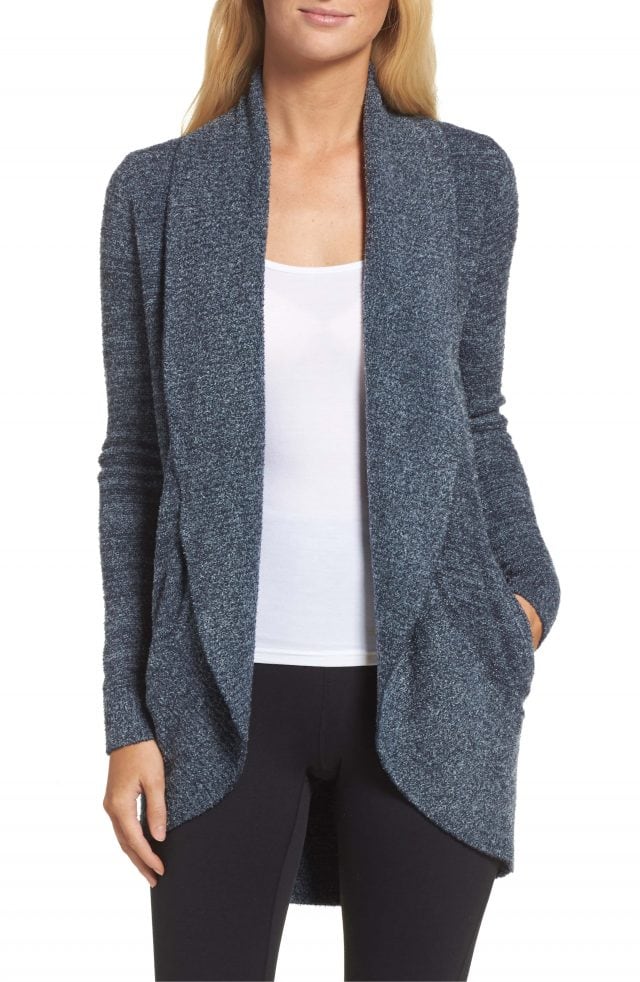 Barefoot Dreams® CozyChic Lite® Circle Cardigan
This is a Nordstrom Sale staple and one I purchased in 2017 and still wear regularly. It's super soft and cozy without being really heavy and I wear it regularly when working from home. I've washed it so many times and while multiple launderings have made it thinner, it's not threadbare and still strong and sturdy. I hope you all love yours as much as I love mine!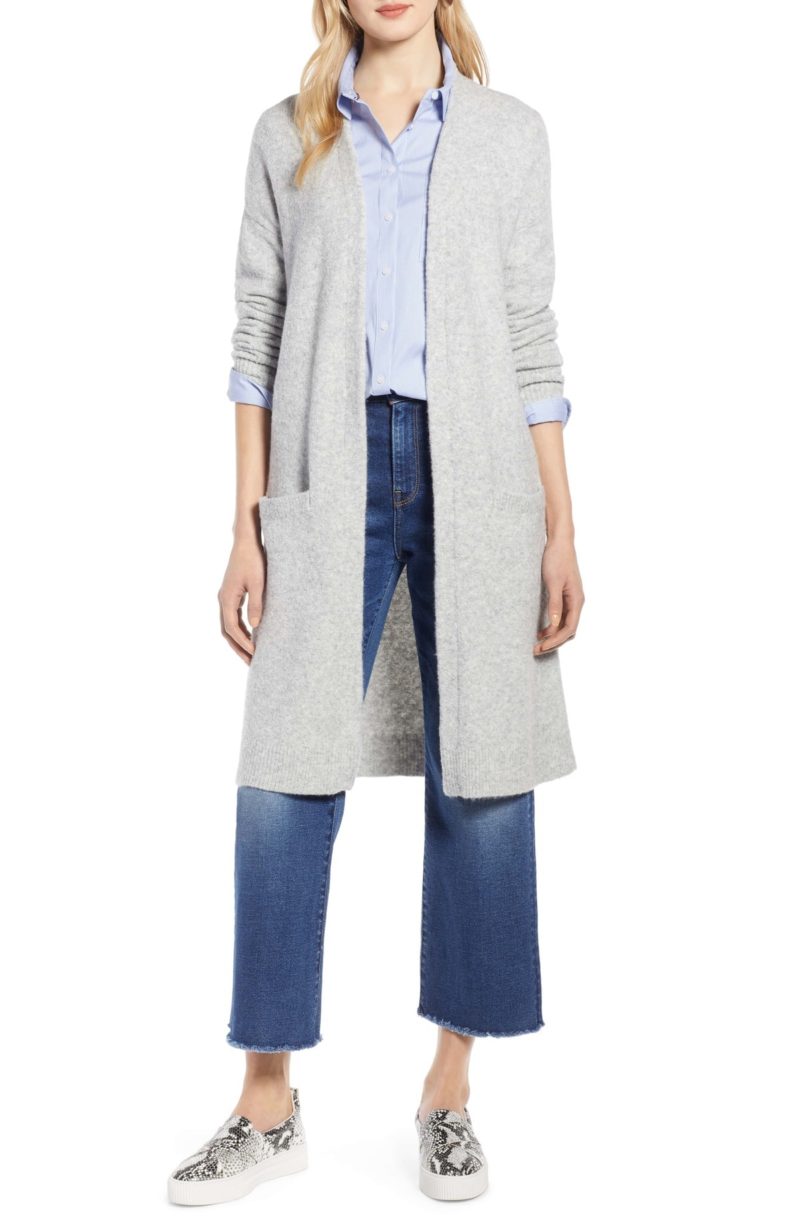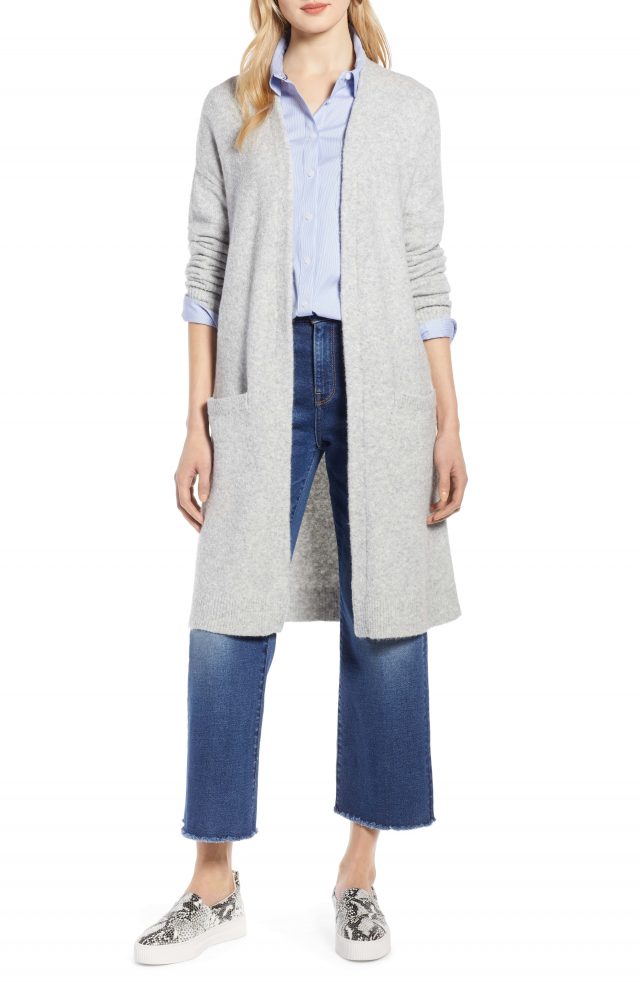 Halogen Long Open Front Cardigan (Regular and Petite)
Another Nordstrom Sale item that hundreds of you purchased. It's one of those great sweaters that works with leggings and a t-shirt, a sheath dress, or a blouse and trousers. Since it's free of a collar or buttons it would also look super chic cinched with a wide leather belt. I don't own this sweater myself, but after looking at it and knowing how many of you love it, I'm tempted!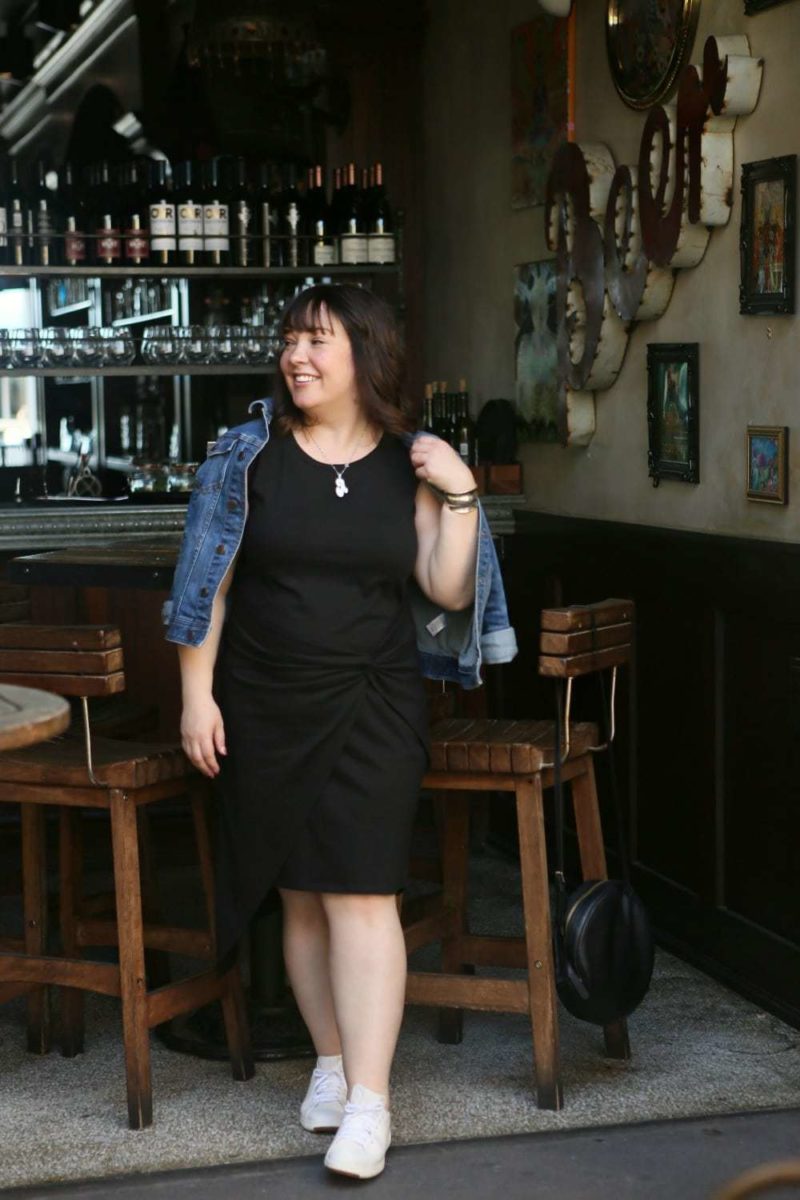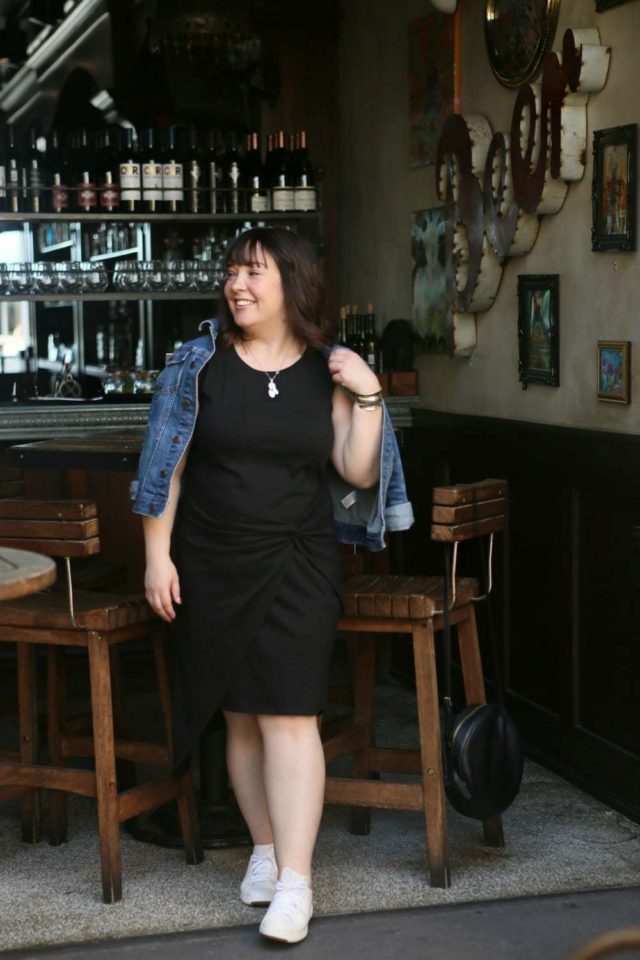 Trouvé Twist Front Dress
I wore this dress in this outfit post and dozens more times in real life. This dress is something I would never have purchased if my stylist Kelsey at Trunk Club didn't pull it for me to try. It's so figure flattering, the twist and asymmetrical hemline make it more polished than a standard t-shirt dress, I dressed it up with nice sandals or dressed it down with sneakers or Birkenstocks. It looked and felt great in the hottest summer months but also got a lot of play in early fall with a denim jacket. While this dress in black, olive, and burgundy is still full price (which is under $70), the teal option is on sale.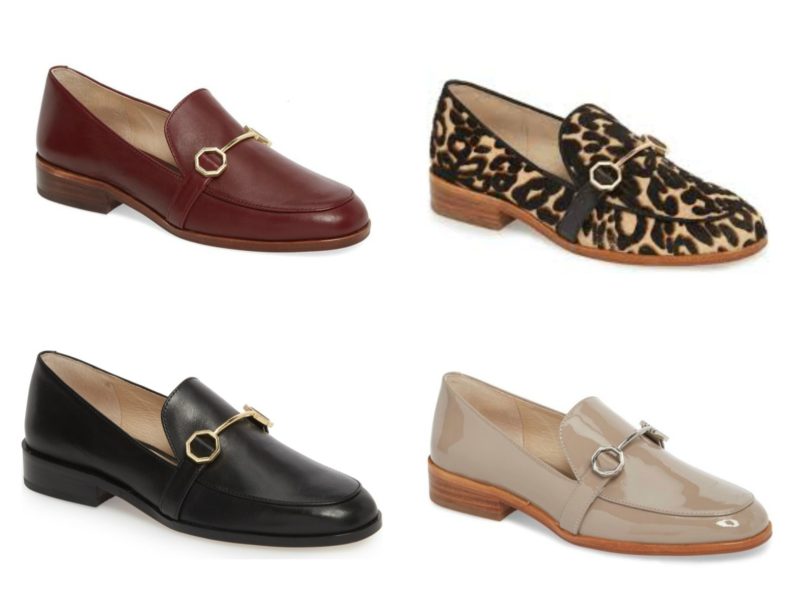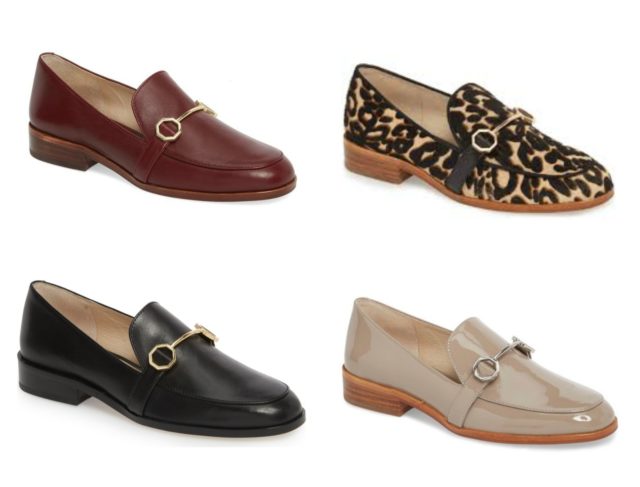 Louise Et Cie 'Bayne' Loafer
This was also something I recommended from the Nordstrom sale and unfortunately, it's sold out. Clearly this was a winner beyond the Wardrobe Oxygen audience! Sadly, at this time I cannot find a similar loafer from this brand (it had simple gold hardware that wasn't a Gucci knock-off, but had a similar effect) but below I have shared similar concept of loafers from other brands I love: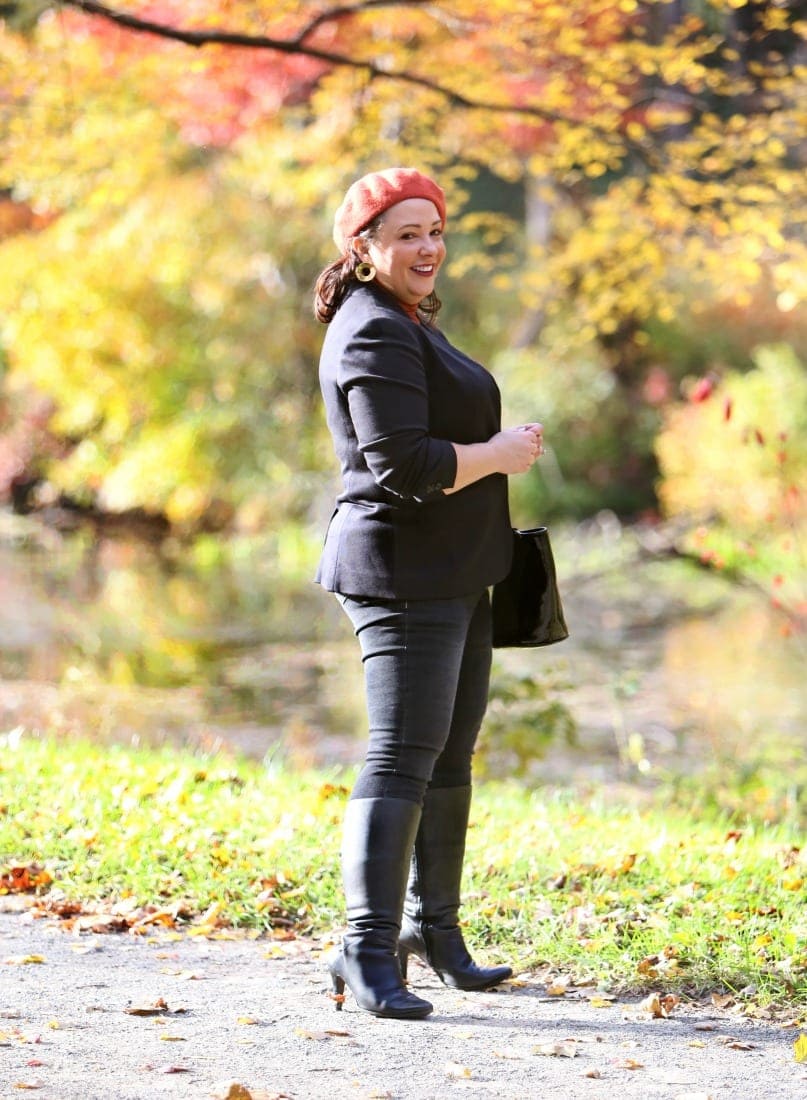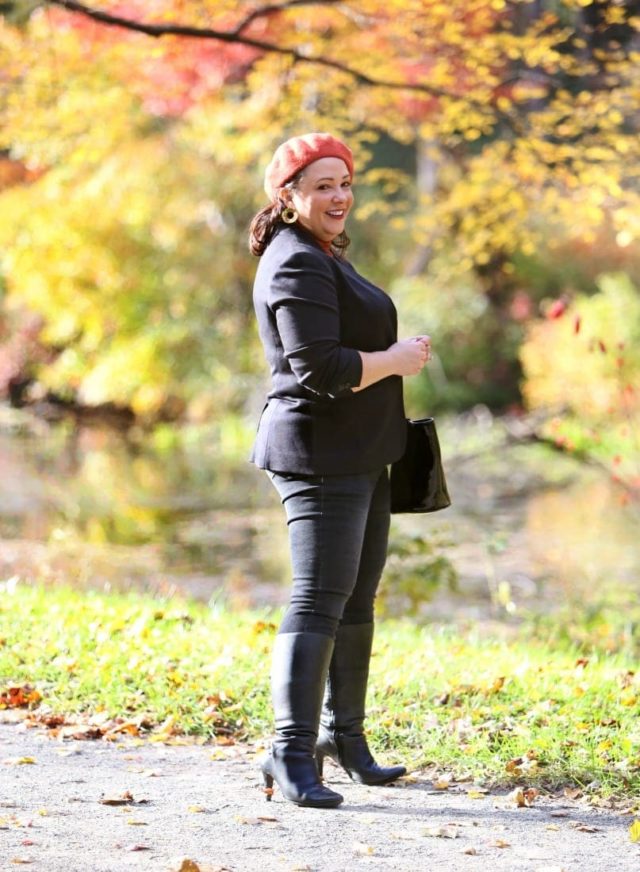 Universal Standard Jeans
Hundreds of you purchased Universal Standard jeans from Wardrobe Oxygen (possibly more if you bought them along with other items from the brand). It likely helped that the brand had a free denim promotion that I shared on Facebook (you are following me over there, right? It's not just a repeat of what's on the blog). But also, I wore US jeans quite a lot on the blog. This is also the second year that Universal Standard jeans have been on the Top 10 list! They really are great quality, an on-trend silhouette and choice of washes, and I love the amazing size range and that they offer different lengths as well as petites!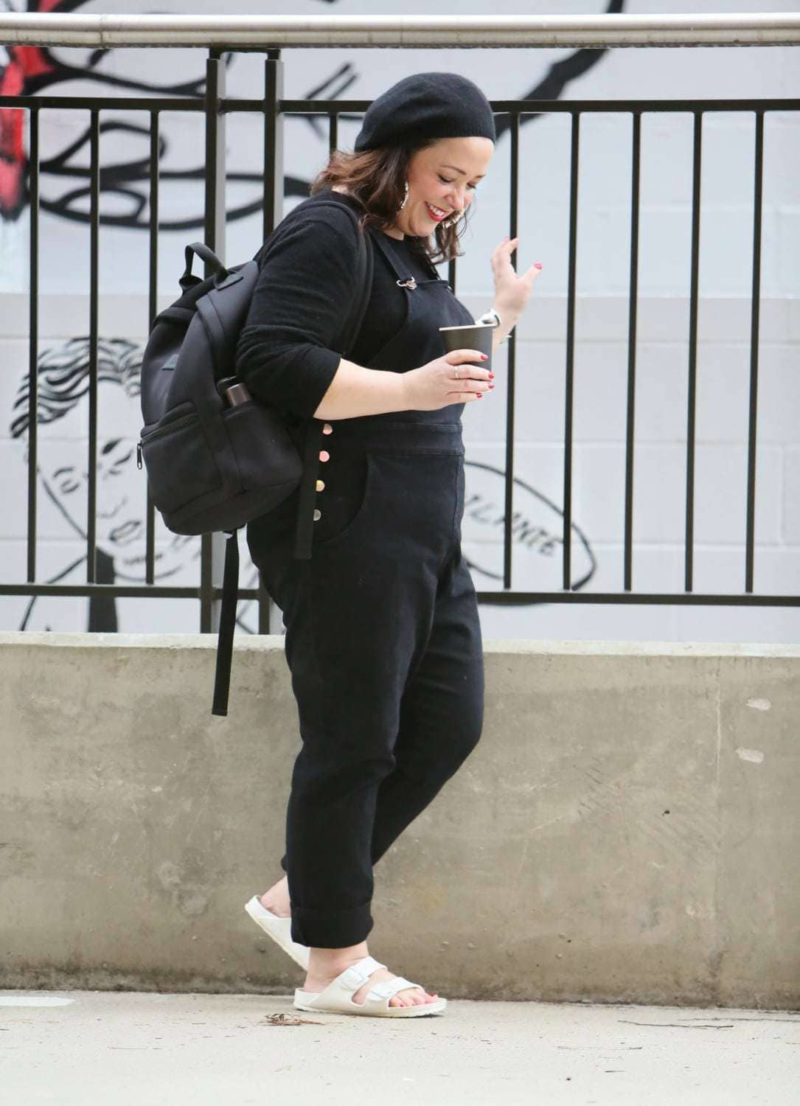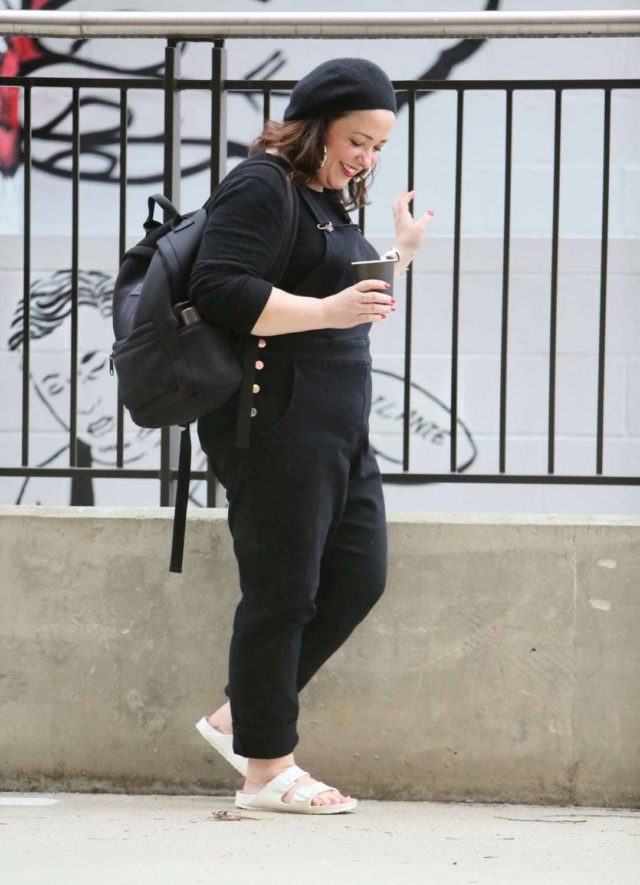 Dagne Dover 'Dakota' Backpack
This is one of my favorite bags and I shared it quite often on the blog and on Instagram so I am not terribly surprised by this being on the Top 10. It's a fantastic bag that now comes in a variety of sizes as well as colors. This is the second year that a Dagne Dover bag has made the Top 10. I love that this backpack is soft and lightweight yet provides protection for my laptop and tons of compartments to organize all my essentials. You can read me rave even more in my Dagne Dover Dakota backpack review.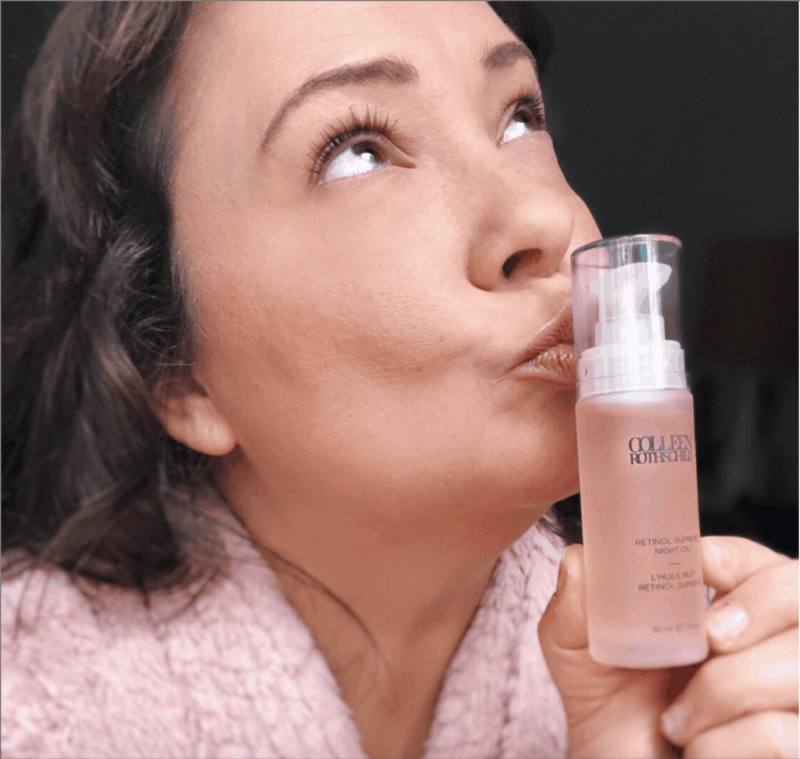 Colleen Rothschild Retinol Supreme Night Oil
After a year of trying everything from Botox to baby foreskins on my face (well kind of sort of, the cells from circumcised skin cloned and then made into… well I don't use it anymore I had a face that needed some reliability, consistency, and active ingredients I knew and trusted. I've been using Colleen Rothschild skincare for years and the brand's retinol has been a fave. Not too harsh yet effective, it's what I return to each time I figuratively and sometimes literally get burned by another skincare product. I'm glad to know many of you also use and love the product. Read more in my Colleen Rothschild retinol review.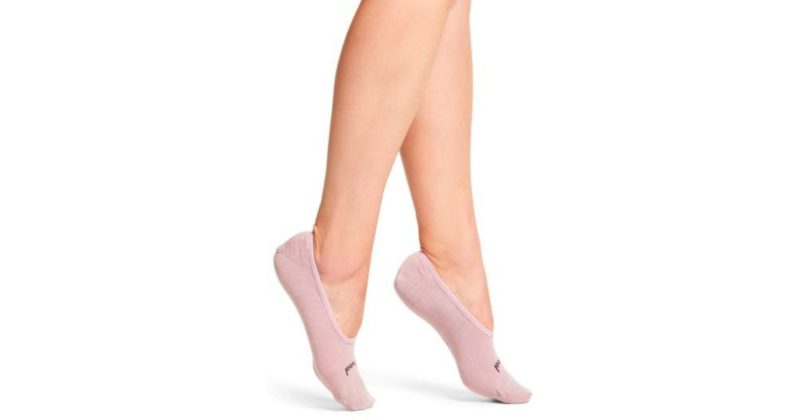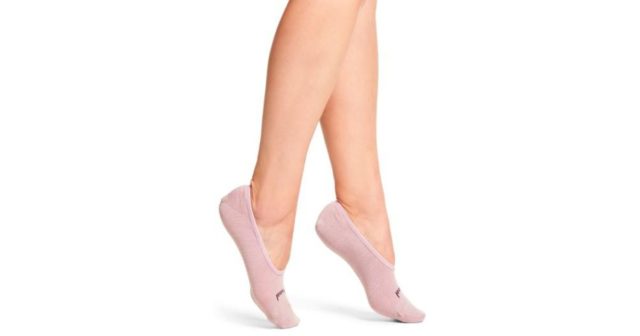 Smartwool Hide & Seek No-Show Socks
This isn't the first year I've recommended Smartwool Hide & Seek socks and it's not the first year that they've appeared on my best seller list. I have pairs that are several years old that are still in great shape. I love that they truly are no-show, even with lower-profile sneakers and slip-on shoes. I love that the silicone gripper in the back actually works and survives multiple washes and dryer tumbles. I love how the wool keeps my feet warm in winter, cool in summer, and dry and stink-free. They're totally worth the money and I'm glad you all love them too.

I'd Love to Hear from You!
Did you buy something based off of Wardrobe Oxygen in 2018 that you loved? Buy anything that didn't live up to your expectations? I'd love you to share in the comments. It may benefit another reader and it will help me provide more relevant suggestions in 2019!
Shop the Post: