This article may contain affiliate links; if you click on a shopping link and make a purchase I may receive a commission. As an Amazon Associate, I earn from qualifying purchases.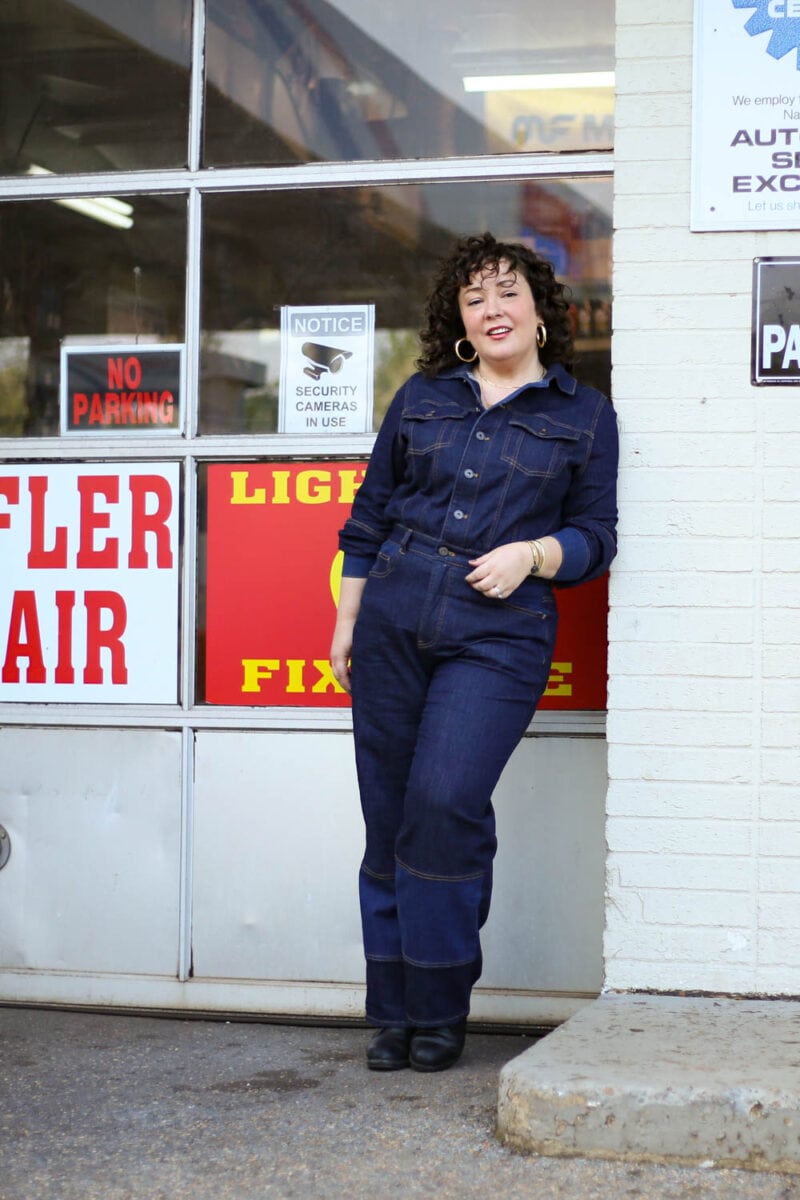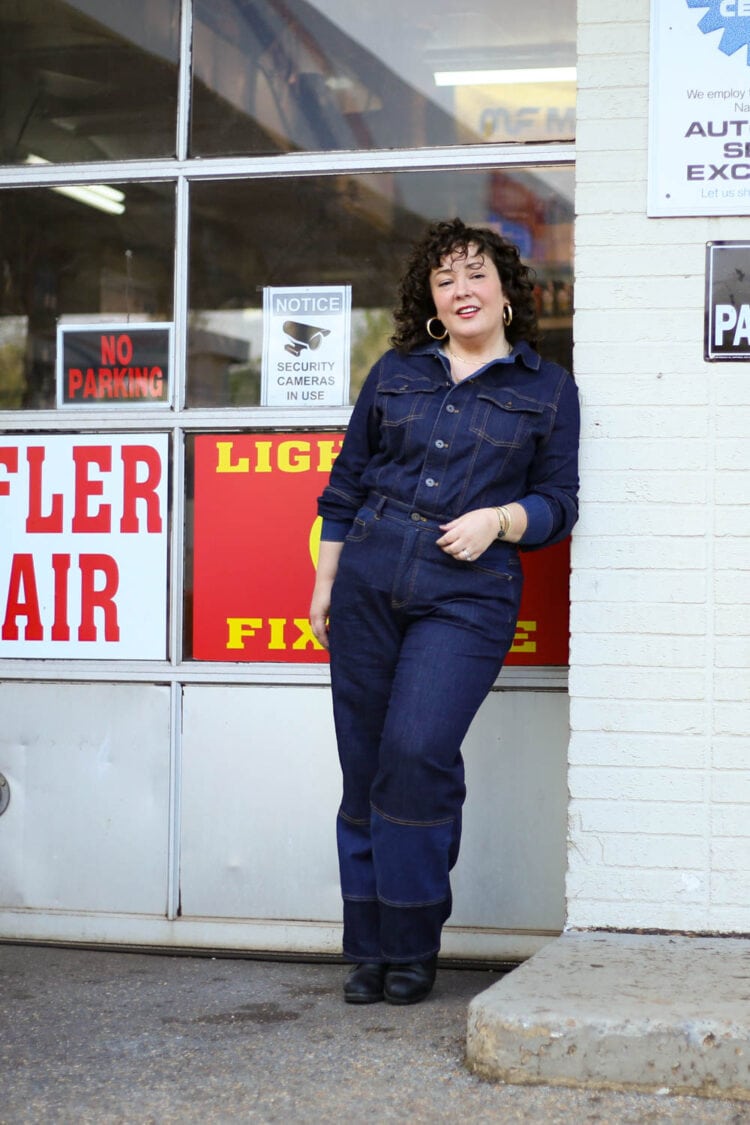 I love Universal Standard for their elevated wardrobe essentials available in sizes 00-40, but I also love the brand's mission to democratize fashion beyond their label. One of the ways Universal Standard does this is by collaborating with designer brands to push them beyond their limited size range. The most recent brand that Universal Standard partnered with is ERDEM.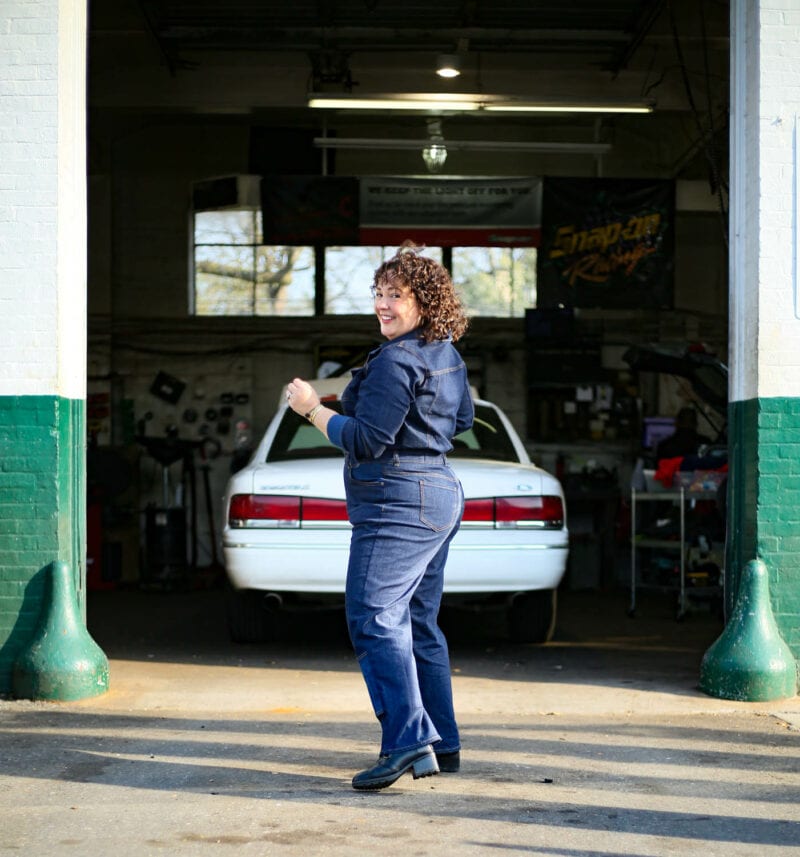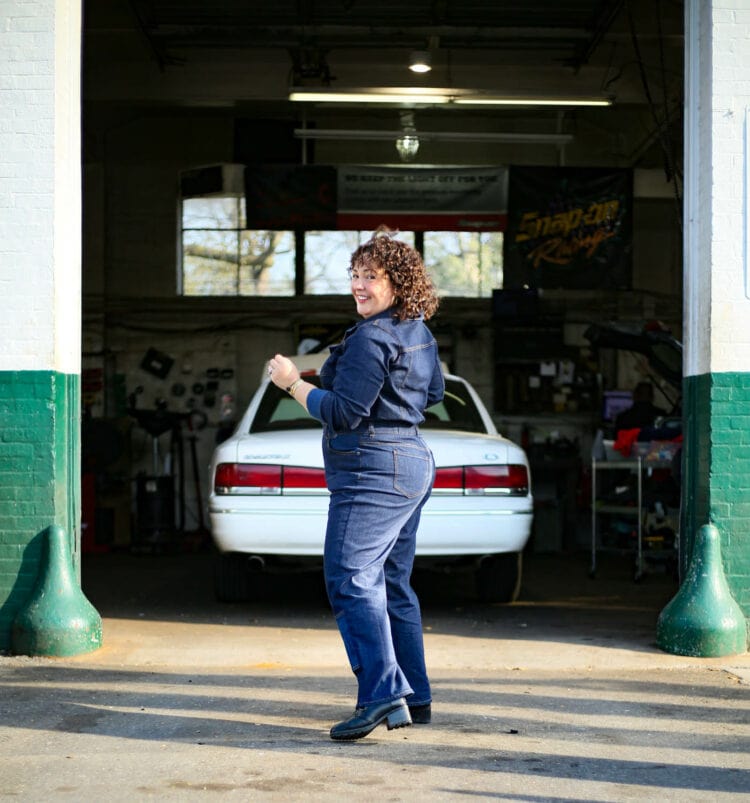 Wearing: Universal Standard 'Myrtle' Jumpsuit in XS, Ray-Ban sunglasses, BaubleBar hoop earrings, Sorel boots, "1975" necklace from Etsy, plain chain from Rellery (gifted).
What is ERDEM?
Erdem Moralıoğlu, MBE, is the British-Canadian person behind the elegant high-end eponymous fashion brand ERDEM. Founded in 2005, ERDEM is best known for experimental textiles and intricate craftsmanship; ERDEM's beautiful flowing floral gowns are often seen on runways and in the closets of some of the most stylish celebs.
The ERDEM website sells ready-to-wear pieces in sizes US 2-16, with most separates priced at $450-$900 and day dresses around $1,000. The collaboration with Universal Standard (only available on the Universal Standard site) offers eight pieces is in sizes 00-40 priced from $120-$198 making it more accessible not just with size, but with price.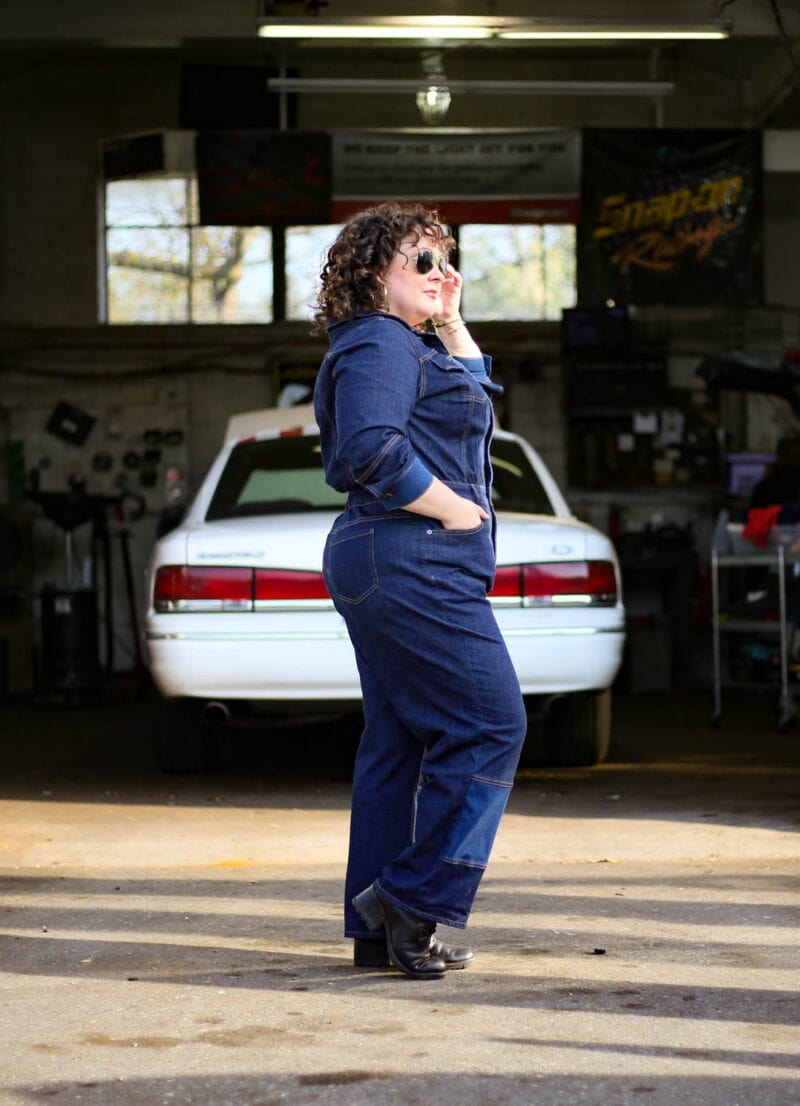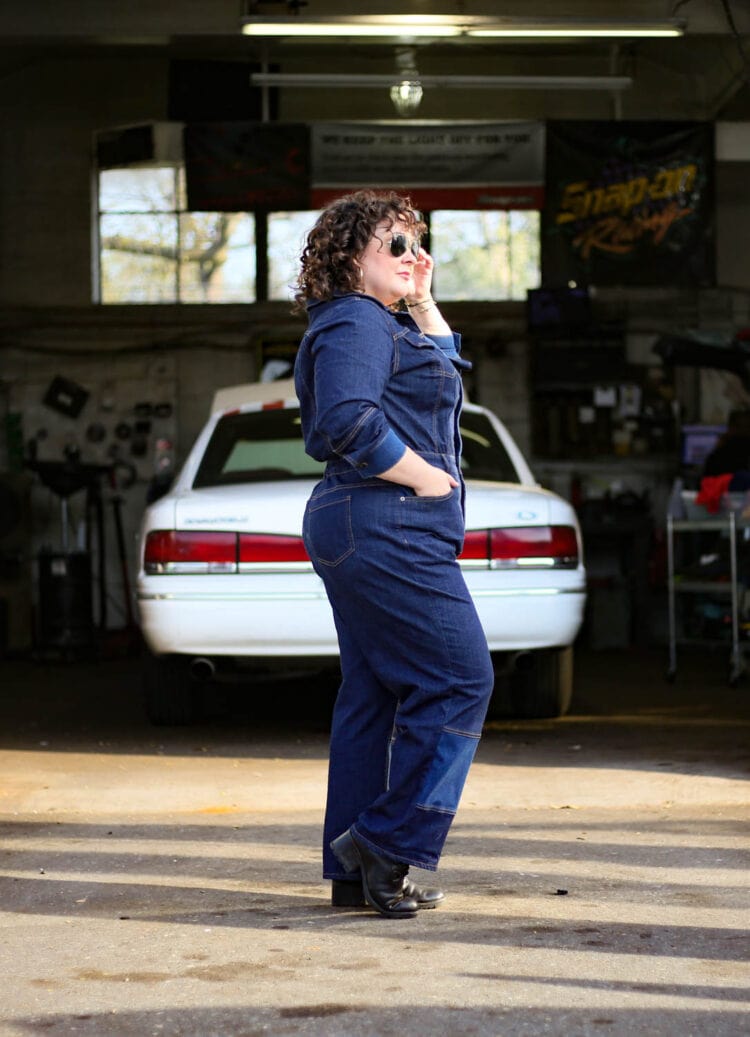 ERDEM x Universal Standard Review
That being said, it's still a lot to stomach spending over $100 for a garment, especially one you haven't had the chance to touch and try on in a fitting room. While I would love to order the entire ERDEM x Universal Standard collection to review, my wallet isn't busting at the seams so I ordered one piece. The piece that caught my eye first. The piece that says Alison. The jumpsuit.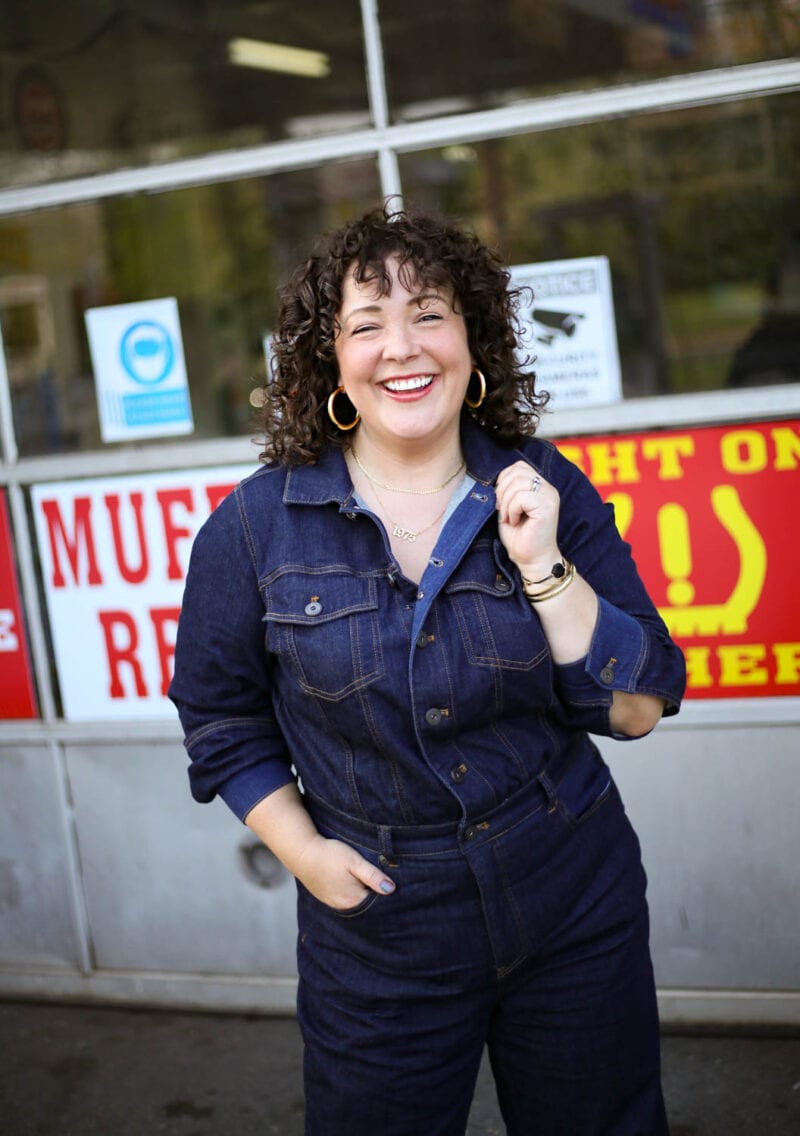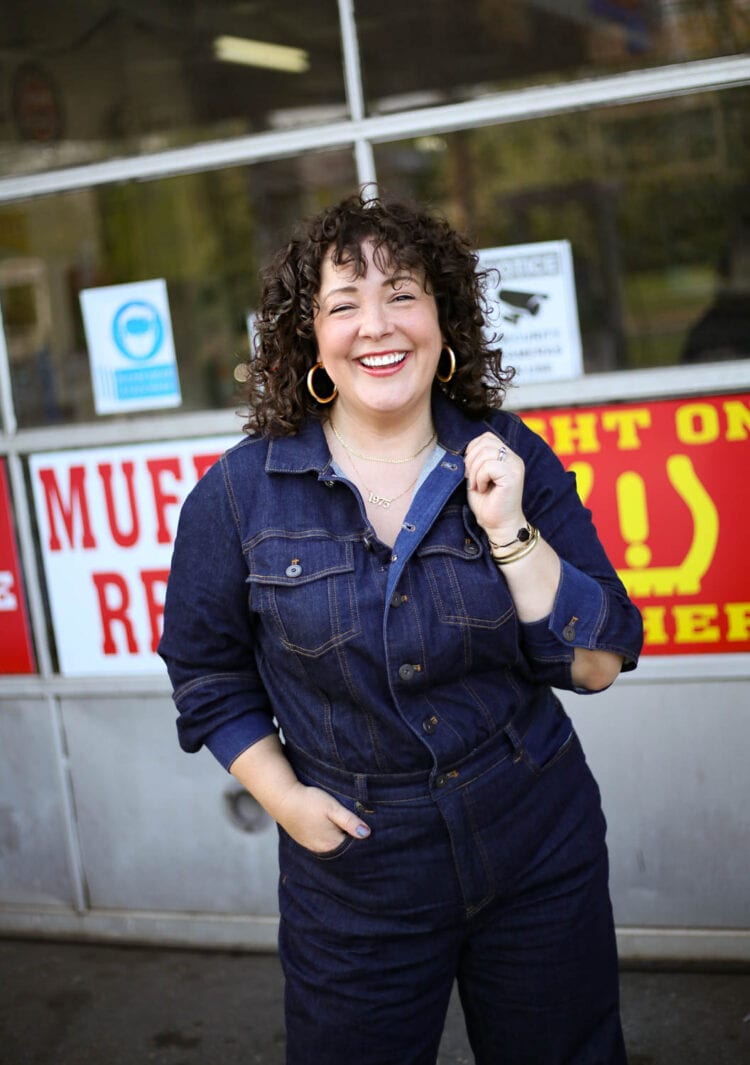 The ERDEM x Universal Standard collection is black and white and indigo and white cotton florals with indigo and white denim. From the press photos, it may look like more because they styled it really weird (shirts tied around the waist like skirts, jeans thrown over shoulders like capes). The eight pieces are: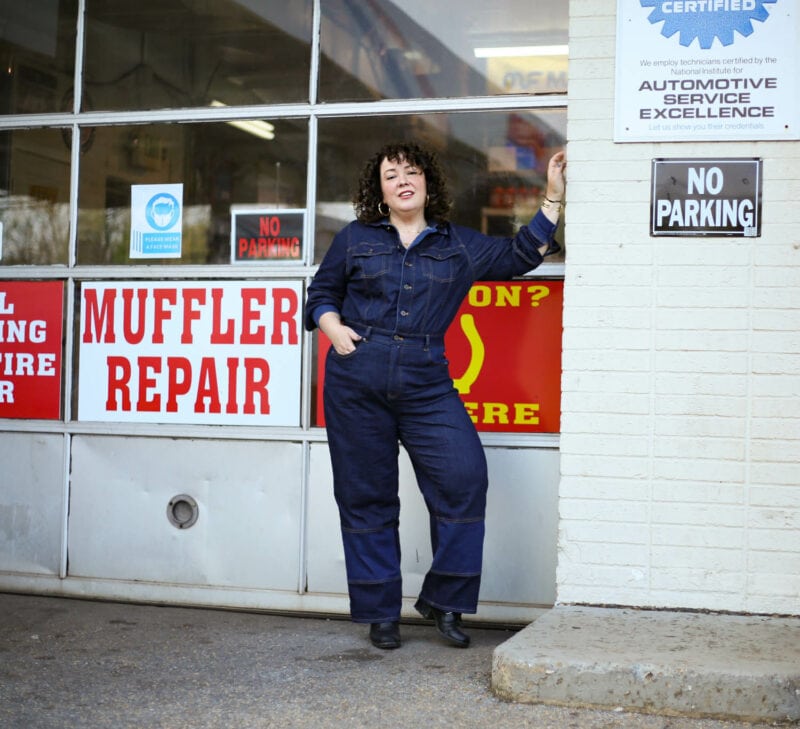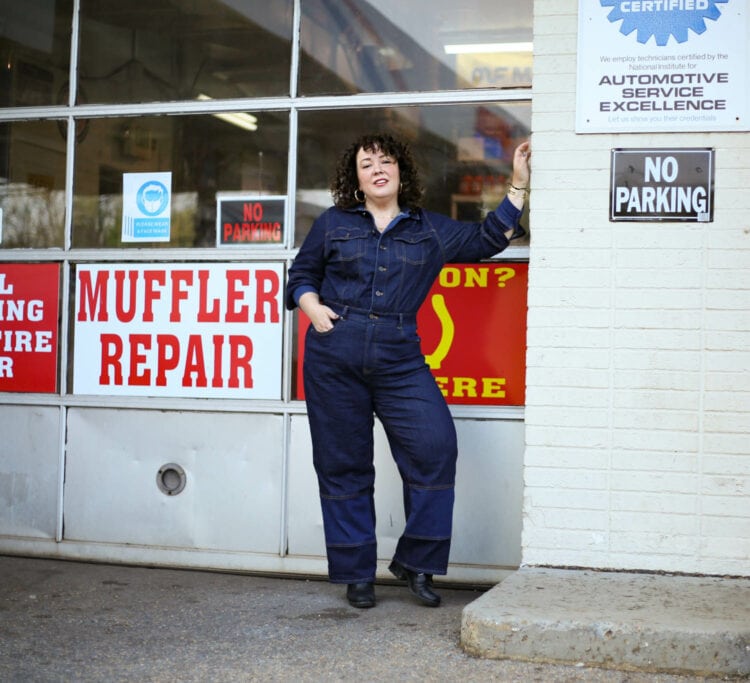 And I purchased the ERDEM x Universal Standard 'Myrtle" Denim Jumpsuit.
ERDEM x Universal Standard Review of the Myrtle Denim Jumpsuit
Not sure how this would fit, I ordered both an S and an XS. I am an XS with Universal Standard 90% of the time, but sometimes need S for a piece that lacks stretch or for some pants. In other brands, I am usually a 14 and take petite whenever available. I tried on the XS first and didn't even unwrap the S because clearly, the XS fits me.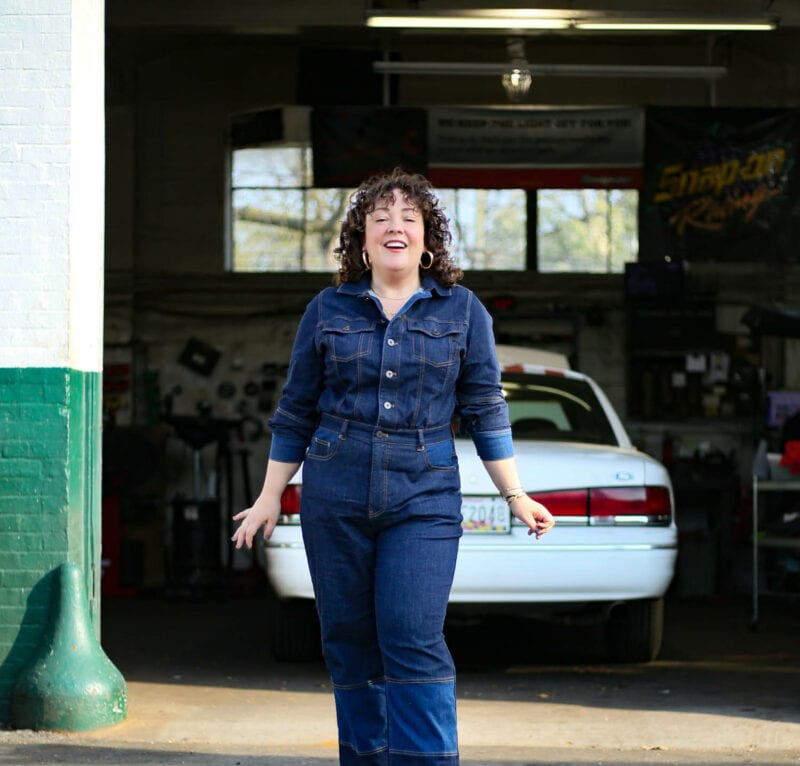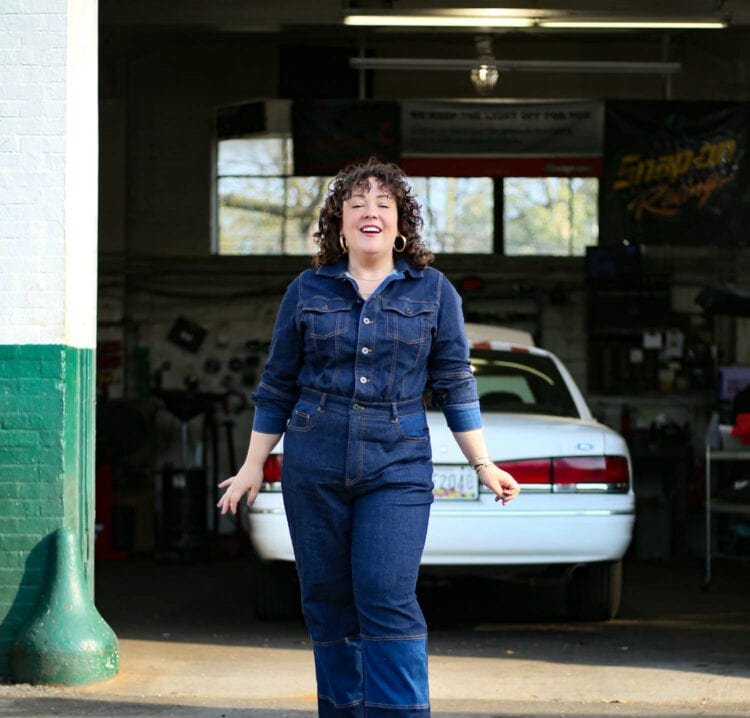 The ERDEM x Universal Standard Myrtle Jumpsuit is 85% cotton, 13% polyester, and 2% elastane making for denim that at first glance looks selvage (dark, full of detail, and stiff as all get out), but is actually really soft and stretchy.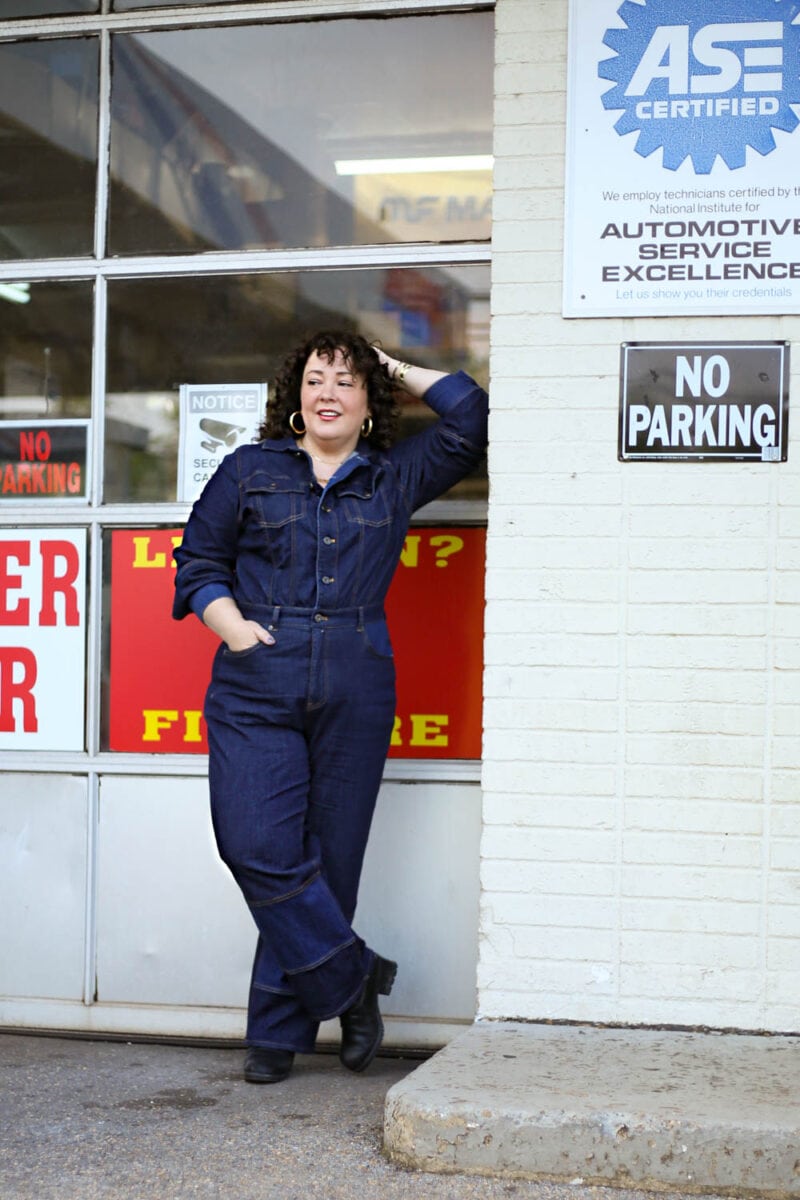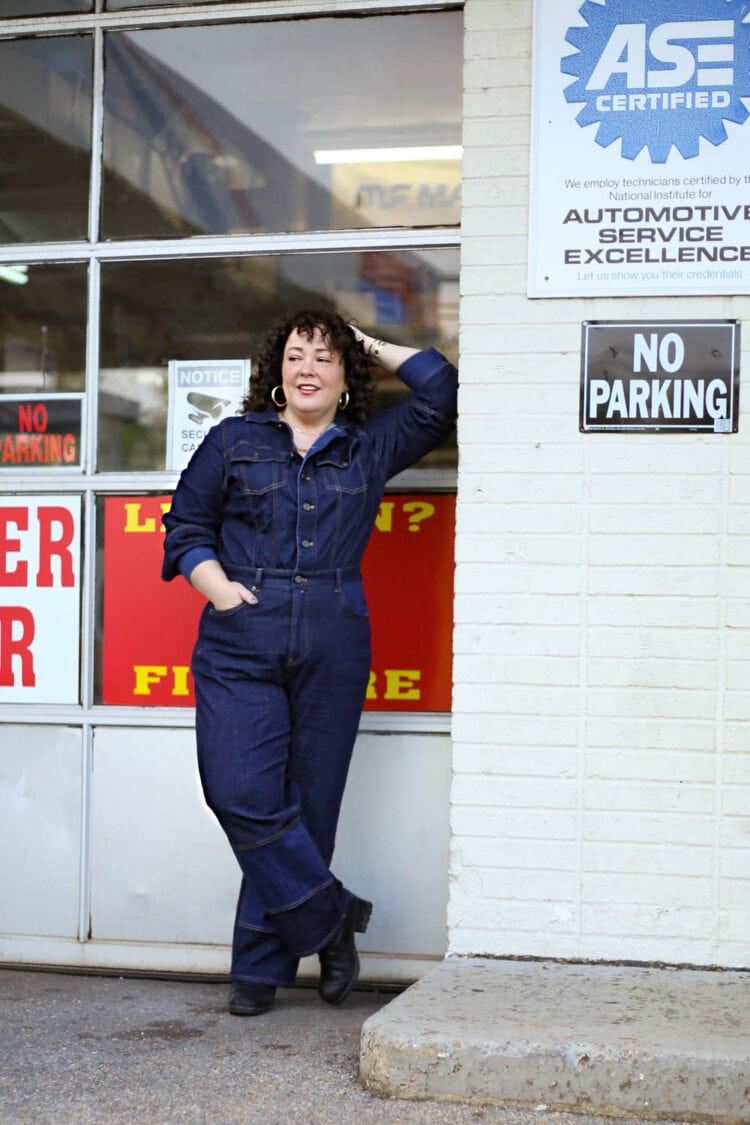 This jumpsuit has the details that make me love Universal Standard so much. There are snaps between the buttons along the bodice so your bra doesn't peek out. The back of the waistband is elasticized for comfort and ease of getting on and off. While there are buttons on the bodice, there is a zipper fly which also provides coverage when sitting, reduces tummy bulk, and also makes it easier to get this jumpsuit off and on.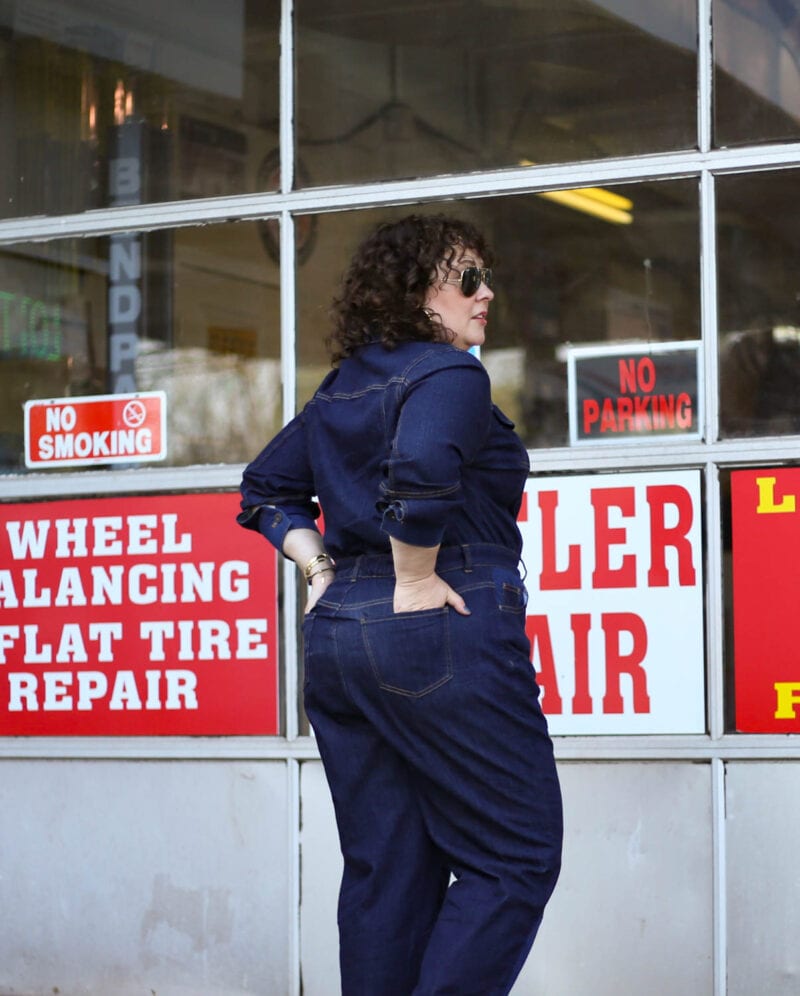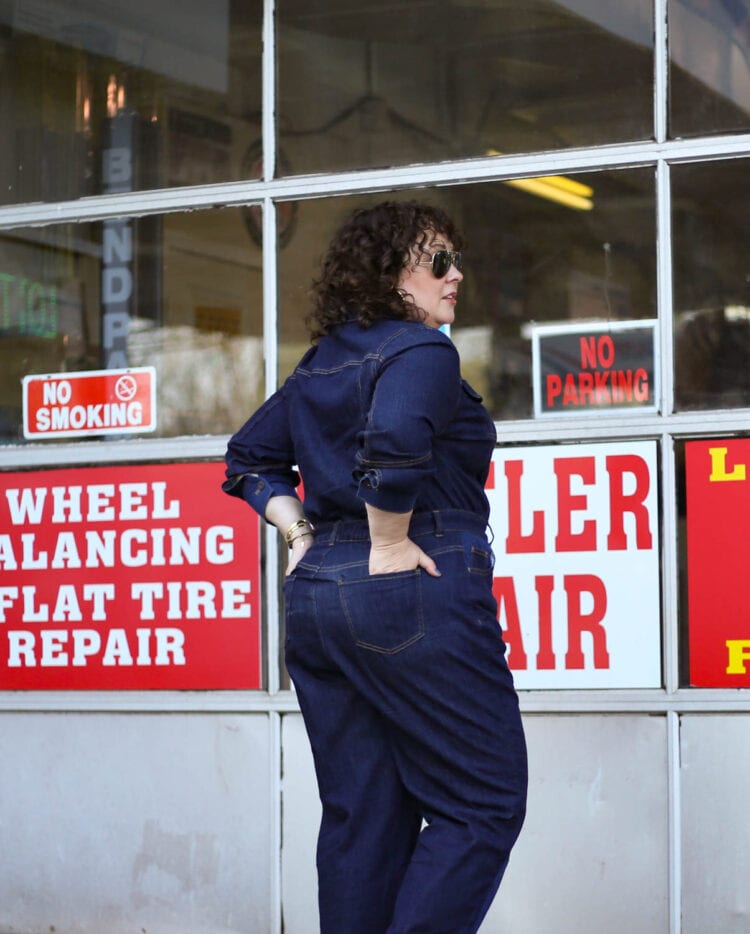 And the real waist on this jumpsuit? I thought it would not work because I'm short, but it's genius. It makes it so you can blouse out the top if you're short in the torso, or be flat if your torso is longer. It creates a shape when most boilersuits and jumpsuits are loose at the waist, making the piece look more expensive, be more comfortable on (no drop crotch), and just fit way better.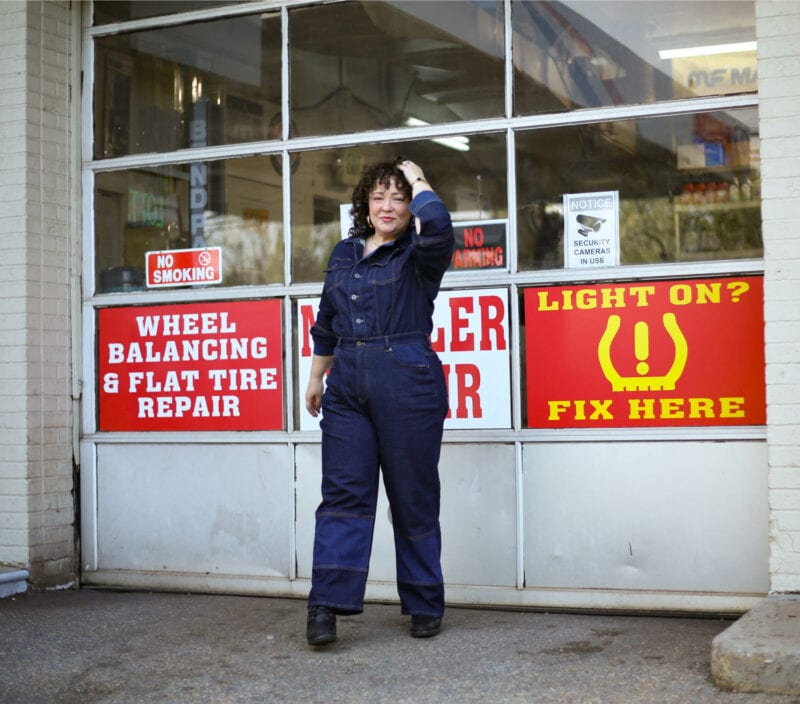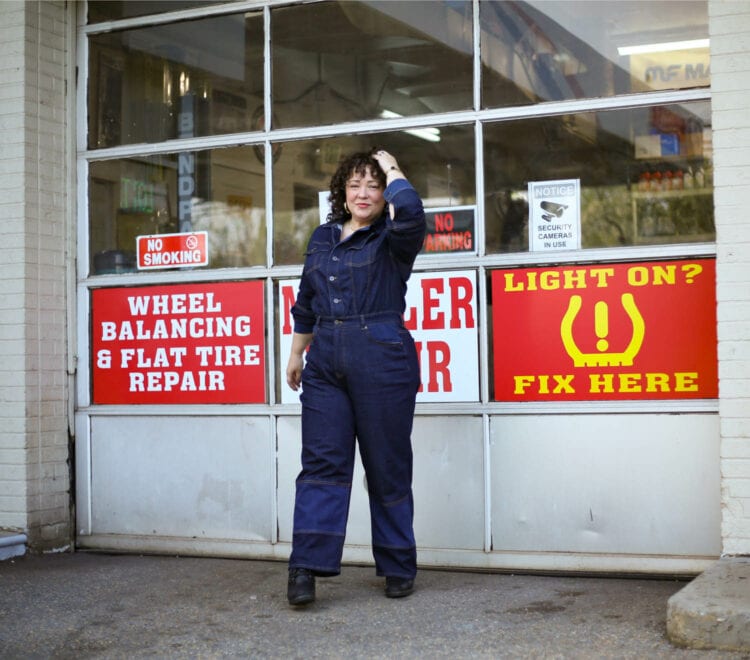 There are some things I don't really like about this jumpsuit, though.
I don't like how big the space is between the solid sleeve and the cuff. I am not sure why it's this big; is it for comfort or fit? It looked awkward and made it super hard to roll up the sleeves in any normal fashion.
On my 5'3″ self the length is a bit awkward. It's not cropped, it's not full length.
The leg width plus length made it so hard to find shoes to wear. I first put on these boots because they are the chunkiest ones I had with a heel, but they looked off. I tried my hiking boots, Birkenstocks, Adidas Superstar sneakers, these Vionic boots, my old beat-up harness boots… and they all looked worse. I think sneakers would work on many, but on me with my height and shape and hair, I looked like a Fisher Price toy or a colleague of Handy Manny.
I get that the patchwork denim detail is a theme in this collection, but I don't like it. It reminds me too much of how brands put all the things on plus-size clothing. Oh you want a t-shirt? Well, we'll give you a t-shirt with cold shoulders and contrast trim along the neckline and a high-low hem and a racing stripe under the arms, and a graphic that is not just silkscreened but also embroidered and bedazzled. This patchwork detail feels like that to me, but I am also one who likes her clothing plain so I can decorate it myself with accessories.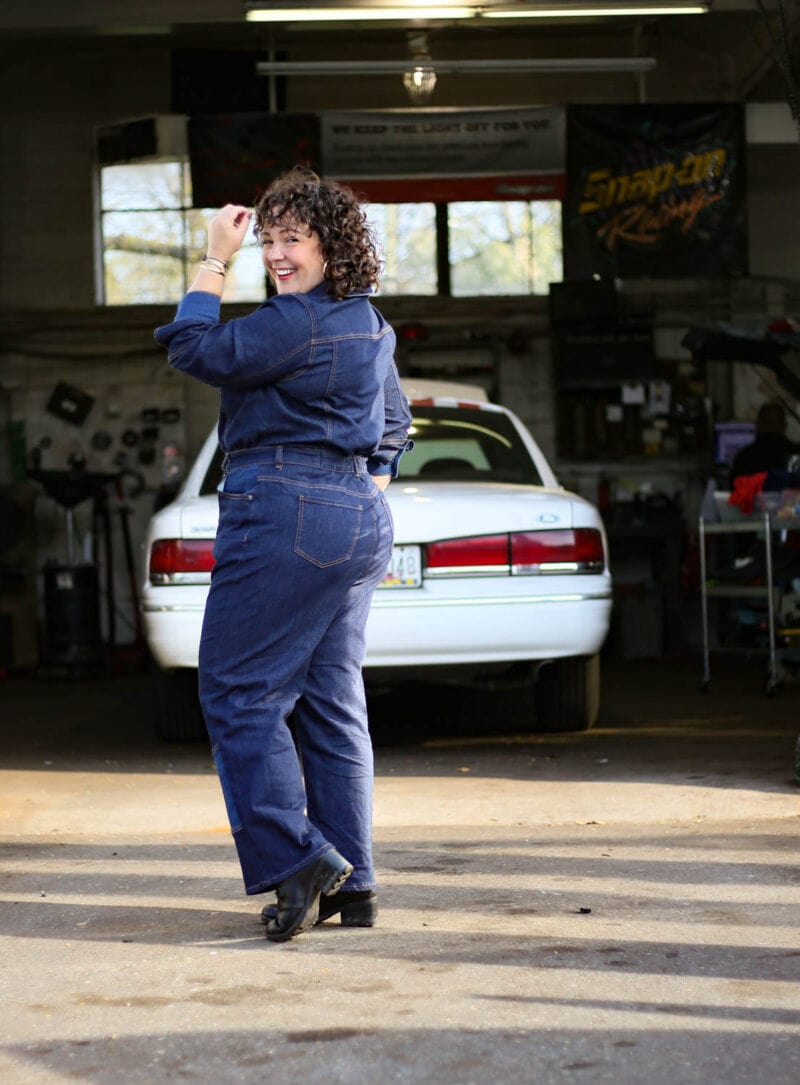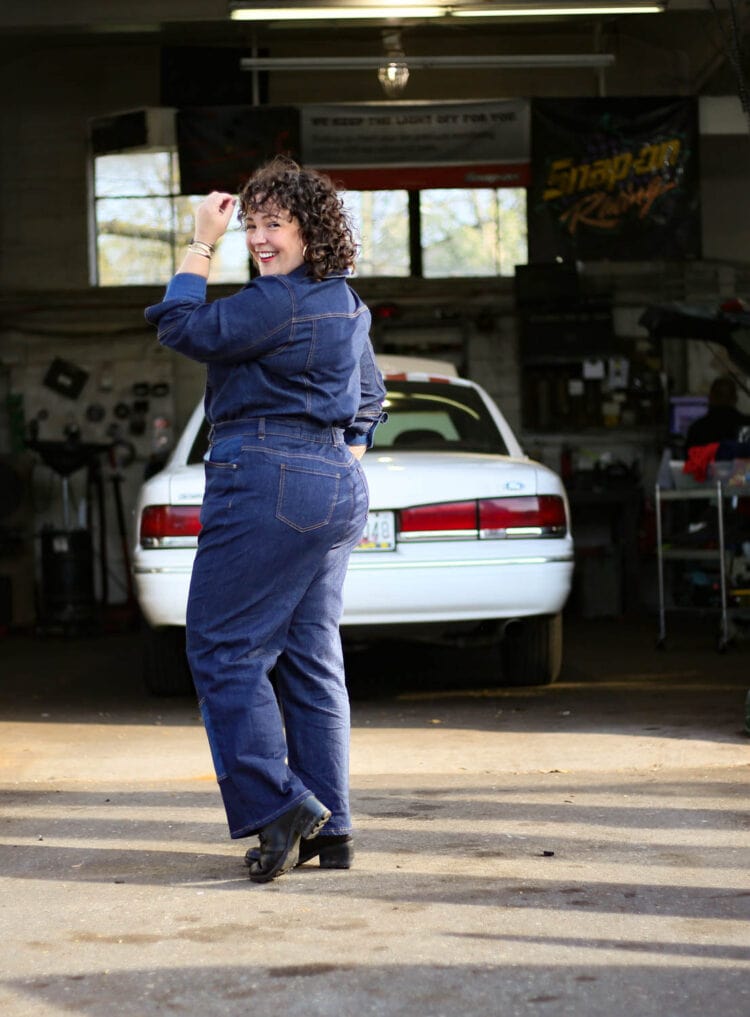 Even with these issues, I find the fit and fabric of this jumpsuit so good I want to keep playing with it and find the best ways to style it. Maybe have my tailor shorten it a hair more so I can rock it with Birkenstocks and it may look less toddler with sneakers. Or maybe I'd have my tailor shorten the sleeves so it feels more like the boilersuit I've been coveting for over a decade (dang, that 2016 post makes me realize my style has been pretty consistent).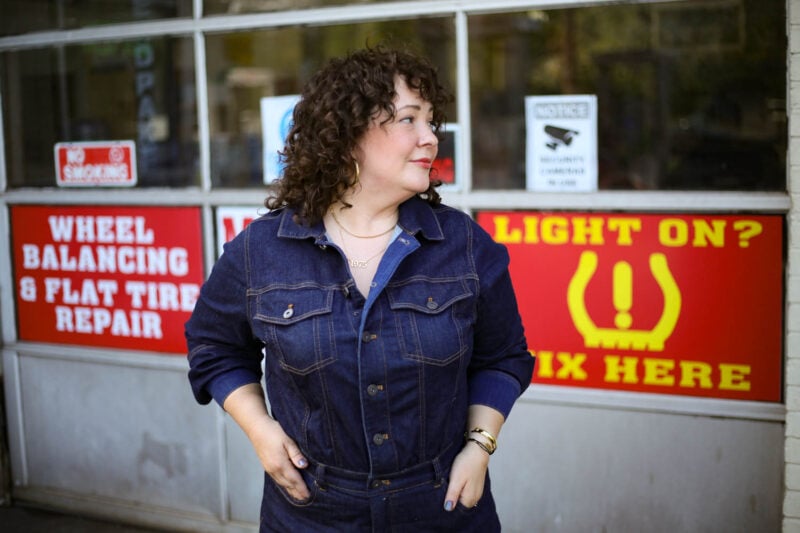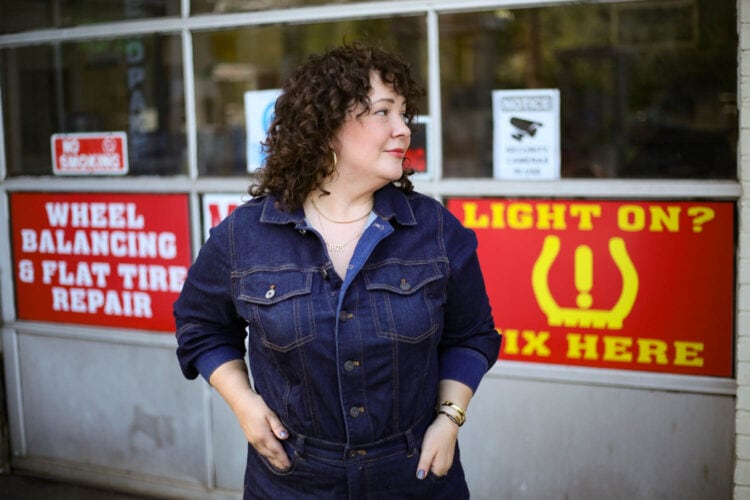 Shop the Post:

Now that the ERDEM x Universal Standard collection has been out for a bit, have any of you purchased from it? I'd love to hear your thoughts, and read reviews for items beyond the Myrtle Denim Jumpsuit!