This article may contain affiliate links; if you click on a shopping link and make a purchase I may receive a commission. As an Amazon Associate, I earn from qualifying purchases.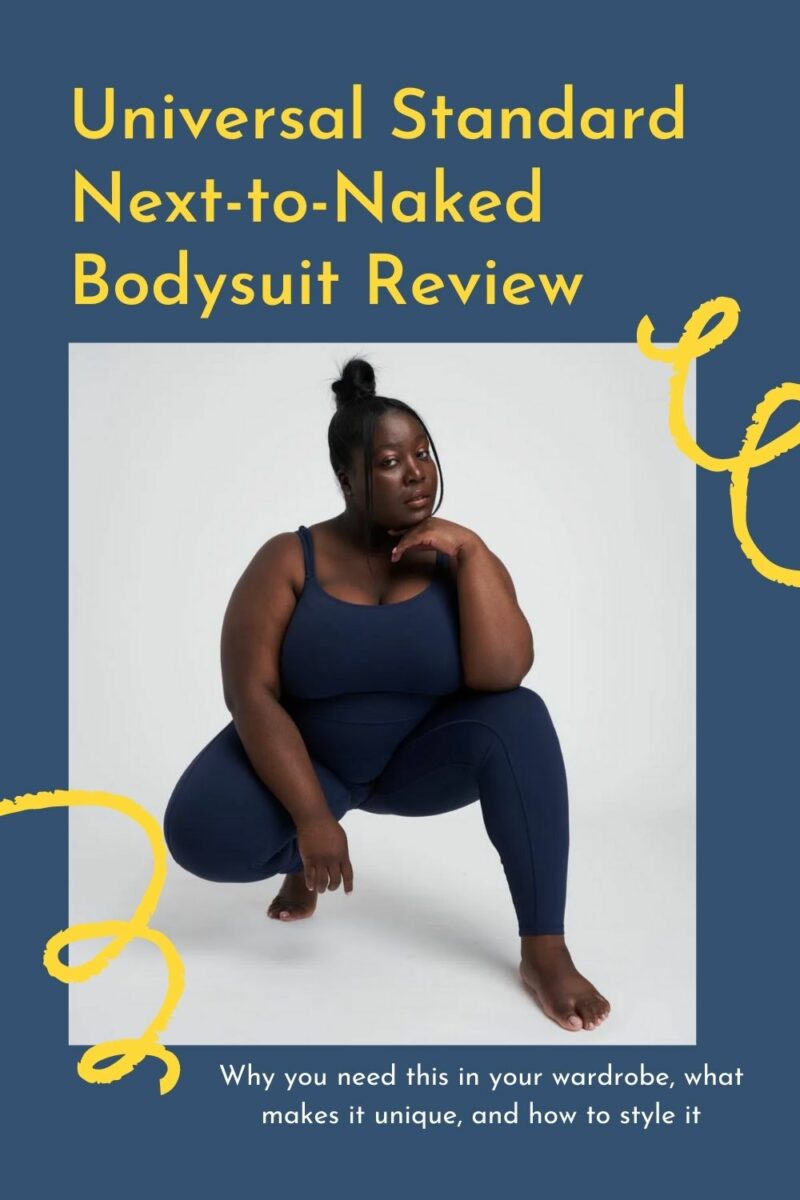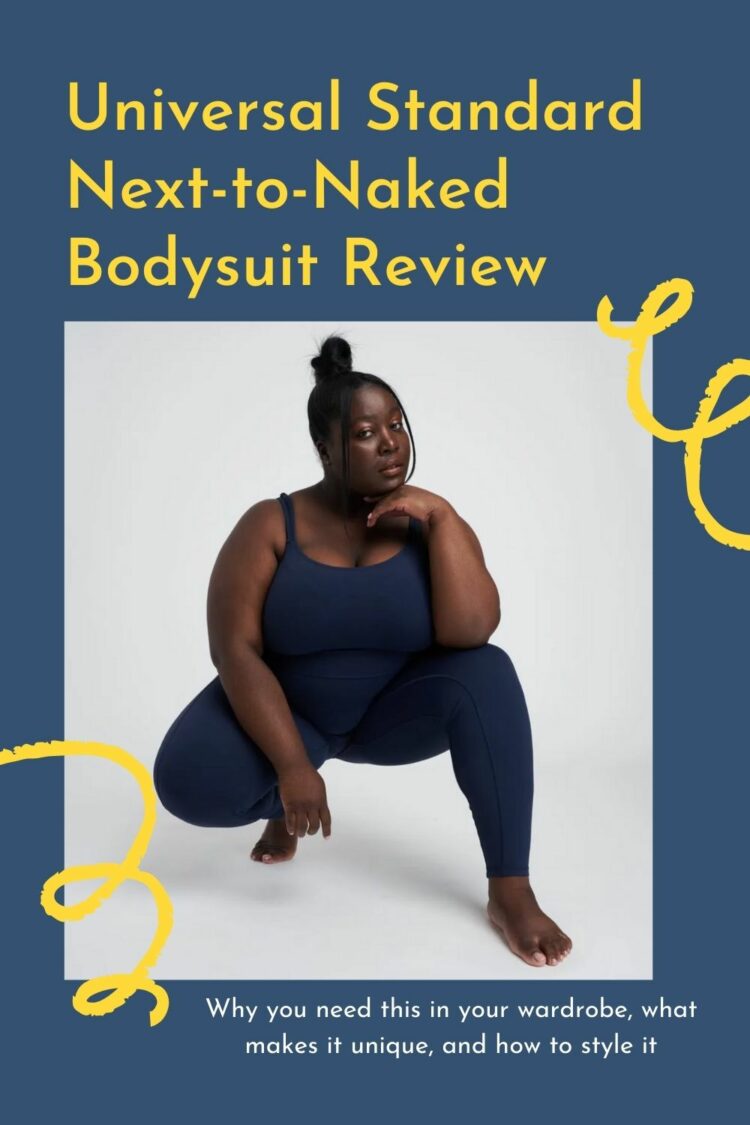 In the past year, I have changed my relationship with Facebook again and again. At first, it was a way to connect with those I was unable to see in person due to the 'demic. Then it became a place to unfollow and unfriend so many based on politics, ignoring the CDC, believing conspiracies, etc.
But for each person I unfollowed or unfriended I pretty much ended up adding a Facebook group. In fact now, when I open up Facebook, I only see a handful of folks but several posts from Facebook groups.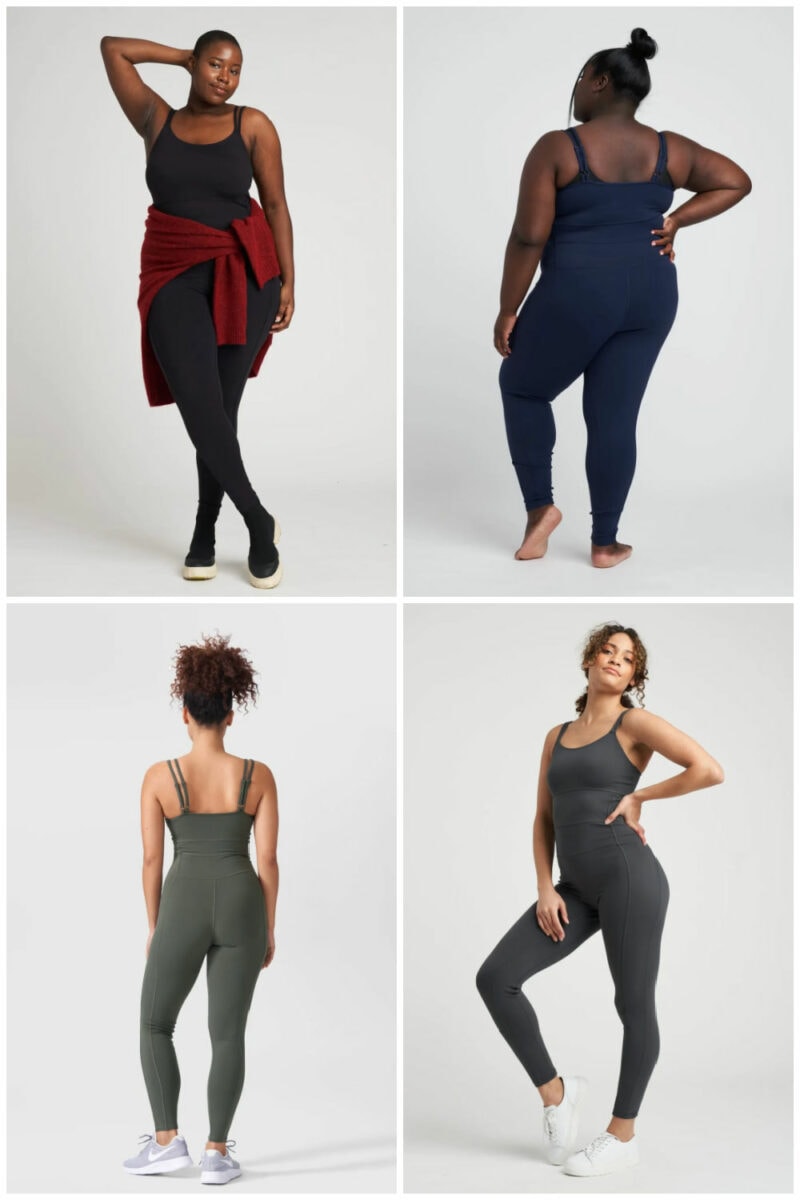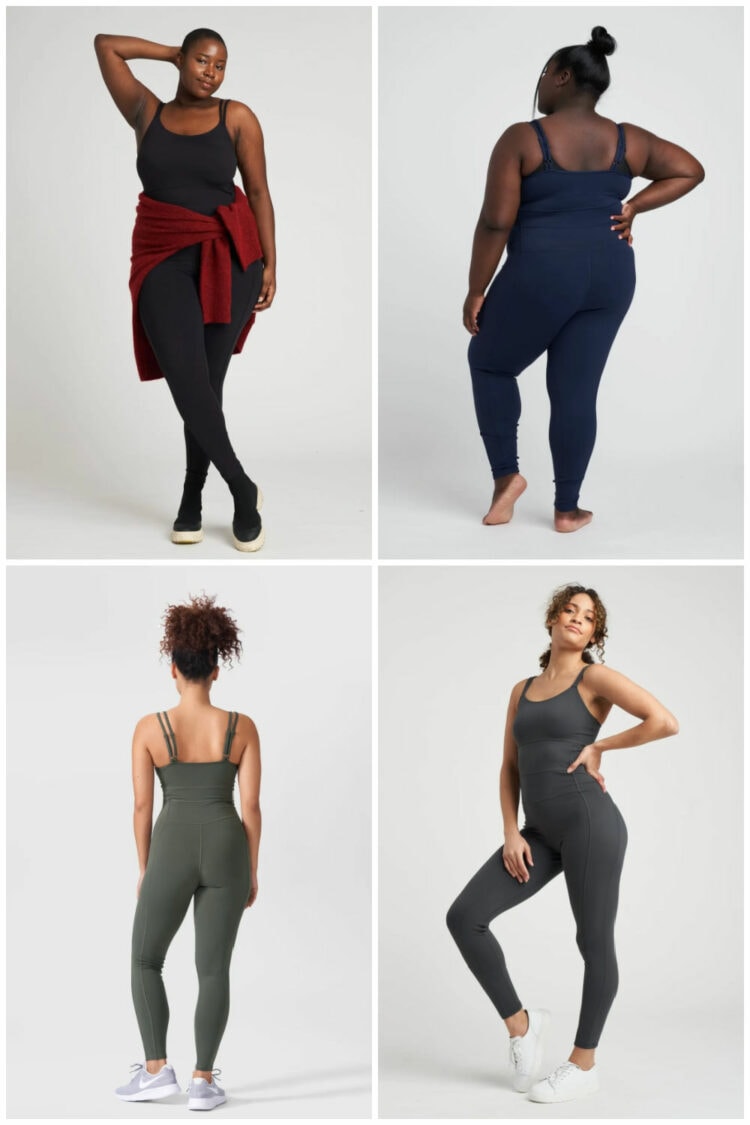 And I swear at least a quarter of those groups are obsessed with the Universal Standard Next-to-Naked Bodysuit. Like seriously obsessed, buying in every color and owning backup just in case obsessed.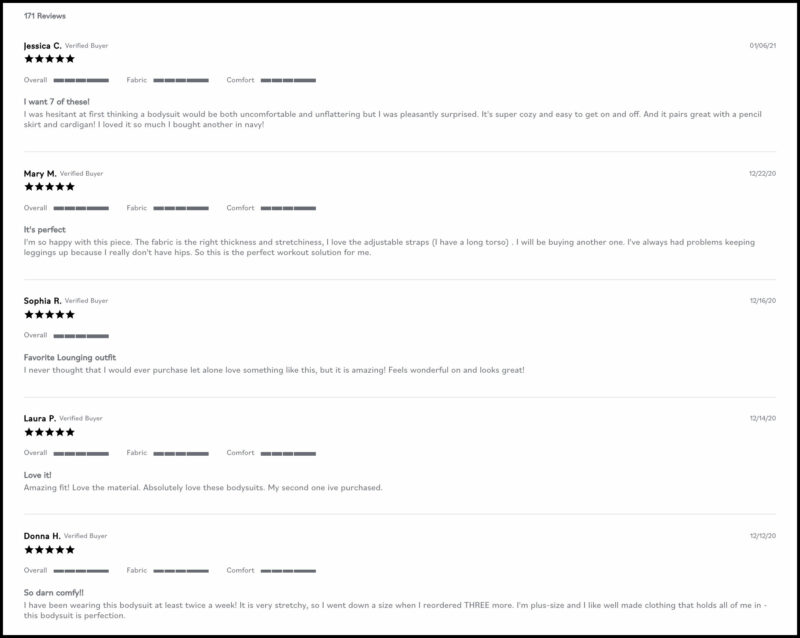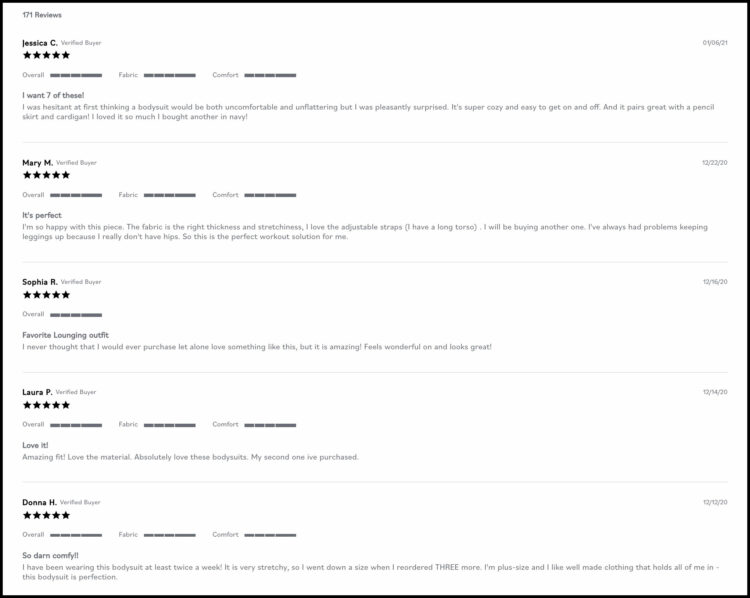 For those who don't want to click the link, the Universal Standard Next-to-Naked Bodysuit is a double spaghetti strap catsuit that has full-length legs, adjustable straps, a scoop neckline, some horizontal seaming along the bodice that looks decorative, and is made from a sweat-wicking antimicrobial fabric that isn't shiny. No bra, no pockets, just one piece in black, charcoal, olive, and navy and it retails for $95.
Y'all know I love Universal Standard, a brand that makes high-quality wardrobe essentials in sizes 00-40. But I have never been drawn to their Next-to-Naked Bodysuit. Why?
I need a bra. Like really, these 46-year-old boobs have experienced life and are happiest when cradled in synthetic fabrics and holstered with high-powered elastic. How can you wear a bra with such a garment?
I need to pee. Don't we all? And while I rocked the heck out of a jumpsuit in the Before Times, now that I am at home 99% of the time I can only deal with clothes that make basic functions easy.
I am soft. And jiggly. And bumpy. This isn't a diss on my body, it's facts. Like my breasts, my body has lived half a life and sways in the breeze like a weeping willow. While I want my body to be comfortable, my soul is most comfortable when I am not displaying my weeping willow flow to strangers.
Where am I going to wear this when the world opens up? Let's say this jumpsuit is magical and I love it. How am I going to carry off a black catsuit in the real world? Am I really going to head to Target swaying in the breeze with just a denim jacket and pair of sneakers with it?
Will they work with my short self? I was lucky enough to be asked to promote the US x Adidas collection last year and received two of the bodysuits from the collection. They're awesome (like see if you can find one on a resale site, they're good), but I found them a bit long in the torso for my 5'3″ self and don't wear them as often because of that. The neckline is low, the armholes hang, the legs are a bit long… I'm used to this and figured this bodysuit would be more of the same.
But I was reading raves from women who wore larger sizes than me, were older than me, had larger breasts than me. Women who also work from home, women who like their wardrobes super simple, women who love to have fun with fashion, women who have minimalist style, and women who have maximalist style.
I read women wore them under breezy tunics and shirtdresses opened like duster cardigans. Women who wore the jumpsuit on flights, on car rides, and yes, for workouts. Women who bought multiples to wear to sleep, and several nurses and frontline workers who wore them under their uniforms.
So I ordered one.
Universal Standard Next-to-Naked Bodysuit Review
And I'm wearing it as I write this. I haven't even taken photos yet, I will get them later, but I had to sit down and write down my love.
I forgot to mention this when it went live, but I got a size XS. I usually wear a size 14 and vary between XL and L for activewear, usually choosing L on the bottom and XL on the top. With the brand Universal Standard, 99% of the time I am an XS, occasionally choosing S for a non-stretch dress or pair of pants.
I GET WHY EVERYONE IS OBSESSED WITH THE UNIVERSAL STANDARD NEXT-TO-NOTHING BODYSUIT!
Okay, so the first thing that makes the Universal Standard Next-to Naked Bodysuit so amazing is the fabric. It's soft, it's not like your standard activewear. I'd say it's a slightly denser version of the Miami Fitwear leggings I love so much. It doesn't restrict, but it molds to your body. And even when stretching over the booty or the bust, it is completely opaque.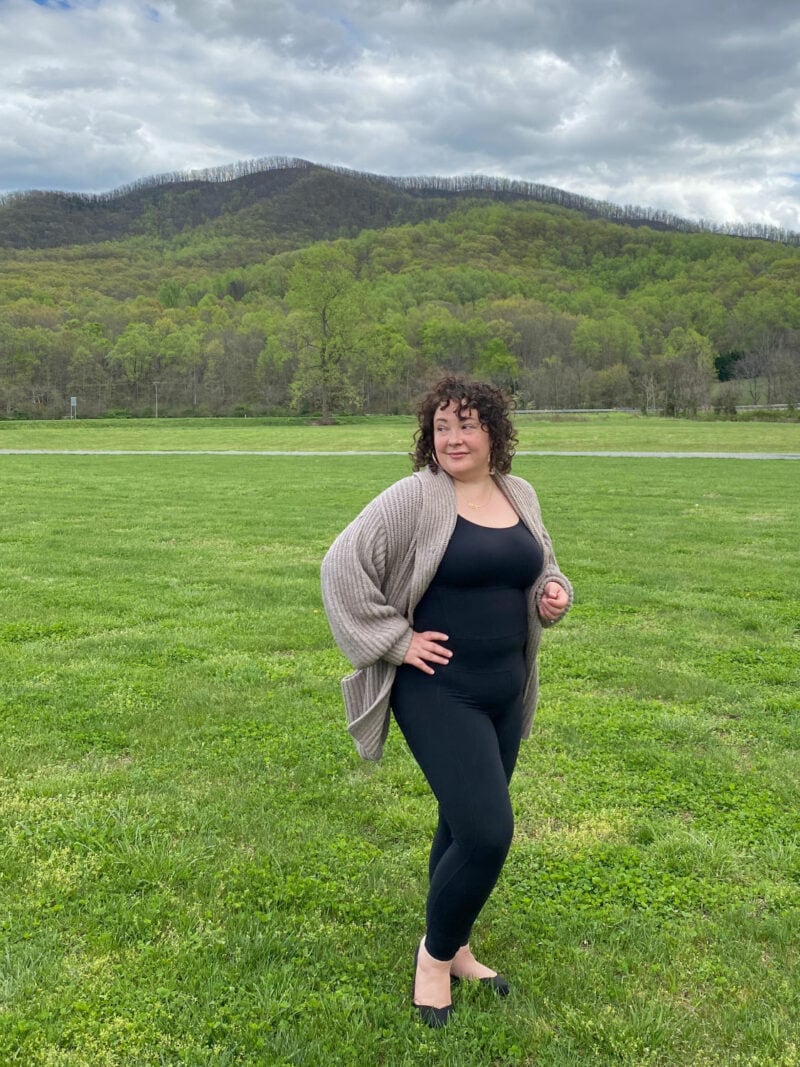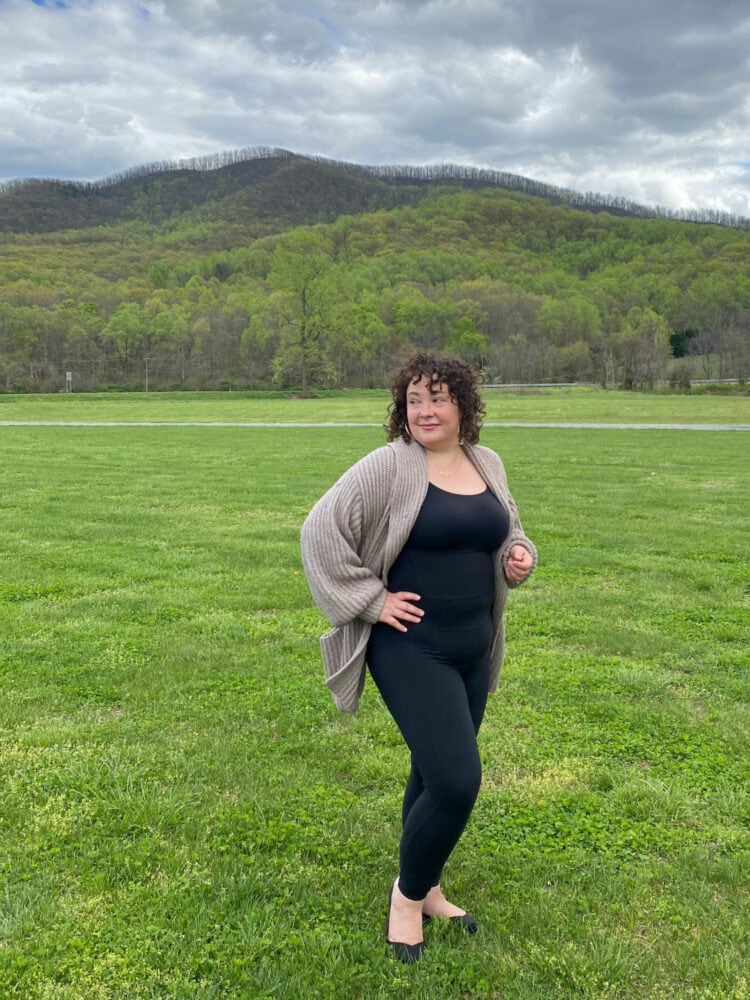 This fabric isn't cold, it isn't hot. I've worn it on a Peloton ride, I've worn it for stretches and yoga, worn it sitting in the chair in my bedroom writing many blog posts, and I have napped in it. I don't get sweaty or swampy and it doesn't leave my feeling clammy like some activewear fabrics (hate to say it, but the bodysuit from the Adidas collab can do that to me).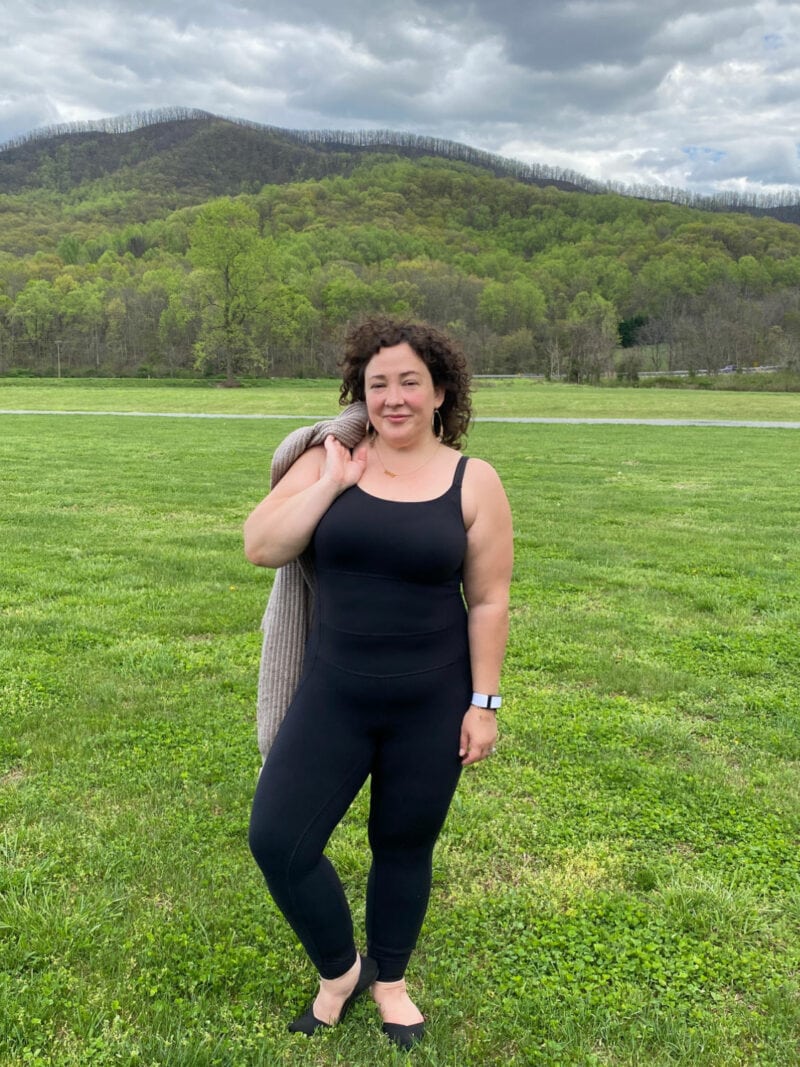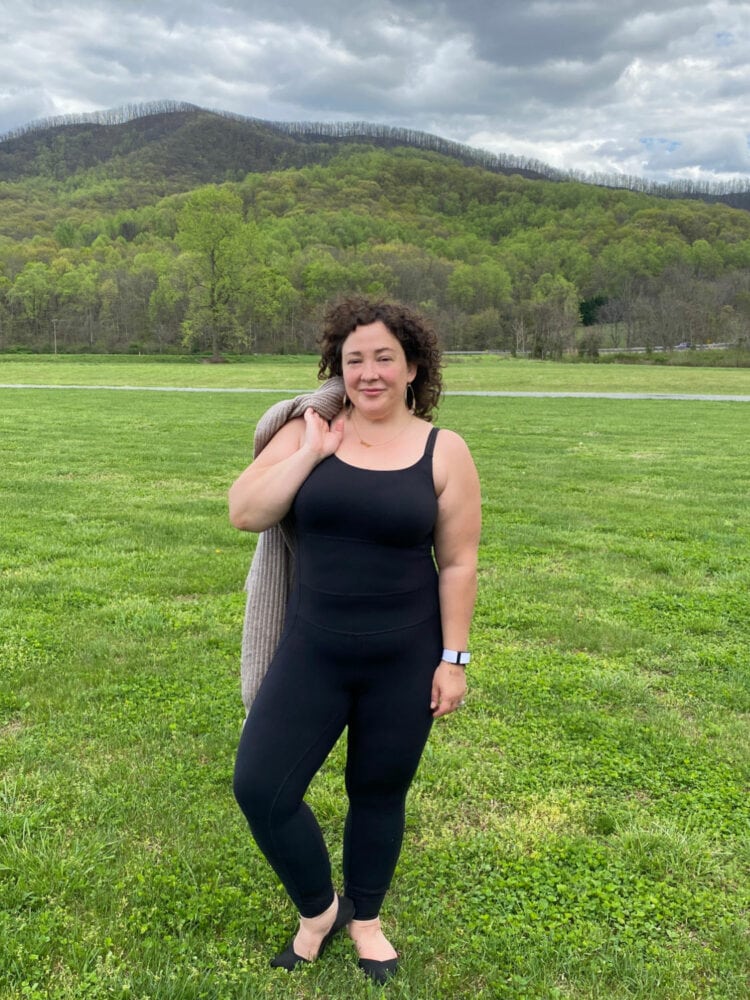 The seaming on the torso isn't just decorative, it improves fit. A seam under the bust, one below the belly button and one above on front; on back there is a seam just where the rear curves out and two along the lower back. These seams helps the bodysuit move with curves instead of bagging and sagging or stretching in the wrong places.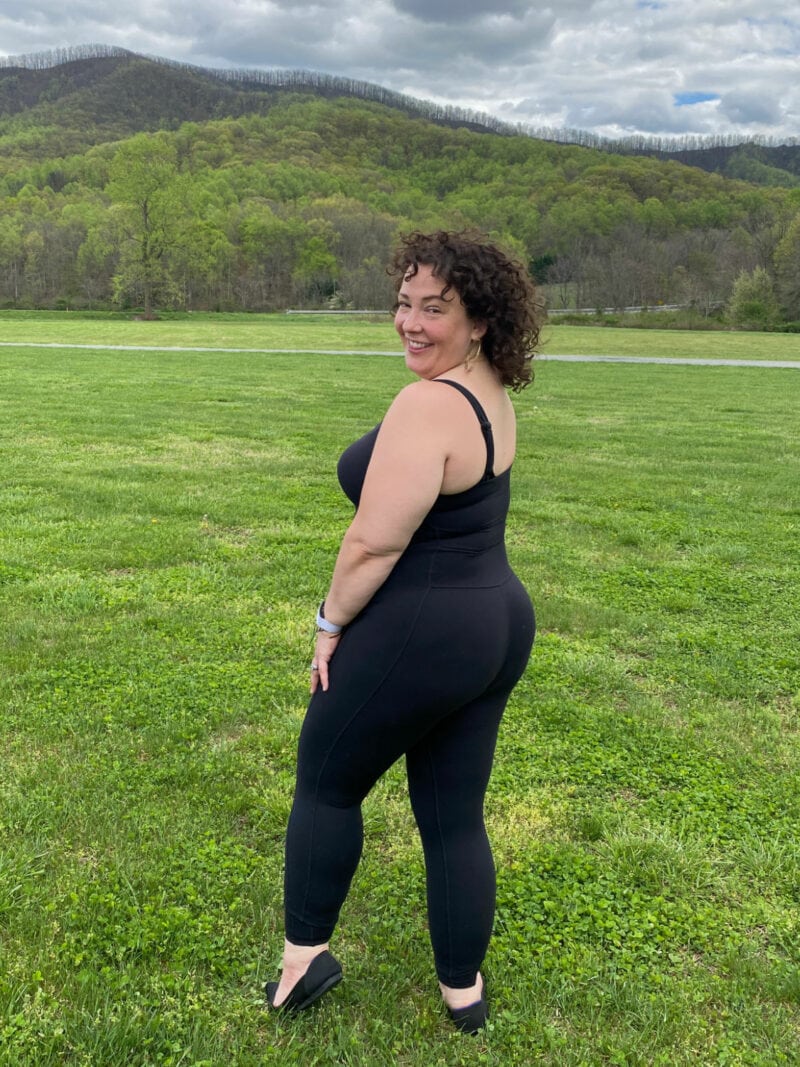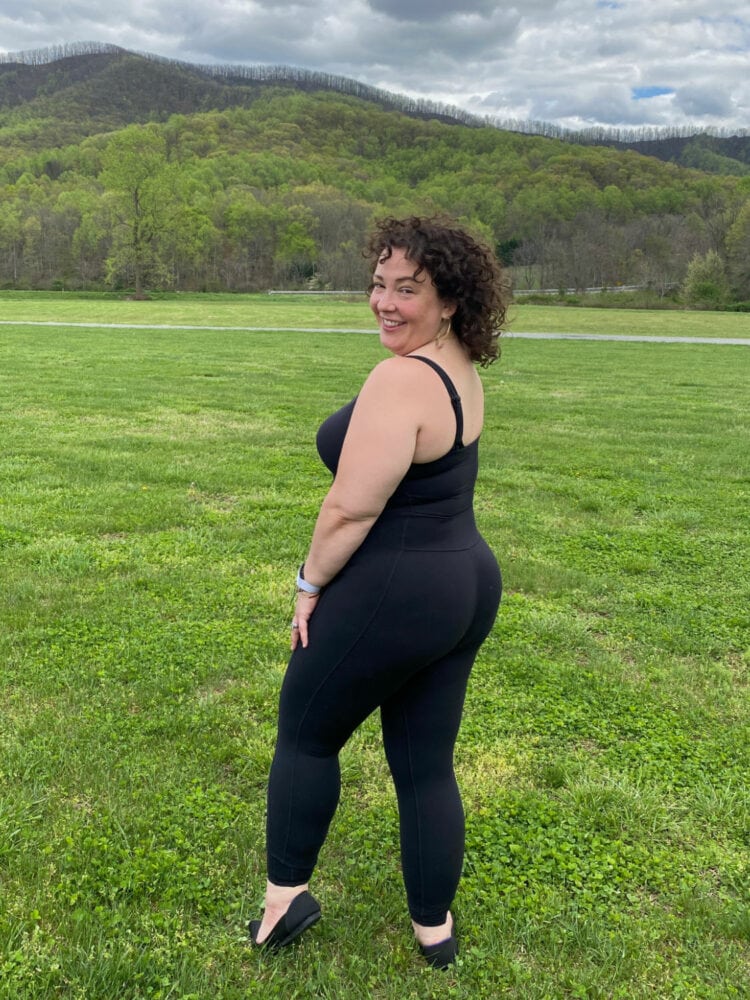 The strategic seaming continues on the bottom half; each leg is four pieces of fabric, not two. There is a stripe of fabric about 2″ wide that goes along the inner thigh and one on the outer thigh. The four pieces mean the legs are more of tubes and designed to fit around a leg, not stretch to accomodate a leg. This also provides a hexagon crotch, which means there is less tension on the seams, giving more comfort but also more durability.
The double strap concept is decorative, but also hides many bra straps, and offers more support. Two straps are better than one for keeping the bodice where it belongs and preventing the neckline from sinking down thanks to a heavy bust.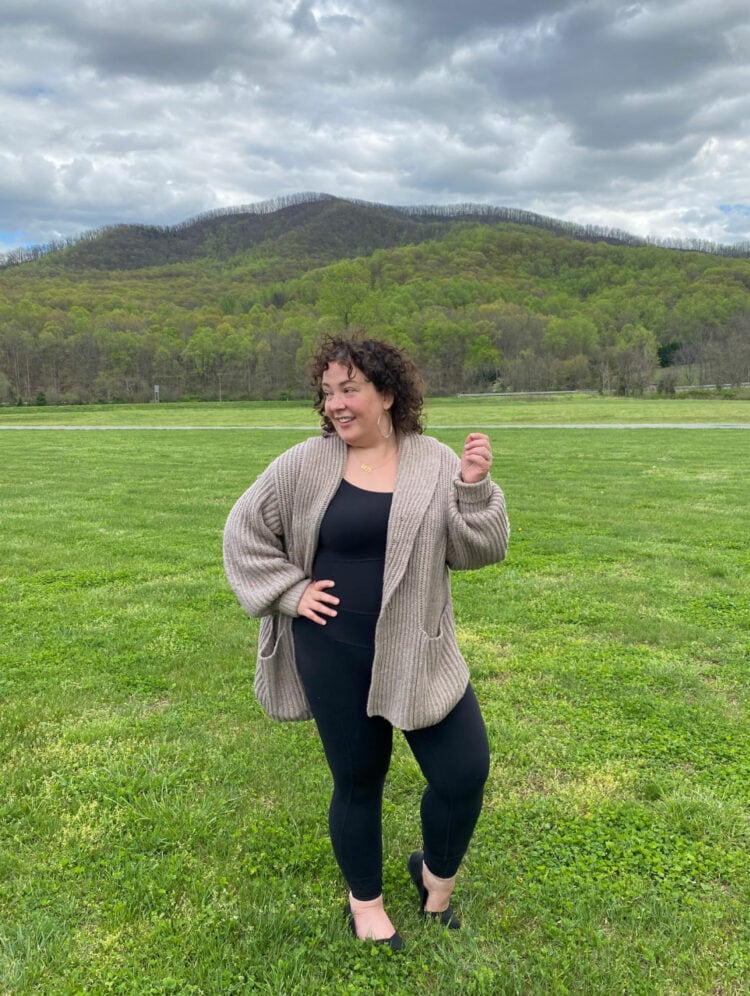 And I know I am not the only one who may want one of those straps a little tighter than the other for a more perfect fit; love the customization option. I also love how the straps in back are held with sturdy rings so they are more likely to survive a hard workout and the occasional tugging.
While I am 5'3″ and used to full-length leggings pooling at my ankles, these don't in a way that looks or feels weird. This magical fabric seems to mold to the body so nothing is out of place.
I get the hype, virtual friends in Facebook groups. I totally get the hype.
But What About Your List of Hesitations?
Oh yeah, I had all these concerns regarding this bodysuit:
I need a bra, right?
Well, my bra is mostly covered thanks to the double straps and perfect height of the neckline and under the arms. And a bra can show in the back, but that's likely going to be covered with a layer. I am wearing my favorite bra from Fantasie with the photos on this post of me in the grass.
But the thing I realized is the strategic seaming on this bodysuit makes me look less like a Ziploc baggie of unicorn slime made by my tween and more like… a soft curvy body that is kinda sexy and sensual in its second half of life.
I despise built-in bras on clothing; I have an F cup and those shelf bras and soft cups don't offer any real support; they just have my breasts look saggy and sad and like one mound of flesh… that is if they aren't so shallow that they're causing my breasts to pop out of the neckline.
But the seaming on this doesn't try to offer support, it just offers separation from the other mounds of flesh along my torso. And the fabric has enough support that it sort of buoys the breasts without stretching out the neckline and while letting them be two separate entities.
I'm 5'3″, It's Going to Be Too Long to Look Good, Right?
Wrong! I don't know what sort of magic this bodysuit possesses, but the ankles aren't puddling on me, the neckline isn't too low, the armholes are in the right place, even the back covers all my bra except for part of the straps. As I wear it, it doesn't warm up and give me drop crotch or baggy knees.
What makes it magic is I know women a good 6″ taller than I am, women who are several sizes smaller, and several sizes larger, and they all find this same magic with the bodysuit. It's like the Sisterhood of the Traveling Pants, but we're all owning our own bodysuit!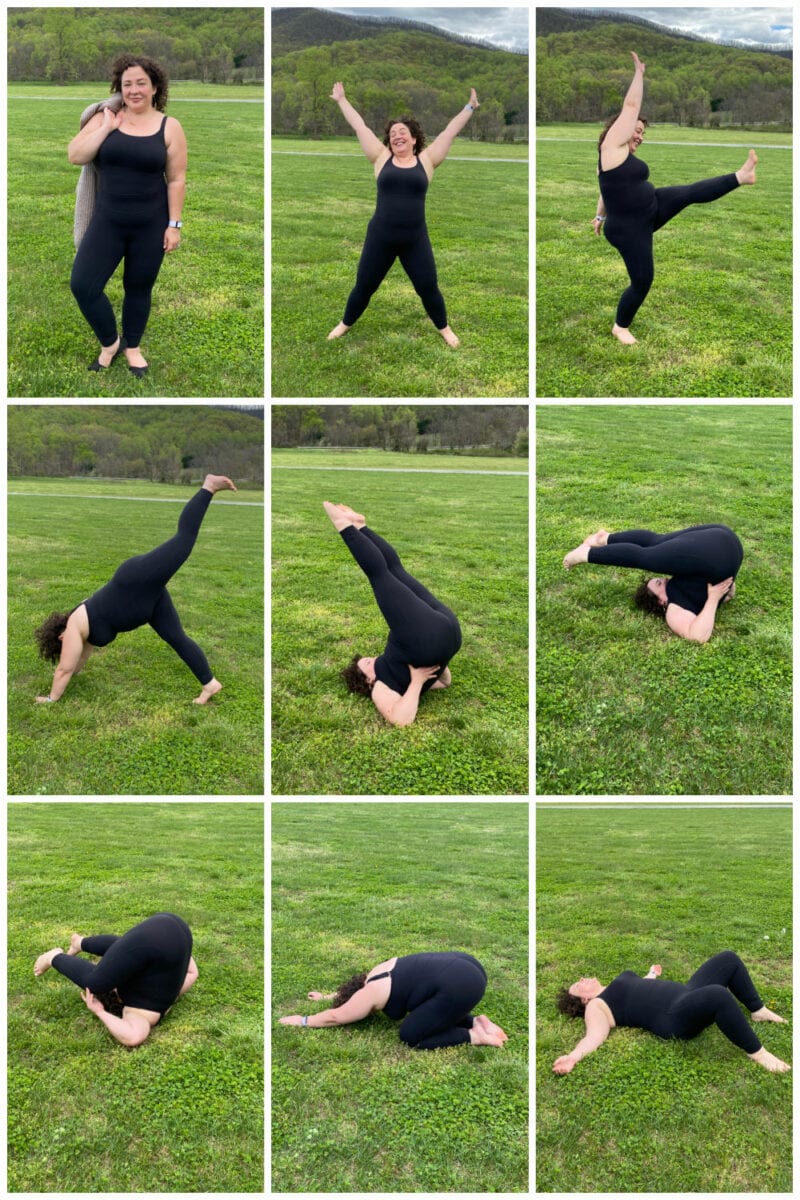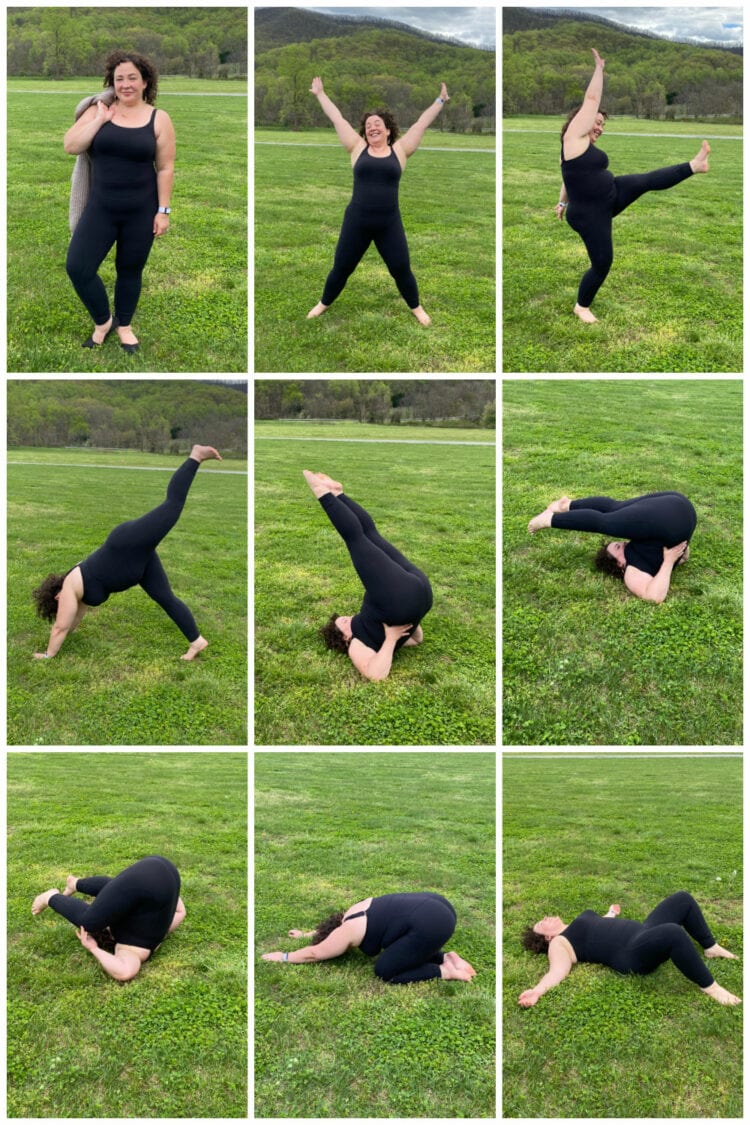 I'm Too Jiggly To Wear a Bodysuit, Right?
As I mentioned above, this bodysuit is some sort of genius fabric with some of the most strategic seaming to fit great, and to make your body look the way it deserves to look. All that and it's comfy enough to lounge in and stretchy enough to do yoga in.
How does one pee in a bodysuit?
It's not that hard, thanks to this being stretchy. No need to be precious, just yank down one strap, and the rest of the bodysuit will follow. It won't drag on the ground or into the bowl, and when you yank it back up it will go back in place. No buttons, no zippers, no drawstrings, super easy to get 'er done.
Would I dare wear a bodysuit out in public?
Before owning this, I would say hell no, unless I was heading to the gym and making no stops on the commute… or if I was getting photos for the blog and wanted natural light.
But this bodysuit? Yes, I've worn it out in public and I think I look great and I feel surprisingly confident. It's sort of like a superhero suit.
I keep thinking of all the ways to style it. And below I share four ways I found to be more universal: pieces you likely already have or can find at a variety of retailers and even at thrift stores.
How to Style the Universal Standard Next-to-Naked Bodysuit
Below are four ways to style the Universal Standard Next-to-Naked Bodysuit. All pieces are size-inclusive up to at least 3XL and from brands with a similar or lower pricepoint than Universal Standard.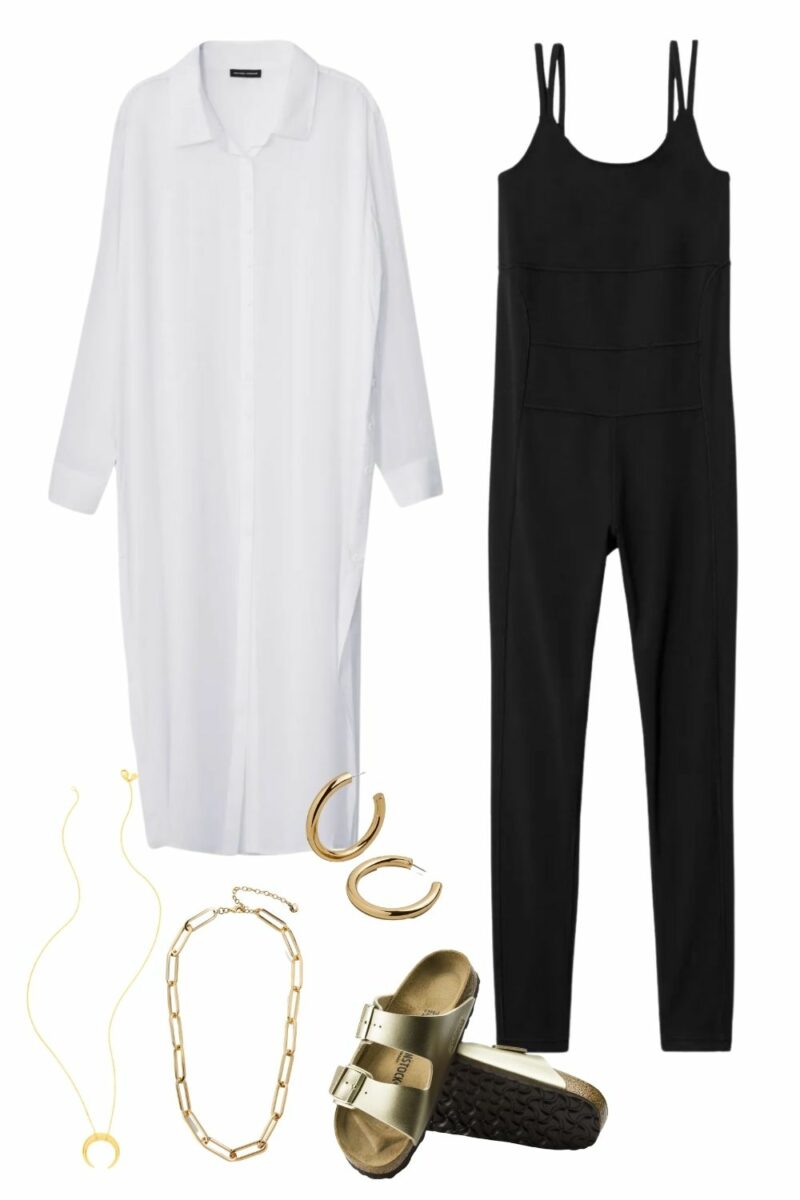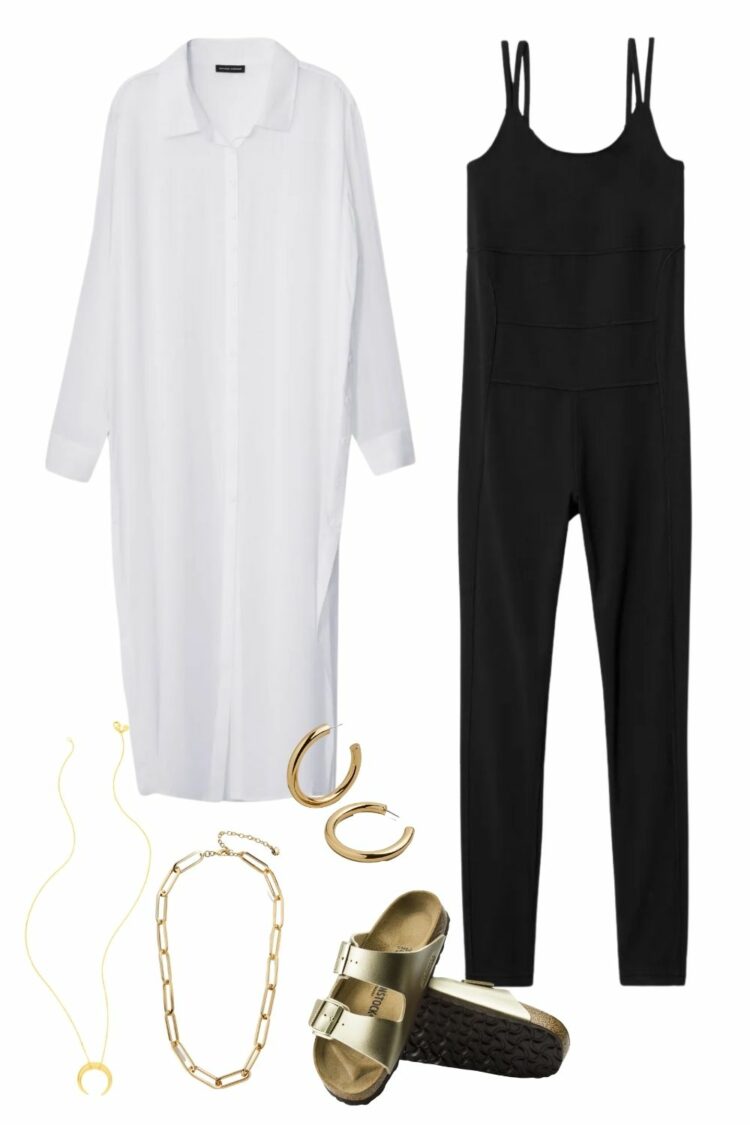 This is the most logical way to style this bodysuit for out of the house. The Universal Standard Nailah Tunic comes in a variety of colors and is lightweight (read: relatively sheer) and breezy and covers the bum and the arms but is easy to slip off when you need to use the facilities.
I picked white for this collage because Universal Standard had a "flatlay" photo of it I could use in my collage, but am partial to Azure and find Storm quite beautiful. But honestly, any color (and any other brand that offers a similar long shirt/tunic/dress with buttons concept) would work over the bodysuit.
To keep it from looking like sleepwear, I added gold accessories. A variety of gold chains at different lengths for interest, hoops because hoops are always a quick way to add drama, and some gold Birkenstocks because we can be glam AND comfy.
This could easily be glammed up further with proper shoes, more statement of jewelry, a bit more bling and shine. On the other hand, this is a great example of how you can go from pilates session to street without looking like you just left pilates. This tunic is machine wash and dry, making it a surprisingly chic way to dress up your activewear.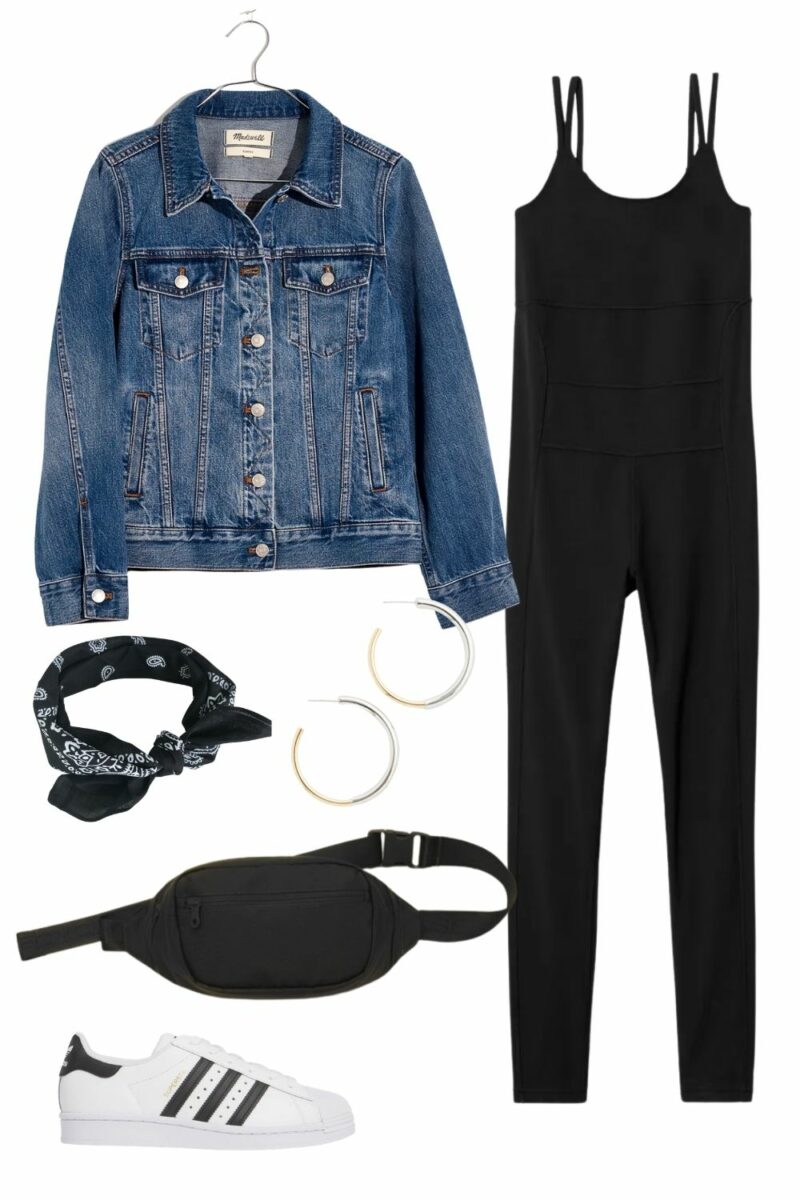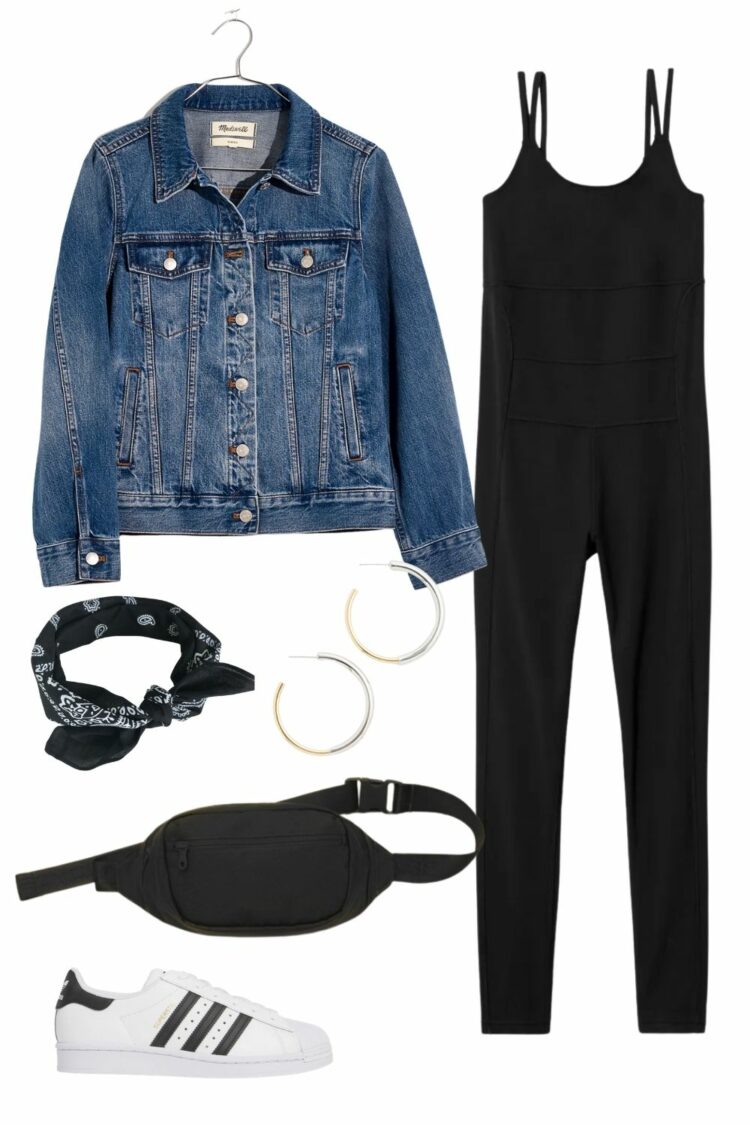 It's funny, at the beginning of this article I said I couldn't see myself strutting around town in this bodysuit with a denim jacket and sneakers… but now that I own it I totally would.
I'd pick an oversized/relaxed fit of denim jacket so it covers part of the bum so it's not so "leggings are pants" feeling. Adding a bandana or scarf tied at the neck makes the look purposeful, and not like you threw a jacket over your gym attire. Hoops also help with the purposeful style factor.
The sneakers are some of my favorite trendy sneakers for grown women; I own them myself and they're ageless and classic while nodding to current trends. And a belt bag is also a way to look modern while being comfortable. This one from Girlfriend Collective comes in a few different neutrals, and has a strap long enough that you can wear it around your waist or my favorite way – across the body.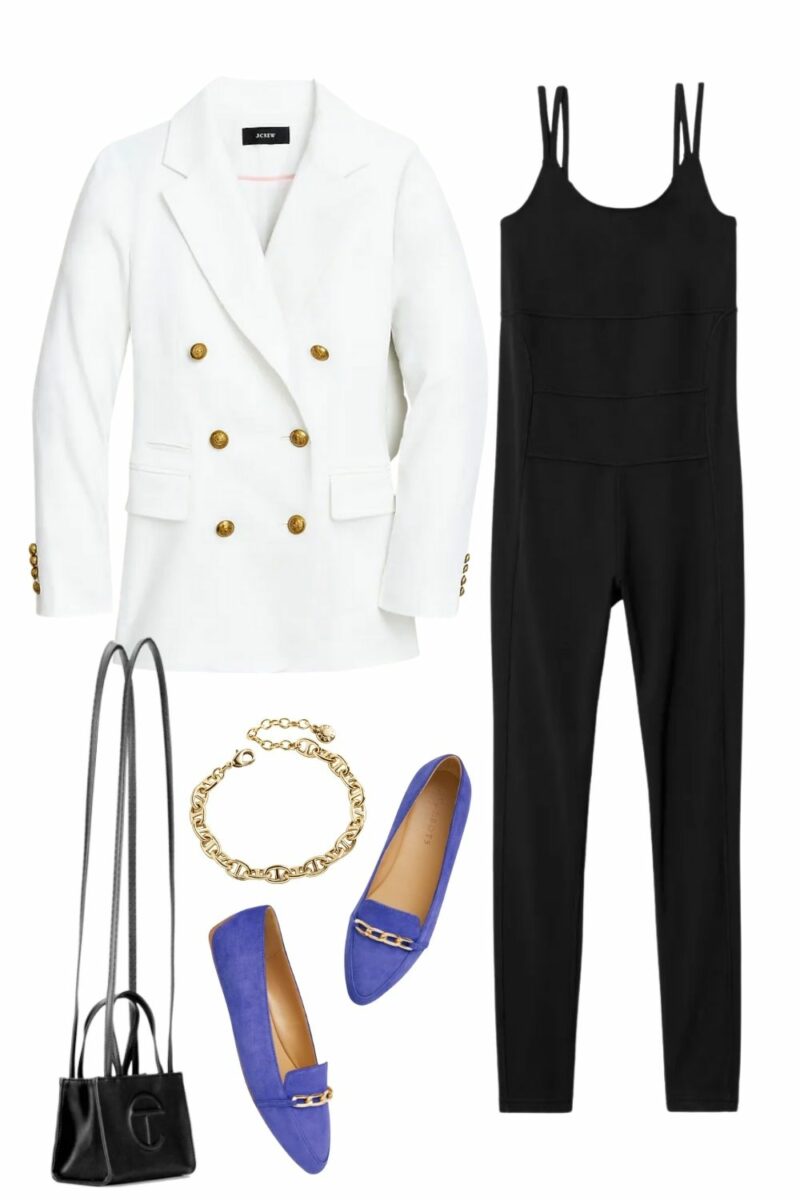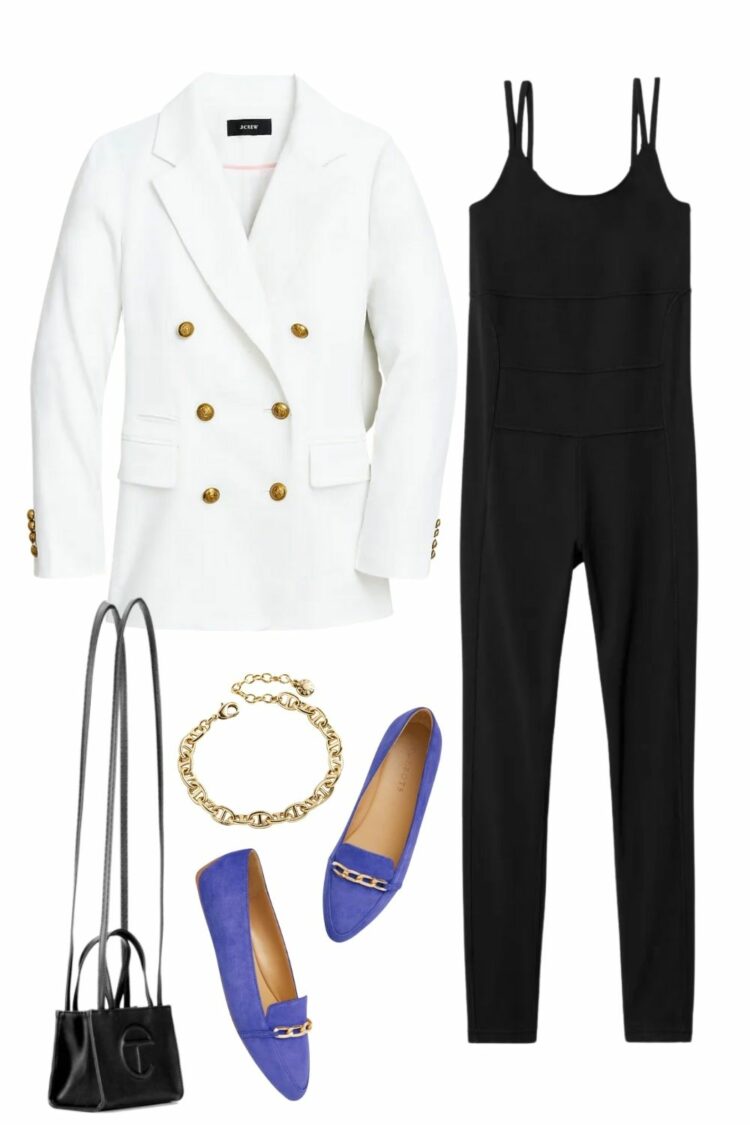 Who says the Universal Standard Next-to-Nothing Bodysuit can only be for casual situations? Since the fabric is matte, it can actually dress up. If you work in a relaxed or creative office or want a comfy chic look for brunch or running errands, consider layering the bodysuit with an oversized or longer blazer.
This one from J. Crew is from stretch linen so it's crisp yet comfy; the white with the gold buttons make an impact and elevate the entire ensemble. If you love a pop of color, consider doing so with a pair of loafers in your favorite shade.
A little bit more gold to tie in the buttons (I did a bracelet but you could do a necklace or earrings) and a shoulder bag (this one comes in three sizes and a multitude of colors; I have the medium and it's pretty perfect for work and shopping) complete the look.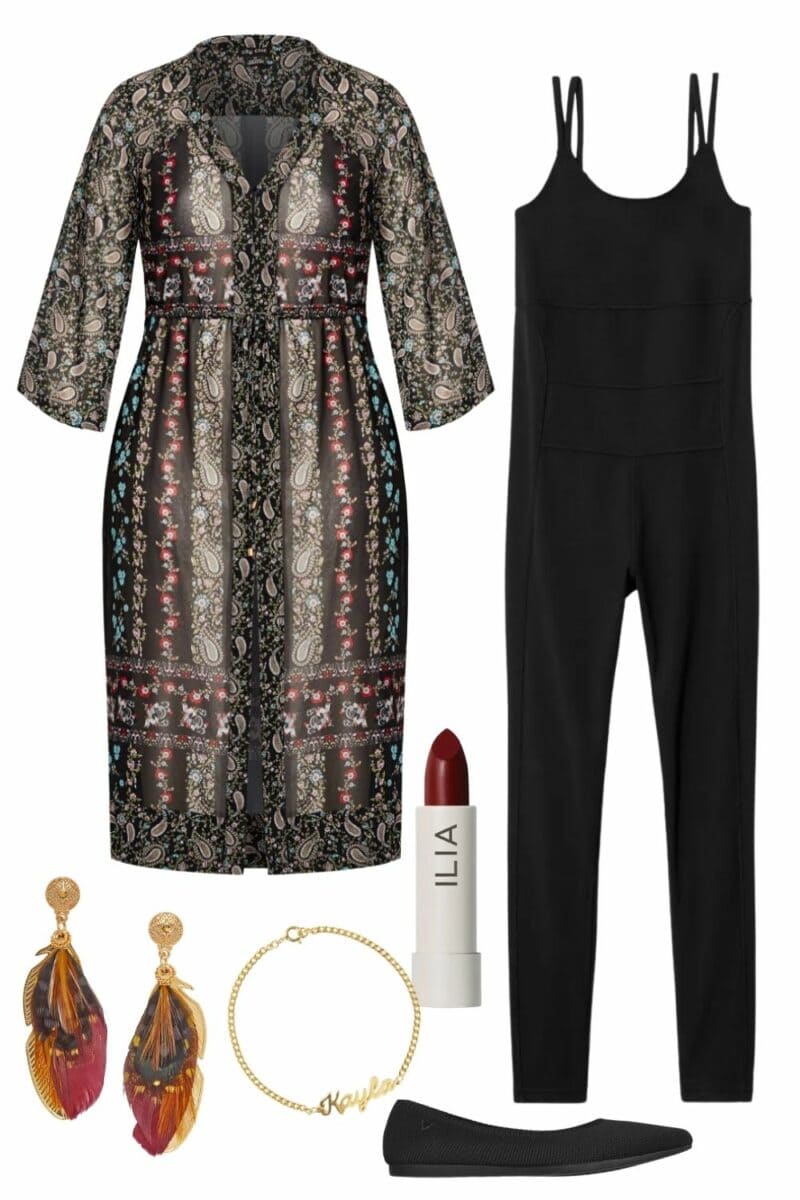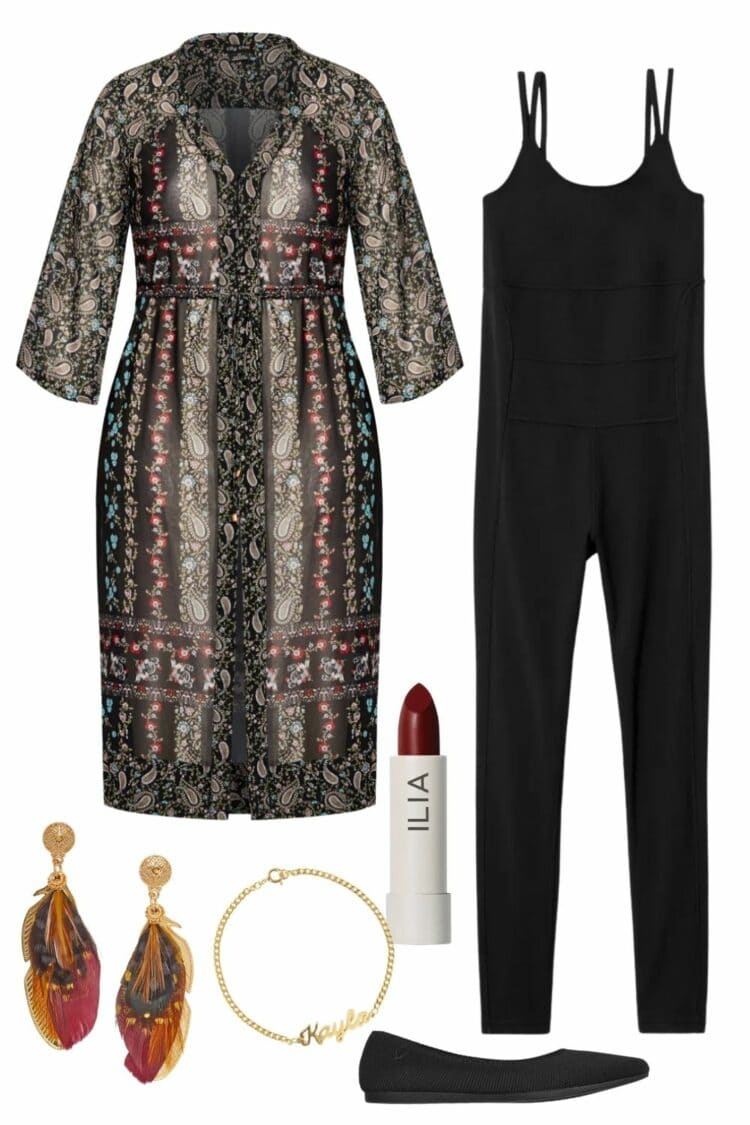 This is similar to the first look: a long layering piece over the bodysuit. But this one is printed and dressy and closes at one point in the front and makes the whole look feel more like a dress.
And tops, wraps, robes, cardigans, dresses, and tunics often come in this style. Many are called kimonos, though they should not be called that. I encourage you to change your terminology for this type of popular Western garment and ask your favorite retailers to do the same.
But anyway, back to the flowy garment you can find at most retailers in most sizes and at most price points: it's like it was made to be worn over this bodysuit. No closure? Consider using a brooch to pin the piece together at just the right place on your torso.
I say have fun with a look like this – add the rosy lips or the bold lashes, the feather earrings, the wrist full of gold bracelets, whatever feels fun to you. And look all glam and fun and fashionable while being comfy as heck in this US bodysuit!