This article may contain affiliate links; if you click on a shopping link and make a purchase I may receive a commission. As an Amazon Associate, I earn from qualifying purchases. 
Welcome to Week 4 of what I wore while sheltering in place. How are you all doing? Have you noticed a shift in what you're choosing to wear each day? Does it have more to do with comfort, with what is clean, with your mood? I find each day seems to be different and my clothes express my mood (or how I hope the day to go) more than ever before. And no shock to any, the silver Birkenstocks have a role in almost every look. I have no idea how my feet will fit back into pumps once this is over!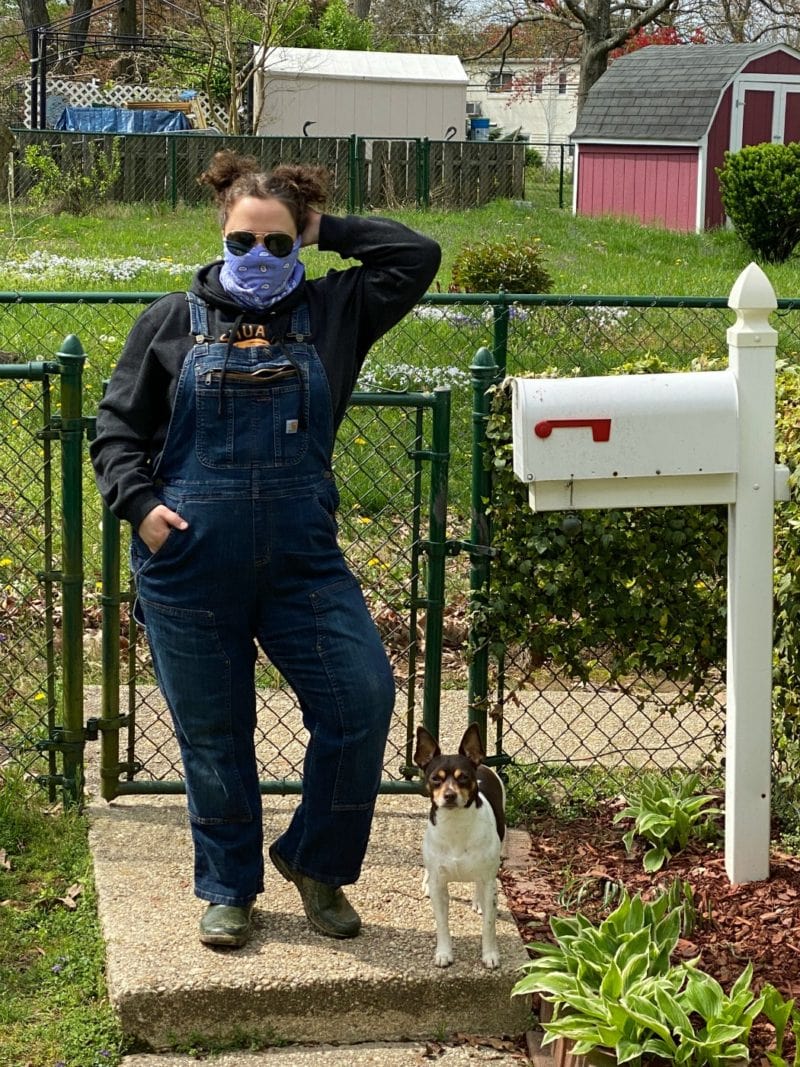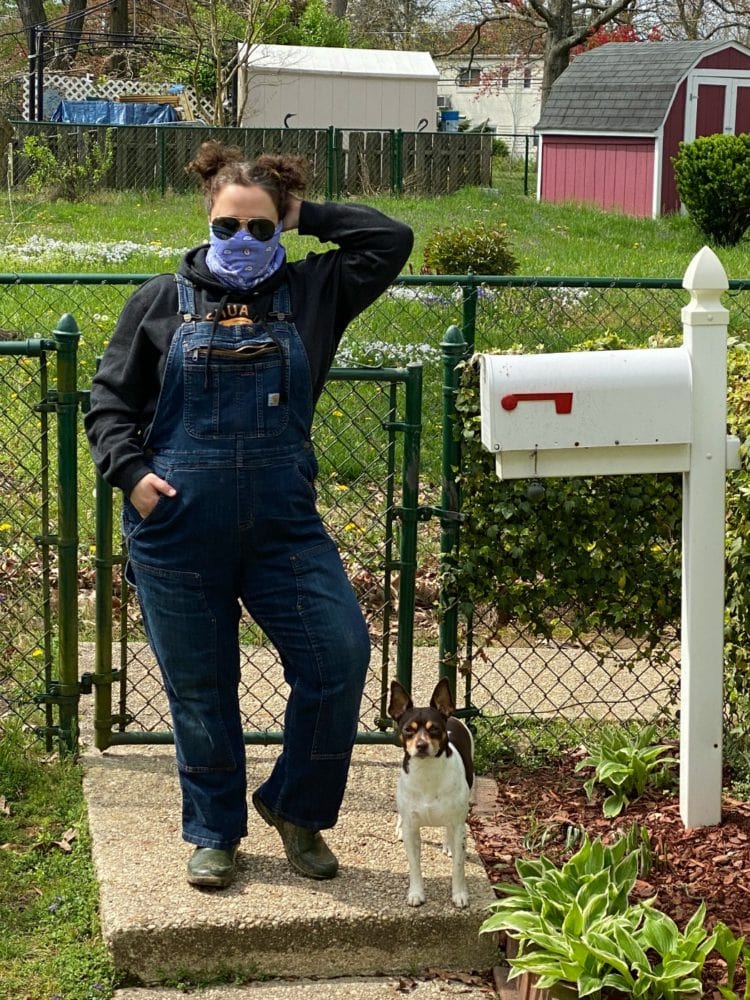 overalls| sweatshirt (not available due to the shutdown, shop other items for Joshua Tree or donate to Joshua Tree NPS) | boots | sunglasses
Kicking it quarantine style. We really haven't left the house at all in the past few weeks. We went to the grocery store once, and we go to check on, harvest, and work on our plots at the community garden a couple of blocks away. This is what I wore to head to the garden last Sunday. I got the sweatshirt when I visited Joshua Tree; my sister got the same sweatshirt and I got the same one for my husband, daughter, and our mom. Don't be surprised if this year's holiday card is us rocking the Joshua Tree National Park hoodies. Now THAT would be a good representation of our personal style since sheltering in place!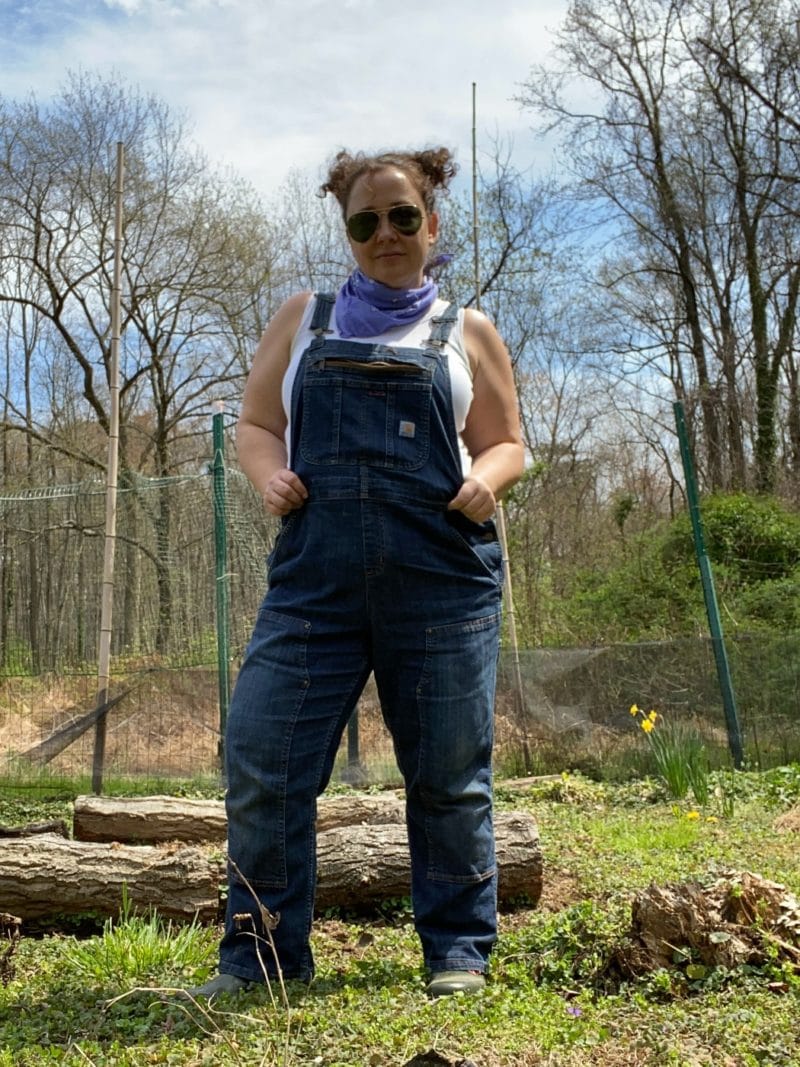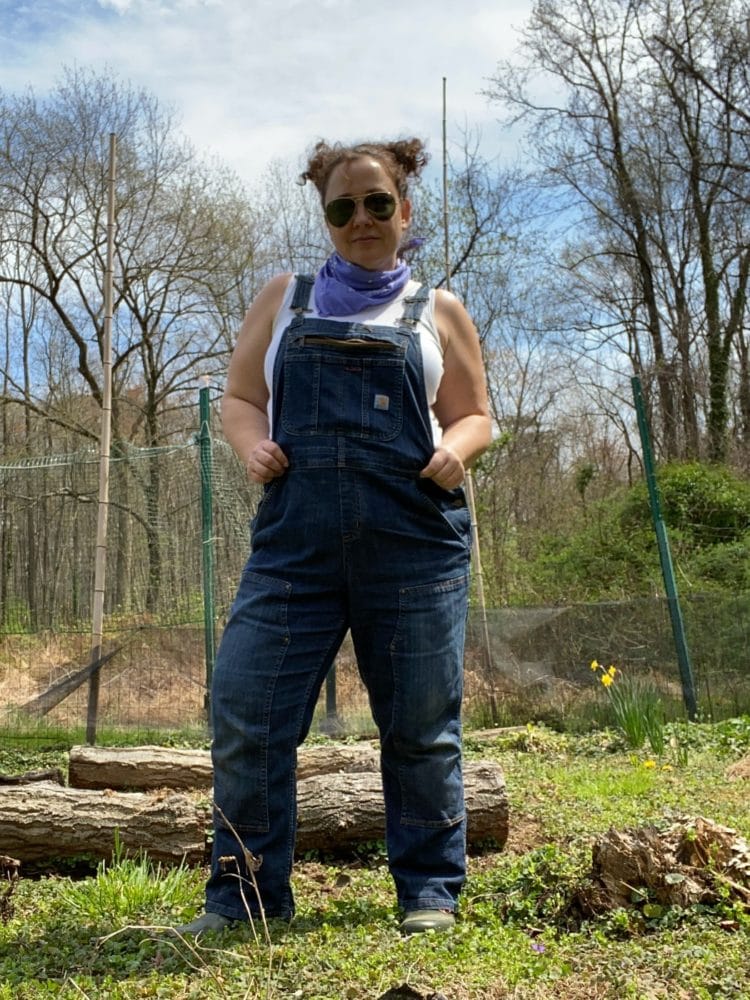 Once it warmed up at the garden, I peeled off the hoodie and just wore the white tank (now-discontinued style from Universal Standard, size XS petite) with the overalls. The BOGS boots are now one of the only three pairs of shoes I wear out of the house: I have sneakers if I choose to run or walk, EVA Birks for being in the yard, and the BOGS for the garden and muddy hikes!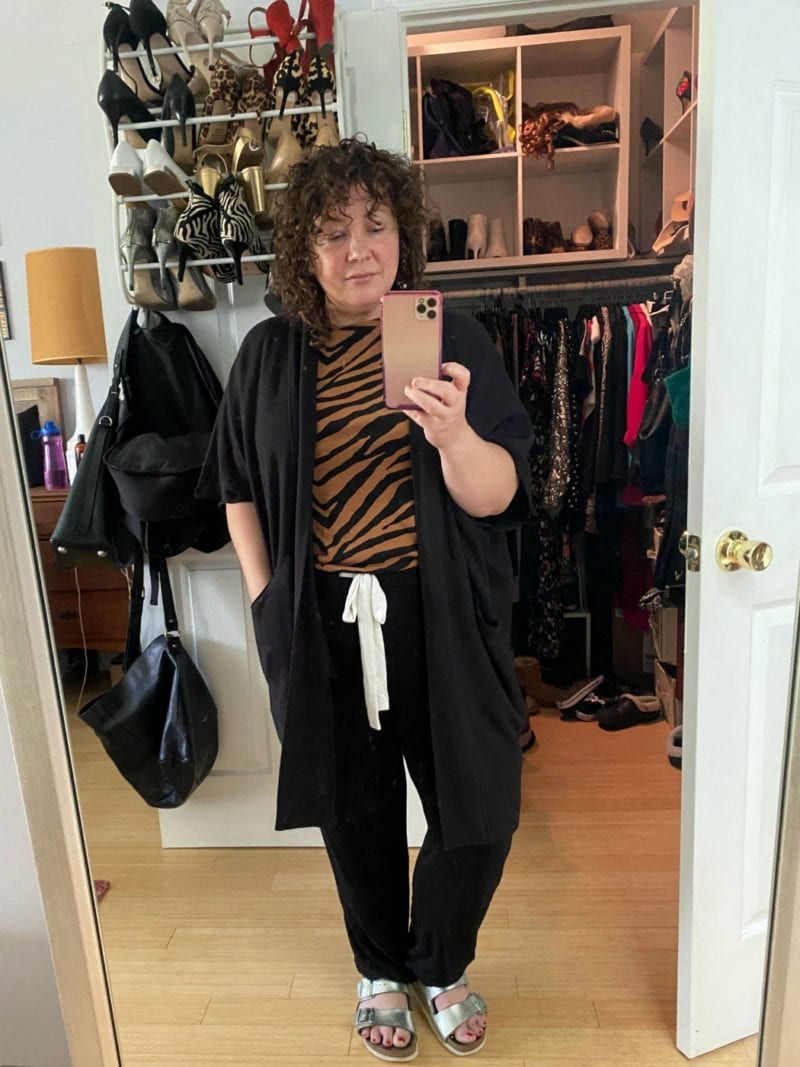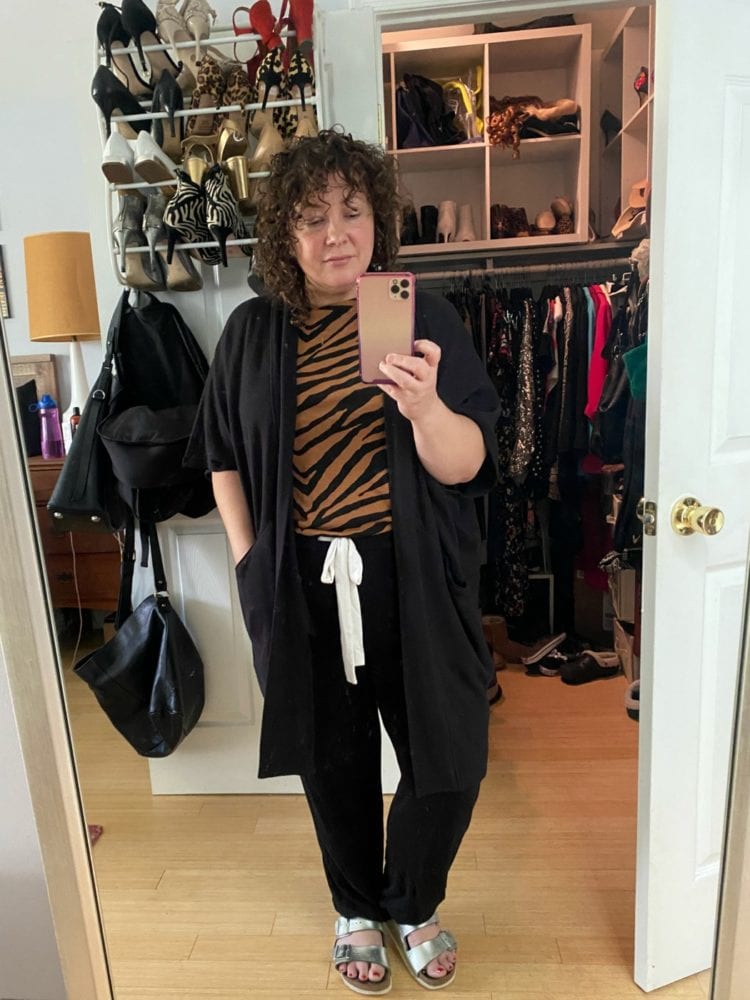 jacket | similar t-shirt | pants | shoes
This is a given look at least one day a week. I raved about this wrap/jacket thingie from Soma last Monday and I continue to love it. It's just the right amount of warmth and the addition of two secure pockets. The t-shirt you've seen before as well, but it is old and no longer available. The pants are also from Soma; the tie at the waist I know is polarizing, but I like the contrast (and like that it is silky but also stretchy so I can tie them snug but not have to untie to slip the pants off). And here's the Birkenstocks!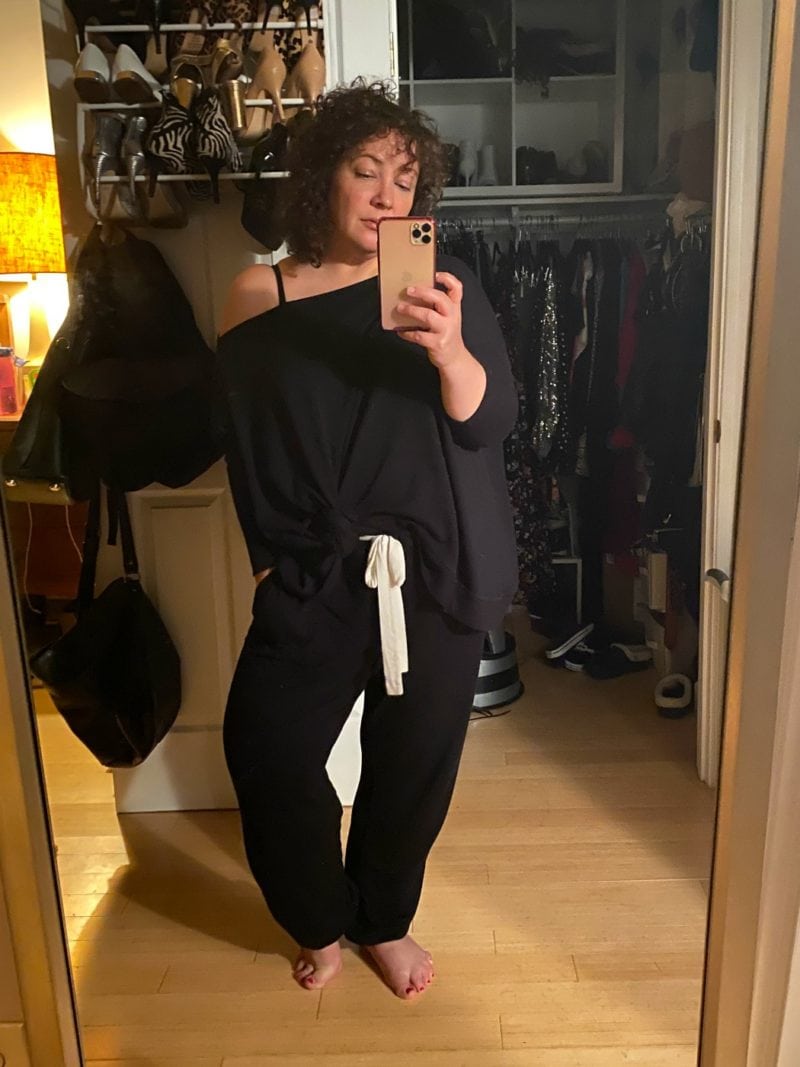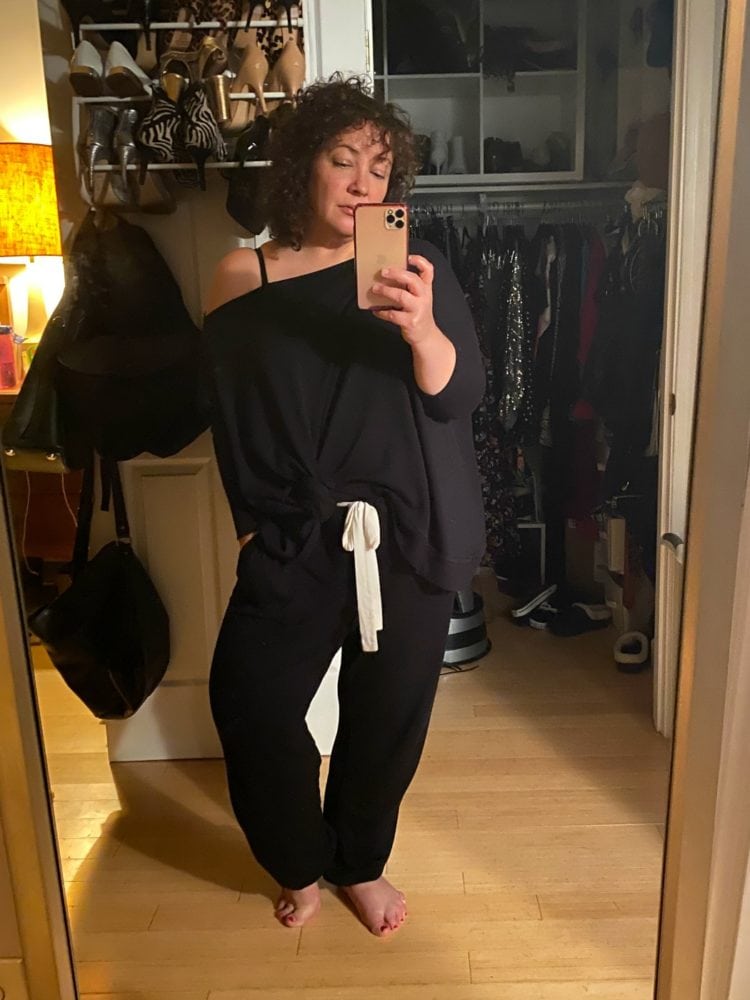 I can't recall if this look is the same day but later, or another day. So goes sheltering in place, amirite? The sweatshirt is the same one from Beyond Yoga I wore in this outfit recap post, this time styled with the Soma Sunday Pants and a cami from cabi.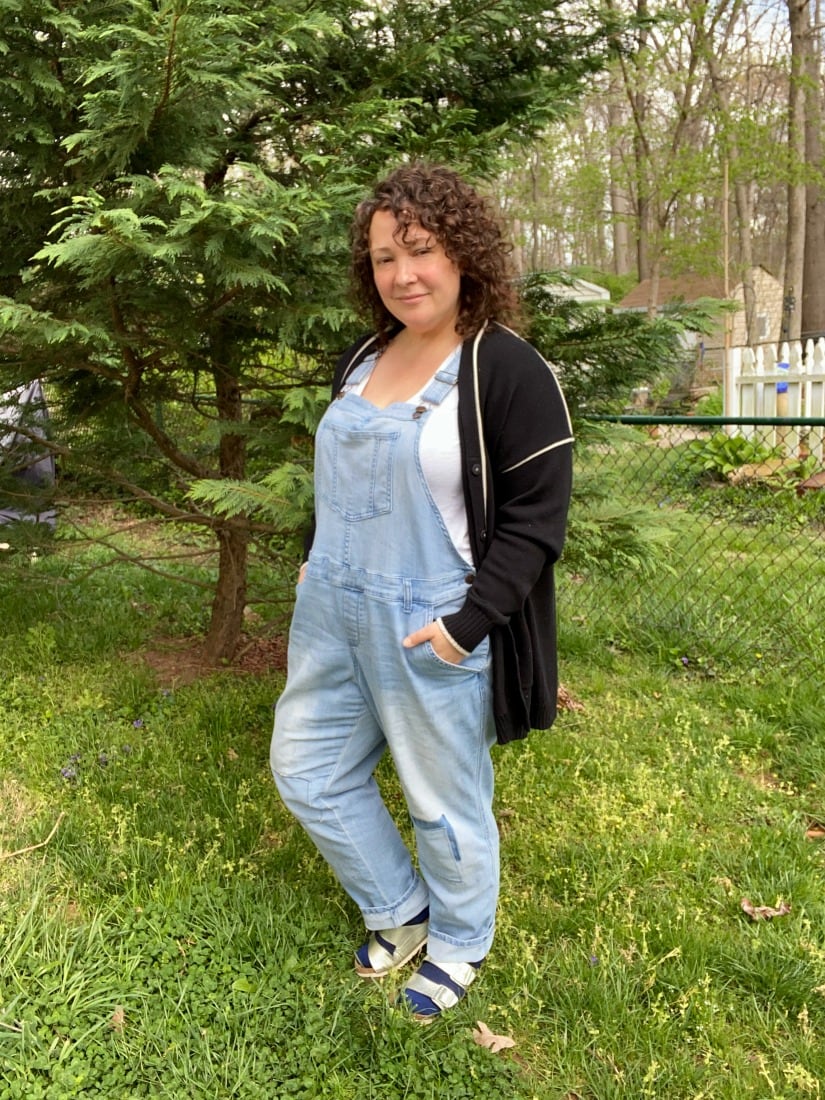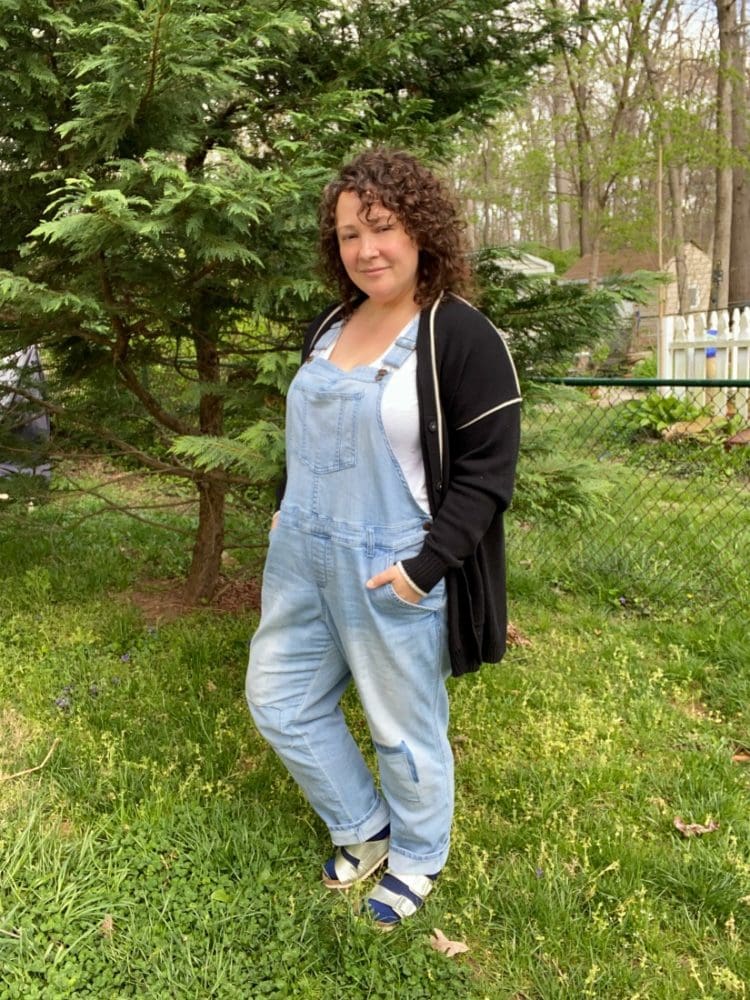 similar overalls (petite option) | t-shirt | cardigan | sandals
I call this… hippie grandpa farmer chic. It's the look when I am slammed from sunrise to sunset and purely dress for comfort and practicality. This is the vintage v-neck from J. Crew; a lot of people find this t-shirt cheap but I like that it's thin and fitted and a bit stretched out for certain looks like under overalls. Speaking of overalls, you've seen these before and do know you'll see them again. The cardigan is from cabi; it's aptly named the Comfort Cardigan and I do like that it's thick but not hot, soft but not slouchy, has functional good-sized pockets, and sturdy snap closure.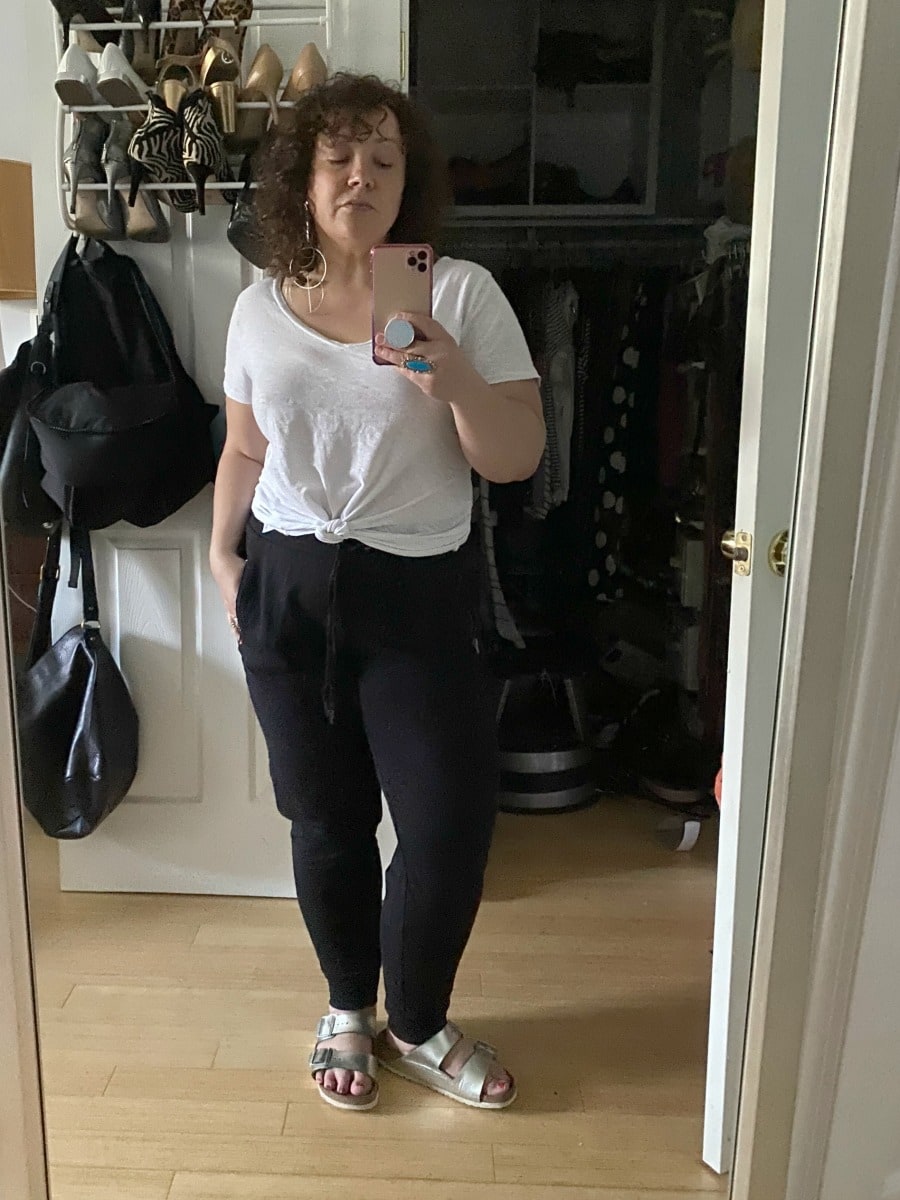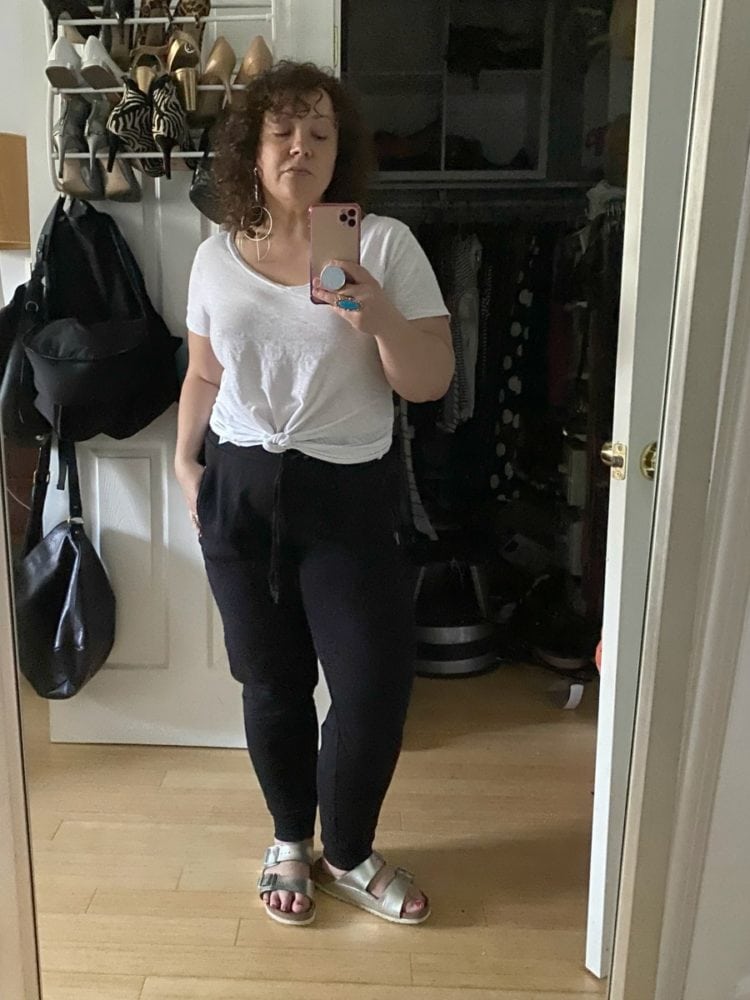 t-shirt | joggers | shoes | ring
I've been playing with accessories, having fun with some of the items in my wardrobe because as I mentioned Saturday, why not? And if not now, when? So here I am wearing two earrings: one from ASOS that is five years old and lost its mate, and one from Jenny Bird that is a couple of years old in one ear and no earrings in the other. I liked how it made the same J.Crew Vintage t-shirt from above and my Soma joggers look… purposeful.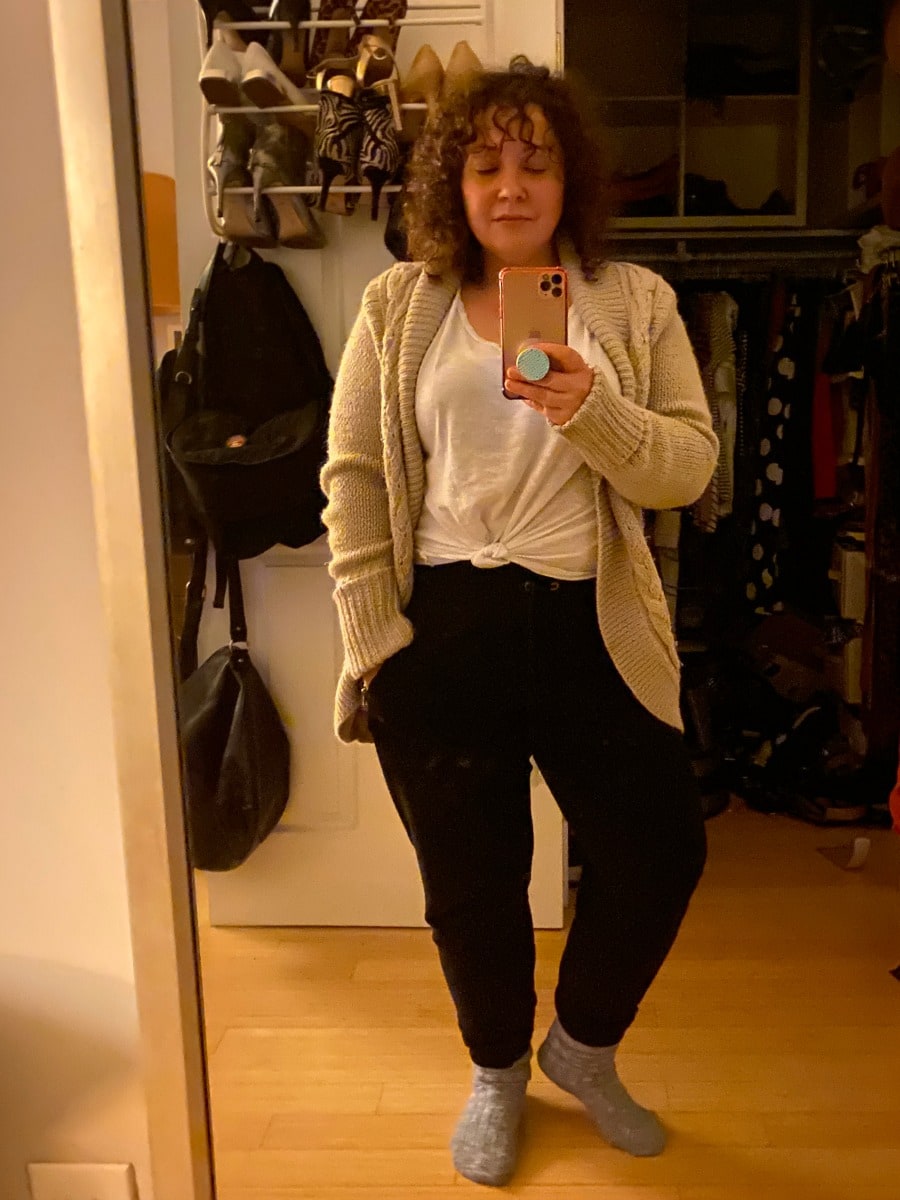 And when the sun set and it got a bit chilly, I added this Ann Taylor cardigan (several years old; you can see it in this post from 2010) and some Lands' End Thermaskin marl socks for warmth.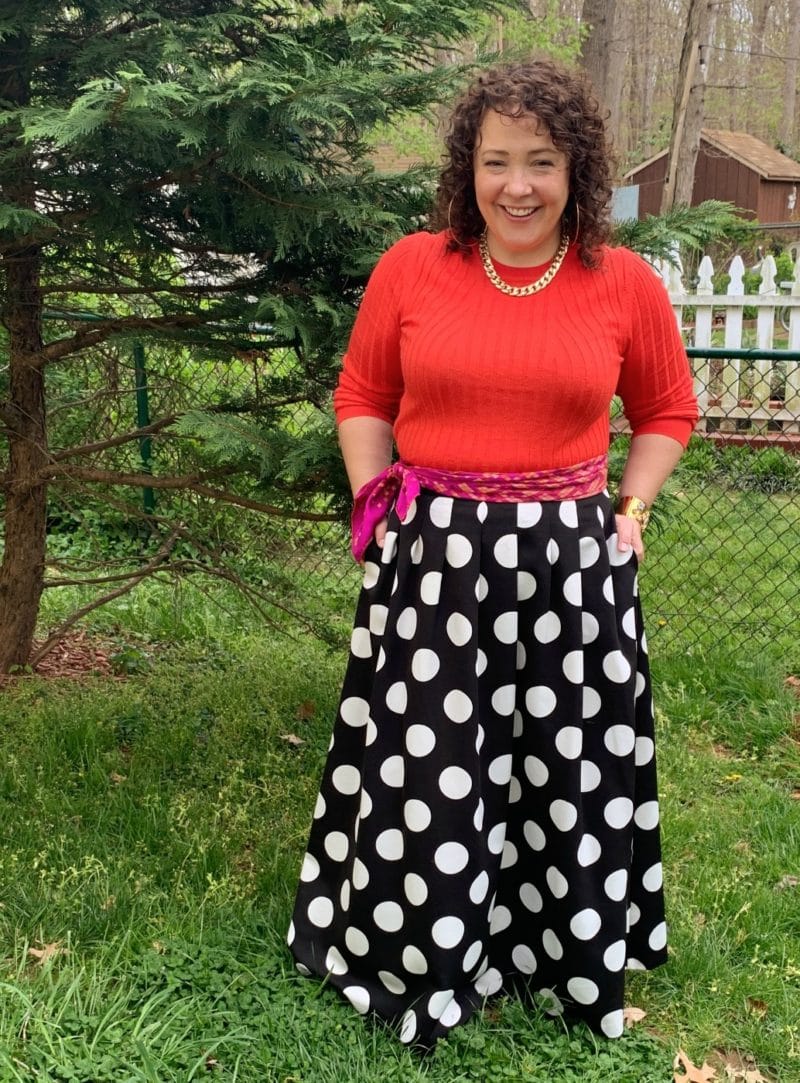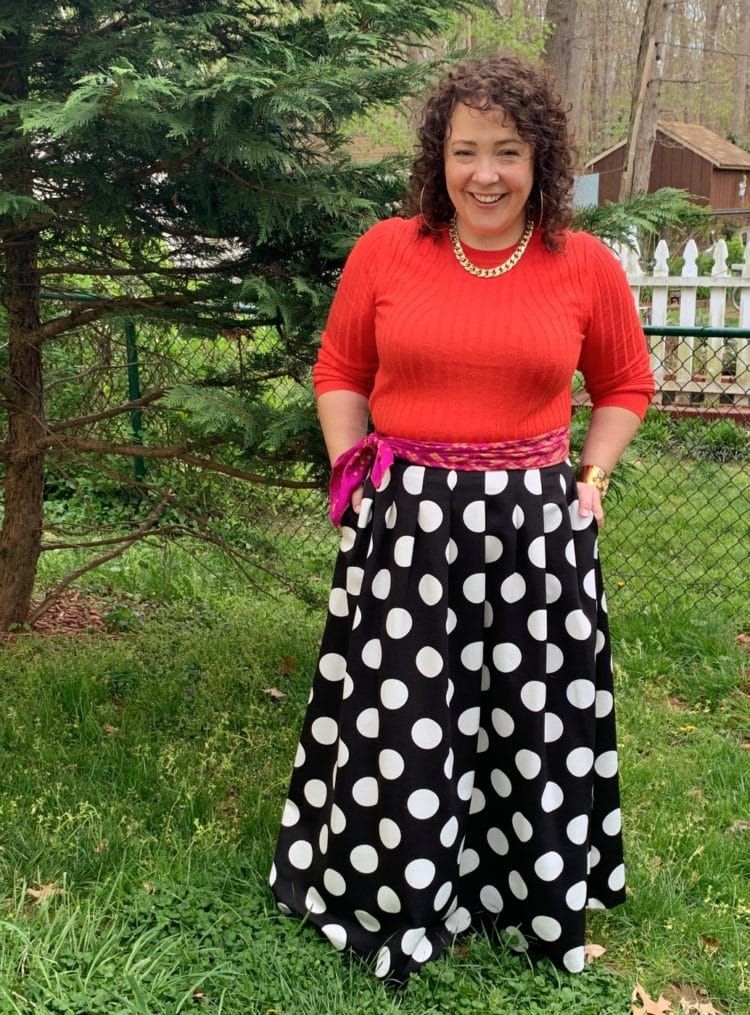 similar sweater | similar scarf | similar skirt | shoes
Easter Sunday, we usually host brunch for our family and friends. Clearly, this year was different but I still felt like dressing up. I worked all weekend on my closet (details in tomorrow's blog post) and it made me notice pieces I had sort of forgotten and combinations I hadn't before considered. And from that this look was born. I wore the skirt for Thanksgiving and in this blog post. The sweater is the one I wore with overalls last week, and in this outfit post. The scarf is one of the only designer things I own, it's from Hermès. I got it from the now-defunct site MYHABIT and with it being on clearance and having referral credits I didn't end up spending much on it. You can see it in this post. I hardly wore it because while I love the colors, combined with the print it always felt too garish. So when Hermès had a pop-up in DC where you could get your Hermès official scarves dyed, I took mine for a makeover. You can see the result in this post!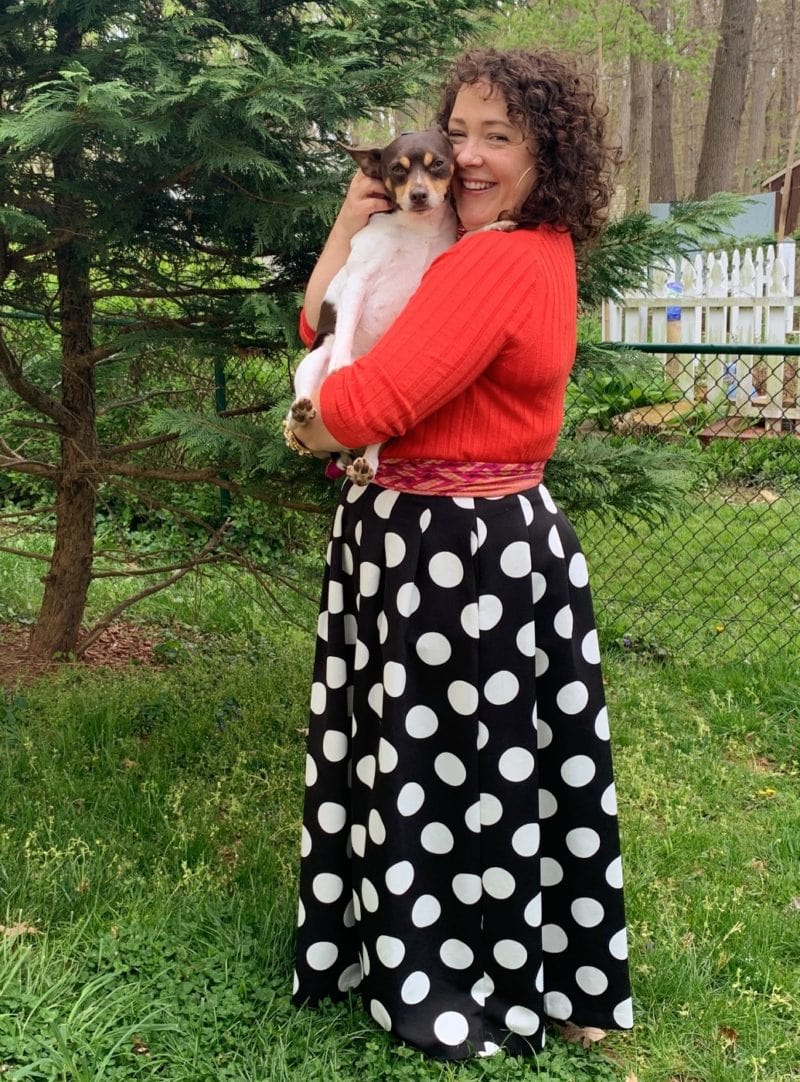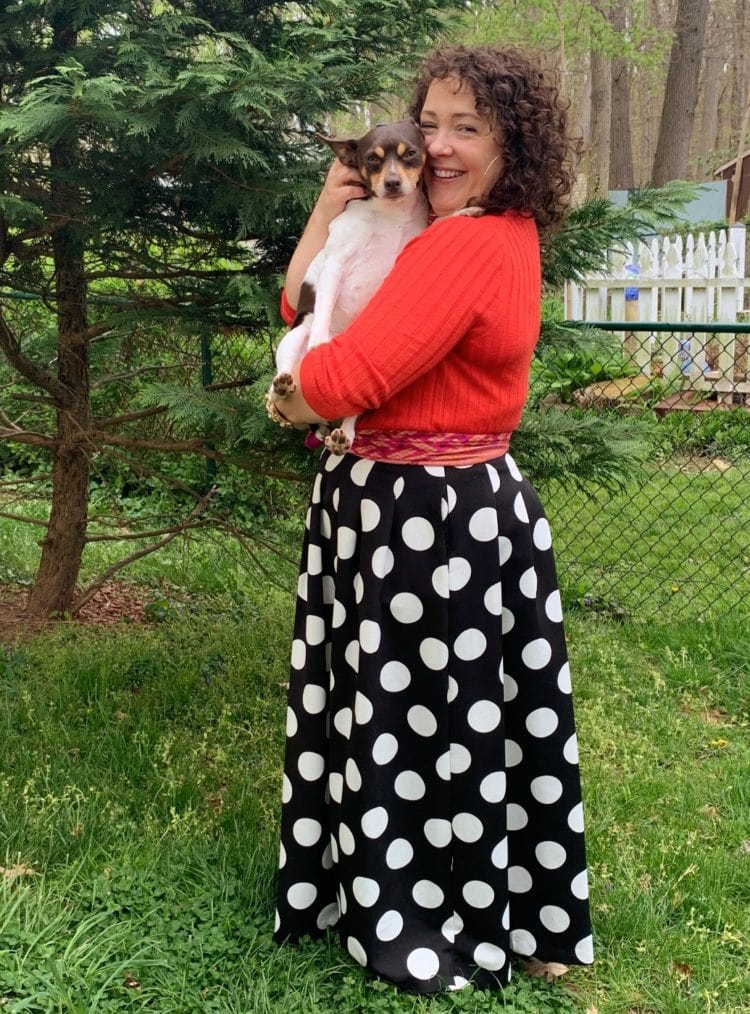 I also added this Baublebar necklace, a pair of Jenny Bird hoops, and a big gold cuff from cabi (seen in this post). And on my feet? My orange EVA Birkenstocks!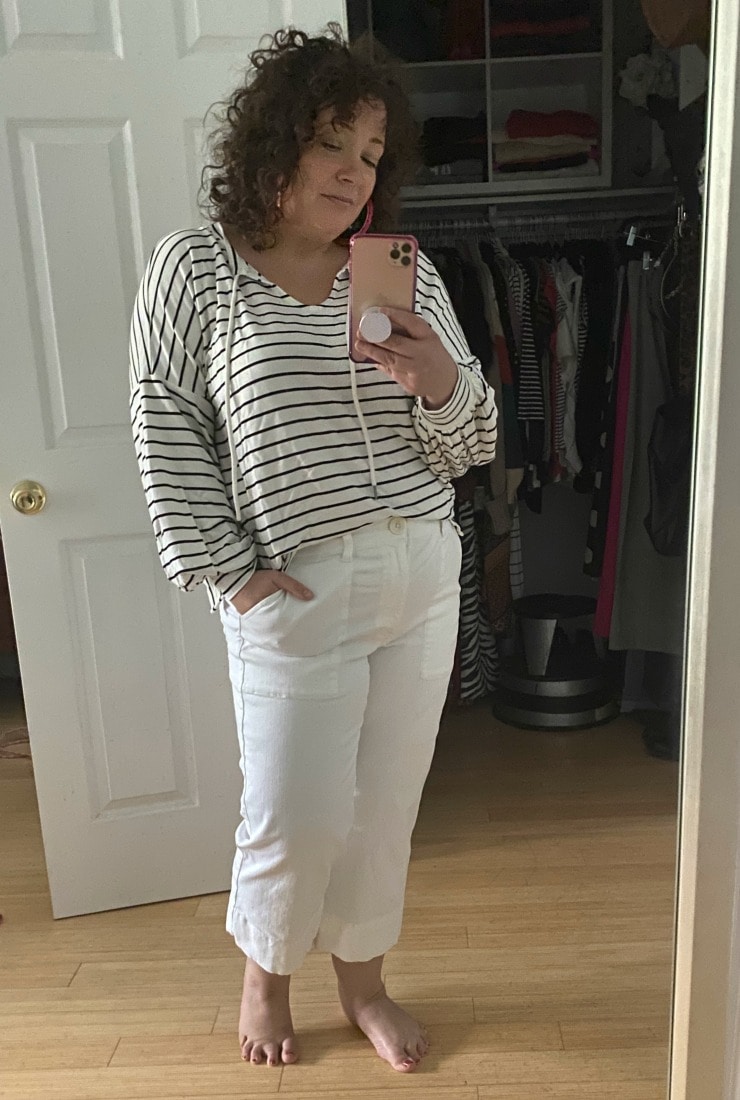 The whole family ended up taking Easter afternoon naps; when I woke I put on something more casual, but still springy. This is the Relax Game Day Sweatshirt from cabi which is a confusing name because it's actually this lovely rayon/spandex blend that is silky and drapey with a very fine French terry looped interior that keeps you cozy without being too heavy or hot. It's like a Breton top, a poet's blouse, and a sweatshirt joined forces and I love the result. And with it the Lido Crop also from cabi (please note I had them shortened by my tailor back in February). These are some of the only non-knit pants I wear while at home because they stretch and are comfy but don't stretch out and have lots of great pockets.
Shop the Post: