This article may contain affiliate links; if you click on a shopping link and make a purchase I may receive a commission. As an Amazon Associate, I earn from qualifying purchases.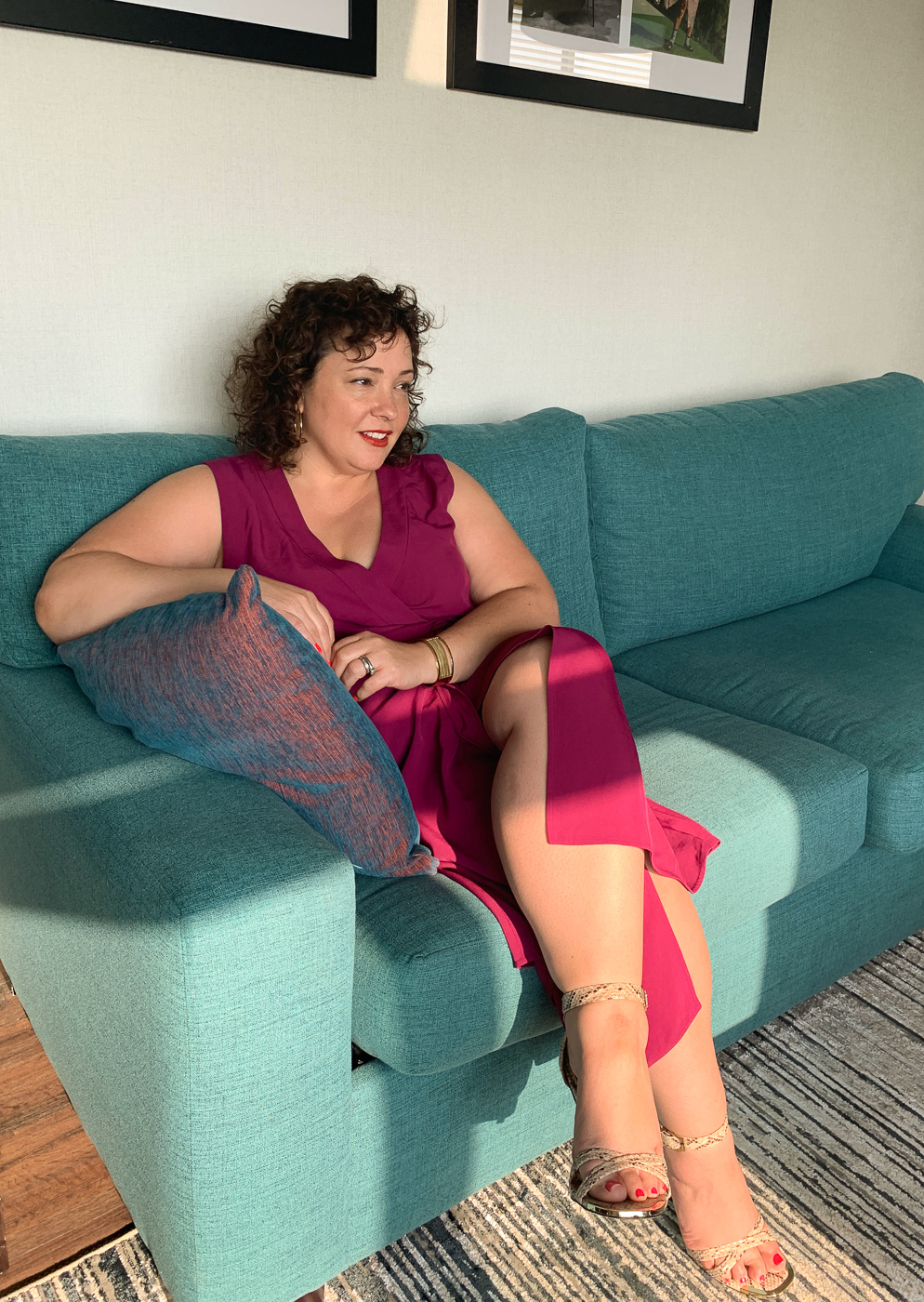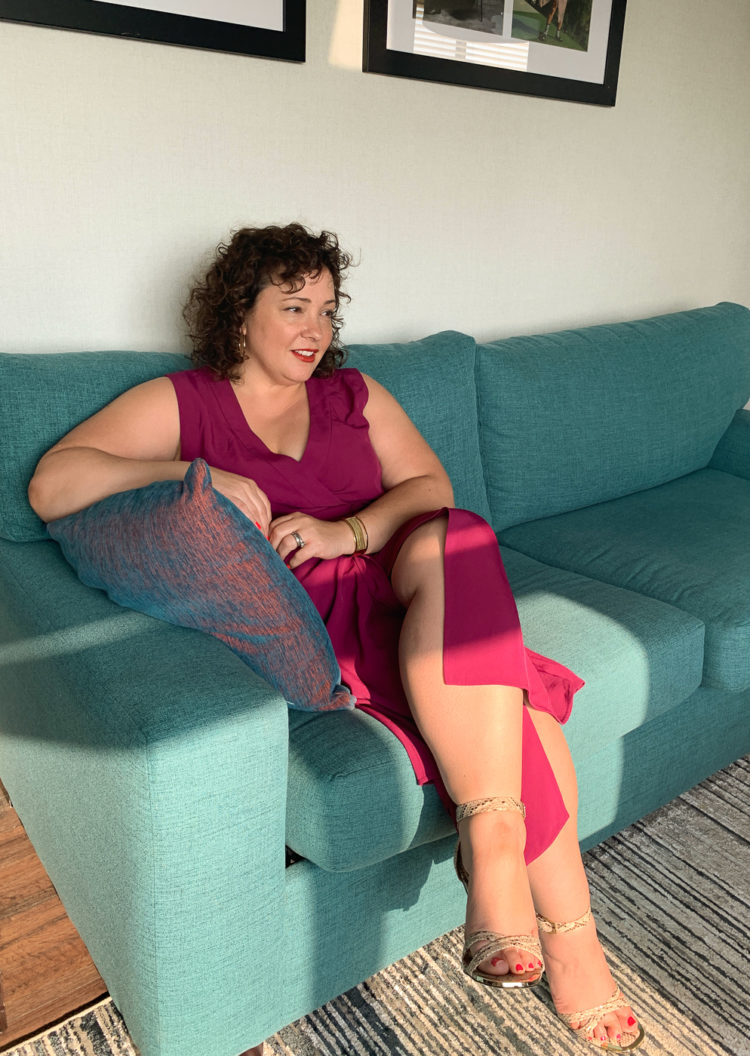 Summer dresses… they make life easier only if they're designed just so and of just the right fabric.  When it's hot and humid and you have rivulets of sweat going down your back and your legs are sticking together the last thing you want is a stretchy lightweight jersey.  When you're trying to cart your work tote and laptop bag while wearing pumps from a client meeting and you're sweating so much your shoes are sliding off the last thing you want is a true wrap dress that gets hiked up from the bags on your shoulders showing off your Skimmies.  And let's not even get into all the adorable summer dresses with thin straps and hardly any back that are only made for the slim, toned, and small of boob. I was perusing Everlane and saw their Japanese GoWeave wrap dresses and was intrigued. Per the Everlane site, "100% triacetate: Japanese GoWeave is light, drapey, and wrinkle-resistant." I know triacetate, it's the fabric all Ann Taylor suiting was made of in the aughts. It's a synthetic made from cellulose that is usually happy in a washing machine and dryer.  This sounded like an interesting fabric for a summer dress.  I asked Everlane if I could have the Japanese GoWeave Sleeveless Wrap Dress in Berry in size 14 to review and they agreed.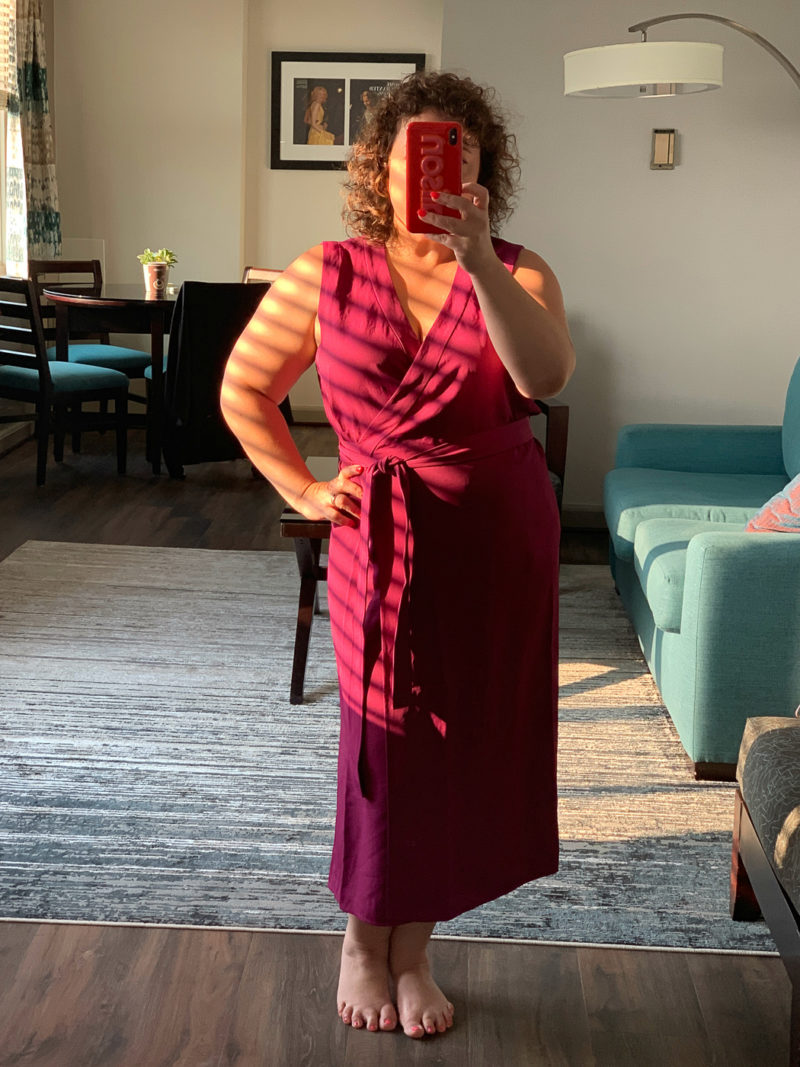 The dress arrived in the mail about five minutes before Karl and I were heading out for a weekend getaway so I stuffed the dress into my tote and hopped in the car. So yeah, I apologize for the dress being all creased in the photos.  However, I liked the dress so much I wore it twice; once for dinner and then the next day for walking around and then the drive home. I loved how it worked perfectly for both situations.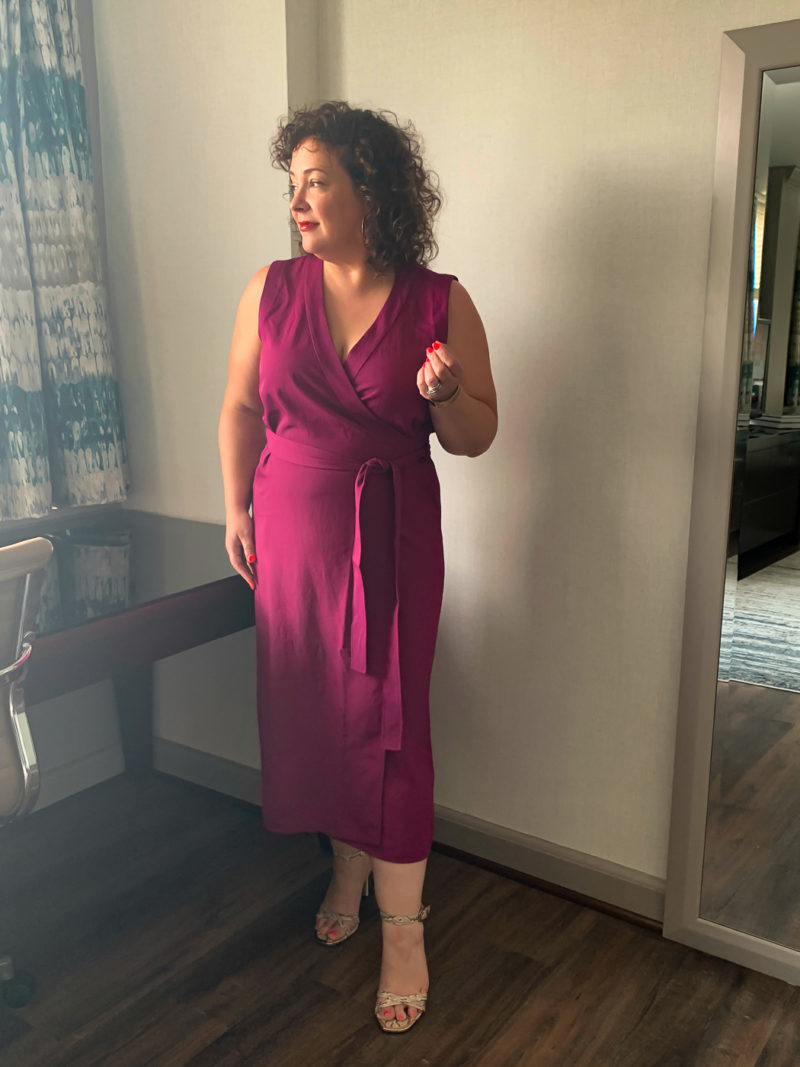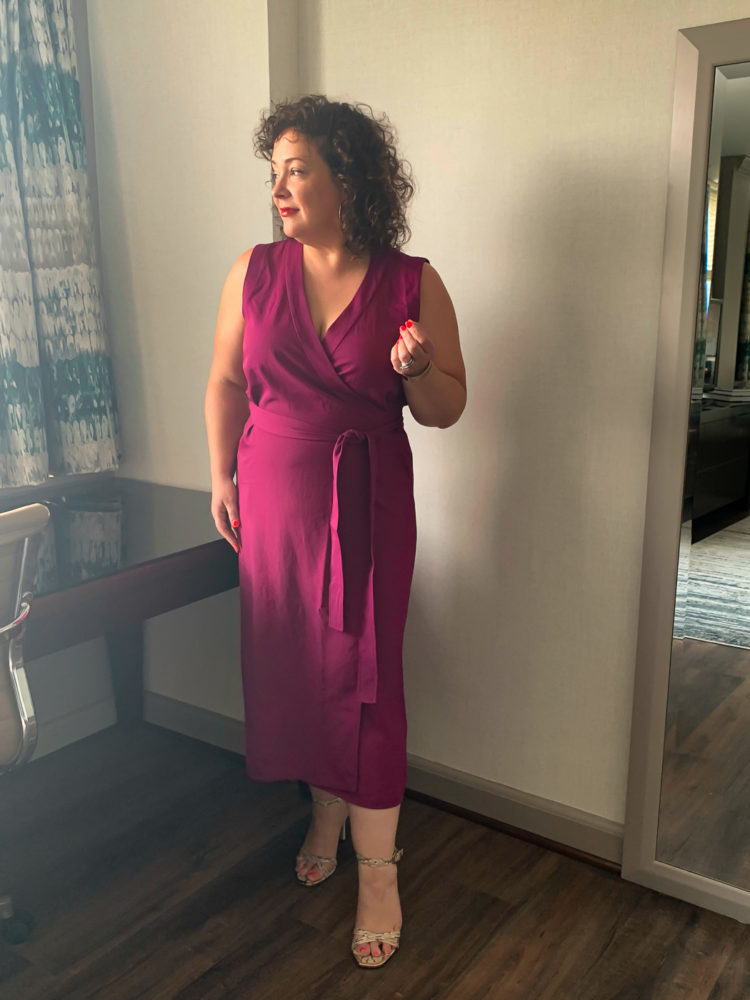 Dress: Japanese GoWeave Sleeveless Wrap Dress c/o Everlane (14) | Shoes: River Island | Bracelet: Large Chloe Cuff c/o Jenny Bird | Hoops: gift from Jenny Bird (not yet available; similar)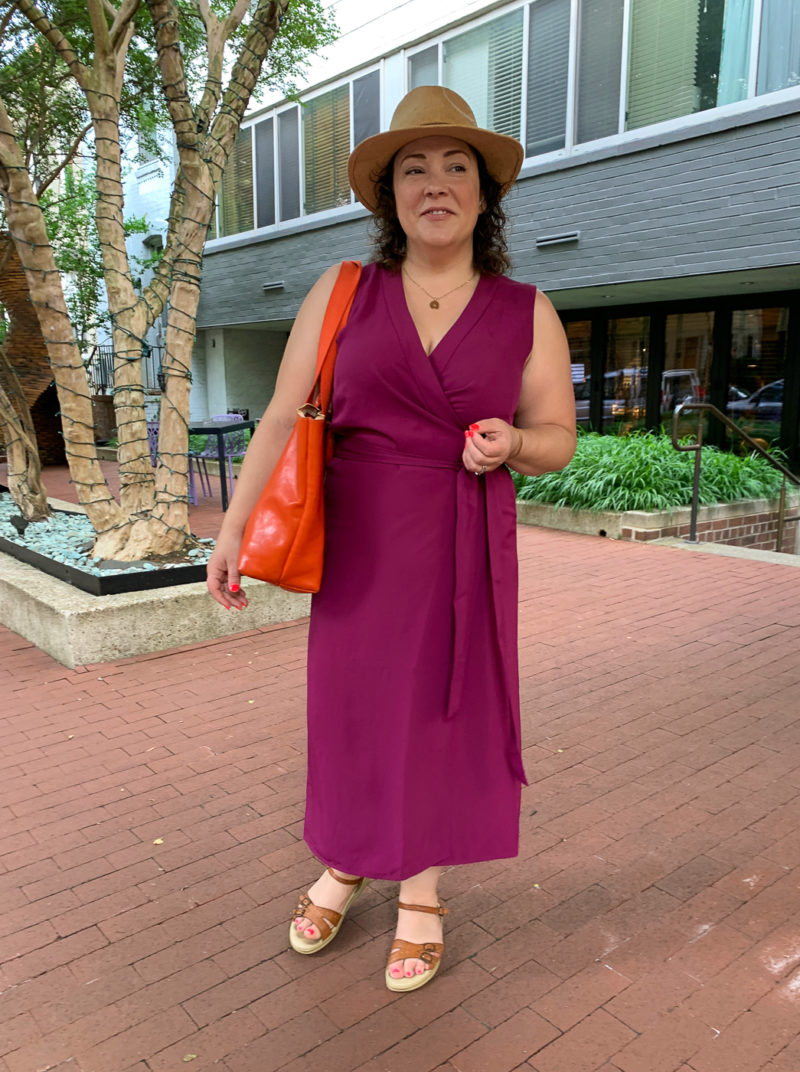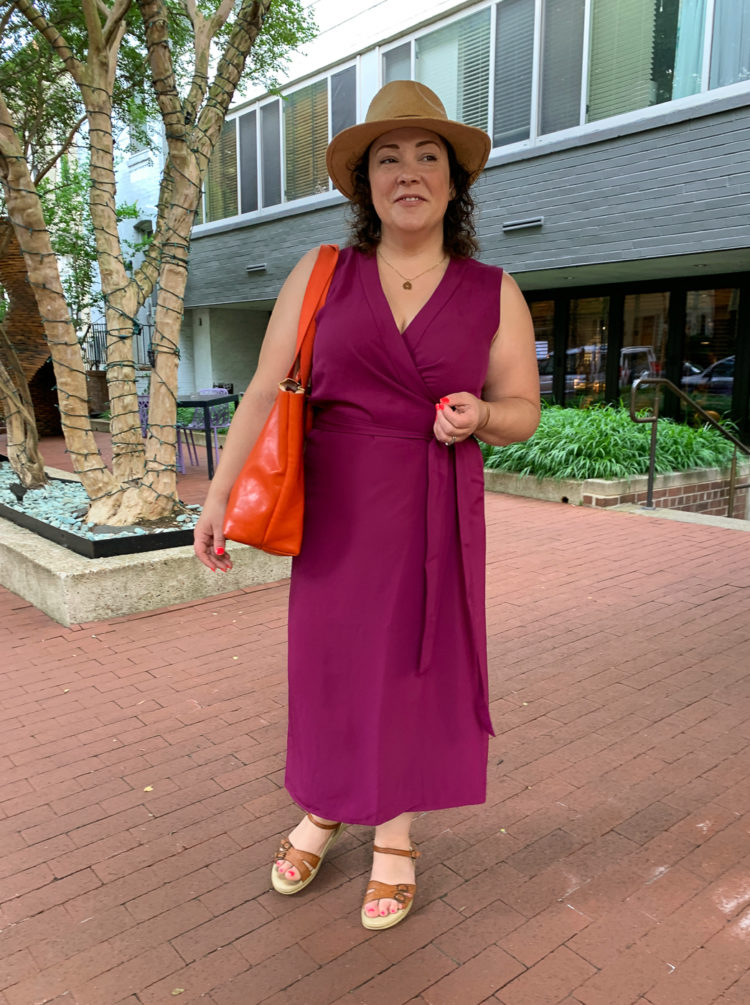 Dress: Japanese GoWeave Sleeveless Wrap Dress c/o Everlane (14) | Shoes: SAS | Bag: Clare V. (color sold out; same bag, similar bag in same color; bag is available for rent through Rent the Runway-use code RTRDC22F051 for $100 off your first month | Necklace: Modernist Monogram necklace c/o Jenny Bird | Hat: Banana Republic (similar)
The triacetate fabric is about the weight of a pair of chino shorts, but the fabric has a beautiful drape, a refined finish that reads like crepe or a silk twill, and if you did hit it with an iron or steamer it likely would continue to look fresh and not rumpled all day long.  Many wrap dresses have a foldover neckline; this one is sewn separately and I appreciate that.  It lies better; no issues with the interfacing showing.  Also if you are one who wishes to pin a neckline to keep it from popping open or being too deep, the extra layers and stability make a safety pin invisible. No cut-out shoulders or too deep a neckline; you can wear your most comfortable sturdy bra without it showing.  I actually wore this without a safety pin and didn't have issue until the end of the evening sitting on a low, deep couch.
Shop the Looks Featured:

Speaking of showing, inside is a second hidden tie to hold the skirt closed when you cross your legs.  It is a true wrap style dress, but this feature made me feel confident sitting on a bar stool, a deep couch, or run across a street to catch a light. All this, and the dress didn't stick to me and didn't show the rivulets of sweat running down my back.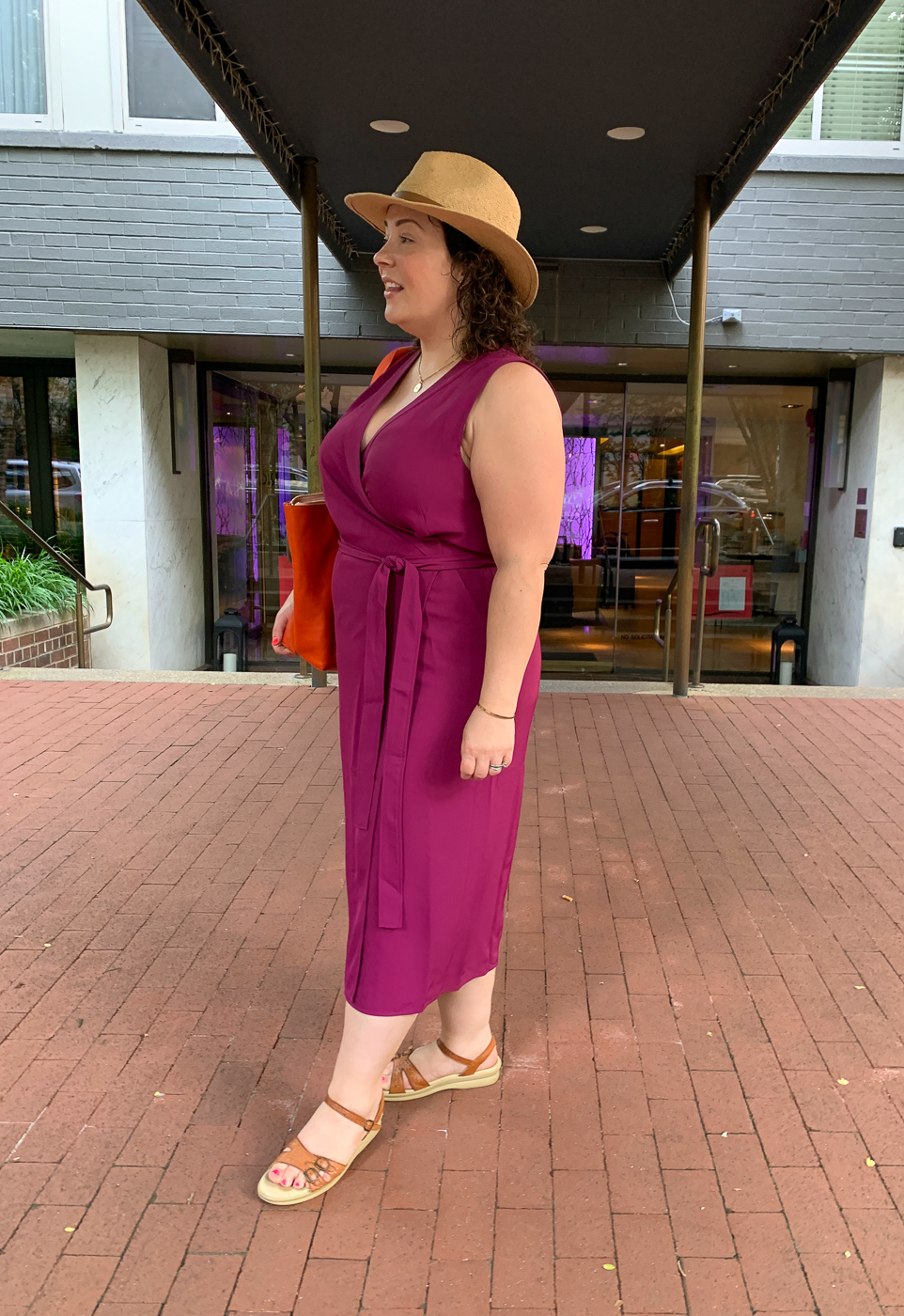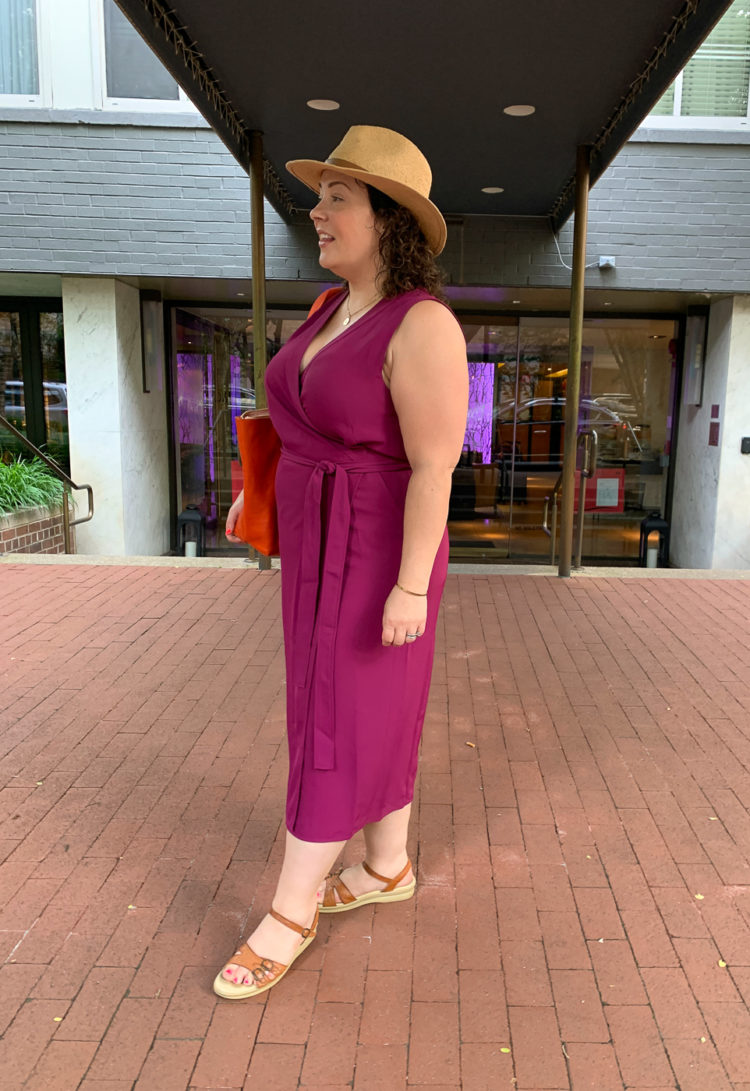 This is the kind of dress you can wear to the office, wear to a wedding, wear to a house party, wear for brunch, wear on travel.  I love pieces with such versatile silhouettes and fabrics!  Everlane doesn't carry petites, which I would have preferred with this dress.  I may take it to the tailor to bring it up a bit at the shoulders and shorten the skirt.  Neither alteration should be too pricey since the dress isn't lined.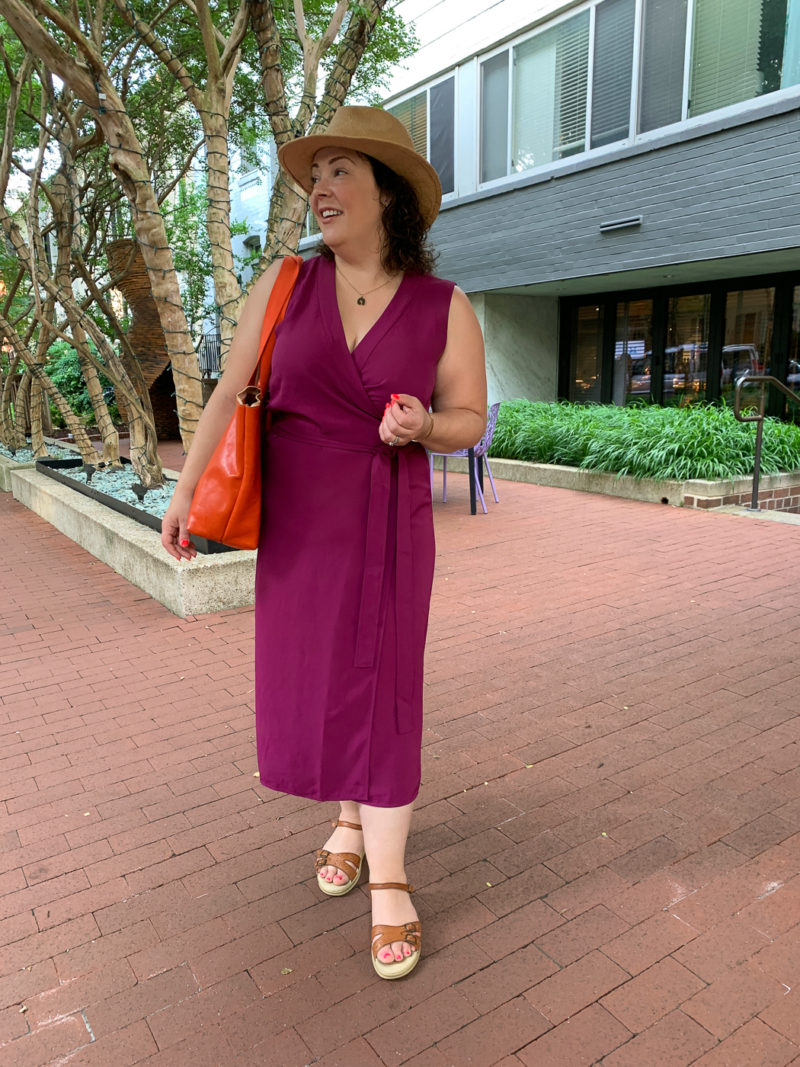 This dress is $100 from Everlane, and in my opinion worth the price.  This specific style comes in four colors, this is the "berry" shade. However, in the Japanese GoWeave fabric, Everlane also has a picnic dress (which I am really thinking about getting), a sleeveless jumpsuit, short-sleeved jumpsuit, a short shirtdress, a short and long slip dress, and a wrap dress with a tank style bodice and a wrap with cap sleeves (which is also available in a shorter length). Unfortunately, Everlane only goes up to size 16. They did extend their sizing since they first came on the scene; I hope they continue to keep extending their size as dresses like this are the kind that all sized people enjoy wearing on a hot summer's day.
Shop Everlane's Japanese GoWeave Collection: