This article may contain affiliate links; if you click on a shopping link and make a purchase I may receive a commission. As an Amazon Associate, I earn from qualifying purchases. 
This post is late because this weekend was hard. I think we can all relate to having such days. Some days are easier to take than others. But I woke up feeling better and whipped up this post, better late than never!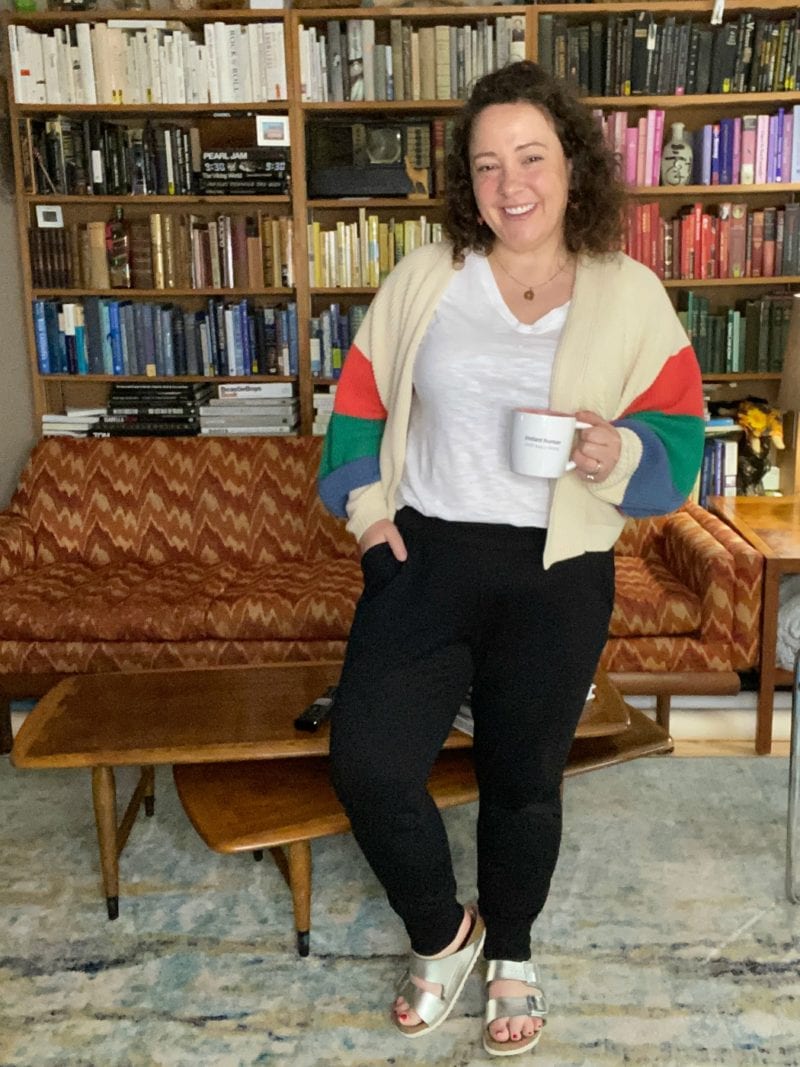 Monday morning I got up to get things ready for my Instagram takeover with cabi and they asked for a selfie… only one thing is current cabi, ack! This is the Trio Sweater which I wear a LOT. I like a shorter layering piece because longer ones sometimes get all caught up on my booty or cling to knit pants. I also love the stripes. The tee is the J. Crew Vintage V-neck which isn't anything revolutionary, but I like it. The pants are the cabi Pivot Joggers from last season; they have them in leopard print this season or these joggers from Soma are also a fave. And then my Birkenstocks!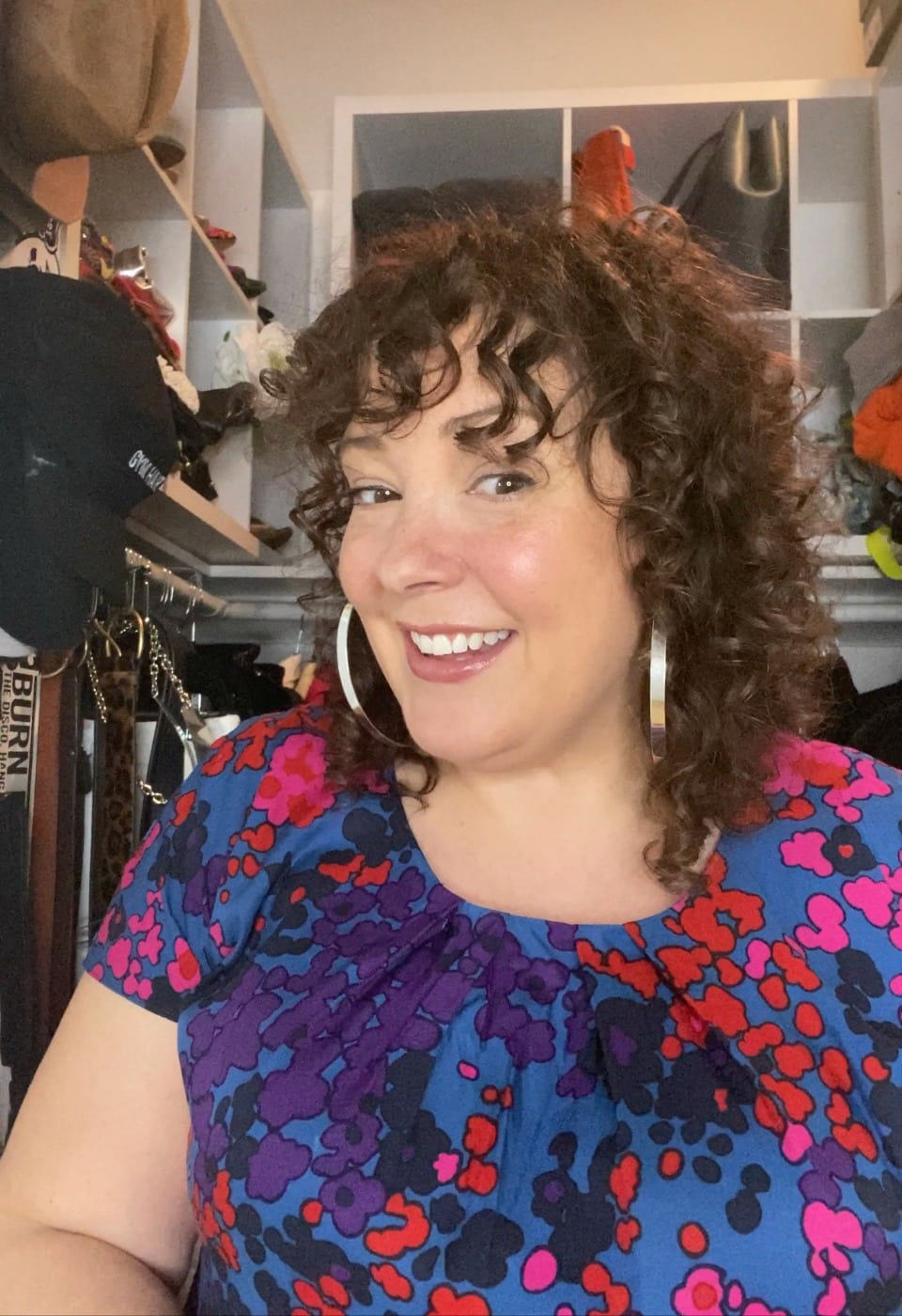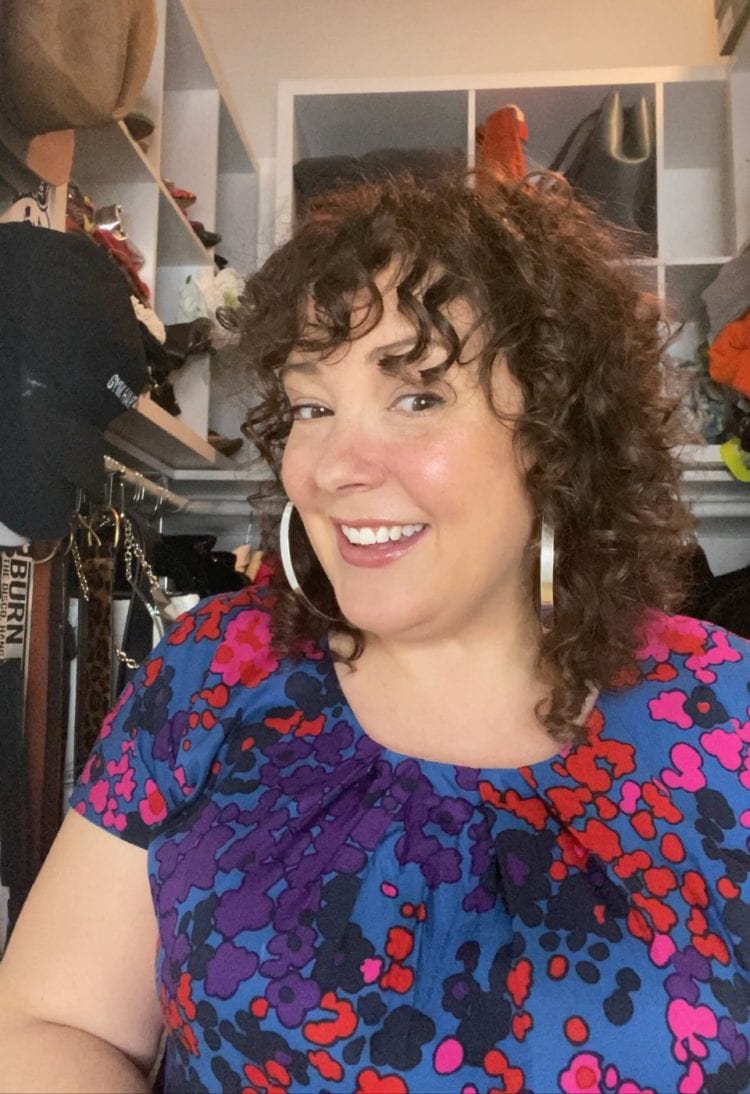 Tuesday for my Instagram Live I wore a Boden Ravello Top that is six years old (see it in this sponsored post with Boden that is hella awkward because it was the same day I got my cast taken off for the first time in several weeks and the arm still wasn't working). I haven't worn this blouse in a long time but always liked the print; performing my closet cleanout reminded me I still had it, was glad to find it still fits and I still love it! This is a great blouse, one that Boden still carries in other prints and solids. On the bottom were just black joggers. The earrings are Jenny Bird but no longer available.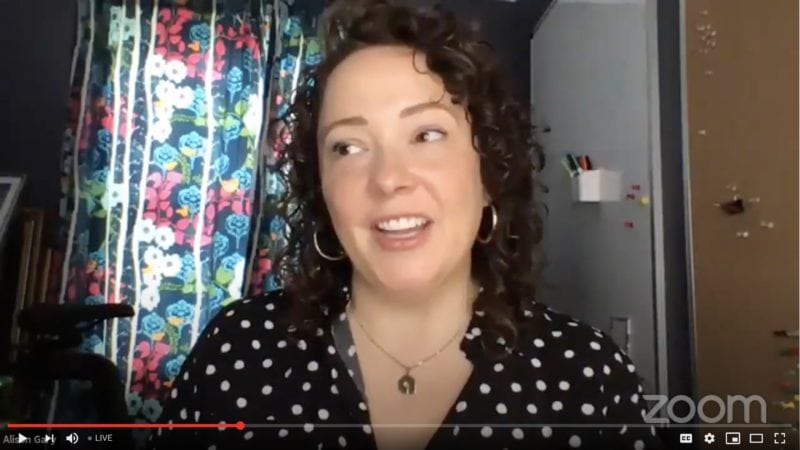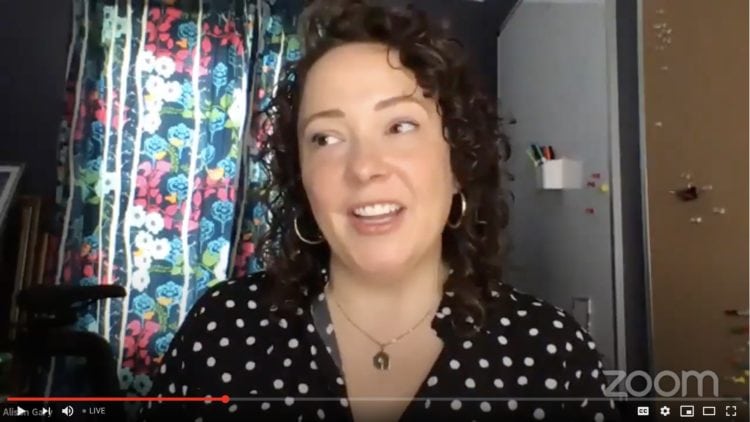 Wednesday started with a Zoom call that was livestreamed on YouTube; here's a screengrab from it. I wore a black and white polka-dot soft shirt from Chico's seen in this post and this post. The necklace is from Jenny Bird, the earrings are from Chico's. I really like these blouses from Chico's; when I did my closet cleanout I realized I had four of them. This is the only one I kept just because the others were good but not what I reached for on a regular basis. They're called the Silky Soft Shirt and they have different solid colors and prints each season. They're machine washable and steam nicely to look crisp and are a great choice when on Zoom calls.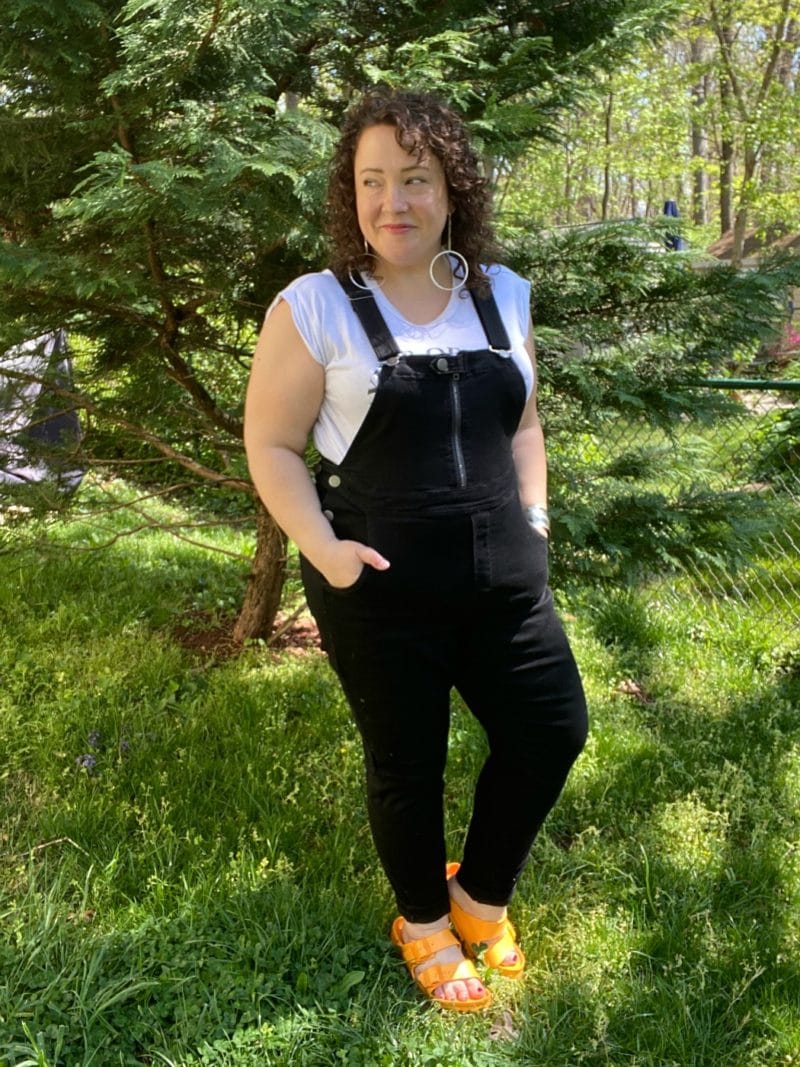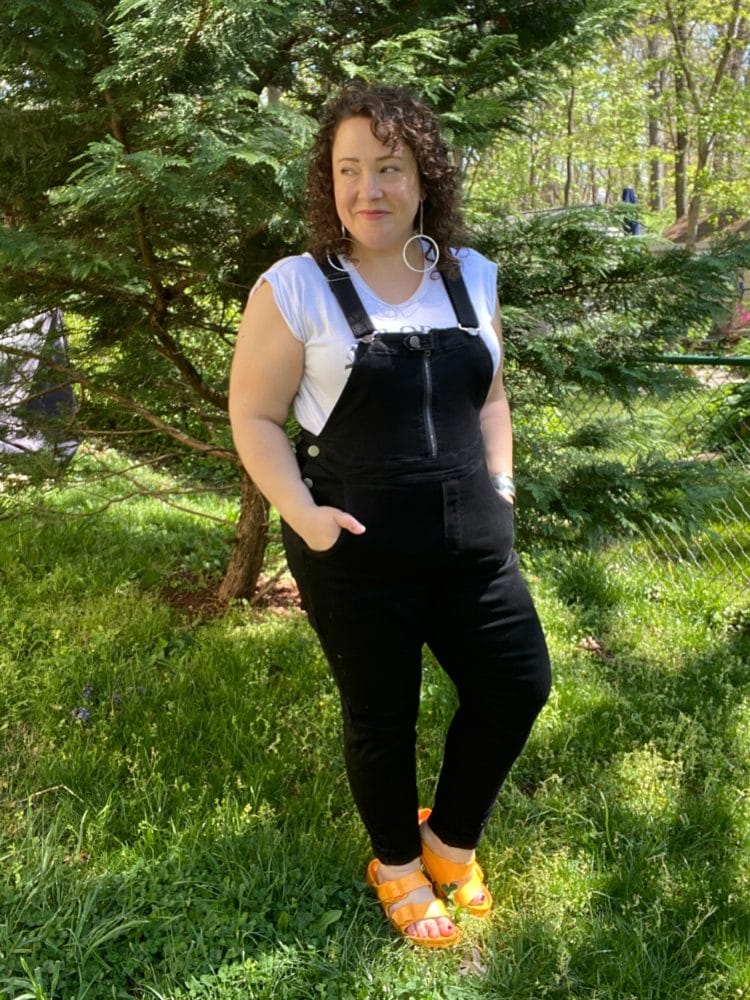 After my call, I switched to my Universal Standard overalls (I am wearing them in XS) and this shirt from The Outrage and my now-discontinued Jenny Bird earrings. The shoes are Birkenstocks, the EVA version.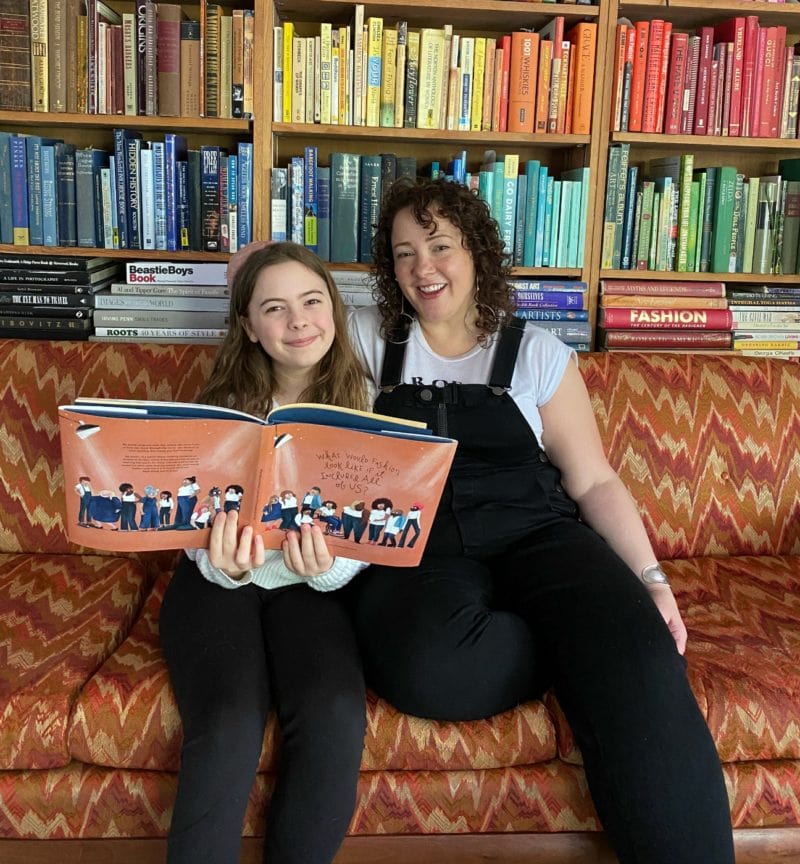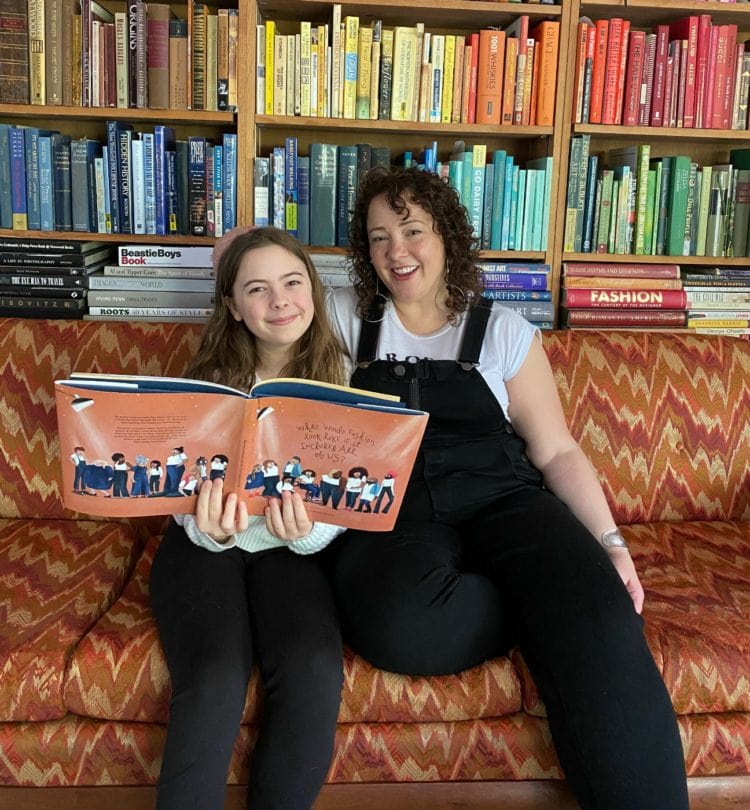 This is also what I wore for the post I made to promote this book Universal Standard created for charity, and wore it that evening with my cabi Trio Sweater for the Instagram Live where E read the book.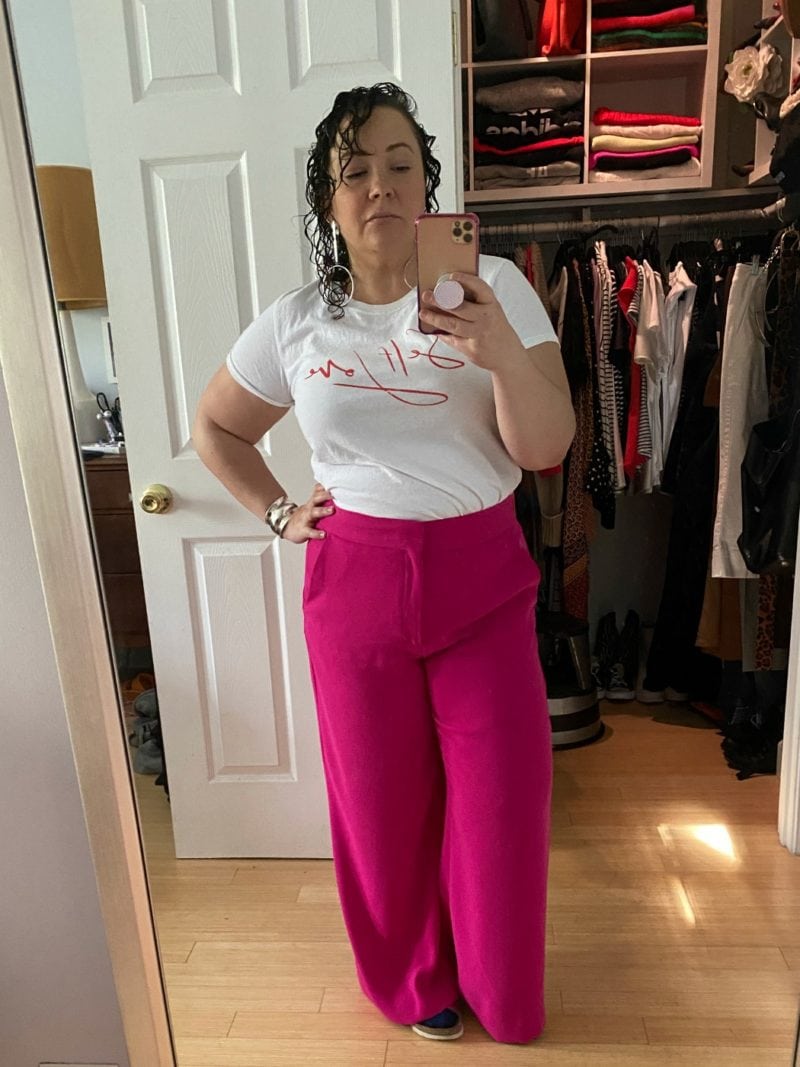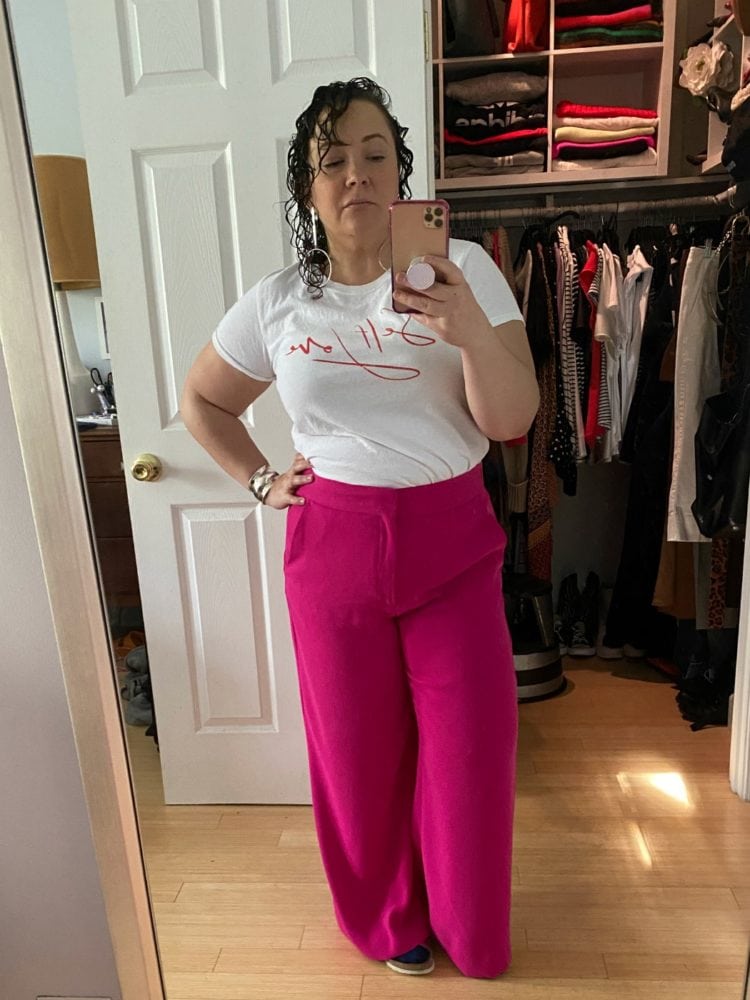 Thursday I decided to give my black joggers a break and whipped out my hot pink wide-leg pants from Banana Republic (seen in this post and this post). They're no longer available, but these are a similar concept. They're stretchy and machine washable and I was ready for something more… elevated. With it I wore my "Self Love" tee from And I Get Dressed (I got it in Large in the fitted scoop and it's been through the dryer) and some now-discontinued earrings from Jenny Bird and of course, the Birkenstocks.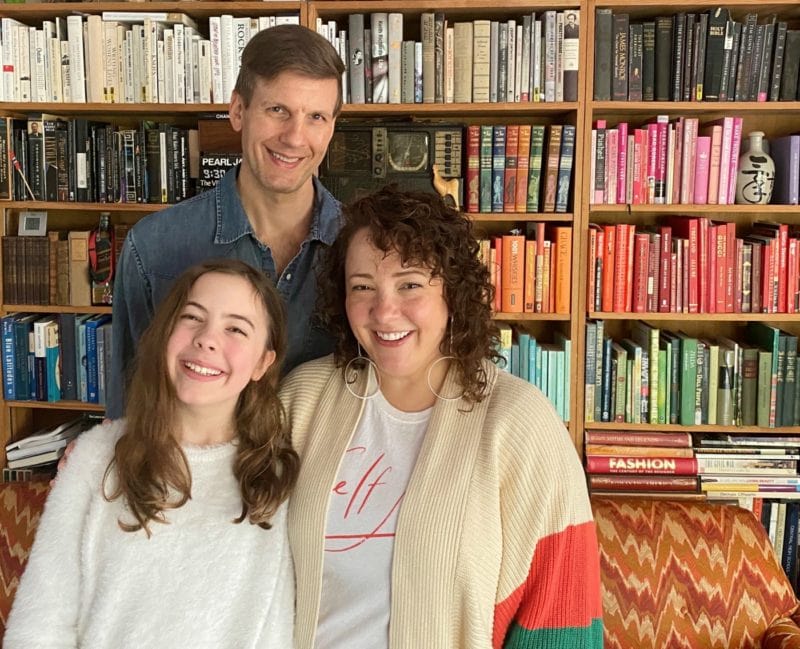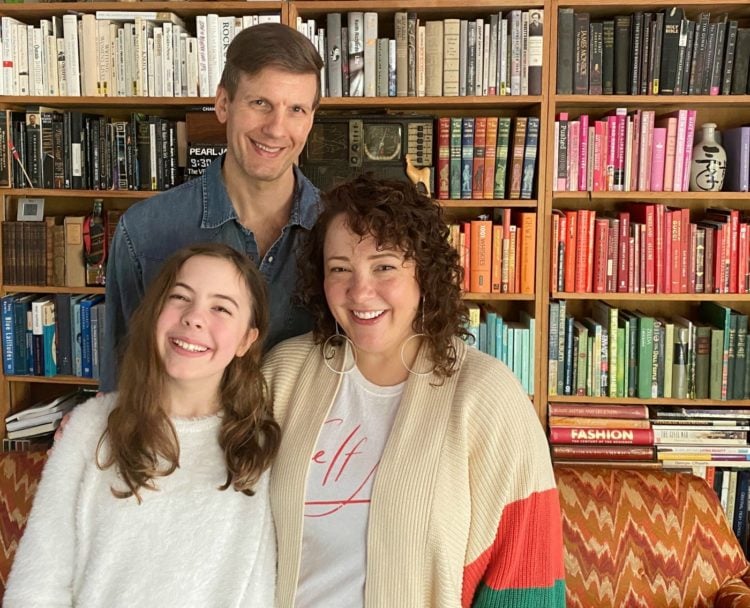 This is what I was wearing when we captured this selfie of us three which will be used in an upcoming article on a local website, but also it was nice to get a recent photo of us together. I added the cabi Trio Sweater since it was a bit chilly.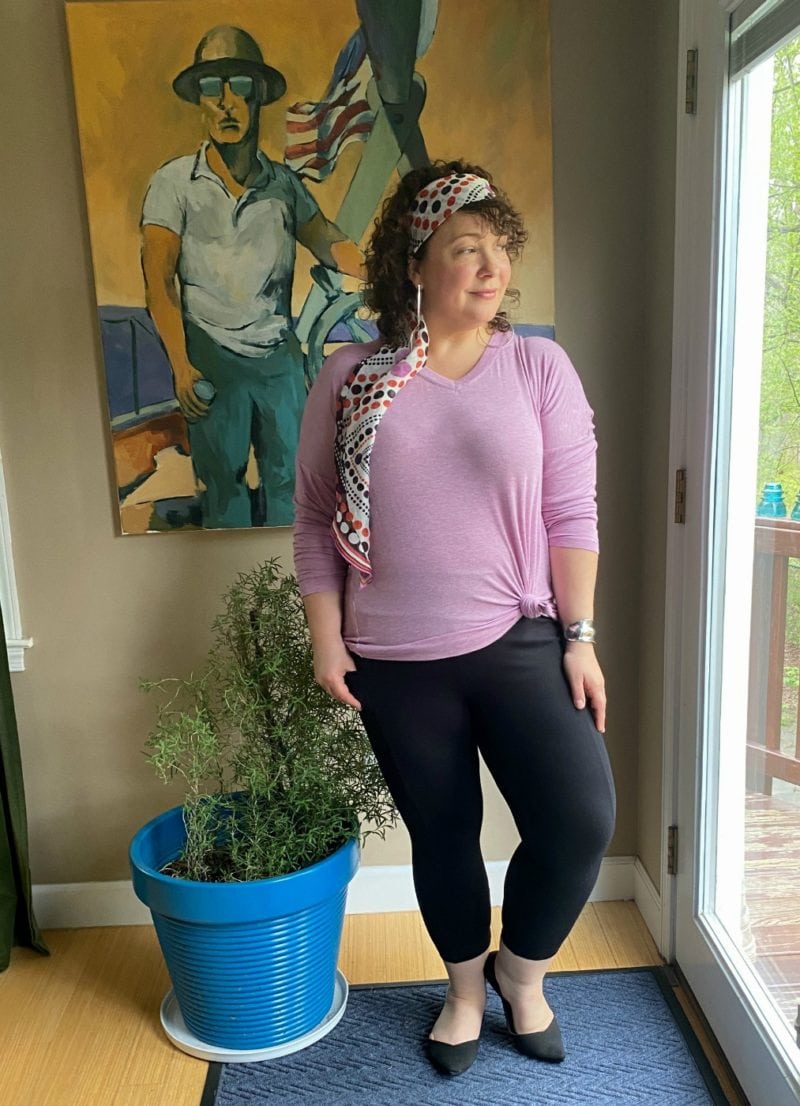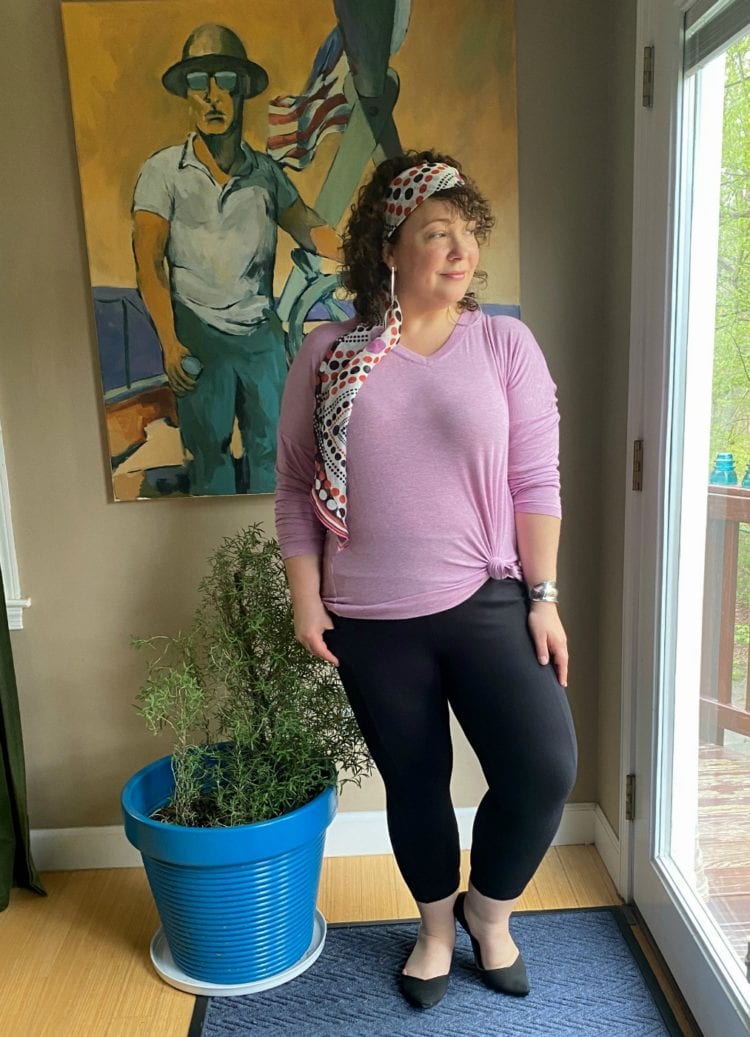 Friday I wasn't feeling my roots so I decided to cover them up with a scarf; this is the Shrimpton scarf from cabi. Actually the whole look is cabi: the Serenity Tee which I knotted, and their Relax Crop Leggings which are black ponte and have side pockets. I decided to give the Birks a break and whipped out the Rothy's Flats.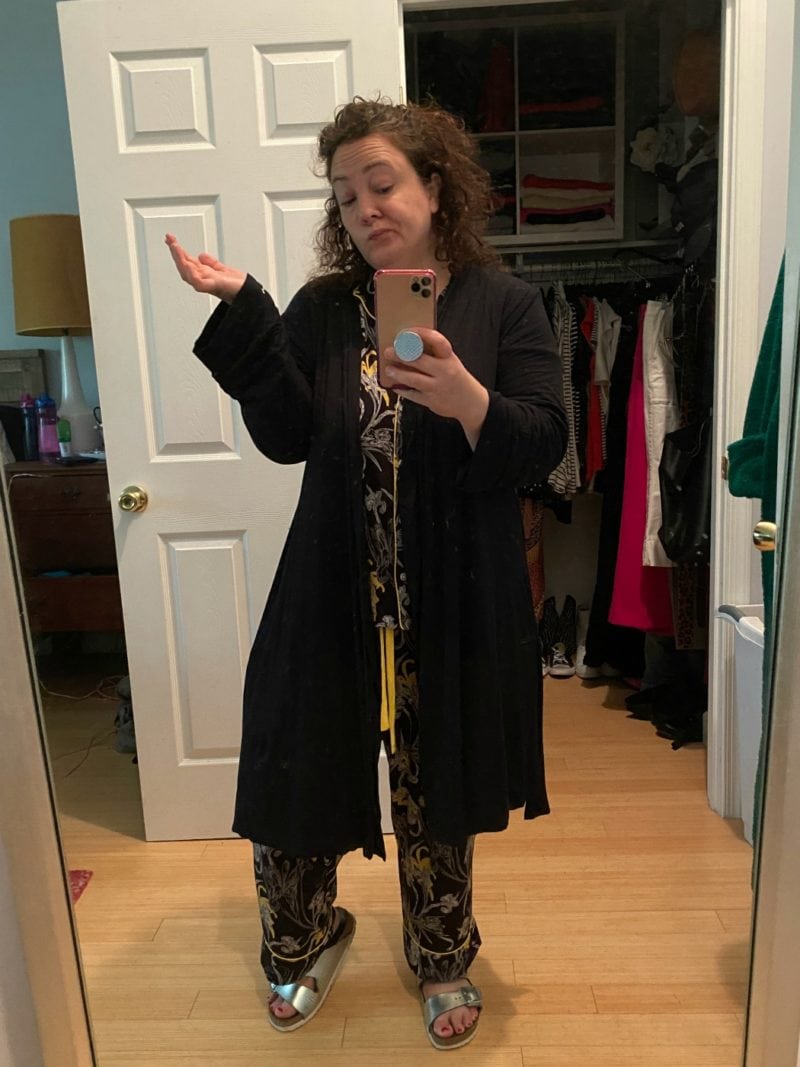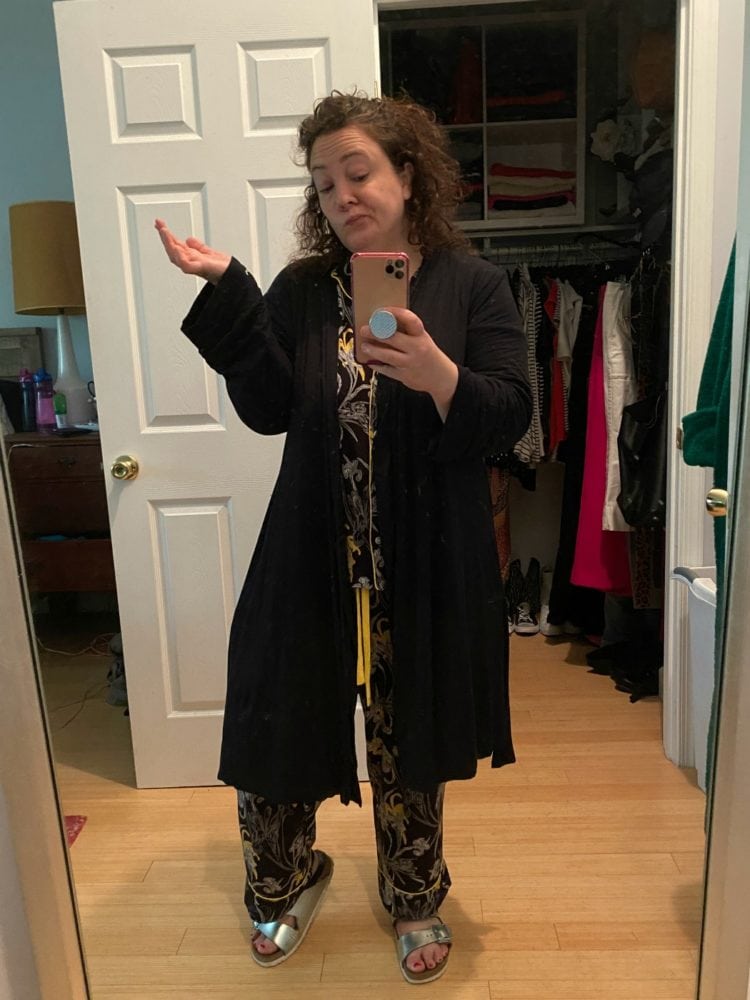 Saturday I decided to do some self-care and didn't change out of my Soma Cool Nights pajama top and cropped bottoms and Soma robe until 2pm and spent most of the day on the couch reading a book.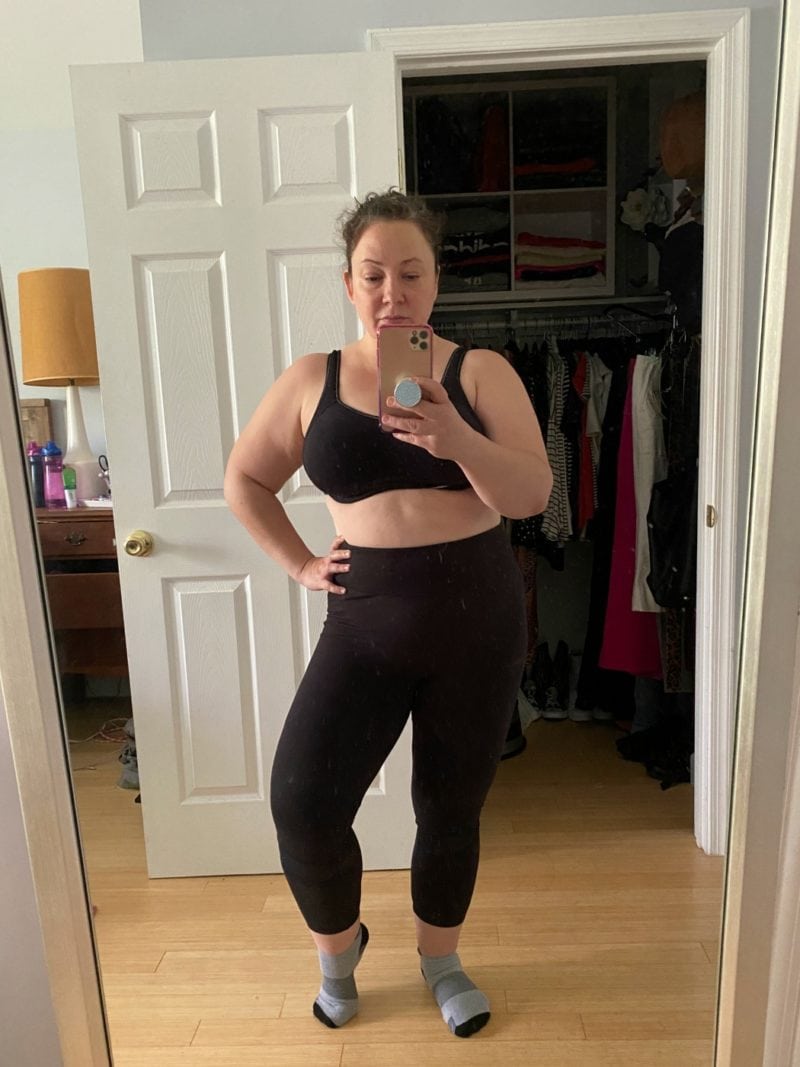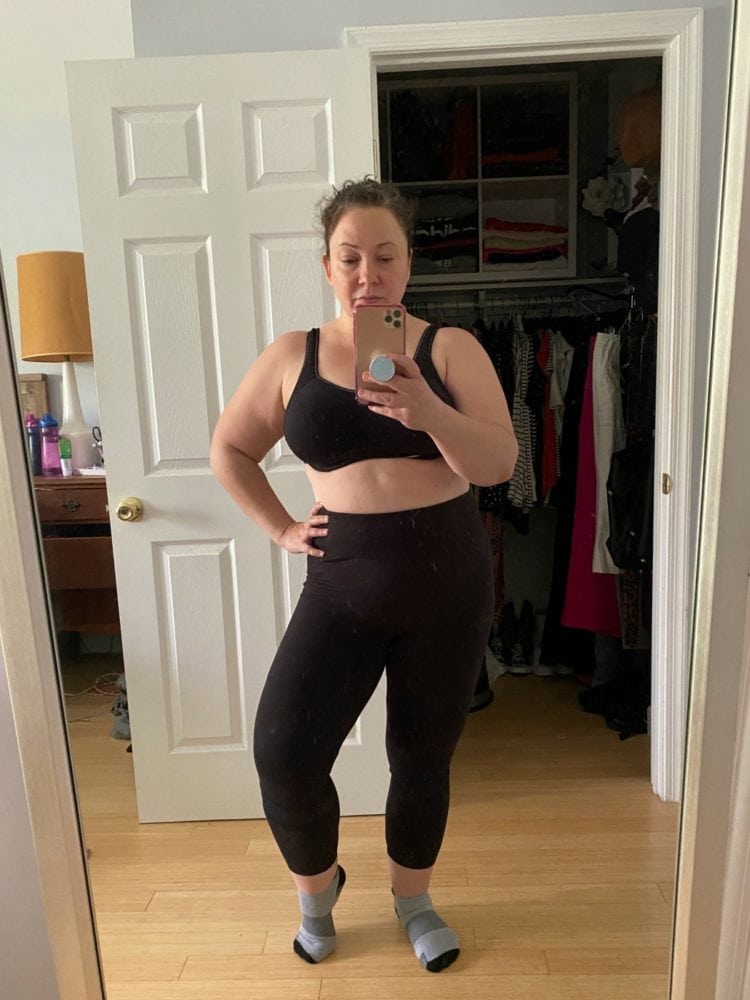 But I balanced it by putting on my Freya sports bra and some old Gaiam leggings I got for $12.99 at TJ Maxx and went on the Peloton for a nice long and hard ride.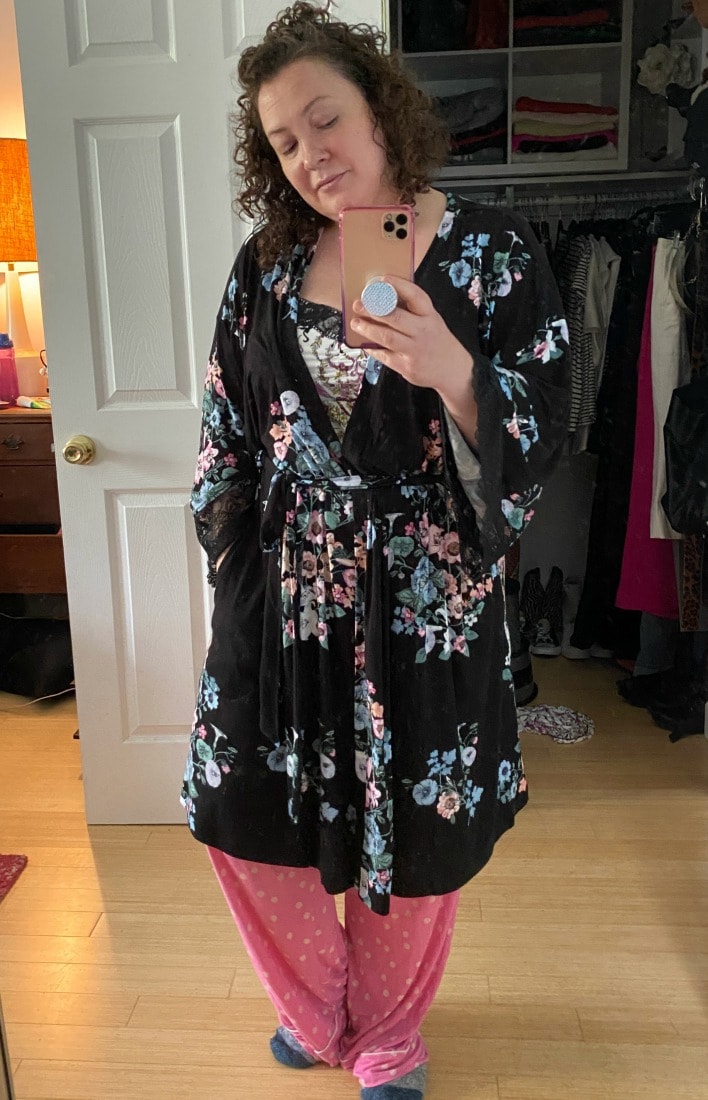 Sunday had a similar dress code, but I actually got work done in this – we shot photos for an upcoming skincare campaign and I dressed for preparing my face for bed. I just ended up staying in it past the shoot! It's all Soma – the robe is sold out but this one is similar, this camisole (and you can see the matching shorts on the closet floor), and the pants are sold out but these are the same in a different color.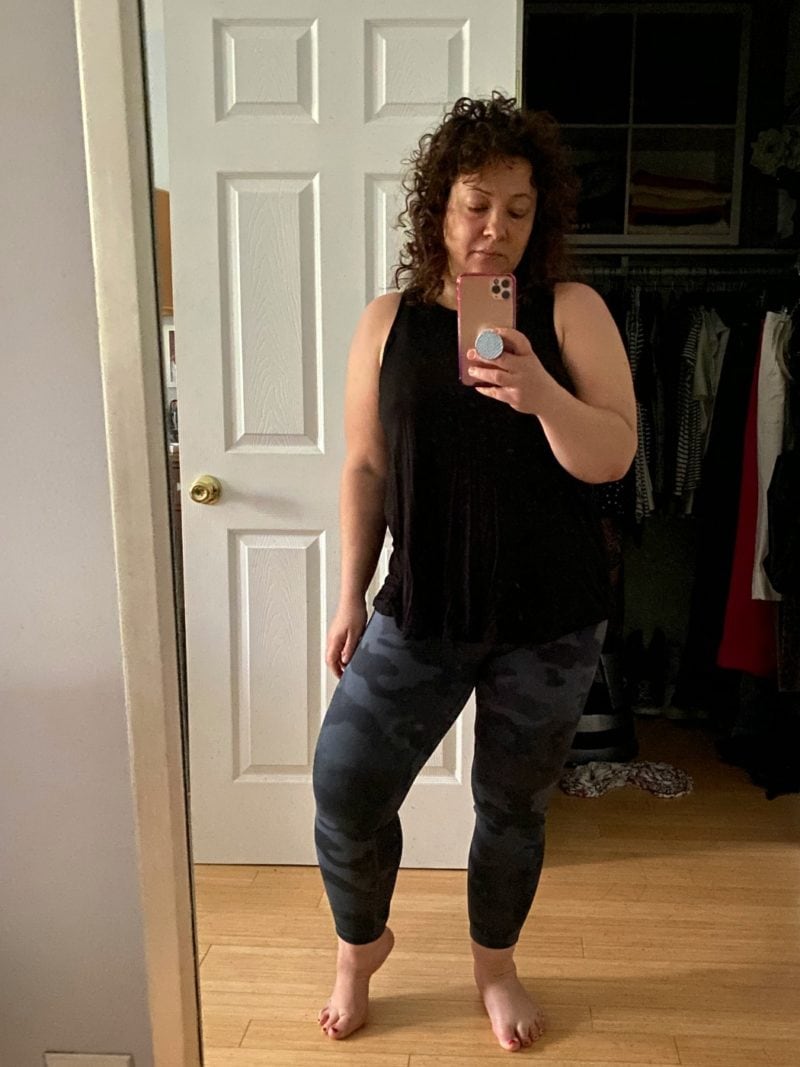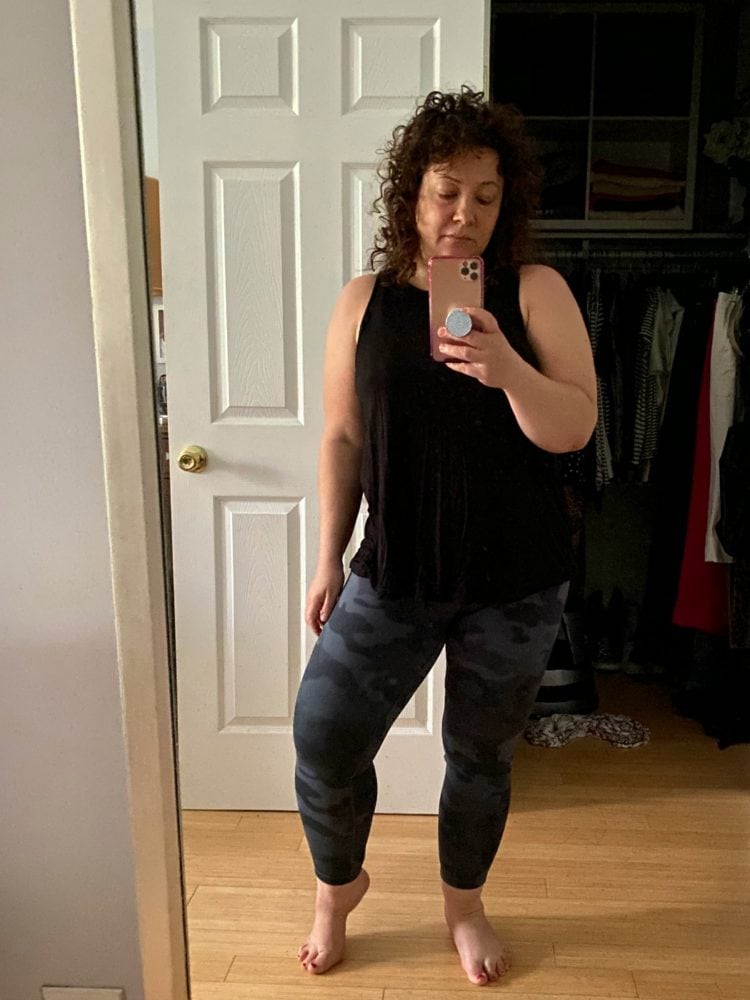 However, I did feel all stiff and achy by the end of the day and switched into Athleta leggings (large petite) and a Soma top (no longer available) to do yoga with the family!
Shop the Post: