This article may contain affiliate links; if you click on a shopping link and make a purchase I may receive a commission. As an Amazon Associate, I earn from qualifying purchases. 
When I recently mentioned I was looking for new jeans, a few of you recommended Everlane jeans. I am familiar with Everlane; a couple of years ago I did an Everlane review focusing on tops as back then Everlane only went up to size L and I knew no bottoms would fit my body. Everlane now goes up to XL and a size 33 in their denim and several styles have ankle and long lengths. However, as a curvy person who, depending on the brand, could be a 10 or a 16, I wasn't sure if Everlane jeans would fit me.
UPDATE: A lot of you complained that you couldn't peruse the Everlane website without registering.  There is a faint X on the pop-up on their site.  Click that and you can view the site without registering!
Everlane Jeans Review
I reached out to Everlane a few weeks ago as last year they offered to send me some of their clothing and I never received them. They offered to send me some of their new releases including new jeans; I asked in addition to them, a second pair of jeans in a different fit, wash, and denim composition to get a clearer view of Everlane denim in regard to fit, quality, and how they hold up through the day. Everlane sent me their Authentic Stretch High-Rise Skinny Button Fly and Cheeky Straight Jean. To make sure this is a beneficial review, each pair I wore for at least eight hours before the photo shoot so I can show how they may have stretched out. Spoiler alert, neither pair stretched out much!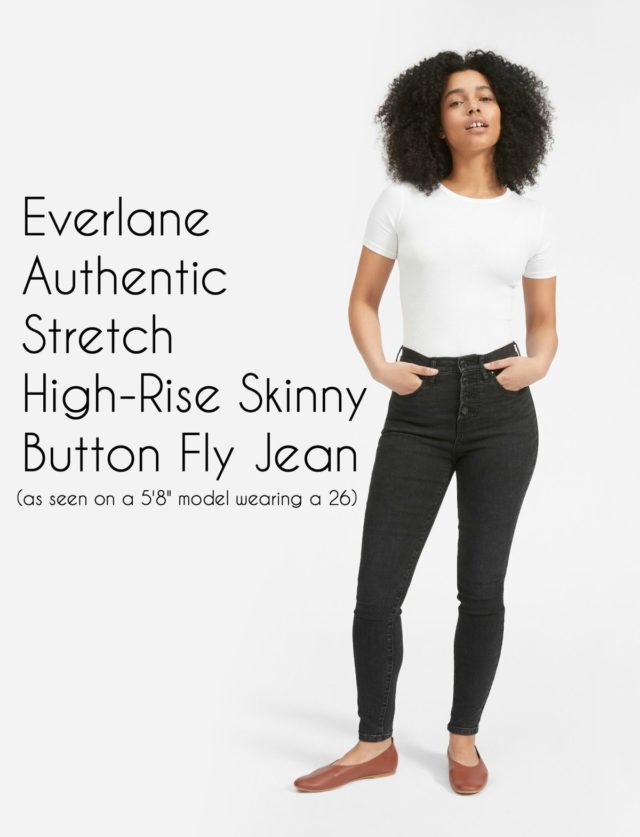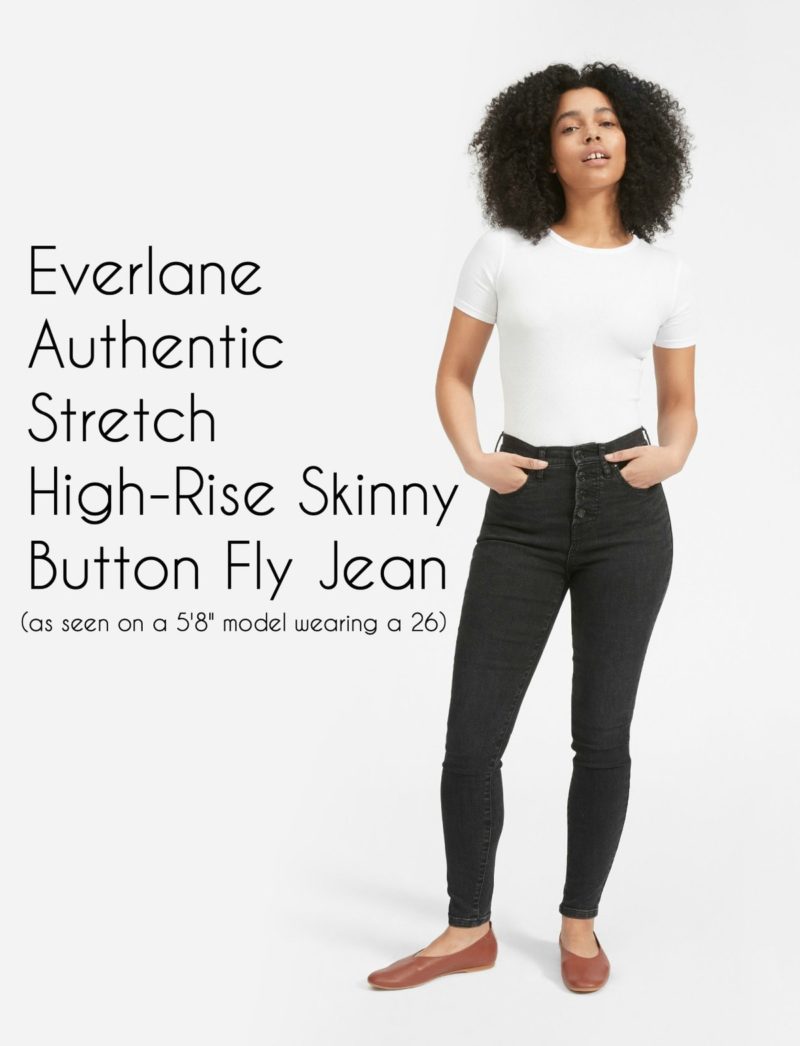 Everlane Authentic Stretch High-Rise Skinny Button Fly Jean Review
This is a new jean from Everlane; a high-rise skinny jean with an exposed button fly. With an 11" rise, this will give the high-waisted look I was looking for. I also liked the faded black, which looked vintage in a good way. These jeans are made with Everlane's Authentic Stretch Denim, known for its high elasticity rate and comfortable stretch. I regularly find skinny jeans too skinny on my legs, sometimes so skinny I can't get them over my feet so to allow for a bit more room and because I am not familiar with how Everlane jeans fit, I ordered them in a 33 waist, ankle length.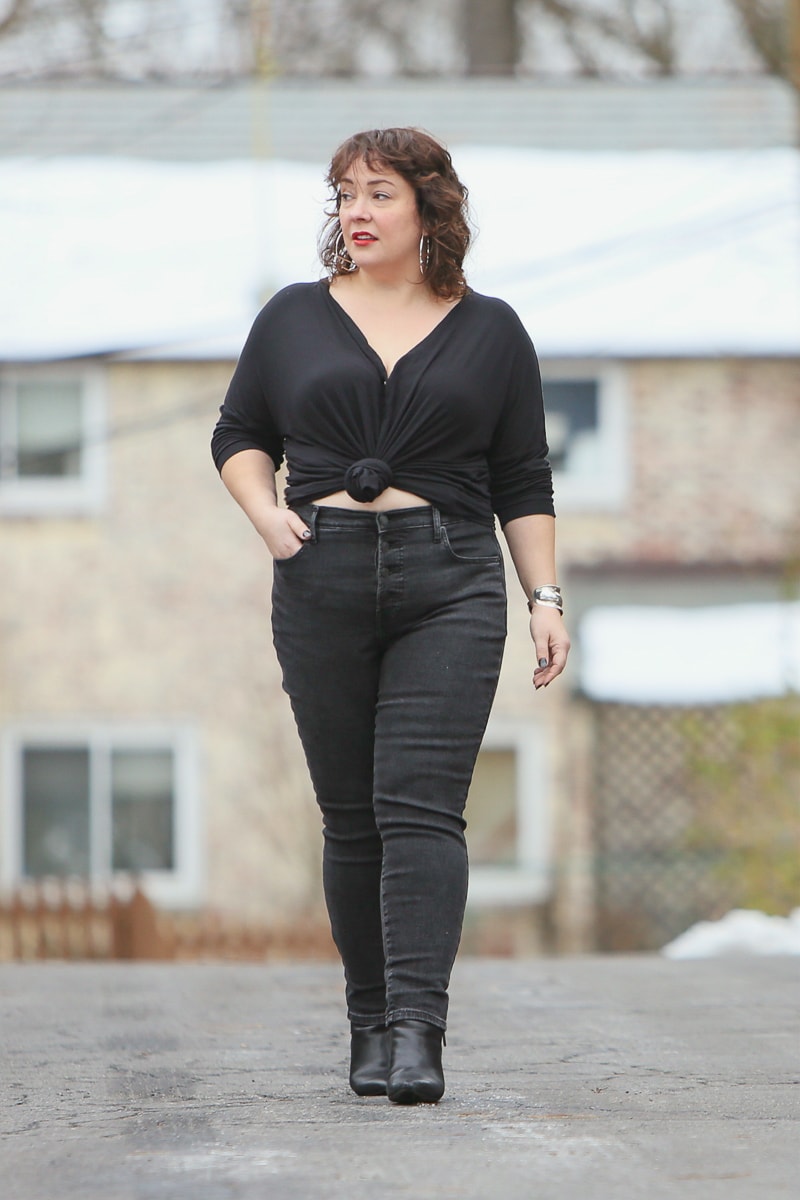 I should have gotten these in a 32. In the photos, they look pretty good, but the waist and hips are a bit loose and the jeans slid down with wear. However, they never stretched out. They have great stretch but aren't thin. The wash is… expensive looking. That faded black that takes either years of wear or a very detail-oriented factory. The buttons are exposed but carefully spaced so there's no gaping or exposed skin, even when you sit and even when they're tight. Ankle length is 28.5" length which is pretty standard for ankle length skinny jeans but a bit too long for me (wish they carried petite, but then I also wish they carried larger sizes…).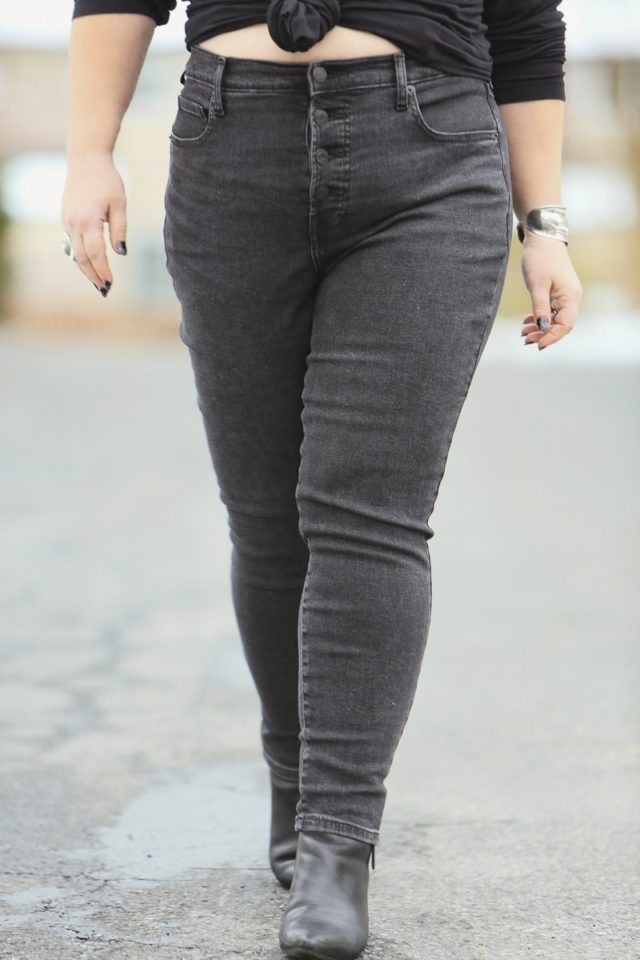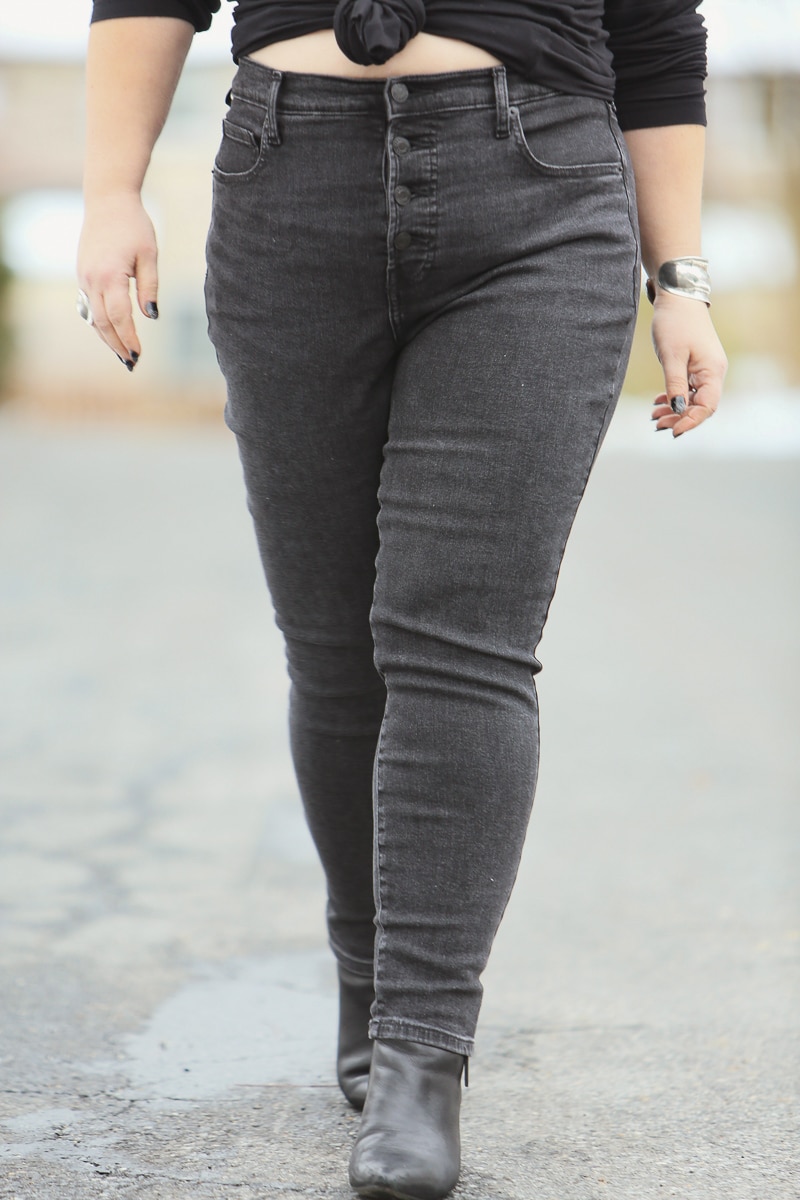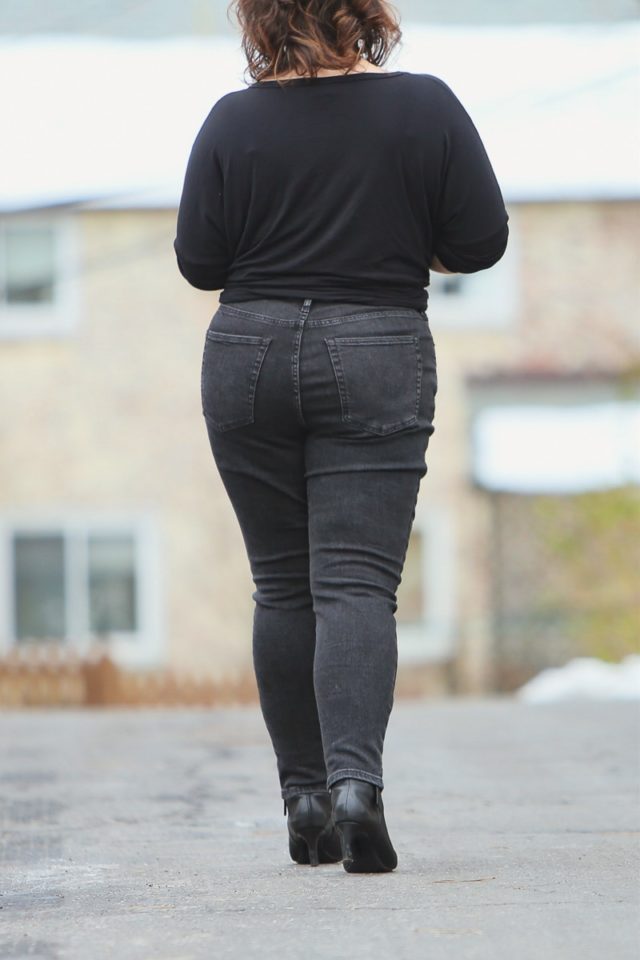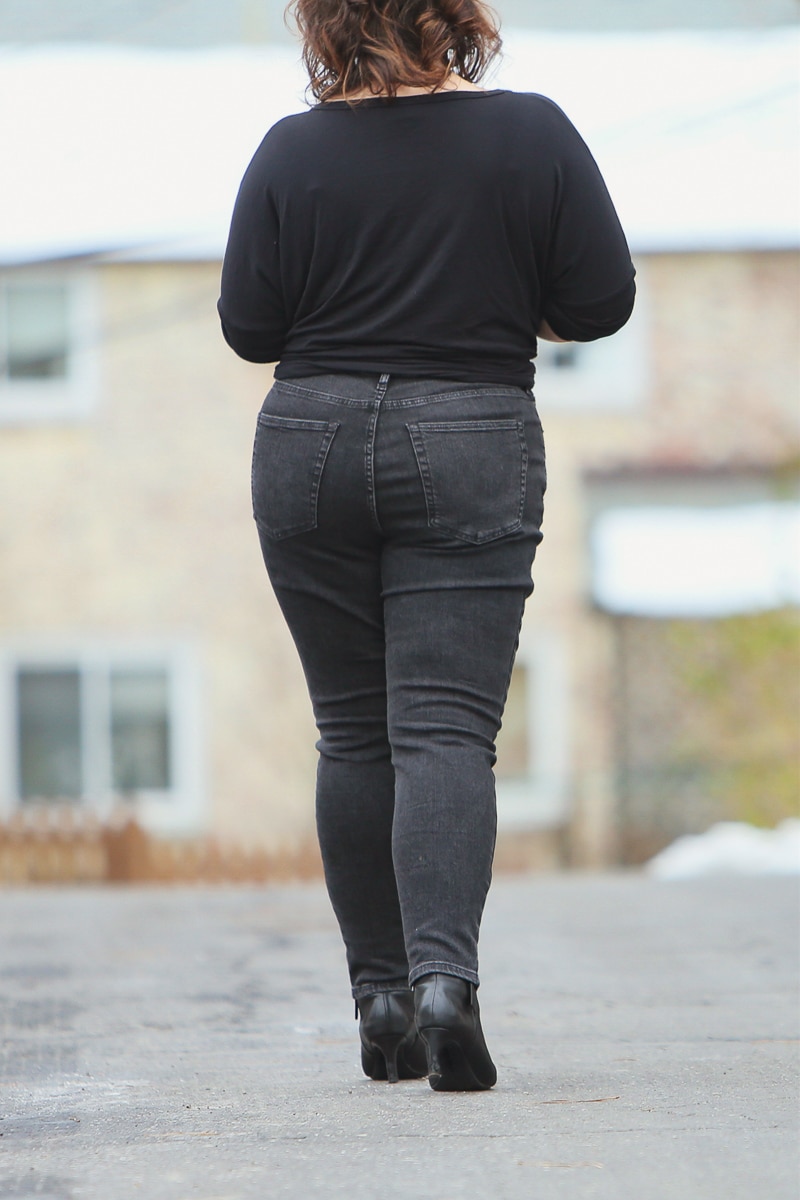 I like these jeans. A lot. I wonder if I will like them as much in a 32 or if they will be too "painted on" through the thighs and calves. I wonder if a reason they slide down is that they're not petite and don't curve exactly where I curve. I'm willing to try a smaller size and see as these are so good.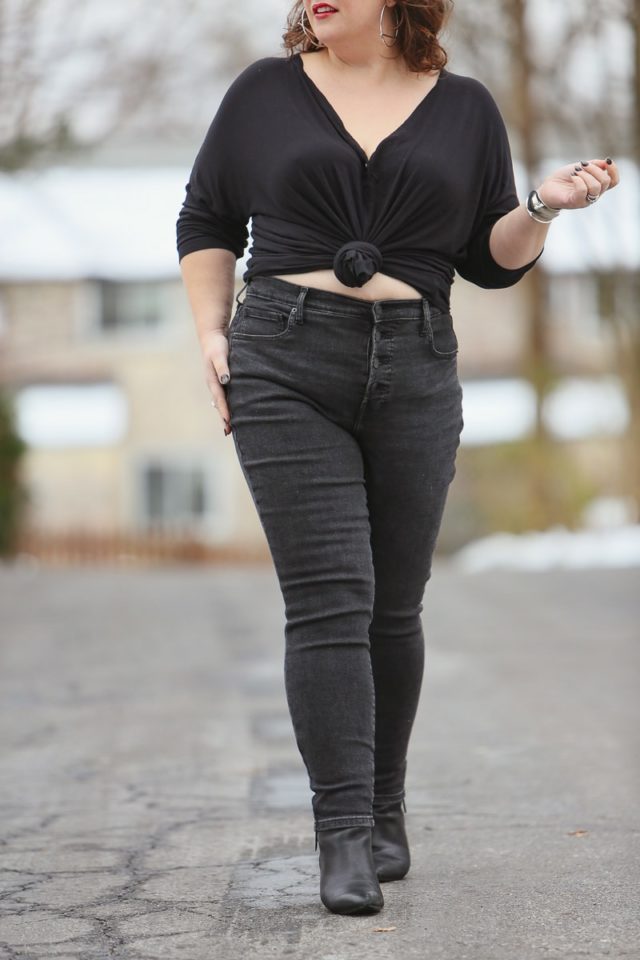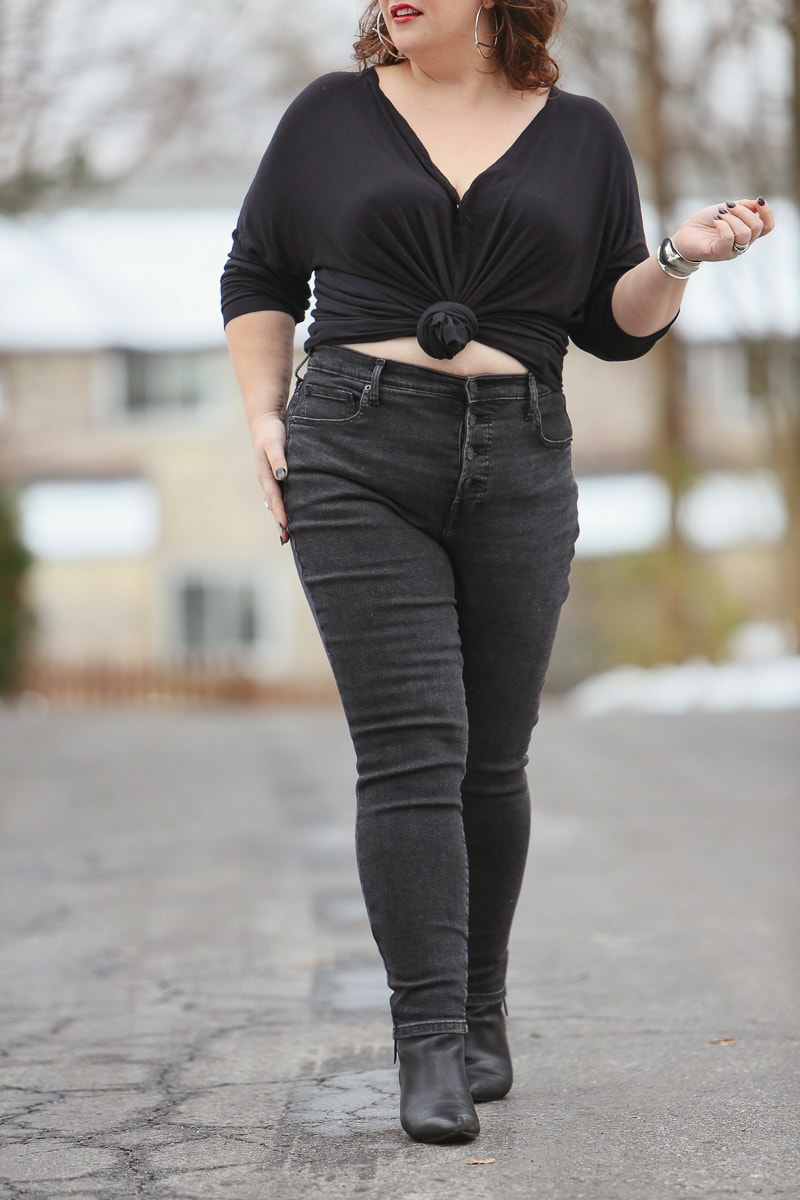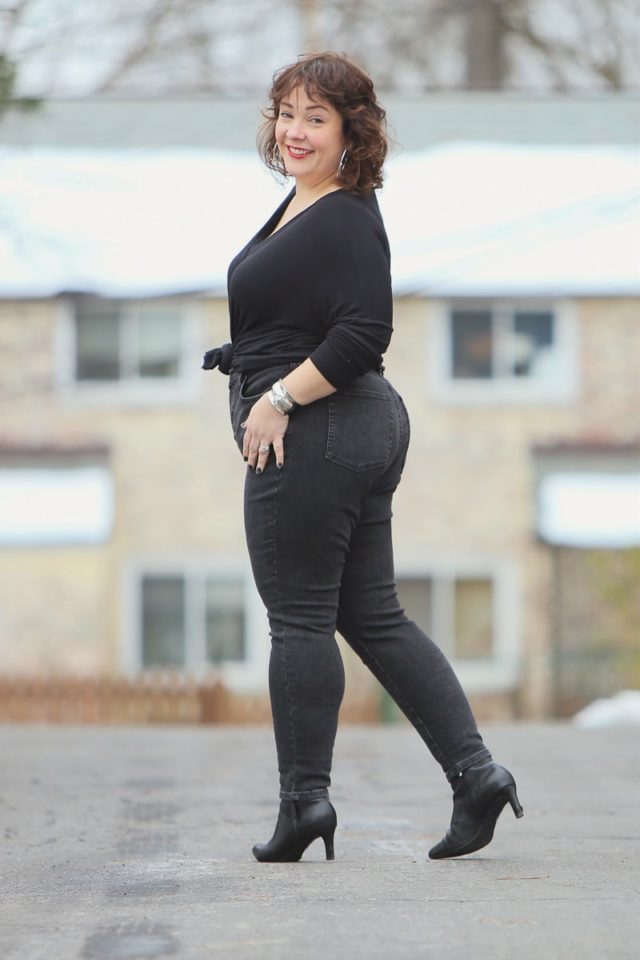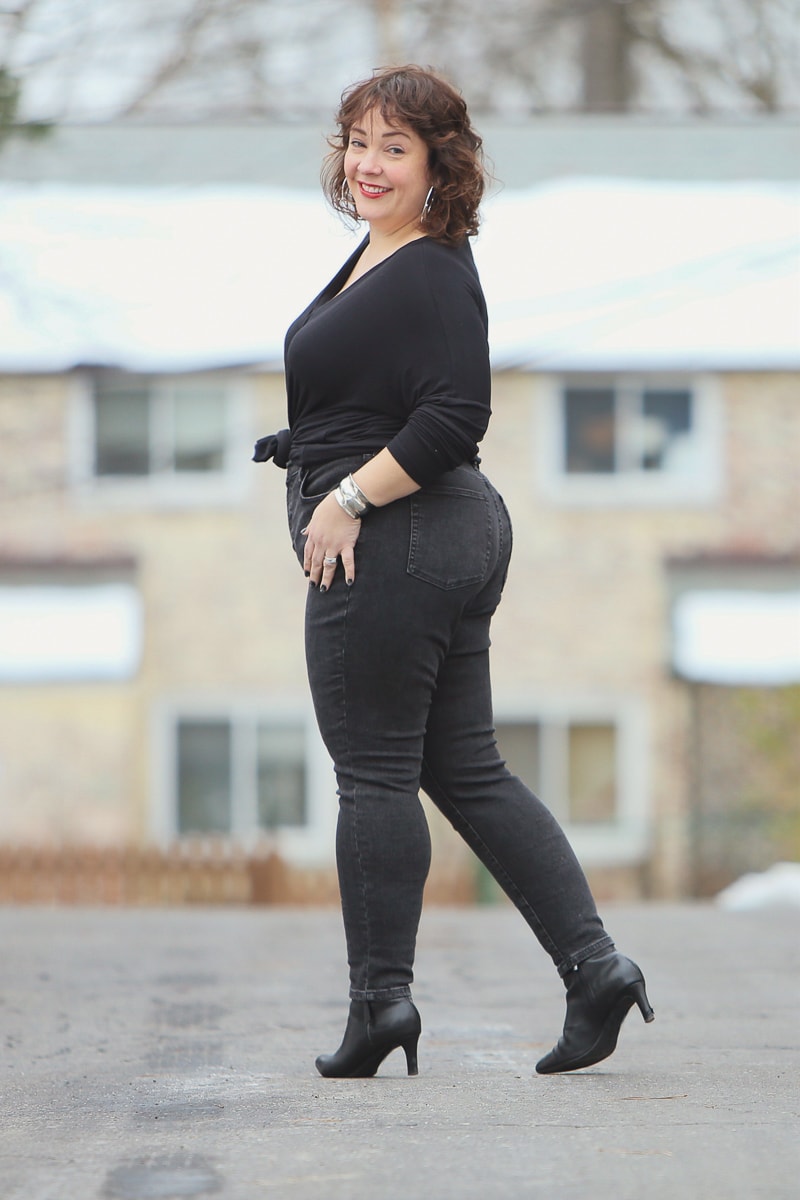 The Everlane Authentic Stretch High-Rise Skinny Button Fly Jean is available in sizes 23-33, regular and ankle lengths, is made of 87% cotton, 12% polyethylene, and 1% polyurethane, and retails for $78.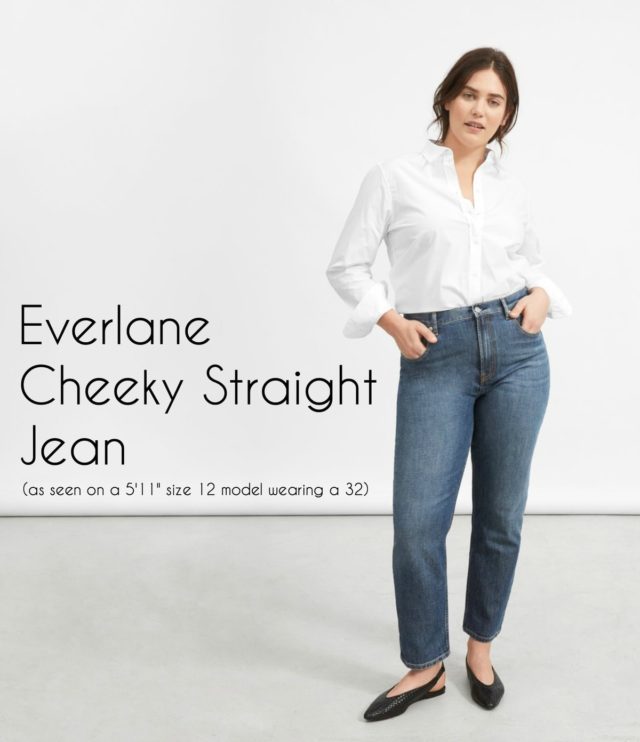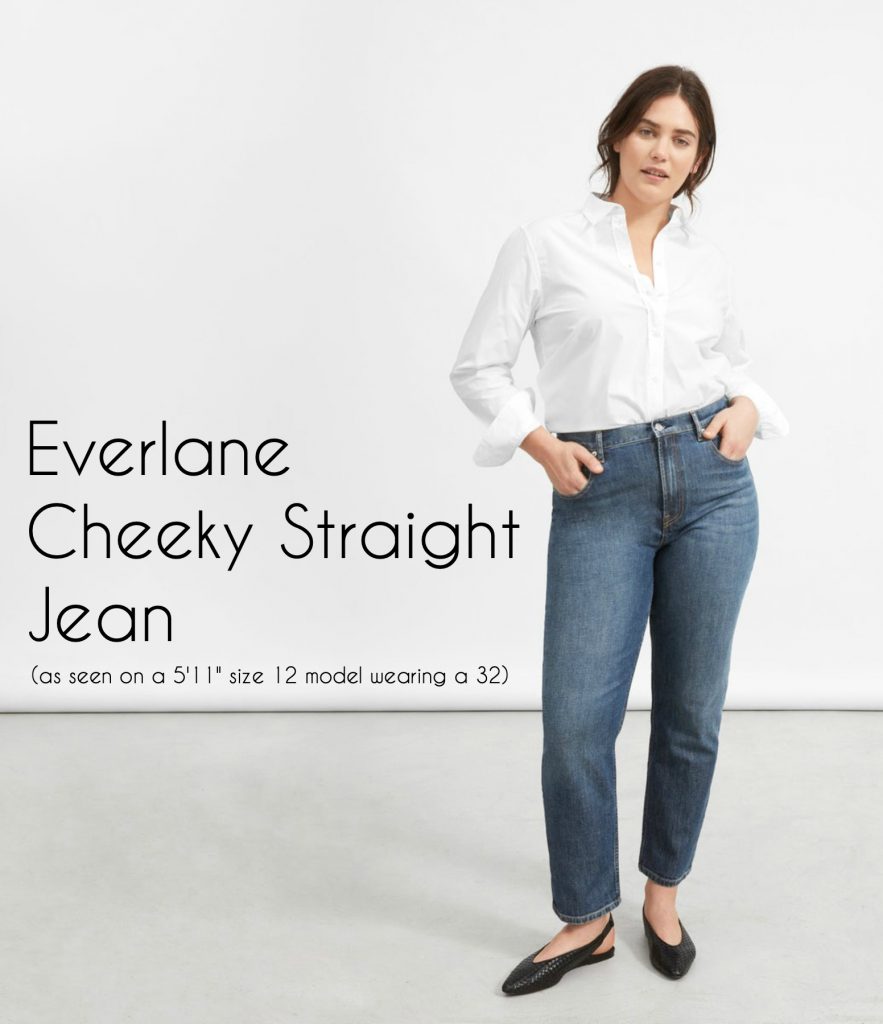 Everlane Cheeky Straight Jean Review
I wanted to try a pair of Everlane jeans that weren't super stretchy. Also worried about my curvy legs and skinny jeans, I wanted to see how a straight leg style would work on me. Often I buy straight or slim leg jeans to get the skinny jean effect thanks to my curves. The Cheeky Straight Jean from Everlane is, "Engineered for the perfect rear fit. This straight leg jean has a super-high rise and a raised back hook seam that lifts and tightens. Plus, they feature our Happy Pockets, which are set higher and closer together for a bouncy, lifted look." I like the look of a bouncy bum so I was sold and asked for these in a 32 to compare, and regular length, thinking I may want to cuff them like boyfriend jeans.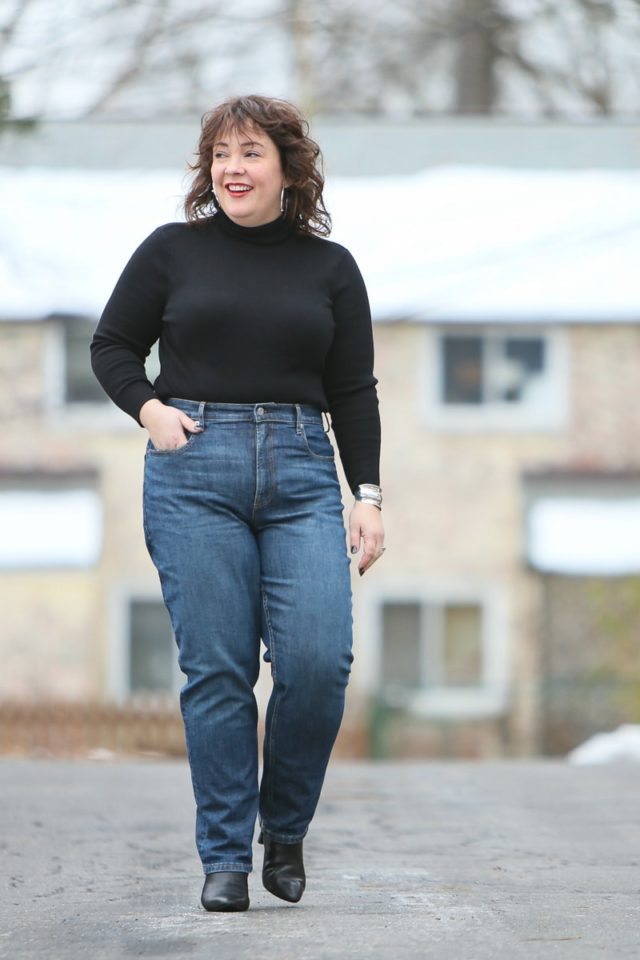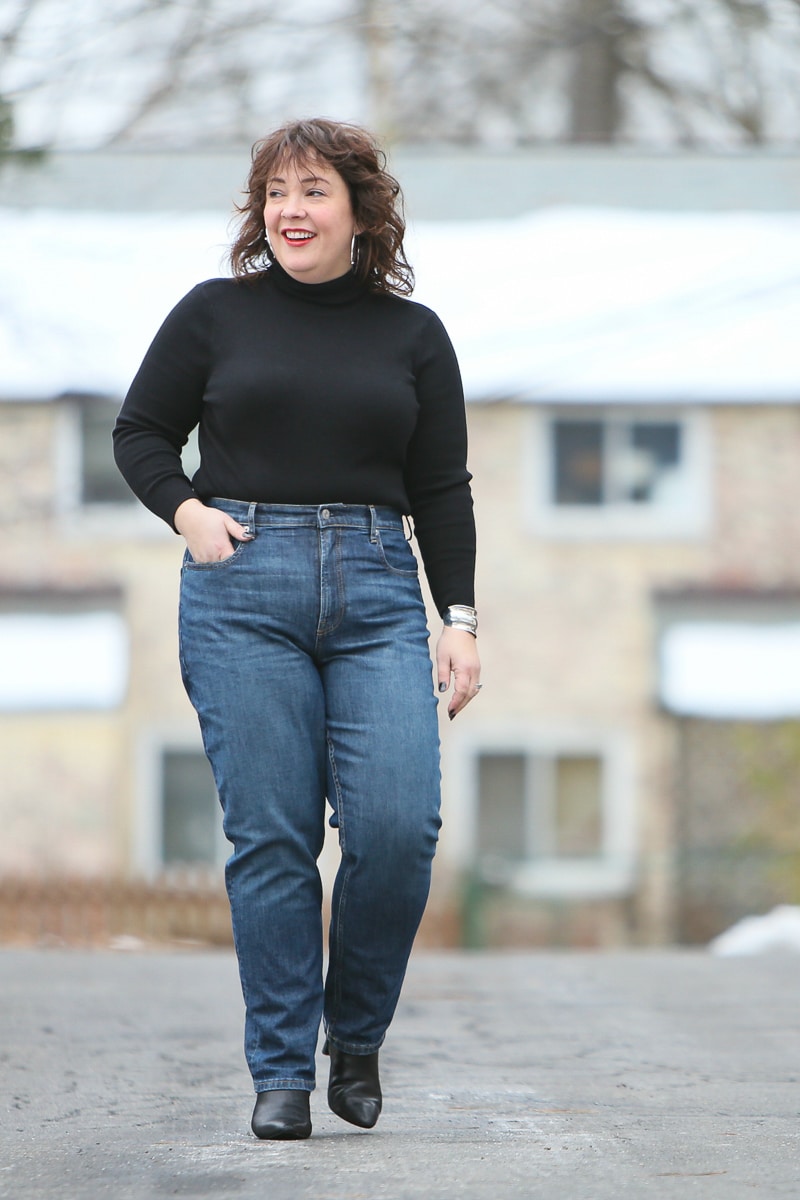 These jeans look vintage but not in a good way. These look like the jeans moms wore back when I was in high school. From the high waist and roomy crotch to the old-school stonewashed blue color to the length, these are not my scene. Amazing I can feel both too old and too young for a piece of clothing. Also amazing how these are a size smaller than the black jeans yet are still too big. The only pair of jeans I own this size is a very stretchy pair from a brand notorious for vanity sizing.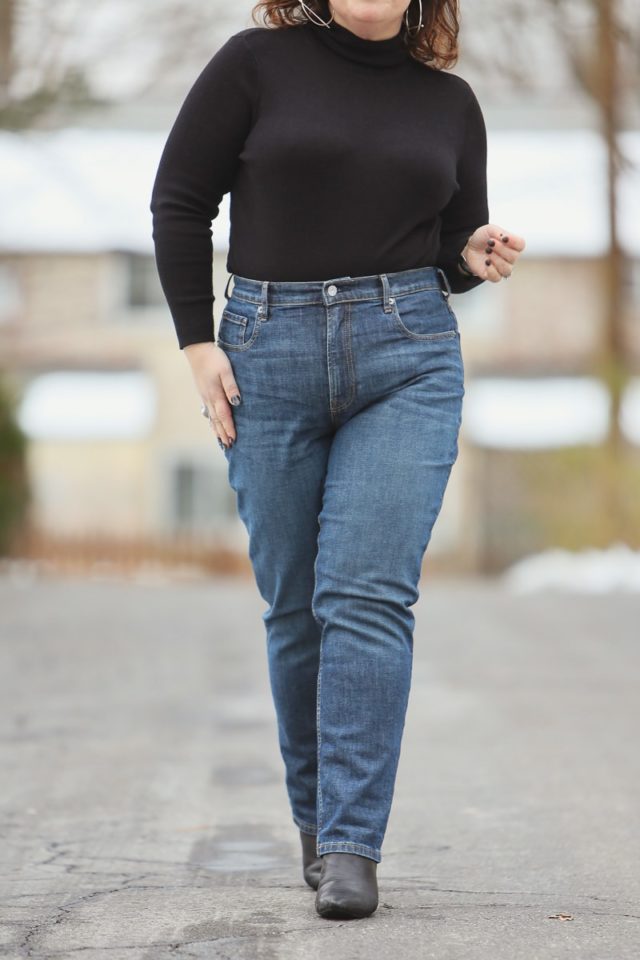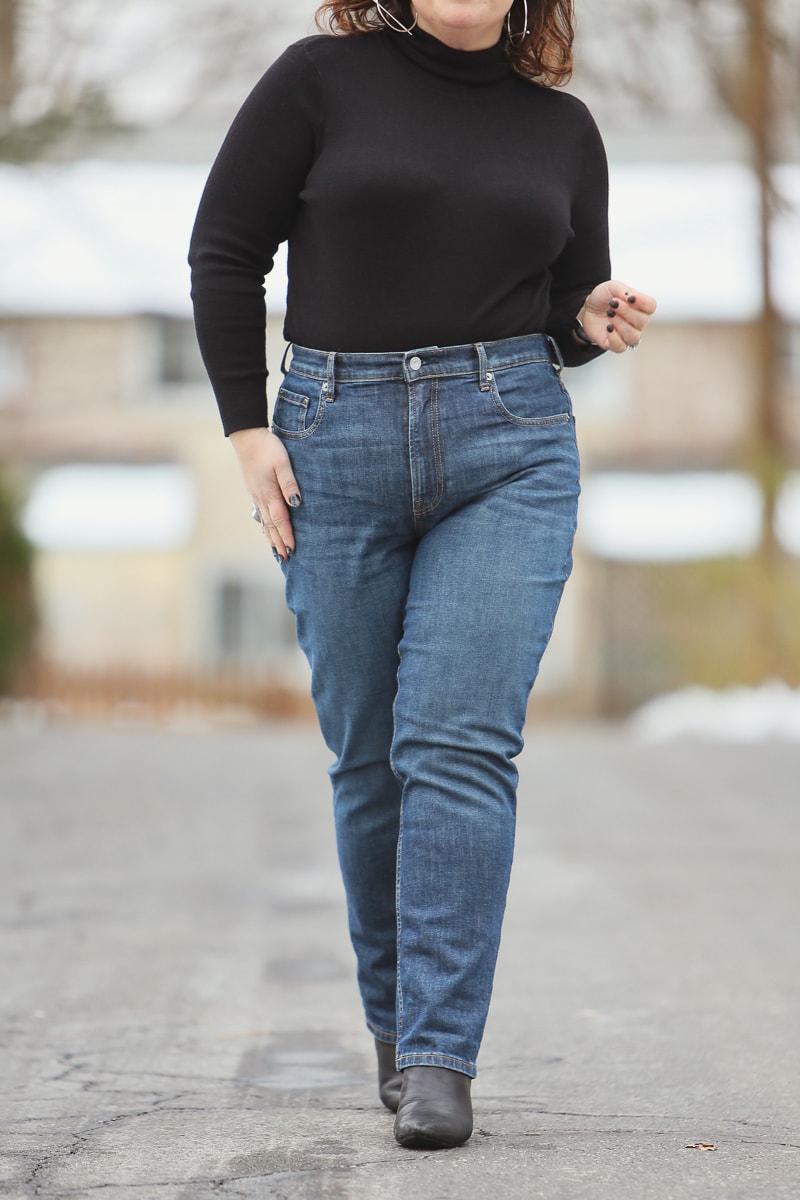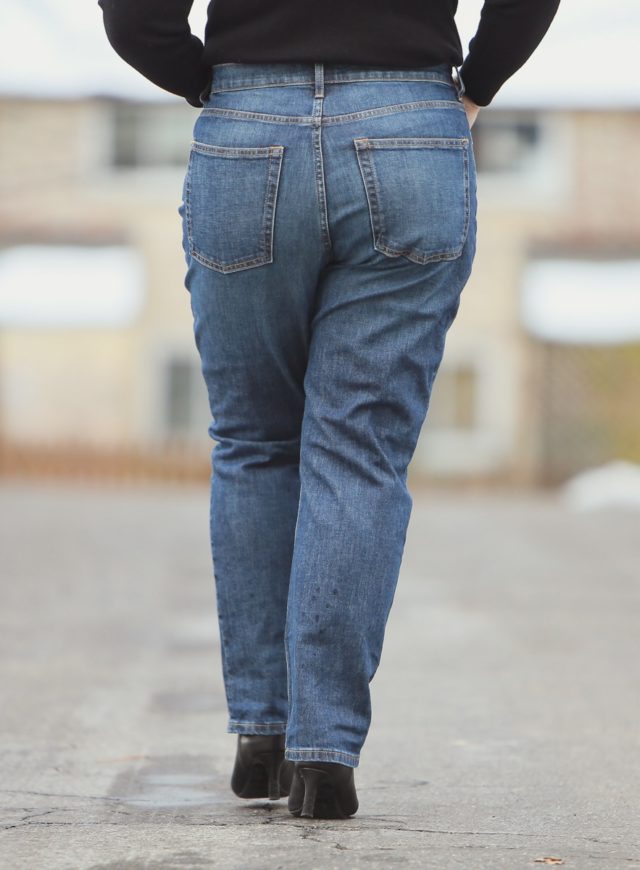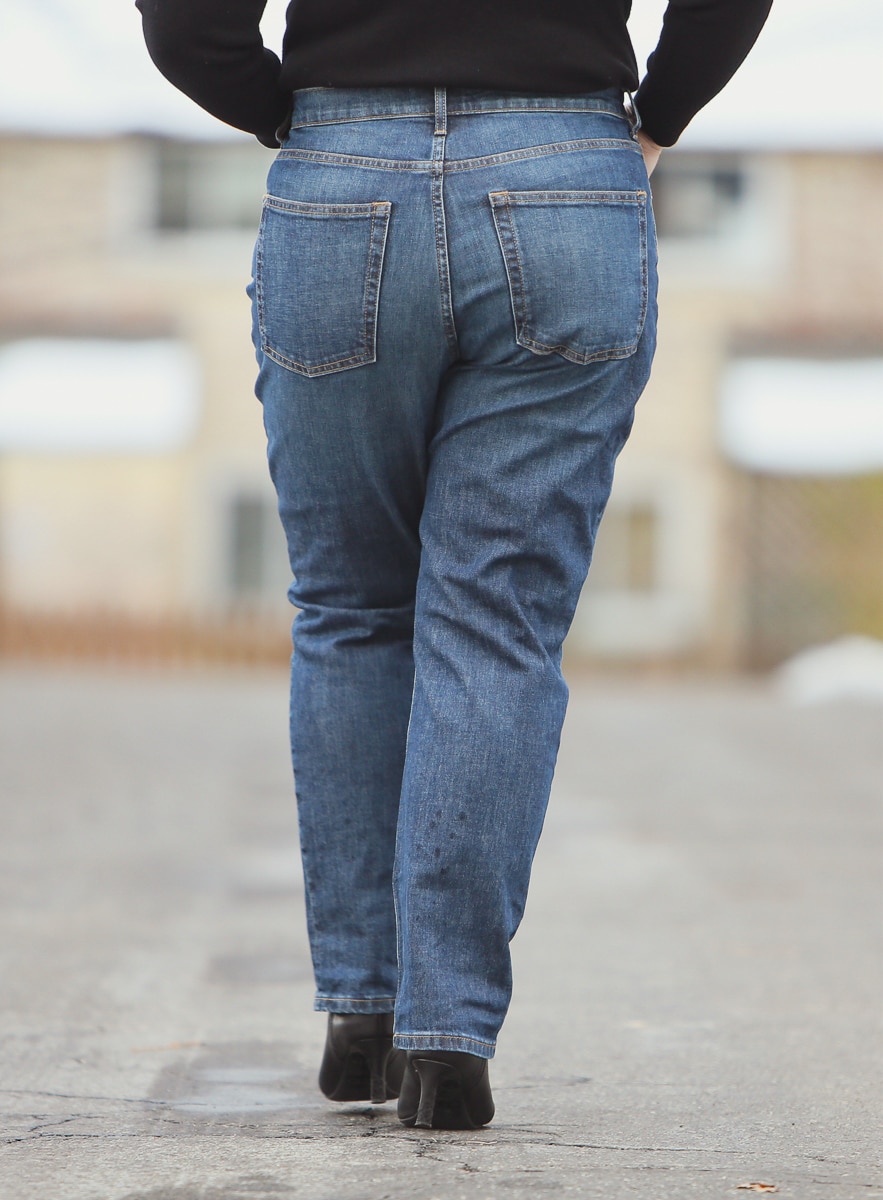 I find the denim again to be great quality. While this denim is more rigid, it still has give and a hint of stretch which kept these jeans the same size and shape through an entire day of wear. I would definitely try this type of Everlane denim again, though in a slimmer cut like their Cigarette Jean. Also, I'd go with a different wash; I didn't want super dark or super faded but this is the color blue that is super hard to wear and can quickly look frumpy.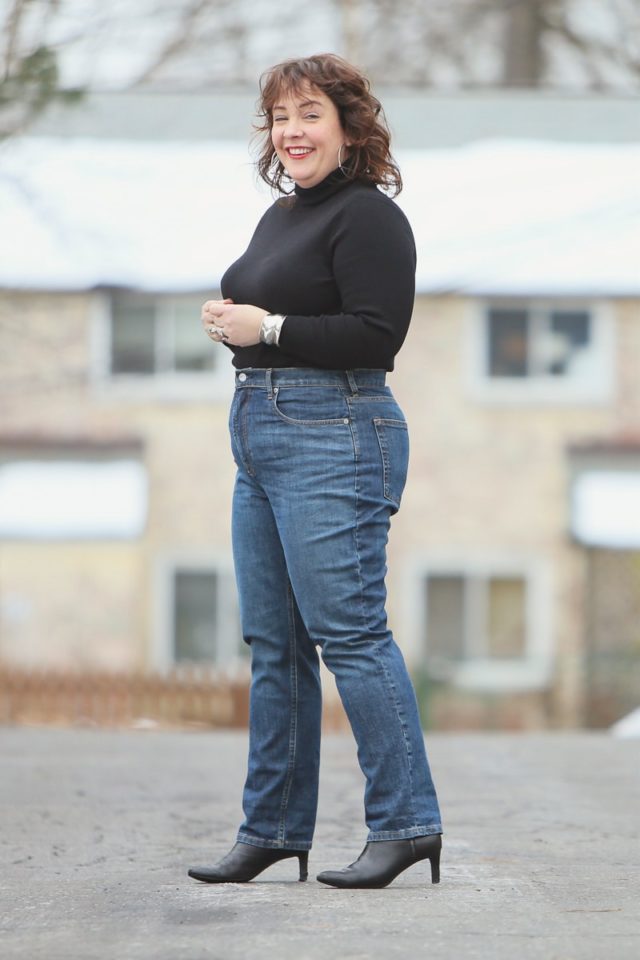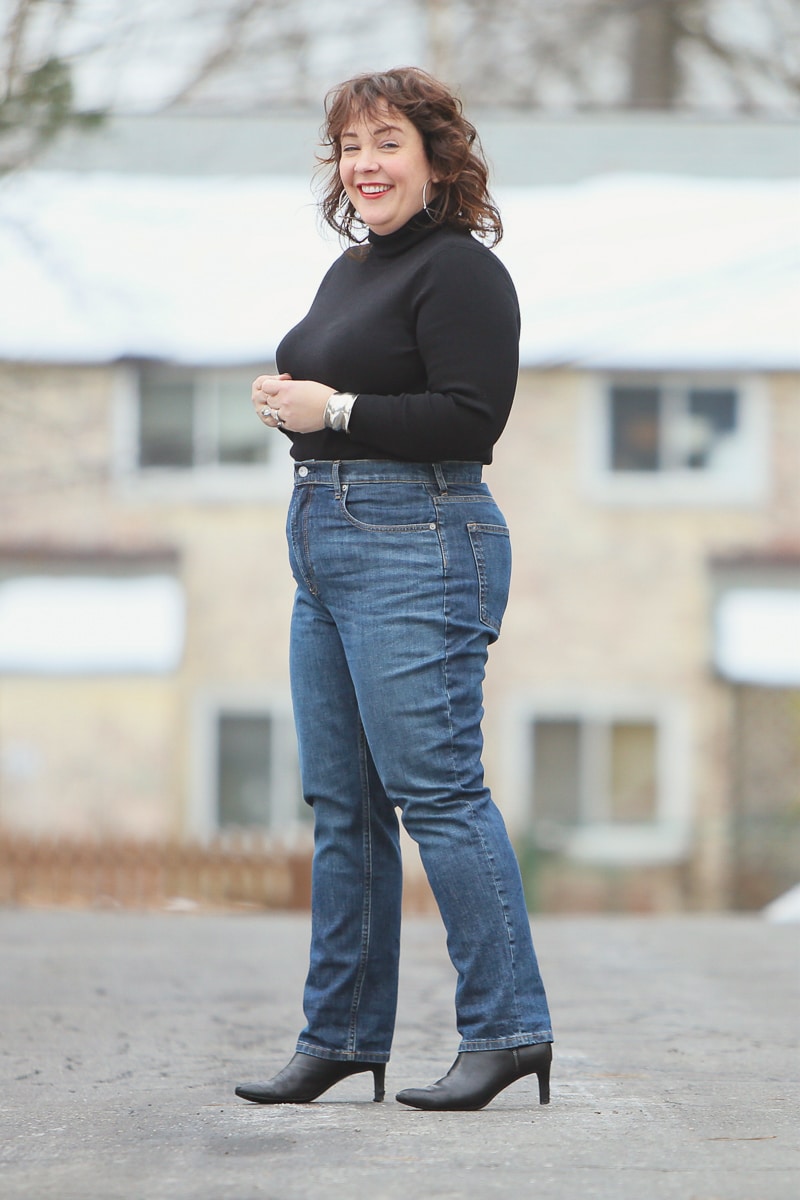 The Everlane Cheeky Straight Jean is available in five colors, sizes 23-33 in regular and ankle lengths. They're made from 98% cotton, 2% elastane and retail for $68.
Why Am I Doing an Everlane Jeans Review
Now?
I have respected Everlane's business ethics for years. They source the best materials and only partner with the best factories. They are known for their transparency; visit their website and you can learn about each factory they partner with, where it's located, how many people they employ, and what makes the factory special. Even with great materials made from great factories, Everlane keeps their prices reasonable. We're talking $100 cashmere, jeans under $80, quality leather totes under $200, and buttery leather boots and shoes all under $250 (and most under $200). Since my previous Everlane review, I've heard sizing and quality has become more consistent. Along with these jeans, they sent me a cashmere crew and a pair of their Day Glove flats. The cashmere is higher quality than that from Halogen and department store brands yet comes with that awesome transparency. The shoes are incredibly soft and beautiful and I was shocked to find they fit my wide high-volume feet yet my friend with narrow feet also loves them.
The reason I haven't reviewed or featured Everlane before (other than my review and the one red leather clutch I have from the brand) is because of their minimal sizing. Until recently, I was consistently a 14/16 and Everlane didn't fit me. A good percentage of Wardrobe Oxygen's audience is over a size 12 and because of that, I choose to focus on brands that offer at LEAST a size 18. Since my 2016 review of Everlane, the brand now offers XL and up to a size 33. Not enough of a range to make me happy, but at least they've made some progress. I hope to see Everlane continue to extend their size range as people of all sizes and shapes want and deserve ethical and transparent fashion.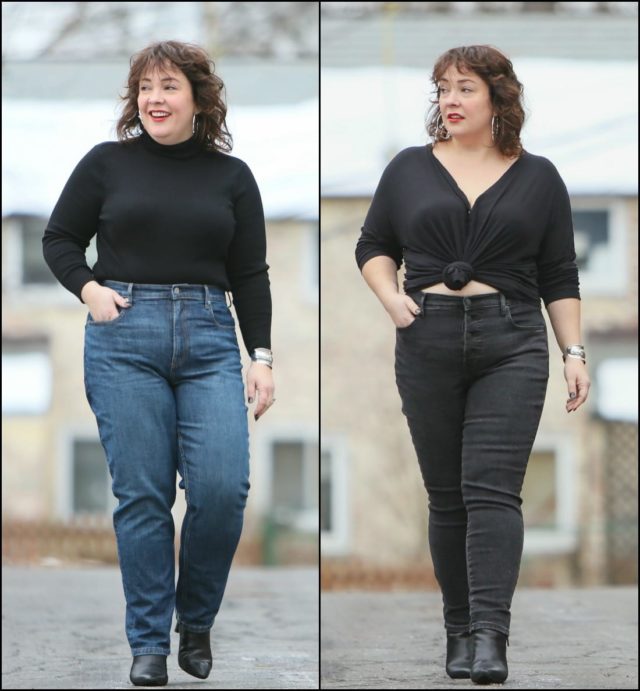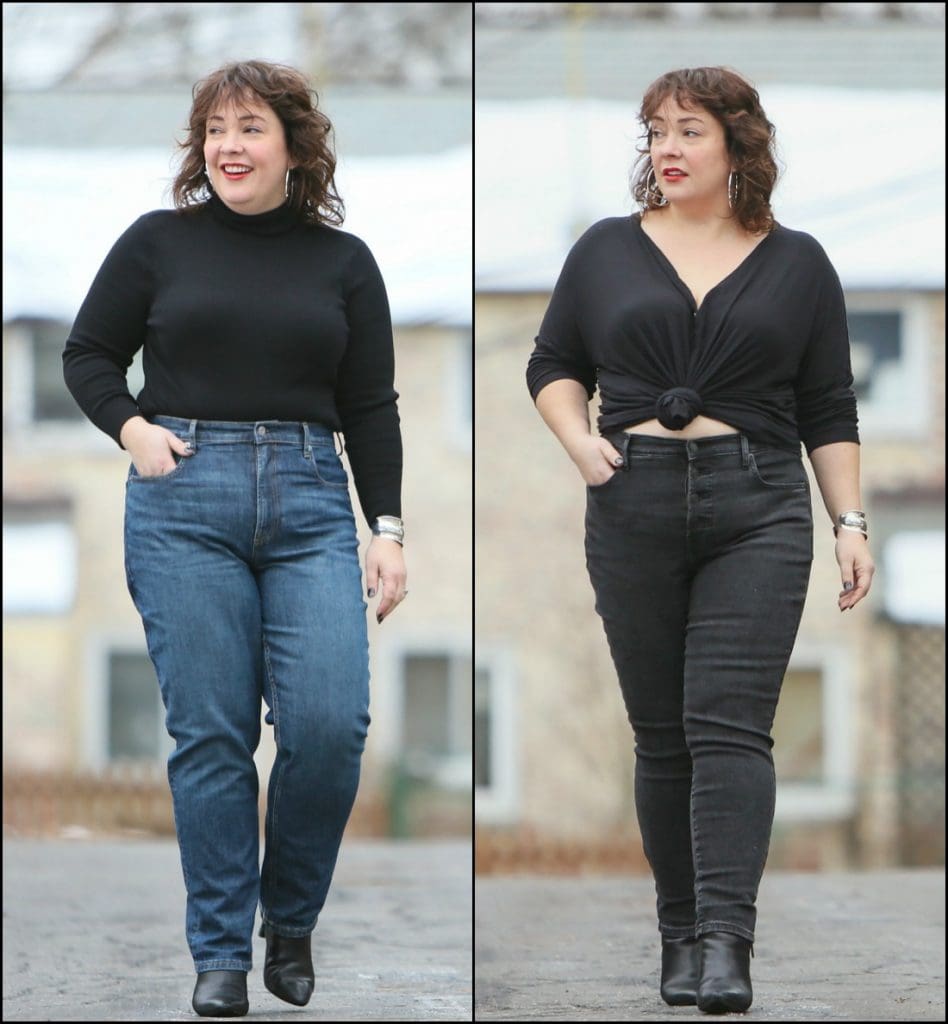 A Fashion PSA
I'd like to use this post as a PSA that in 2019, fashion rules are meant to be broken. Get rid of all those archaic rules in your head, the ones that don't let you wear this or that because it may make you look shorter or fatter or whatever-er. Those rules that say if you wear X you can't wear Y, and that at a certain age you need to retire certain silhouettes or brands. Those rules that you felt made you look polished and slim in fact may be aging you and not showcasing your body or your personality in the best light. For example, I've regularly read that if I am short waisted I should wear a lower rise, and if I have a belly and large rear I should wear a straighter jean to balance it out. I think these photos above are proof that such rules do not need to be obeyed. The biggest fashion trend of this decade is having individual style, wearing what makes you happy not what you were told in a book two decades ago would elongate your torso or minimize your hips. Breaking these rules may be the best thing to ever happen to your personal style and your relationship with your body!
Shop My Picks from Everlane: