This article may contain affiliate links; if you click on a shopping link and make a purchase I may receive a commission. As an Amazon Associate, I earn from qualifying purchases.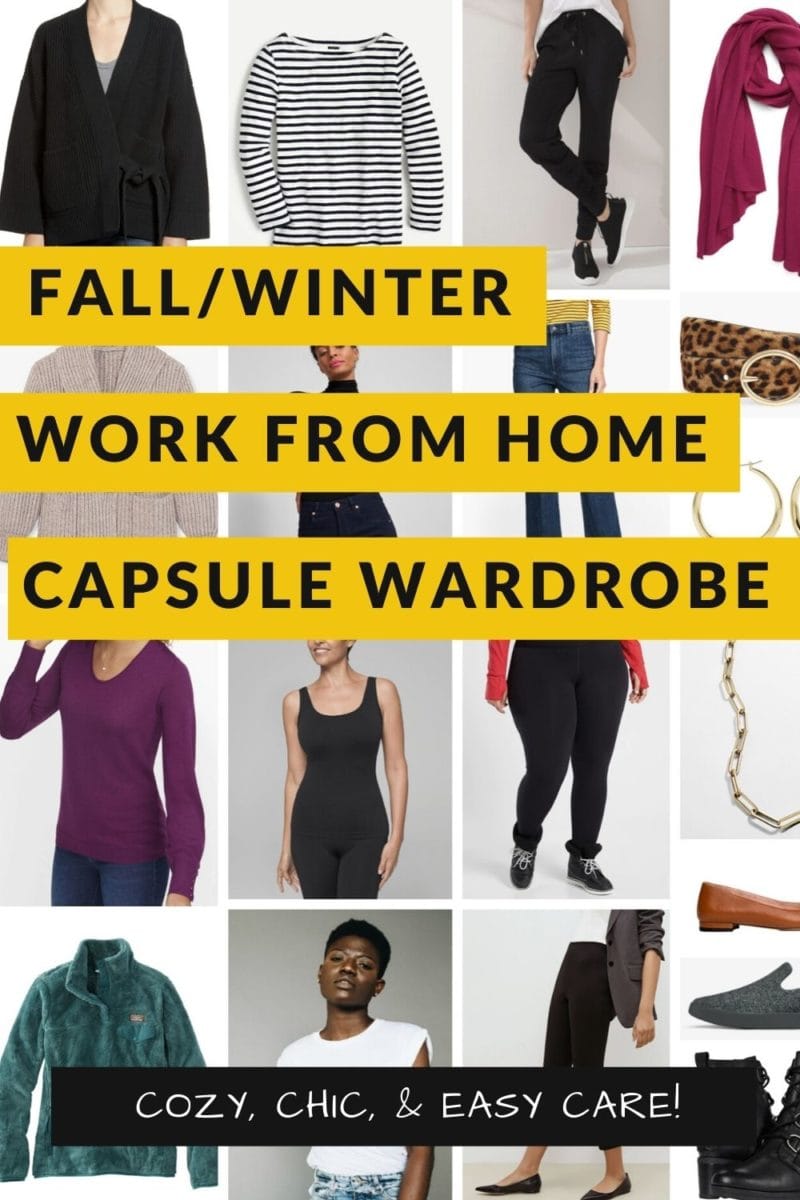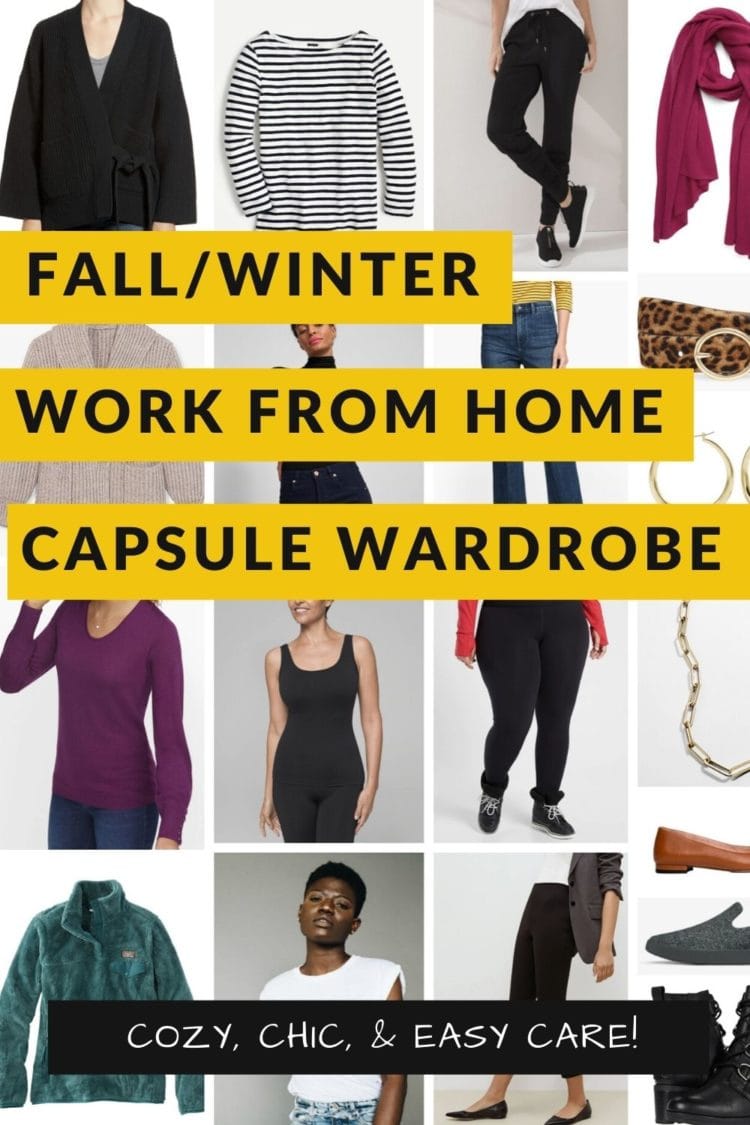 I was analyzing my wardrobe and what I wear over and over… and it creates a work from home capsule wardrobe for fall to winter.
With the temps changing I am packing up my shorts for sweaters, the sandals for closed-toe shoes and thought it would make sense to share my work from home capsule wardrobe for fall to winter. And you know how much I love creating capsule wardrobes!
It's easy to get into a rut of old sweats or even the classic work from home look – a cardigan sweater over pajamas. But I encourage you to find ritual and routine in getting dressed each day. It improves morale, creates a schedule, and reminds yourself that you are beautiful and valuable. You can have comfort, versatility, and easy-care clothes while still having beautiful fabrics, colors, and silhouettes to honor your body and daily work.
This work from home capsule wardrobe for fall to winter is inspired by the M.M.LaFleur Snyder Jacket, a super soft merino blend belted sweater jacket that I recently added to my wardrobe. I enjoy it so much I am wearing it almost daily, and seeing how it works with a variety of pieces.
While this sweater jacket comes in a small size range (I have the M/L which I think would fit 8-14), I have gathered similar heavier-weight cardigans and sweater jackets in the carousel below that are more size-inclusive.
Work from Home Capsule Wardrobe for Fall to Winter
While this capsule wardrobe may not be your personal style, I hope it will inspire you to see how to create multiple looks within your current closet, or see the one or two pieces you could add to your wardrobe to create a cohesive capsule for this season.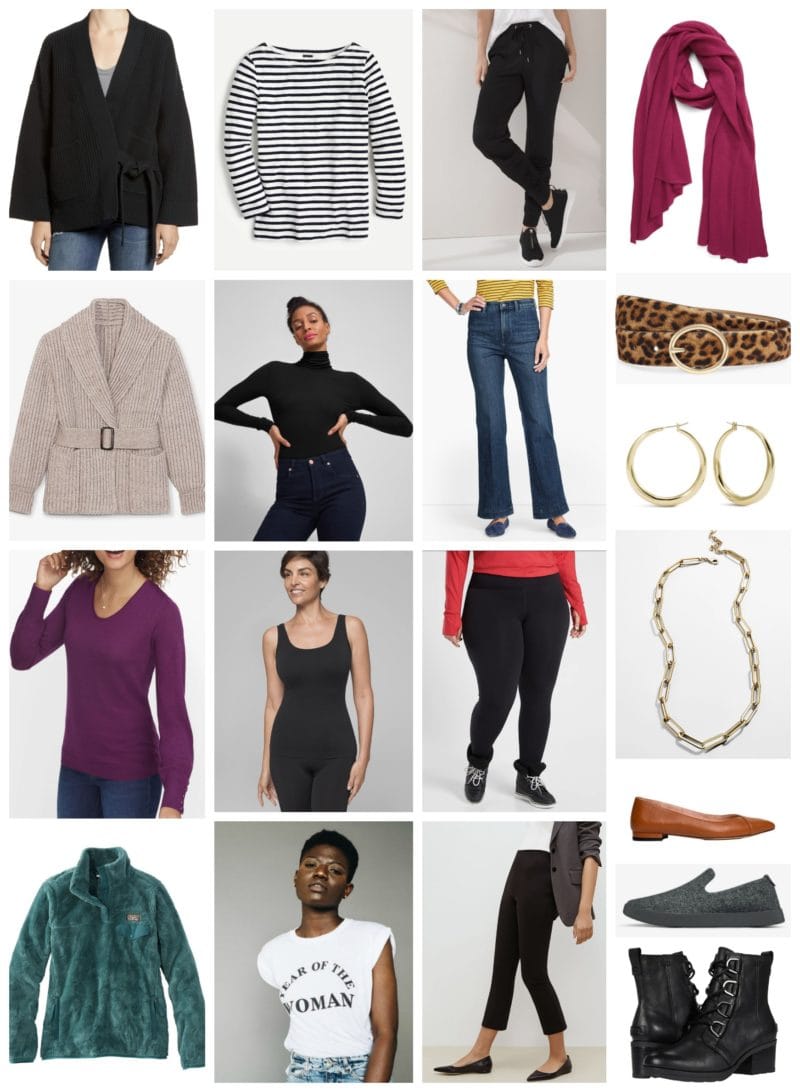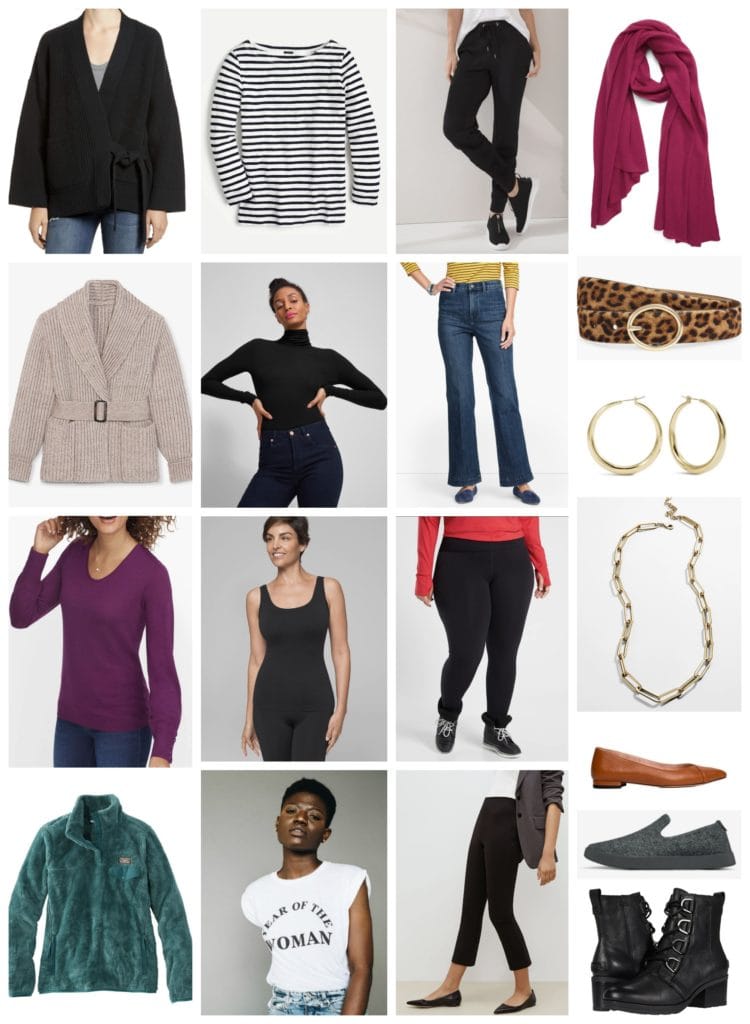 Shop the Capsule Wardrobe:
black cardigan | taupe belted sweater jacket | purple sweater | teal fleece | striped tee | black turtleneck | black tank | graphic tee | black joggers (similar with broader size range) | jeans | black fleece leggings | black stretch ankle pants | pashmina | leopard belt (plus-size option) | gold hoops | gold necklace | camel flats | gray slip-on shoes | black boots
It's funny, when I look at this capsule wardrobe it looks like SUCH a hodgepodge, but they actually mix and match quite well for times when you want to be comfy and relax, times when you leave the house, Zoom meetings, casual hikes and walks, yoga and stretches, warm days and chilly nights.
I put together a few looks, but you can see how these pieces could be mixed and matched even further, and if you add some more pieces into your closet (say a slouchy tweed blazer, a tunic sweater, a utility jacket, a silk scarf, a pair of sneakers or waterproof hiking boots, a cozy pant with a neutral print, a longer sweater coat) it will double or triple the possible looks.
Possible Outfits from the Work from Home Capsule Wardrobe for Fall
To see the individual looks, tap any of the photos below to scroll through the gallery. Just X out to return back to this screen.
Here are 24 different looks from this work from home capsule wardrobe that has 12 pieces of clothing. There are looks that will work if you have to head into the office, looks for that masked Target or grocery store run, looks to wear for a socially distant firepit Friday night with friends, looks for that Zoom meeting where you want to look great but still be comfy, and plenty of looks to be cozy, warm, and comfortable without feeling schlubby.
Reasons Why These Items Were Picked for the Capsule Wardrobe
I want to share the why behind these certain items to explain how they made it into this fall to winter work from home capsule wardrobe:
Shop the Capsule Wardrobe: