This article may contain affiliate links; if you click on a shopping link and make a purchase I may receive a commission. As an Amazon Associate, I earn from qualifying purchases.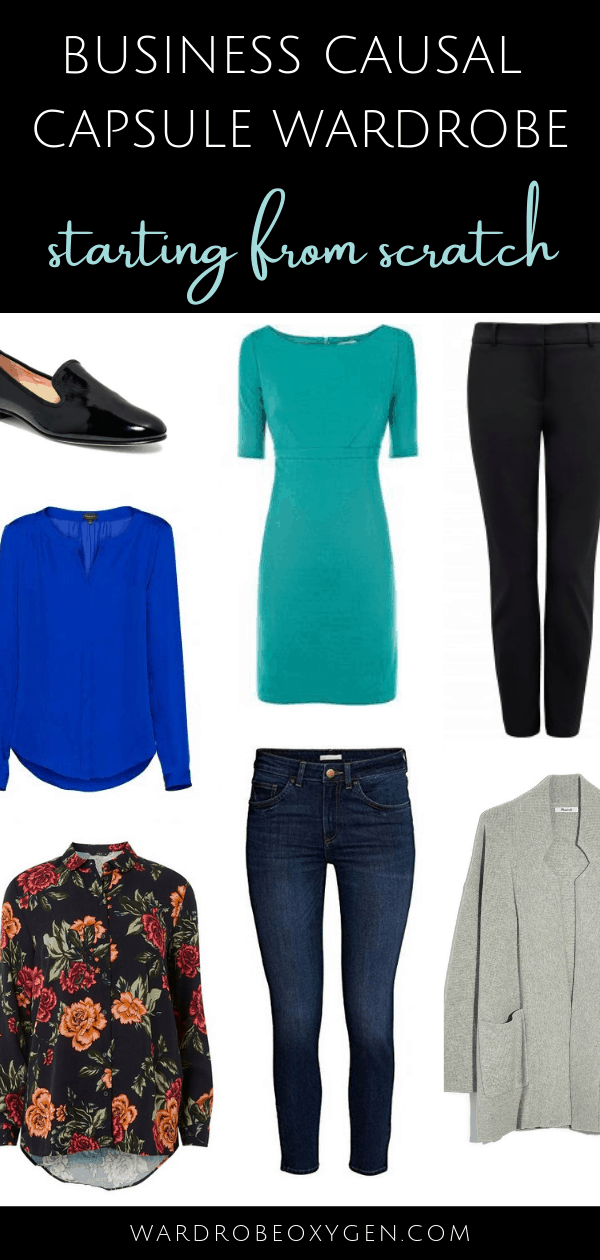 "I'm furloughed. I don't know when I will go back to work so I can't take a trip or get into a major project. I'm cleaning out my closet and it's been enlightening to say the least. My concern is if I get rid of everything I don't like I won't have any clothes left! I don't have money right now to replace my whole closet do you have any suggestions? Have any of your readers been in this situation?"
My dear you are not the only one who has begun a closet-cleaning project and finished it with a practically empty closet. So many times we buy clothes for every reason other than needing them. We feel fat, we feel frustrated, we have an event last minute and nothing to wear, it was on sale, we wish we had a life to wear it, our favorite influencer or celeb has it, we missed the return window, we swore we'd lose those five pounds. And once you're on a roll it's hard not to throw everything that isn't perfect into the donation pile.
How to Perform a Closet Edit
However, we all need to wear clothes, and I hope very soon you will be able to get back to your job where you will need to wear more than sweatpants. So I recommend you keep some of these things to get by. How to know what to keep?
Does it Fit?
Live in the moment, and dress for it as well. If you need to lose five pounds or have to pull on your tightest Spanx to make it fit, let it go. When you hold onto such clothing, each time you enter your closet you'll feel bad about your body. If you truly think the items will fit in the near future (we're talking within a year or less) keep them but keep them in a box away from your current wardrobe. Then, if your body changes you can bring them out like a present, thereby reducing the desire to buy new.
Is it in Good Condition?
If you have it safety pinned together, either fix it or get rid of it. Stain that won't come out no matter what hack you try? Get rid of it. Covered in fuzz balls? Threadbare spot? Missing buttons? Get it fixed or get it gone. Damaged and overly worn clothing are never chic.
Does it Work with Three Other Things?
Let's get real here. Unless it's a statement piece (sequined going out top, floral maxi dress, etc.) if it can't live three separate lives it's not versatile enough for your newly-curated closet. Your pink cashmere boatneck can be worn with jeans, with your camel work trousers, with your gray tweed skirt, under your black boyfriend blazer with your ivory ankle pants. That navy pinstripe blazer works with your Aerosmith t-shirt and jeans, with your camel turtleneck and trousers, your ivory blouse and the gray tweed skirt, your ivory blouse and the ivory ankle pants. If an item is perfection but goes with nothing, is it perfect enough to build a wardrobe around it? If not, maybe it's not perfection and just makes getting dressed more difficult.
Building a Core Wardrobe
Hopefully, you have leftover a core wardrobe. And it's likely pretty small. A core wardrobe varies from person to person, but it's usually 2 or 3 bottoms, 3 tops, 1 or 2 toppers, and 1 to 2 dresses. This truly is enough to get you through a couple months at the office. Since you shared in your original email that you have an office job and your dress code veers on the dressier side of Business Casual, I am basing this sample core wardrobe on a Business Casual dress code: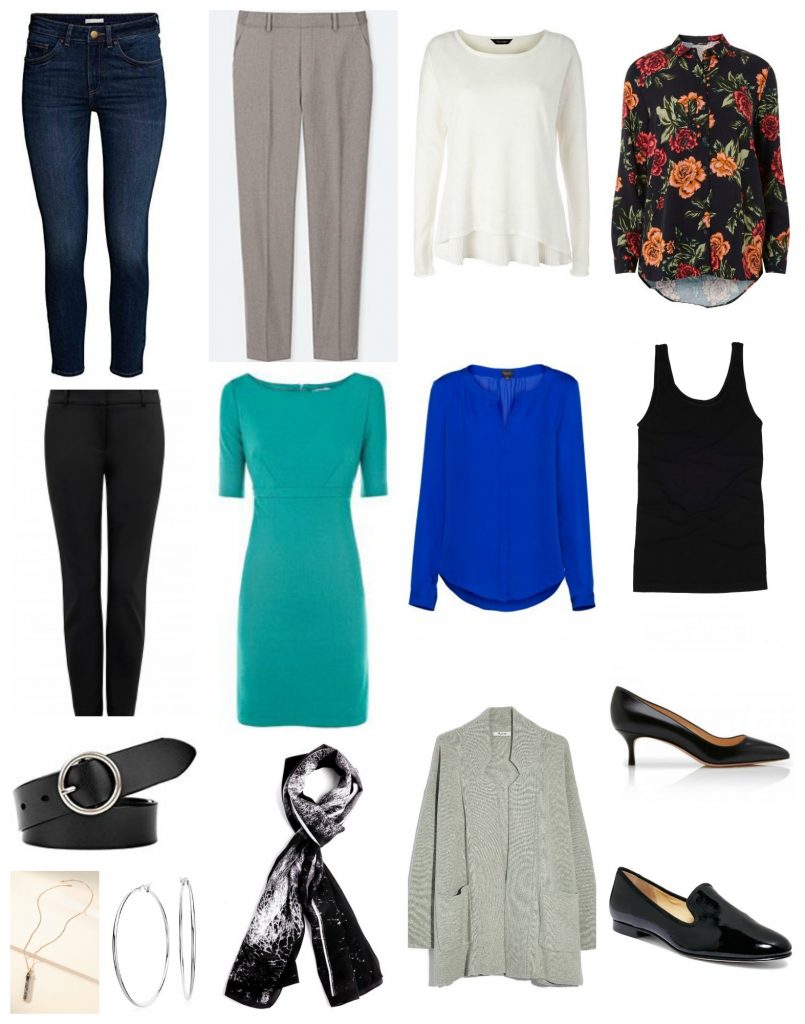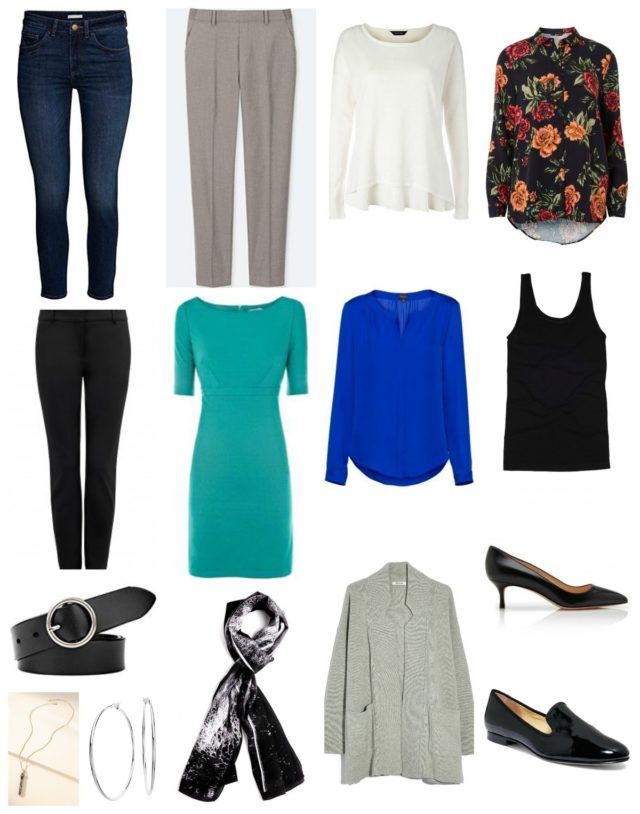 This very well may be what your remaining wardrobe looks like – a random mix of pieces that don't appear to go together. But from this random mix I pulled together 20 outfits. No, you won't win any fashion awards with these looks but you'll be polished enough for a business casual workplace. Remember, keeping meh things to have more options will only cloud your vision. For now you're treating your wardrobe like a uniform until you can build your new wardrobe.
Sample Looks from a Small Core Wardrobe
With 9 pieces of clothing and a few accessories, I created 20 looks for a Business Casual workplace. Click on any thumbnail graphic in the gallery below to see the full-size images and descriptions. Hover over the images to find arrows to advance and go back within the gallery. If there's an ad in the way, x it out to read captions. Click the X at the top right of an enlarged image to close the gallery and return to this blog post.

How to Know What to Buy for Your Capsule Wardrobe
Write down your core wardrobe, take selfies in outfits or photos of each individual piece. Keep them in an album on your phone or put in a journal. Constantly refer back to the pieces and think what you need to take this core wardrobe to the next level. While wearing your limited wardrobe, what are you lacking? If it's a blazer, let's break it down further. Does this blazer need to make a proper suit, or is it just a layering piece to add some professionalism? If it's a suit, admit that and think if your current pants would properly coordinate with a new blazer to create a suit, or if you are actually purchasing a blazer and matching pants. If it's a suit, what pant style would go best with the shoes you already own? If it's just a blazer, what color and fabric would coordinate best with the pants and skirts already in your closet.
Learn from the Past
Remember what caused you to get to the point where your closet was full of things you didn't like. Did you shop based on emotion? Did you shop for a life or a body that is not your own? Did you buy it because you couldn't resist the pricetag? That donation pile is a pile of life lessons to use beyond your closet. Don't make decisions when you're too emotional to be rational. On the same line, don't make decisions when you're hungry or tired. Instead of wishing for what you don't have, focus on what you do have that is good. A change of outlook can do wonders for your wardrobe as well as your entire life. If you can't accept it at its worst (whether it's a person, a job, or a full-price sweater) it's not worth it, even for the times when it's at its best (70% off).
Three Ways or the Highway
Keep that three-lives mentality. It looks great, it fits great, it makes sense for your life. But can you wear it three ways? Right now you're not at a point where you're buying statement pieces, you're focusing on a core capsule wardrobe. Once you're comfortable with the basics, that's when you can start buying the unique statement pieces.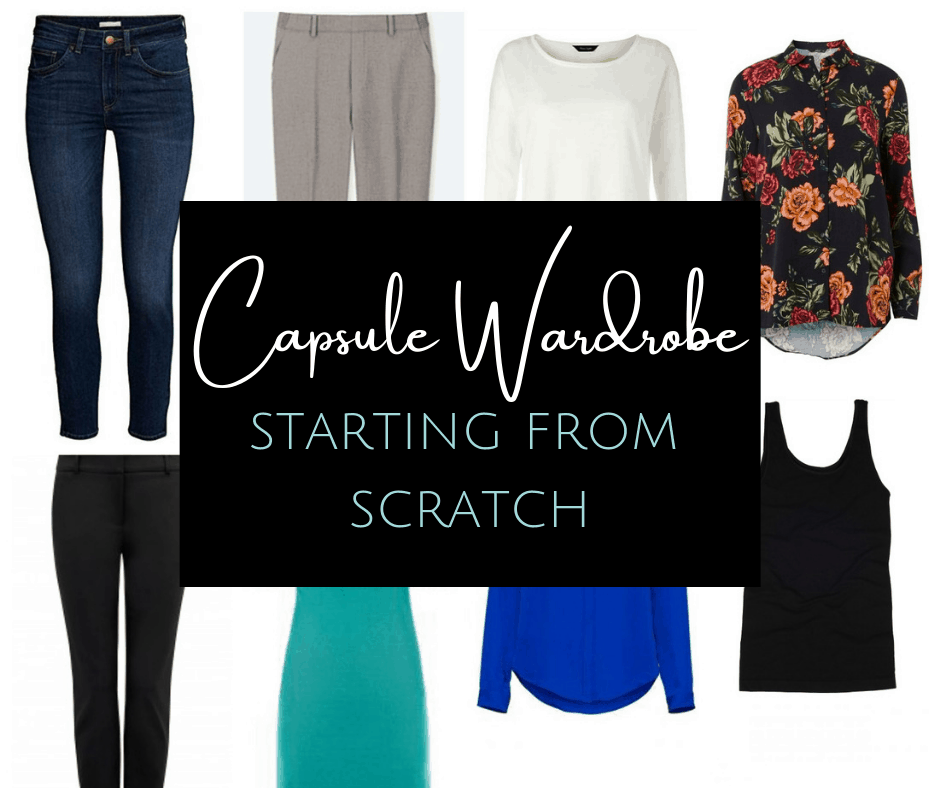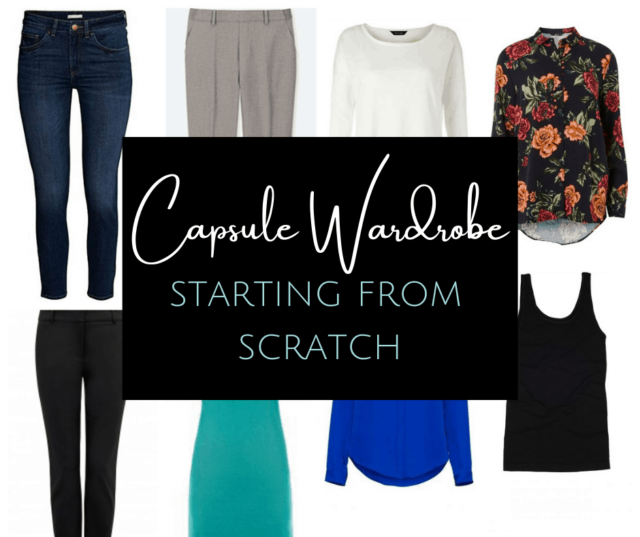 The Benefit of a Capsule Wardrobe
A lot of times readers ask me when they can graduate from a capsule wardrobe, when they'll be ready to shop without such focus. As someone who has written about fashion for over a decade and in her past life was an apparel visual merchandiser, personal shopper, and stylist I say never. More clothing does not equal more style. When you stay focused on having a small, cohesive, hardworking wardrobe you increase your style, your creativity, and your time. Your capsule may change as you get to better know yourself and hone your personal style but that is replacing, not adding.
The capsule wardrobe may be a trendy thing, but it's a fabulous lesson in learning to shop with purpose and to know and love yourself right here and right now. And no sweater, no matter how low of a price, is worth sacrificing all that goodness.