This article may contain affiliate links; if you click on a shopping link and make a purchase I may receive a commission. As an Amazon Associate, I earn from qualifying purchases. 
While I have attended Bonnaroo several times, I had yet to attend a city-based music festival like Forecastle. Unlike Bonnaroo where you camp on the same grounds as the music festival, you have to stay offsite with Forecastle. We chose to stay at The Galt House, which was less than a half mile from the grounds and also had a great price for festival attendees.
The Galt House was HUGE! Two giant towers, restaurants, spa, gym, shops, pool and more! We reserved a room with a king bed but it wasn't ready at check-in time. They apologized, gave us a room with two queen beds and a river view and even comped our parking as an apology. Even better, our new room ended up right across the hall from my sister!
The room itself was lovely – pretty basic but a huge bay window overlooking the Ohio River.  We bought a bottle of bourbon (when in Louisville…) and had cocktails enjoying the view.  My husband said it was looking at a live train set with the bridges, barges and boats, trains and more.
Friday:
The music started just after 5pm; we arrived around 5:30 to get a lay of the land. The festival site is predominately under a major highway which was actually pretty awesome because it shielded attendees from the sun and possible rain (it was set to rain all weekend). While the stages are far enough apart to prevent too much audio bleed, the grounds are small enough that you can easily dash from one stage to another to see every set you desire. The two biggest stages are right on the water, so through the stages you saw the Ohio, the bridges, and the most spectacular sunsets.
We bought a packet from the My Morning Jacket fan club which gave us access to the MMJ sound check, pit access for their performance, and access to the VIP entrance the whole festival. Friday when we went into the festival for the first time, we handed them our ticket and got a black bracelet. Then a woman saw our Roll Call cards and said we were missing a bracelet and gave each of us an orange VIP one. We were confused but soon realized that either they messed up or the package was far better than we expected because suddenly we had VIP access all weekend! We were able to get into VIP which had tons of seating, an air-conditioned lounge tent, air-conditioned bathroom trailers and their own beer and food vendors. I swear, this festival kept getting better and better!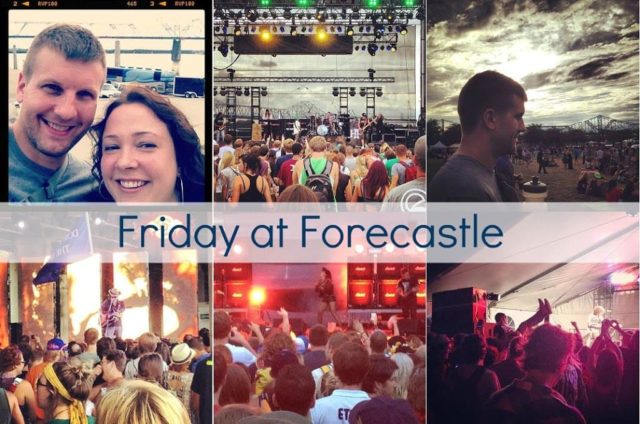 We did a lot of bouncing around from stage to stage Friday night and caught a bit of Rebelution, The Head and the Heart, Atlas Sound, Atmosphere, Sleeper Agent, and Bassnectar. The only show I saw in its entirety was Sleigh Bells, and I got a great spot about a dozen people from the pit, a little right of center. I loved every artist I saw except Atlas Sound and Atmosphere. While both are extremely talented and put on a good show, Atlas Sound was bibbing about the "digital" coming from Atmosphere's stage, and when we left and went to Atmosphere, we found that he was being a of a Gloomy Gus too, with negative snarky lyrics and conversation between songs. Such things wouldn't usually bother me, but it just felt like a bad way to start the first night of a festival so I moved on.
After jumping up and down for a full hour at Sleigh Bells, I ended up catching most of Bassnectar from VIP – not a good view, but good sound and it was fun to watch the crowd (and also take advantage of VIP!).
I was already impressed with Forecastle by the end of Friday. Most of the grounds are gravel or concrete which means no mud and little dust. The views of the Ohio were amazing and we were treated to spectacular sunsets each evening. Enough water, more than enough porta-potties, plenty of food and trinket vendors. However the best part was the people – real music fans, few pretentious hipsters, no age-ists who looked down at us parents rocking out – a real mix of happy music lovers.
Saturday:
As previously mentioned we splurged on a special pass for members of the My Morning Jacket fan club to attend their sound check and get pit access for their actual show. The sound check was at 11am, before the festival grounds opened to other attendees. We got there… and it began to storm. They couldn't let us out to the stage with lightening so they had us wait under the overpass until it blew through. Soon it was clear that the storm wasn't going anywhere, but instead of cancelling and disappointing their biggest fans, My Morning Jacket gave us a special treat – they came to us! Jim James and team walked over to our group under the overpass and did an intimate acoustic set for us! It was amazing – they sounded phenomenal and did some of my favorite songs – they started with Tonight I Want to Celebrate With You (me and my husband's song), even did Old September Blues, and everyone joined in to sing Wonderful (The Way I Feel) (do check out the links, they are YouTube videos of the actual sound check!).
After that amazing experience and being in blazing sun and then rain, we headed back to the hotel to rest up for the evening. And what an evening it was! We did a bit of wandering, catching a bit of Justin Townes Earle, The Ravenna Colt, Galactic, Dr. Dog, Andrew Bird, and Real Estate. However, we were all feeling a bit distracted thinking about later that evening. As previously mentioned, we had a package to go into the pit for My Morning Jacket – they had one side of the pit for those who waited in line, and one side for us. This made for a very comfortable pit – not too packed, and only holding those who truly love the band.
The show was epic. I have seen My Morning Jacket in concert four times prior, and each time the show is different. I think that since they did most of their lower-key songs for us in the morning they amped it up for the evening show. The craziest part of the set was their cover of George Michael's "Careless Whisper" where they started changing the "nah-nah-nah-nah-nah" part to "Ba-na-na-na-na" and started throwing bananas at us!  Here's a link to the entire performance.
While many of our friends went to see Preservation Hall Band and MMJ play on a paddle boat, we didn't splurge on that and instead headed back to the hotel to rest up for the next day.
Sunday:
Like Saturday, the day started rainy, but cleared up in time for music. We had no major plans in the morning so we headed into town for brunch and ended up at Dish on Market. I had the most utterly sinful corned beef hash and one too many Bloody Marys; thank goodness the food was amazing because the place was understaffed and service was at a snail's pace. Later, my husband and I went for a walk around Louisville and stopped at two different bars – one for a cocktail, and one for a lunch of oysters, tuna tartare, and another cocktail. Why? Because we COULD! Seriously, it feels so utterly decadent to be eating oysters one moment and rocking out in the pit of a festival the next.  As I said in my previous post, we really felt like we were festing like a boss!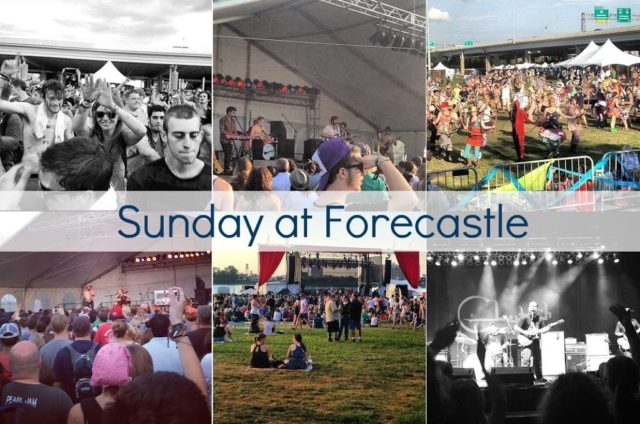 We headed back to the festival in the afternoon, and again wandered around from stage to stage. Ones that stood out were Fruit Bats, Gramatik, Beats Antique, and Clutch. As a DC-native, I love me some Clutch. Since they were playing at the same time as Wilco, I was able to get right up in front in the pit, and have plenty of room to rock out. I often felt that Neil Fallon was singing right to me – at one point I jumped off the yellow jackets (the plastic things that cover wires and a great riser for short folks at concerts) to get out of the way of moshers, and Neil looked out into the crowd a bit confused. I jumped back on the yellow jacket and started cheering again and he went back to singing – I doubt he missed me but it was fun to think so!
After Clutch I watched Wilco from VIP. They sounded great – so great that this gal who is pretty "meh" about Wilco now wants to see them live again. However I was wiped from the weekend and my VIP futon was too comfortable to leave and venture into the crowd. Oh well, next time!
A big thanks to Cate, Allison, and Krista for connecting with me and offering suggestions on where to visit and eat while in Louisville. Much love to Hollie, Sarah, and the other Inforoosters I bumped into at sound check and didn't get enough time to hang with while there – next festival for sure! And finally, a big thank you to Louisville, AC Entertainment, and My Morning Jacket for putting on a well-run, fun, and friendly festival. We had a blast and will be back!
Follow Me | Twitter | Facebook