This article may contain affiliate links; if you click on a shopping link and make a purchase I may receive a commission. As an Amazon Associate, I earn from qualifying purchases. 
A friend of mine has an extra ticket to Coachella and asked if I want to go. I've never been to a music festival in my life, though I do objectively think I like good music. Is it all going to be "kids" and not my scene? What should I wear/pack? We aren't camping, we are staying in a hotel.
Though I have been to many different music festivals, I have not attended Coachella. However my good friend Nicole has been the past couple of years and has had a blast. Like you, she stays in a hotel instead of camping. And like you and me, she is not a "kid" and isn't into the stereotypical festie scene. I say go, you'll have a great time and have a great story to share with your friends and your kids once they're old enough to consider attending a similar event. You will see people of every age and walk of life. Don't base a festival by the photos you see on the Internet, photographers love to capture that which will increase pageviews or look crazy/cool/fashionable.
Since you're staying in a hotel, packing is far simpler. Treat it as if you were going to a day festival like Columbia's Wine in the Woods or Virgin FreeFest. You want to dress and pack to be able to be away from your hotel for the entire day but no need to act as though you're going on an expedition to the wilderness. But again, don't base your fashion on the pictures you find on the internet of half-dressed college kids and celebrities. You can seriously wear anything and look fine; dress to fit your current closet and for comfort.
This outfit embraces the boho style of California without looking like a costume. Wear a tank or bathing suit under the top when it's warm, put it back on when in the shade or when the sun goes down. Denim shorts are a popular choice for music festivals because they can take a beating, but be sure they're a bit slouchy and loose so it's easy to slip them on and off when you're sweaty in a hot cramped porta-potty. Sandals are fine for a festival, I wear them often, but be sure they are well broken in beforehand to prevent blisters. A hat and sunglasses are a must; a crossbody bag or backpack is the best choice to carry your essentials as it leaves your hands free to hold a drink, take a picture, or dance.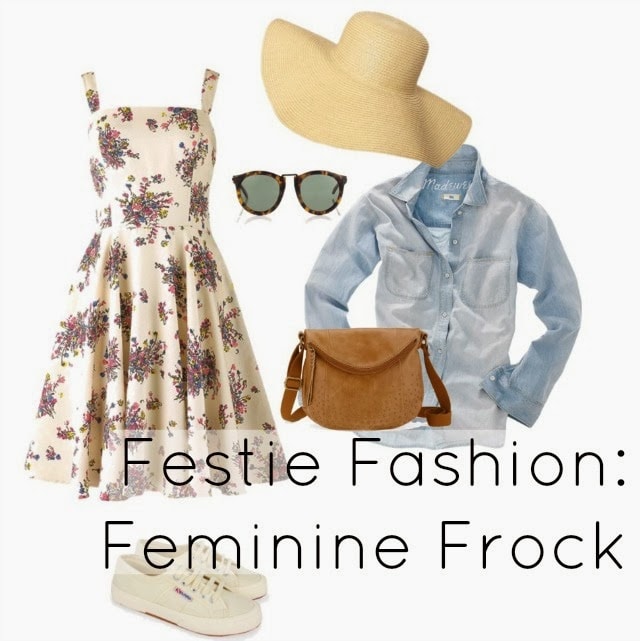 I love wearing cotton dresses to music festivals; they float away from the body, dry quickly, and are comfortable in the heat. Consider a pair of bike shorts underneath for both modesty when sitting on the ground, and to prevent chafing. A pair of canvas sneakers like Chucks or Supergas are great for a festival and look adorable with a girly floral dress. Such a dress looks great with a big sun hat and tortoise frames, carry a denim shirt to put on when the sun sets and the temperature drops.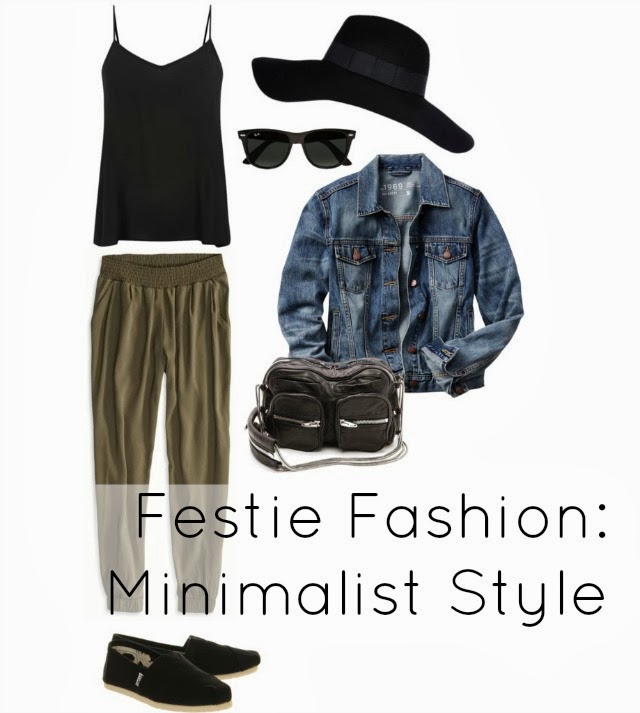 I love how flowy lightweight trousers and track pants are in style, they are comfortable in the heat and perfect for a music festival. In a breezy fabric, a pair of pants like this protect you from the sun, from chafing, and are uber comfortable. Pair with a drapey tank or tee for breezy style, lightweight shoes like TOMS or sandals will finish the look. A well-worn denim jacket stuffed in your locker or bag will not only keep your warm later in the day, it makes for a pretty good groundcover when sitting on the grass.
As for a bag, look for one that is comfortable to wear for long periods of time and leaves your hands free. I have a small backpack I take to festivals, but I have also done a crossbody purse and even a fanny pack. Each person has different needs when at a music festival, but I think these are the essentials: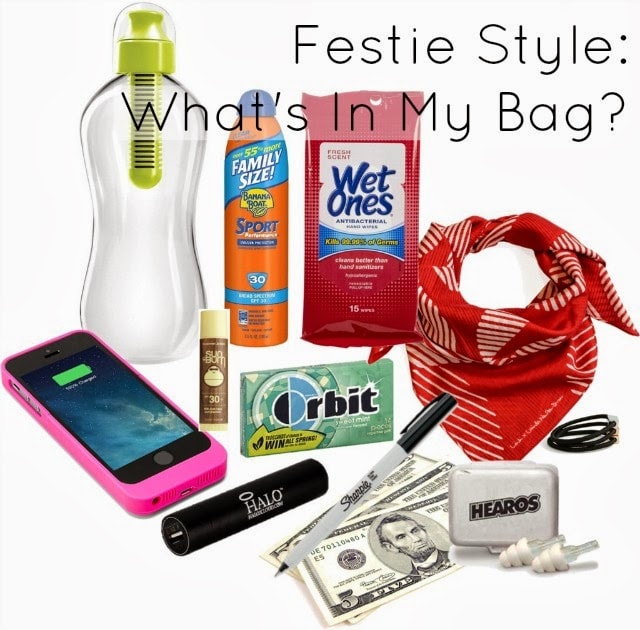 reusable water bottle (take in empty) |  sunscreen | wet wipes (to sanitize hands before eating as well for gross porta-potties) | bandana (sun and dirt protection as well as much more) | extra hair ties or barrettes | ear plugs (you can get the disposable ones, I have these Hearos and they're great and come in a carrying case) | cash (as well as a credit card and your ID and insurance card) | Sharpie and notepad and/or business cards (get autographs, write email of a new friend, etc.) | gum or mints | lip balm with SPF | cell phone with a battery case or a juice pack
For more information, visit my previous posts on music festivals:
Follow Me | Twitter | Facebook | Instagram