This article may contain affiliate links; if you click on a shopping link and make a purchase I may receive a commission. As an Amazon Associate, I earn from qualifying purchases. 
This is the first in a series about my experience at the Forecastle Music Festival. Additional posts will be about what I carried in my bag, and the festival itself.
This weekend I attended the Forecastle Music Festival in Louisville, Kentucky. The festival was over three days, we were staying in a hotel less than a half mile from the festival grounds and there was a good chance of rain. We miraculously were upgraded free to VIP which gave us access to air-conditioned bathroom trailers but we fully expected to be using porta-potties all weekend. The music was a mix, but mostly alternative, singer-songwriter, rock, and electronica. Music was taking place from around 2-3pm until midnight. Unlike our trips to Bonnaroo, the hotel was close enough to do an outfit change if it got cold at night or we got rained on.  Everything I took I fit in the largest size of Lands' End tote bag.
Friday:
We entered the festival grounds around 5:30pm. I wore a white ribbed tank with a crocheted sweater over it (from Ann Taylor last year – seen here) and a pair of denim shorts from Target that I distressed myself. I don't usually wear denim shorts this long and loose, but knew they would be good for walking, if I got sweaty, etc. On my feet I wore my Softspots Tatianna sandals. Since I knew we wouldn't be there terribly long, I took my J. Crew suede tote (seen here).
Saturday:
The day started a bit earlier for us because we had tickets to see My Morning Jacket's soundcheck. I wore a tee shirt with Keith Richards on it that I had cut up a while ago to give a more feminine cut. With it I wore a pair of denim cutoffs I have had for eons – they originally were gauchos and I cut them when gauchos were past their prime. Again the Softspots sandals, though this time I switched to my Kelty backpack. I knew I would be standing in line in the sun so I added a straw fedora I picked up at Target. The night before my shoulders hurt from the crossbody, and this bag has attended all Bonnaroos and similar events with me and is always comfortable.
After the soundcheck, we went back to the hotel to grab lunch. We went to a casual café in the hotel, so I just changed into a long-sleeved tee and some flip flops.
When we went back to the festival, I changed tee shirts since the morning one was sweaty and gross. I wore a bandanna around my neck to have for mopping sweat or protecting my head/neck from the sun, and changed into my DUO "Bern" boots since it had rained earlier in the day and I worried about mud. I wore Ray Ban aviators and carried my Kelty backpack.
When the festival ended for the night, we were hungry so we went back to the room to change and get food at the hotel's sandwich shop. I wore a pair of old beat-up Gap Long and Lean jeans, a gray Vintage v-neck from Old Navy, and my Lolly Clothing scarf (seen here) with flip flops.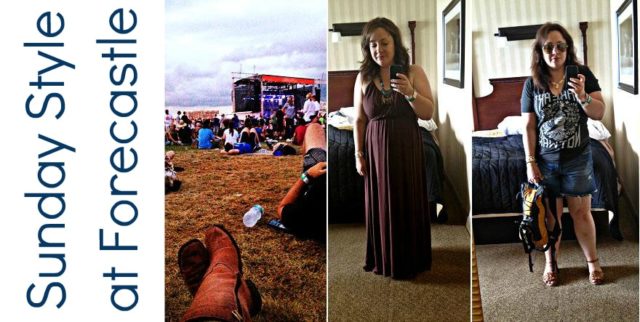 Sunday:
We started the day by checking out more of Louisville and grabbing brunch. I wore a brown Gap maxi dress, this necklace, and my Softspots sandals; I carried a tan leather tiny crossbody bag from HOBO.
When heading back to the festival, I dressed down, ready for sweat, dirt, and the possible beer splashed in my direction. I wore another tee shirt (seen here), and the same shorts from Friday evening. Since I didn't experience much mud on Saturday, I went back to my Softspots sandals which are more supportive and comfortable when walking and standing.
On the ride down I wore the Gap jeans with a tee shirt and my sandals, on the ride home I wore white jeans, my blue-gray Vintage Old Navy v-neck, and my flip flops.
What Else I Packed:
Workout clothes. The hotel had a gym and I wanted sneakers in case we wanted to take an early-morning hike or walk.
Poncho (will detail this in future What's in My Bag post)
What I Packed that I Didn't Use:
Dresses. While I love cotton dresses at Bonnaroo, they just seemed too fancy and complicated for Forecastle. While there were many women in skirts and sundresses, I felt most comfortable in a pair of denim cutoffs so I could sit on the ground and not worry about strapless bras or bike shorts.
Long-sleeved shirts. I brought my orange plaid cotton voile button-front and my chambray shirt, thinking I could toss them on when the sun went down, but they weren't necessary.
Nicer outfits. I knew there would be after parties at various bars and clubs in Downtown Louisville and brought clothes for them. However, we were pretty done after each day and headed back to the hotel.
Hair dryer. Hotel had one, but I never had a need to use it anyway – I let my hair air dry, and only used my curling iron for when we went to brunch.
Canvas cross-body. I bought this for Bonnaroo, but for Forecastle I always wanted a bag big enough to carry things like water and a chair.
Second pair of sunglasses. Good to have just in case, luckily that situation never happened.
All in all I felt really prepared and comfortable at Forecastle.  In fact my husband and I mentioned that we felt like professionals – never lacking for anything, not over-burdened but always had what we needed, quite comfortable and had a blast!
Details on the actual festival to come!
Follow Me | Twitter | Facebook