This article may contain affiliate links; if you click on a shopping link and make a purchase I may receive a commission. As an Amazon Associate, I earn from qualifying purchases. 
One of the best things about blogging g is the friends you make, and one of the most dear of friends I have made from this journey is Sally McGraw. Sal offers personal style advice and body image inspiration at Already Pretty, and each post she has gives me food for thought. I have always thought she should write a book, and now she has!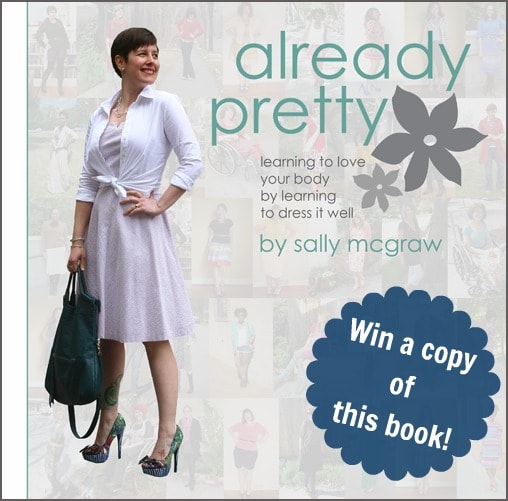 Structured as a fun and accessible self-guided makeover, Already Pretty is the antidote to cookie-cutter style guides. Instead of dumping you into a body type category and restricting what you can and cannot wear, this friendly, funny, body-positive book presents a highly customizable regimen to help you define and hone your own personal style.
Packed with enlightening exercises, mix-and-match figure flattery techniques, and effective tutorials, Already Pretty illustrates how personal style can foster self-love and self-respect. After determining your current personal style and evaluating pieces from your existing wardrobe, you're taught to define your ideal style – a process that includes identifying personalized figure flattery priorities. These priorities are tailored to your preferences and your unique body, and may be quite different from the style mandates parroted by fashion industry insiders. Working through this process moves you closer to your fashion aspirations, ultimately allowing you to merge your current and ideal styles through careful culling of your current wardrobe and targeted shopping for new, key pieces.
Already Pretty reveals the fundamentals of fashion and figure flattery, but also encourages you to create a style that is both expressive and unique. This book is judgment-free and reader-centric in every way. A true guidebook to crafting personal style, Already Pretty teaches women to love their bodies, dress impeccably, and embrace the philosophy that dressing well is key to living well.
Speaking of blogging friendships, Sally's new book, Already Pretty also features contributions from fellow bloggers like Fashion for Nerds, Addicted 2 Etsy, Une Femme de un Certain Age, The House in the Clouds, Fashion for Giants, Headlines & Hemlines, Barking Dog Shoes, Respect the Shoes, Weesha's World, The Snug Bug, Minnchic, and Stacyverb.
You can purchase your own copy of Already Pretty at Amazon, Amazon Europe (UK, France, Germany, Italy, Spain), or CreateSpace (for non-European international readers). Also, one of you Wardrobe Oxygen readers can win a copy!
This giveaway is now closed.
Follow Me | Twitter | Facebook