This article may contain affiliate links; if you click on a shopping link and make a purchase I may receive a commission. As an Amazon Associate, I earn from qualifying purchases. 
Some trends come on the scene that make me wonder what designers and street style icons were smoking or ingesting when they decided on them. And recently, a lot of trends were impossible to recreate on a budget. I'm loving how so many trends this spring and summer are honestly achievable on any budget; it's less about the logo and more about the look.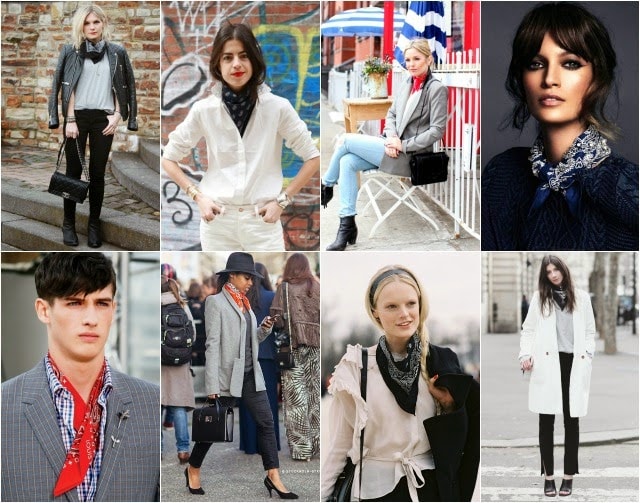 Top Row, Left to Right: Rosy Cheeks | Man Repeller | The Not Vanilla | ELLE España via Le Fashion
Bottom Row, Left to Right: Louis Vuitton via GQ | Stockholm Street Style | Vanessa Jackman | The Blab
And one of those trends is the bandana. That white-pattered cotton scarf you can pick up at the dollar store or take from your college Halloween costume is now an on-trend accessory. I've always loved the classic bandana print and prefer a cotton scarf to a silk one, so I am thrilled about this trend. But how do you wear a bandana without looking like an extra from a John Wayne movie?
Create a Contradiction. A bandana with a chambray shirt is cliché, a bandana with a leather moto jacket or a silk blouse or a crisp blazer is unexpected.
Keep it Crisp and Classic. For now, keep your pink and purple bandanas in the drawer and stick to classics like navy, red, and black. These should also not be the weathered, worn, and torn bandanas you use to mop sweat when gardening or to hold back your hair on a camping trip. The classic color and the crisp finish makes the bandana purposeful and not a leftover from cleaning out the garage.
Simplicity is Key. Leandra Medine's all-white outfit with the bandana tucked into the collar of her shirt is a fabulous example of how to wear a bandana this spring. Minimal color, no competing prints, use the bandana as you would a silk Hermes scarf and let it take center stage.
Get Creative. A bandana doesn't have to be worn knotted in back and draped in front. Check out The Not Vanilla's post and how she wore it knotted around her throat, and even as a purse and wrist accessory. I recently rolled a bandana , wrapped it twice around my neck and had it peek out of a white button-front shirt; I think it's fun to spice up a monochromatic look with a bandana tied to a single belt loop at the front of a pair of trousers; don't be afraid to use a bandana as a headband, kerchief, headwrap, or tied around your ponytail.
Last week when I shared my outfit featuring a bandana, I received a few styling questions from you folk:
When You Have Short Hair. If you're draping the bandana in front and the "ears" are peeking out making you feel as though you're wearing a bib, consider a bit of fashion tape to hold them down. I keep all those tiny safety pins that hold garment hang tags and find them great for a situation like this (I pin the "ears" to the underside so they don't ruin the line of the scarf).
When the Bandana is Too Stiff. A brand new bandana can be as stiff as a piece of paper, and often have hard creases in it. Before trying anything, wash it and throw it in the dryer, preferably with bulky items that would make it bounce around a lot. This often does the trick. If it's still too stiff for you, an overnight soak in fabric softener or vinegar will soften cotton without fading the fabric. Rinse and tumble dry.
When You Want a Bigger Bandana. I desired this very thing to have more variety (and to double-look around my big neck). On eBay I found "Texas Size" bandanas which are 27" (most are 22"). If you search for 27" bandana, you'll find that many online stores like Amazon offer them, which will give you the length you desire.