This article may contain affiliate links; if you click on a shopping link and make a purchase I may receive a commission. As an Amazon Associate, I earn from qualifying purchases.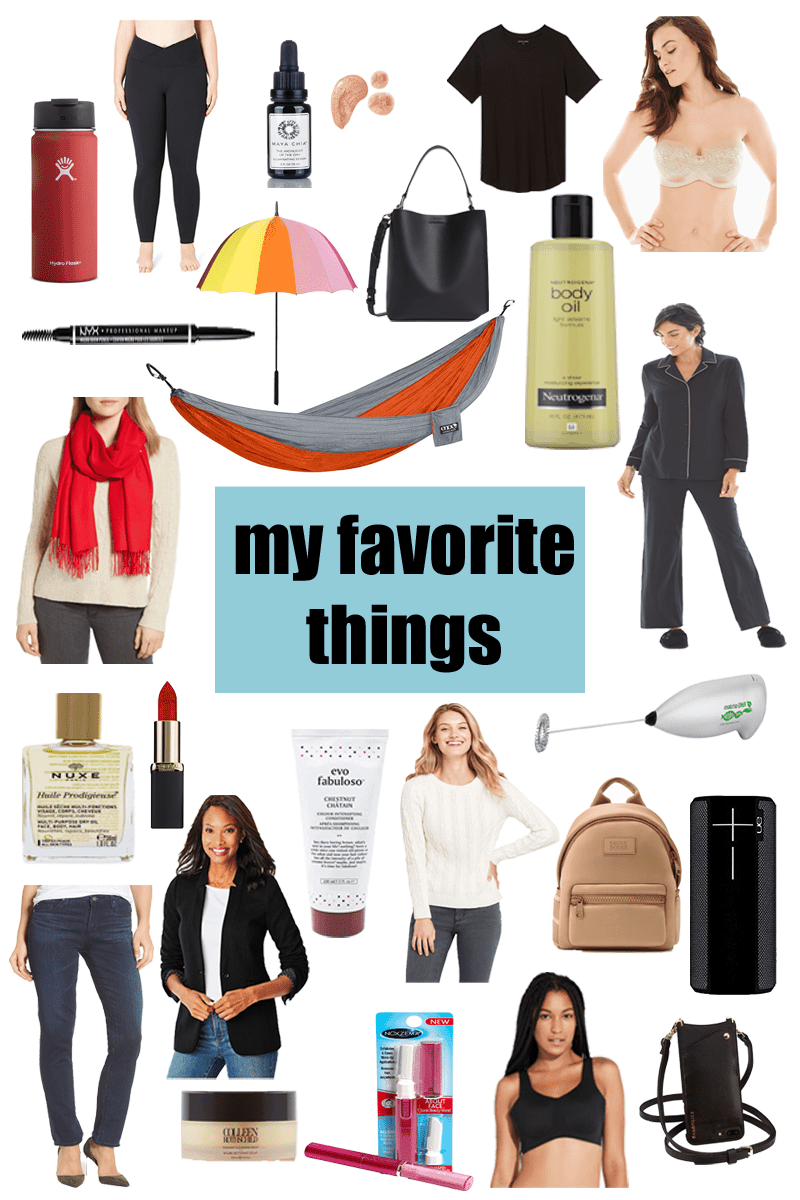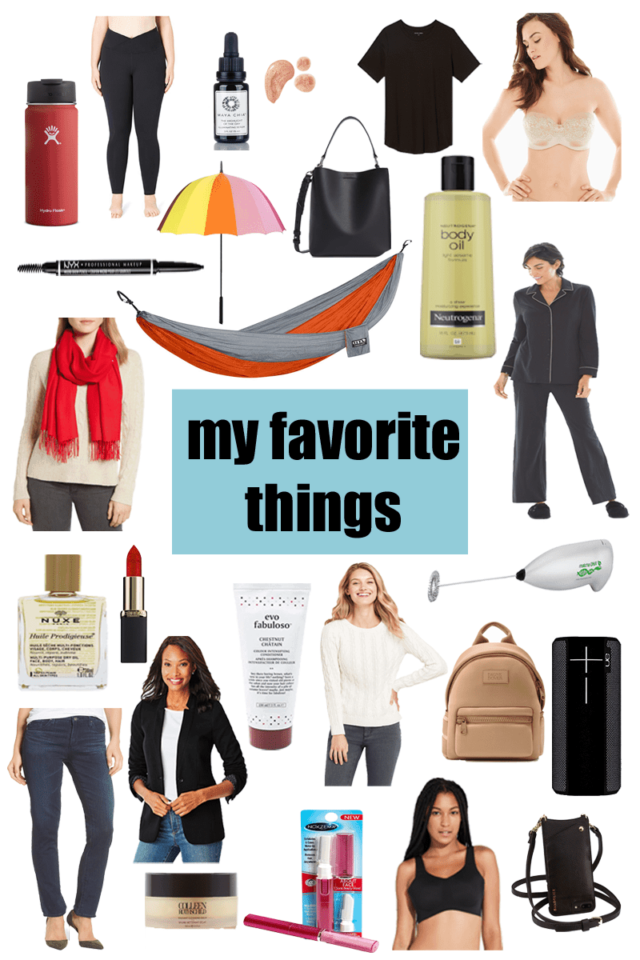 Inspired by Oprah's Favorite Things, below is a list of things I absolutely love and have made my wardrobe, skin, or life in general better. While this is a blog that focuses on style, I think that extends past the wardrobe, dressing table, and medicine cabinet. This list of my favorite things, like Oprah's list, is a hodgepodge of items but they all make my life better: more comfortable, more stylish, or more organized.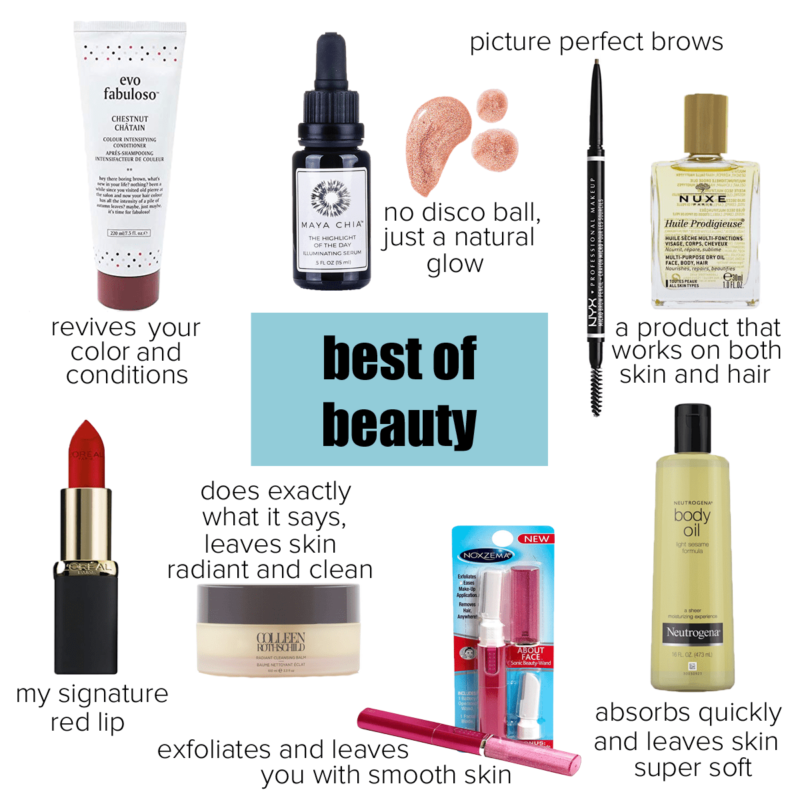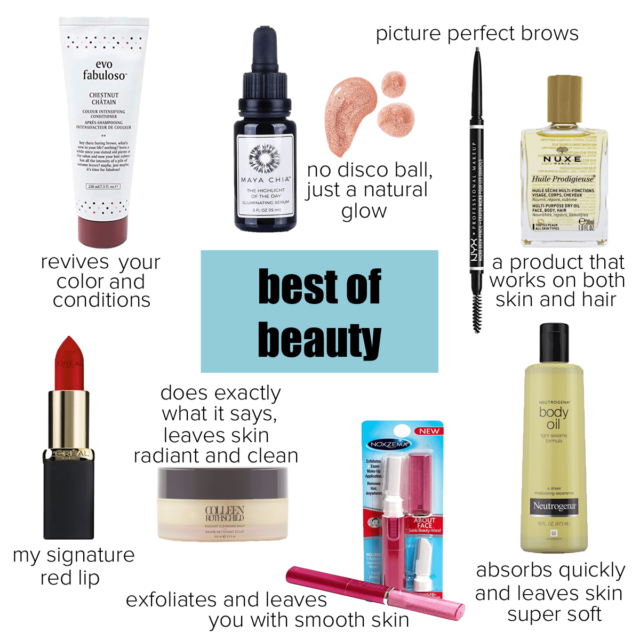 No one who reads Wardrobe Oxygen should be surprised to see Colleen Rothschild's Radiant Cleansing Balm on the list. Never have I used a product that has been so transformative for my skin. I've tried several different oil, cream, latherless, gentle, and highly recommended cleansers and none can compare. Apply the cleanser to dry skin, rub in, and even leave it on for a bit as you brush your teeth and do other parts of your evening routine. Remove with a hot washcloth or the included muslin cloth. I usually leave the cloth on my face to steam the skin until it gets cool, then gently wipe off the cleanser. It will take off long-wearing makeup and waterproof mascara yet leave skin soft and happy. Colleen Rothschild is offering 20% off to Wardrobe Oxygen readers with the promo code WARDROBE20.
I read about Nuxe Dry Oil in an article about French pharmacy beauty (could not find it again to link to it) and it sounded intriguing. No trips to Paris planned in the near future, I headed to Amazon where I was able to pick up a bottle with free Prime shipping. This stuff is amazing. The scent is gorgeous, it's clean, a bit floral, expensive, subtly sexy. I will do a spritz on my fingers, rub my hands together and smooth over styled hair to tame flyaways and make my hair smell gorgeous. When I wear clothes that show off my shoulders and decollete, I will use a few spritzes on the skin to make me glow. At night, I apply it to my neck and collarbone and tops of hands and behind my ears and on my wrists for moisture and to smell delicious. I've even applied to my face. It has become my everyday fragrance and my hydrated hair and skin thank me for it.
Neutrogena Body Oil has been mentioned on Wardrobe Oxygen several times over the years. In the summer, it's the perfect moisturizer for soft, dewy, glowy skin. In the winter, I apply it over an unscented body lotion for double duty hydration. If I take a bath, I add a bit of Neutrogena Body oil to the water along with Epsom salts. I love the subtle sesame scent, it's the only scent I have never tired of, the only scent that didn't make me nauseous when I was pregnant. This along with Nuxe has become my signature scent.
I dye my hair not just to cover the grays but to add richness to my natural color. However, brown hair can easily look dull and dry. On top of that, my hair doesn't like to hold onto color and no matter what shampoo I use or how often it fades. Thank goodness for Evo Fabuloso Chestnut Color Intensifying Conditioner which used once a week or so keeps my brunette tresses looking rich and chocolatey and hides roots. I keep a pair of kitchen gloves in the shower as this conditioner will stain your fingers (though it has never stained my tub or shoulders). I leave it in while I wash up, it rinses easily and leaves my hair feeling soft. Using this conditioner extends the time between salon visits!
I've shared before how I shave my face. Not only is it a quick and easy way to take care of those random little hairs that show up as I get older, it makes my skin feel baby soft, my makeup applies more easily, and I think the exfoliation has helped reduce the number of monthly breakouts I get. While the Tinkle razor has been fine, I tried out the Noxzema About Face Sonic Beauty Wand and am obsessed. Powered by a single AA battery, this razor vibrates to get a closer shave without having to swipe the skin multiple times. Gentler and more effective than the Tinkle, plus less landfill waste as you only replace the blade, not the entire razor.
The beauty question I am asked more than any other is who makes the red lipstick I wear all the time. I own several red lipsticks, but wearing them feels like getting gussied up, not natural. But this one, it feels as comfortable as wearing a nude or a taupey pink. L'Oreal Colour Riche Matte Lipstick in Matte-Traction Red has been my favorite red lipstick for a few years (FYI its name changed, it used to be Eva's Red). I have a tube in my dressing table, one in almost all of my purses, one in the medicine cabinet in the downstairs bathroom for touch-ups, even one in the kitchen junk drawer. It's a warm red, but not so warm it makes my teeth look yellow. It's matte, but not the kind that makes your lips dry. I can wear it with a full face and feel like a young Liz Taylor or with an almost bare face and feel modern and chic. I wear it on its own, over some lip balm for a softer color, and under a gloss for a stronger statement. All this and each tube is around $6.
I love a dewy fresh face, but so many highlighters look artificial and downright crazypants on my over-40 skin. Visiting Take Care, a clean beauty shop in DC, I tried Maya Chia the Highlight of the Day in Afternoon Delight and am obsessed. It's a liquid, not too thick and no sparkle. Just a pinky golden shiny product that blends easily and doesn't make me look like a disco ball. I usually apply it under my CC or BB cream for daytime, but when I do a full face I'll put it on top under blush and it looks glowy, not showy. A bit on the cheekbones, some at the inner corners of my eyes, and a bit at the cupid's bow of my lips and I look healthy and youthful and not too try-hard. I love that it is organic and free of parabens, phthalates, synthetic fragrances, PEGs, and SLSs. I love the smell, and I love that a little goes a long way (this bottle will last me for months!).
I've tried the stencils, I've tried the gels, the powders, and pretty much all the trendy things and I never like how my brows turn out. I know a defined brow is in style, but I like my brows to look natural, not painted on. When I lost my regular brow product on travel, I picked up the NYX Micro Brow Pencil at a drugstore just because it was cheap and available. I am now on my sixth pencil and nothing else compares. It's dry but doesn't drag, the point is super fine so you can do short strokes and they blend in with your hair. It's waxy enough that it stays put through sweat and I've even had brows after a dip in the pool or the ocean. The other end of the pencil has a spooly brush to groom your brows and also blend the pencil after applying. This pencil is seriously better than all the highly-rated products I've tried at Sephora!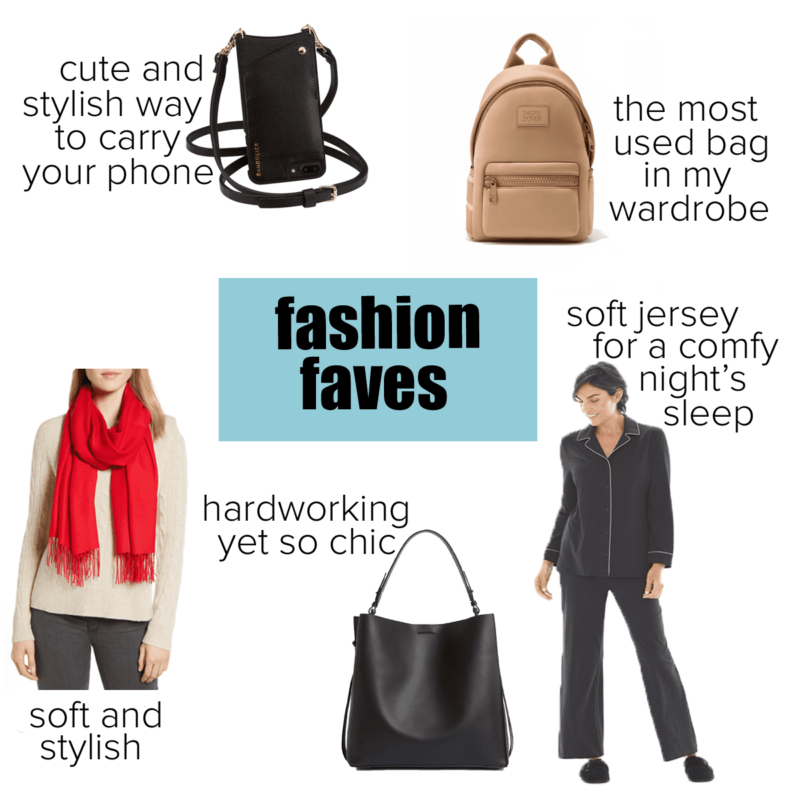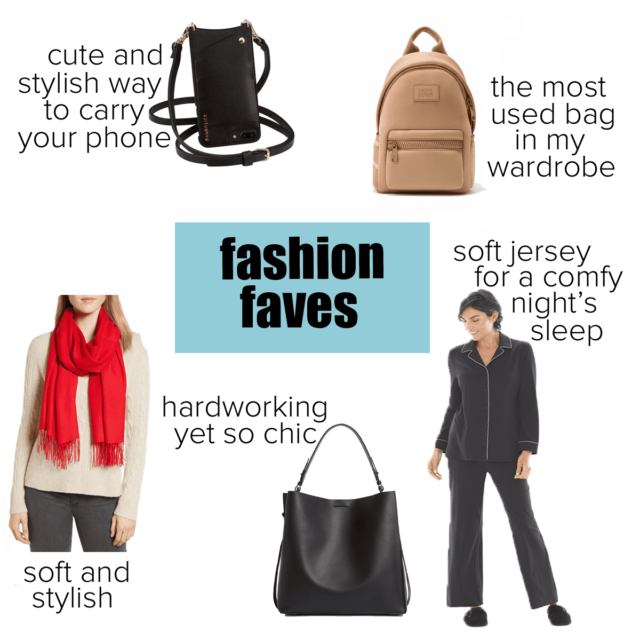 Every year I treat myself to one bag that is a bit more pricey. I'm not talking Chanel or Gucci, but something that is over $200 and will really make an impact on my style and/or life. Last year I purchased the ALLSAINTS Paradise North/South tote. Best decision ever, though I almost returned it when I got it. It didn't look all that special, it wasn't very trendy, it only has one pocket (and a zipper pouch on a cord). I put it on my shoulder, looked in the mirror, and put it back in the box to return to Nordstrom. A few days later I had a day when I needed to look stylish but also carry my laptop and a bunch of random things. All my totes looked too frumpy or corporate for my outfit so I tried the ALLSAINTS North/South tote. Not only did it look great, but it also held everything with ease. The bag I almost returned has become one of the best bags I have ever purchased. The heavy leather isn't stiff but is glossy and smooth and looks expensive. The strap is sturdy enough that the bag has carried multiple bottles of wine, two laptops and several binders, has been shoved under plane seats, into already stuffed suitcases, had a water bottle leak in it, paint get on it, and it still looks amazing. Every time I go to a blogger or fashion event with the bag someone asks me where I got the bag, or else can tell from across the room that it's from ALLSAINTS. I like it so much that this fall when I was going to buy my annual new bag I didn't because I didn't see a need.
If I'm not with my ALLSAINTS North/South tote, I very likely am with my Dagne Dover Large Dakota backpack. I received this bag free from the brand, but it's on this list because it's utterly amazing. I love that it's neoprene – lightweight, soft, but durable. I love the black hardware to match the black bag – elegant, modern, subtle. I love the organization – there are pockets freaking EVERYWHERE to organize and maximize space. It's the only laptop bag I use on a regular basis and often is my carry-on for flights. I like that it's gender neutral; Karl has used the bag and even Emerson has used it. Backpacks can look twee, but this one is cool and grown-up and timeless.
Last September I attended a conference in Santa Barbara and befriended a blogger with the coolest phone case ever. It was on a gold chain and she wore it like a crossbody with the screen visible (she had the Bandolier Belinda). To use the phone she didn't have to take off the strap, it was the perfect length to pick up and shoot or make a call or check an app. She said the case was her favorite for travel (she's a travel blogger) because her phone's camera is always at the ready and it's easy to travel light. I ordered myself the phone case before I even got home from the conference. I now own two Bandolier phone cases and they are life-changing. The cases have a pocket on the back to hold an ID or a bit of cash; there are two rings on the bottom of the case to be able to attach and remove the crossbody strap. The rings and straps are sturdy; they've been yanked on by kids or me getting too close to a doorknob many times and have survived unscathed. You can also order an additional zipper pouch to wear with the phone reducing the need for a separate purse. I regularly go to a concert or event with just the Bandolier and pouch which makes dancing and carrying things so much easier.
Over the years I have owned three of Nordstrom's Tissue Weight Wool and Cashmere pashmina scarves and they are by far the best ones I have ever tried, especially for the price. The perfect weight, the perfect size, the perfect amount of softness, and the perfect selection of colors (which changes up each year). In the winter, these are my winter scarf of choice because it can bunch up and cover my ears, tuck under my hat, cover my face, and still be long enough to cross over my chest. I take them on trips and use them as my airplane blanket, I've balled them up to be a pillow, I have knotted them and worn like a sarong/strapless cover when in my hotel room getting ready, and use them as a shawl with dresses. This is the kind of gift anyone would love and will use for years.
I'm not a pajama kind of woman. TMI, but I prefer to sleep commando (with my robe on the end of my bed at the ready). However, there are times in life when pajamas are necessary. I liked the look of Soma's Embraceable Pajamas and ordered purely based upon them being classic with a touch of femininity, that they were black, and they had the short length for the pants. But these are so fabulous beyond their appearance. The weight of the knit is perfection – not light and clingy, but not heavy and stiff. They are a weight where if you're without a bra and have to answer the door for the FedEx guy you're not completely on display. However, they're super soft and comfy to sleep in. The fit is great, as a woman with curves, I often find pajama bottoms a bit snug over my hips and rear and tops to be a bit snug in the shoulders. These are comfortable from neck to ankle and have a flattering silhouette. And hello pockets in the pajama pants! I have washed my pair over a dozen times, thrown them in the dryer and they still look brand new.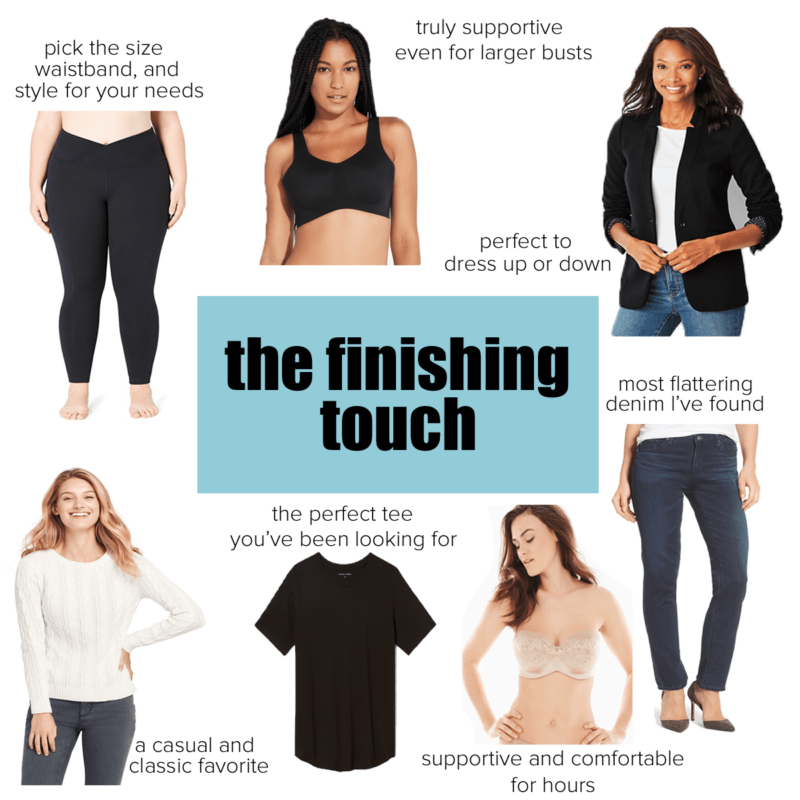 I have a 36F chest, and after 43 years on the planet (over two of them spent breastfeeding) my girls aren't sitting up on their own. Finding a comfortable and supportive strapless bra is harder than shopping for swimwear or jeans. I've had many that were comfortable but turned my breasts into a mound just a few inches above my belly button. I've found ones that are supportive, but after half an hour I want to rip them from my body and toss them in a fire. When I visited a Soma boutique, their Stunning Support Strapless Bra was recommended to me. It was smaller and cuter than any other strapless bra I had worn in my adult life so I didn't have much confidence in it. But it's amazing. It lifts, it separates, but best of all I can wear it for a good six hours without discomfort. I now own two and don't stress about halter, strapless, or one-shouldered looks!
Along with a strapless bra, it's tough finding a sports bra that truly supports without having to be Houdini to get it on and off. Also, many high-impact sports bras for large busts are so darn… ugly. Now that I've been lifting weights for a year, I like to wear more open of tanks or even a bra on its own and don't want something that goes up to my chin with straps that look like a torture device. I was already a fan of Knix for their boyshorts (they are soooo my jam and almost made this list) so when I heard about their Catalyst sports bra I decided to give it a try. I love it so much, I dread going to the gym when it's in the wash. It's great for high impact, it compresses without removing my shape. The straps are adjustable, and you get it on the same way you do a normal bra. The more you wear it, the more it molds to your unique shape. I've washed it several times (gentle cycle line dry) and it has held up beautifully. All this and it's plain black (even the hardware is black) and smooth and you can totally wear it alone at the gym and not look half-dressed.
I have plenty of trendy, cool, and interesting sweaters but the one that gets the most wear and I find the most versatile is my Cotton Drifter Sweater from Lands' End. In ivory (though I also have it in other colors) I wear it almost weekly from fall through spring. I've spilled coffee on it, I've cut my finger and bled on it, I've left it in the washing machine too long and it got mildewed. I've bleached it, Bac-Outed it, thrown it in the dryer and it still looks like new. Not too bulky, not too long or too short, it's a classic year after year after year. I've worn it with overalls, with jeans, with a leather skirt and booties, to work, and on weekends.
I never found a white t-shirt I liked… until I got the T-Rex from Universal Standard. The silky knit has the right amount of drape, but enough weight to be opaque and polished. The sleeves are a nice length, the neckline not too high or too low. It looks great tucked in or left out. I normally don't wear crewneck tees but this one has made me a convert!
I got a pair of Core10 Build Your Own Leggings this spring and since they have been washed and dried dozens of times and been through plenty of hard workouts. They still look new and are still my favorite leggings to wear to the gym. They're thick so they hold you in and hide panty lines. They have a high-ish rise that stays in place and keeps you covered no matter what position you're in. I love that they're free of logos or decorative details so I can throw them on with boots and a sweater for a dash to the grocery store. With these leggings, you can pick your waistband, your length, and your leg opening for the durable, comfortable workout pants of your dreams.
In my job, I get to try a lot of brands and styles of jeans. I've worn $20 jeans and $200 jeans, jeans made to sculpt, to suck, to lift, to lengthen, to be as comfortable as yoga pants. And most of them have been… fine. But after a few wears I'm left wanting more. At a visit to the Trunk Club Clubhouse in DC, my stylist picked AG Jeans' 'The Prima' for me. They were a bit long but Nordstrom and Trunk Club do free alterations and made them the perfect length. And since then, they are the jeans I wear more often than not. They don't stretch out during the day, and can be worn multiple times without getting baggy. They're thick enough that they look like proper jeans but trim enough that I can fit them in boots. They're not made to suck or trim, but the cut somehow minimizes my belly and the color makes me look leaner and longer. And while they're skinny jeans, they're so comfy I will lounge on the couch in them without feeling the need to unbutton and unzip. They've remained the same color and quality even though they've been washed on hot, thrown in the dryer, and not treated very kindly. These jeans are totally worth the money.
In capsule wardrobe after capsule wardrobe, I have recommended a black ponte blazer. In ponte knit, a blazer can transition from office to weekend to even a night out. However, I have struggled to find a really great black ponte blazer for myself. This year I worked to find such a piece as I'm trying to live with a smaller, more functional wardrobe. I tried dozens of different blazers and the ponte blazer from Talbots was perfection… it has a very accurate name! I love the notched collar, how parts of it are lined to make it look more expensive and polished. The fit is trim but not tight, it hits at the perfect length on my hips, and it matches many ponte pieces in my wardrobe from a variety of retailers. I like it so much I have considered getting one in another color!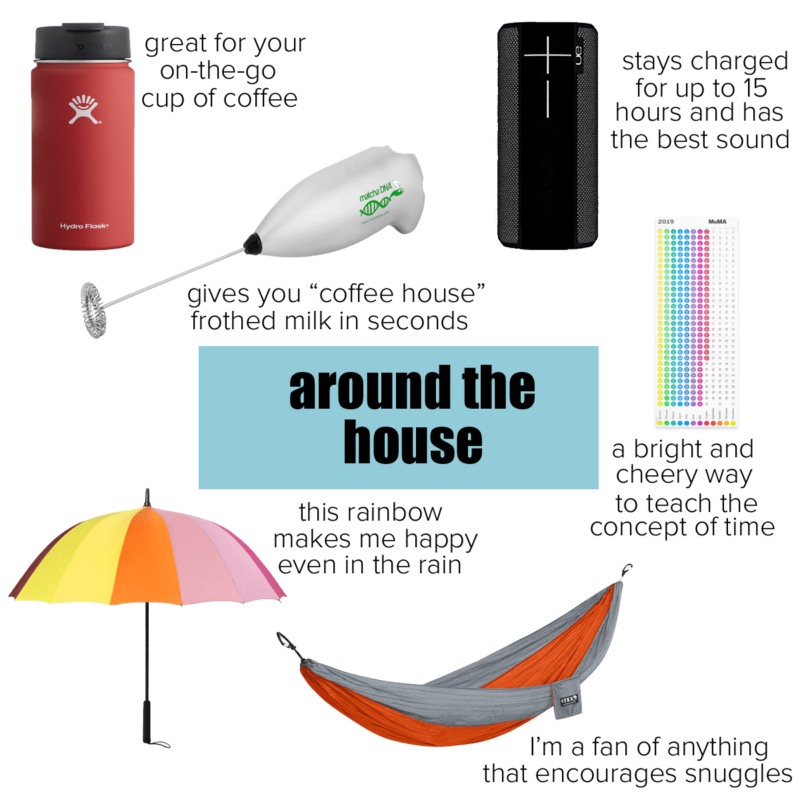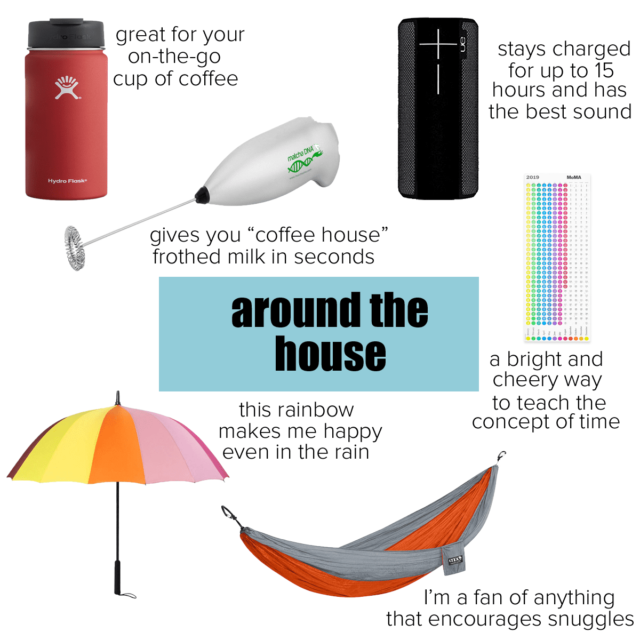 While my family loves music and listens to it all the time, I just can't stomach spending several hundred dollars on a Bluetooth speaker. However, most Bluetooth speakers that are a reasonable price provide mediocre sound and quality. My sister bought a UE Boom Wireless Speaker and loved it so much she bought me one for Christmas. We now have three of these speakers, one for each floor of the house. They provide deep, rich sound, are water resistant (music for your bath or shower), and can take a beating. But they can also connect to one another so you can play the same music on both, extending the range of sound. Have one outside and one inside, or place around the house for a party. They're wireless and hold a charge for hours, aren't too big and bulky, and last forever (one of our speakers is three years old). If the price is still intense for you, Amazon carries refurbished ones that work great (I know, I have one!).
As I type this, I am sipping from my four-year-old Hydro Flask coffee flask. The orange paint on the exterior is chipped in a few places but that's the only way you'd be able to tell its age. The cap still seals so tightly I don't fear throwing it in my purse filled to the brim with coffee. And it keeps coffee hot for hours. Seriously, I'd fill it and take it to work, I'd leave it in my car in the dead of winter, get back in my car after nine hours at the office and the coffee would still be hot. I use it at home so I can sip hot beverages all day without having to reheat or replace. And if you prefer cold drinks, it has you covered as well. I've put drinks with ice in it and hours later the ice is still intact. I know the Hydro Flask is uber trendy and promoted everywhere, but this is one product that deserves all the hype.
This is the fourth year we will have the MoMA Jumping Point Calendar under the tree as a gift to the family. We originally purchased it because it was an easy way to teach our daughter what the day was and to understand time (how many days until an event, how many days in a month). We love the colorful rainbow effect as you punch out the days through the year. We used to have it at the top of the stairs and would punch out the day as we went downstairs for breakfast, but this past year since our daughter is older, we brought it to the main floor to use as an actual calendar for the whole family.
I shared this in a gift guide last year but it's so awesome it deserves to be shared again. Our ENO Doublenest hammock is a few years old and still awesome. We take it on trips, it's been wrapped around trees in a dozen states across the country. We strap it to a beam above our deck in the summer, and we've installed hooks in studs in our living room so we can hang it up inside when the weather outside is gross. It's a favorite when our daughter has sleepovers, and it's big enough and able to hold enough (up to 400 lbs.) for two of us for an afternoon nap or movie night. Alone, the hammock is so big that it can fold over itself and have you in a cozy little chrysalis.
When I told my husband I was writing this list, he asked me if I was going to include our milk frother. Honestly, the thought didn't cross my mind but once he mentioned it I realized how much we love and use it. I bought it as a gift for my husband who was going through a matcha phase. We still use it for matcha, but we also use it for our morning coffee. It beautifully blends in your creamer, it gives a bit of foam, and can make the most ordinary coffee taste way better. It's quick and easy to use and clean, and we store it in an old Kleen Kanteen without a lid so it's at the ready for our next beverage. It's also great for reviving leftover green juices and smoothies from the fridge. It's one of those things you don't think you need and once you have you can't imagine living without it.
I'll be honest, I bought this umbrella because I always wanted a rainbow umbrella and thought it would look fun in a rainy day outfit post. I'm sharing it because this is way more than a pretty umbrella. It's nicer than the fancy gold umbrella that someone left at our wedding reception or any of the other "highly rated windproof" umbrellas I've bought. The handle is soft, so you get a good grip even if it's wet. The loop is elastic and has stayed intact even though it's been a toy for a bored kid in the backseat of the car. The button to open the umbrella always works, a nice smooth open without any fidgeting. The colors are vibrant, and this umbrella has survived hurricanes and crazy storms and even being driven over by the car. This same umbrella comes in nine different solid colors but there's something so cheery about a rainbow umbrella on a rainy day!