This article may contain affiliate links; if you click on a shopping link and make a purchase I may receive a commission. As an Amazon Associate, I earn from qualifying purchases. 
For this gift guide I share what I'd love to see under the Christmas tree for myself this holiday season, as well as items I already own that are so awesome I'd love to gift to someone else so they too can enjoy.
Holiday Gift Guide for Her
Maison Margiela Replica Feminine Discovery Set
I've been wearing the same fragrance for almost two decades and I'm ready for a change. I'm loving more complex fragrances, ones that blend with my body chemistry and create a completely unique scent. The Replica fragrances from Maison Margiela do just that, and they look all expensive minimalistic chic on your dressing table. This box set has three of their popular feminine scents in elegant glass atomizer tubes for a pretty nice price.
Metal Marvels Expletives Bracelets
While everyone else is breathing, hoping, and wishing, you and your friend are b*tches getting sh*t done. Well there's a bracelet for that, and plenty of other positive mantras with some sailor talk thrown in. I love how these looks sweet and traditional but have some spicy messages that are still full of positivity and are designed by a woman small business owner in California. Use my code WARDROBE15 and get 15% off your order!
Molton Brown Ylang Ylang Body Wash
Very likely this is on a gift guide from a previous year, it continues to be a favorite and now Emerson is also a fan. I let her use it when it's a special occasion, and I have a travel sized bottle I refill and enjoy on vacations. It's not too heavy, not too perfume-y, just elegant and gorgeous. Doesn't dry out my skin but still leaves me feeling clean. I ask for this every year because it's one of those luxuries that doesn't fit in my budget and I never tire of it.
Bombas Socks
Socks are usually a gift that warrants groans and eye rolls when unwrapped, but socks from Bombas are the bomb (sorry, I just had to!). The company sent me a couple pairs a few weeks ago to try out and I'm obsessed. Like wash immediately so I can wear again and Karl asked for them for Christmas because I won't stop chatting about them and I asked for more for myself obsessed. I love no-show socks and have an absolute favorite pair especially for summer, but Bombas' cushioned no-shows are my new fave for colder months. They fit my feet perfectly, are cushioned in all the right spots, and don't show even with my low-profile shoes. All this, and Bombas is an amazing company that gives back. For every pair purchased, a pair is donated to the homeless community. They've donated over 5 million pairs of specially made socks in dark colors with reinforced seams and a microbial treatment that can be worn more often without showing wear. You can go to the Bombas site to find a shelter nearby where you can volunteer, a wonderful family tradition for the holidays. Bombas makes socks for women, men, and kids and offer gift sets in boxes ready for wrapping.
Pantone Color of the Year Mug
I love coffee mugs that tell a story. When I visit a place I love, I often buy a mug. I also like buying mugs that represent the personality or interests of me and my family. I saw this 2017 Color of the Year mug from Pantone and though it was such a great gift for the fashion lover, graphic artist, or color-loving person in your life. And how fun to make this a tradition, filling a cupboard with gorgeous color and commemorating the color and the trend of each year!
Dagne Dover Accordion Card Case
I've carried one of Dagne Dover's classic card cases for years. It's so elegant to whip oput of my bag, and I love how there's two pockets – one for my cards and one for the cards I receive. When they came out with their Accordion case I was obsessed. This could easily replace a wallet for small purses and nights out, has a magnet closure, and an outside pocket to keep your business cards or most important card at the ready. Four colors of pebbled leather to choose from, which coordinate nicely with their other leather products (I'm a major fan of their Allyn tote, it's such a chic commuter/laptop bag and holds literally everything).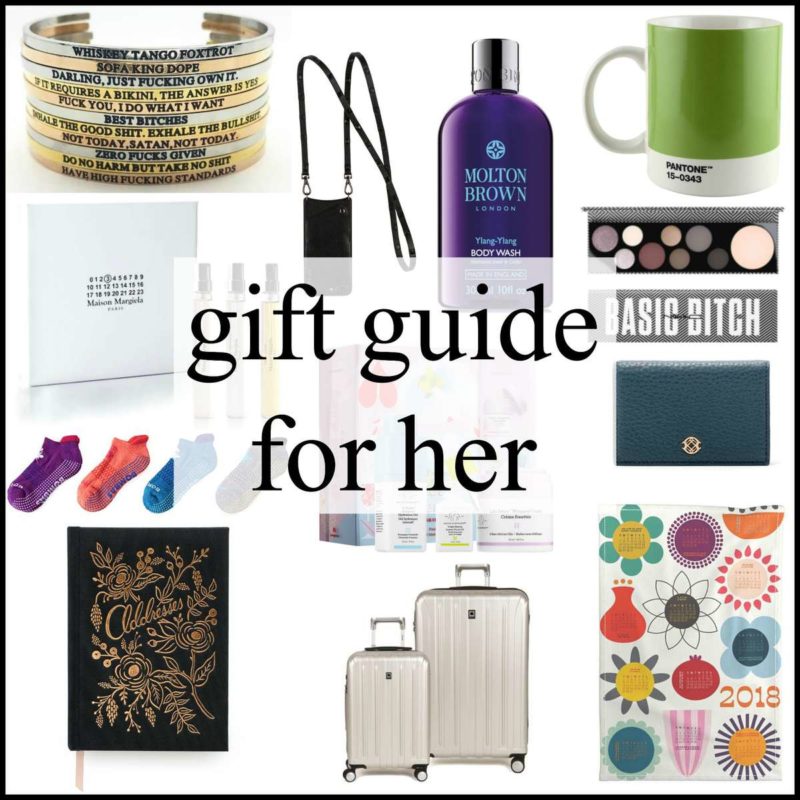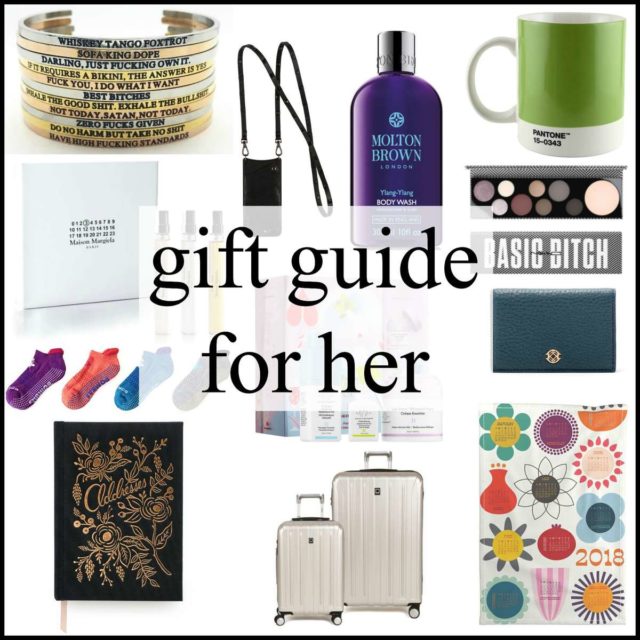 MAC 'Basic Bitch' Palette
If a perfect palette of tones to flatter most any complexion is considered being basic, then I embrace the term. Eight shadows (some matte, some glittery, some pearlized) and a highlighter to get the perfect look no matter the situation. This is a great palette for the beauty guru in your life, or even the friend who wants to take a step up from taupe shadow and tinted lip balm.
Drunk Elephant Let's Dew It Gift Set
I think skincare is an awesome gift, it's a way to invite a loved one to take time to pamper and care for herself. Drunk Elephant is one of those cult brands that is popular for a reason – all the people I know who have tried it love it. This kit is for all skin types and will add hydration and make skin look plump and happy even in the cold winter months. This kit gets rave reviews, is made of high quality non-toxic ingredients and the company supports the International Elephant Foundation.
Bandolier iPhone Case
I went to a conference in September and made friends with Candy from the blog Travel Pockets. She's beautiful inside and out and has great style… and a Bandolier phone case. It looked so cool and was so convenient for quick photos or videos or checking the calendar. I loved it so much by the end of the conference I had ordered one for myself. I have the 'Belinda' with a metal chain, I've been tempted to also get the 'Sarah' which has a leather strap with tonal studs (Gwen Stefani has the same one). The case itself has a little pocket so it can hold your ID, a bit of cash so you can go without a wallet for a concert or festival. On the Bandolier site they have a huge variety of cases and accessories too like a pouch which can connect to the case to hold a bit more; I have one and it's great to hold lipbalm, more purse essentials, and even a small battery charger to get through a whole night of photos and videos.
Delsey Helium Titanium Luggage
I bought the Delsey Helium Titanium International Carry-on and 29" Spinner earlier this year. I was heading to the rewardStyle conference and had other blogger travel on the books and needed a bigger suitcase and didn't love the purple fabric carryon I had for years. And well, I was heading to Dallas with 200 fashion bloggers, I wanted my luggage to look as good as I did. And this luggage has been amazing. The carryon is small enough for any airline including international flights, yet it holds a ton. It has a padded pocket for your laptop, straps and zippered compartments to keep everything organized and it's spinner wheels so you can have it glide next to you, no need to drag it behind you. The 29" is a checked luggage size, and it holds a ton and also glides so easily through the airport (or through the airport parking lot). The suitcases are hard so they survive the baggage claim, but are so lightweight you can fill them up without having to pay additional fees. They come in a few colors, my personal favorite was silver. I found the lowest prices at eBags (limited color selection) and Amazon (link to international size, link to domestic size, link to the 29" size).
Rifle Paper Co. Address Book
Some things I like to go old school, and addresses is one of them. I learned it from my mom, who has all her addresses books from over the years and even the books from relatives. I love being able to note under each address the year I sent a holiday card and a check if I got one in return, little notes about family changes and anniversaries. I bought this exact book this year to replace the smaller one I had. It's gorgeous looking and holds all my addresses with room for years to come. It's the kind of book that I can pass down to Emerson like my mom has done.
Calendar Tea Towel
If you're ever looking for a gift for me, you can't go wrong with cute cloth napkins and dish or tea towels. I love calendar ones, it's fun to pull ones from previous years out of the drawer and remember that year or when I got the towel or who from. Ones like this one (it's from Etsy) are so pretty you'll love it on display and will find fewer needs for paper towels!
Dagne Dover Promo Code
Use ALISON10 at checkout to get 10% off your order at Dagne