This article may contain affiliate links; if you click on a shopping link and make a purchase I may receive a commission. As an Amazon Associate, I earn from qualifying purchases. 
Last week I had technical difficulties behind the scenes and my draft blog posts (where I keep posts before they're ready to be published or posts I have scheduled to go live in the future) disappeared.  And that included my "what I wore last week" post.  So this week is a mix of the past two weeks with what old photos I was still able to retrieve.  I also chose to post this later in the day as there are much more pressing things happening in the world than what I wore last week.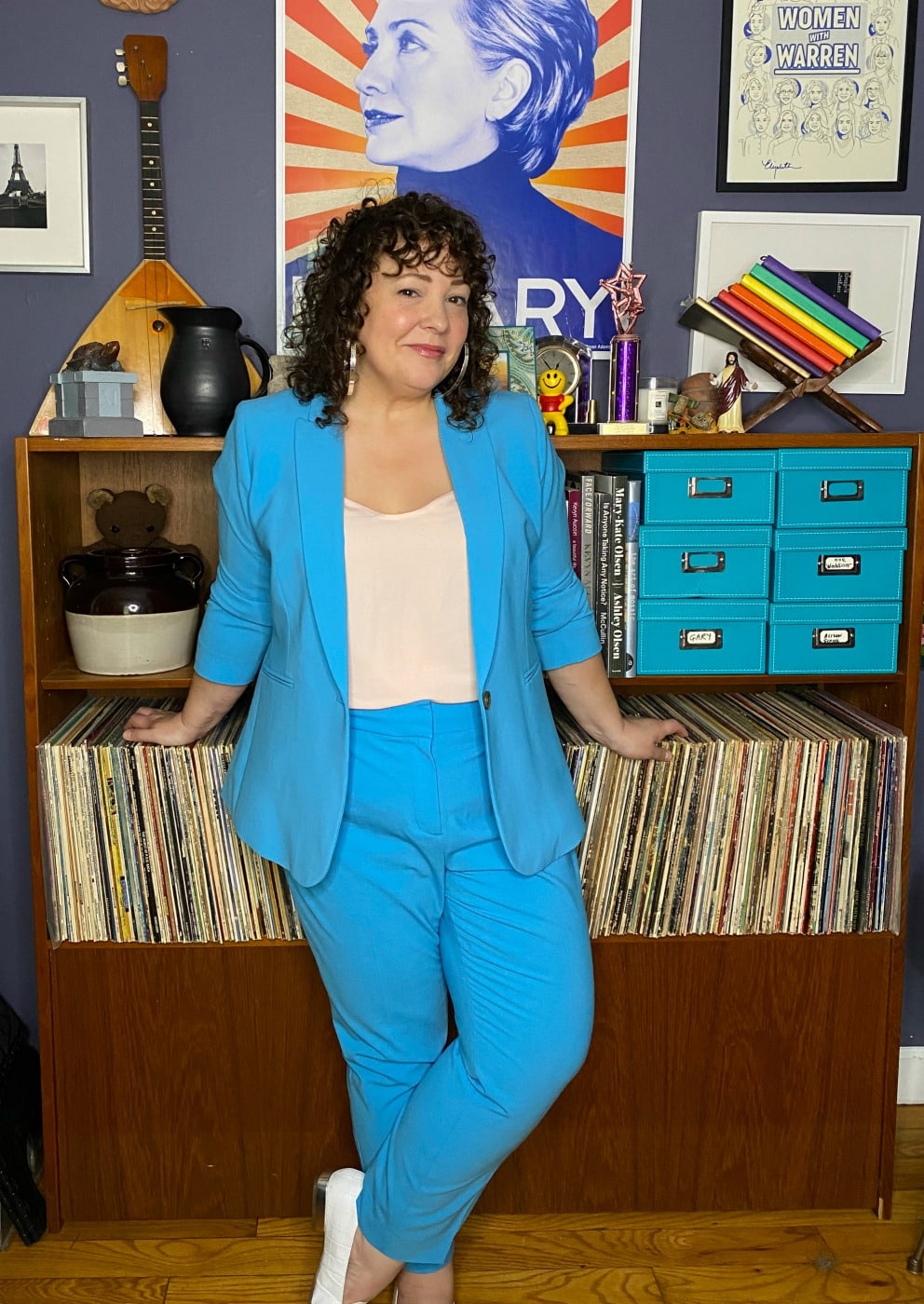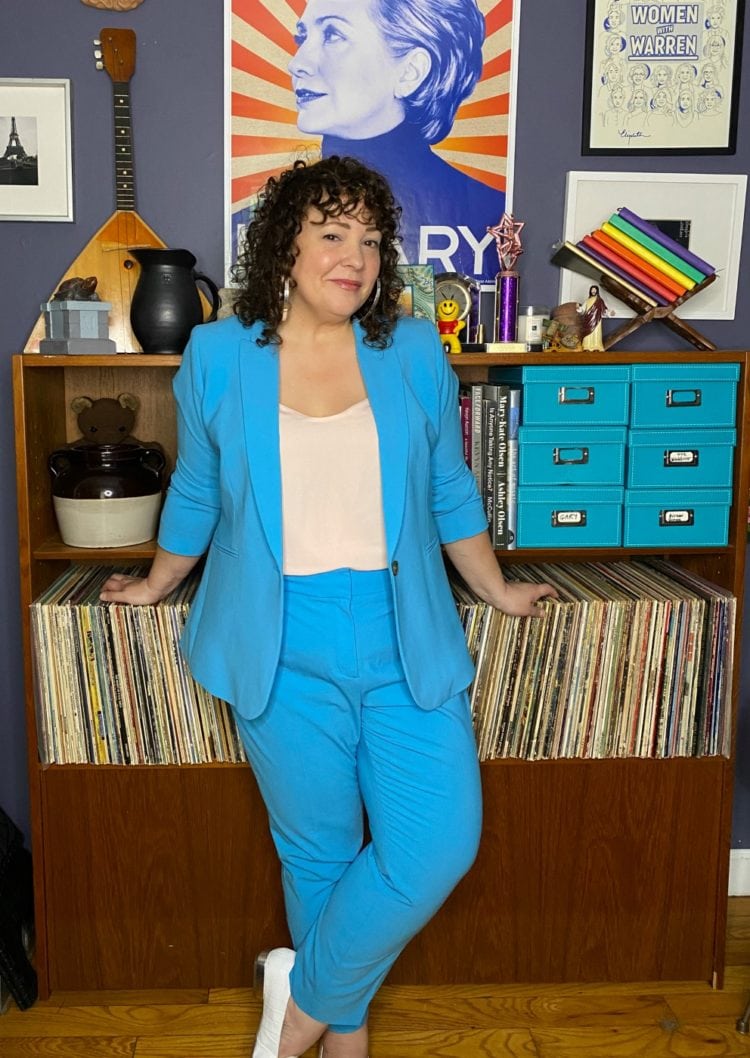 This outfit wasn't worn anywhere beyond my living room.  I felt it was time to update my headshot for the blog and this suit has never been worn before.  It's also close to the color in my branding.  This suit is from J. Crew, the Parke Blazer and Cameron Slim Crop pant in Italian Stretch Wool, color Monaco Blue.  The blue is no longer available (there may be some of the pants left), but the two pieces are available in other colors. I bought them at the beginning of the year and had it tailored the week before everything shut down.  I paid to get the sleeves not shortened, but taken up at the shoulders to maintain the buttons on the cuffs.  It was nipped in at the waist, the pants were shortened and also nipped in at the waist and thighs.  I bought both pieces in a 16 to have room for my curves and to tailor where I went in.  My life has been very different since that tailoring visit, and the pants at least will need to be altered again before this is worn in the real world.  But like my pink pantsuit, which has been tailored three times so far, a good suit can adjust a bit as life and your body changes.  With it I'm wearing a blush pink cami from J. Crew (previously seen here; I have it in several colors) and white loafers from Naturalizer that have only been worn once before the shutdown.  I liked the "Miami Vice" vibe of the colors and think an unexpected pastel like the blush pink feels more modern than black, white, or a bolder contrast color.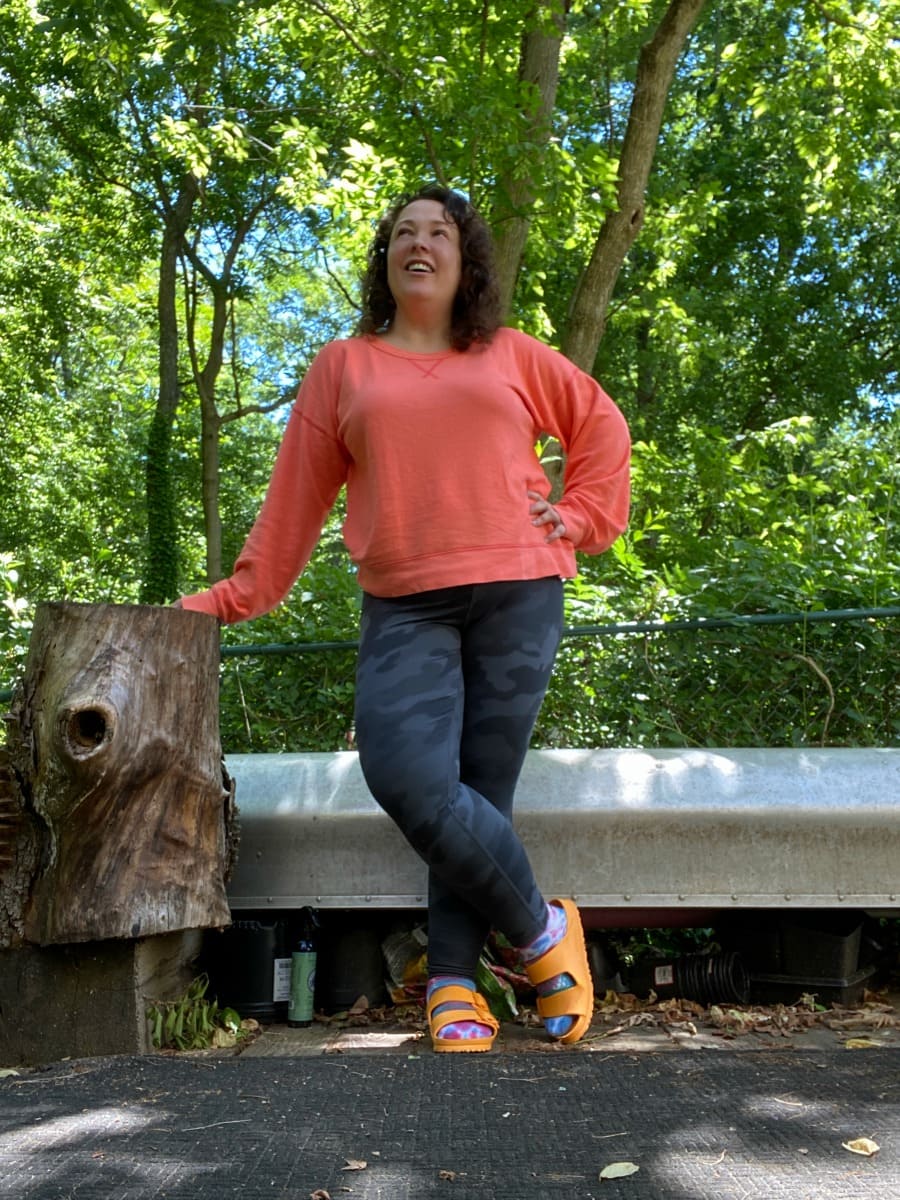 Keeping it real! Not every outfit is super chic, sometimes what I throw on to let the dog out in the morning ends up being what I wear all day.  The sweatshirt is from J. Crew; with the color name Brilliant Sunset I expected almost a neon color, but it's more like a mango shade.  But I like the shorter length (works better with shorts) and how soft and lightweight it is so I kept it.  With it are the leggings from Zella I've featured a few times prior; they're no longer available but these from Athleta are similar and likely fit better.  With it, getting super glam with my EVA Birkenstocks and a pair of tie-dye Pride socks from Bombas.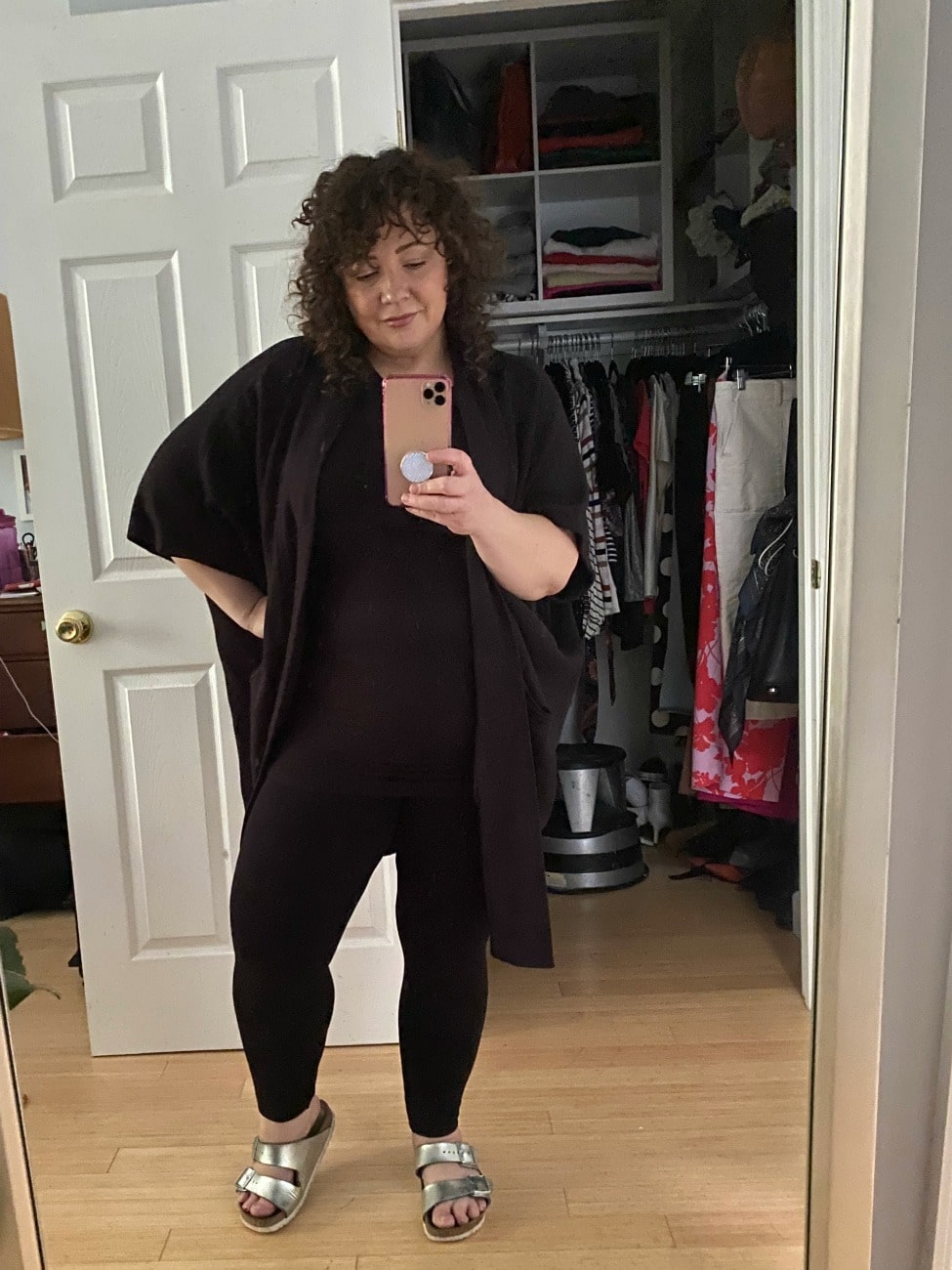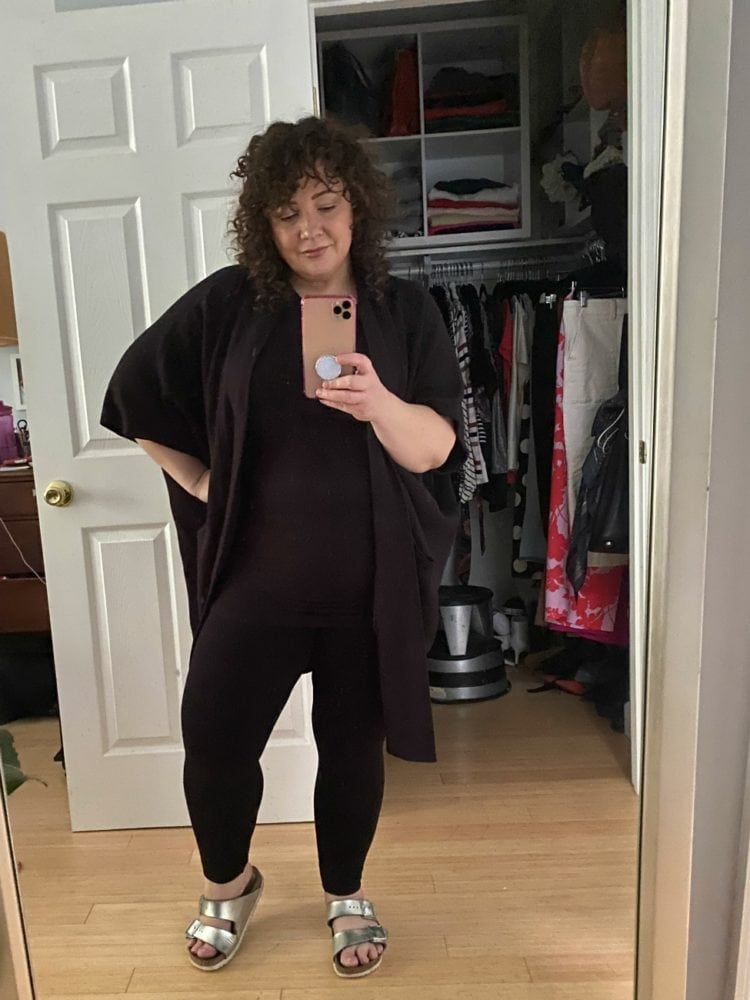 Some days are a riot of color, and some days feel good just wearing black.  This look is my Universal Standard Foundation tee, Soma Essential leggings, and my Soma cocoon wrap (on sale!) with my silver leather Birkenstocks.  Simple, comfy, and not schlubby.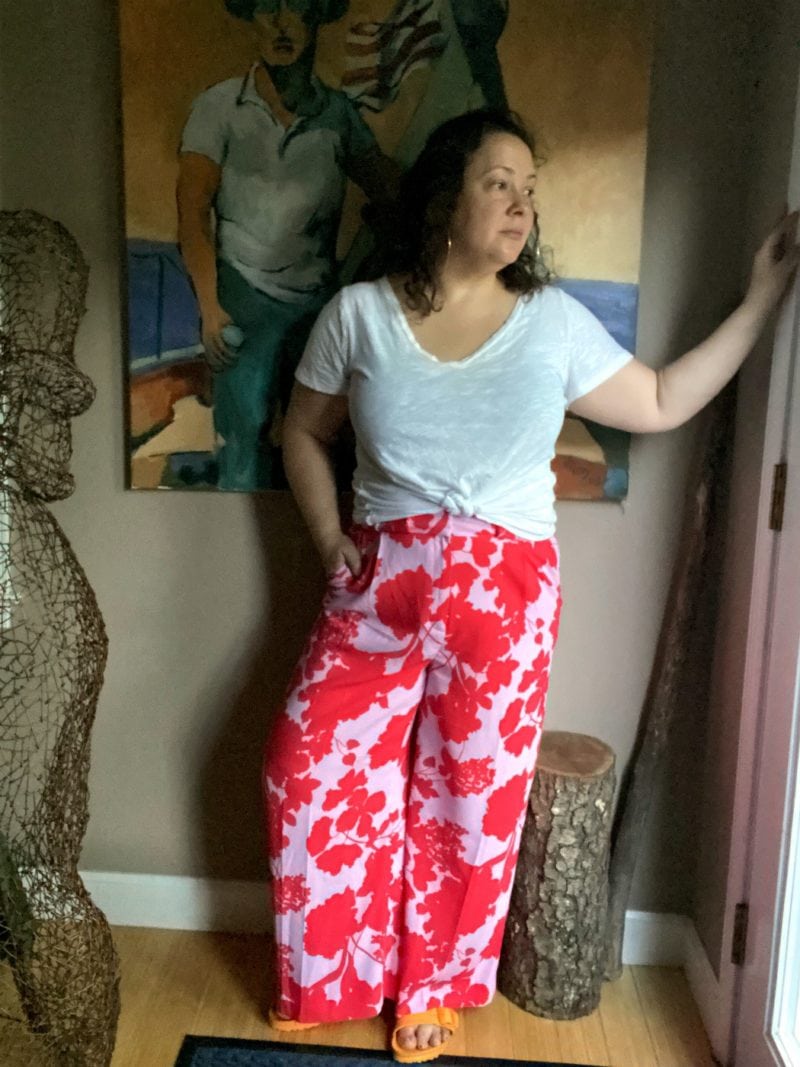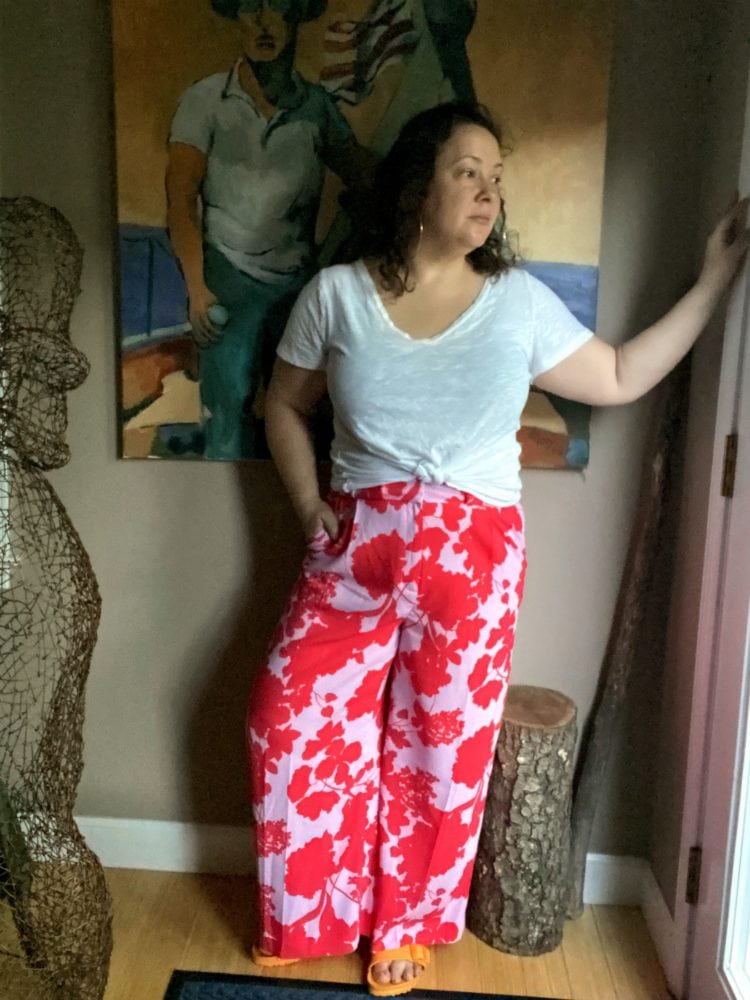 I love lightweight wide-leg pants for spring and summer.  They are often more breezy than shorts, look dressy, and offer modesty as well as sun protection.  These are from the Atlantic-Pacific x Halogen collection.  These are supposed to be cropped but on my 5'3″ self they are a perfect length with flat shoes.  I like that they have pockets and are machine washable. With it is my J. Crew Vintage v-neck, knotted at the waist and my orange EVA Birkenstocks.
A few asked if the EVA Birkenstocks are sweaty and… yes, if you wear them all day and outside and get hot, they can get sweaty.  I run hot and have feet that sweat easily but I still wear them comfortably.  I usually wear them for short periods of time (going out in the yard) or when I know I will get them wet or need to hose them off.  I also wear them a lot indoors with a pair of socks, which isn't super chic, but I'm indoors and I find arch support more valuable than looking chic in my home.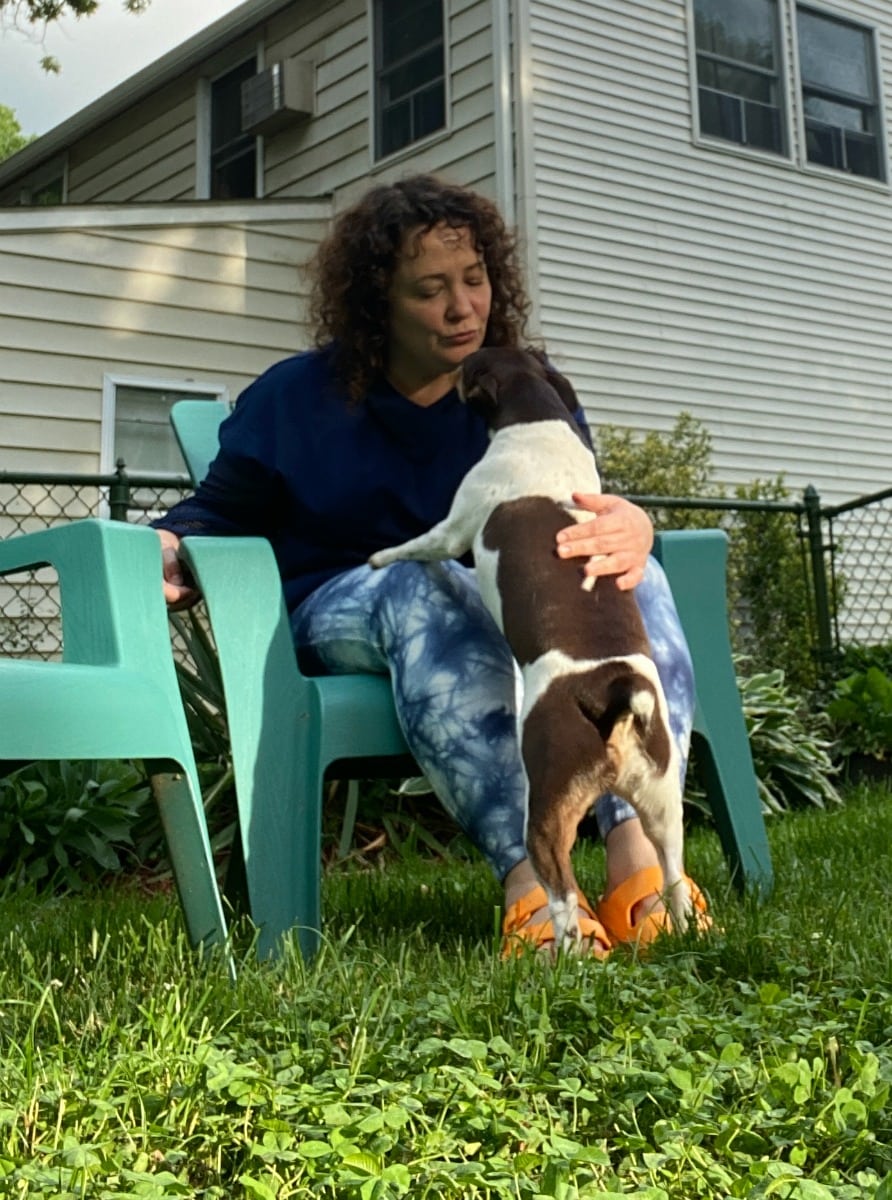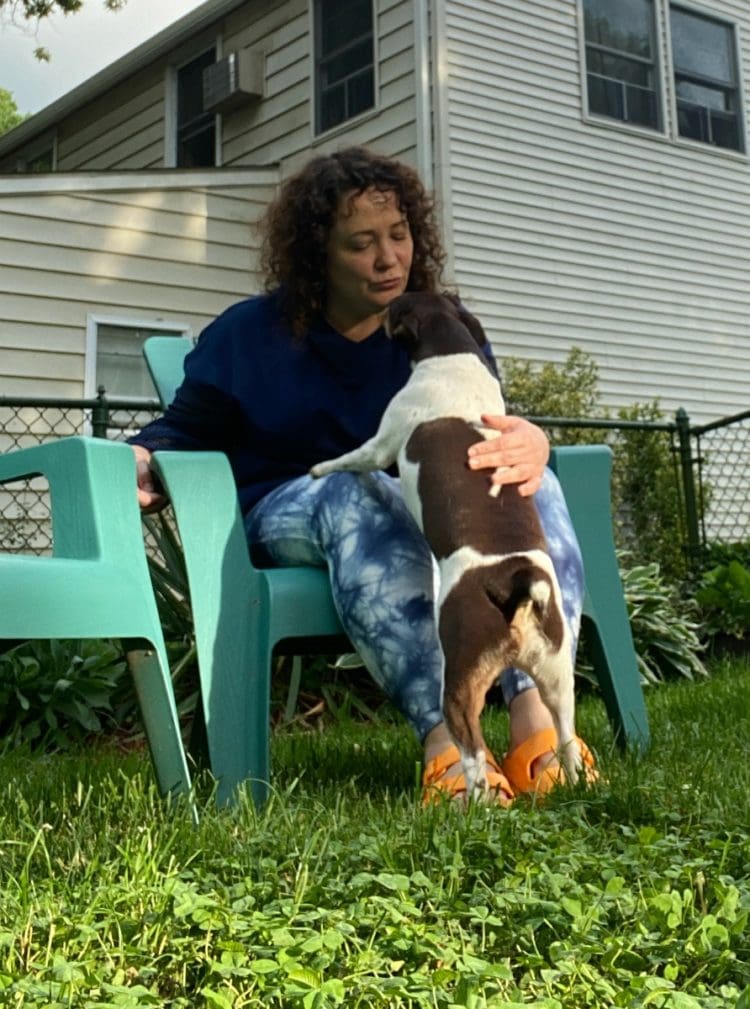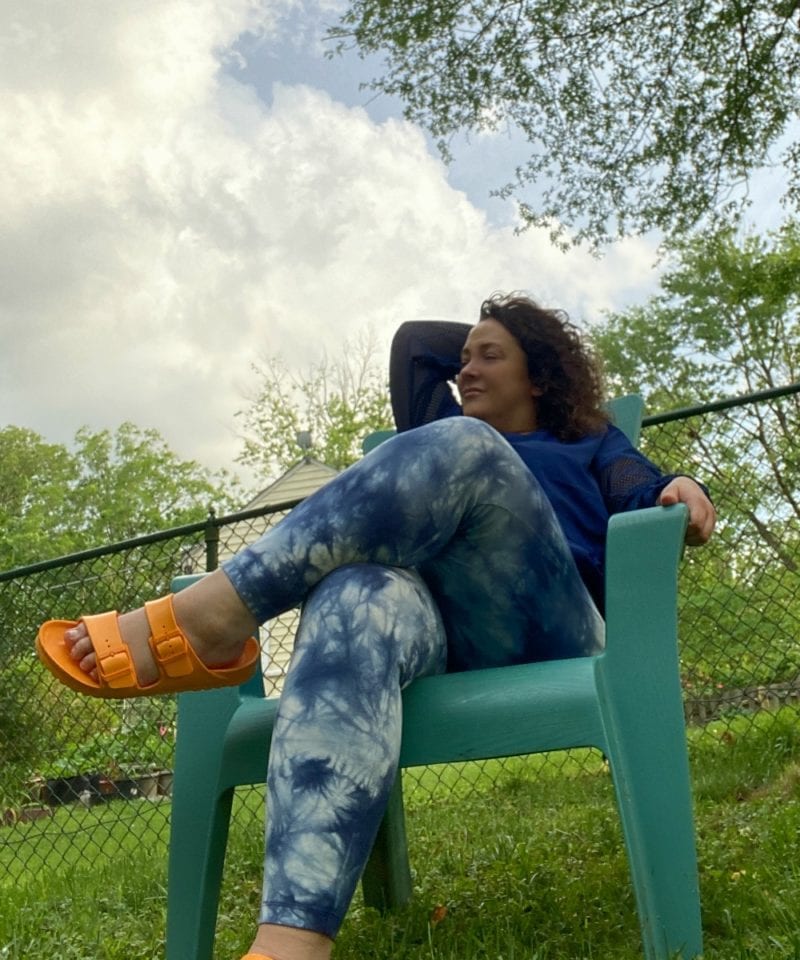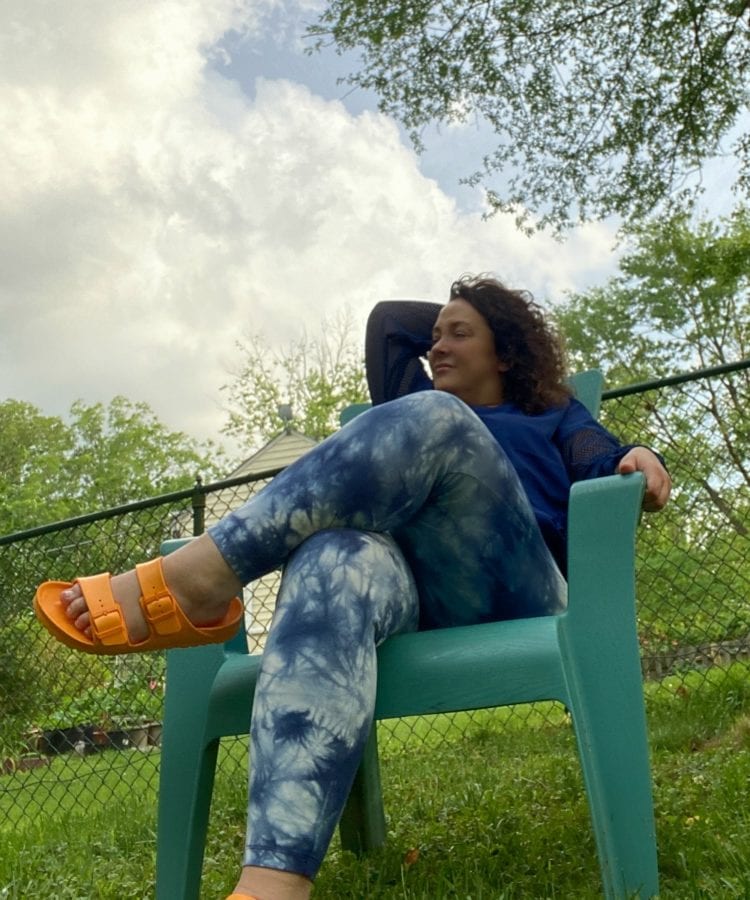 Chico's sent me these leggings and this hoodie and I like them so much. The hoodie is super lightweight and breezy wth UPF 50+ and mesh sleeves. It has a drawstring at the waist so you can have it blouse out or have it more boxy.  The leggings claim to be slimming but the slimming feature is a 2″ waistband that doesn't do much for compression and it's also far above where my lower belly is.  I don't care, I'm not wearing them for belly slimming.  These aren't athletic leggings (though they'd be fine for low-impact activities), the fabric is more like cotton but it keeps its shape. I've washed and dried both and they came out fantastic.  For reference, I am wearing a 2 in both pieces.  And then again the orange EVA Birkenstocks.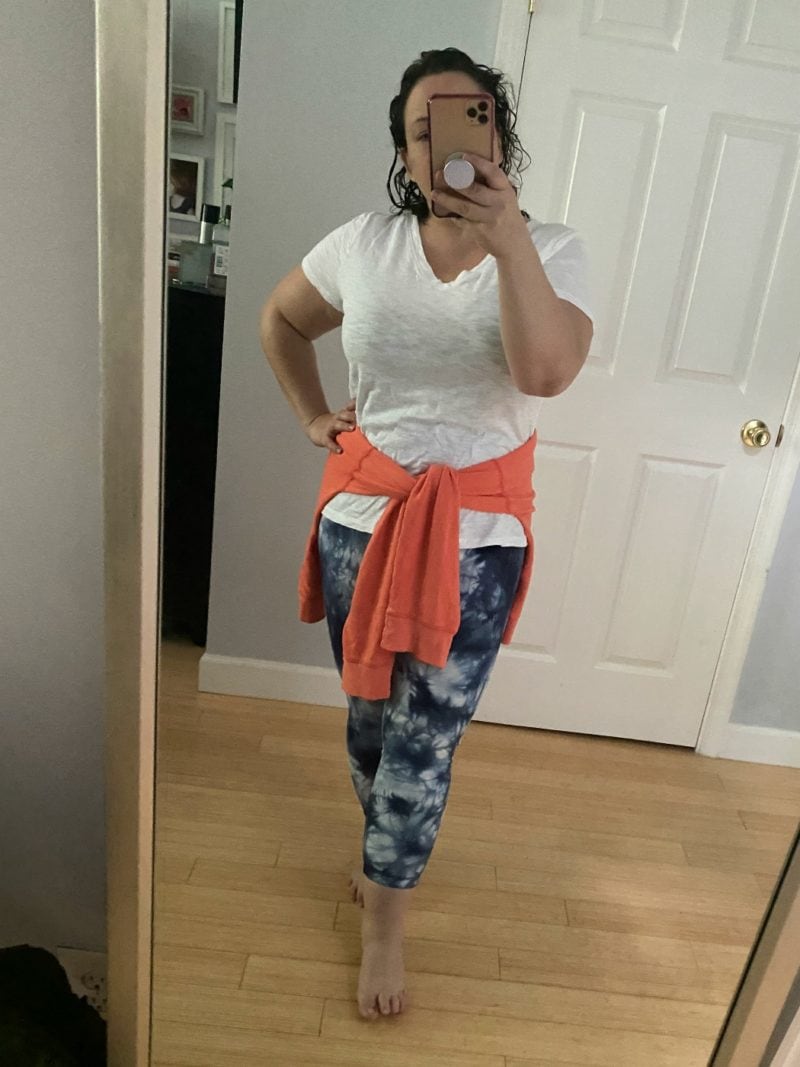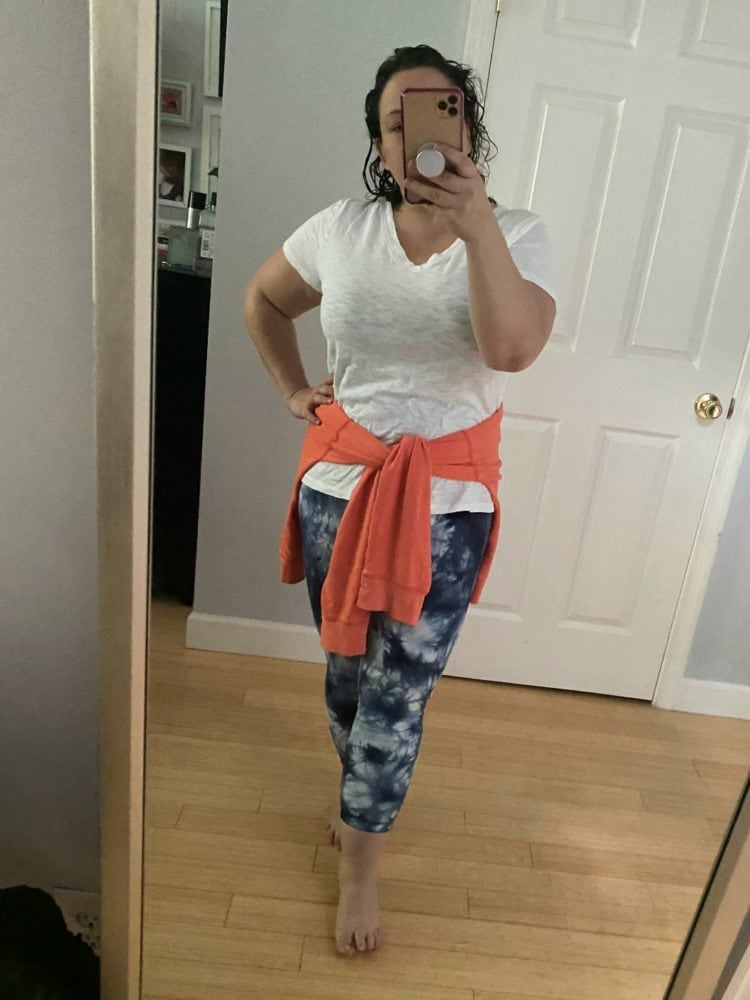 The same Chico's leggings with the same J. Crew sweatshirt seen above and the same Soma t-shirt shown in the photo below.  I love this tee, in fact, I'm wearing it as I type this!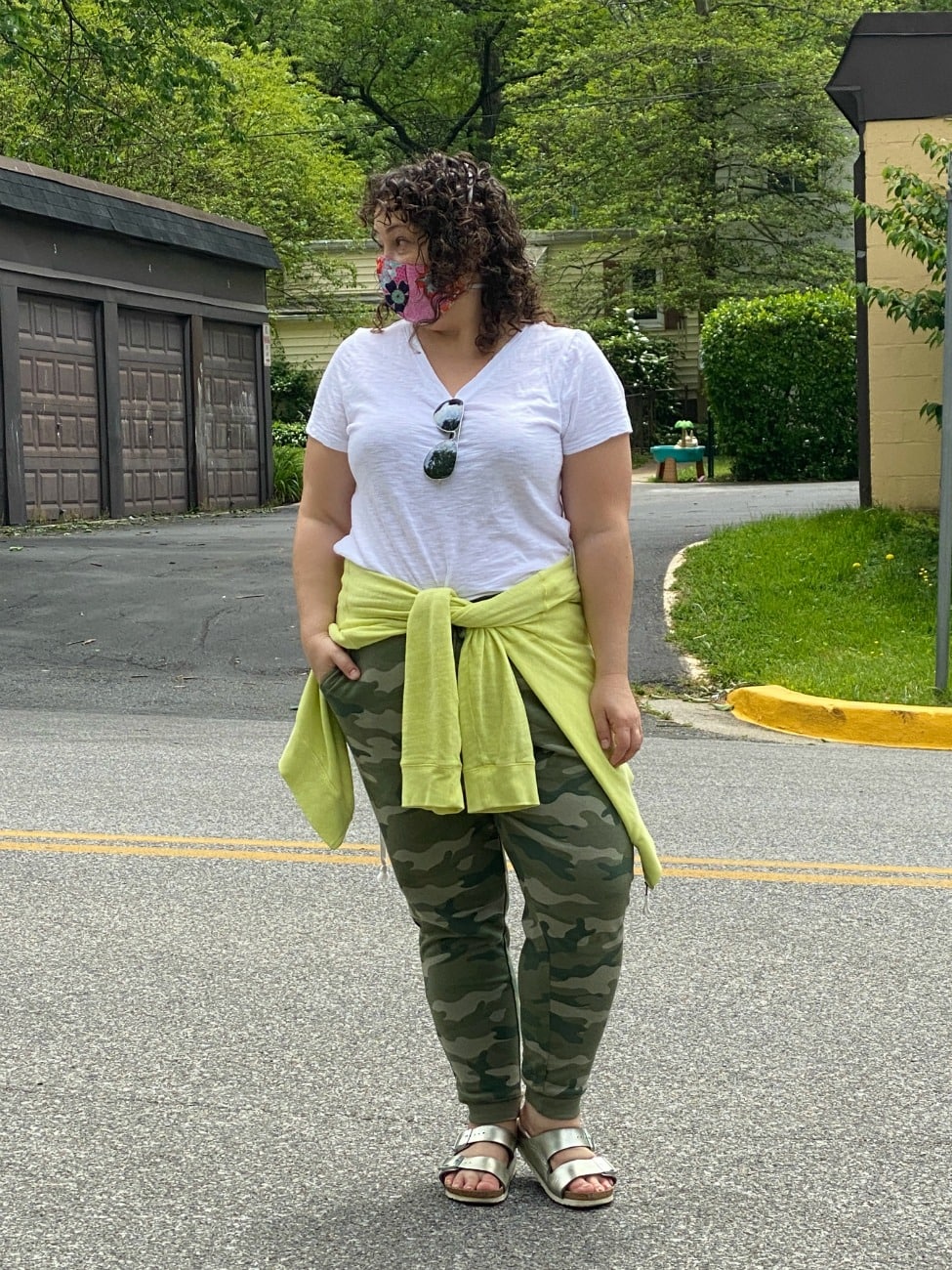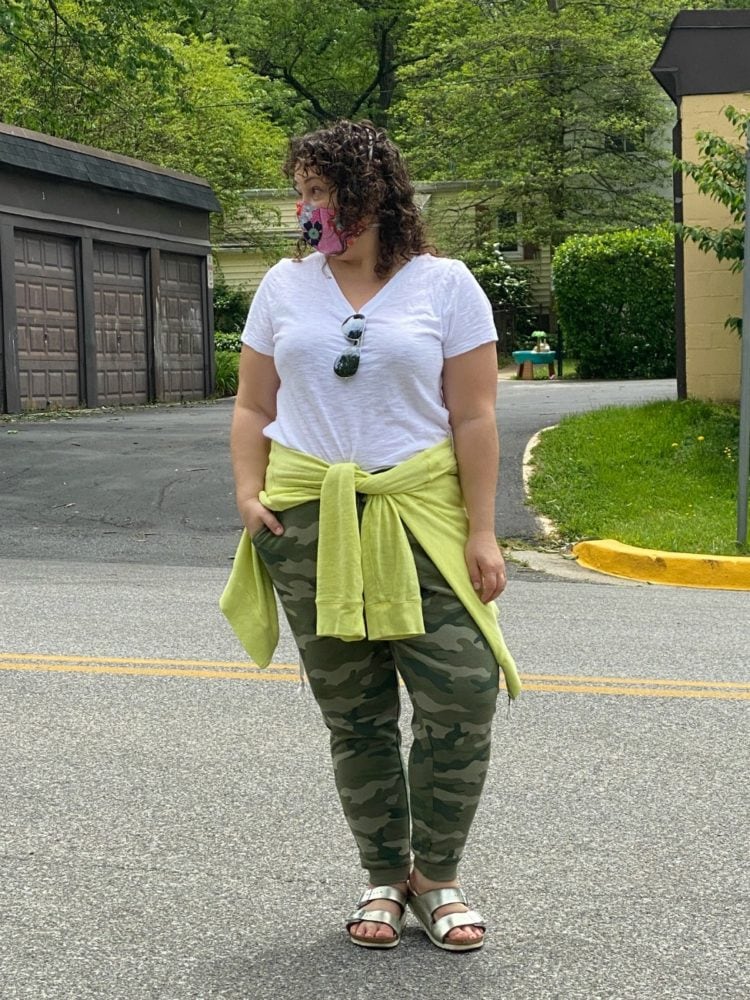 The t-shirt is from Soma and it's pretty perfect.  It's like my J. Crew Vintage V-Neck but heavier weight, better shape, more durable.  With it I'm wearing the Old Navy joggers I reviewed in this post, my J. Crew hoodie from my at home capsule wardrobe (no longer available in this color), and my silver Birkenstocks. The mask is from The Kit, size M/L.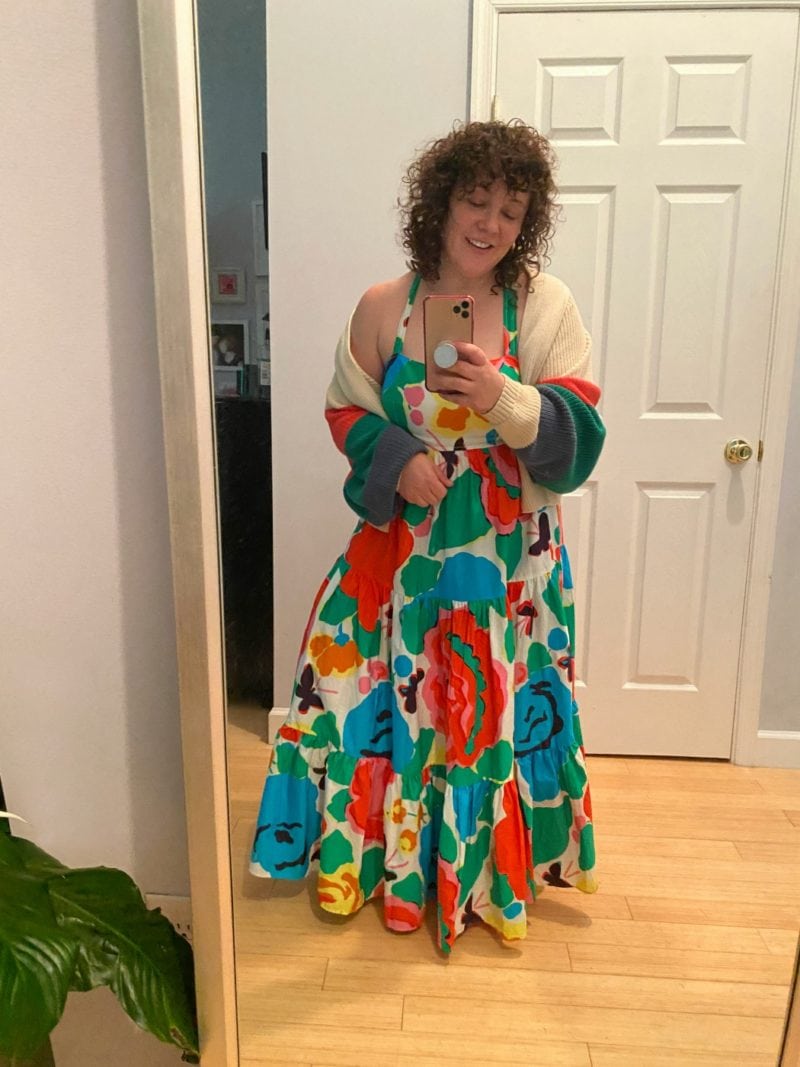 Here's the J. Crew sundress I keep talking about.  I really love this dress.  I can dress it up, but sometimes I wear it like this, almost like a nightgown.  With it is the Trio Sweater from cabi; both pieces are in my stay at home capsule wardrobe.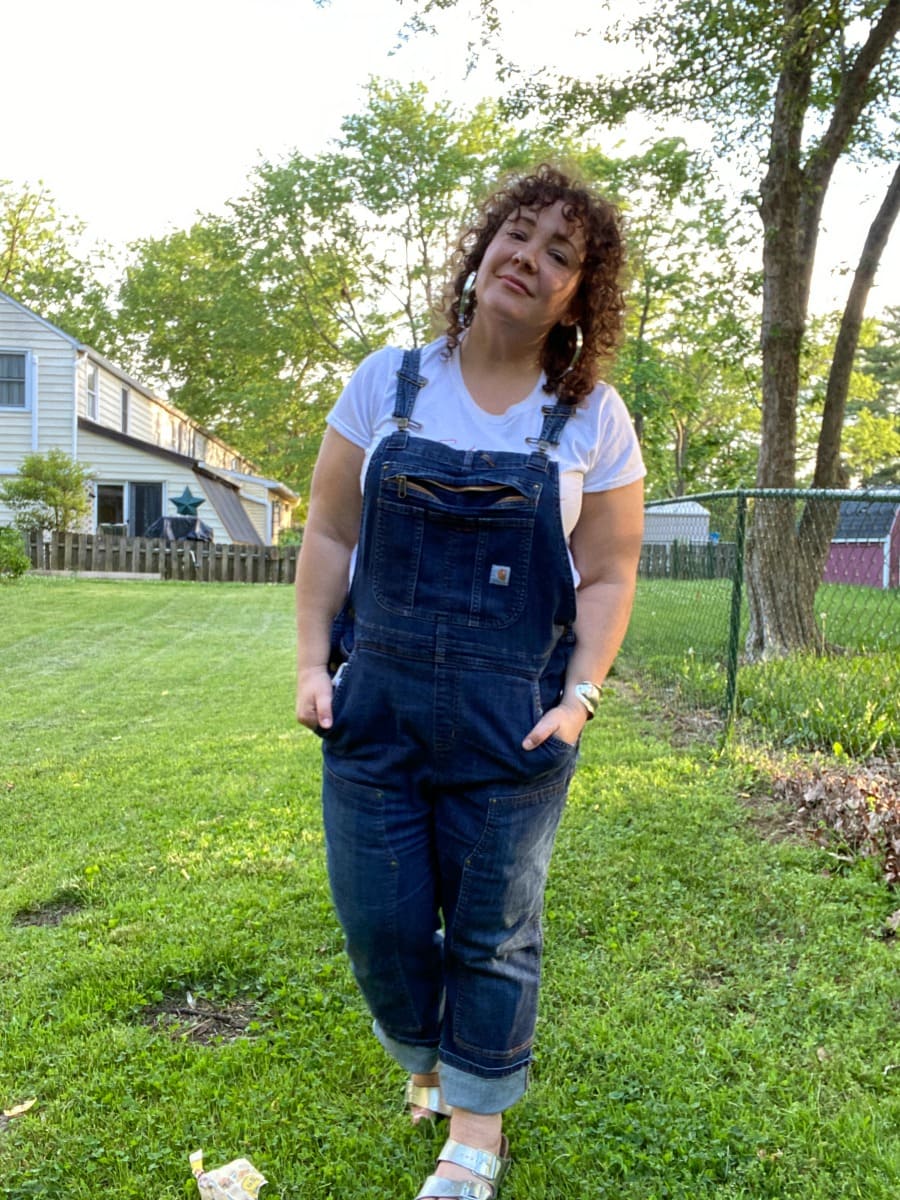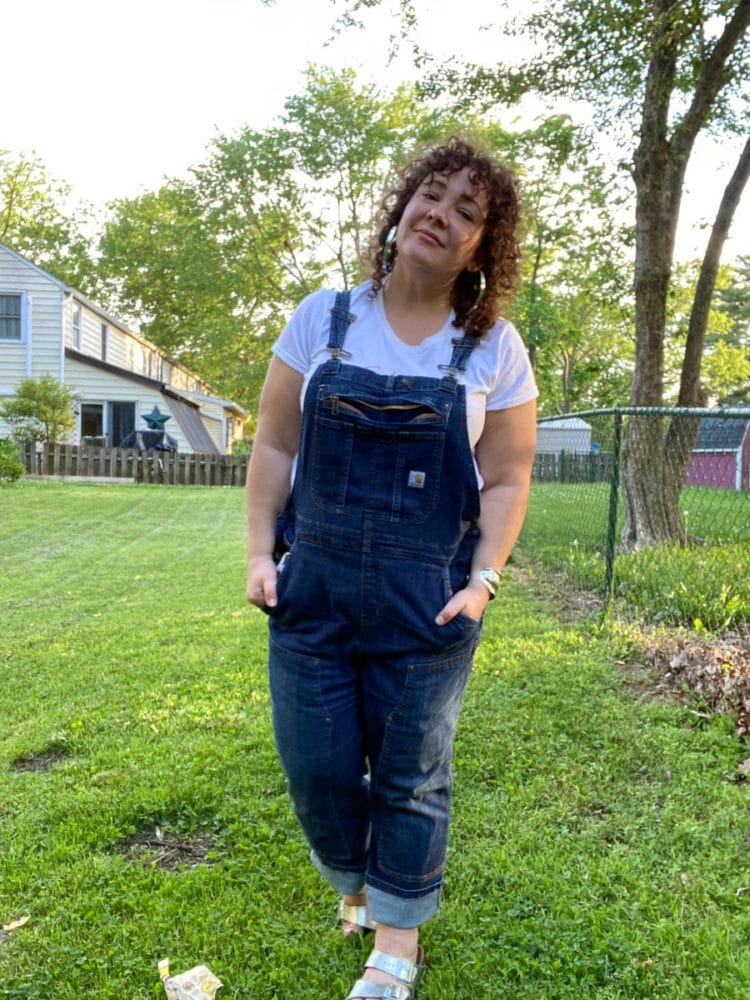 The overalls get worn weekly.  These are from Carhartt and come in petite.  I got them on Amazon a while ago and they have them still though they have price gouged.  They are the "Brewster" style and I have them in Large Short.  The Brewster seems to have been discontinued though I found them in XS regular and tall at Dungarees and XL Short at Sierra.  The Carhartt Denim Double Bib looks like the replacement style; Carhartt has a full size range and Zappos has a few of the sizes too.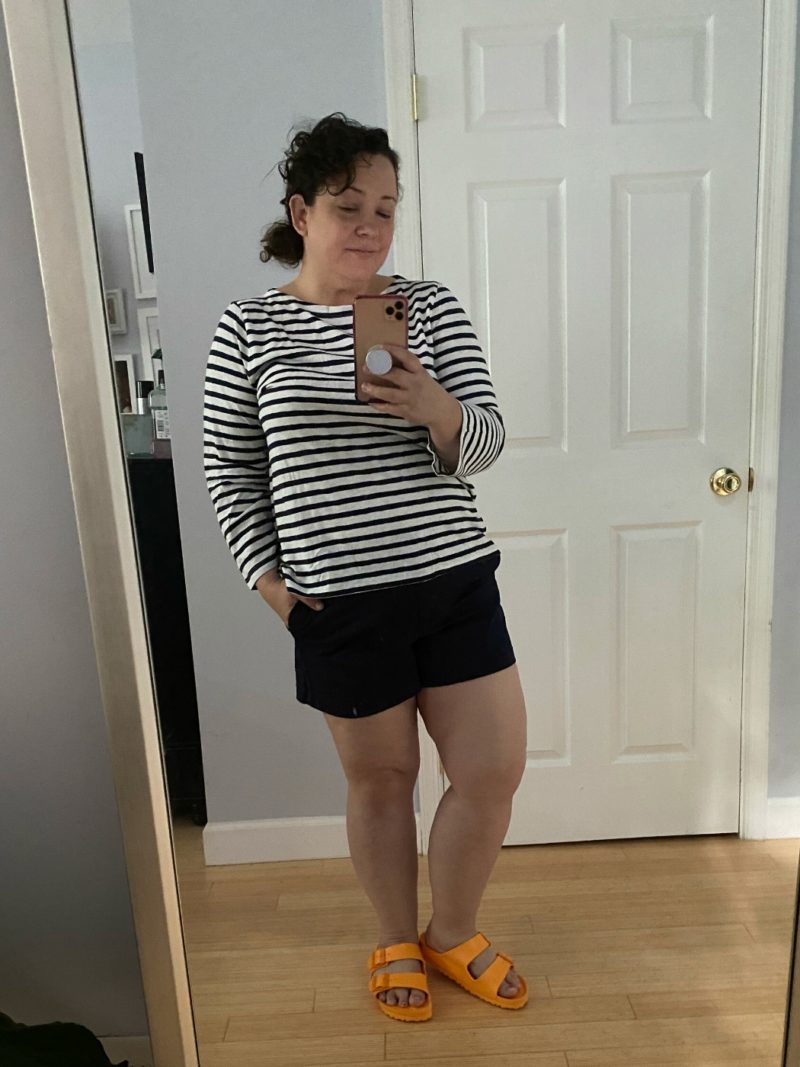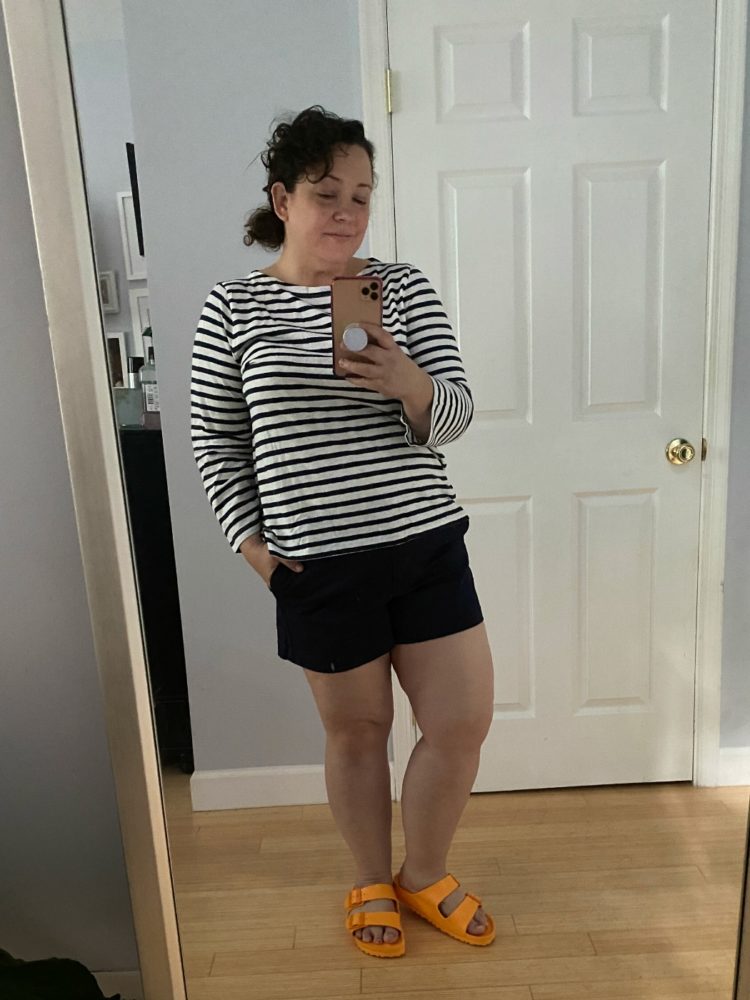 Shorts season is upon us, and I got these 4″ twill shorts from J. Crew because I had them a previous year and loved them but they are no longer my size.  I got navy because I think navy is the kind of neutral that doesn't look like a park ranger uniform but can get weathered and worn over washings and hanging to dry in the sun and still look cool.  Coral and red and olive also do this well. I always suggest going up one size or if unsure, size up when it comes to shorts because they usually hang better and while I like petite for most pants and jeans, for shorts I get the regular sizing so there is enough room for my booty.  With it is this striped tee from J. Crew which is a classic.  In fact, this is my third one.  One got paint on it, another one just got icky from years of wear and washings.  I just got this replacement one during one of J. Crew's sales, it's an XL.  And a nice pop of orange.
Shop the Post: