This article may contain affiliate links; if you click on a shopping link and make a purchase I may receive a commission. As an Amazon Associate, I earn from qualifying purchases.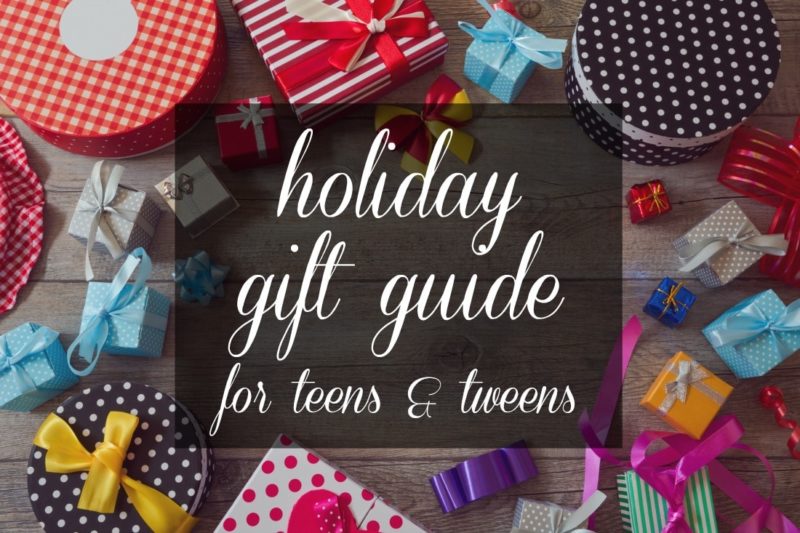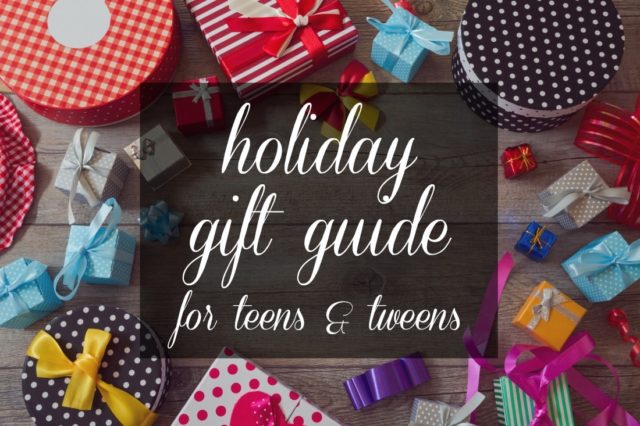 Last year I invited my friend Marley to write a holiday gift guide for tweens. You all loved it so much, I invited Marley to return this year and provide the coolest gifts for older tweens and younger teens in your life. Since my daughter is more a tween than a teen, I've added some input to each of them for a broader age range. Take it away, Marley!
Gift Guide for Teens and Tweens
By Marley Vollmerhausen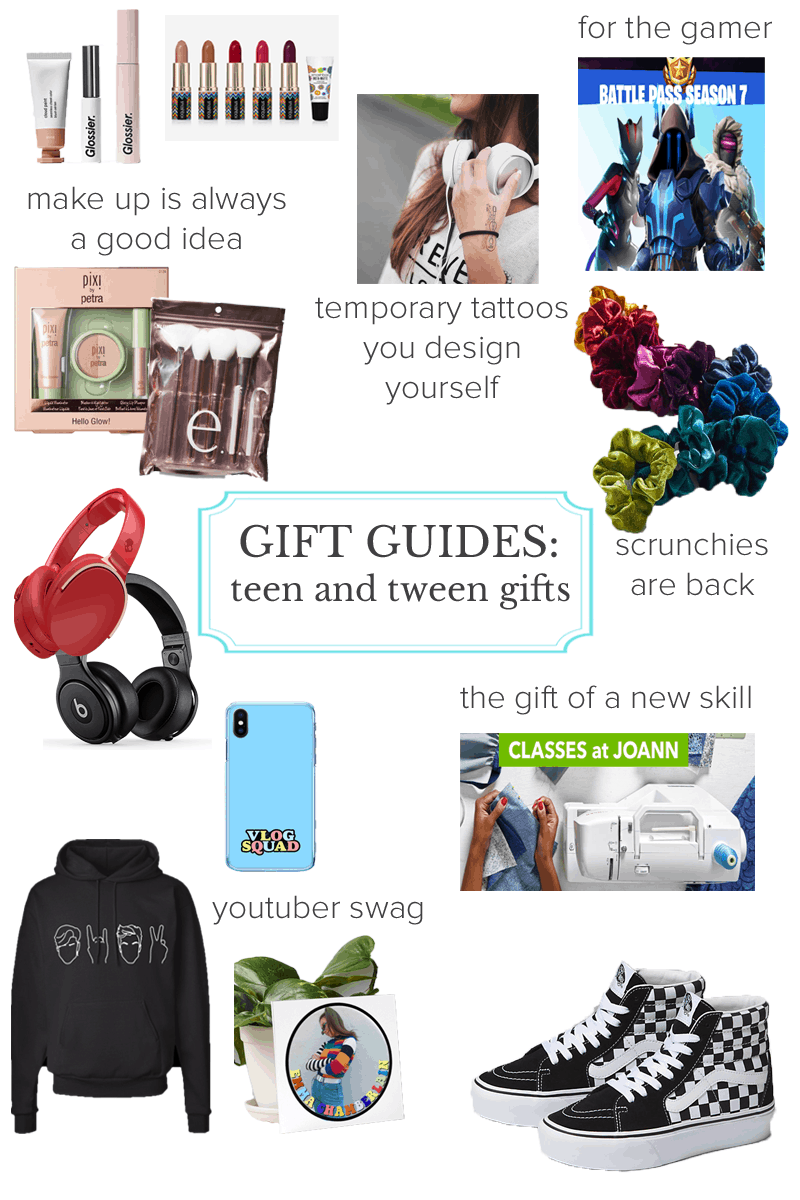 Hi everyone! It's Marley and I'm back again this year with another gift guide. Many things have changed this year with what's "in" but yet some are still just as popular if not more. So without further ado, let's go!
Vans
Vans are probably the most well liked shoe in my age group right now. Almost every kid at my school has a pair! They are comfy, easy to put on and inexpensive. If you're 13 to 17, you're wearing Vans. They have a clothing line as well, if you think your teen may enjoy that.
Alison's input: Vans are also popular with the older elementary school crowd, but athletic brands like Puma, Adidas, and Nike are also hot. My daughter is craving a pair of Adidas Superstar sneakers with holographic stripes to replace her well-worn classic Pumas, and many of her classmates are sporting Nike Air Force Ones. I know a lot of her classmates also love classic Adidas trefoil hoodies and t-shirts.
Makeup
Recently this year, me and my friends have begun to wear makeup. It has become so popular and well liked among girls my age everyone carries around a little lip gloss. There are some new things that are very popular in my age group such as highlighter, one of my favorites. Some great makeup brands that I love and use are, Elf, Smashbox, Pixi and Glossier. Some of which Alison gifted to me!
Alison's input: While many parents aren't comfortable with tweens wearing makeup, I do know my daughter and her classmates love no-makeup makeup. Lip glosses, tinted lip balms, and highlighters are popular. Since Emerson doesn't read here I can let you know my sister is getting her this kit from Winky Lux; this is also a super cute makeup starter kit.
Earbuds and Headphones
Earbuds are still popular like crazy among kids my age. Everyone loves music! Kids love expensive, fancy earbuds. But what is new are headphones. Some boys and girls at my school are sporting Beats by Dre which everyone is envious of. I also really like Skullcandy's headphones and earbuds.
Alison's input: Same for tweens. Whether it's for listening to music or playing computer games, this is a great gift. At my daughter's age, over-the-ear headphones are more popular, and the more outlandish the better. Lights, cat ears, mics for games, and yes, you can't go wrong with Beats by Dre or Skullcandy. (both can be found at Amazon as well as many mass retailers like Target, Macy's, QVC, and Best Buy).
Scrunchies
90's style is back in which of course means…scrunchies! They are easy and accessible to put up hair, and when not being used can sit stylishly on your wrist (my favorites are from Urban Outfitters!). Just be sure it matches the color scheme of your outfit. You can find great scrunchies at Urban Outfitters and Francesca's.
Alison's input: My daughter and her friend do wear scrunchies, but since they're a bit younger they're far more into headbands. They especially love metal headbands that have cat ear silhouettes and anything with a unicorn horn. Another fave is super furry earmuffs.
YouTuber Merch
As some of you may be aware of, YouTube is where many teenagers spend their time. There are even some famous Youtubers that your teen may like who carry merchandise and clothing. Some of my favorites are Emma Chamberlain, James Charles (i'm loving his sisters hoodie!), The Dolan Twins and David Dobrik. If your teen likes a YouTuber who has merch, this is a go.
Alison's input: Same. My daughter isn't as into YouTube, but she knows Denis Daily, Miranda Sings, and follows YouTubers who create memes/animation.
Fortnite
Fortnite has been on fire since last year. It is one of the most popular online games among my age group right now. It is also for girls and boys. There are different platforms to play it on such as Playstation 4's, Nintendo Switches, Xndroids and XBox etc. If your teen seems to be into this sort of video gaming world, this may be for them. There are also different kinds of things such as skins, a pricier item. A good Christmas gift would be to get them this skin or other game features.
Alison's input: My daughter and her friends are into ROBLOX, which is a game you can play on the computer or tablet. You can create an avatar and play dozens of different games where you can build homes, participate in fashion shows, have jobs, even be a wolf and join another pack. It's technically free, but if you buy Robux through the Google Store, you have the ability to buy outfits, furniture, cars, and more. There's a monthly subscription called Builder's Club that offers additional features to the player and they automatically earn a few Robux each week.
A Class to Learn a New Skill
Sometimes things aren't exactly "in" or "trending" but many people can still enjoy them. For example me, I enjoy taking sewing lessons and doing things outside of my comfort zone. JoAnn's is a great place to do this. I've taken a few classes there and come out with some awesome finished products such as pajama pants and blankets.
Alison's input: I agree this is great, and tweens are the age where they love learning new skills. From sewing to rock climbing, this is a great way to teach kids how an experience is usually a better gift than another tangible object.
Temporary Tattoos
Alison's input: Ink Daze recently reached out to me and I thought this was such a cool concept I had to add it. These days, it seems every singer and actor has tattoos. Ink Daze creates temporary tattoos that look like the real thing. Get the look without the commitment. They have a collection of their own styles, but what is cool is you can send in any art and they'll turn it into a temporary tattoo. Love to draw? Is there a cartoon character you like? A favorite quote? They'll whip it up into temporary body art. I had the chance to try it myself (stay tuned) and it was a way to try a tattoo I've wanted for years without needles. Could be very fun for your teen who is begging for a tattoo.
Thank you so much for reading! I hope that this helped and gave anyone in need some help in this department. I hope your loved ones will enjoy their gifts. Have a great holiday season xxx.