This article may contain affiliate links; if you click on a shopping link and make a purchase I may receive a commission. As an Amazon Associate, I earn from qualifying purchases.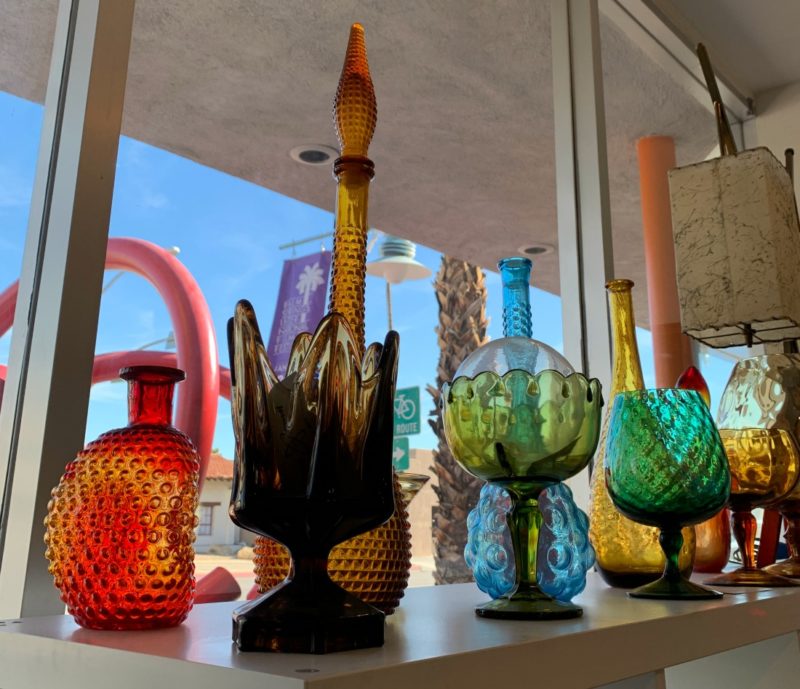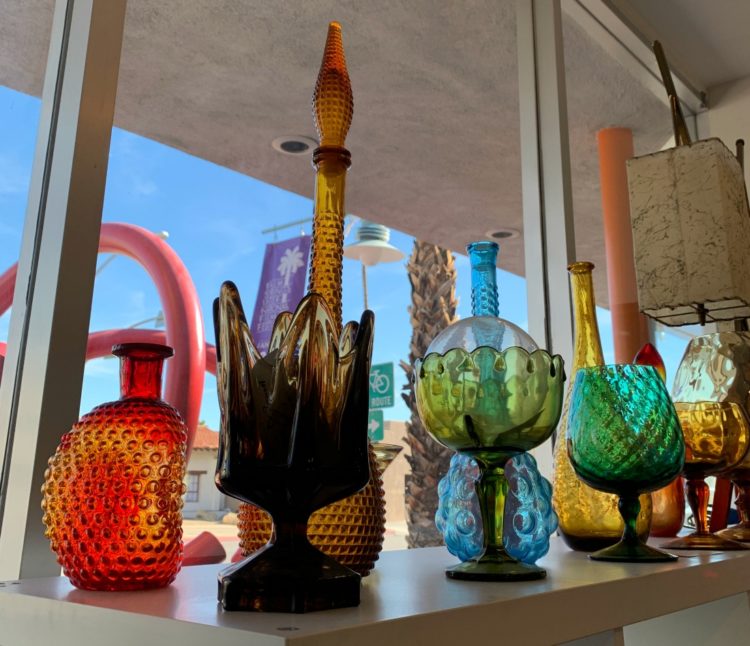 When I went to LA in October for the cabi campaign shoot, I had dinner with my contact at the brand. We were discussing Scoop, their seasonal conference which I was invited to. This time the conference was taking place in San Diego. She suggested I bring my family, we'd already have a hotel room, they'd only have to pay for their flights and while I'm at work they could see the city. I loved this idea, but the conference landed in the middle of our daughter's STEM fair, she had school and clubs that were taking place and having events. But the idea stuck with me; how fun would it be to do a girls getaway with my sister and our best friend?
Planning a Girls Getaway to Palm Springs
My sister has been known to travel with friends to conferences to be motivated to see a new city. While the friend is working, she is sightseeing and then together in the evening they have dinner and hang out. Our best friend had travel scheduled over the holidays that had to be canceled unexpectedly and I knew she was itching to travel. I asked if the two of us would like to join me to San Diego. The conference wasn't until Friday; we could fly in a few days early and have a girls getaway before I got to work. My sister suggested we start the trip in Palm Springs; she had always wanted to go. I wanted to go back after my trip to Palm Springs last spring, and our friend had never been to California. Perfect!
We researched house rentals in Palm Springs, through VRBO and Airbnb. We desired separate bedrooms, a pool in the backyard, a well-appointed kitchen, and if it had a hot tub all the better. We decided on this Airbnb which had it all and more for less than the price of a mediocre hotel room nearby. We agreed to pay an additional fee to have the pool heated; while it's California it is January. We DID plan to use the pool and we did NOT want to freeze!
What I wore: cabi joggers (sold out; similar in a good size range), tiger graphic tee (sold out; similar), Cariuma sneakers, Beyond Yoga sweatshirt around my waist (old; better choice), Universal Standard quilted bomber, Dagne Dover hip pack
It was early Monday morning and I was focused on what to wear to be comfortable in 30 degree Maryland weather and 70 degree California weather as well as to hopefully sleep much of the flight. The bomber made for a great flight pillow and the sweatshirt kept me warm during my nap. I added my Dagne Dover fanny pack to hold flight essentials so I didn't have to keep reaching under the seat to get things like lip balm, face mist, gum, and sanitizers.  I checked luggage – my trusty large Delsey spinner that has been on many adventures with me, and then for the flight I just had my fanny pack and my large Dagne Dover Dakota backpack.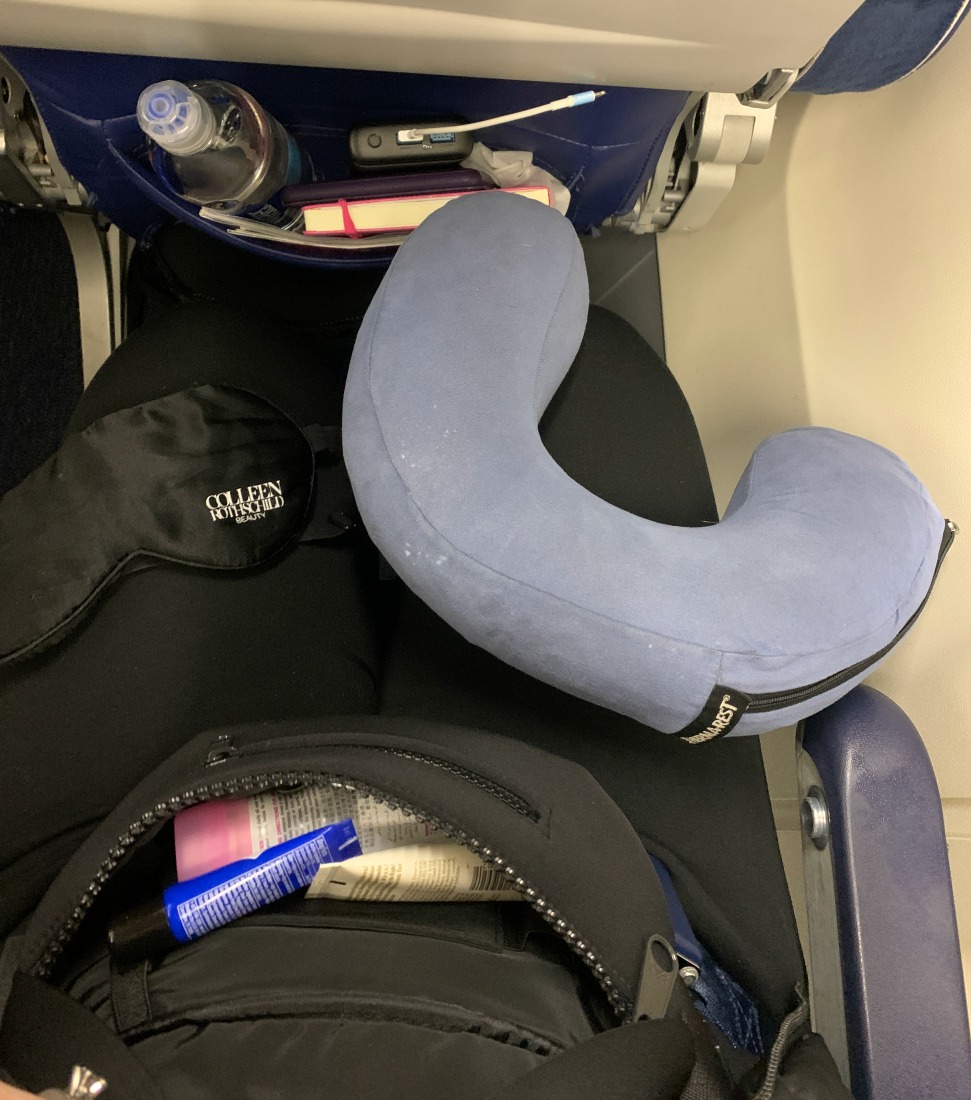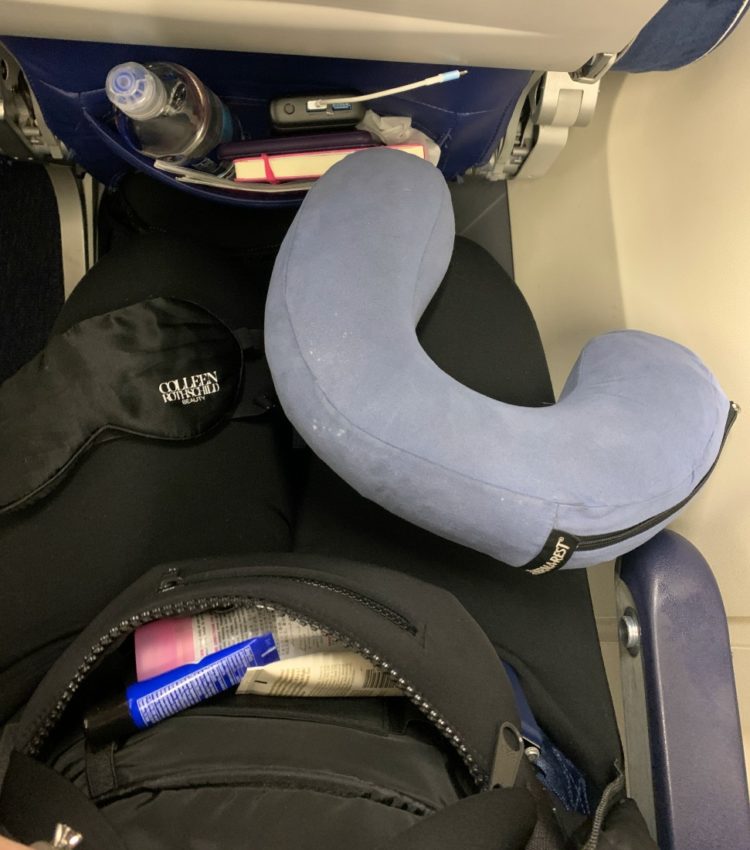 Flights from Baltimore to San Diego were surprisingly cheap; we got round-trip on Southwest for less than $350 with nonstop there and a short layover the trip home. We flew out the first flight from Baltimore so we could arrive in California before lunch. I booked us a rental car at the San Diego airport and drove us the couple of hours to Palm Springs.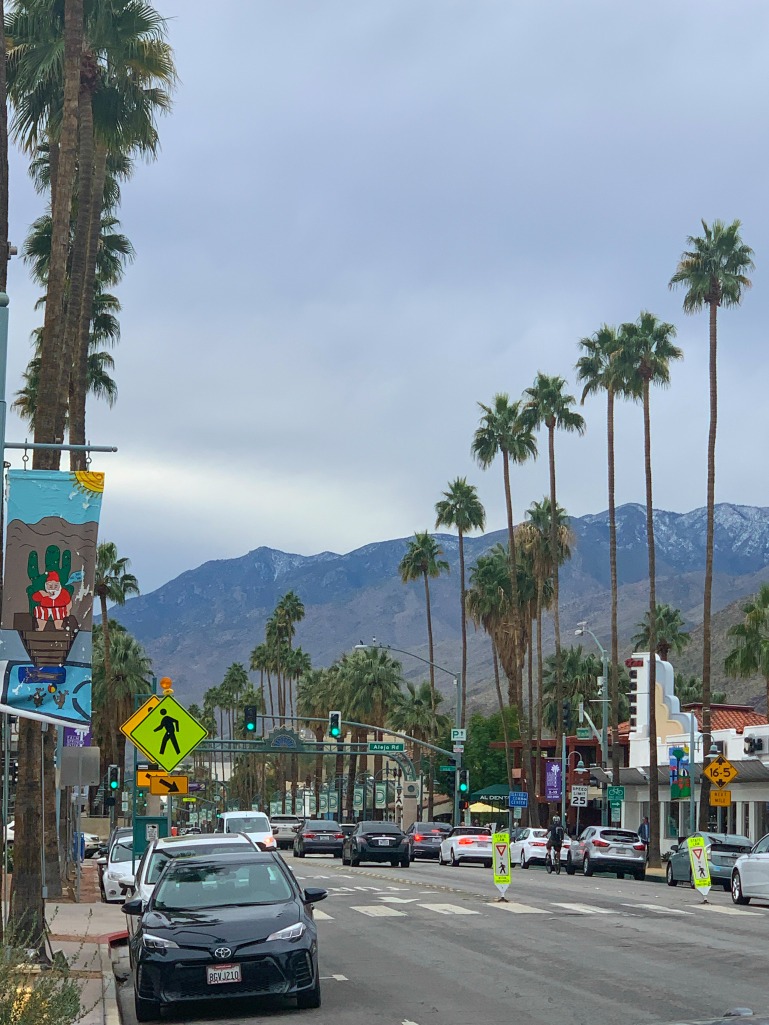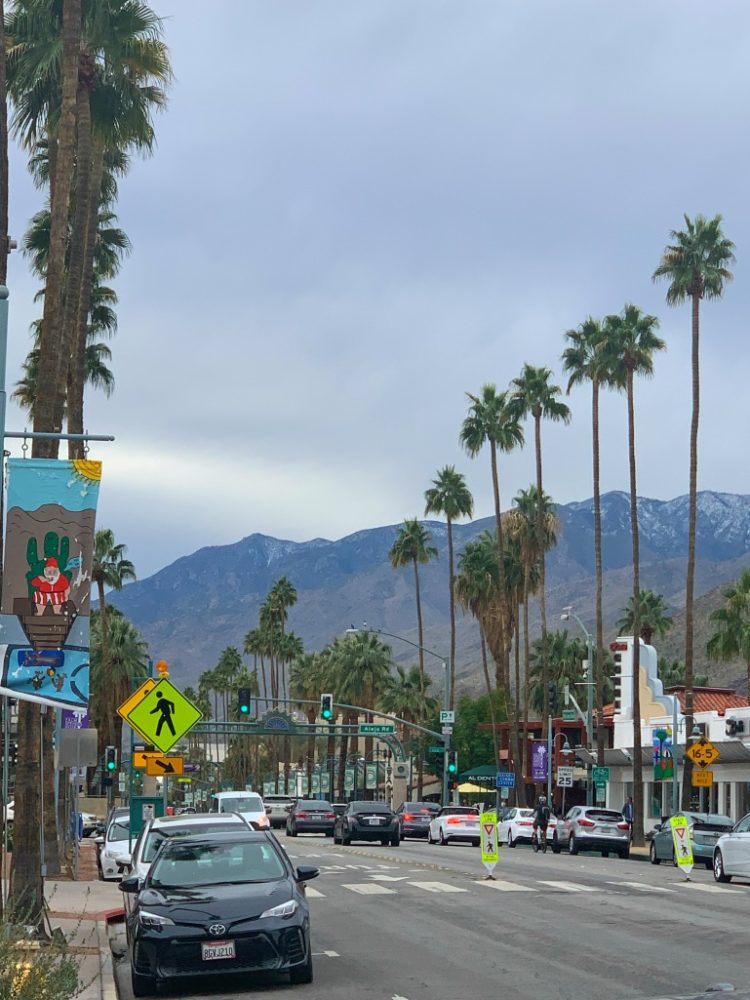 The day was overcast and a bit chilly, but the drive was easy and it was cool to see how much the topography changed. Our Airbnb wasn't available until 3pm so we drove into downtown Palm Springs and just parked on a street near a strip of stores to start our afternoon. MidMod Café was in that strip, the menu looked good so we got a seat outside in the courtyard and toasted to a successful arrival. Since we had a car, we could leave our luggage and winter coats in it as we walked around and window shopped until our house was ready. We then drove over where the super nice Airbnb host gave us the keys and a lay of the land.
Our Airbnb in Palm Springs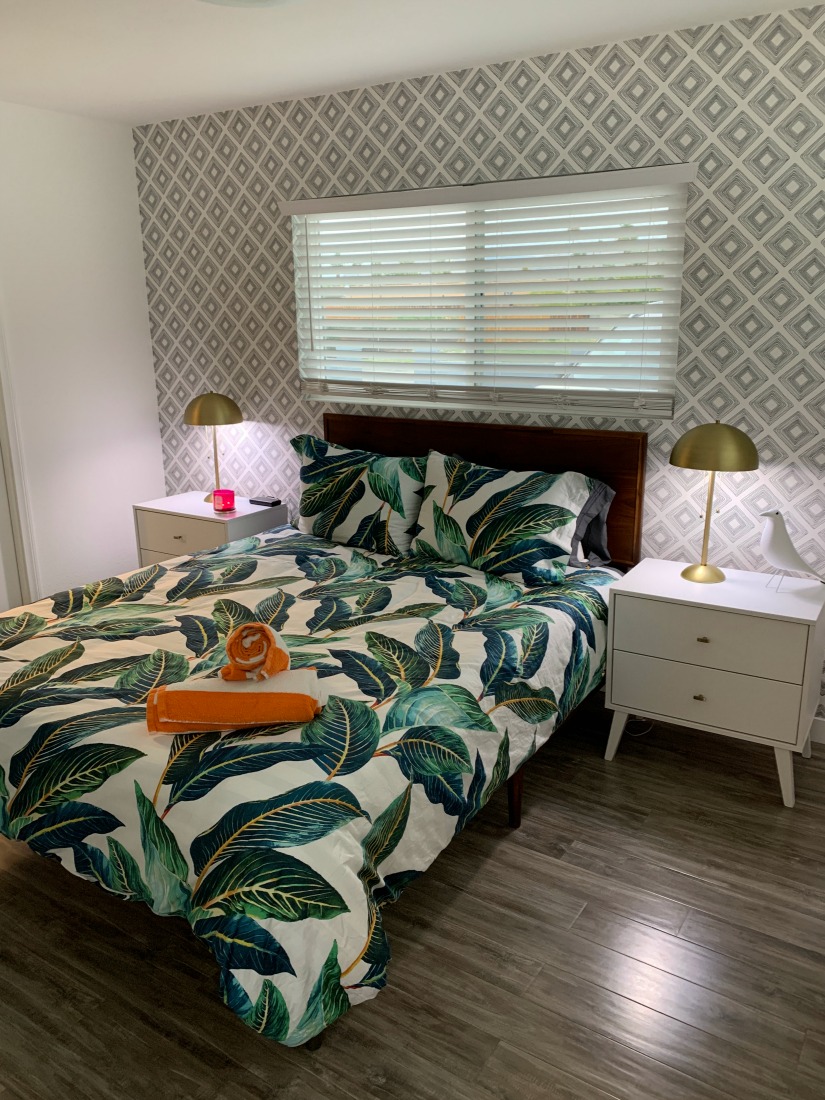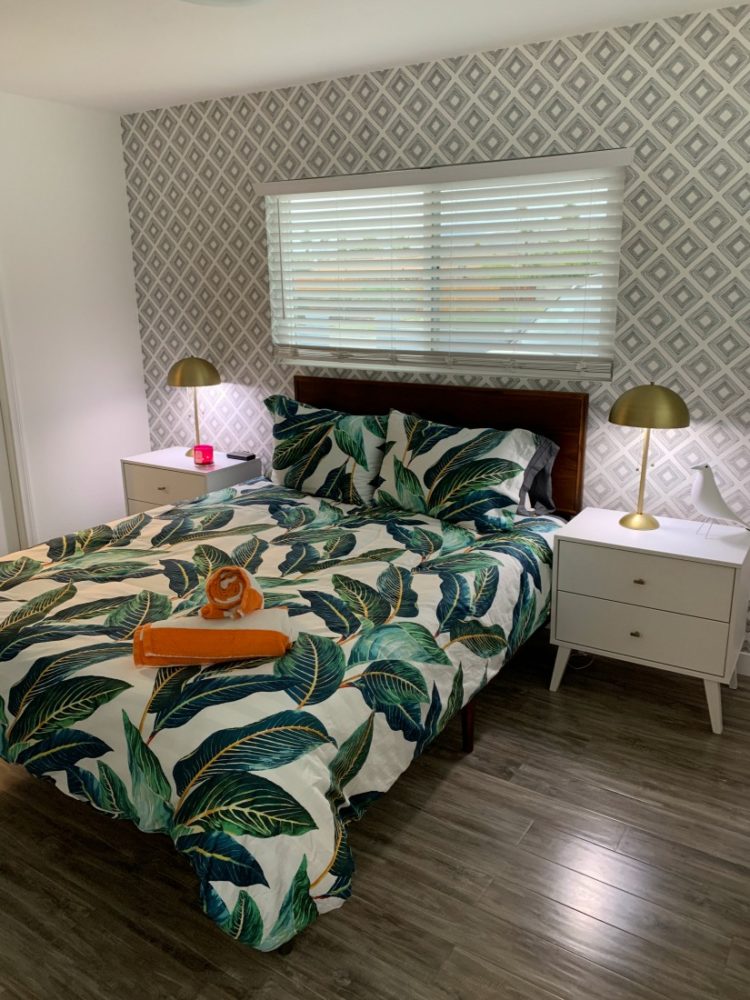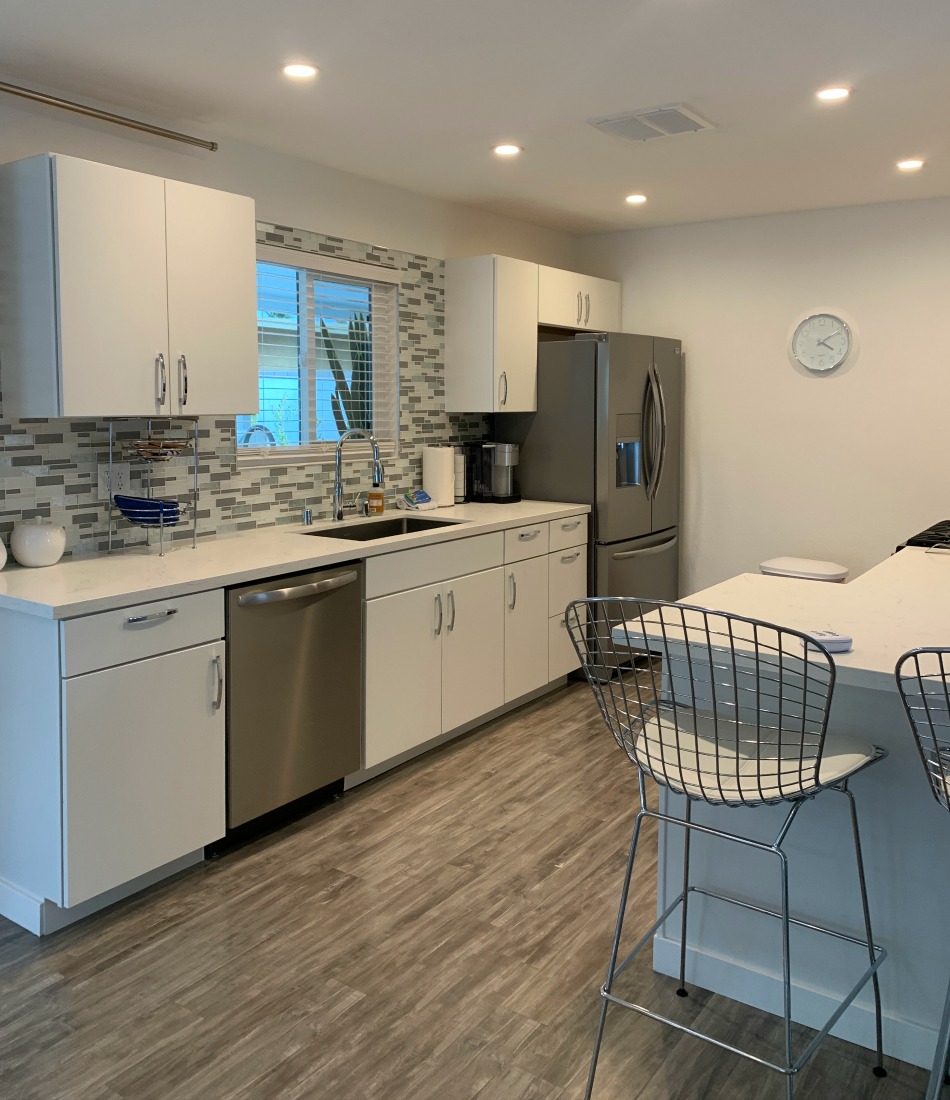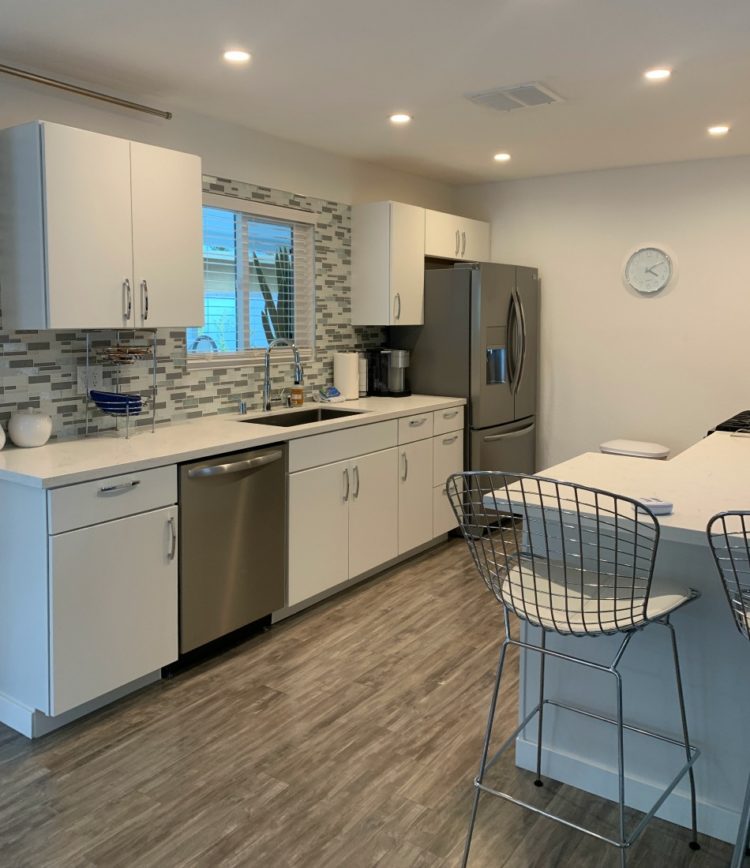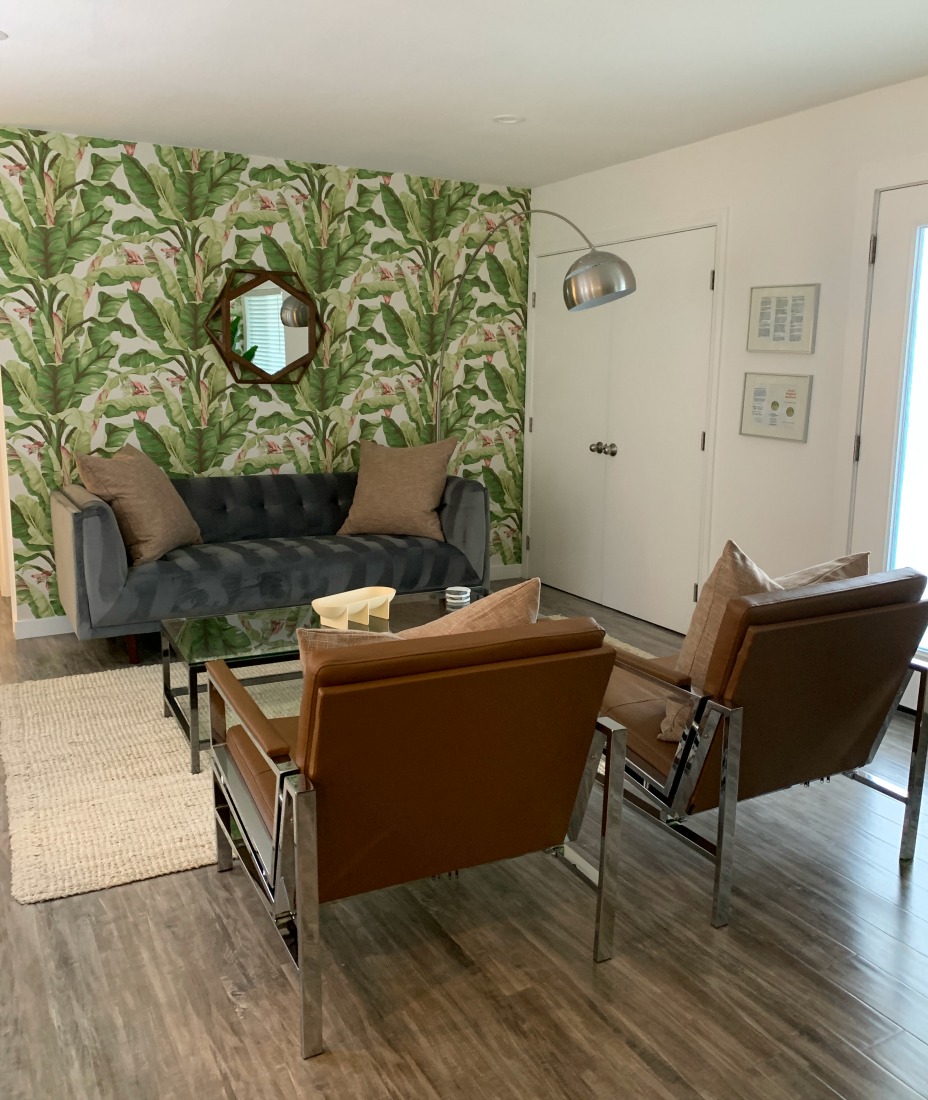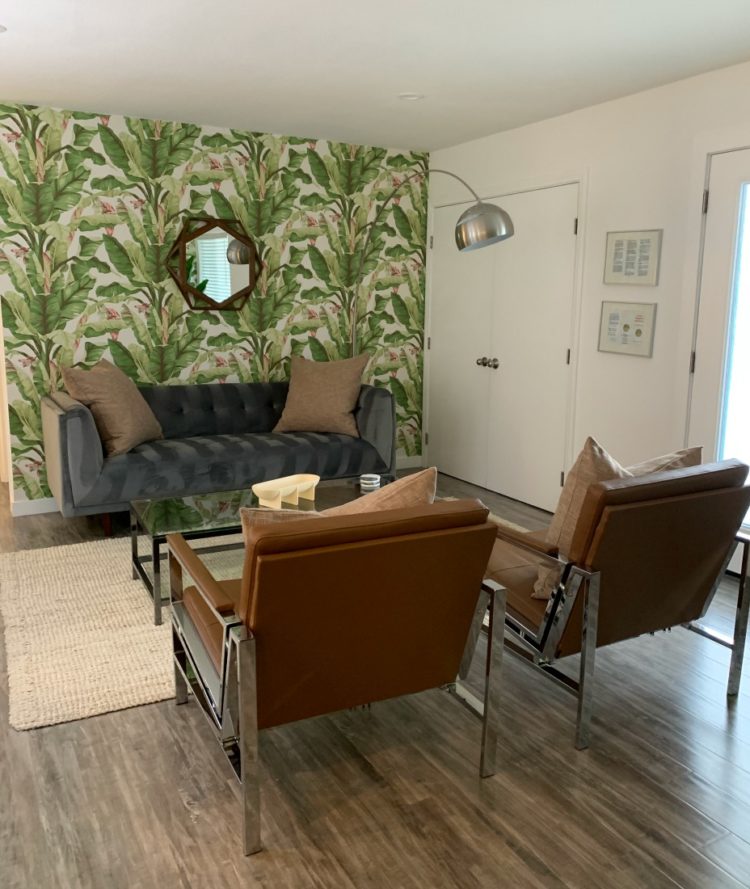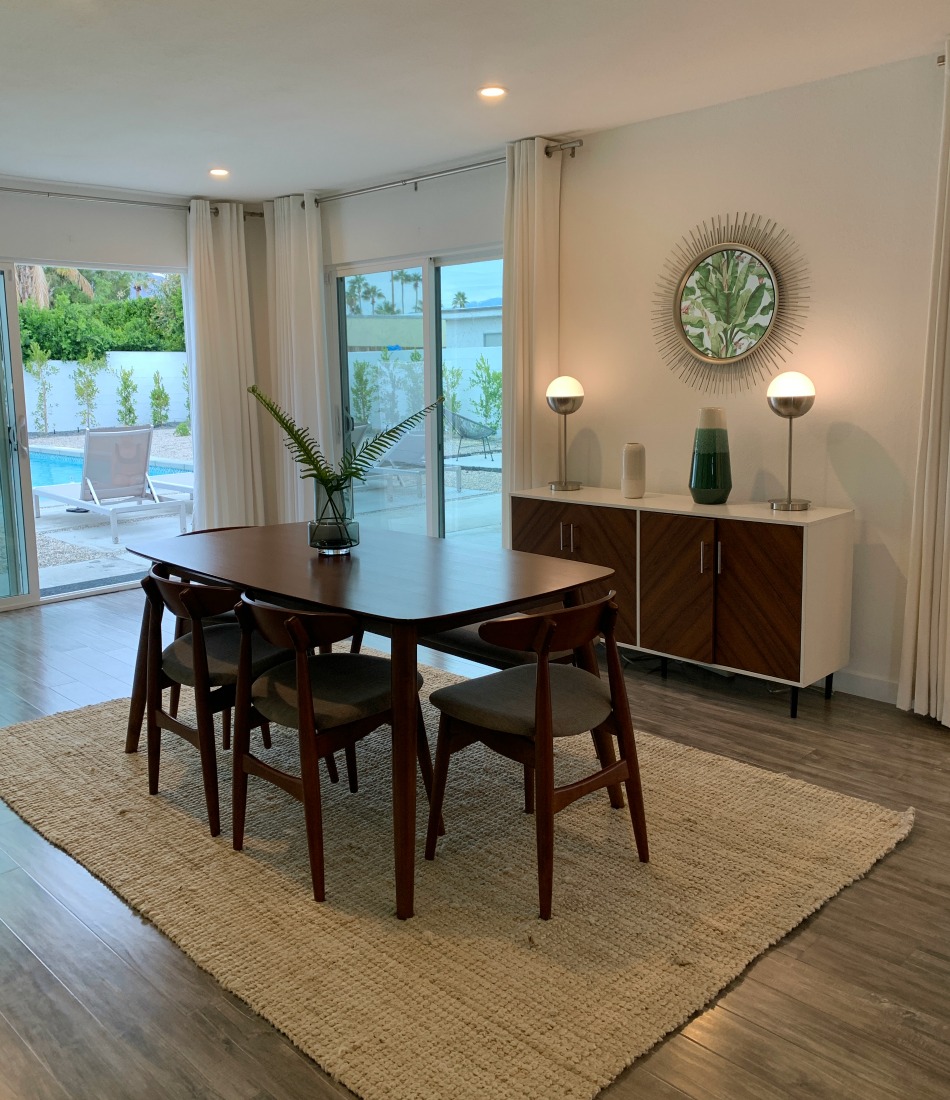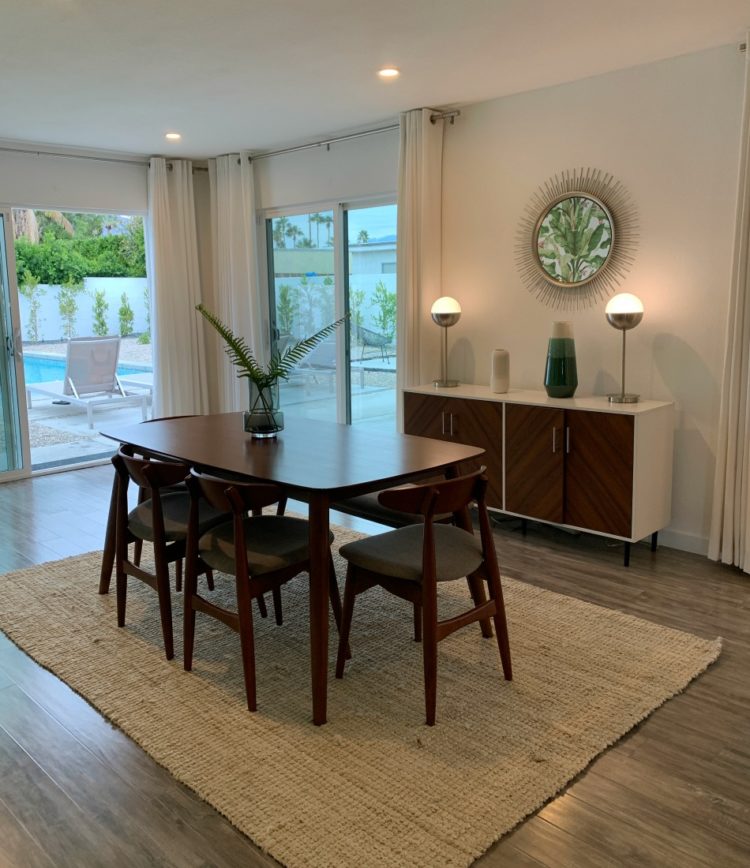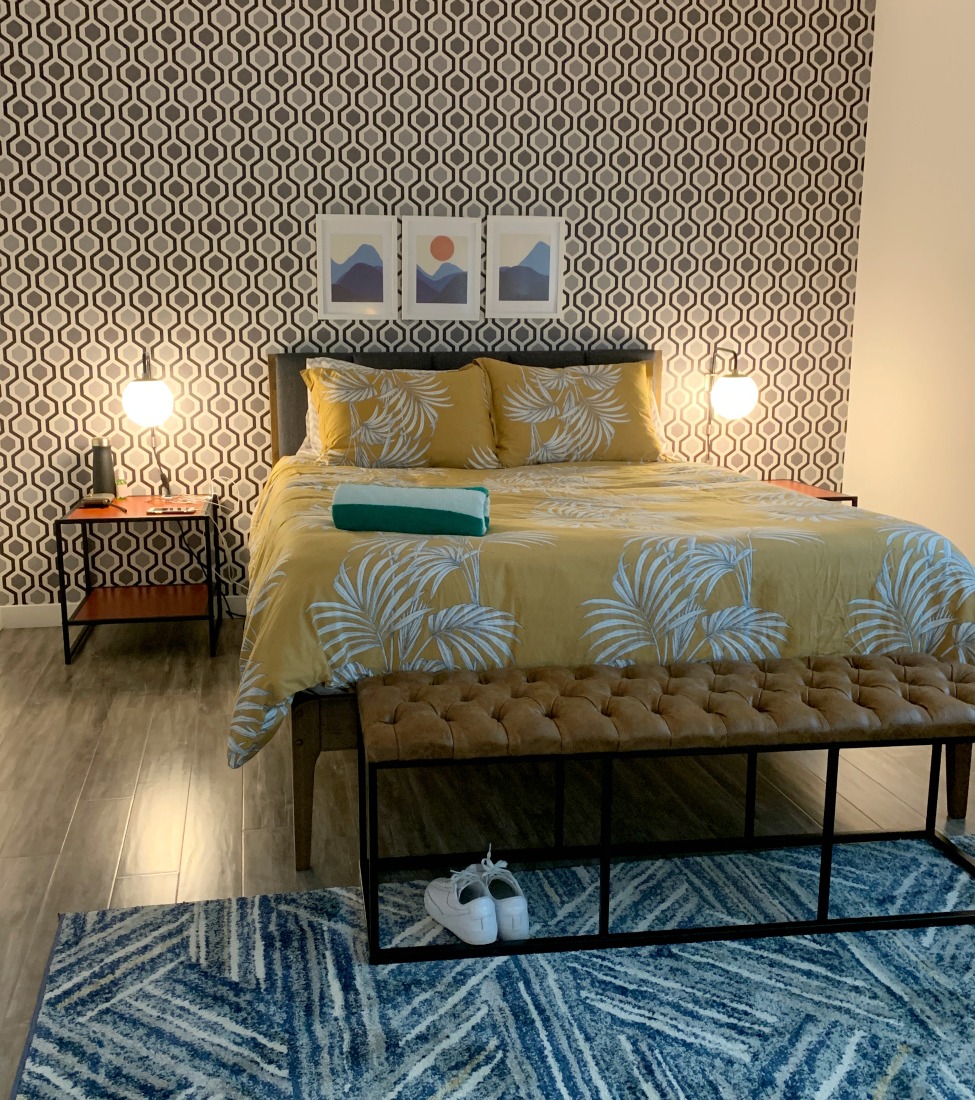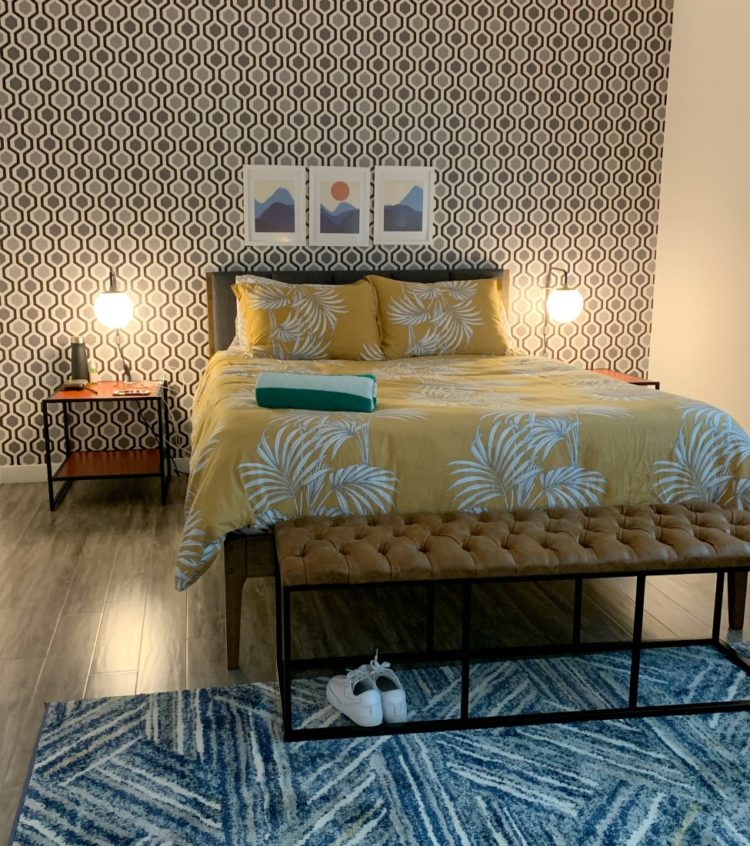 The house was absolutely perfect. It had three bedrooms, two bathrooms, a great kitchen that was fully equipped with cookware and cooking basics, indoor and outdoor dining, a pool with hot tub, a fire pit, grill, and more. The whole house was super cute, beautifully decorated and plenty of parking. It even had a washer and dryer! It was in a neighborhood not far from the airport and it was a quick drive to most anywhere. The day was still gray, but we donned our suits and hopped in the pool. That night we planned to go to a nice dinner to celebrate my sister's birthday but we were too pooped to party. Instead, we ordered sushi delivery and watched a movie in the living room.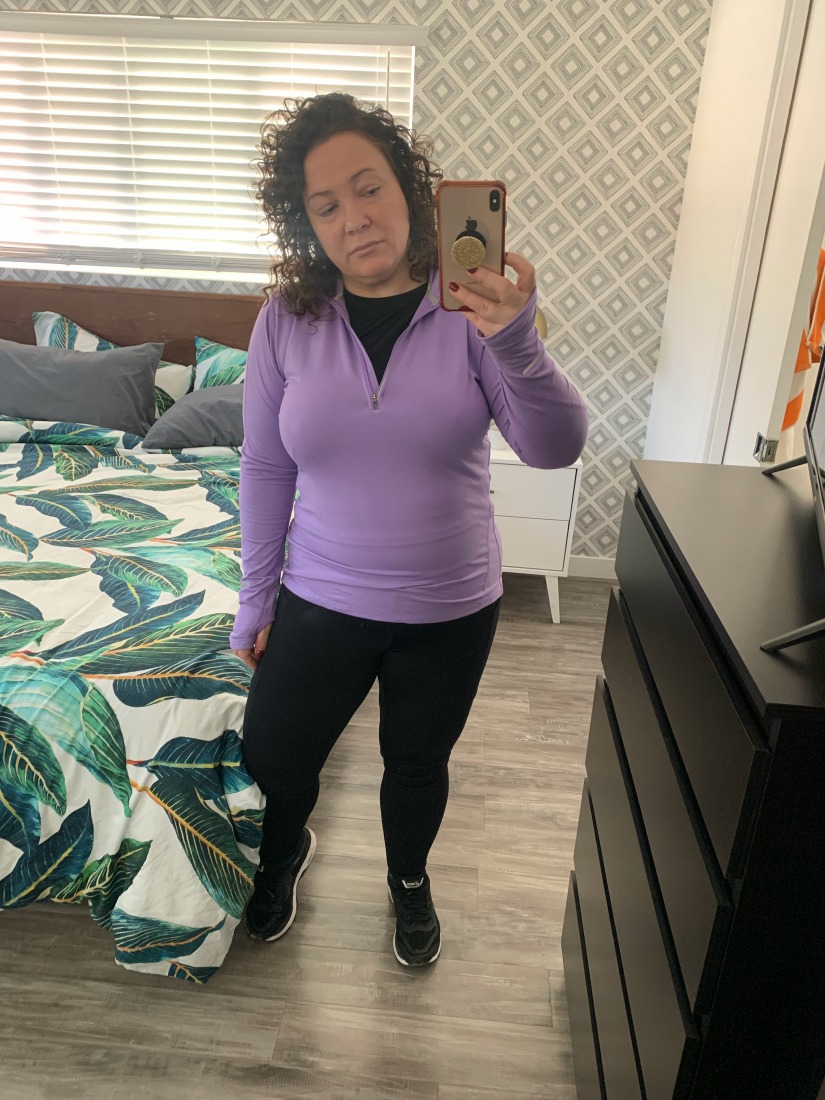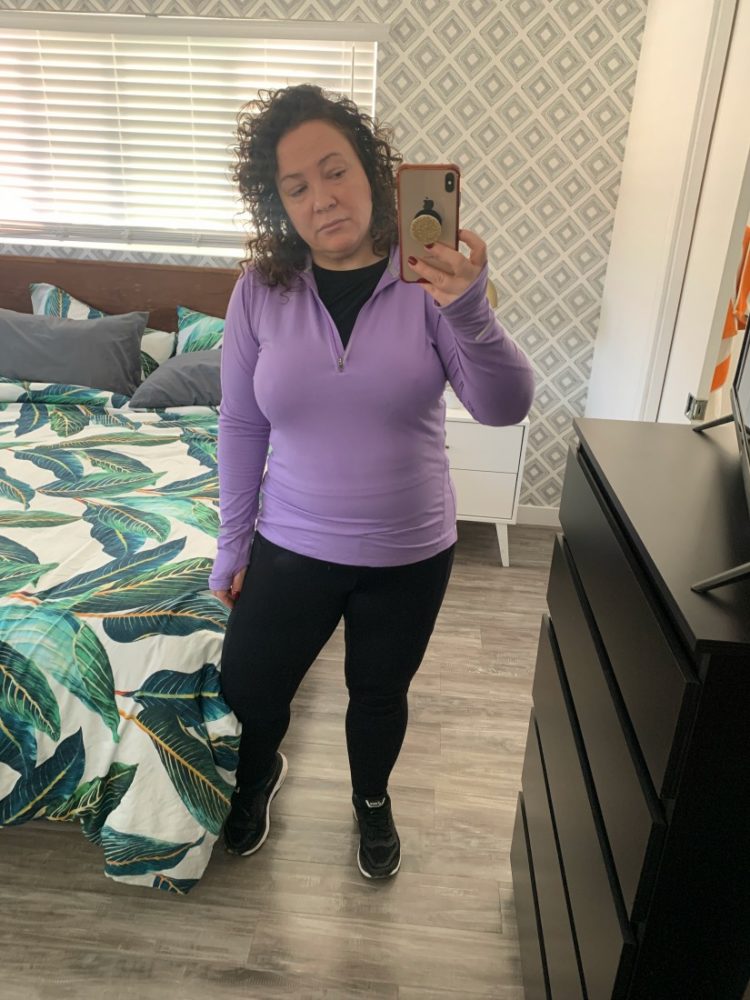 What I wore: Athleta sleeveless top (old; similar), Nike half-zip pullover (similar), Core10 leggings, Asics sneakers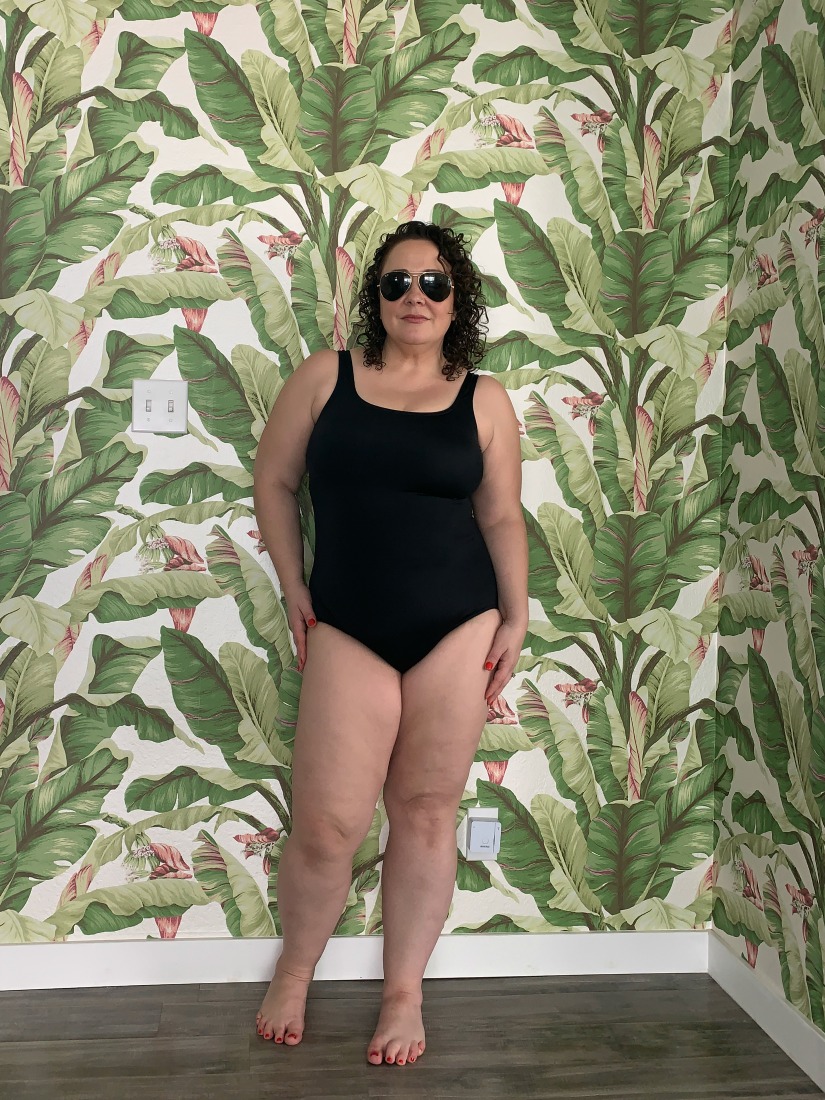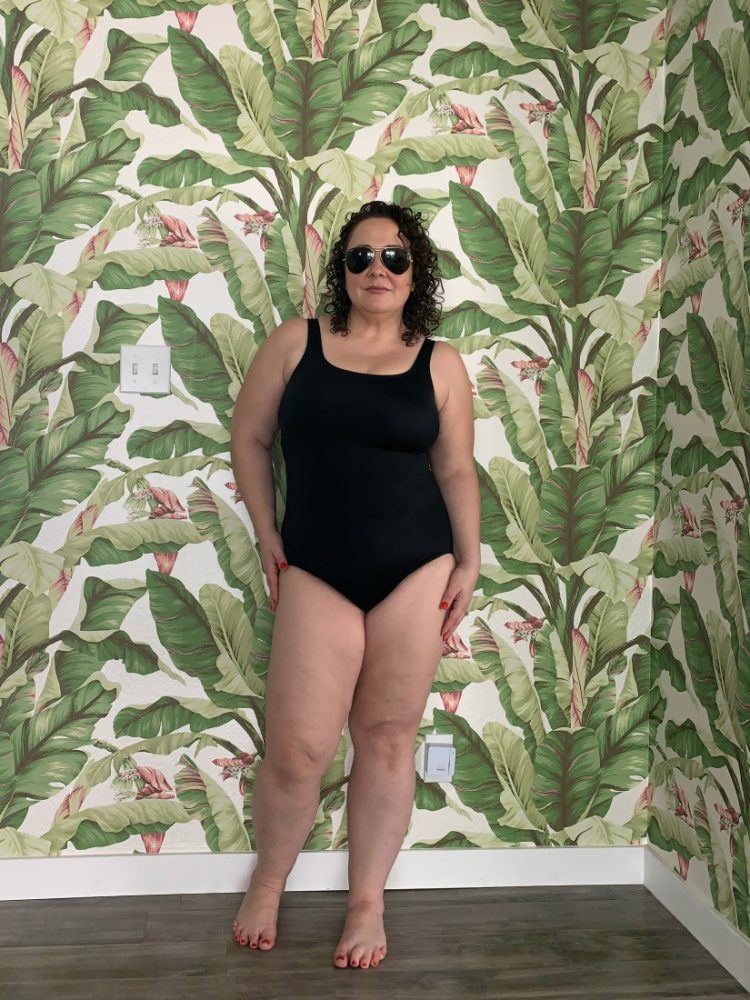 What I wore: Lands' End Tugless Tank (plus sizes), Ray-Ban sunglasses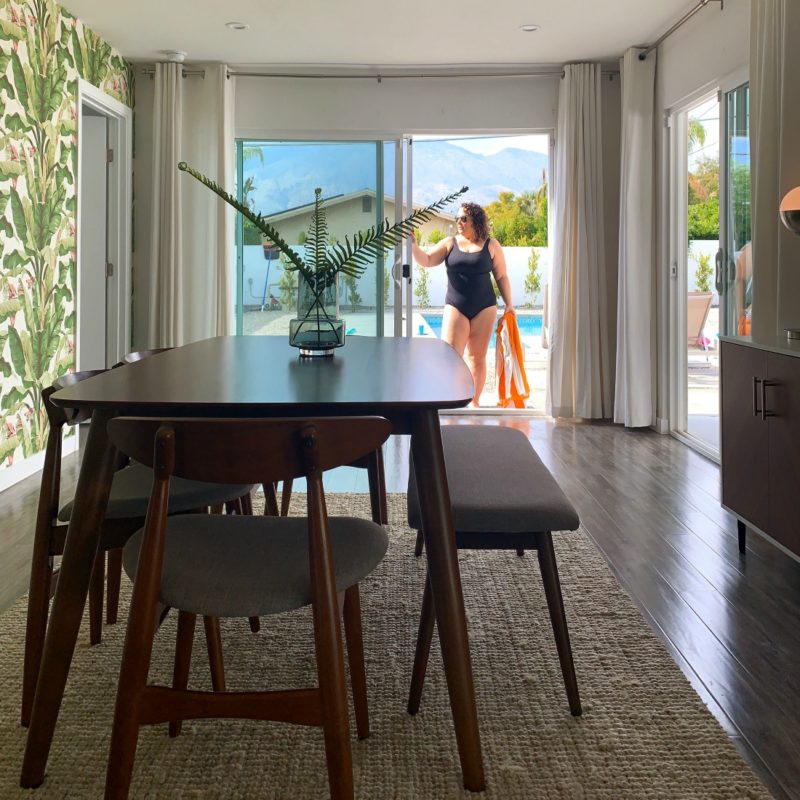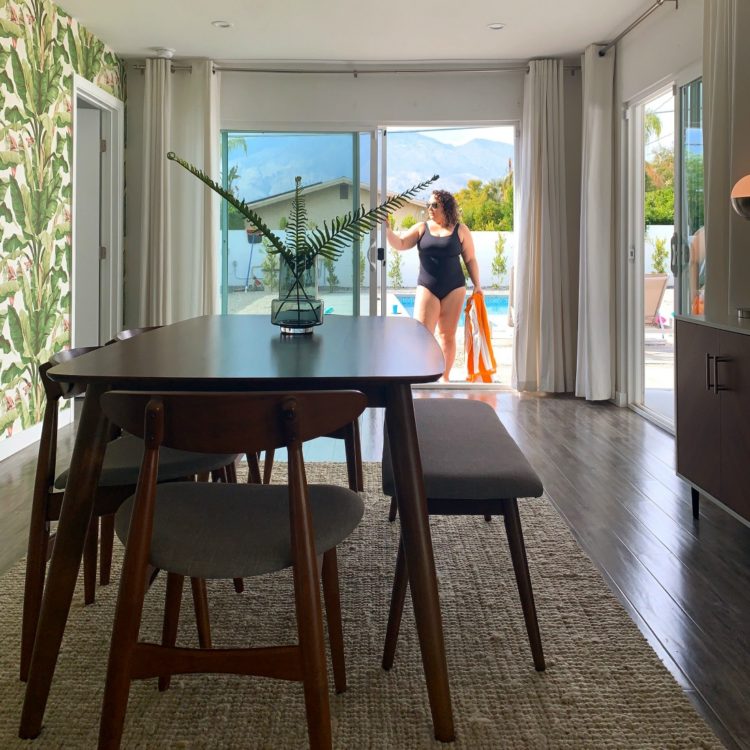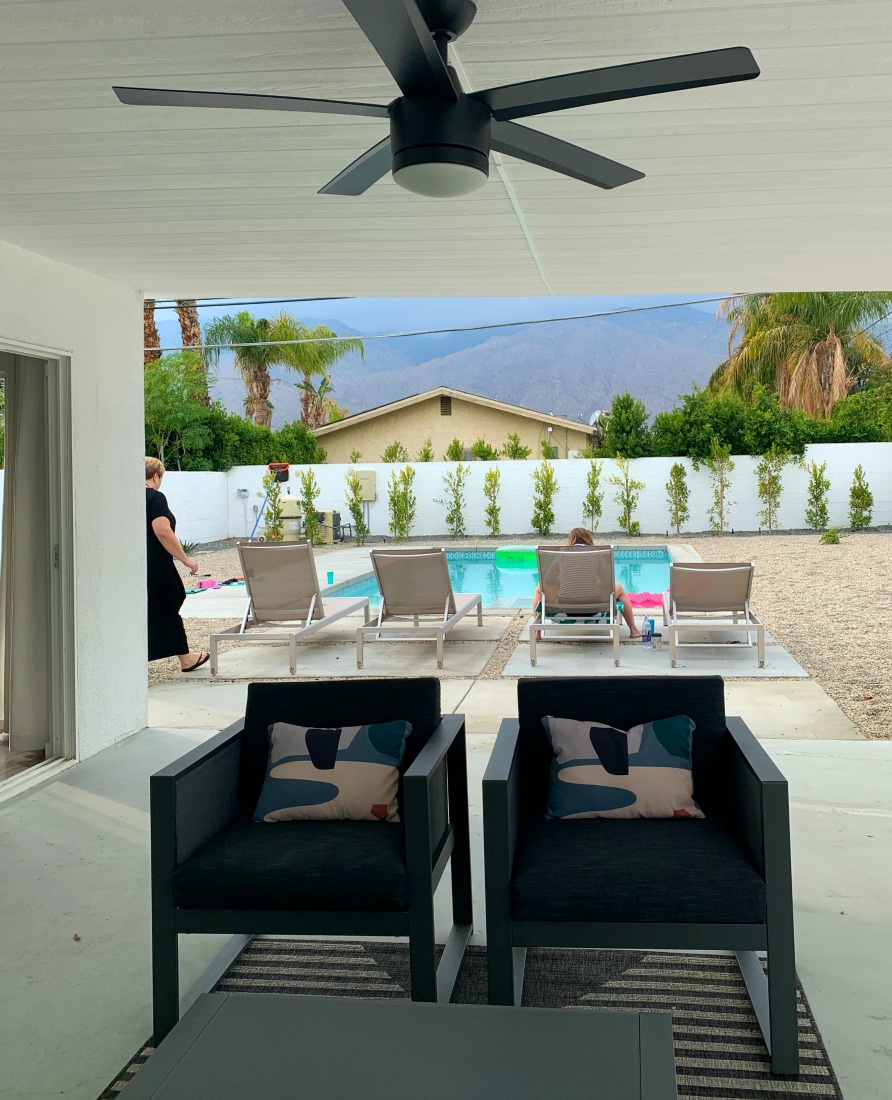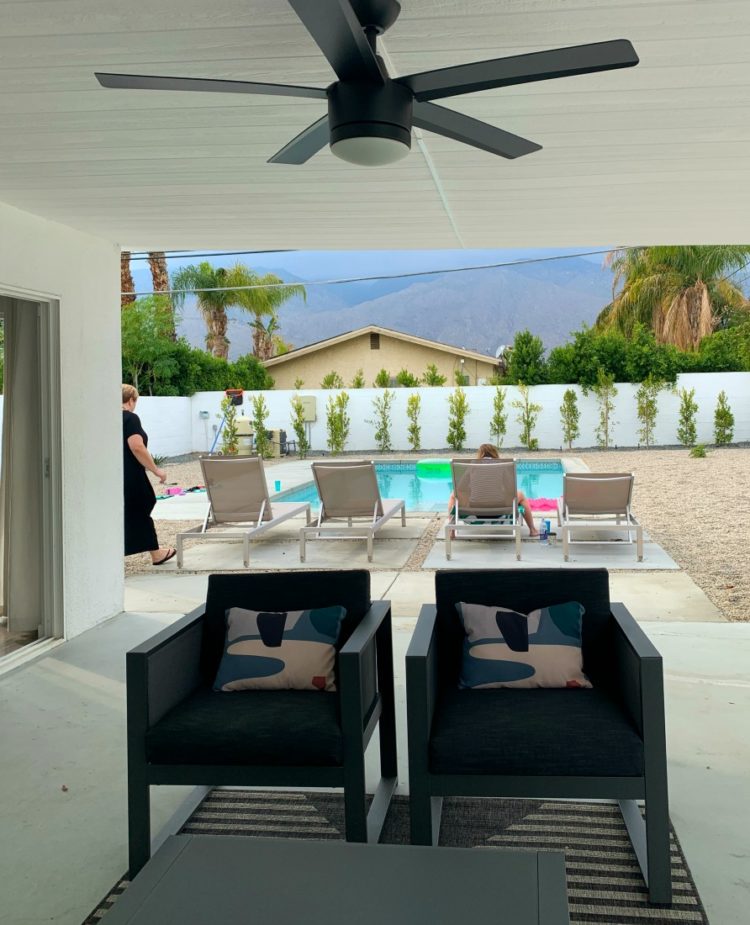 The next day we purposefully didn't have plans so we could chill and truly have a vacation. The skies cleared and it was a beautiful day for lounging at the pool. We walked to a nearby strip mall which had a bakery that offered breakfast and a deli/liquor store that offered a variety of beverages and snacks. I noticed there was a new nail salon in the mall; later in the day while my friends hung out at the house, I went back to get a mani and pedi before the conference as I didn't have time before the trip. I stopped by the nearby Ralph's for some provisions and pool rafts and my sister made us lunch that we enjoyed out on the patio.
Dining Out in Palm Springs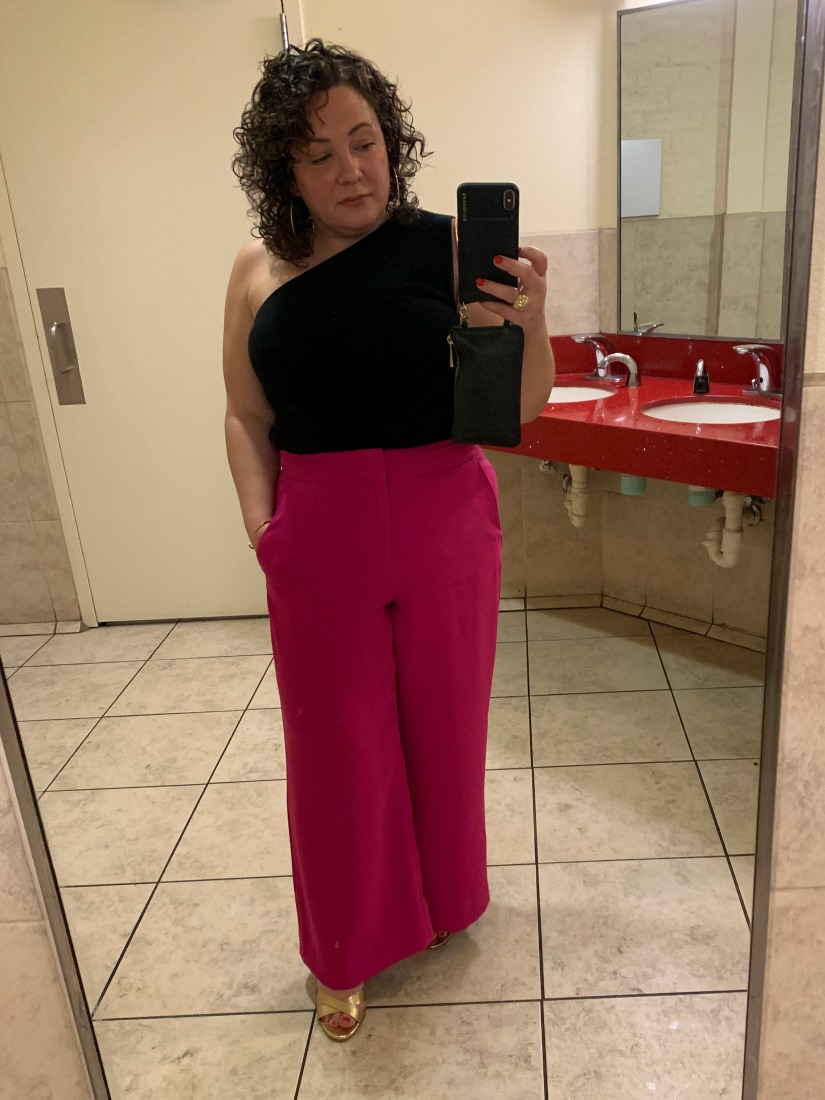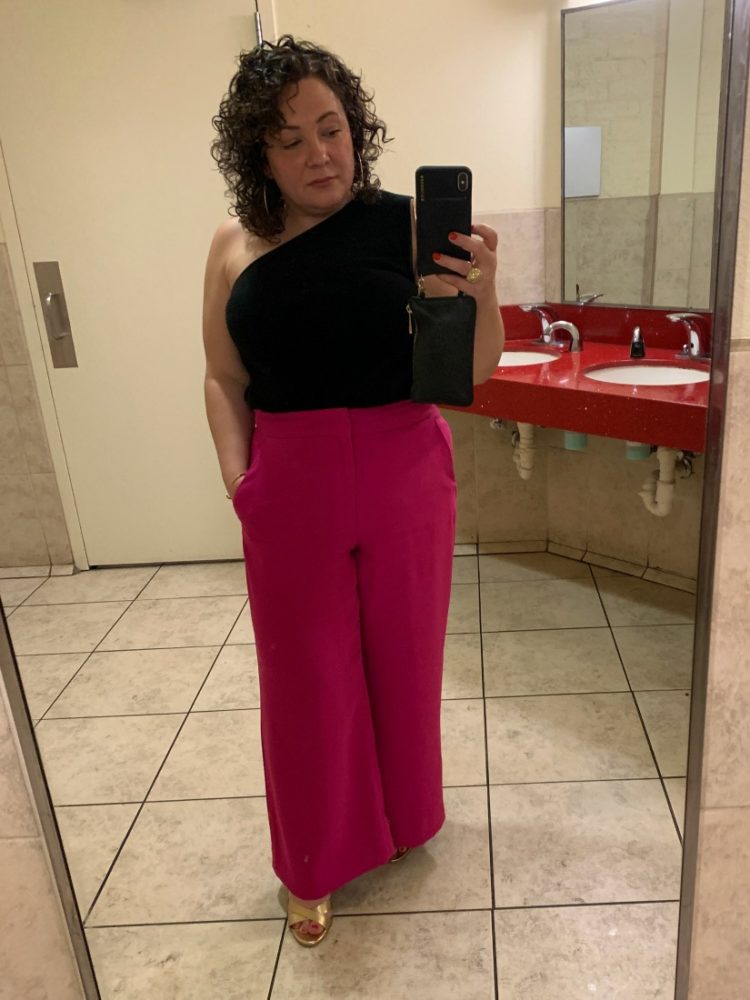 What I wore: Universal Standard one-shoulder cashmere sweater (old; similar), Banana Republic pants, Margaux heels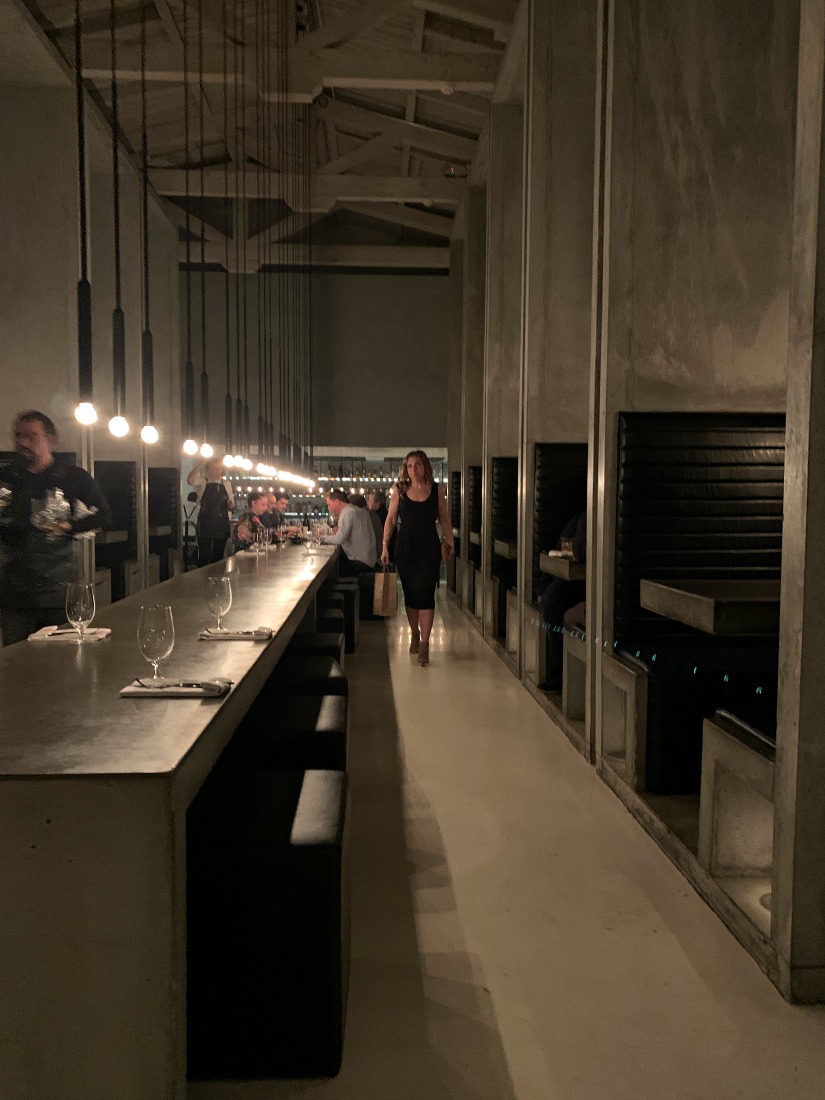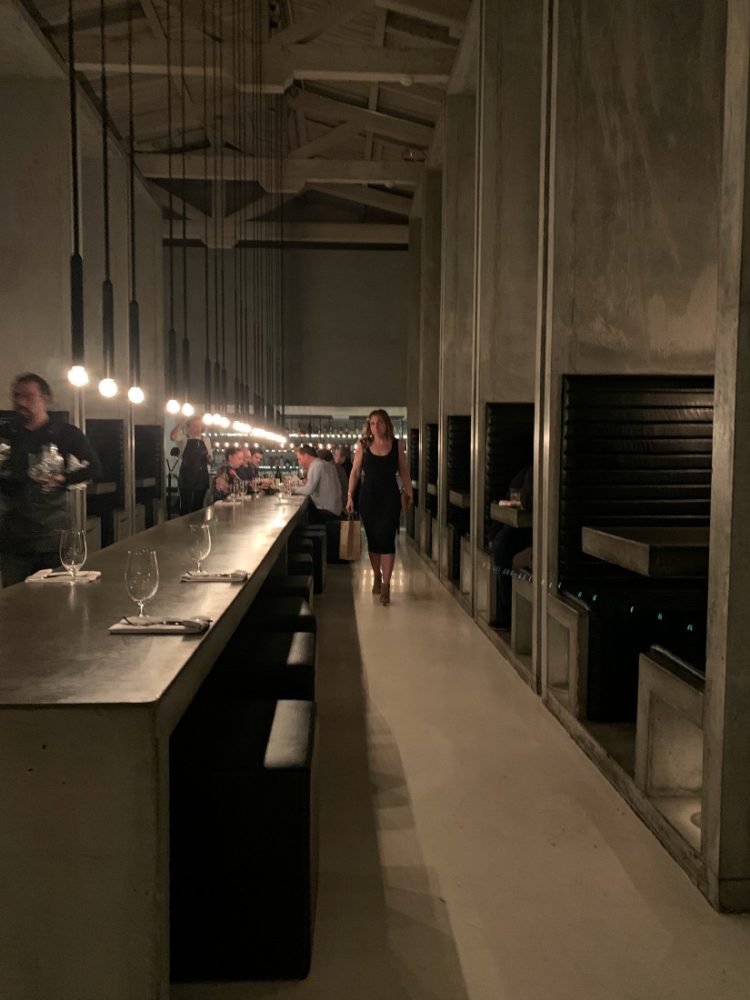 That night we went to dinner at Workshop Kitchen+Bar, a restaurant many raved about, to celebrate my sister's birthday. This was an interesting restaurant. Online I read converted movie theater, farm to table, pictures of people laughing outside under Edison bulbs but that's not the whole story. When you arrive there is a courtyard but it was hosting a private event. Through doors that make you think you're entering a store, you end up in this cavernous space that is very… industrial. Plenty of stone and dark brown leather. There is a long stone table down the center of the restaurant with leather square stools to sit at; we asked for one of the booths which line the two sides of the restaurant, each within its own concrete… cell sounds too prison-like. But there were columns/walls of concrete from floor to super high ceiling between each booth. The boots also had stone tables and the seats were upholstered with dark brown leather with high seatbacks. The staff wore long aprons of the same dark brown leather over white shirts. And there were Edison bulbs inside hanging above the tables for mood lighting. The menu was super creative and everything was delicious and the staff was great (they noted my comment in the reservation about it being my sister's birthday, caught me when we came in and asked which one she was and brought her dessert out with a candle), but it definitely was a different vibe than I expected and a different vibe from most of Palm Springs.
Visiting Joshua Tree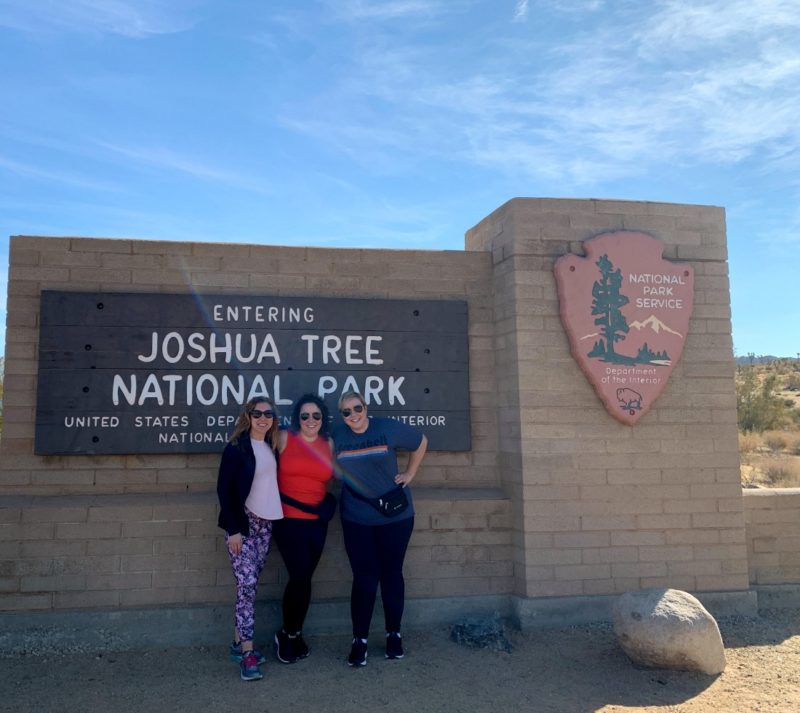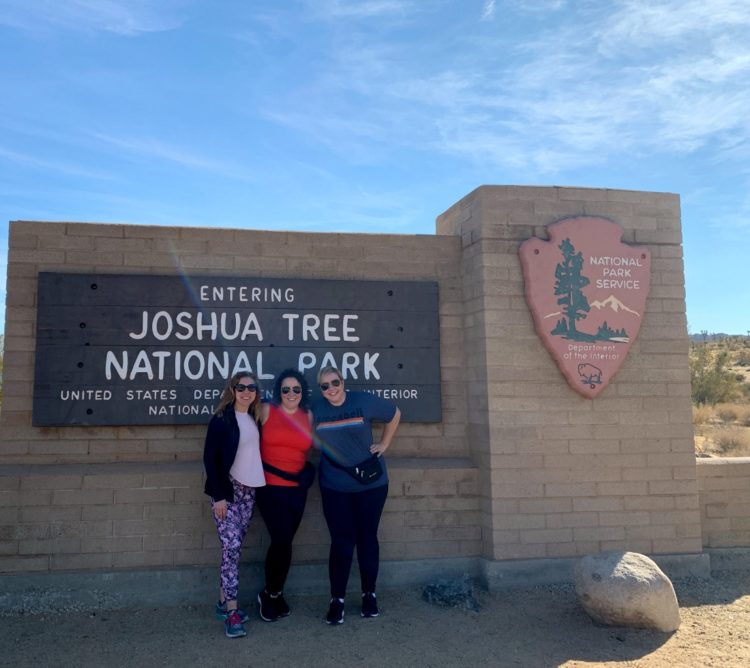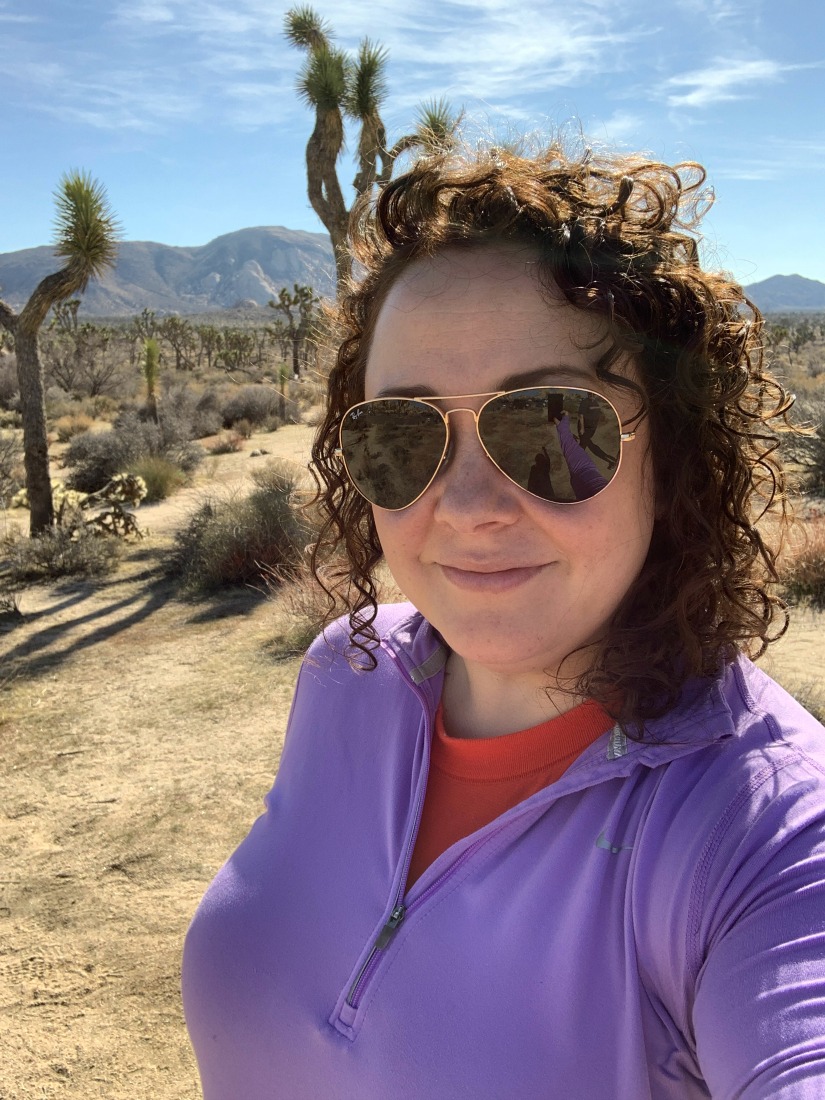 What I wore: Athleta top, Soma leggings, Nike half-zip (old; similar), Universal Standard bomber, Asics sneakers, Ray-Ban sunglasses, Dagne Dover hip pack
The next day we had plans – Joshua Tree! We all wanted to visit and hike around it. We knew we could go solo, but didn't want to miss out on the best aspects that we could fit in one day, so we booked a tour. When I went to Palm Springs the previous year with the clothing brand Chico's, they booked us a tour of the Coachella Valley with Red Jeep Tours and it was amazing, so I chose that company to tour Joshua Tree. We met the van at the Palm Springs Library and the tour ended up just being us and another couple who coincidentally, was also from Maryland! We took a van to Joshua Tree because we spent all the time on foot. Before the hike, we stopped in the national park gift shop and I got my entire family and me matching Joshua Tree hoodies. Our tour guide took us on paths where we saw petroglyphs, grinding holes, an old dam, an old cattle watering hole, and the most beautiful vistas. This was a tour that wasn't too strenuous and didn't require fancy footwear or equipment, but you did need to be steady on your feet and comfortable walking for over a mile. There were times when it felt like we were the only people for miles, and then other times when we encountered large groups of people. The tour included cold water and a boxed lunch under Cap Rock.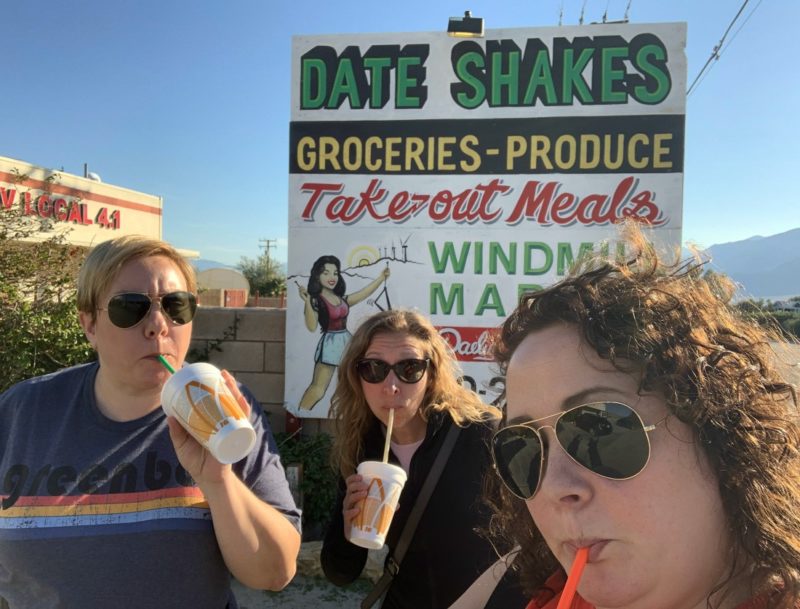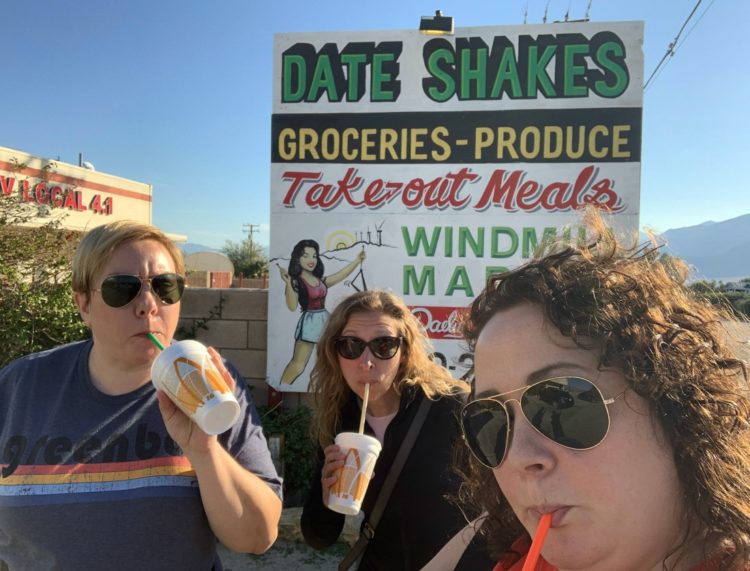 After Joshua Tree on the way back, the van stopped at Windmill Market which is known for their date shakes.  Since we were dropped off in the center of Palm Springs, we took some time to window shop and grab a coffee.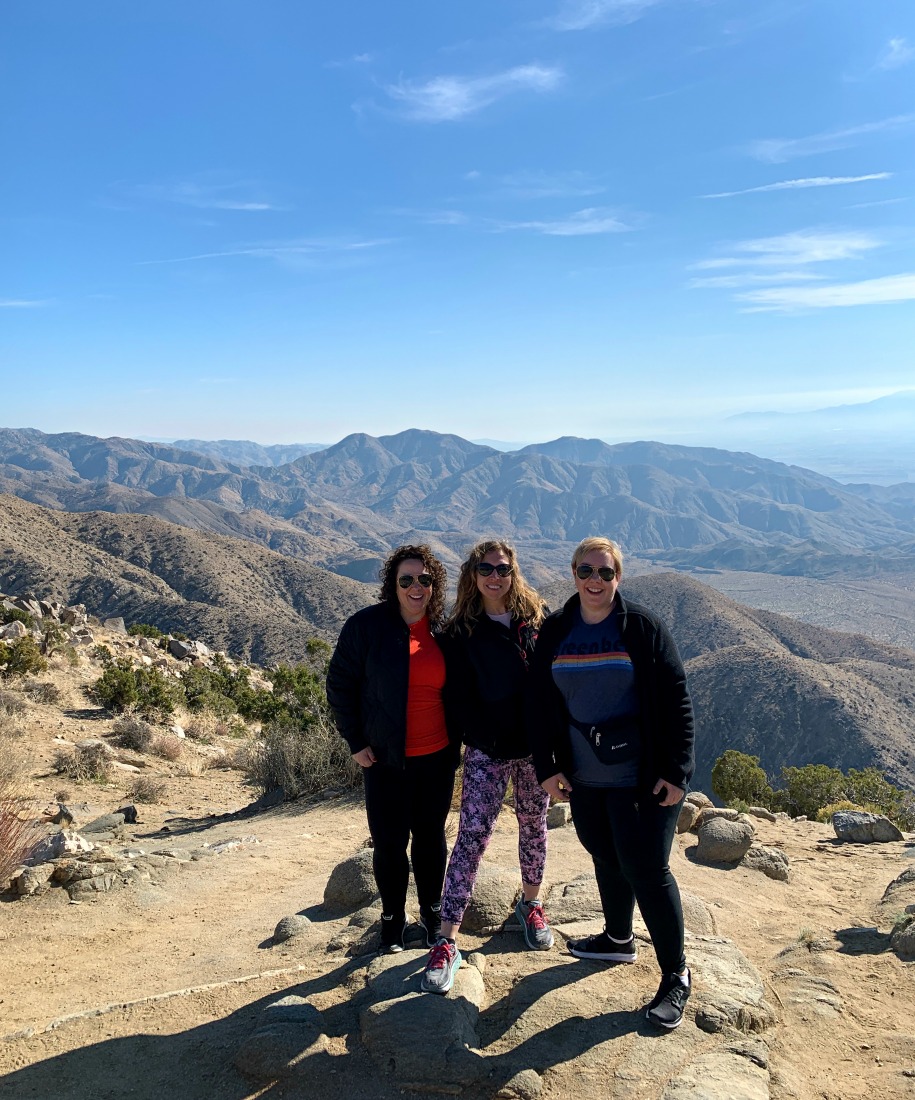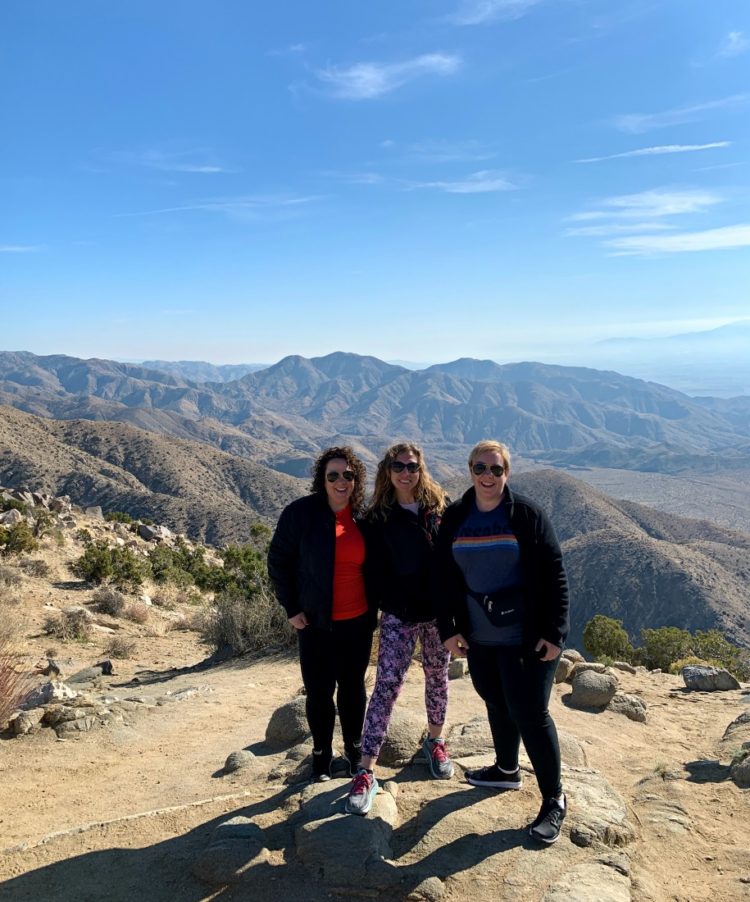 I am so glad I wore layers. There were times when I stripped down to my sleeveless shirt and had the sun beating on my shoulders (wear sunscreen!) and other times I bundled up with the bomber jacket over the windproof running shirt. Since we had the van, we could leave layers in there. Sunglasses were a must, and a hat would be a good idea especially later in the year. You don't want to have to deal with a handbag and unless you're responsible for several others, you won't need a large backpack. I was glad to have my fanny pack which held my wallet, sunglasses, lip balm, and sunscreen. My leggings had large side pockets, big enough to hold my water bottle and my phone.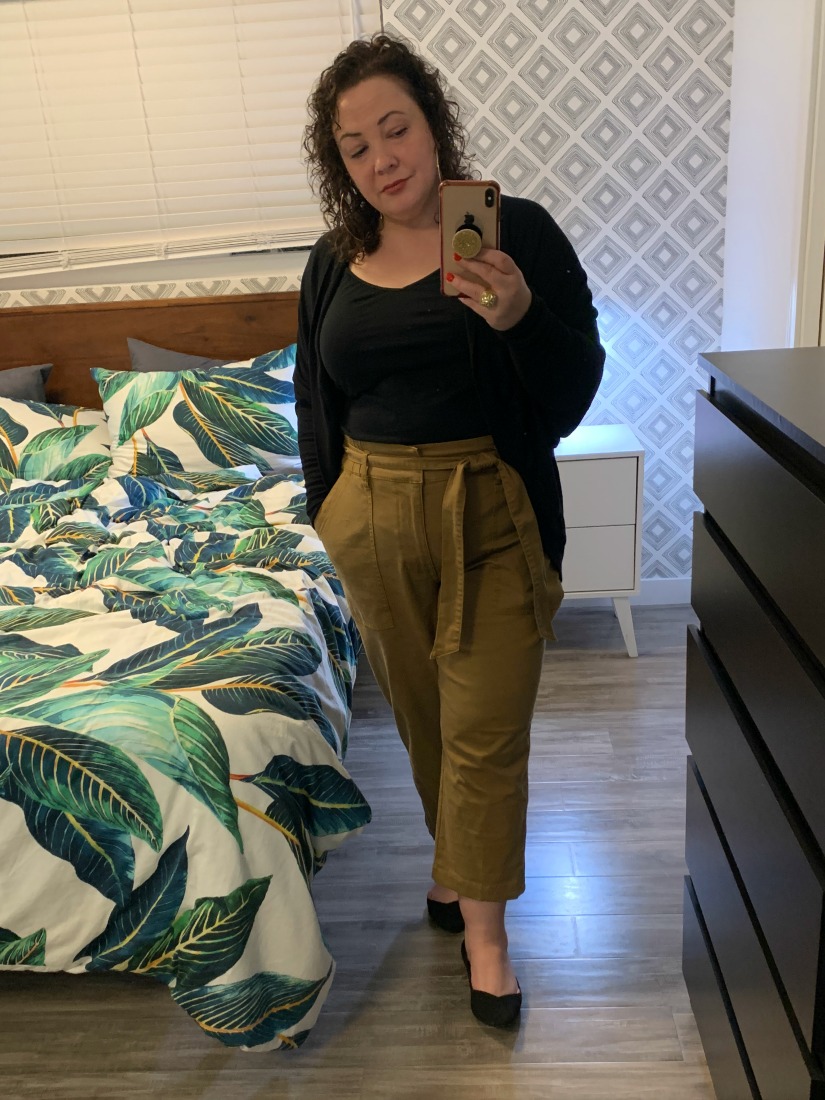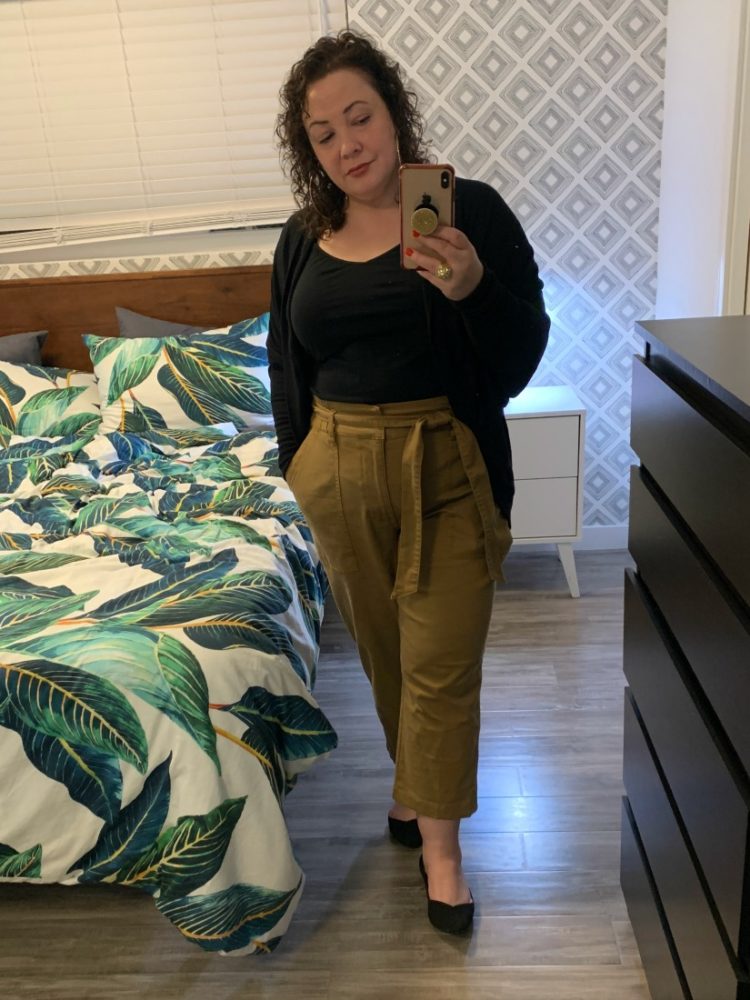 What I wore: black knit cabi cami, my Beyond Yoga sweatshirt as a cardigan/shrug (alternative), cabi trousers, Rothy's flats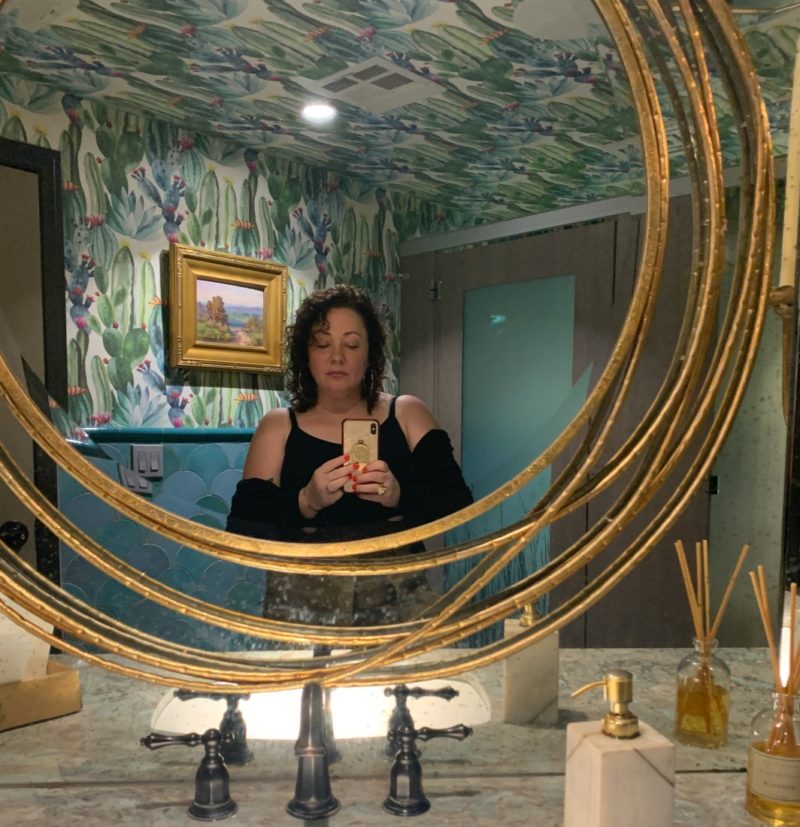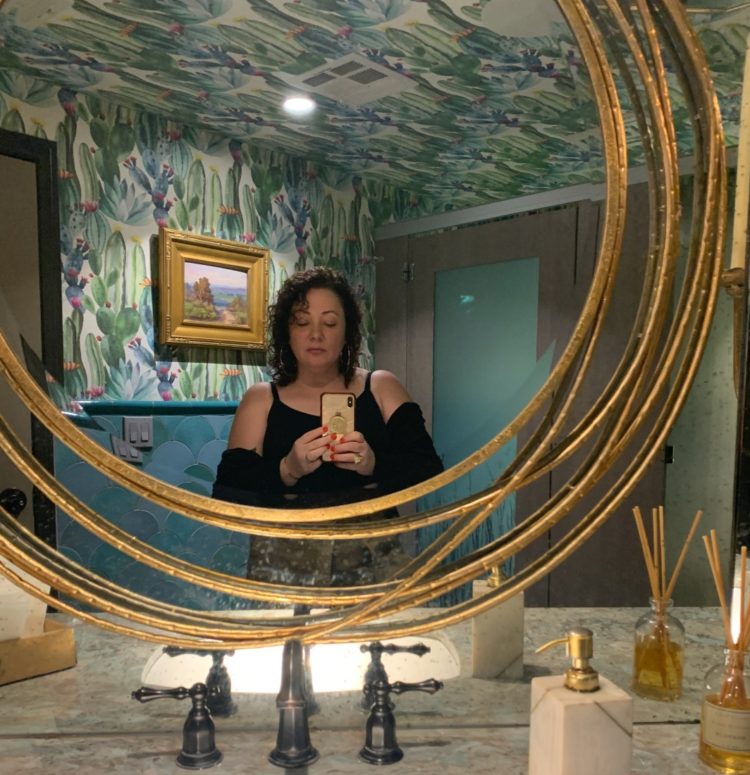 That night we went out to dinner, but wanted a place more chill than the night prior. We went to Tac/Quila, a Mexican restaurant started by two ex-lawyers. It has indoor and outdoor seating, live music, and an inventive menu. We sat halfway indoors, halfway out but it wasn't cold thanks to the heaters and we were right near that evening's singer who was fantastic. The décor was gorgeous, even the bathroom was beautiful and creative. Tac/Quila had a great selection of vegetarian and vegan options, and it was a great place to spend our last night in Palm Springs.
Brunch in Palm Springs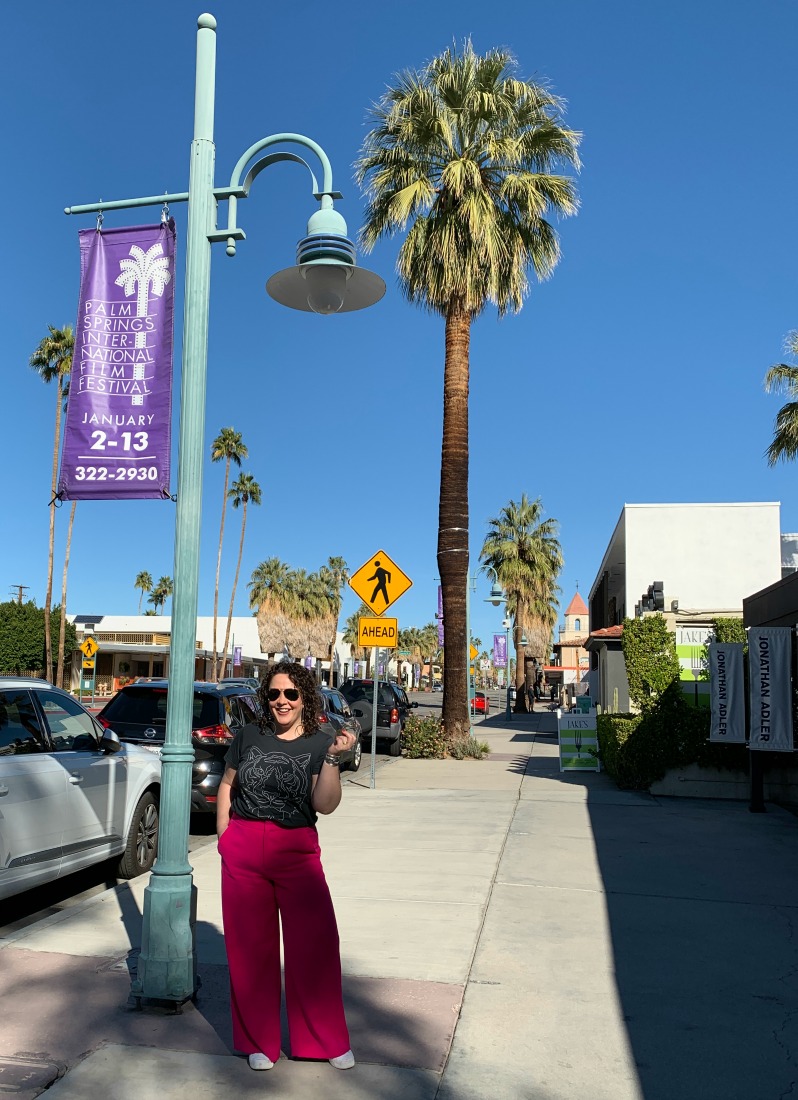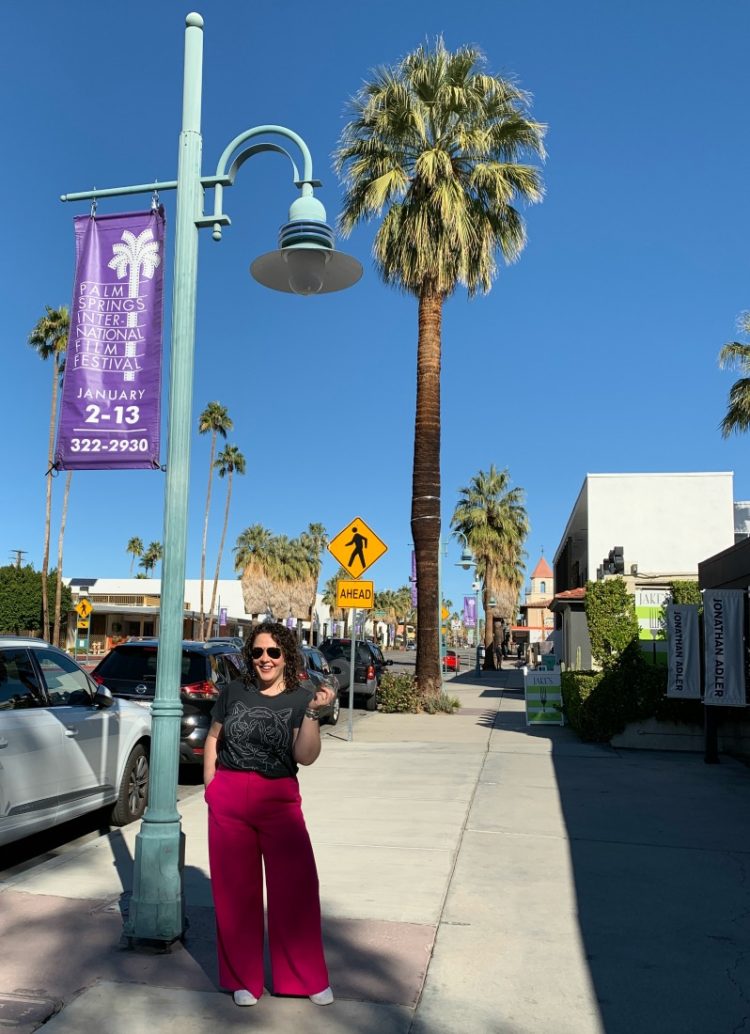 What I wore: Lion graphic tee, Banana Republic pants, Cariuma sneakers, Ray-Ban sunglasses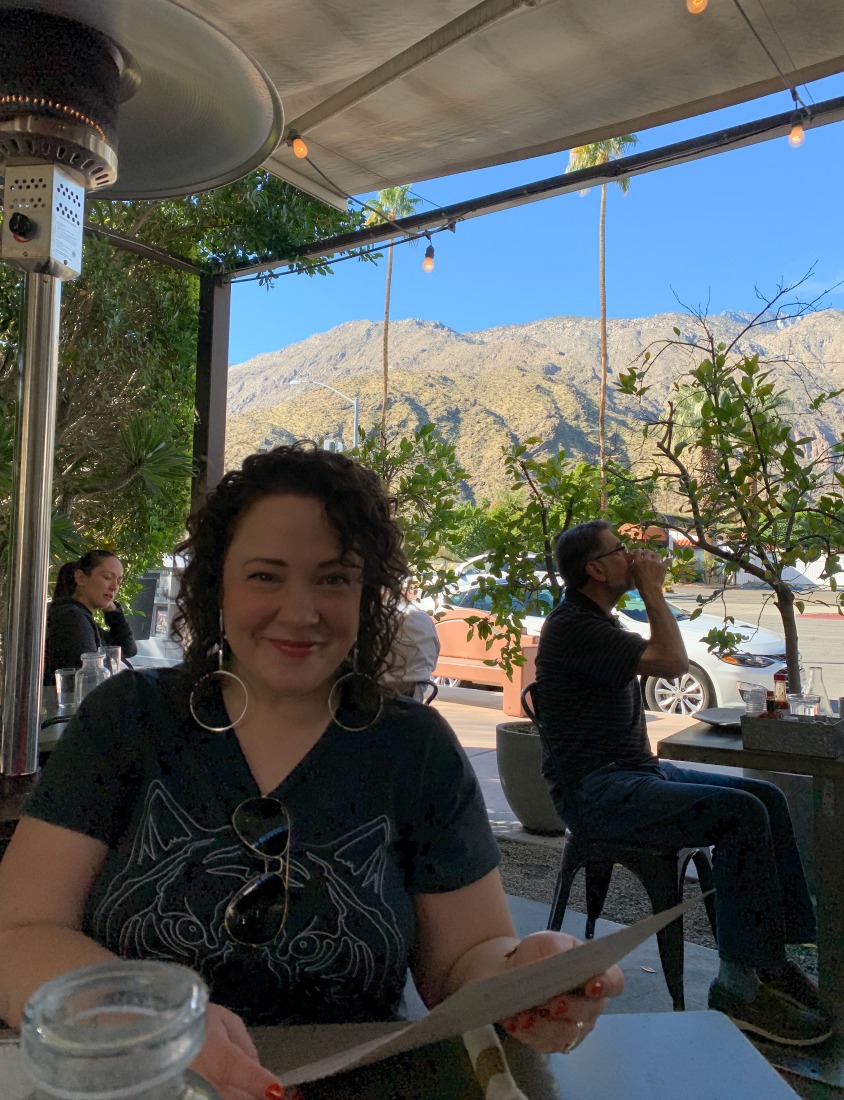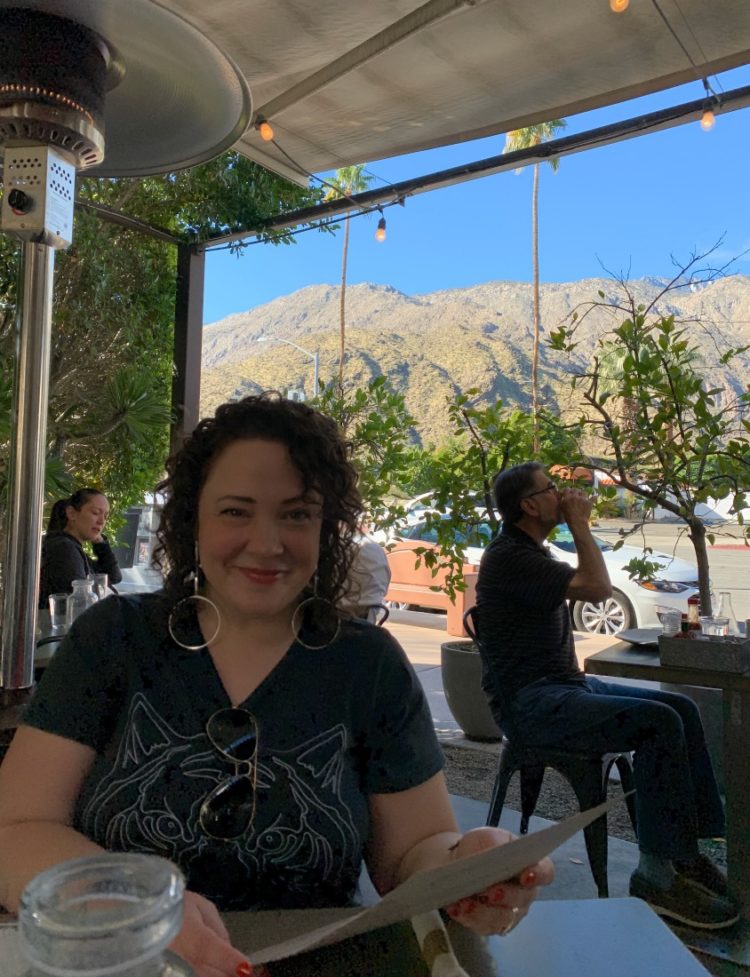 The next morning, we went to breakfast at Cheeky's, a popular place in Palm Springs for their farm to table brunch and bacon flights (like a wine or beer flight but with pork). We came at the right time and only waited a couple of minutes for a table outside. It was delicious and a beautiful day to be outdoors.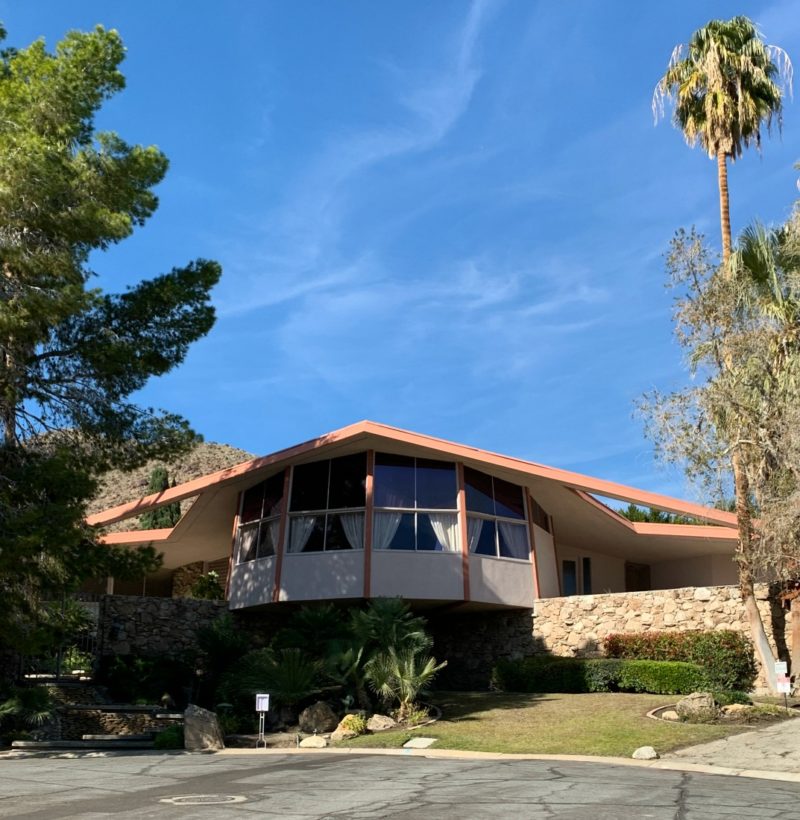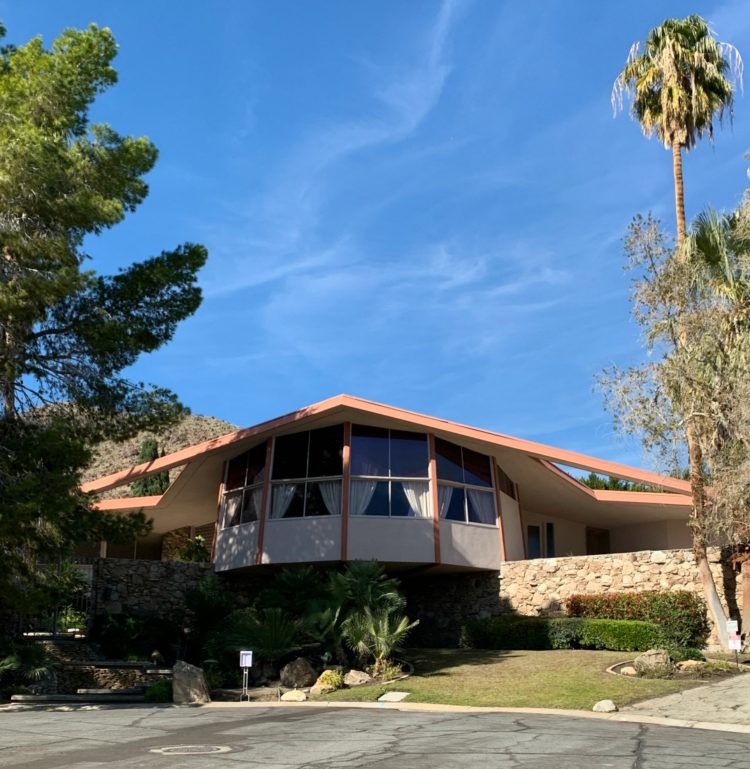 The couple on the Joshua Tree tour with us mentioned they took a Palm Springs celebrity house tour. My sister did some Googling and was able to find many of the celebrity homes in Palm Springs with details on each one so we made our own free celebrity house tour from the comfort of our rental car! We saw Elvis and Priscilla's honeymoon house, Dino's Den (Dean Martin's house), homes for Liberace, Frank Sinatra, and more. It was funny we ended up being on the same schedule as the big white Celebrity Tours bus, with them often pulling up right behind us! While going through Frank Sinatra's neighborhood we came across Robolights which was so weird and so cool. We didn't fully know what it was until we left or we would have tried to tour it!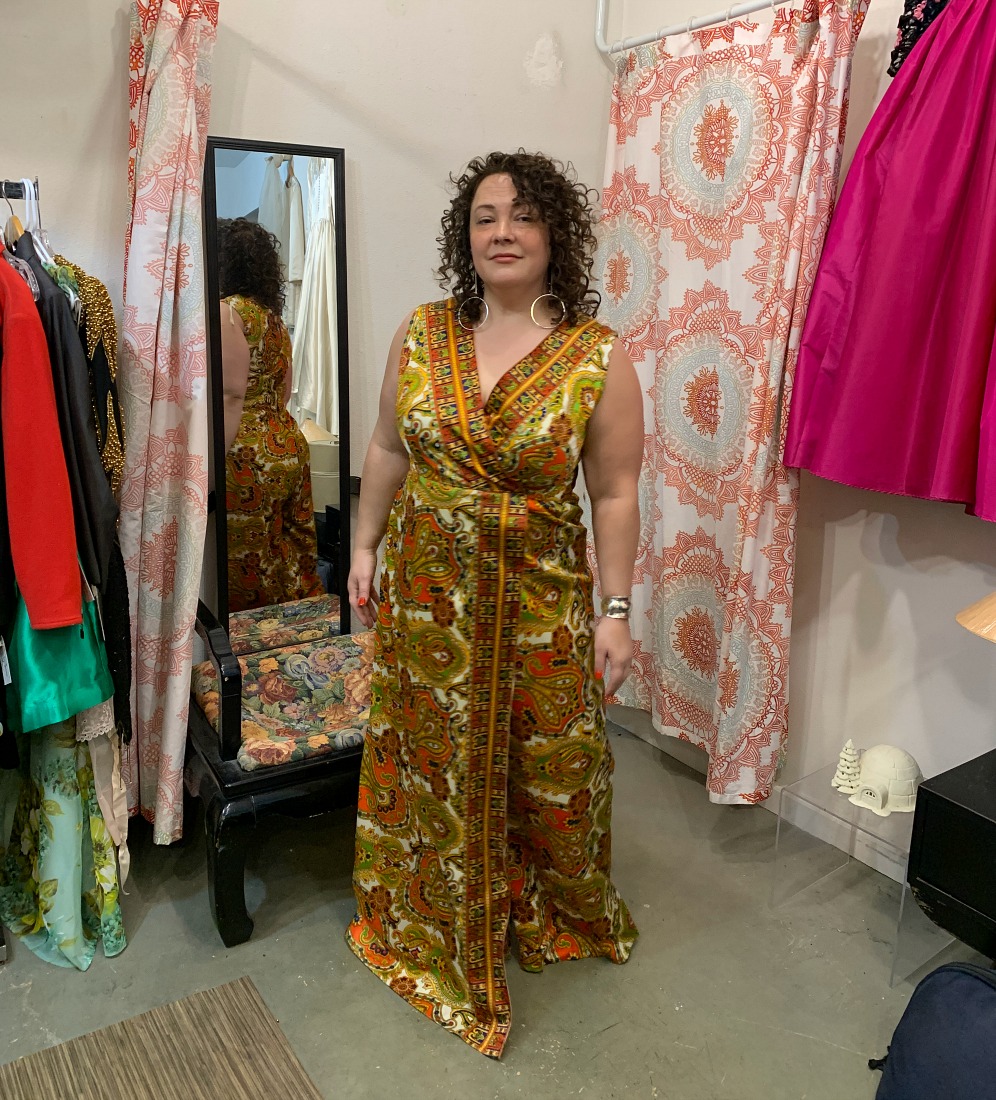 We stopped on the main drag for coffee at Ernest Coffee for the drive back to San Diego, which was next to Iconic Atomic, a vintage store, and we HAD to go in! My friend found a fabulous brooch and I found the most amazing vintage handmade jumpsuit! It's hard to find cute vintage in larger sizes, but whoever originally made this jumpsuit had almost the same measurements I do! I need to shorten it a bit and raise up the shoulder a tad but otherwise it's perfect!
Leaving Palm Springs
My sister drove us back to San Diego where we dropped off the car at the airport and then caught a cab to the Omni, where we stayed for two nights. While I was at the conference, my friends worked, went whale watching, and explored the city. Saturday we were back at the airport heading home to Maryland!
Packing for Palm Springs in January
It's easy to think that just because you're going to a part of California covered in palm trees that it will be warm.  However, in January it was chilly most days.  It varied between 60 and 70 degrees Fahrenheit and rained for part of the time.  In the evening it dropped below 50 degrees.  Layers were a must.  In the morning I appreciated having my half-zip to put on, and in the evening my sweatshirt and quilted bomber. I recommend a windproof jacket of some sorts and a shrug or light jacket for the evenings.  If you plan on heading to Joshua Tree or even taking the tram, bring a mid-weight jacket or coat.  While you can get away with jeans and casual looks during the day, I love having a fun outfit for a night out on the town.  No need for heels and Spanx, but consider a fun print, a but of sparkle, or a bold color.
What I Wore and Packed for Four Days in Palm Springs (and Two Days at a cabi Conference):
If I didn't have the conference, I could have packed without checking luggage.  Having my big suitcase gave me freedom to keep adding things! Palm Springs is a very stylish city, but there's no need for a brand new outfit every single day.  My hot pink wide-leg pants did me well – they looked great dressed up with heels and a one-shoulder sweater, but also dressed down with sneakers and a graphic tee.  While I dressed up for the first night's dinner, there was no need to be that glam.  People were there in jeans, though they were styled with nicer tops and non-athletic shoes.
I brought the caftan thinking it would be great for the pool, but never needed it; I used my bathrobe or a towel. However, if it did get worn I brought a metal belt from ASOS like this one to cinch it and wear with the Rothy's flats for a night out.  FYI this belt I bought a few years ago, it worked when I was a size 16 and works for a 12 and I like it so much I eventually bought it in gold and in silver and the skinny version in gold.  The caftan is a good buy but I'm not keeping or buying anything I don't really need right now so I returned it though I liked it. If you're interested, for reference I got an M and since it gathers I could wear it with flats and it wasn't too long. It can go off the shoulder or be a crew neck and both look great.  A few of the cabi items weren't worn but I think when you have to wear a certain brand for an event it's smart to bring a backup outfit just in case.
In general, I think I packed well for this trip and we did a great job planning for our girls getaway to Palm Springs.  Landing in San Diego meant a cheaper and more direct flight, and having a car is a must in Palm Springs so it made sense to rent a car at that airport.  Our Airbnb was perfect and I highly recommend it; just know Palm Springs has major sound ordinances so it's not a city for a raging party with music blasting. It's a much better place to visit for a chill getaway with friends or a loved one. It's a great city for food, for creative cocktails, for shopping, architecture, People Watching, and being part of one of their many scenes and days enjoying nature.  Click here to read about my first time in Palm Springs, where we stayed and our trip to the Coachella Valley.
Shop My Outfits: