This article may contain affiliate links; if you click on a shopping link and make a purchase I may receive a commission. As an Amazon Associate, I earn from qualifying purchases.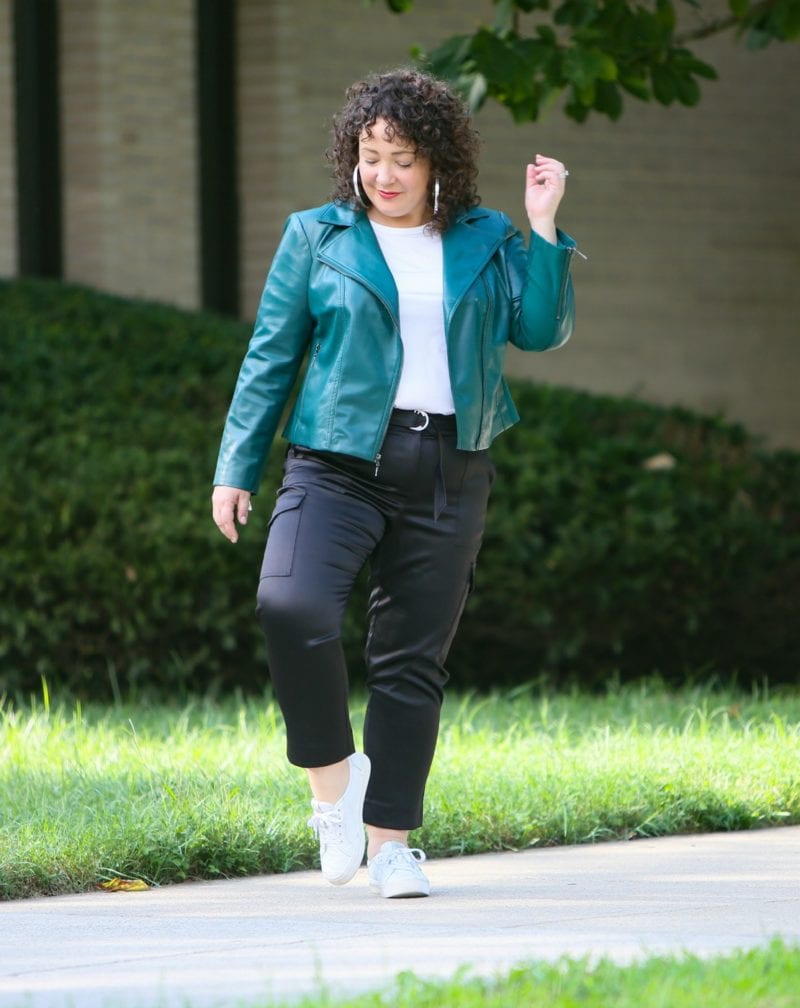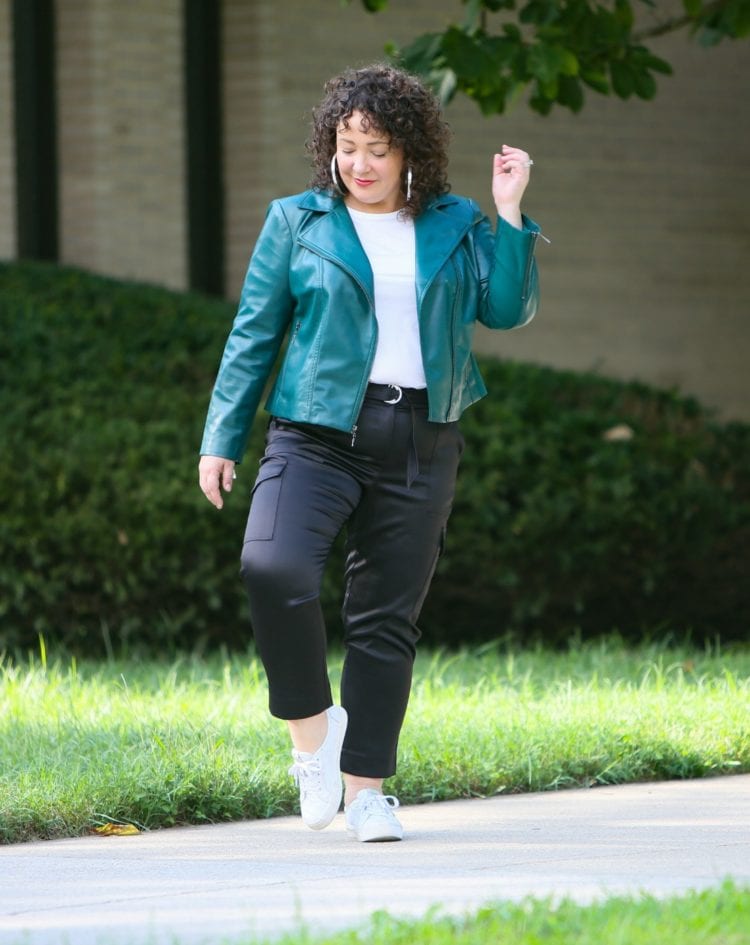 I think one of the reasons I like fall so much is the outerwear.  Denim jackets, leather jackets, twill utility jackets, trench coats, bomber jackets… the outerwear game is strong this for this season.  I am a sucker for a great leather moto jacket, but rarely do I find one that fits me great as I am short (5'3″) but also curvy.  Jackets that fit my bust, arms, and shoulders are usually a mile long in the arms; if they are the right length for my arms I can barely get them up over my biceps. So when I saw this faux leather moto jacket at Chico's was not only the most gorgeous shade of green but also came in petite? I HAD to try it.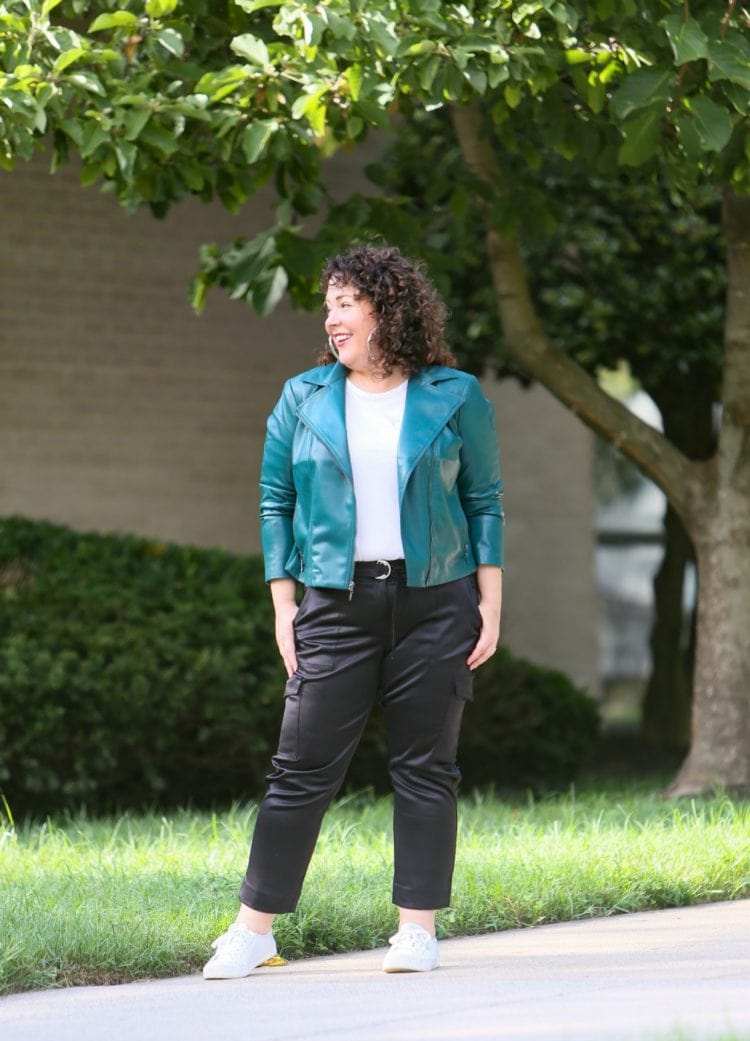 Jacket: Faux-Leather Moto Jacket c/o Chico's (2 Petite) | Tee: Ruffle-Sleeve Tee c/o Chico's (2) | Pants: Satin belted Cargo Ankle Pants c/o Chico's (2 Petite) | Earrings: Jenny Bird (old; similar) | Sneakers: OCA Low Leather c/o Cariuma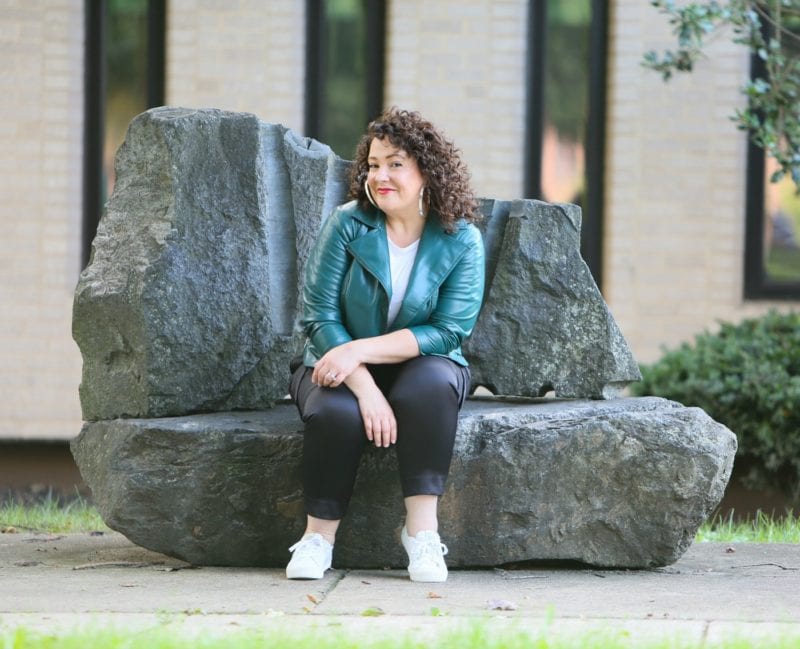 Okay, faux leather can be sketchy.  It can be stiff and smell like gasoline, it can be rubbery and gross, it can be shiny and make noise when you walk, and it can be darn close to the real thing.  This is the darn close to the real thing type of faux leather.  Not too shiny, not thick, pliable, no gross smell.  To make it fit better, the underside of the arms and down the sides of the body are knit, but exactly the same color green so it's not really obvious.  The hardware isn't too shiny, it's not black and not silver but something in between that looks elegant.  Working pockets, the jacket can zip all the way up, tonal lining… this is a high-quality jacket. It comes in this color which is called Dark Jasper, cream, and black in regular and petite sizes up to Chico's size 4 which is equal to 20/22.  I am wearing a Chico's size 2 Petite which is equivalent to a 12/14.  Like most Chico's, I find it runs a bit roomy and is also shaped for body curves (not just the bust and tummy but also arms, shoulders, etc.).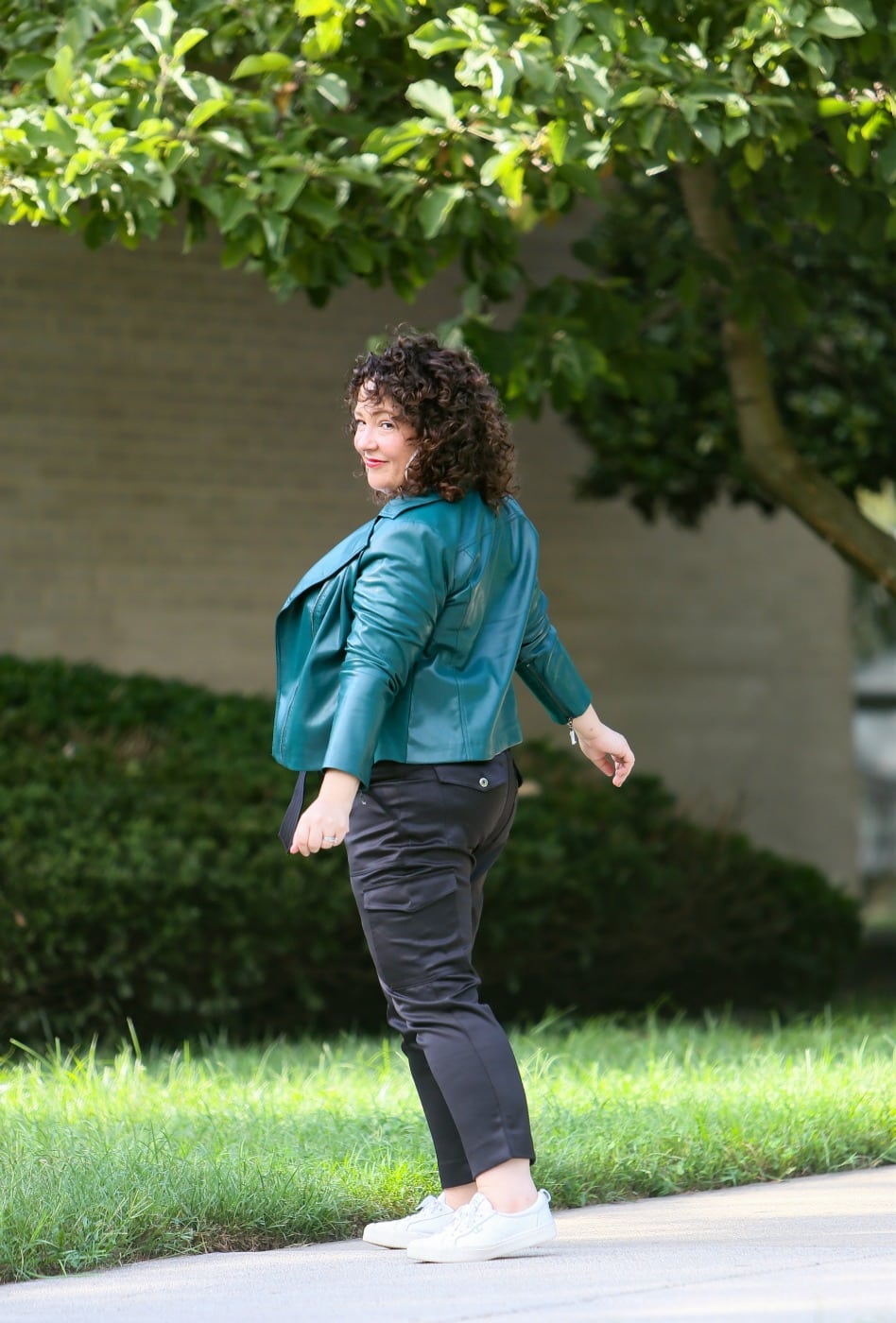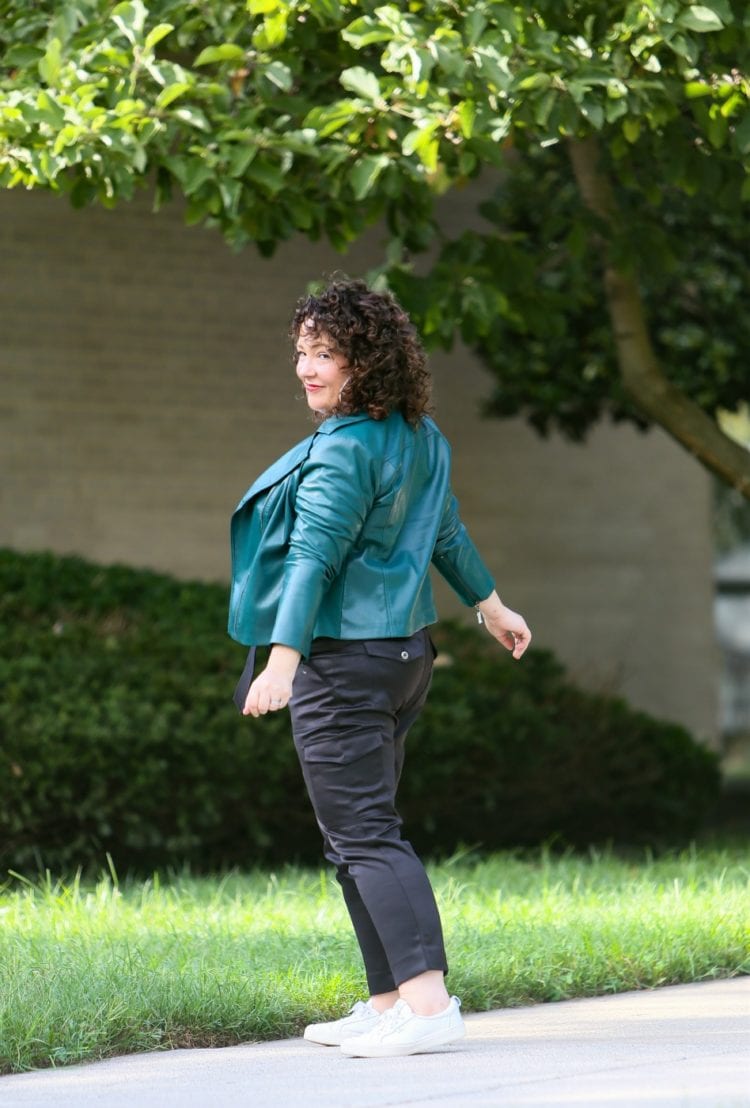 The one thing to note is this jacket is not cut to be true outerwear. If you want a piece you sling over your sweatshirts as you head out the door, this isn't the jacket for you.  This is cut to be the piece you slip over your blouse or dress, or wear as an alternative to a blazer. It is not insulated, the sleeves are styled to be slim, it's a shorter silhouette and a softer fabric and knit panels providing a nice drape. Reviews say the jacket is cheap but I am not sure what they would have liked instead, as I think this is a great faux copy of what would be an expensive lambskin leather moto jacket.  I did find shipping in the heat the plastic wrapping clung to the jacket and it was hard to get the protective wrapping off of the zipper pulls, but I've experienced that before with summer shipments.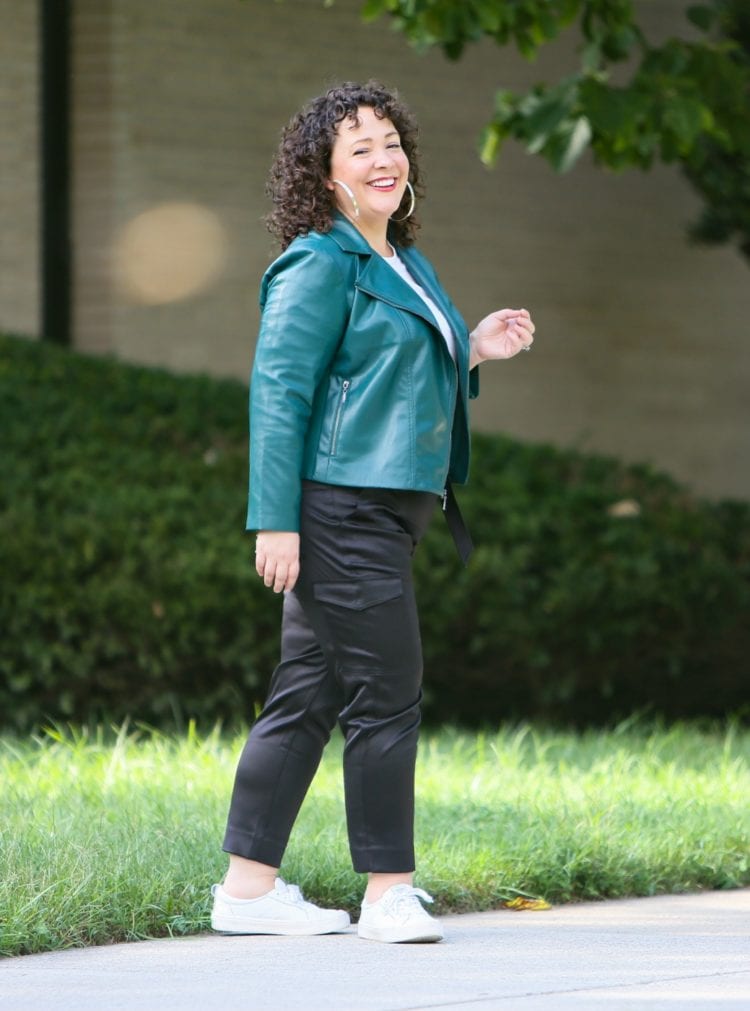 Okay so on to the pants. My husband did NOT get these pants and was making jokes about the 1980s but I think they're fierce.  It was a sunny day so these are looking uber shiny but at home they looked more subtle. I got them envisioning them with a black turtleneck sweater and either pointed-toe ankle booties that slip underneath them or my Rothy's flats. I saw them with a graphic tee and denim jacket.  I saw them with a silk or rayon blouse with two buttons unbuttoned showing my initial necklace and on my feet were anything from sneakers to loafers.  I'm thinking next time I wear them I'll do it with my black and white striped crew t-shirt (this is similar) and these white loafers. Essentially, I see wearing these anywhere you could wear a pair of twill cargo-style pants. Why wear faded olive chinos when you can wear black satin? If black isn't your thing, these pants also come in a gorgeous caramel/bronze color.  In fact, that's the color that drew me to these pants, they reminded me of the safari jacket my friend Sylvia wore this spring for a Chico's shoot.  I saw that jacket in person and instantly regretted not getting it.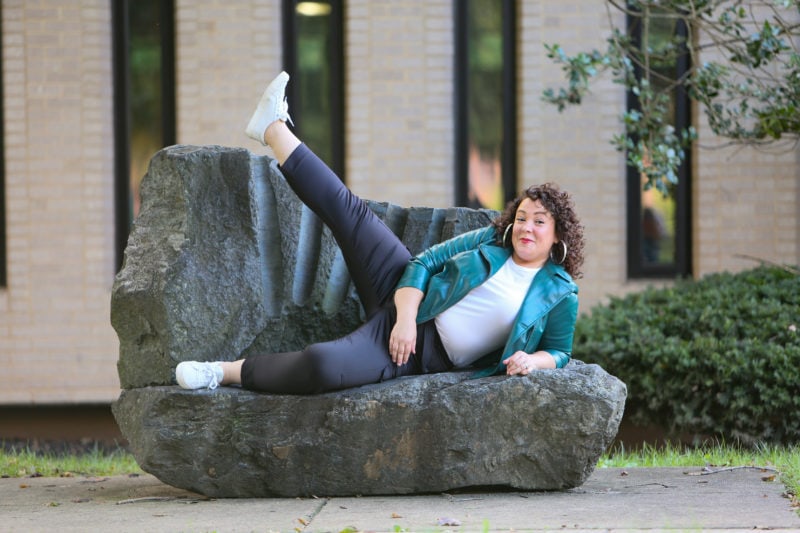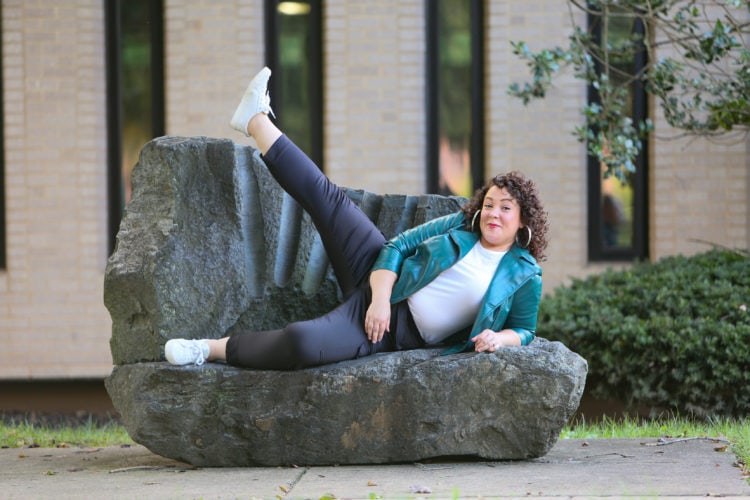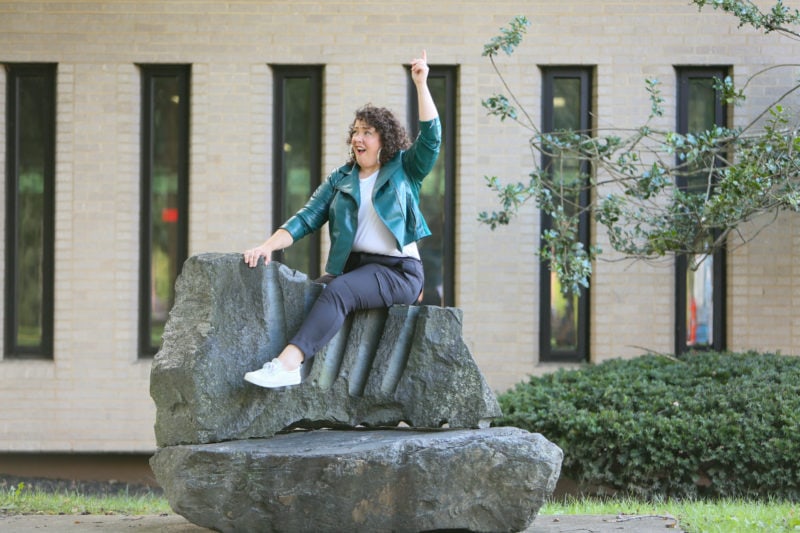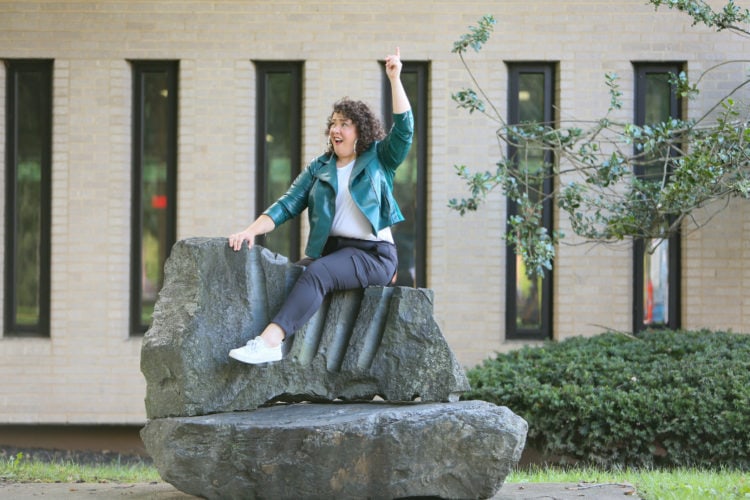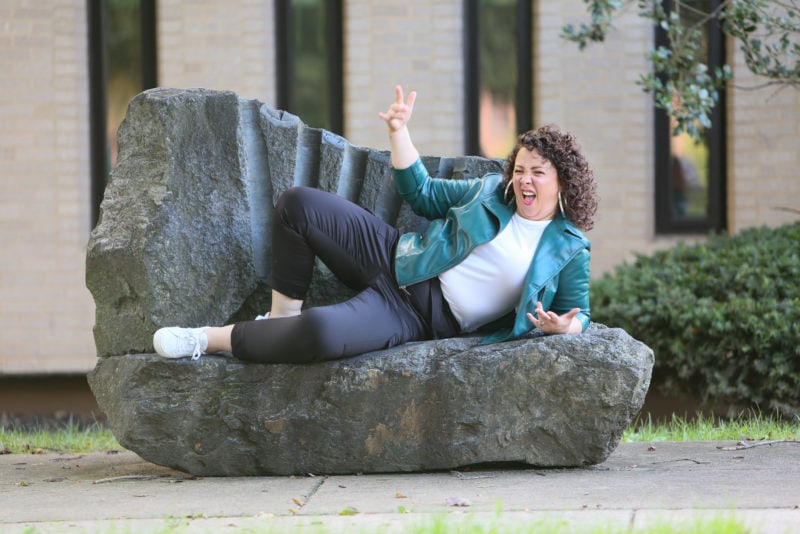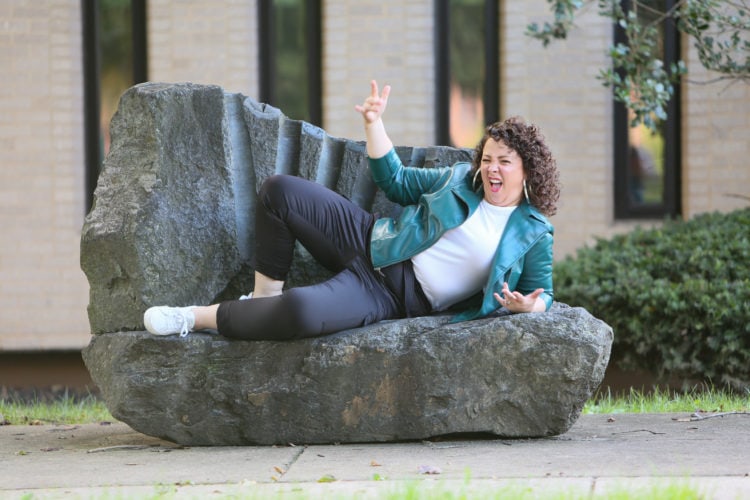 These pants are machine washable and have that same give as a pair of chinos and the same amount of pockets.  The photos above show not only that my husband can make photo shoots fun, but also that these pants have a lot of give! I think this is a year to redefine your style, redefine what is considered practical or daywear or versatile.  And this is definitely a year where you should try to find joy in the everyday, and no easier way to do that than with what you put on each morning.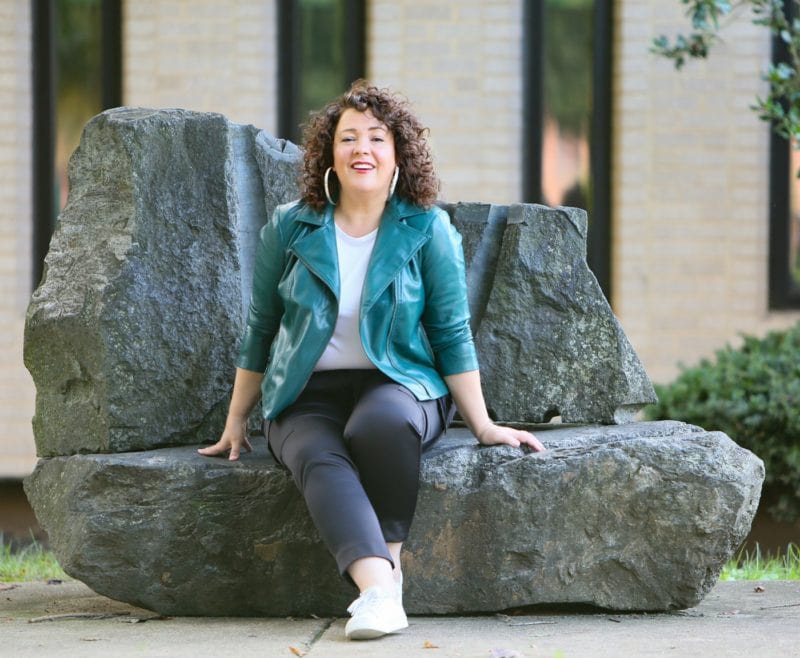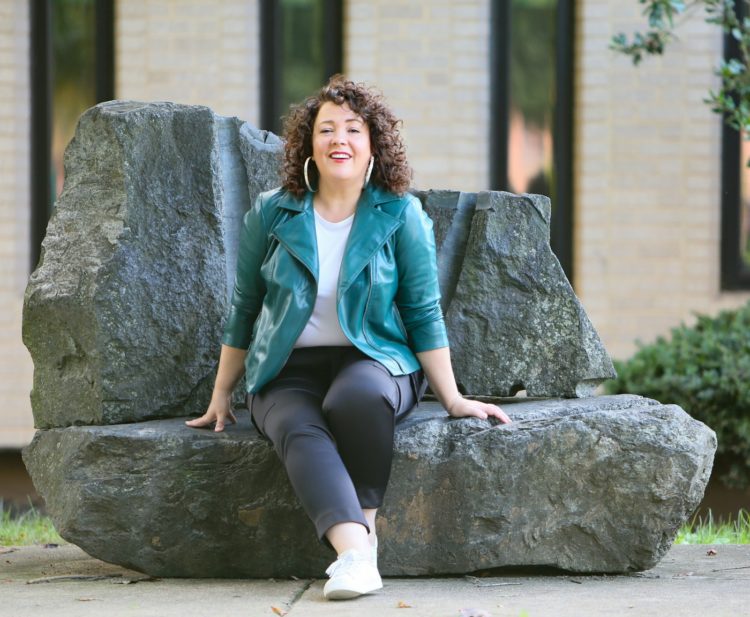 The sneakers are from Cariuma and are my favorite low-profile white leather sneakers.  I have wide and high-volume feet with thicker ankles and trendy white sneakers look like I stuck my feet into two fluffy pillows.  These cut low, even lower than my Chucks, and I find them quite comfortable.  Cariuma is a sustainable sneaker brand based in Brazil that is very transparent with their sourcing and manufacturing process. I've had these sneakers for at least a year, have taken them on many travels with me, and they continue to be a favorite, especially with dresses and ankle pants where my other sneakers look too bulky. While I have them in leather, they also come in canvas, suede, and a variety of colors, prints, and different silhouettes. They also have shoes in mens sizes.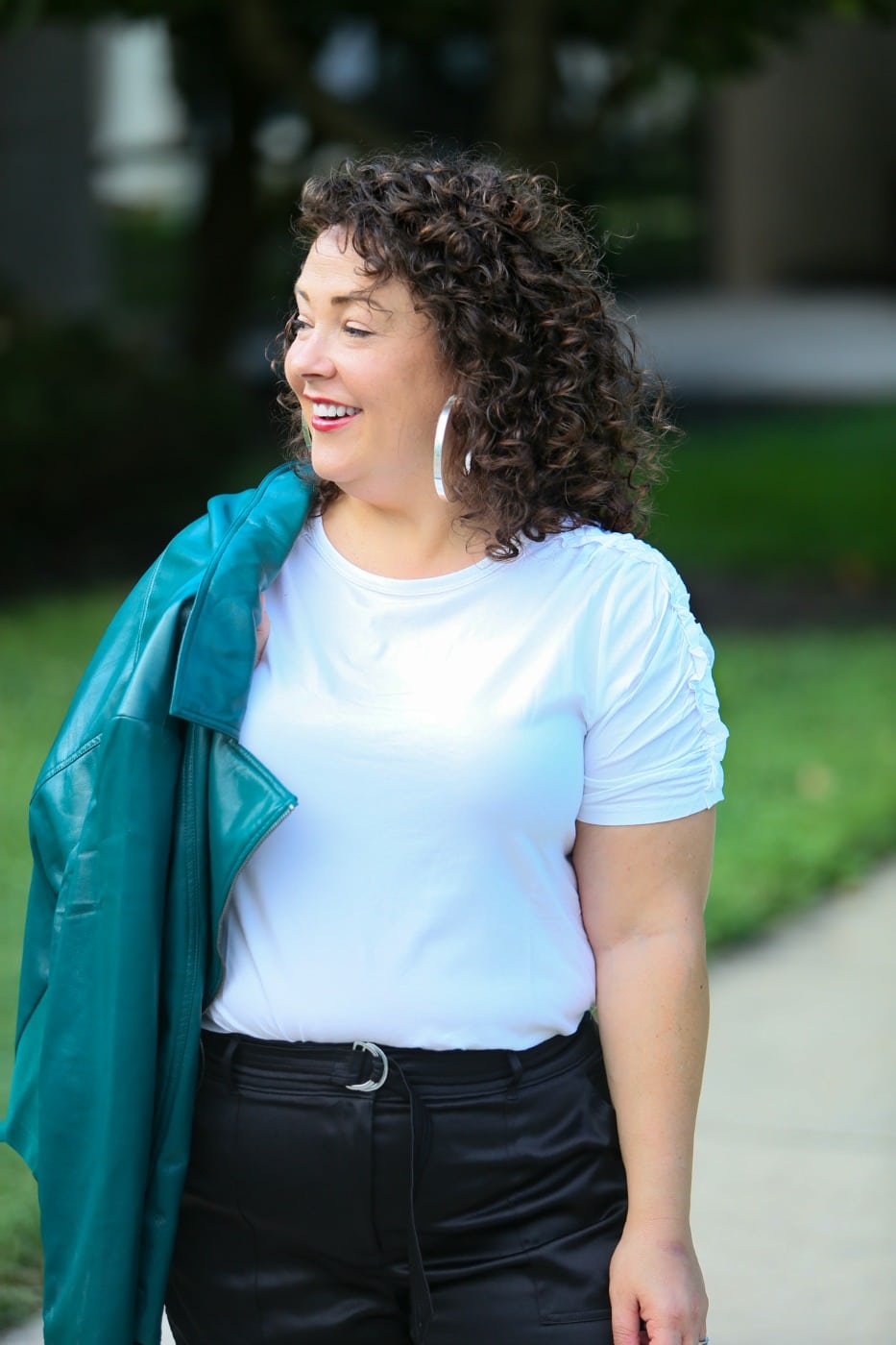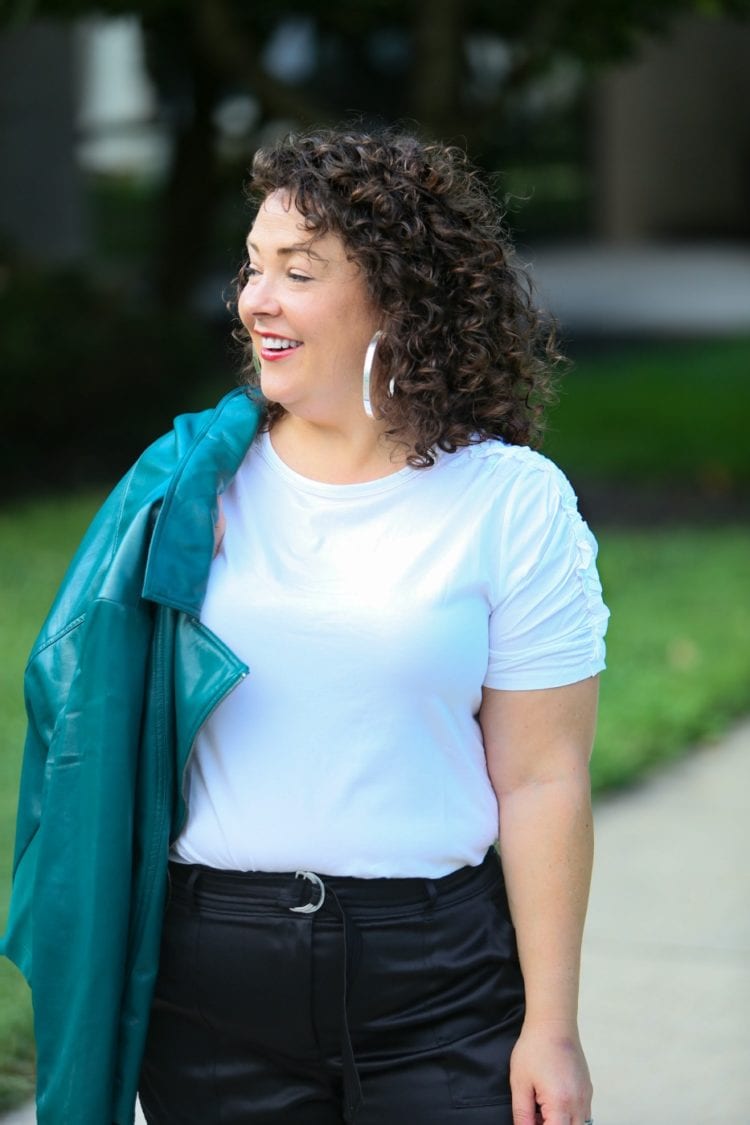 The t-shirt has ruffles down the shoulders and… I think I could have sized down. Or maybe I needed petite.  Or maybe I wish the fabric wasn't quite so silky and stretchy (for those familiar with the Universal Standard Foundation collection, this knit is similar).  I like the detail and it's not too stiff to feel comfy and not look bulky under a jacket or blazer… but this tee isn't my thing.  I receive a free outfit of my choosing each month from Chico's as being one of their ambassadors and this tee wasn't my first choice but my first choice was out of stock in my size at the time I placed my order. I think this tee is better for taller people.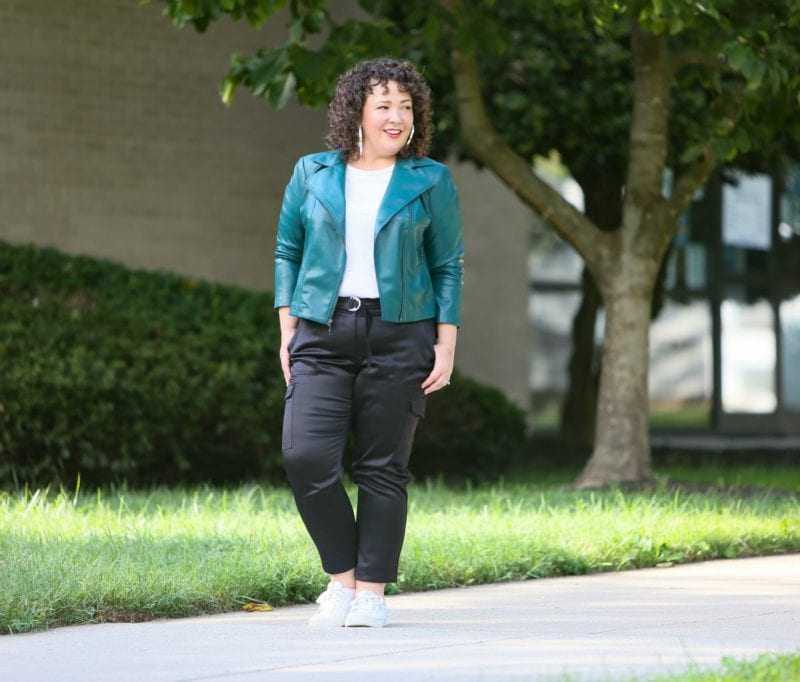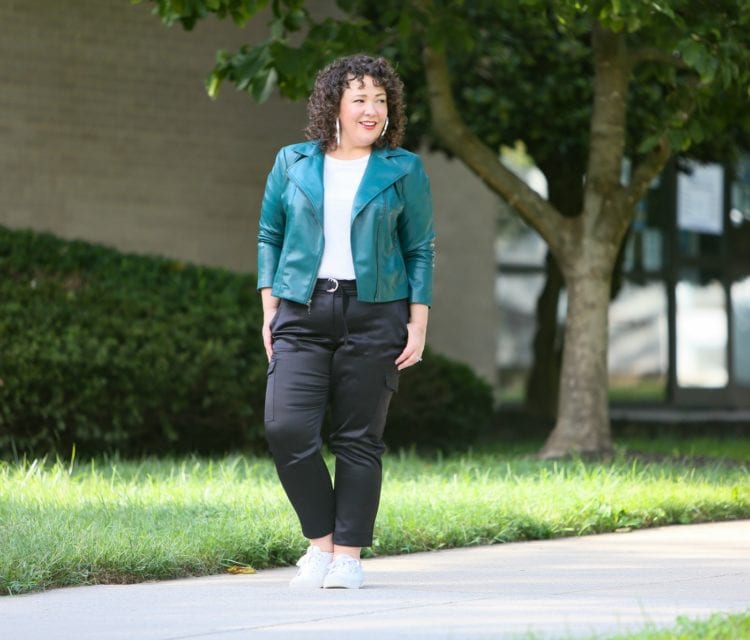 As I mentioned, I am a Chico's ambassador which means I style an outfit of my choosing each month and share it on Instagram.  If I do a blog post about the outfit, it's my choice and it's because I think the clothes are worth a more detailed review.  This month, I found it hard to decide what to get from Chico's. Don't sleep on Chico's, they have sizes up to 20/22 and run generously, they have petites and occasionally talls as well as lengths, and much of their clothing is machine washable. These are a few of the things I was eyeing when I decided on this outfit: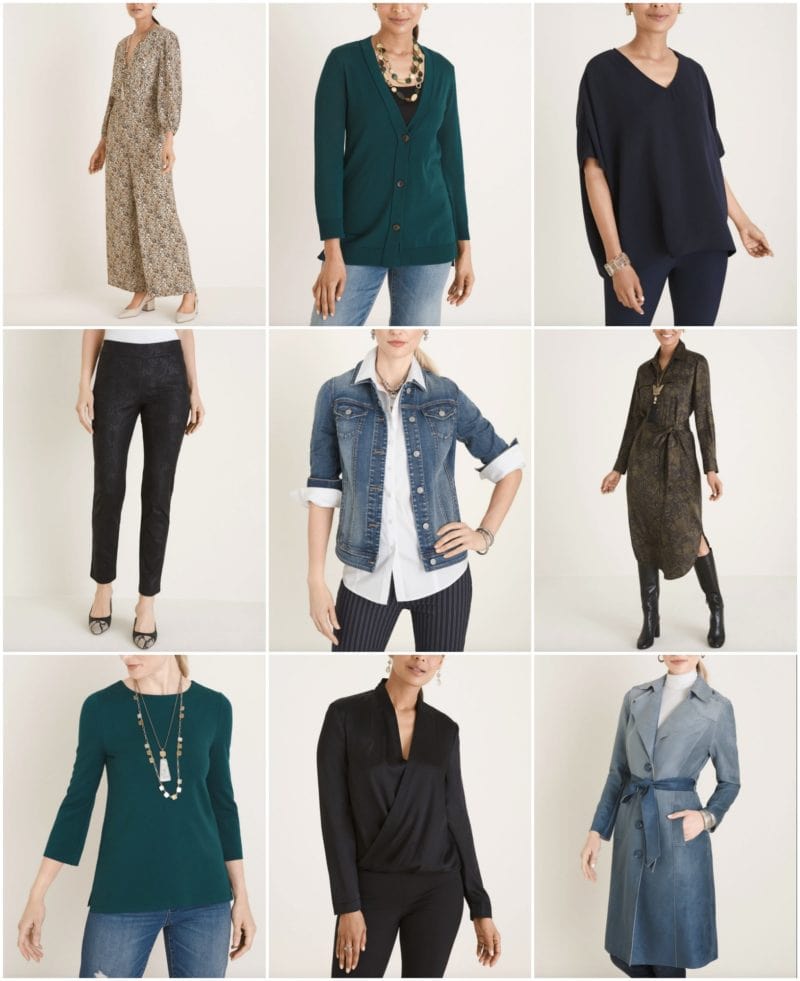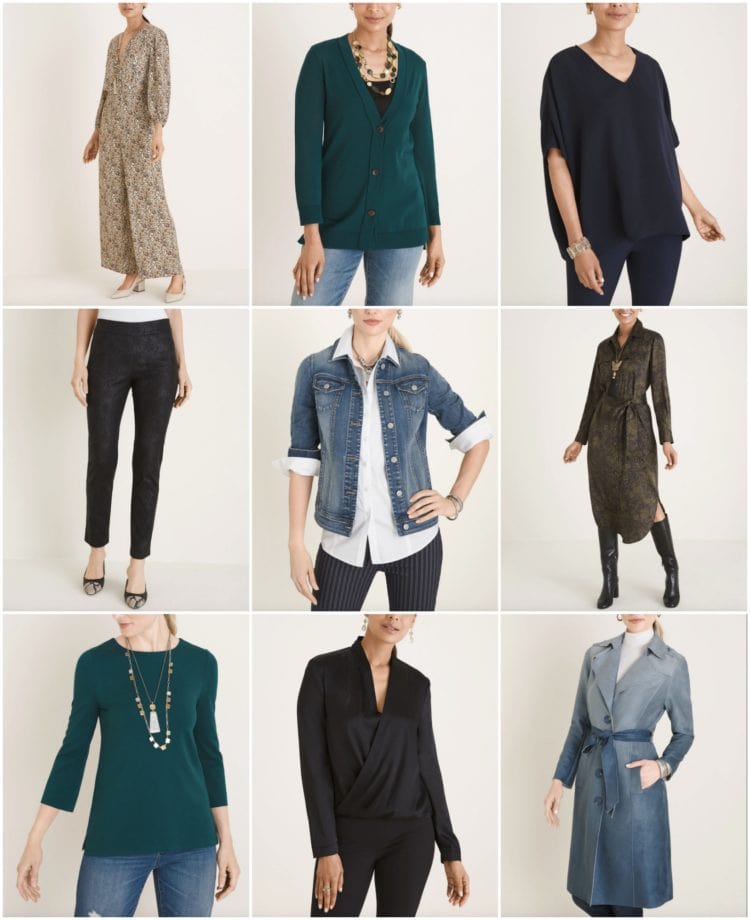 machine washable crepe jumpsuit in animal print | highly-rated machine-washable cardigan available in 9 colors | modern alternative to a t-shirt
some of the best fitting pants (I have two pairs) in a subtle snake print | I have and love this denim jacket | I have this shirtdress in a different print
elevate your t-shirt game with ponte | my first-choice blouse back in stock | a badass trench for fall
Shop the Post: