This article may contain affiliate links; if you click on a shopping link and make a purchase I may receive a commission. As an Amazon Associate, I earn from qualifying purchases.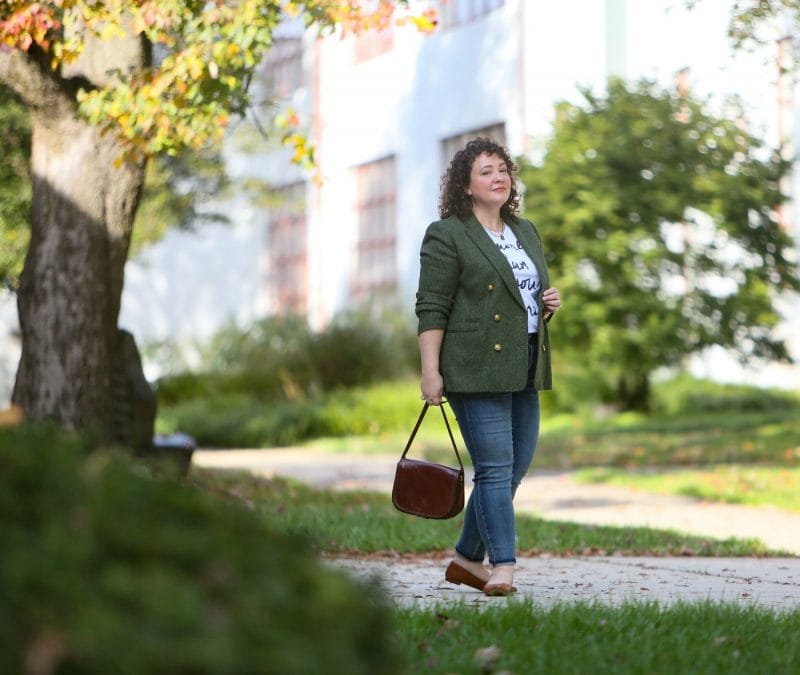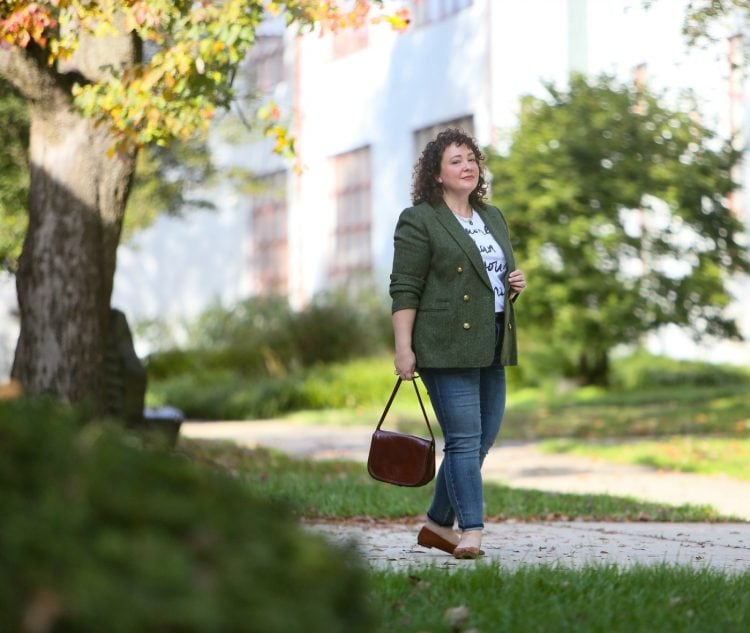 I may have relaxed my personal style this year, but I don't like to look schlubby. I often find I am wearing leggings or joggers and a tee and need to head out and just feel too casual… too close to sleepwear. I've put on a denim jacket and it helps, but when doing another closet edit and trying on clothes I haven't worn recently I saw how a blazer can really transform knits and make them look like a proper outfit.  I have been drooling over this green blazer at J. Crew for a while; if you've been following my Friday Shop posts and other posts you likely have seen me suggest it. Well, I took my own advice and ordered it and I love it.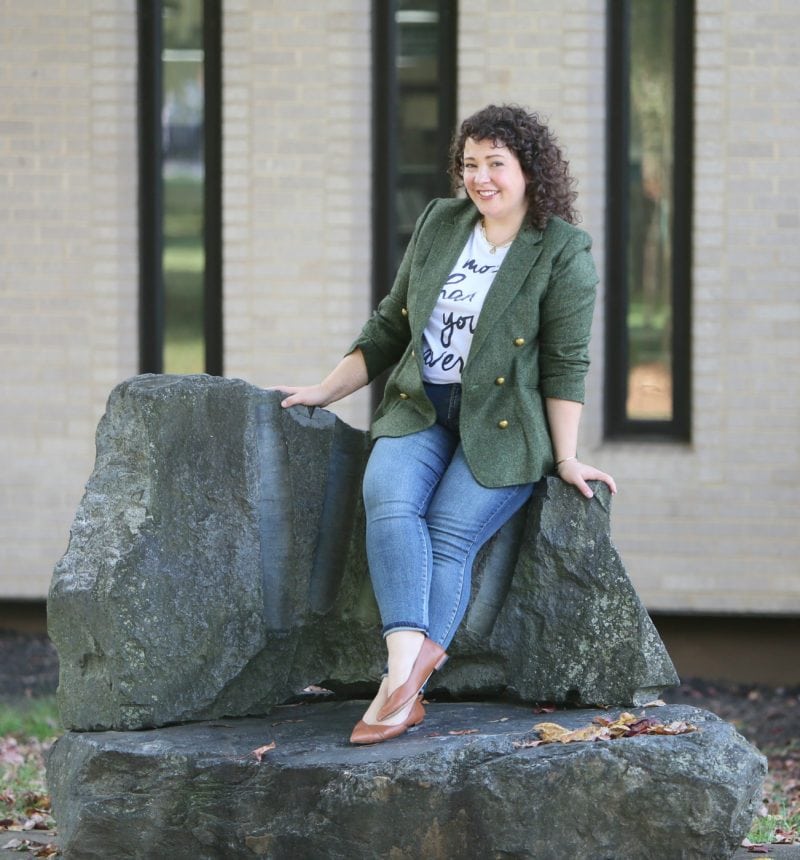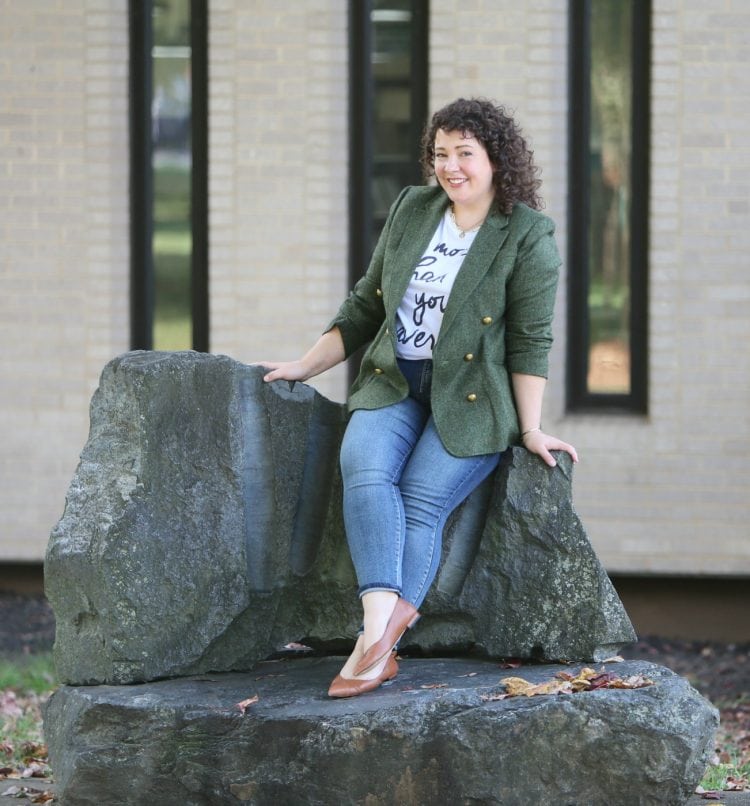 Blazer: J. Crew (14) | Tee: c/o More Than Your Average (L) | Jeans: Seine High Waist c/o Universal Standard (10 Regular) | Shoes: Forever Flat c/o Ally NYC | Bag: c/o Maxwell Scott | Link Necklace: Baublebar | Initial Necklace: c/o Jenny Bird | Bracelet: Metal Marvels | Ring: c/o REALM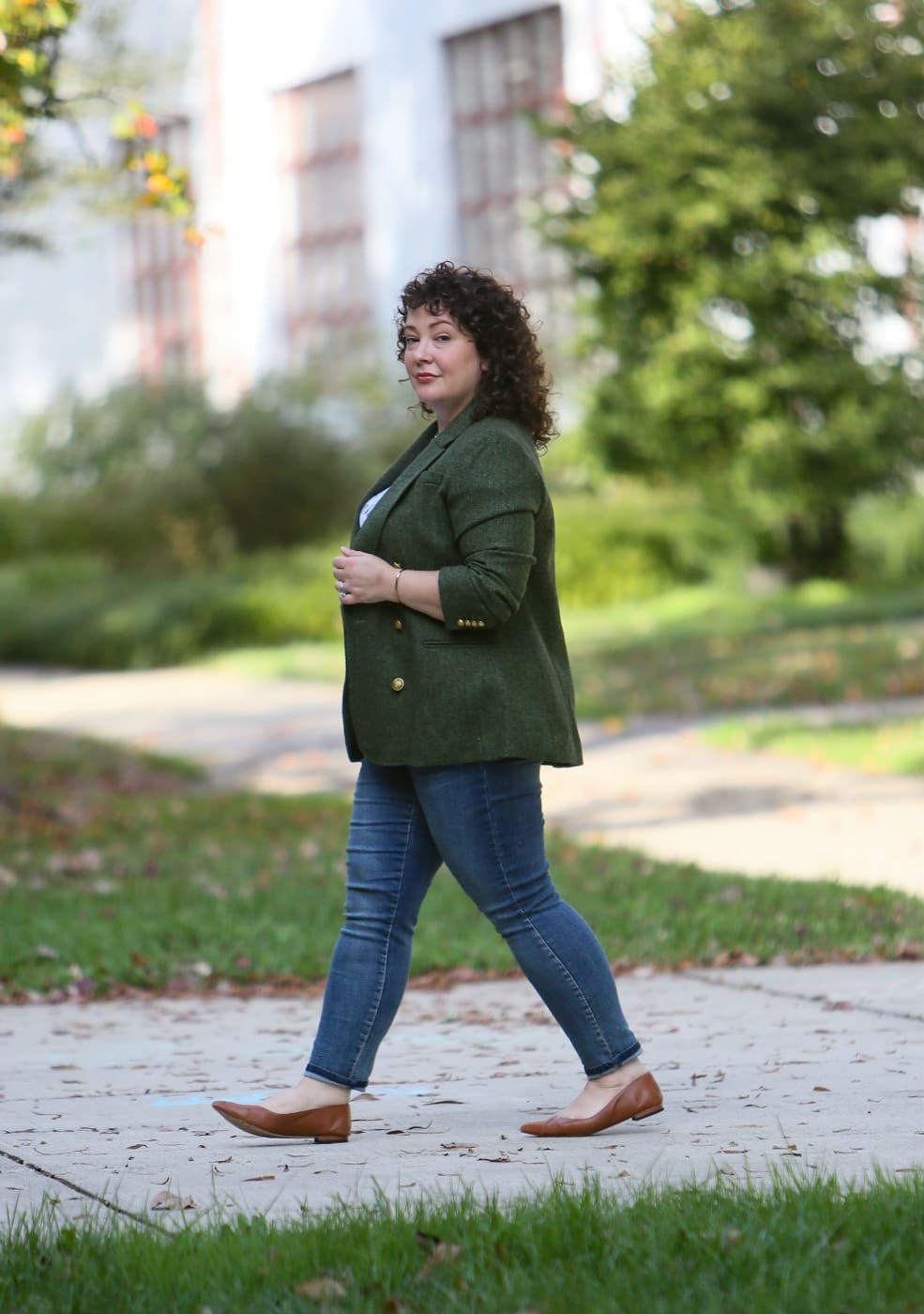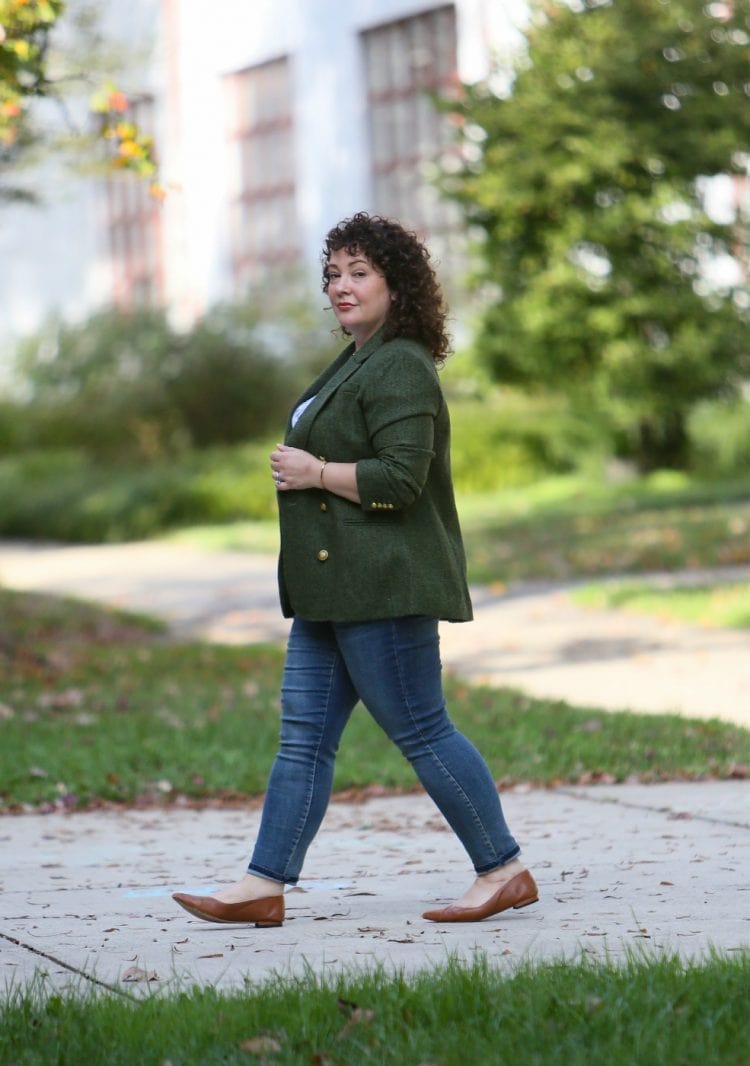 The first time I wore it, it was with my black Soma leggings and my Year of the Woman t-shirt when I had to go pick up my kid at an activity and was short on time. Without the blazer, I looked like I just woke up (well maybe I did, having a house to myself is a rare treat these days and should be celebrated with uninterrupted sleep). With the blazer I looked sharp. Another day, I wore it with my J. Crew Breton and my Athleta jeans, which I was wearing that day but everything had gotten rumpled and worn-in. With the blazer I looked purposefully rumpled. And here, well without the blazer, this outfit would be pretty boring. Having it green herringbone (there are little flecks of other colors like pink, gold, and blue in the wool) I think makes it a better choice than gray or black because it makes a statement while also being a very versatile color.  Envision with mustard or pumpkin, plum or navy, pink or coral. And I love it with stripes!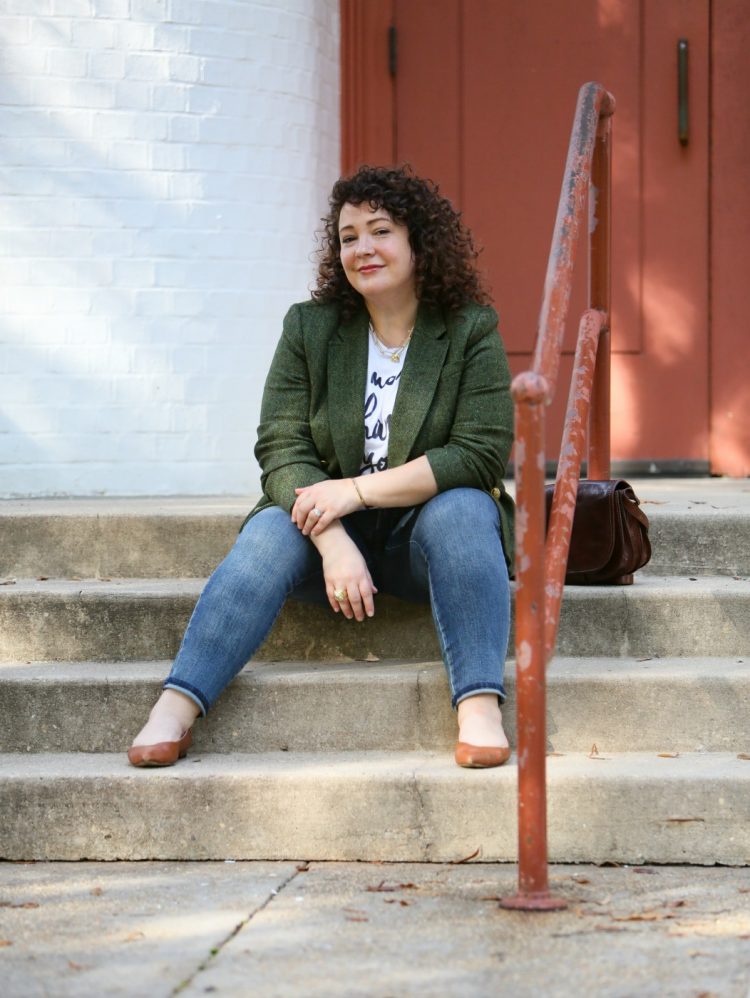 Because the jacket is a more relaxed fit, it's easy to slip on over lightweight sweaters and knits. It's long enough that you can wear it with leggings and not look half-naked, and the texture looks so good with faux leather leggings. Next time you see this blazer, I'll likely be wearing it with my Spanx faux leather joggers; how chic would they be with this blazer and a black turtleneck? I have very solid arms and shoulders but there is no pulling with this blazer. The sleeves are a hair long (what sleeves aren't for my 5'3″ self), but they're easy to push up and have stay up. There are two front pockets but also a breast pocket and the jacket is lined in blue and white acetate. Unfortunately, J. Crew only has this blazer to size 16; for an alternative Talbots has a Classic Shetland Blazer in Lilac and Harvest Sun which goes up to size 24 and gets great reviews. Also, this plaid blazer from Liverpool goes up to a 3X and has a slouchy vibe and blue color that will achieve a similar effect.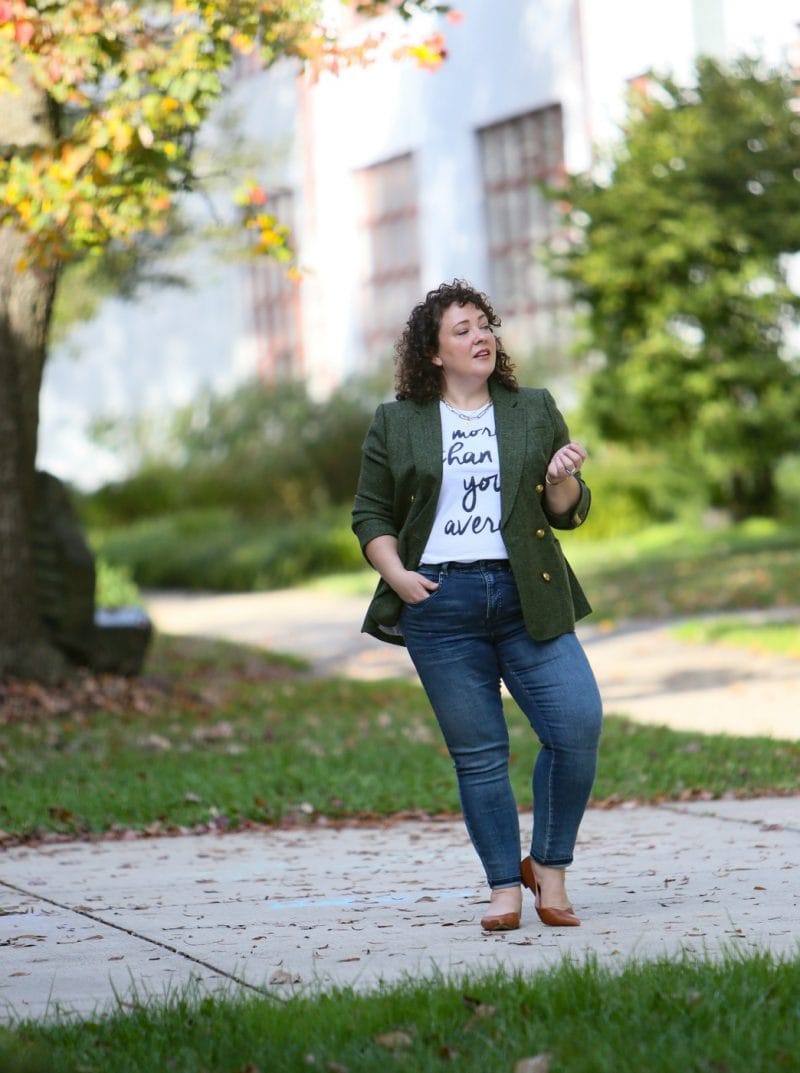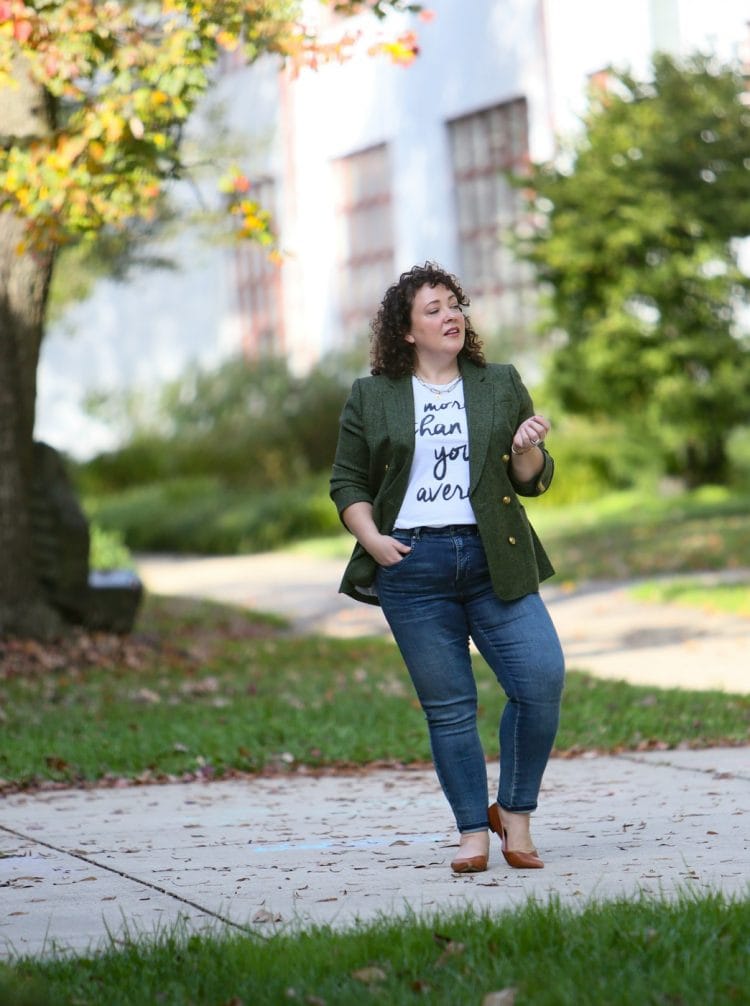 The t-shirt is from my friend Mya who owns the online plus size vintage store More Than Your Average. She is selling these shirts and 50% of the profits she is donating to Feeding America. I love graphic tees like this that are a black font that have a message but are also like a pattern looking sharp peeking out of blazers and cardigans. The shirt comes in unisex sizes S-4X.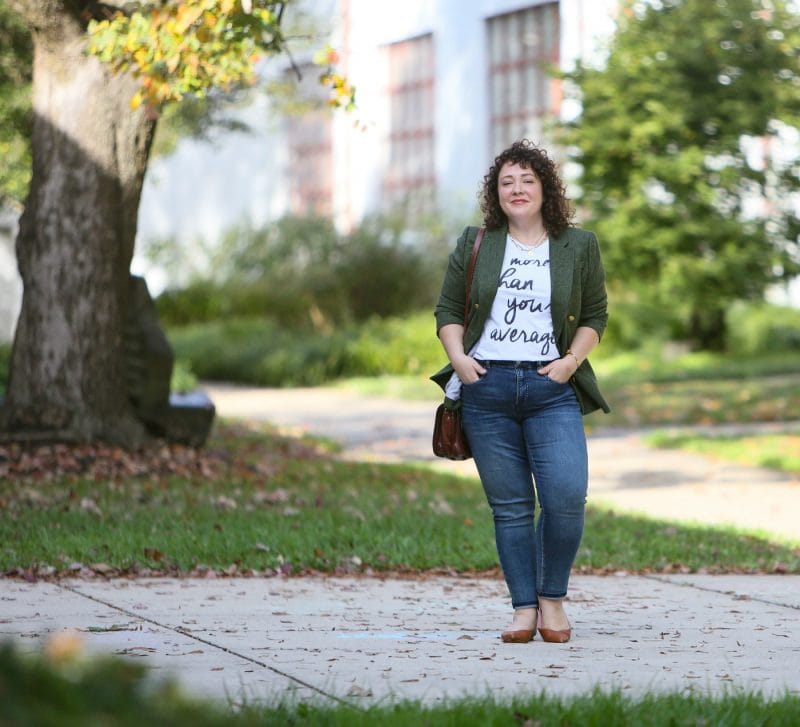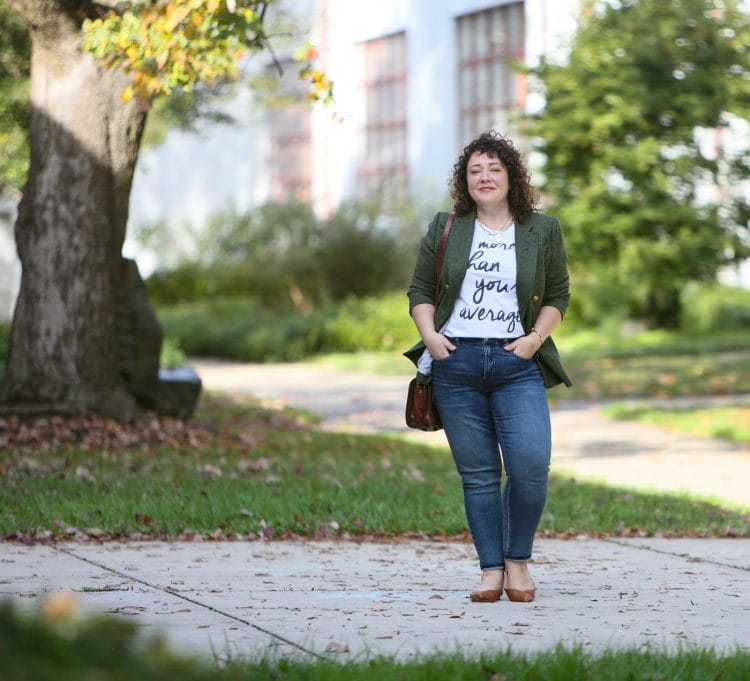 These are the Universal Standard jeans I wear all the time.  Size down with Universal Standard Seine jeans; I am a 12/14 everywhere but these are a 10 and still super comfortable. One of my favorite things about Universal Standard jeans is the front pockets; they're so deep that this day while running around town I had a bottle of hand sanitizer in one and my large iPhone in the other!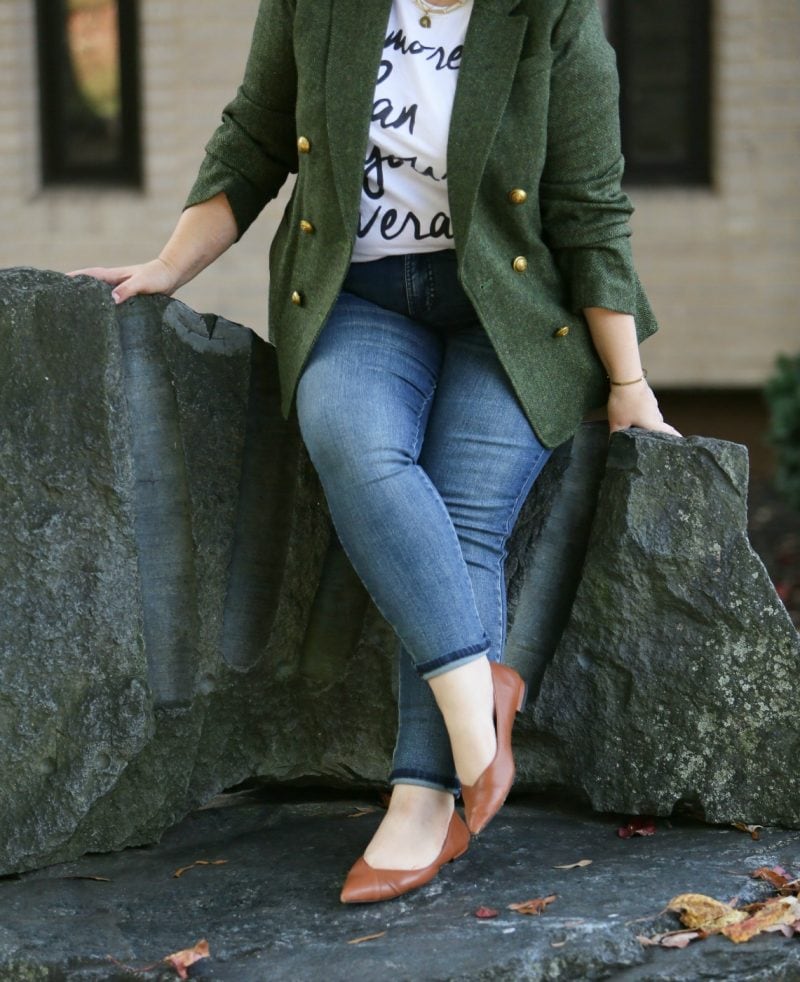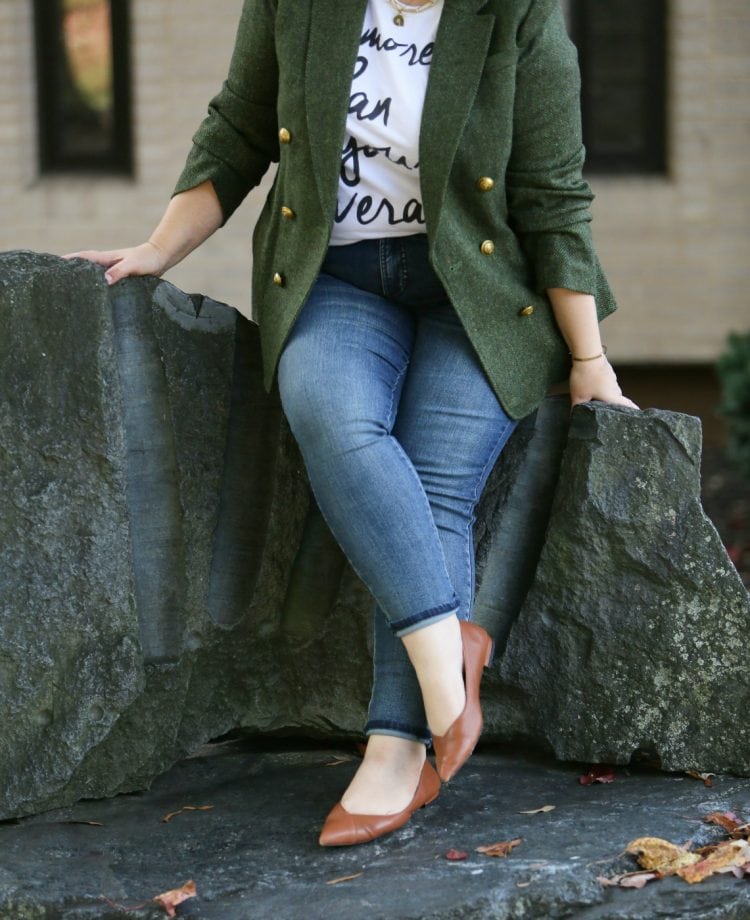 I have halfway written my review of Ally Shoes' new flats and hope to have it up tomorrow. I continue to love these flats and find them comfortable and supportive. And like this blazer for being able to pull a look together, I find by adding these flats and this bag it can make any casual look a bit more elevated!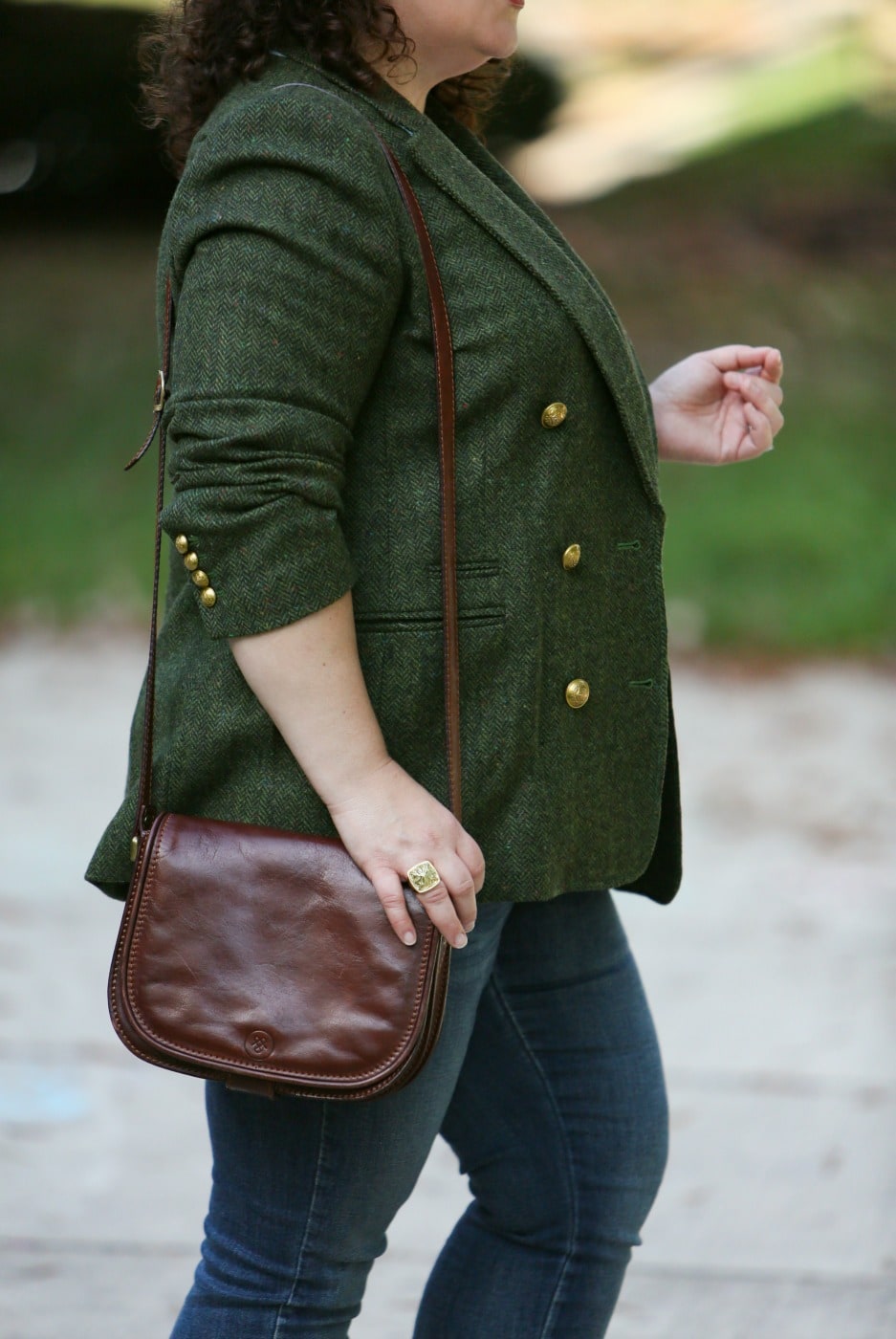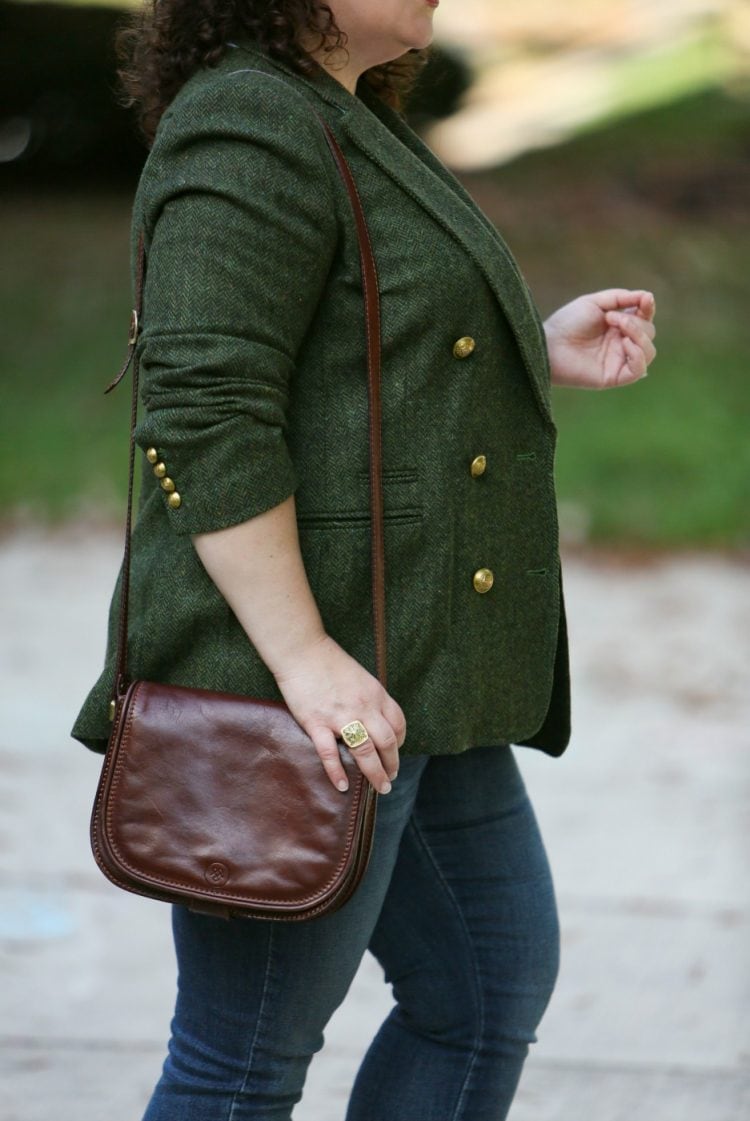 As for the accessories… The bag you have seen several times lately; I am only using it or my Dagne Dover Epic Crossbody when out and about.  The ring is REALM and a favorite because it makes a statement and also because it fits; it's so hard to find cool high-quality rings that go over a size 8! The bracelet is from Metal Marvels and several years old; my two best friends have the same bracelet.
Maxwell Scott is offering Wardrobe Oxygen readers an exclusive discount! Save 10% at checkout on your entire purchase at Maxwell Scott with promo code ALISON10.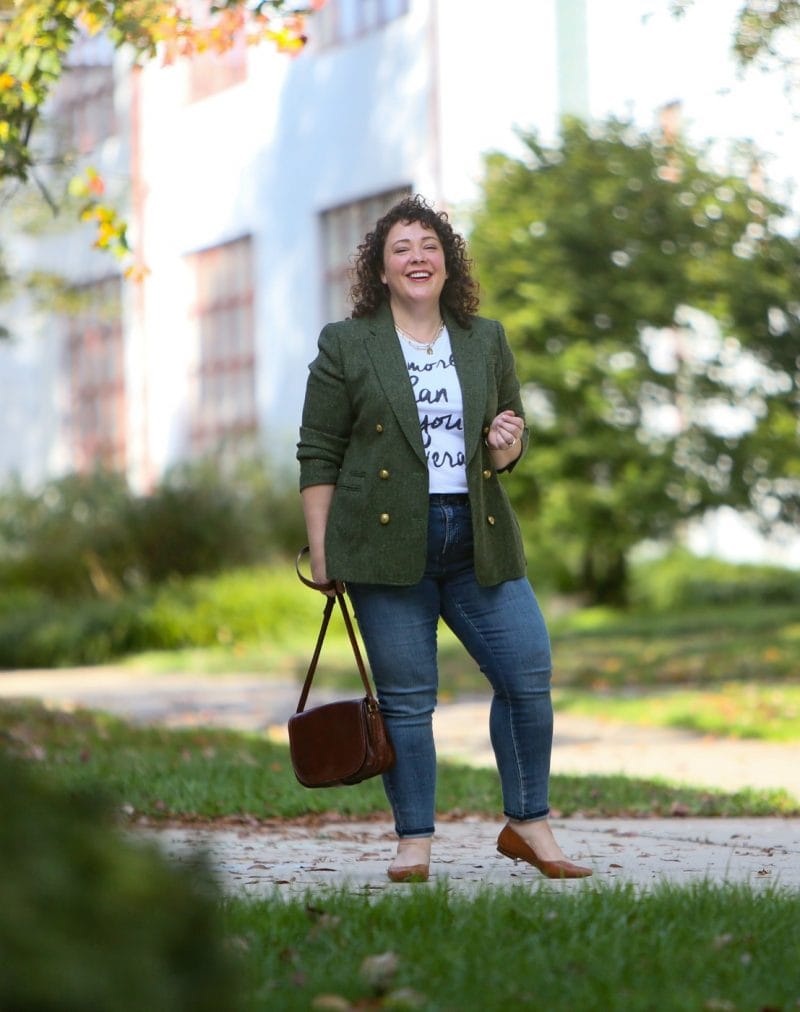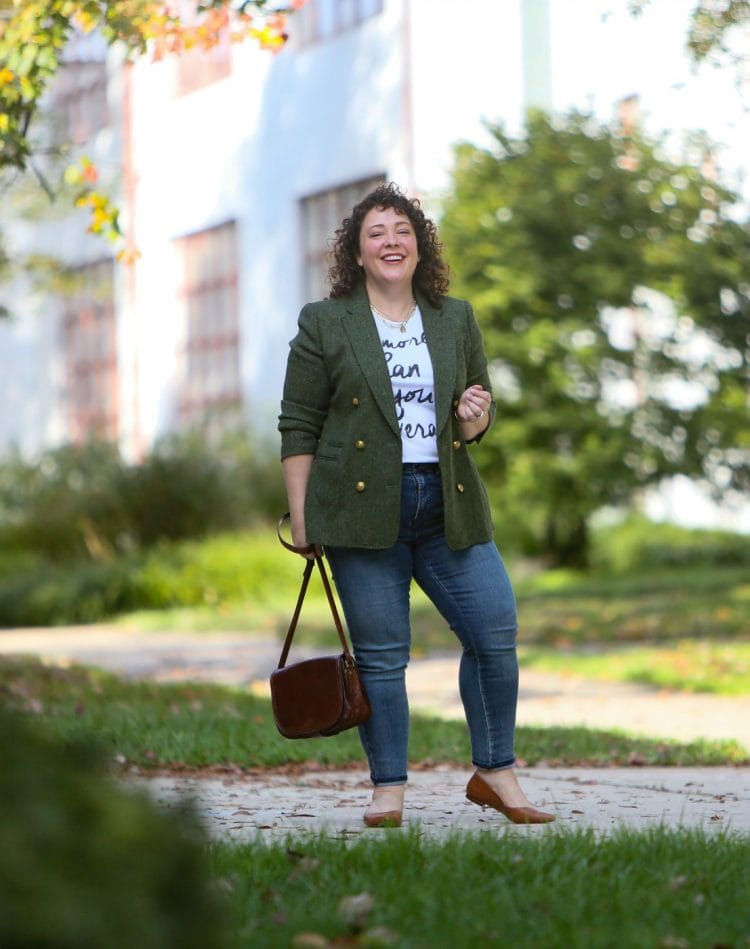 Shop the Post: