This article may contain affiliate links; if you click on a shopping link and make a purchase I may receive a commission. As an Amazon Associate, I earn from qualifying purchases.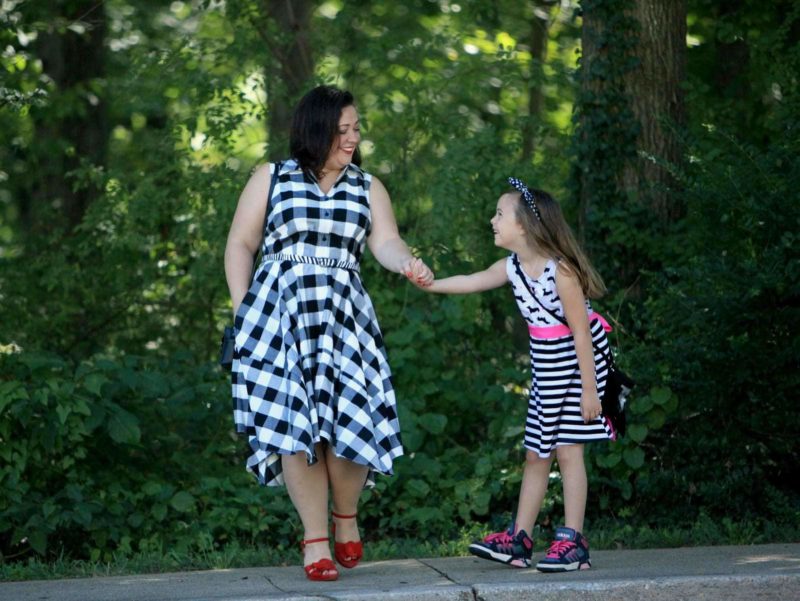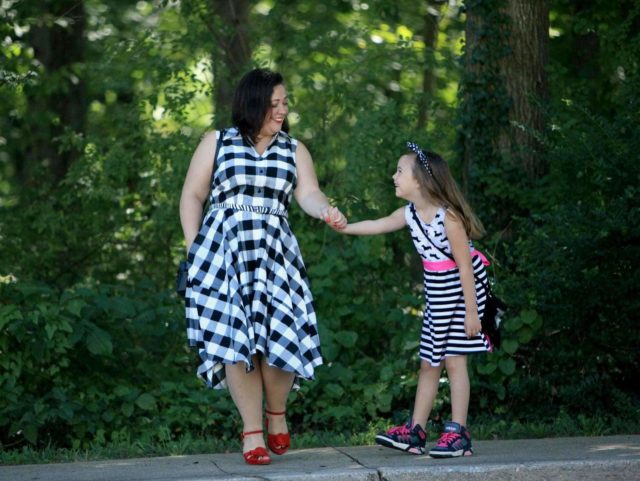 dress | belt | bag | shoes | earrings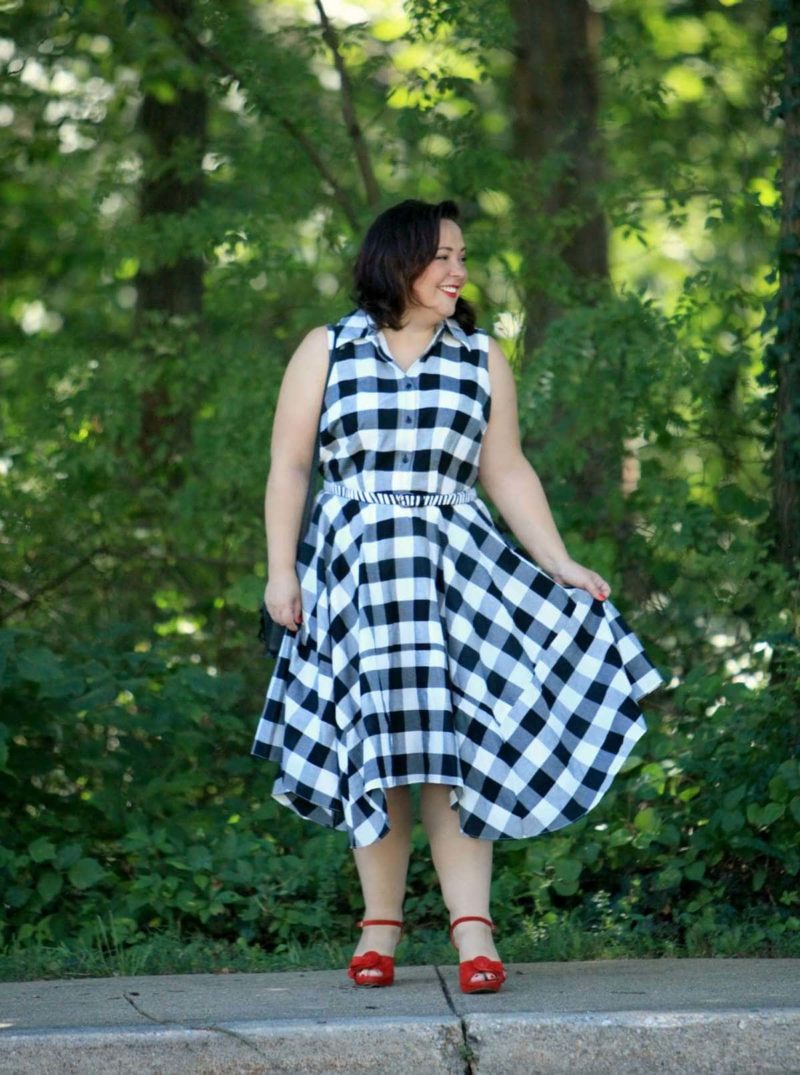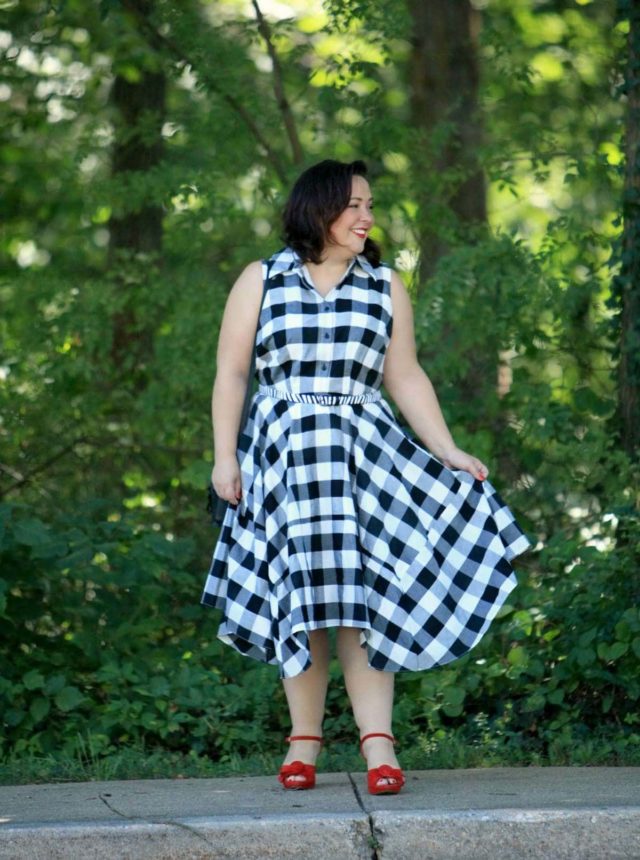 Dress: Julia Jordan via Gwynnie Bee (14W) | Belt: c/o cabi (sold out; similar) | Shoes: Naturalizer | Bag: Rebecca Minkoff | Earrings: Buzz Earrings c/o cabi | Lipstick: L'Oreal "Eva's Red"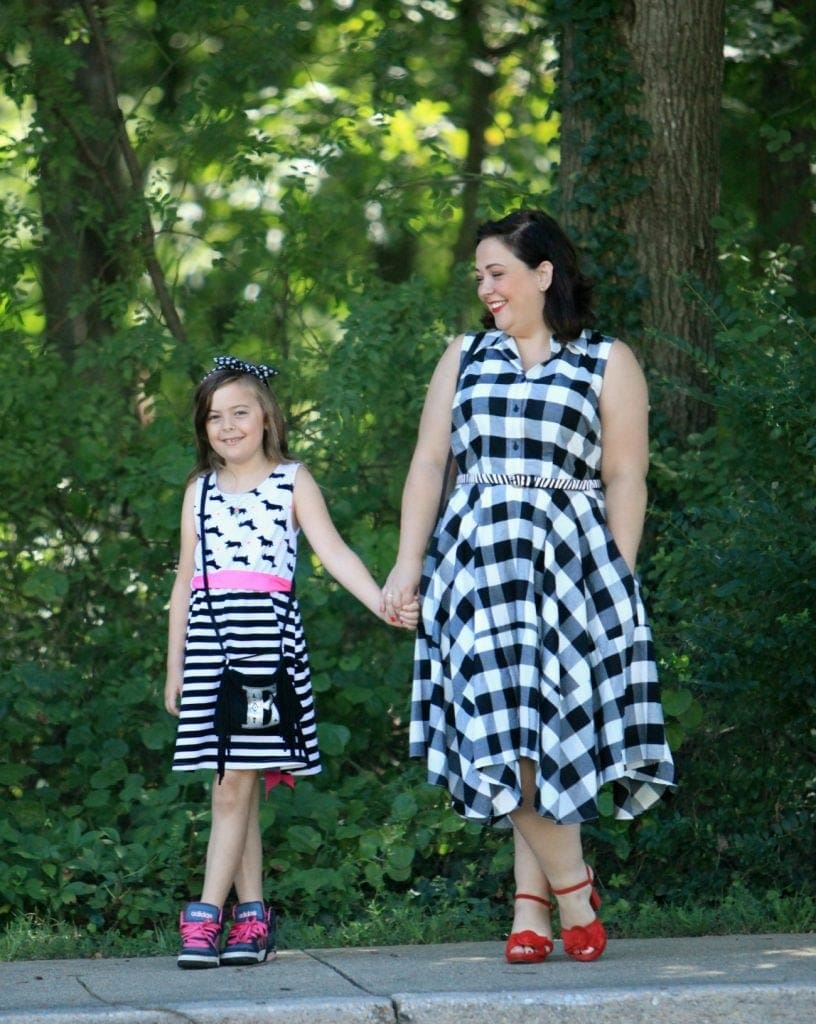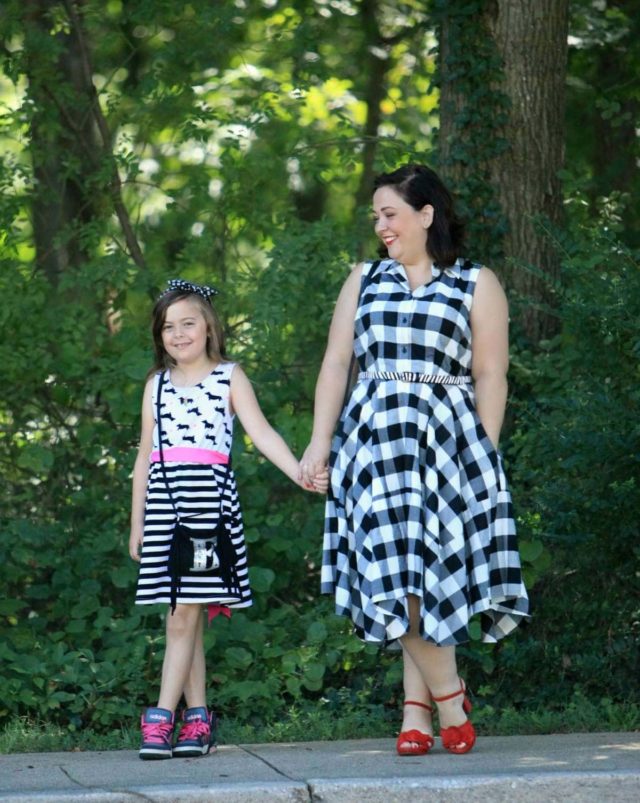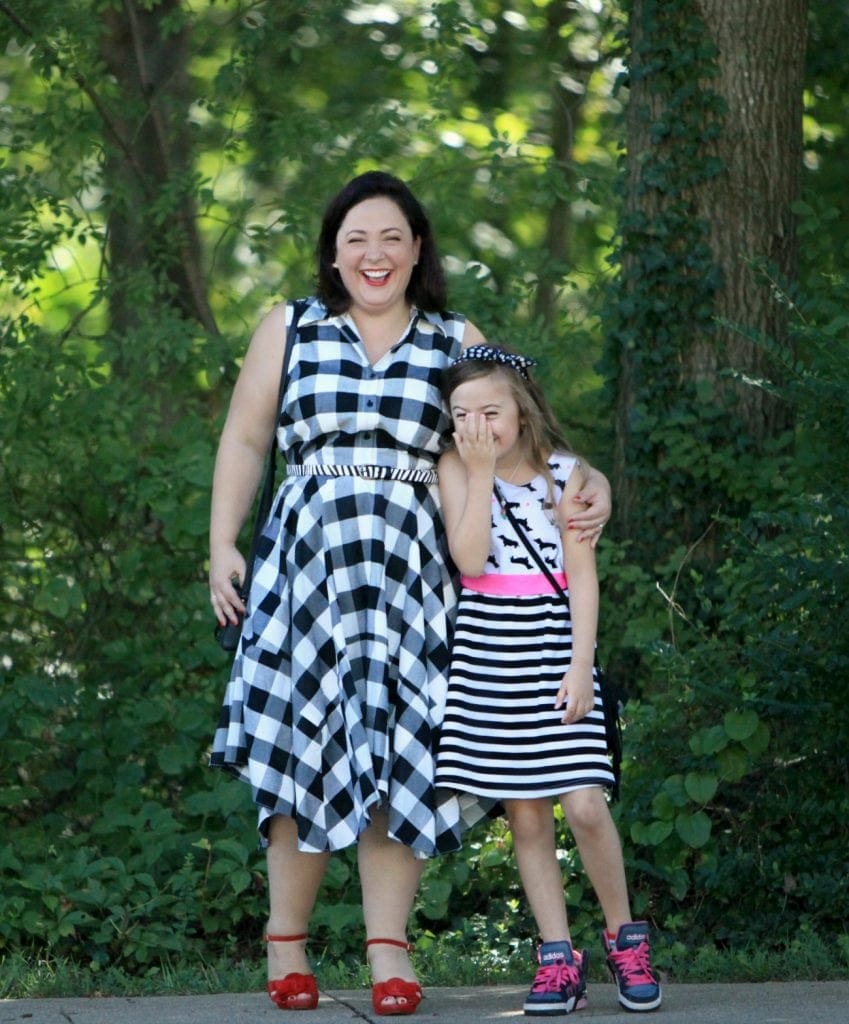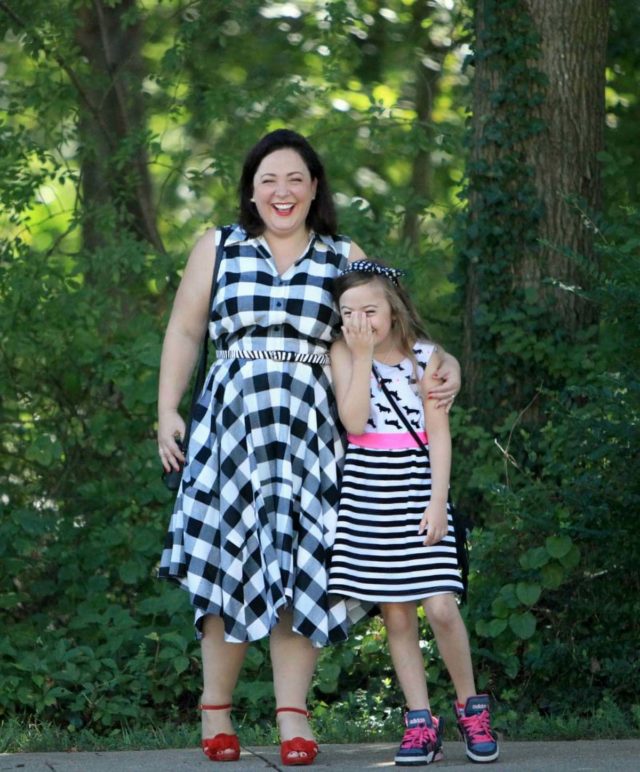 Karl captured these photos before Emerson and I headed out for the day so we got to make it a mother/daughter shoot! I swear we didn't plan to coordinate, but it happens quite often!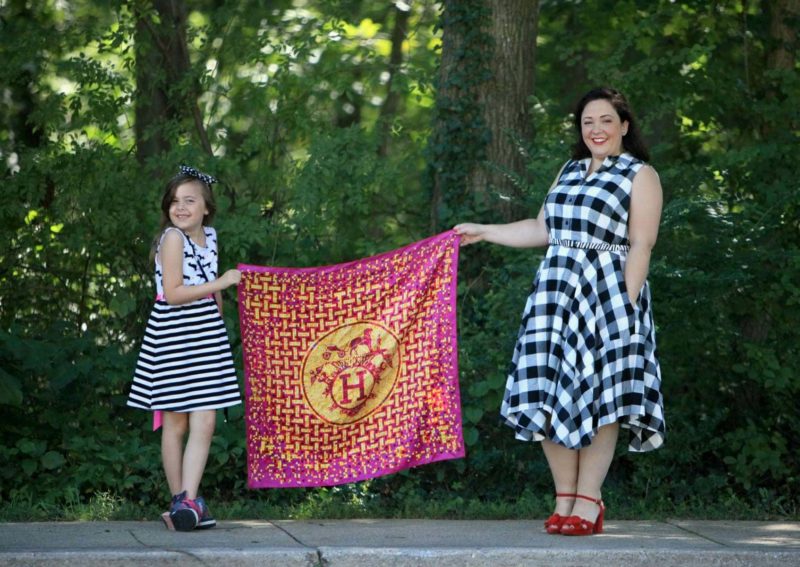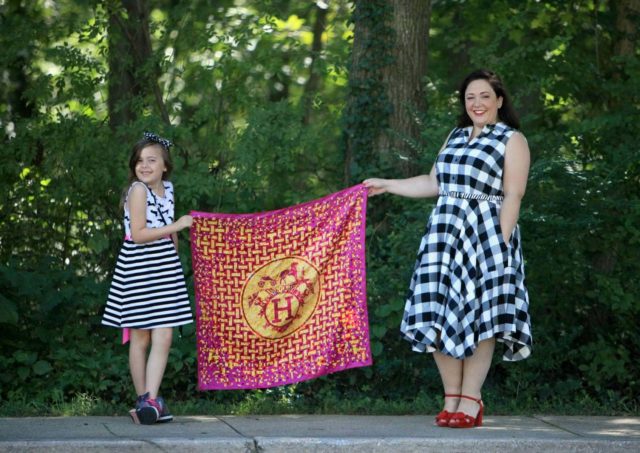 Do you remember MYHABIT? An Amazon company, it was one of those companies that offered designer pieces for less. Overstocks, out of season, you could find some really amazing deals. MYHABIT gave each member referral codes; each time someone used it the member would get $20 in store credit. I used MYHABIT a lot and therefore used my referral link a lot. With the store credits I scored and a random low price on the site (it was a 2008 style but for sale a couple years later), I got this Hermès scarf for free. I looooved the color combination, but when folded the main color showing was the bold yellow gold, which isn't a color I love near my face nor have a lot of in my closet. In fact, I've only worn the scarf on the blog once and in real life only one other time. What's the point of having an Hermès if it's always tucked away in a drawer? So when I heard about Hermèsmatic, a pop-up shop in CityCenterDC that was dying Hermès scarves for free, I decided to do it. If I could tone down the gold, likely this would be a scarf I'd wear on a more regular basis.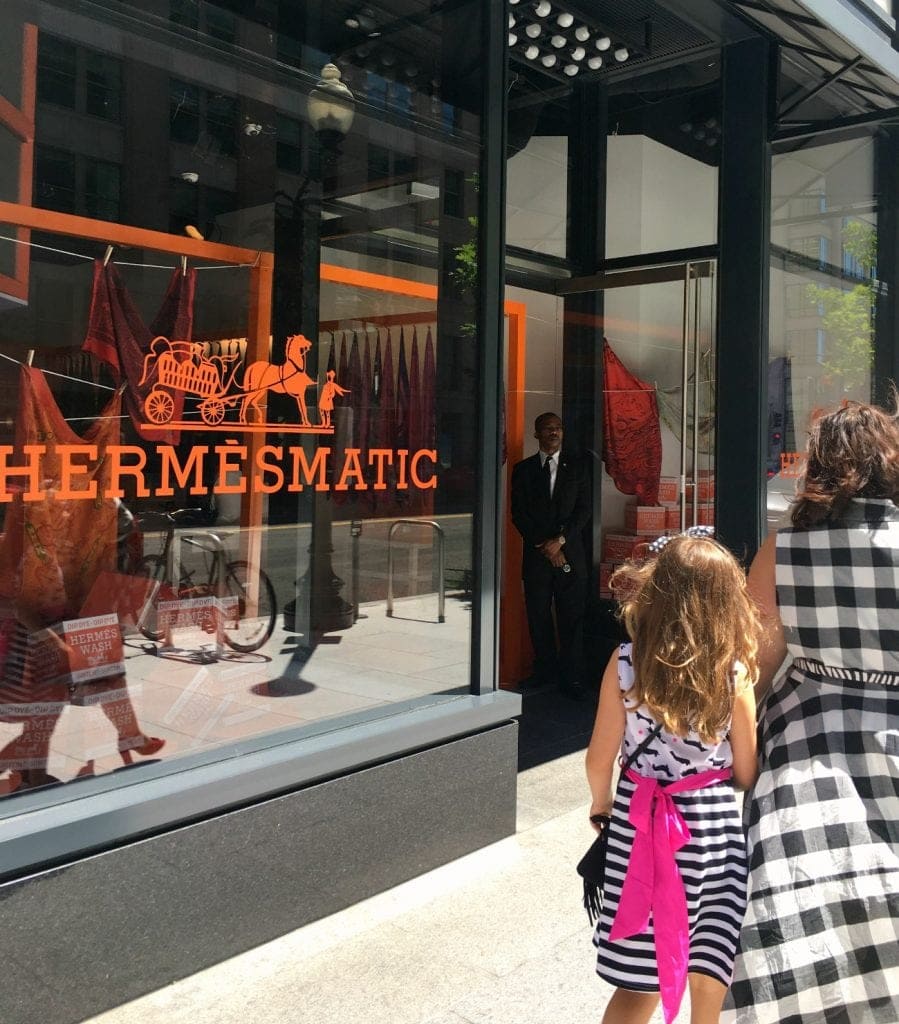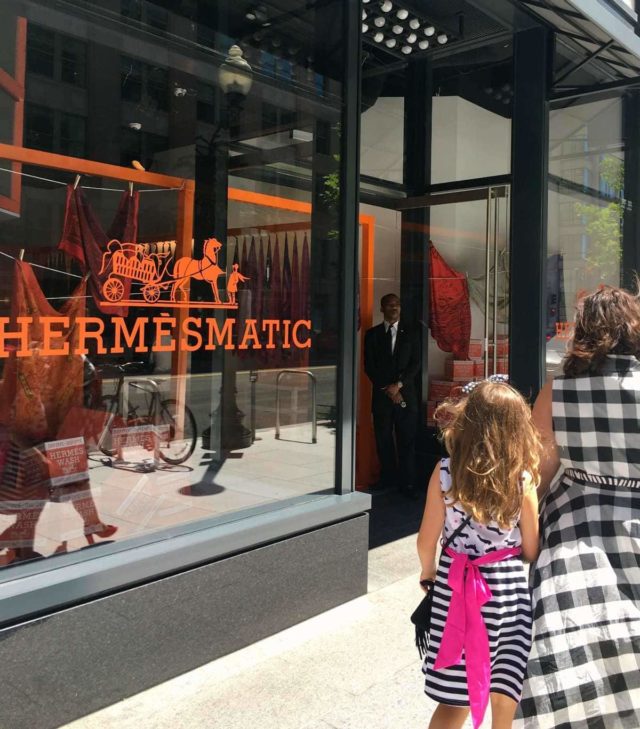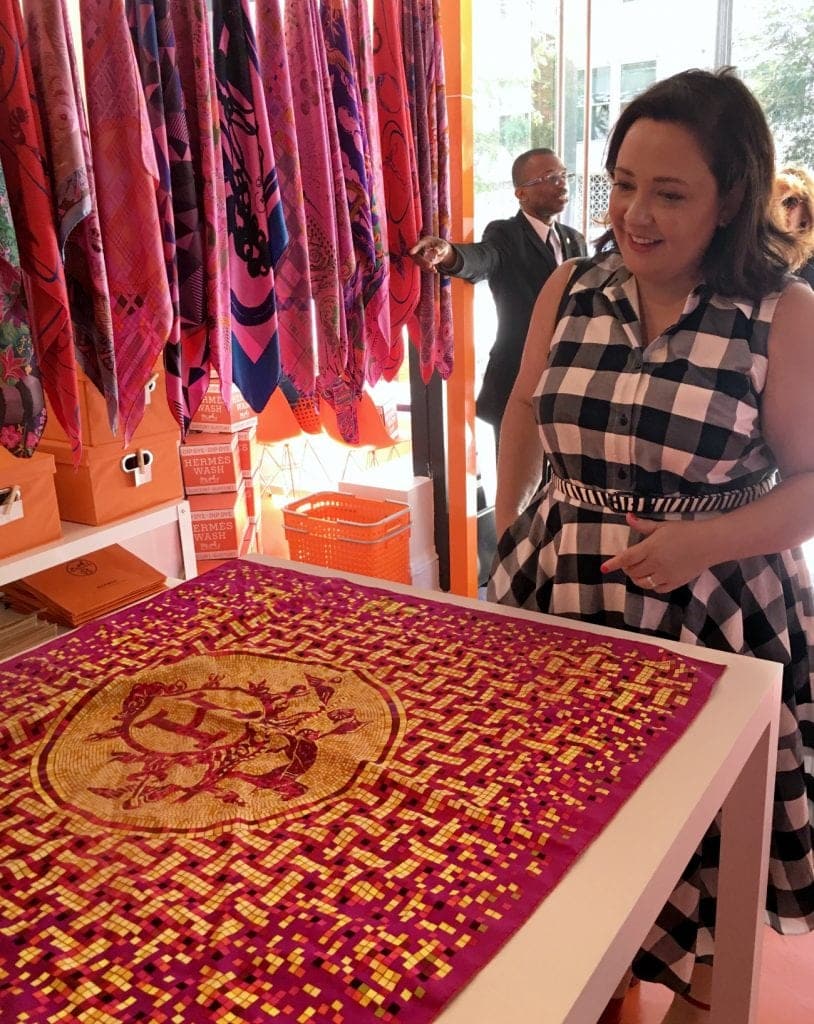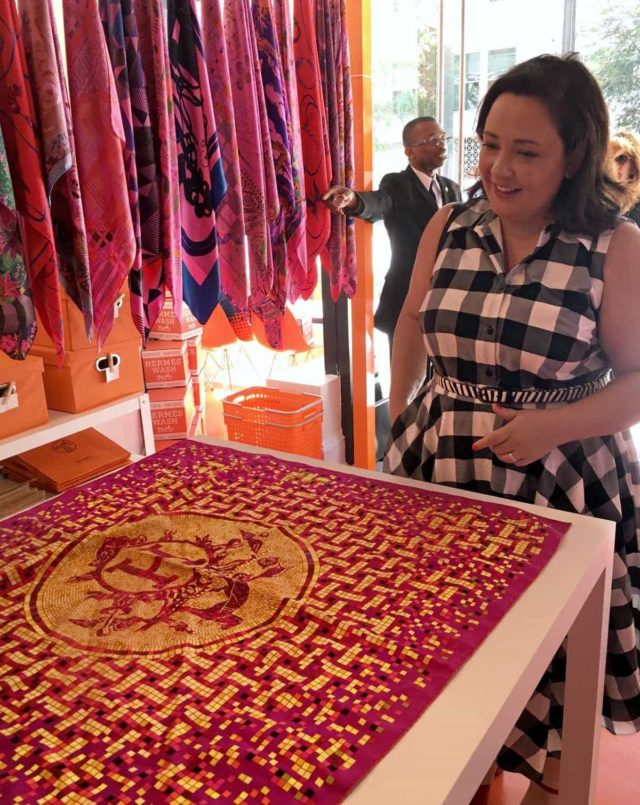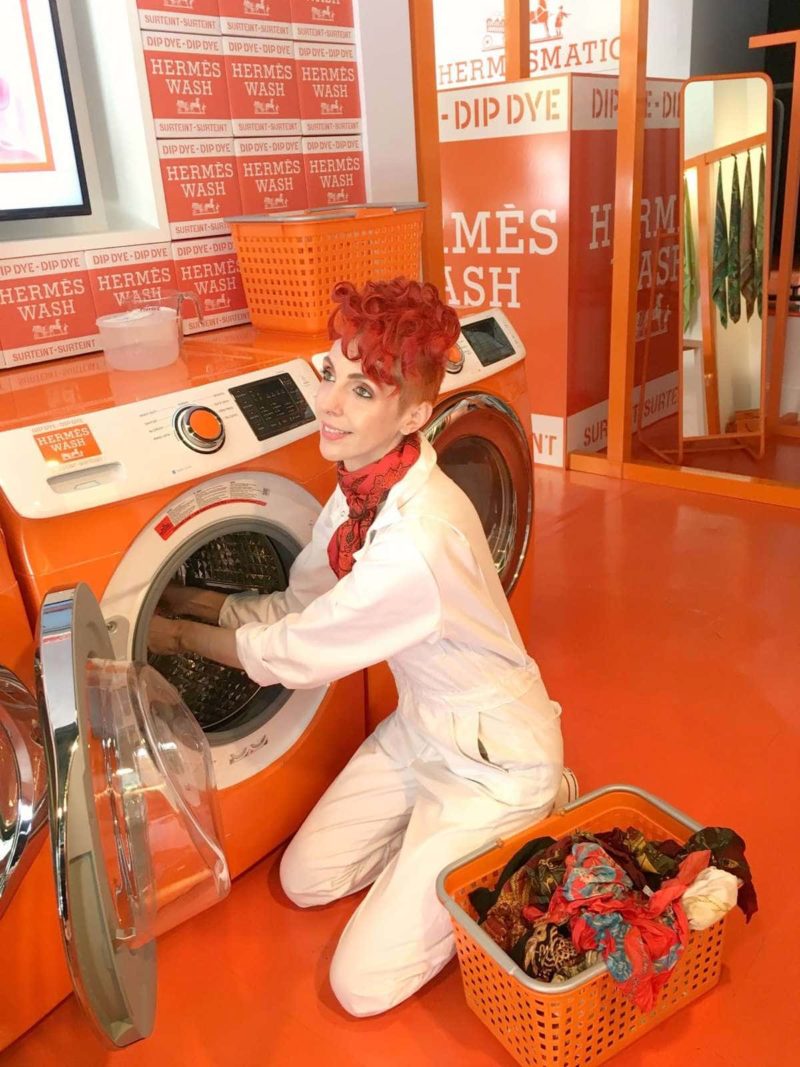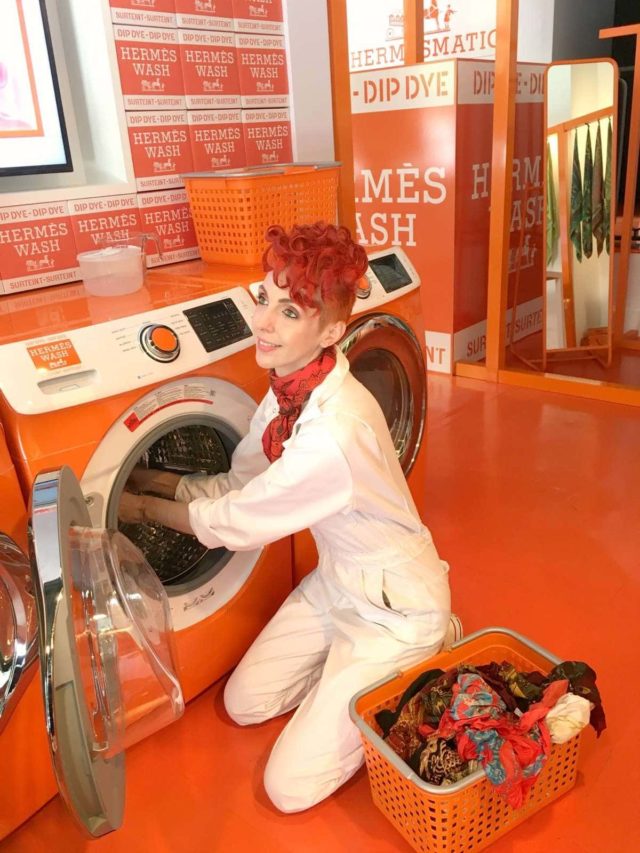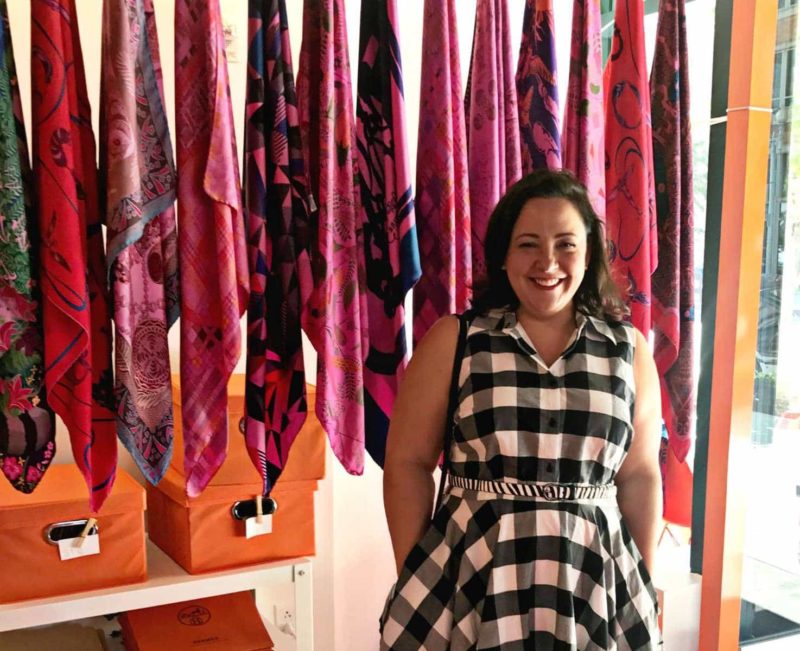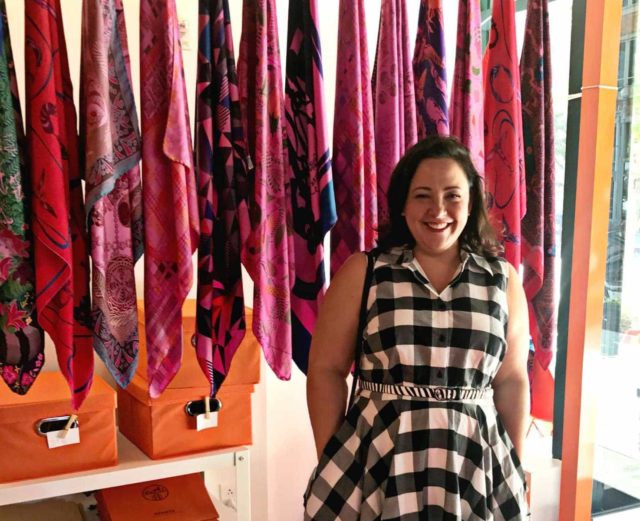 I saw gorgeous pictures of Hermèsmatic on Instagram; it's a small shop but very creatively set up. Everything is in Hermès orange, even the washing machines they use to do the dying. There's scarves hung everywhere, and boxes to depict Hermès detergent, and a photbooth where you can create your own animated GIF photo. The process to dye the scarf is free as long as it is an authentic Hermès scarf. Since this was the last day of the pop-up they informed me I can pick up the scarf later this week at the actual Hermès store around the corner.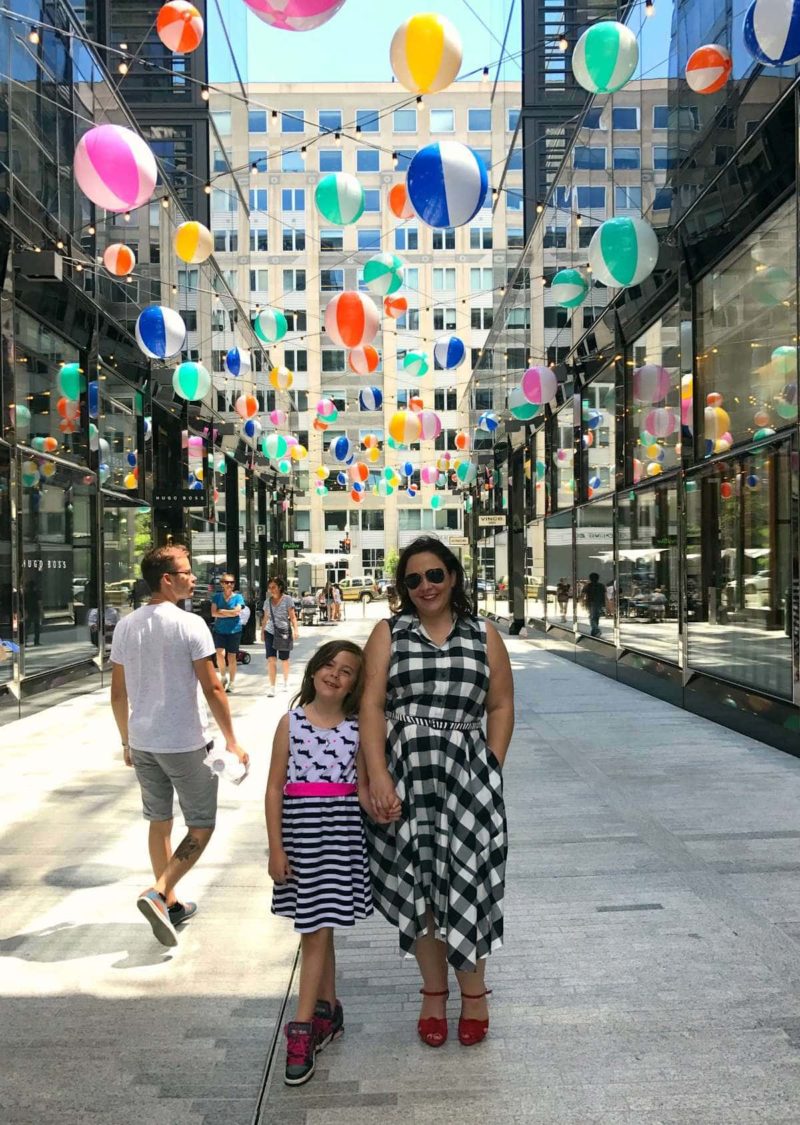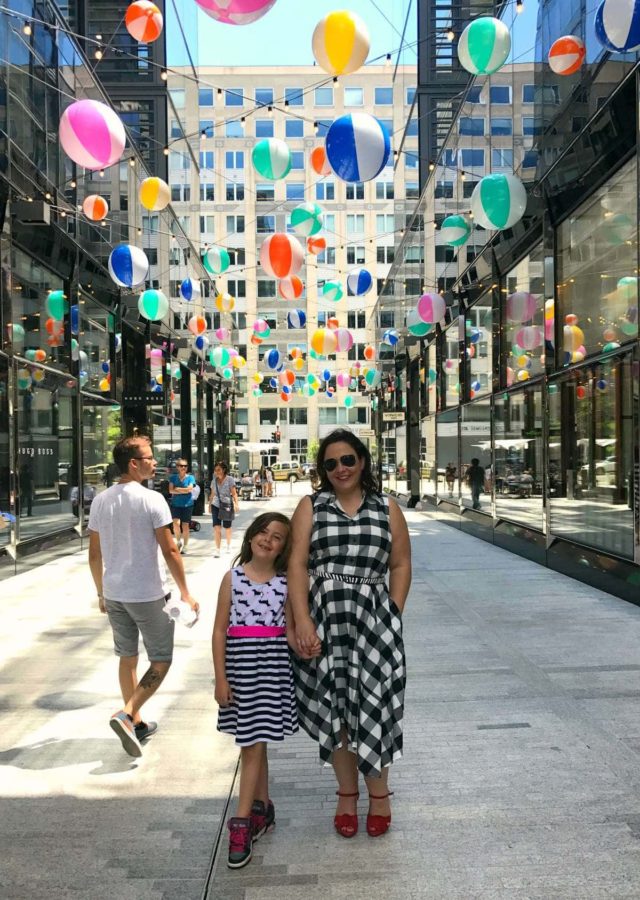 CityCenter is really gorgeous, though not a place for everyday shopping. Along with Hermès, there's stores for Louis Vuitton, Gucci, Dior, and other high end designers as well as more accessible brands like Vince, Jo Malone, and Kate Spade. There's great places to eat as well and many with outdoor dining; we had lunch outside at DBGB after visiting the Hermès pop-up. It was a lovely day in DC – not too hot, a bright blue sky, and light breeze. Emerson, my sister, and I had a wonderful day dining, window shopping, and scarf dying at CityCenter.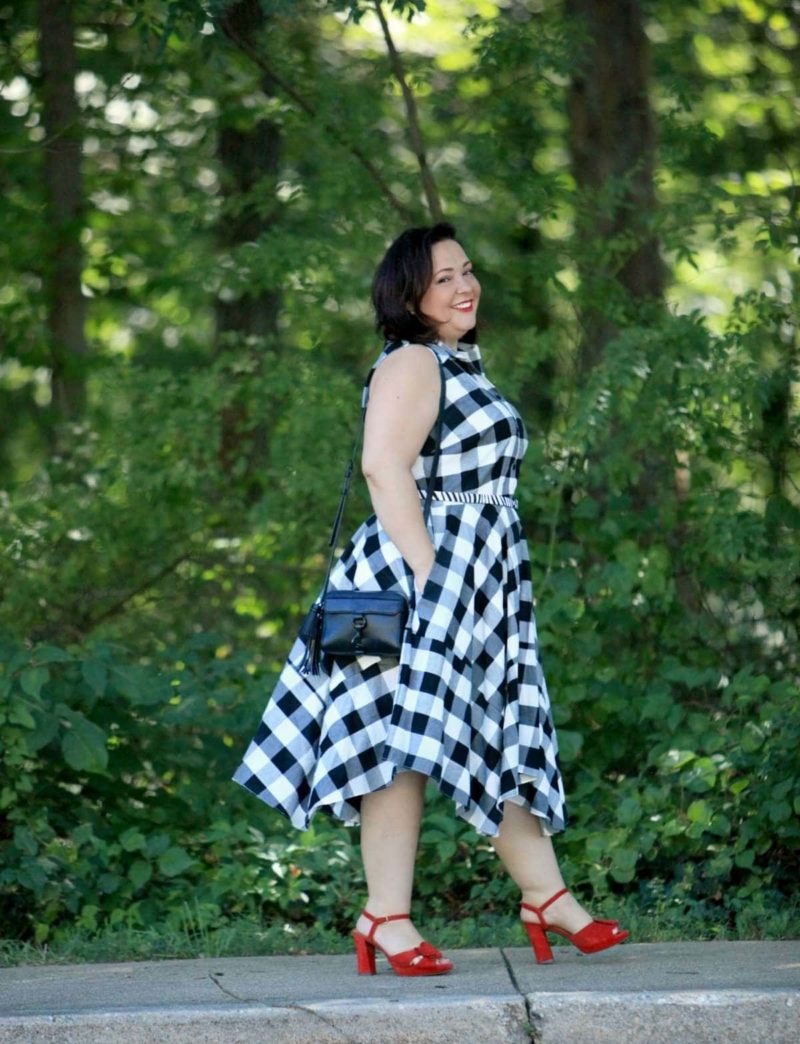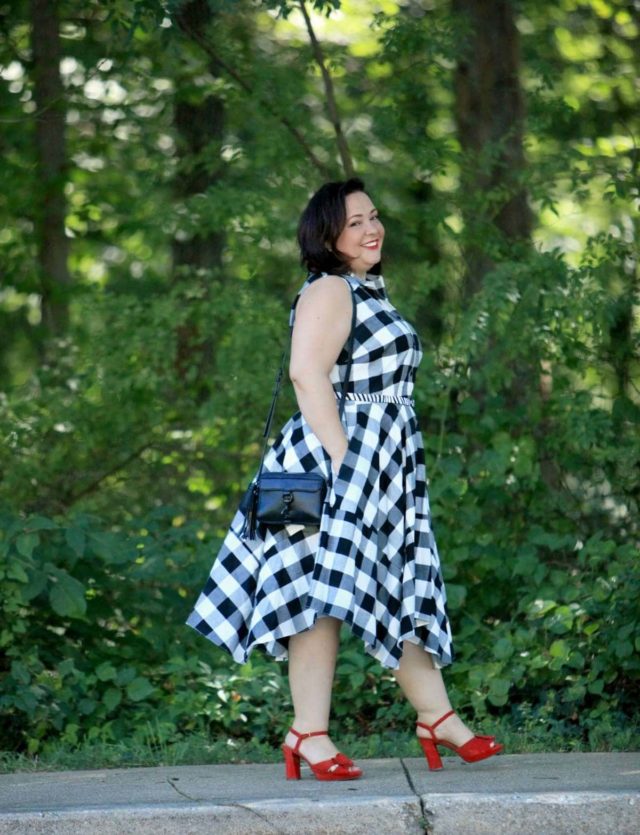 For a day of shopping and dining, I decided to wear this dress I recently received from Gwynnie Bee. It's from the designer Julia Jordan and it's really nice. Fully lined, plenty of room for the bust, a flattering hemline, nice drape, and pockets. It doesn't come with a belt; I wore it once with a pink skinny belt (the one in this outfit post) and it looked okay, but not really me. I tried a black and white striped ribbon (the neck ribbon to the dress I wore in this outfit post) and it was closer, but it was folding over when I sat. I picked up this zebra calfhair belt at cabi Scoop (paid for with a gift certificate provided by cabi) and decided to try it… and loved the result! My red suede Naturalizer sandals add a pop of color and are comfortable enough for a day of walking around.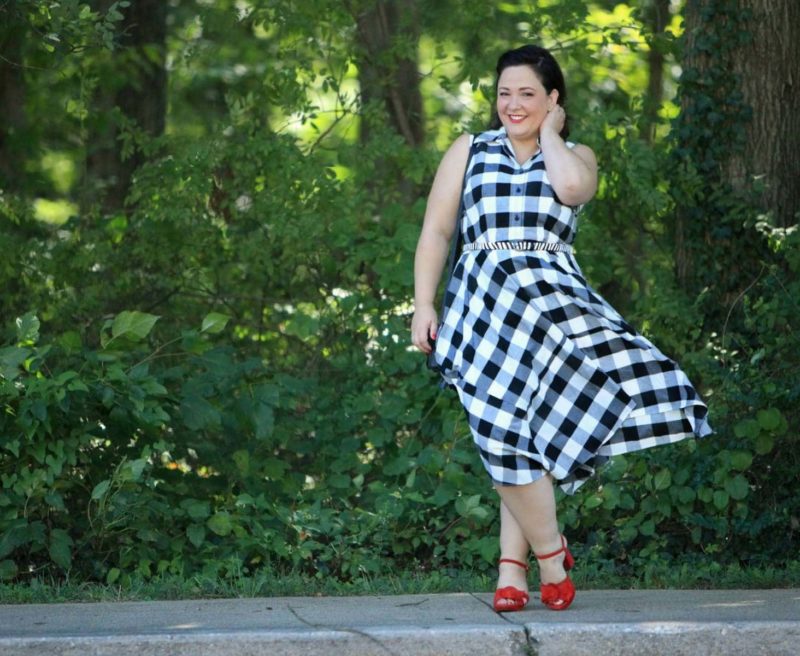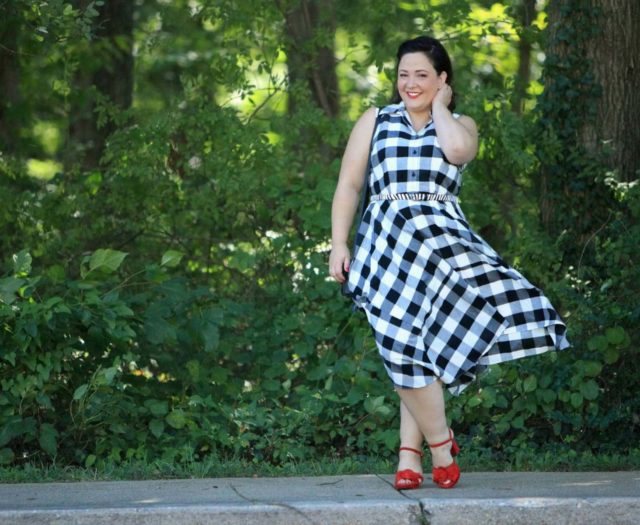 Dresses like this one make me happy that Gwynnie Bee lets you buy items you rent and fall in love with at a price lower than department stores. This is a really great dress I've already worn twice and hung back up in my closet to wear again later this week. Though if after three wears I've tired of it I can send it back for another great garment. If you'd like to try Gwynnie Bee, use my affiliate link and try the program free for a month!