This article may contain affiliate links; if you click on a shopping link and make a purchase I may receive a commission. As an Amazon Associate, I earn from qualifying purchases.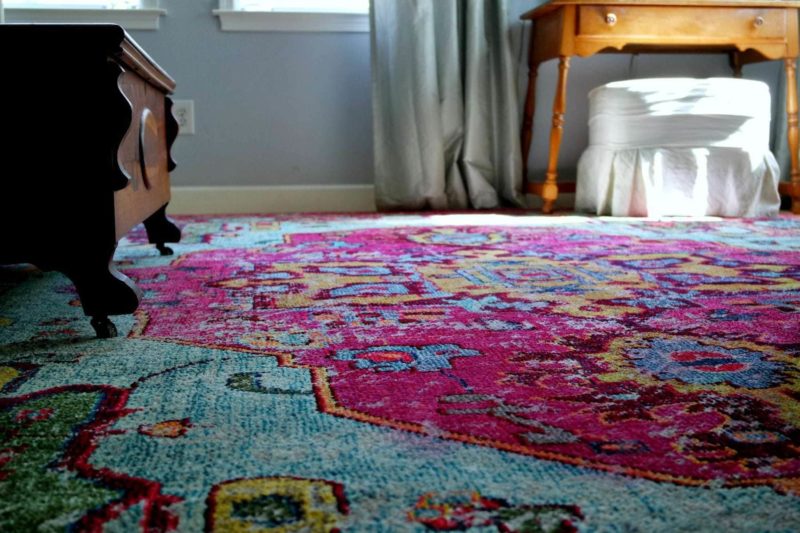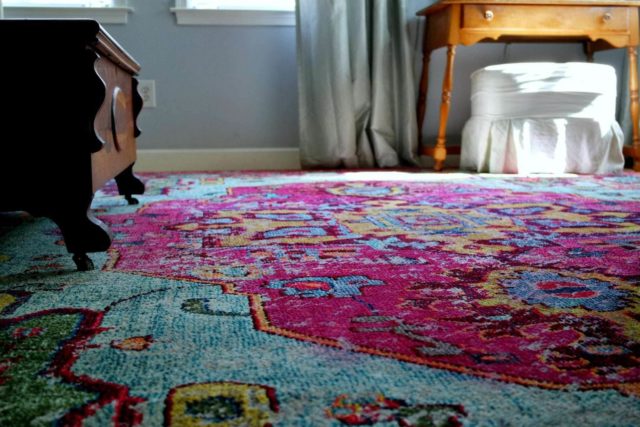 We bought our home in 2001 and have never had a rug for the bedroom. I've wanted one, but I never found one I liked that was the right size… and more importantly, the right price. When we remodeled in 2008, our original bedroom became our home office (see it here), and we made a pretty spacious en suite.
It's nice to have a big airy retreat, but pricing out area rugs gave me heart palpitations. But I keep looking for a rug, something to anchor the room, to insulate, to add some color and fun. One day I was perusing Rugs USA and was looking at their vintage collection and found this beauty for an extremely reasonable price.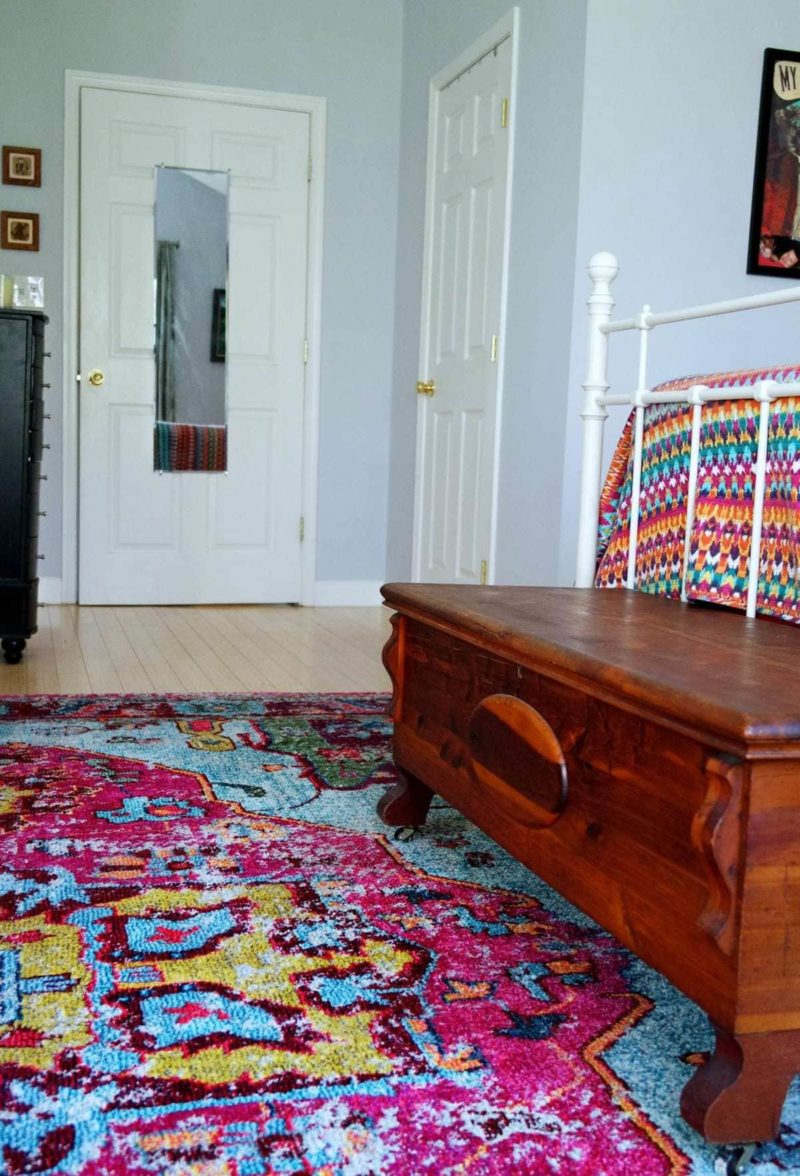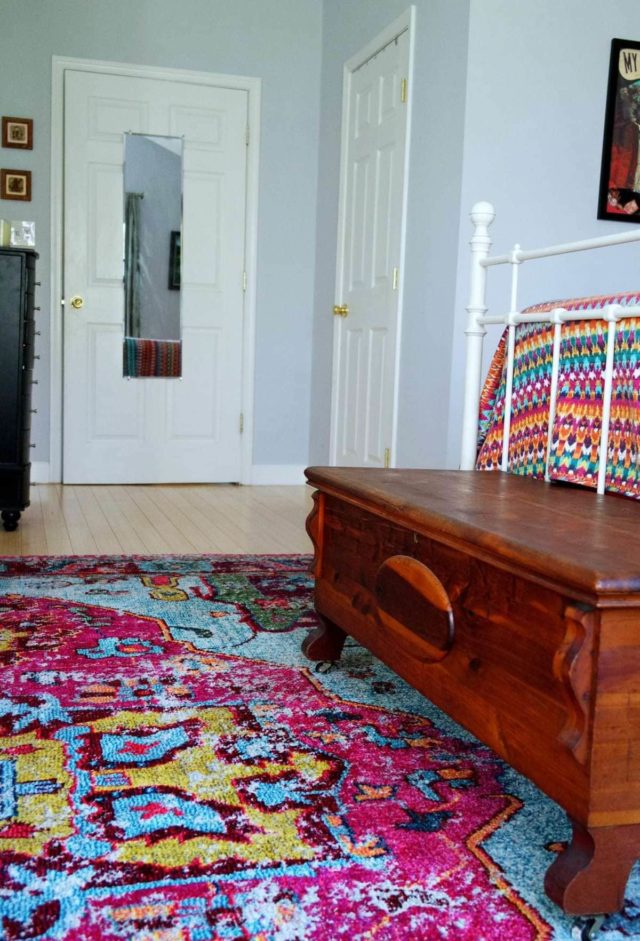 I worried it was too pink, but Karl loved the colors and we decided to take a chance and order it. It arrived three days later, wrapped up in heavyweight plastic. The rug is even prettier in person, feels nice under the feet, and is well made. I like it so much, I knew I had to share it with you!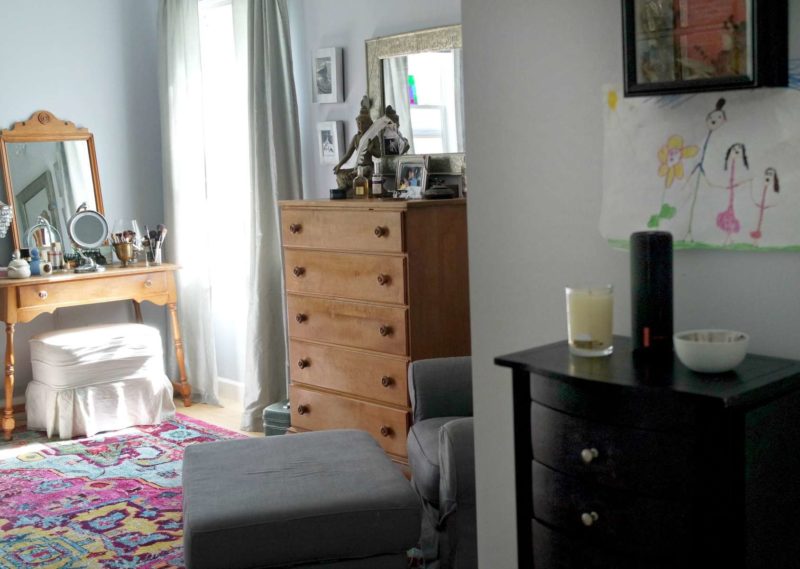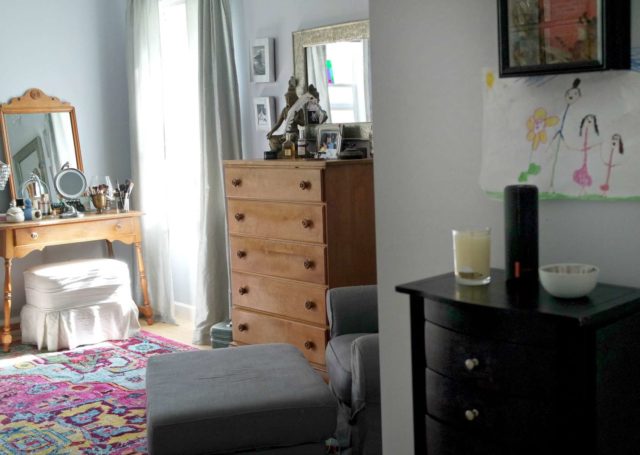 The chair is IKEA, the jewelry armoire is from Target, the candle on top of it is Wary Meyers.  The bowl holds my rings and is from a Popsugar Must Have box, the speaker is UE BOOM.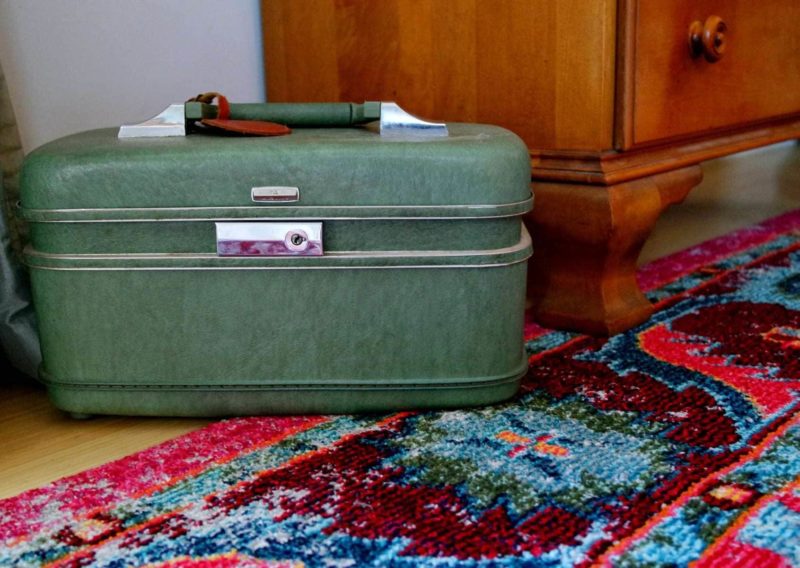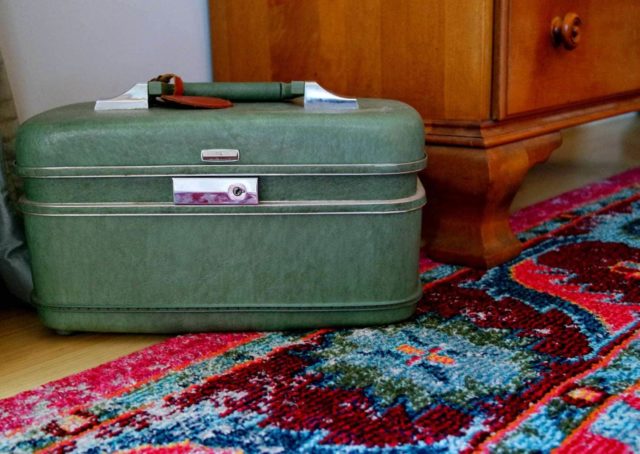 This train case belonged to my mom. I use it to store all my receipts and shipping invoices.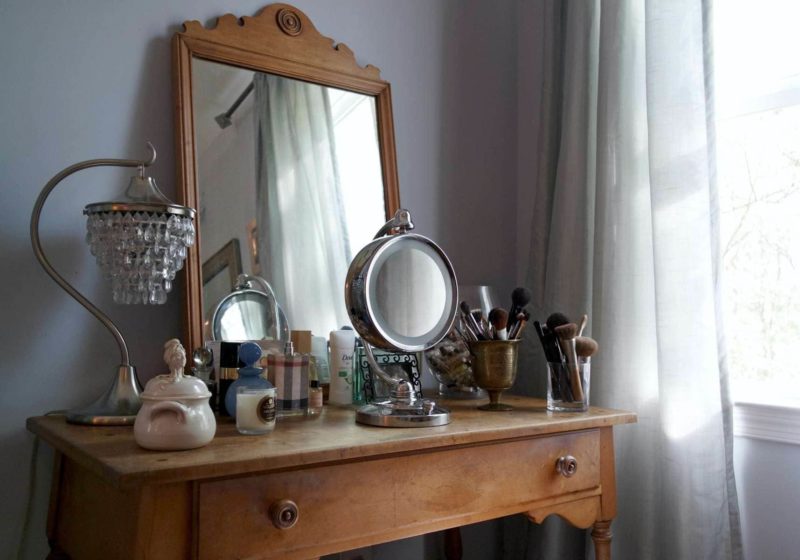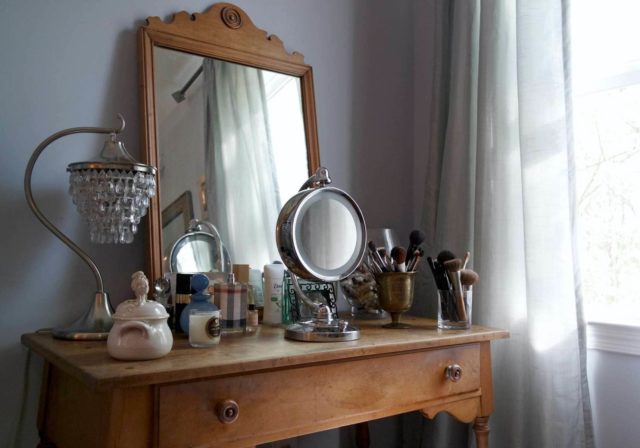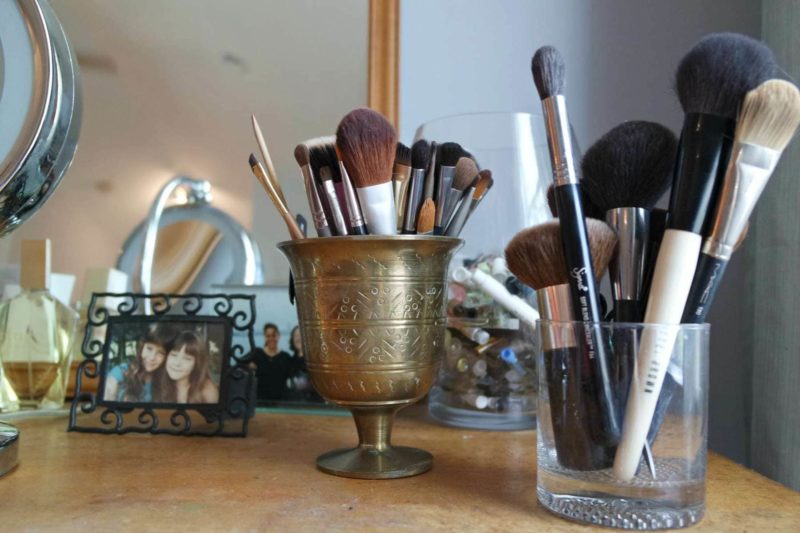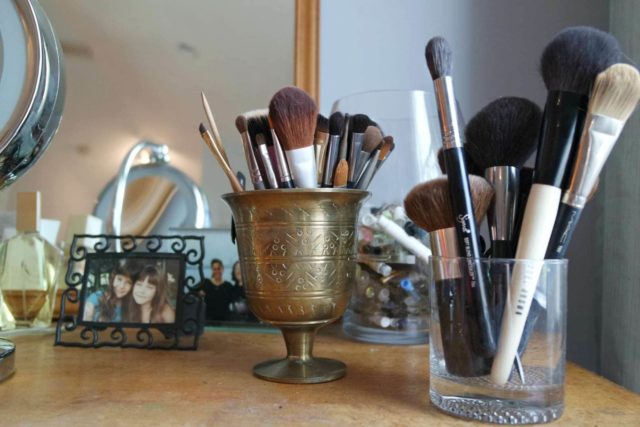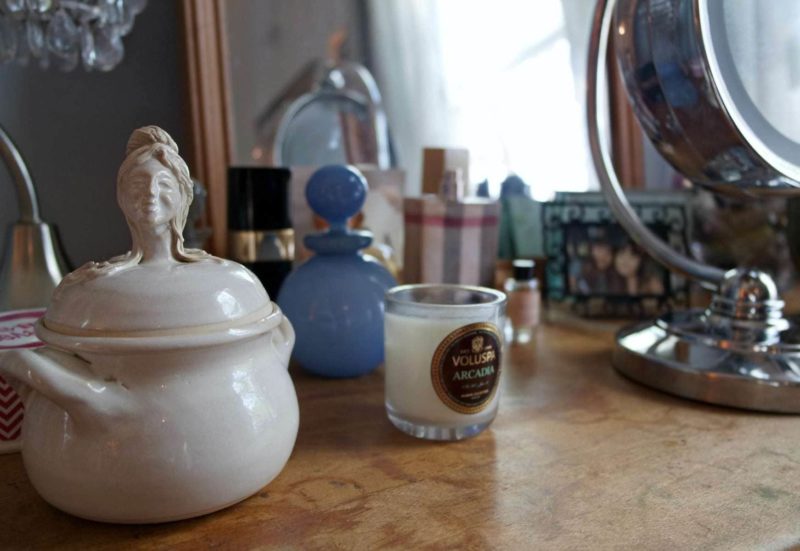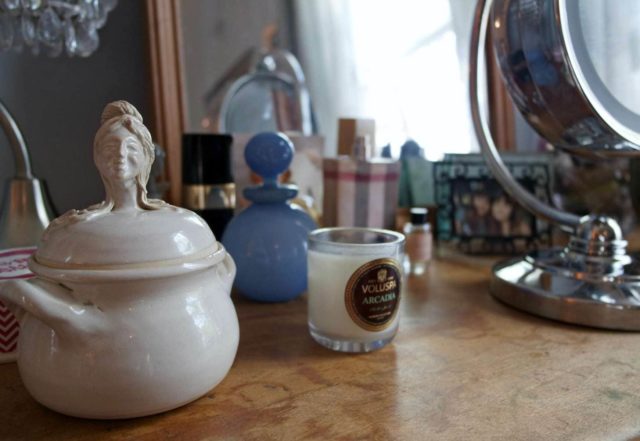 My dressing table.  This desk was Karl's as a kid; the drawer holds all my makeup in lucite trays.  The container with the lady's head on top was a gift from Karl's sister, the candle is Voluspa.   The brass brush holder was from my mom.  The makeup mirror is from Conair; I've had it for over a decade and it's still going strong.  The lamp is also from Target.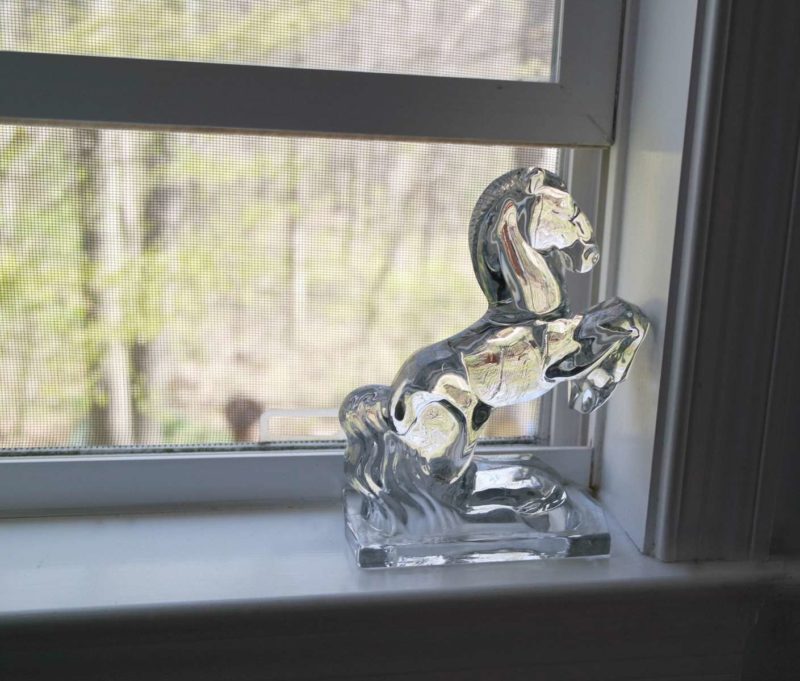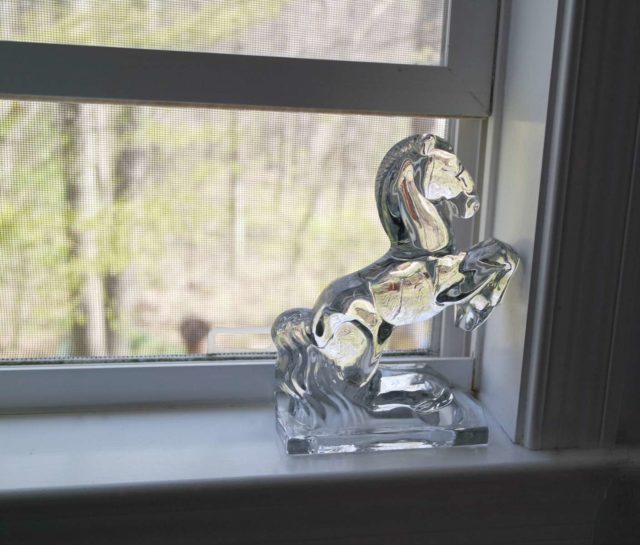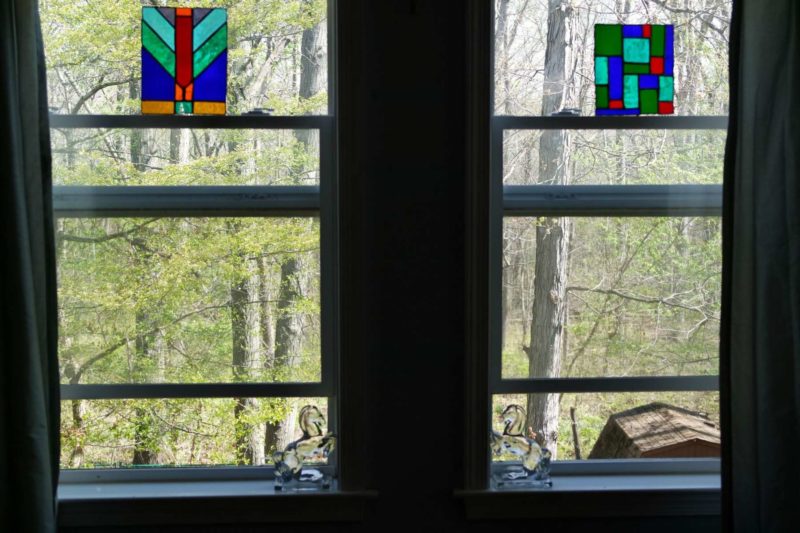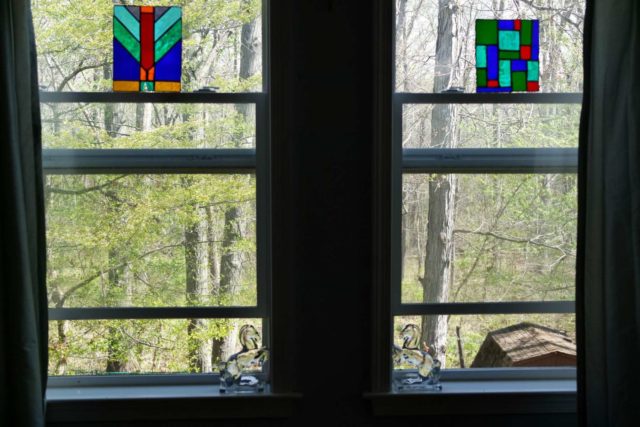 I can see the sunrise through the woods from lying in bed.  I made the stained glass many many years ago when my dad and I took a stained glass class together.  The glass horses are from Karl's side of the family.  They're supposed to be bookends but I think they beg to be in sunlight.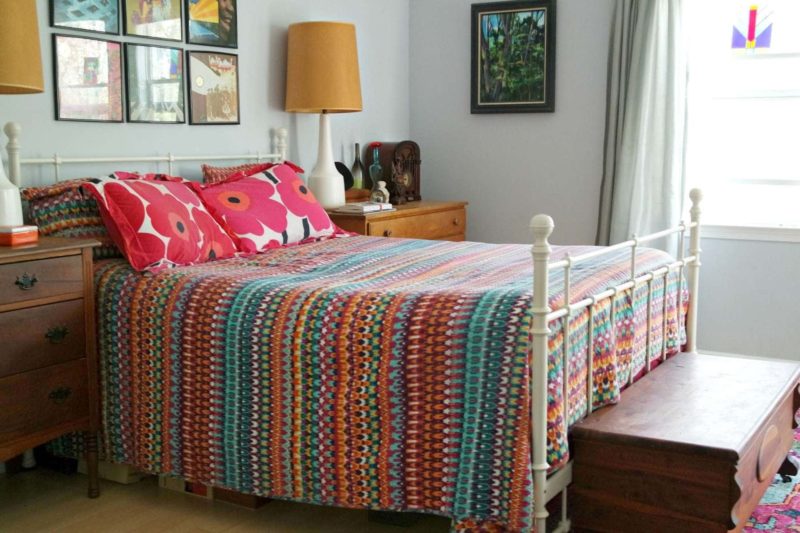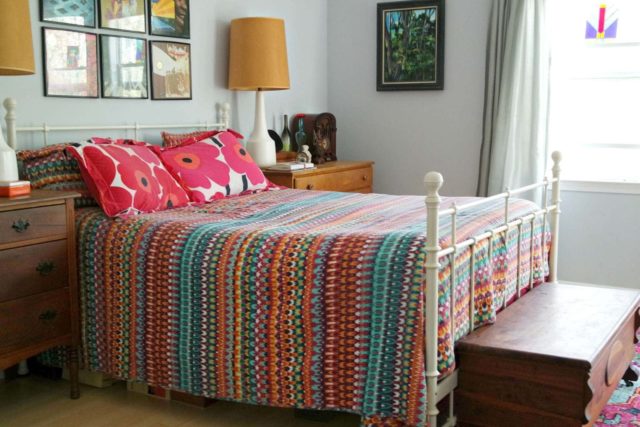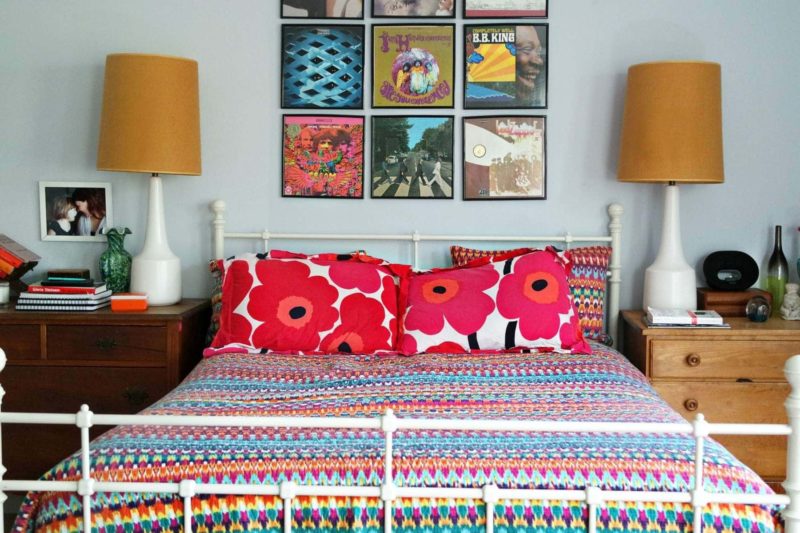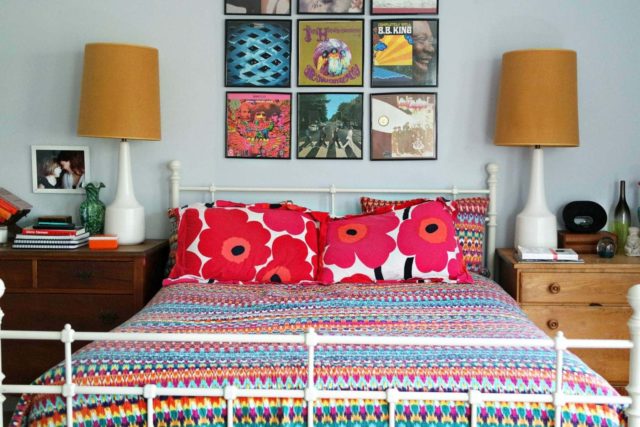 I haven't shared our bedroom since 2011; while the furniture, curtains, and wall color is still the same a few other details have changed. When I broke my arm, Karl and I switched sides of the bed and never switched back. In 2014 I wrote about our new bedroom lamps.  The poppy pillow cases are Marimekko, the quilt and shams are from Nordstrom (no longer available).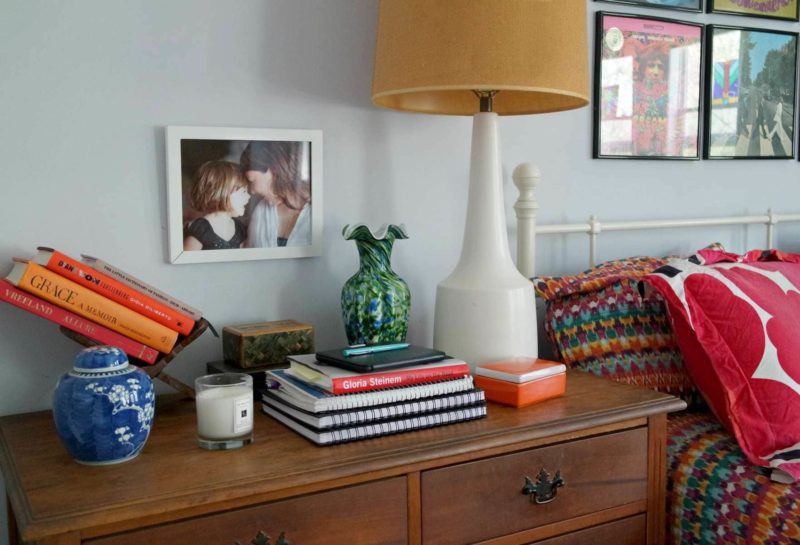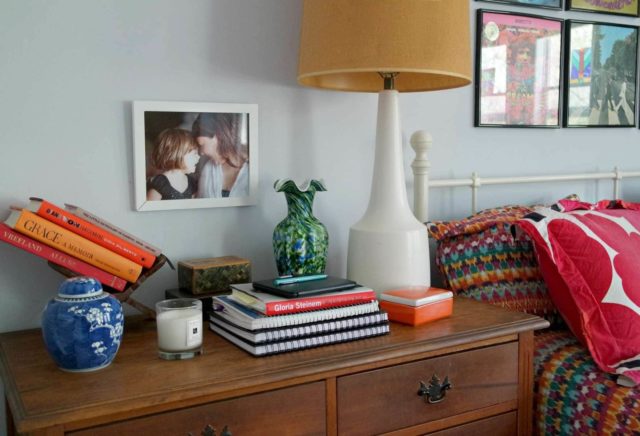 My side of the bed: orange box from J. Crew holds things like lip balm and cuticle cream.  The blue jar was my mom's, it always sat on her dressing table and was full of rose potpourri.  She Marie Kondo'ed her house and gave it to me, it still has the potpourri in it!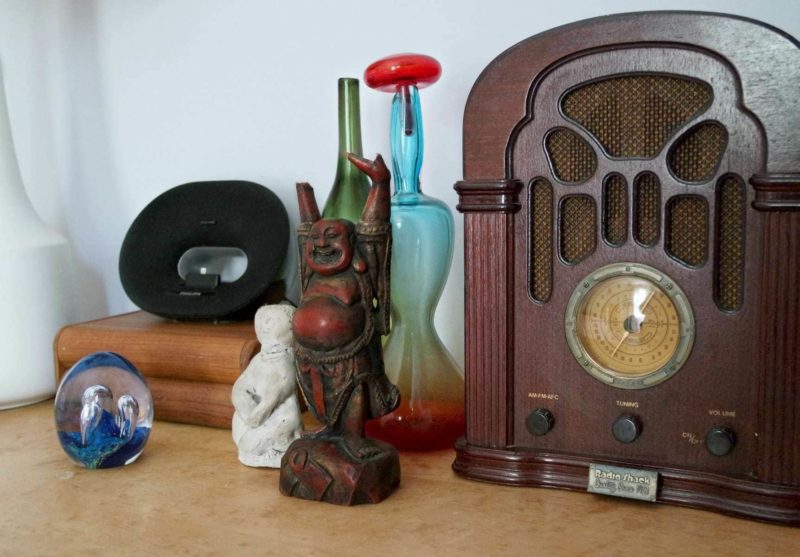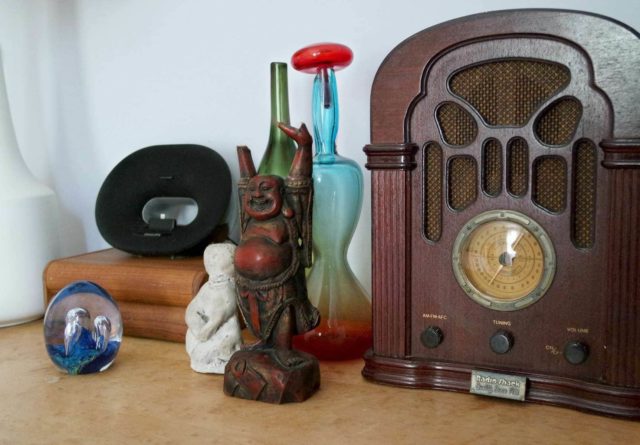 Karl's side of the bed has his dad's fake vintage radio, which I guess is truly vintage now! The glass bottles belonged to my dad.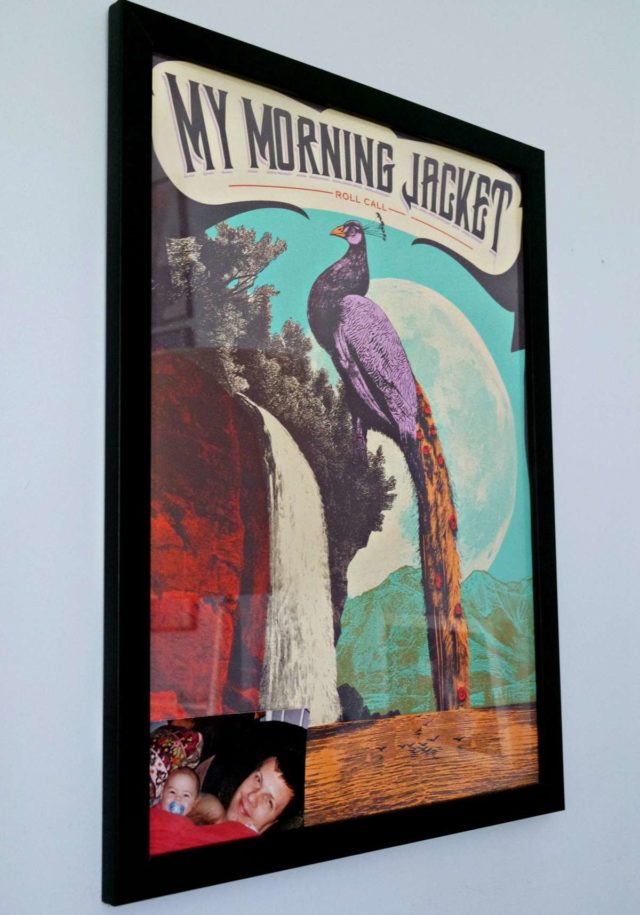 We have several My Morning Jacket posters from all the concerts we have attended over the years. This one hangs in our bedroom and I use the frame as a sort of bulletin board, tucking in photos and concert ticket stubs.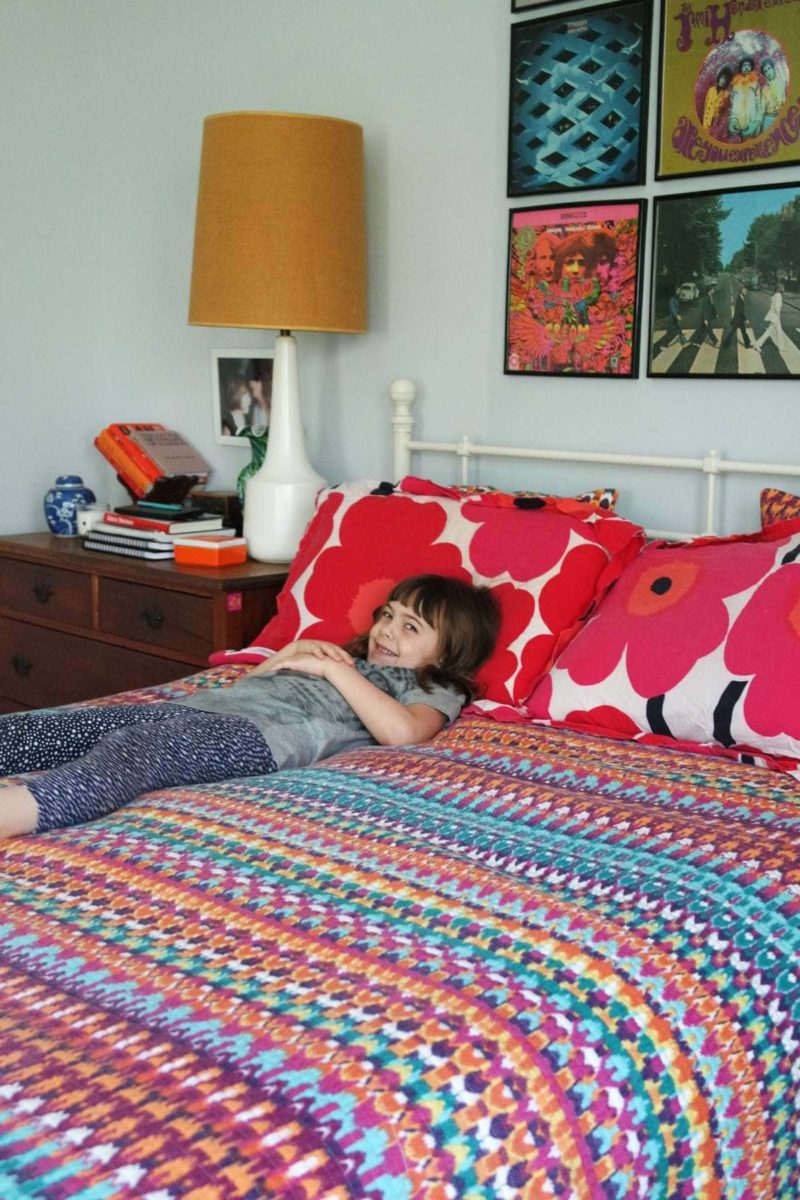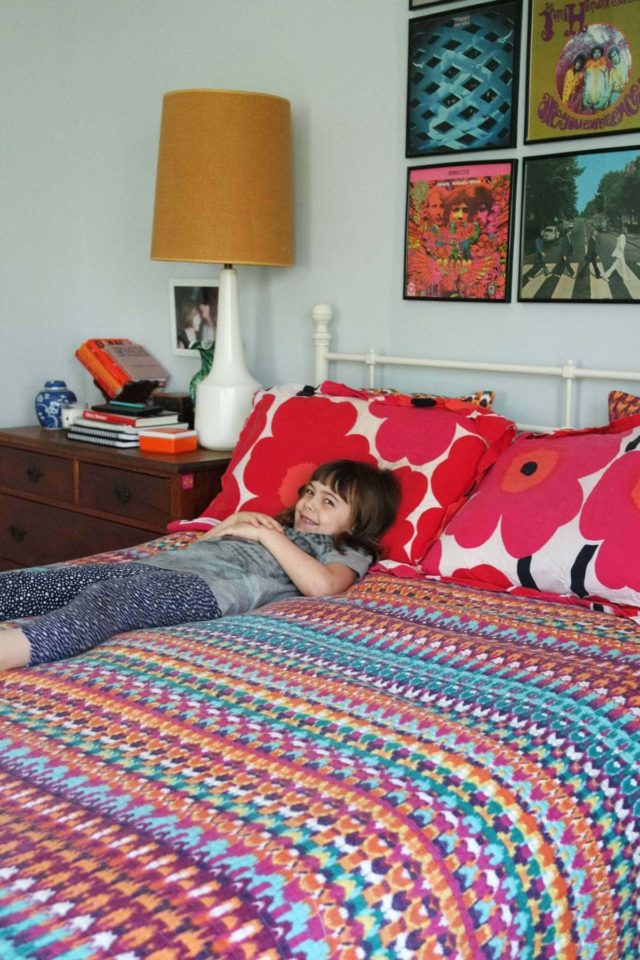 While Karl and I love our new rug, the biggest fan of our bedroom update is Emerson!