This article may contain affiliate links; if you click on a shopping link and make a purchase I may receive a commission. As an Amazon Associate, I earn from qualifying purchases. 
How do you go about making a 'wish list' for each season? I'm at a loss as to how to kick it off. In fact, I'm not even sure what I want. I know what I like when I see it but I don't know that I can conjure it up in my head first.
First things first, before you create a wish list be sure your closet holds only that which you can wear. You can use this post on honing your personal style through a closet clean-out as a guide.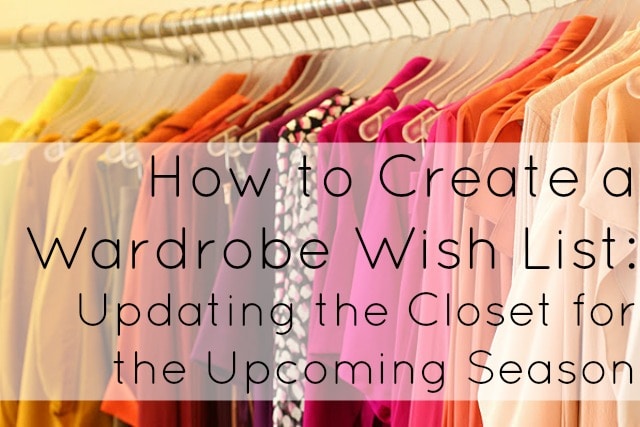 Once you have cleaned out your closet in this manner, you should have a better idea on what is missing, what you need to make the current closet more cohesive. Before you have wishes and dreams, you need a secure foundation. Clothes to get you dressed for work, for ordinary social events, for the grocery store and your son's playdate.
Once you have that, you'll get a feel for your personal style. With a wardrobe full of things that fit and work with your life, you'll start gravitating toward certain pieces because they make you feel great or are so perfect for your life. Note these feelings, be it in your mind or in a journal. Be aware of colors, patterns, cuts, and silhouettes that feel right and those that garner compliments (sometimes a great piece doesn't get a compliment, but you may get one about how you have lost weight, look rested, possibly changed your hair when you didn't).
Only then, should you be able to craft a wish list. Each season you'll pull out the clothes you already own, try them on, see what still fits and flatters and what holes are in your wardrobe. As you scroll through blogs and flip through magazines you'll see current trends. This is the perfect time of year because every fashion website is sharing what is hot for the season; check Harper's BAZAAR, Style.com, Glamour, Fashionista. Note what appeals to you, be it a certain color, a popular pattern, a fresh new accessory or silhouette. It's not about if you can wear the exact item or afford the specific designer, it's about using it as an idea launching pad. Can a similar item or trend work with your wardrobe and personal style? Sometimes it's better to admire than to own.
When you do have down what you like and will work with what you have and who you currently are, make the list and carry it with you. Don't veer off course, use your wish list to stick to your budget as well as your personal style. Cross off items as you get them, and adjust as you actually try such pieces and find a better alternative.
Personal style is not something you figure out over night, in fact it is something that is improved by taking the long route. Baby steps, small revelations will make the most impact over time and help you figure out not just your current style, but what items you desire to better hone it. Best of luck!
Follow Me | Twitter | Facebook | Instagram