This article may contain affiliate links; if you click on a shopping link and make a purchase I may receive a commission. As an Amazon Associate, I earn from qualifying purchases. 
"I always struggle with what to wear at parties in my own home. Mostly we're talking semi-relaxed lunches and dinners. Somehow it feels wrong to wear heels or blazers at home, especially in the kitchen. Sometimes I have worn a maxi dress and flip-flops, but it's actually a bit too relaxed for me (my intention was to wear something that would make my guests relax). Next month I'm hosting a 40th birthday brunch, and it will be a semi-formal occasion. What do I wear? Do you have any suggestions?"
The great thing about hosting an event is you can wear whatever the heck you want to wear. And I take full advantage of such a situation, as does my sister who is always the hostess with the mostess. She hosts amazing brunches, dinners, movie nights, and glitter-filled New Year's Eve parties that rock until dawn and she always looks fantastic.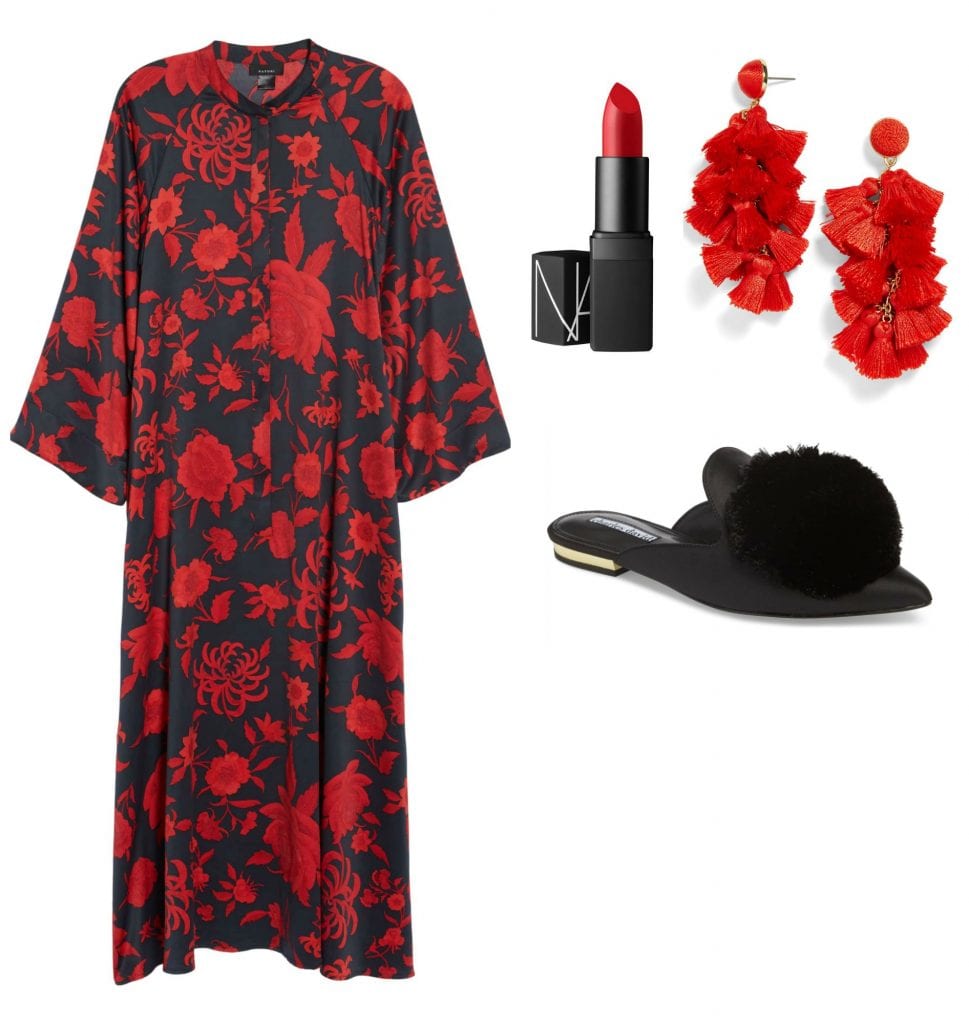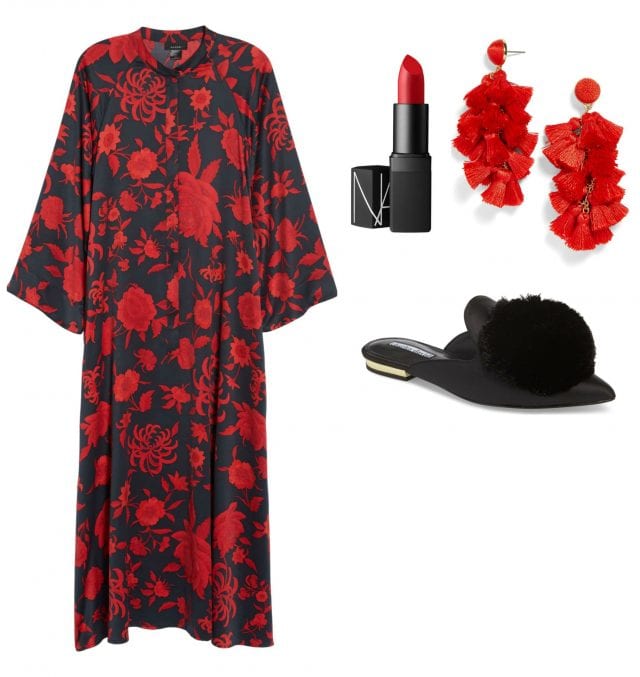 Caftan Glam: A loose dress or caftan in a beautiful print and fabric can keep you comfortable AND chic. The way to make it look festive and not as though you're ready for bed is accessories: consider a pair of statement earrings and a bold lip to complete the look.
Shop the Look: Caftan | Lipstick | Earrings | Shoes
I like where you're going with a maxi dress and flip-flops, but encourage you to take it to the next level. At home, you can be a bit more flamboyant and relaxed. Consider a caftan in an amazing print, possibly with some beading or sequins paired with velvet or marabou-topped mules. A wrap maxi dress in a stretchy fabric and a gorgeous color or print. A cashmere off the shoulder sweater tunic with statement earrings and faux leather leggings. A black lightweight turtleneck tucked into a maxi skirt from a wildly printed fabric (Etsy is my go-to for such statement skirts). I have a black jersey off the shoulder long-sleeved maxi dress I got a decade ago; that with some fantastic earrings and a pair of comfy flats is often my hostess ensemble.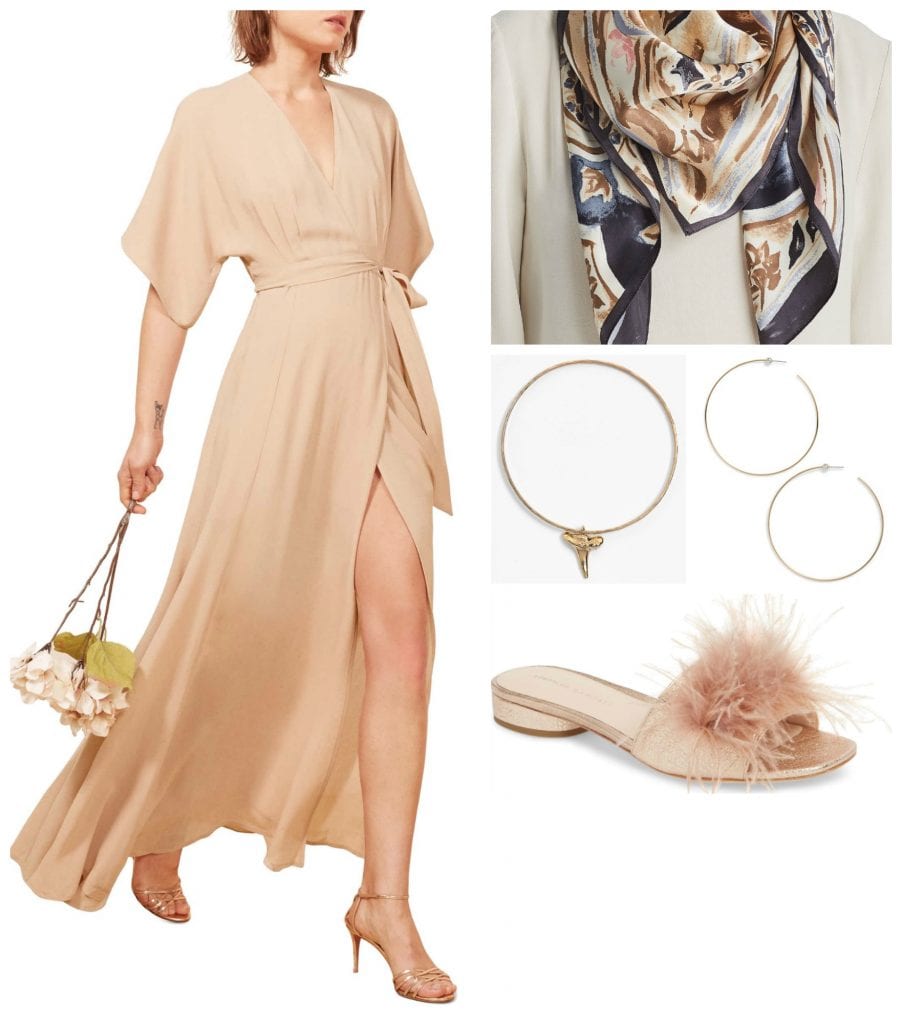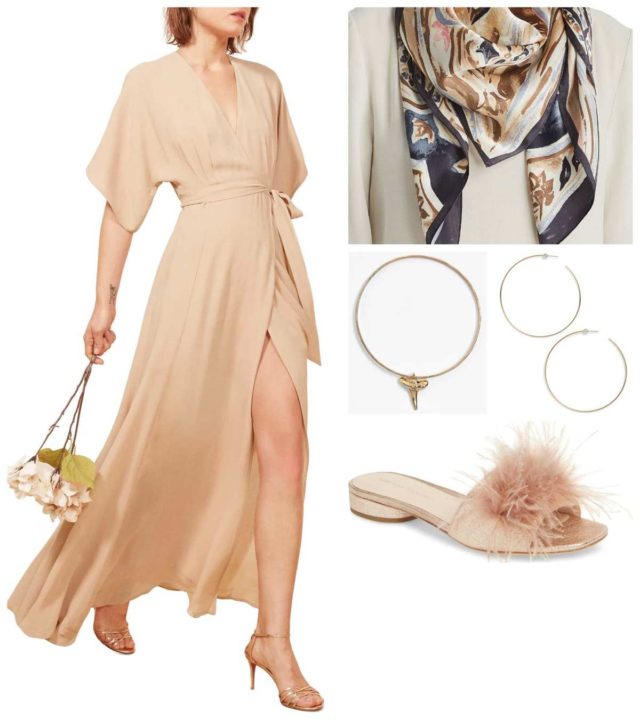 Maxi Dress, Maxi Style: A maxi dress, especially one with a wrap silhouette is a great choice when hostessing an event. A silky or stretchy fabric will be comfortable as well as elegant. Style with accessories to add glamour and a festive feel appropriate to your specific event. Do you get hot when planning a party? No time to do your hair? Why not tie a silk scarf over it?
Shop the Look: Dress | Scarf | Earrings | Bracelet | Shoes
When you are not only the host but the guest of honor, you have even more of a right to wear whatever the eff you desire. A fascinator, a pair of false lashes, a sequined cocktail dress, your favorite pajamas with a feather boa. Have an outfit that you adore but just don't have the right shoes for it (or is that just me?). It's the perfect thing to wear at home because you can go barefoot! Don't be afraid to be the most dressed up or glam person at the event, you are the hostess and you actually will put others at ease knowing they won't stand out because you've already taken that role and rocked it.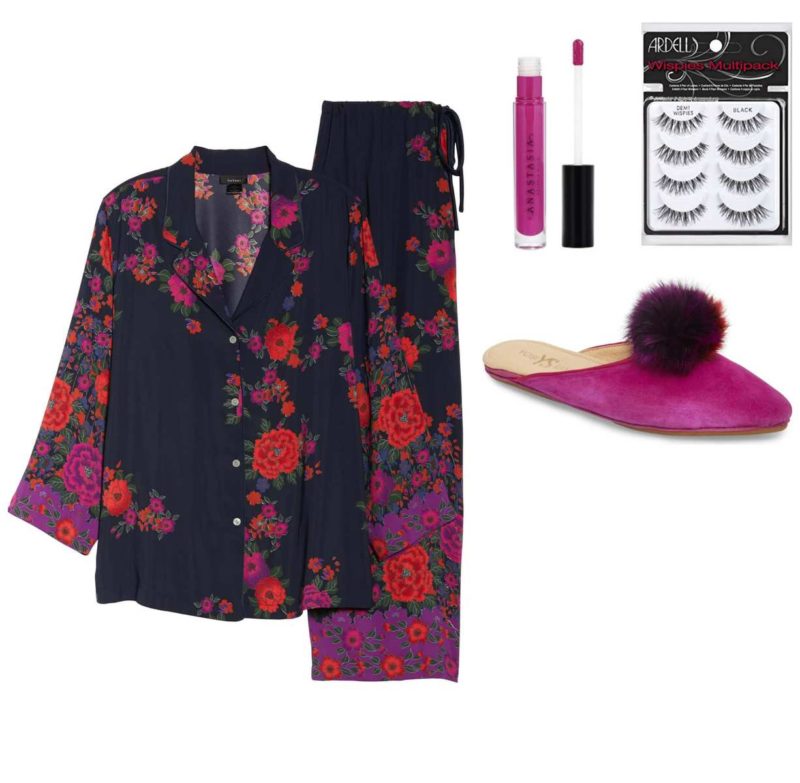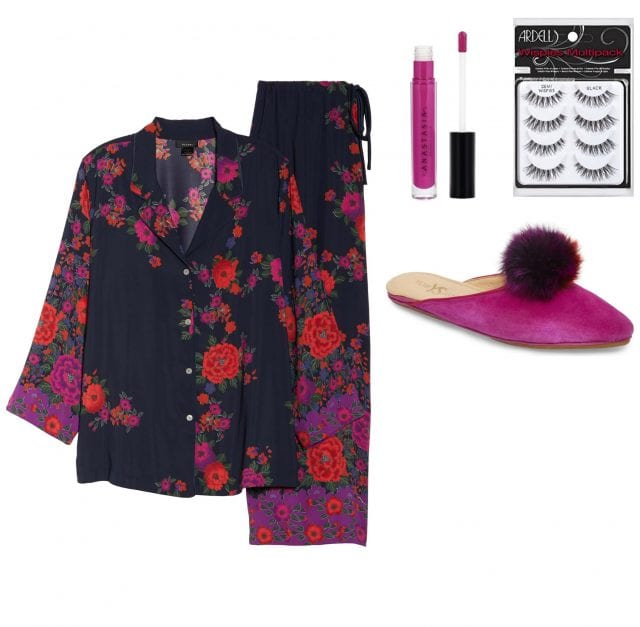 Pajama Chic: Pajamas have become daytime fashion in the past few seasons, and are a great choice of what to wear as a hostess in your own home. Jewelry and/or ultra-glam makeup will make it clear that the look is purposeful and festive.
Shop the Look: Pajamas (plus size) | Lip Gloss | False Lashes | Shoes
I highly recommend a comfy pair of shoes. Mules are perfect because they keep your feet warm, are easy to slip on and off, are often embellished and festive looking, and are chic even though they're flat. You can dash around your house and out to your car without breaking an ankle or have aching feet the next morning. A pair of bedazzled mules are a great wardrobe addition as they are also great to slip on with jeans and a blazer on the weekend.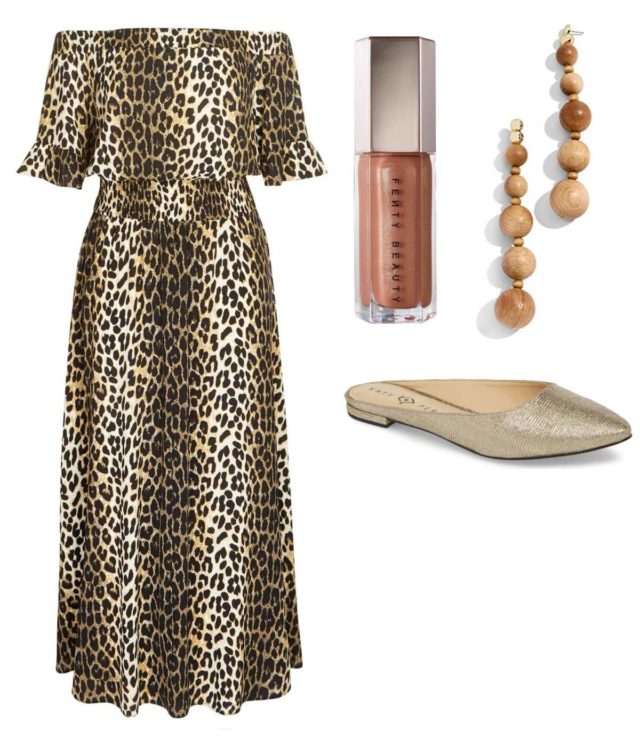 Leopard Luxe: When dressing to hostess an event in your home, there's no better place to go bold. Strong prints, silky fabrics, off the shoulder silhouettes, full skirts… all go when you're the queen of the castle.
Shop the Look: Dress | Lip Gloss | Earrings | Shoes
Accessories are your friend. Over the top statement earrings, a bold lip, a flower or fascinator in your hair, a bit of glitter on the eyelids and highlighter on the cheek bones. When you're the hostess you have the right to try false lashes, blue lipstick, a purple smoky eye or a thicker flick of liquid liner. Since you may be stressed and your overworked oven may heat up the house, consider putting on your makeup last and holding it in place with a setting spray. Hair accessories can be your friend if you're one to get hot and sweaty when prepping. A large fake flower on a clip is amazing for pulling back unwieldy hair and making it look fabulous.
And finally, the best accessory I learned from my sister is a fantastic apron. If it's beautiful, you will be more likely to wear it, thereby protecting your fabulous outfit!