This article may contain affiliate links; if you click on a shopping link and make a purchase I may receive a commission. As an Amazon Associate, I earn from qualifying purchases.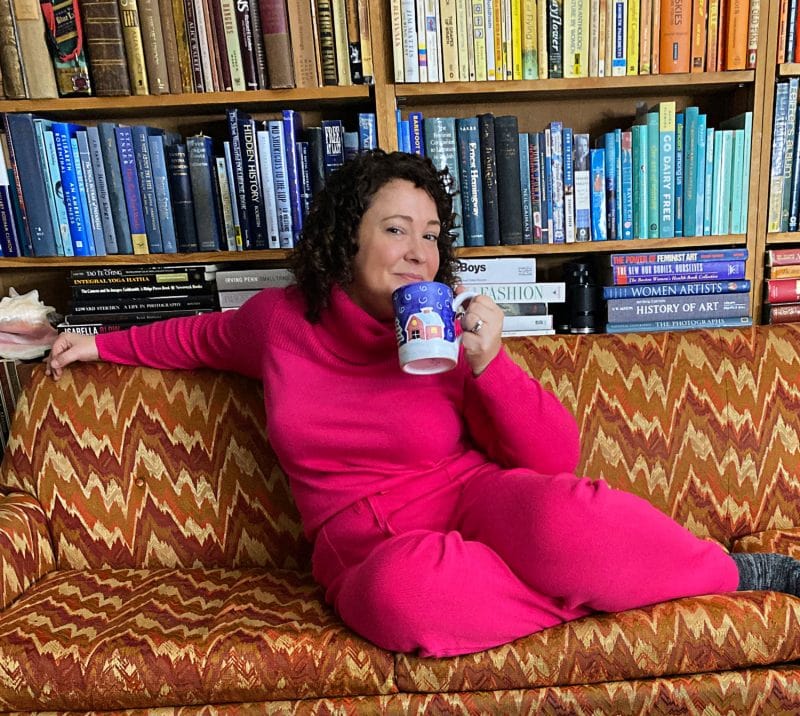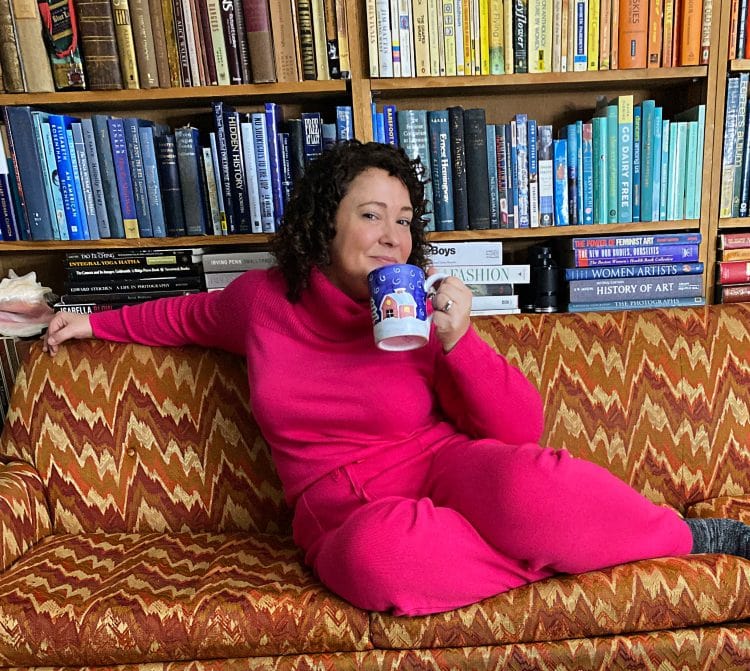 Okay, so in last week's Friday Shop, I mentioned that Chico's had a hot pink sweater jogger set and I was obsessed. I also mentioned it was 40% off and that Chico's has their site on sale at least 40% off with some items 50% off. I own a lot of current Chico's and thought I'd share my honest reviews of what's worth buying from the Chico's sale.
Items are selling fast with such a good sale; I cannot guarantee that what I recommend below will still be in stock. Please note this post isn't sponsored by Chico's but items featured in photos were provided as gifts from the brand. I share as a PSA, because I truly think Chico's makes great clothes.
What's Worth Buying from the Chico's 40% off Sale?
Chico's has 40% off your order through December 23rd (and a few other promotions even better of a discount) so I thought it would be a good time to go over their current selection and provide honest reviews of items I own. Here's what I have, what I think, and whether it's worth a purchase!
What I Own from Chico's and What I Think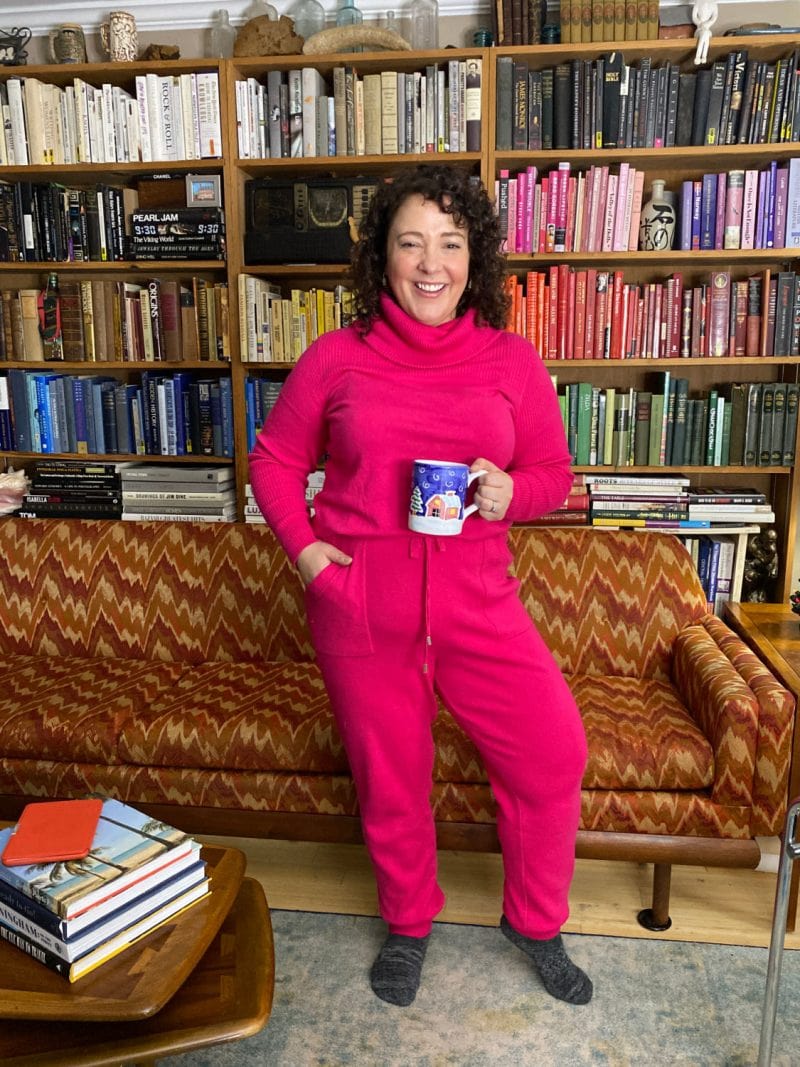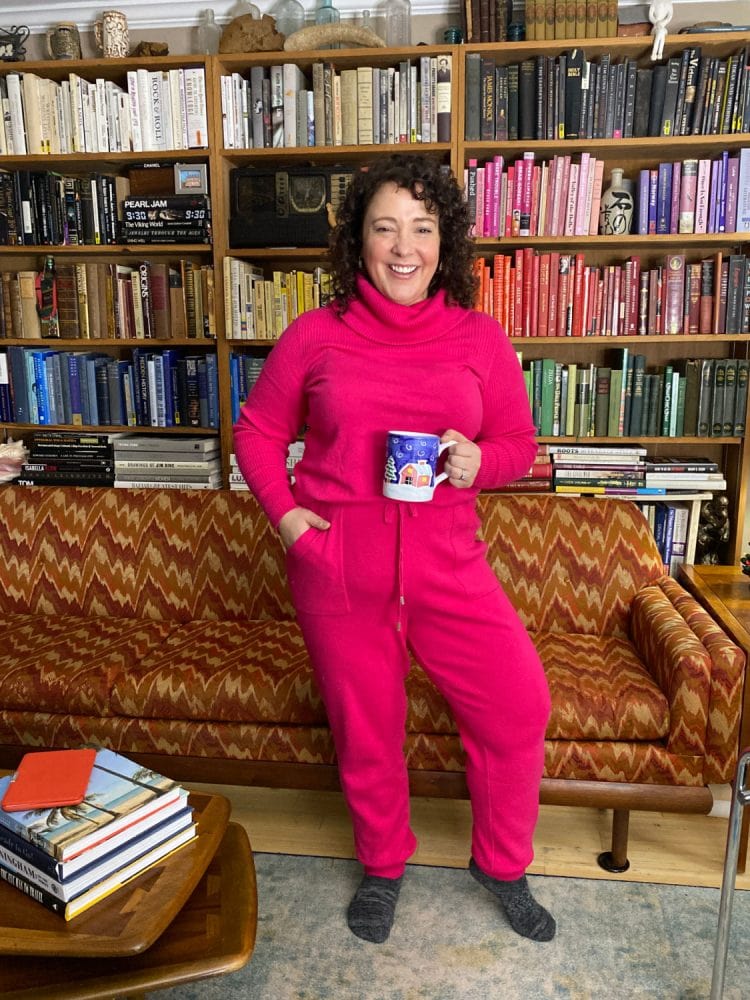 So let's start with the sweater joggers. It's this top, and these pants, size 2 Regular (Chico's has their own unique sizing). If in doubt, size down. Chico's is in general generously sized but with these even more so because they do "grow" with wear. That being said, I LOOOOOVE them.
The top is a tunic which for my 5'3″ self could be a minidress with a pair of opaque tights but that's okay because I'll either be wearing it tucked in or else with leggings sitting on my couch or with my laptop.
FYI if cowl necks aren't your thing they have a crewneck option.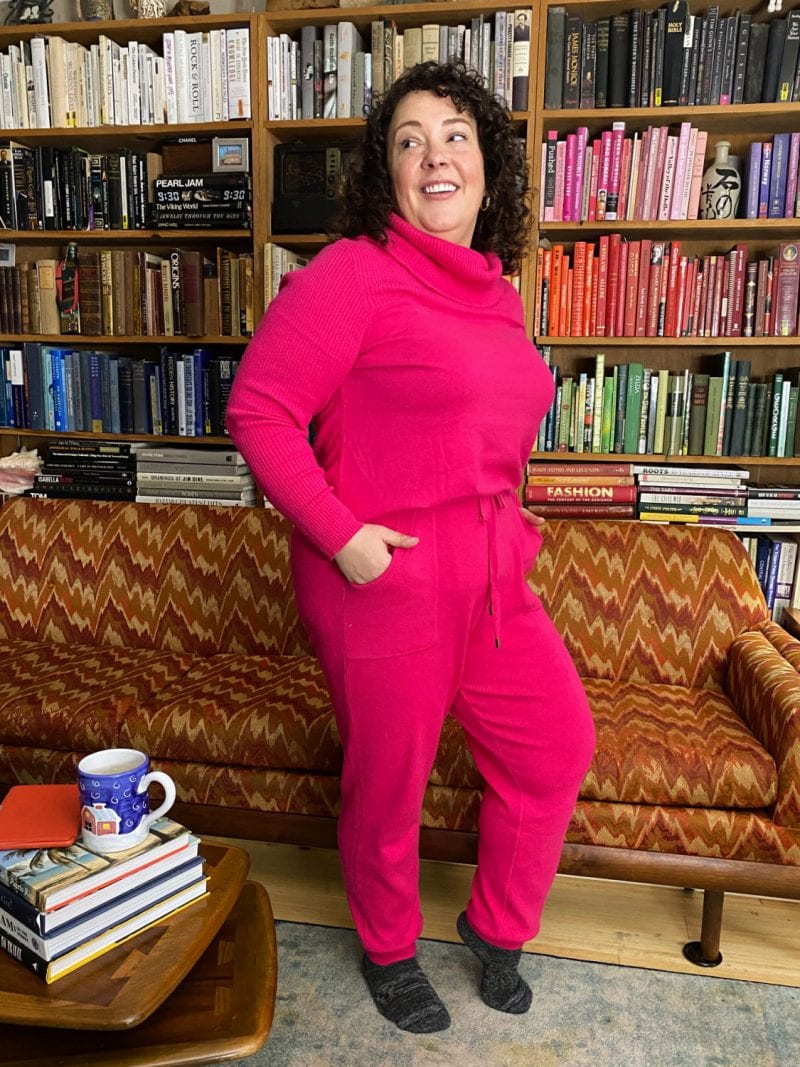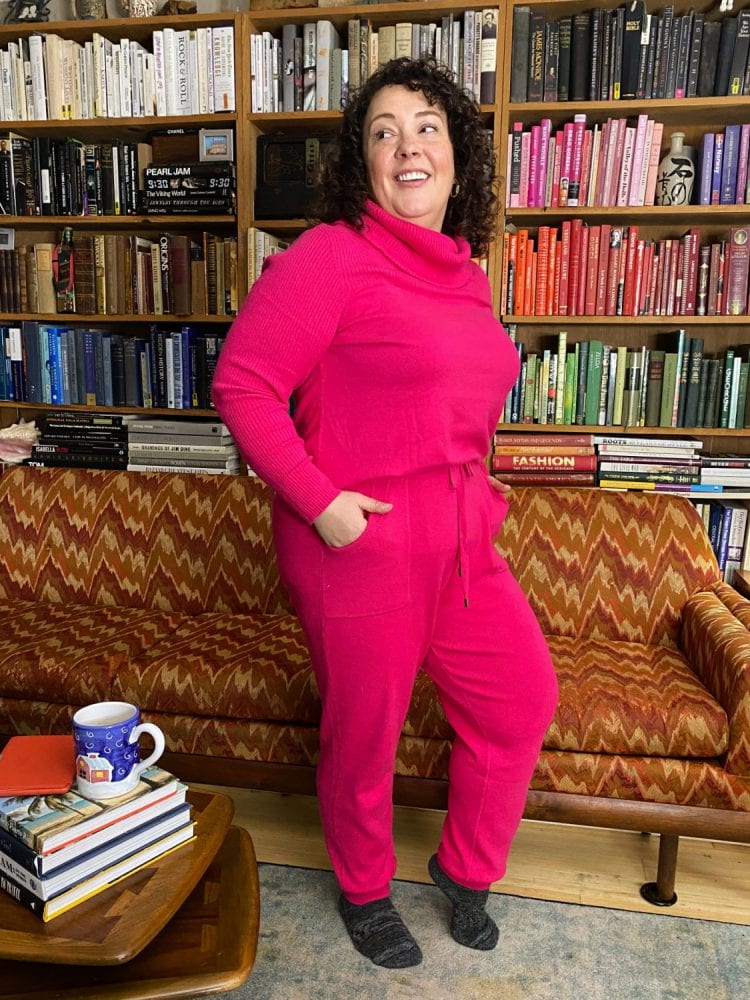 The pants… on my short self they are a drop crotch but I don't mind that because I don't plan on making this an out and about look. I just appreciate having washable and. cuddle loungewear that isn't beige and is available beyond a size 12.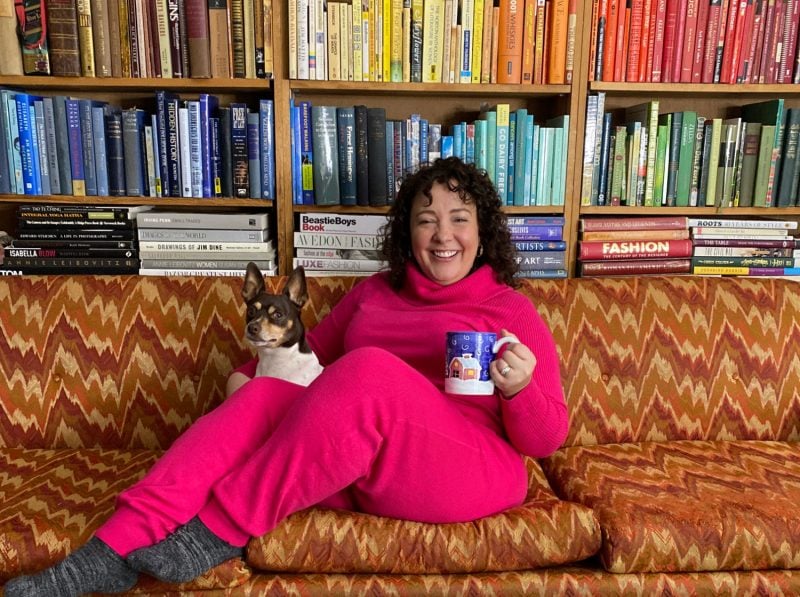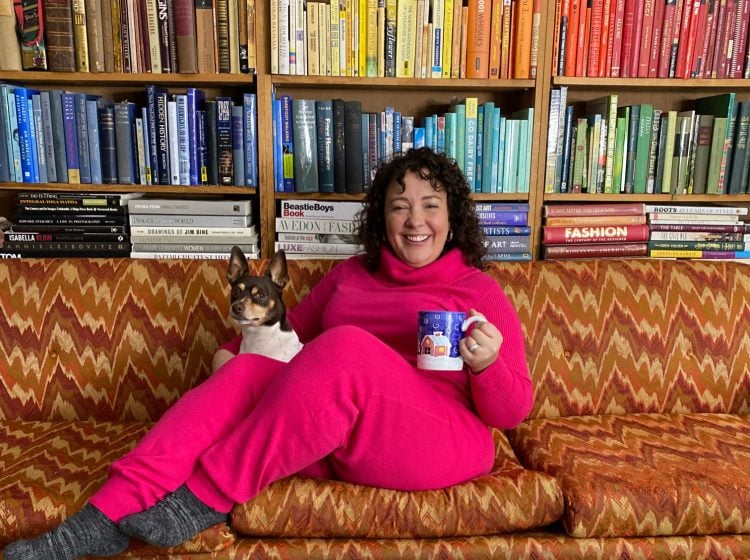 I got the hot pink because… well because I am me and the brighter and the more colorful the better. But they come in more chill colors too and the chill colors come in more sizes (hello petites).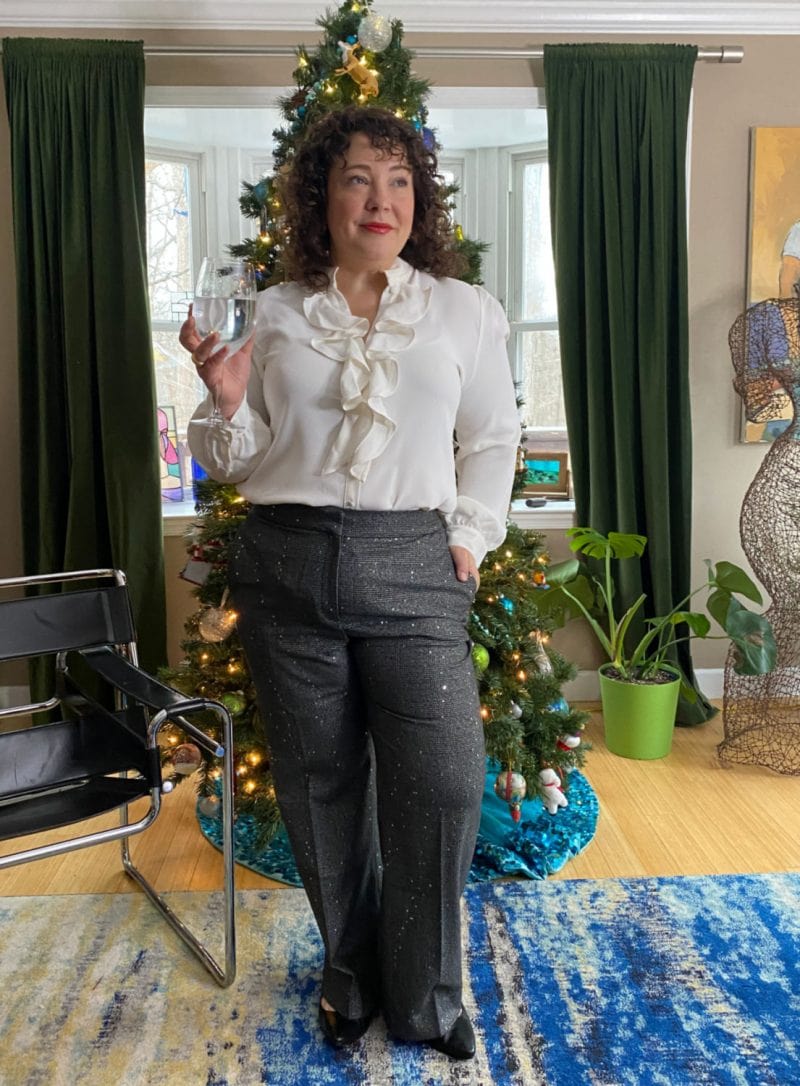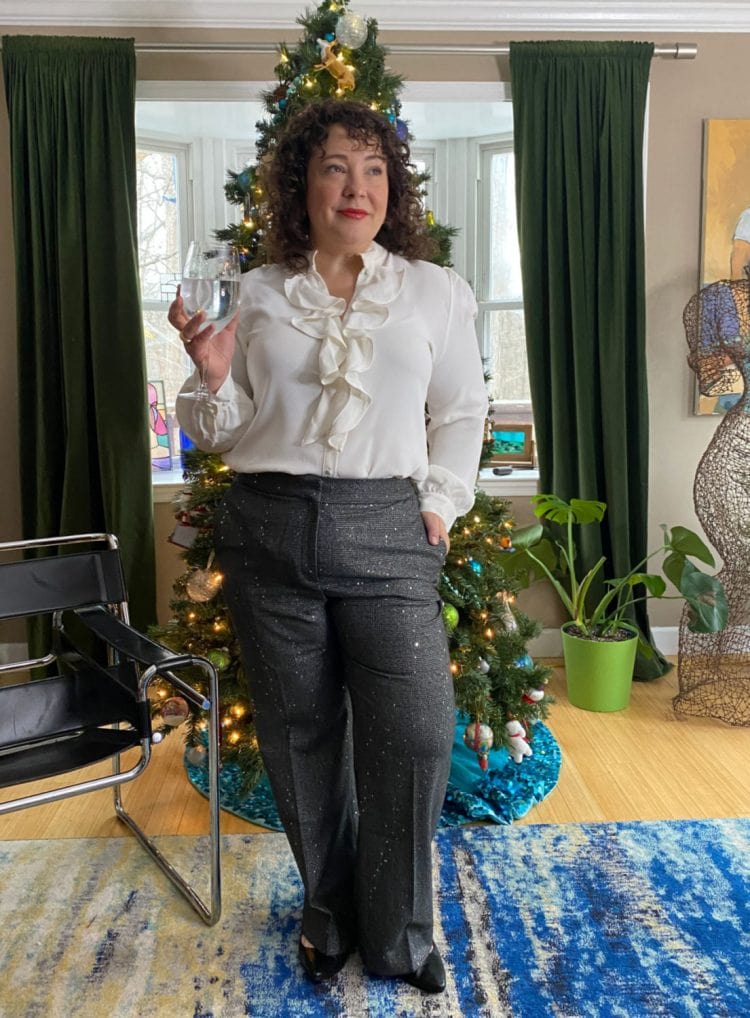 For the campaign Chico's wanted me to style a dressy look too as well as a lounge on your couch ensemble. As soon as I saw these pants I knew I'd choose a look around them.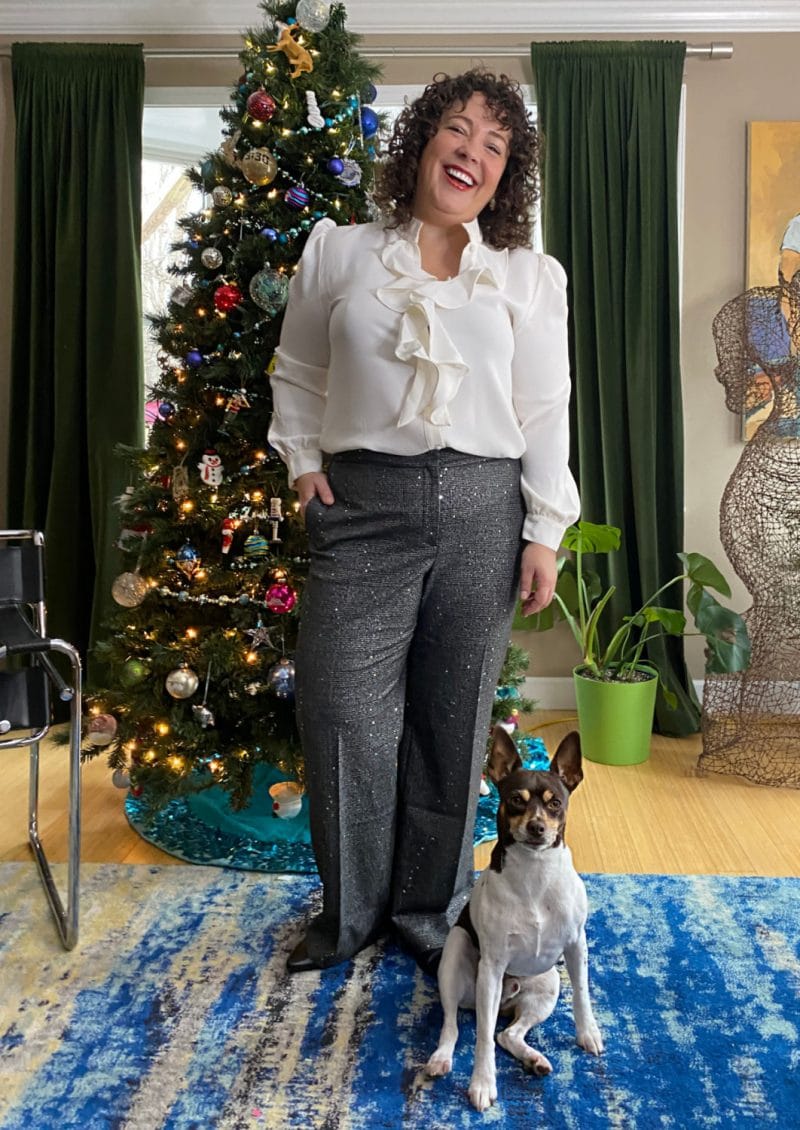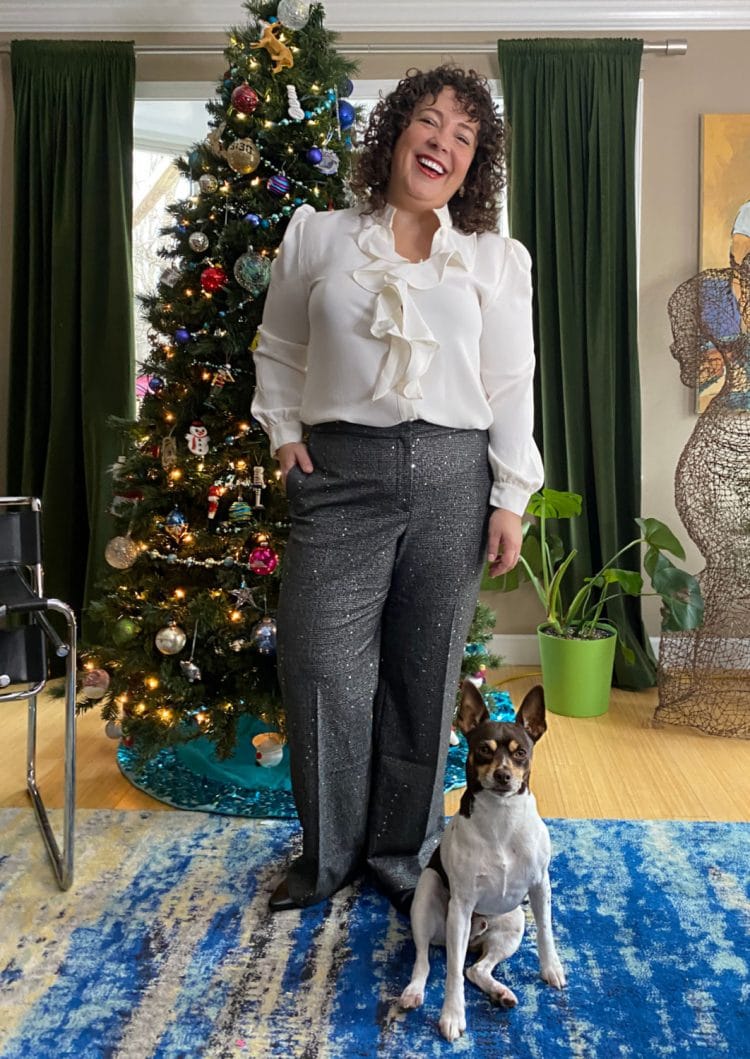 I have a 2 Petite in them, they're a hint long with flats but doable, they would be better with a slight lift. They are a stretchy tightly-woven fabric very similar to ponte. The plaid print is metallic, like a pewter (not as bling as silver but not gray) and there are the occasional sequin that in real life don't look hokey or that obvious but pick up the light in such a cool way.
These would look great with:
A graphic tee, denim jacket, and trendy sneakers
A black turtleneck sweater and black Chelsea boots
A black silk blouse and dressy black smoking slippers
A white shell and black velvet blazer
A chunky red (or green or purple or teal) cable-knit turtleneck and black suede booties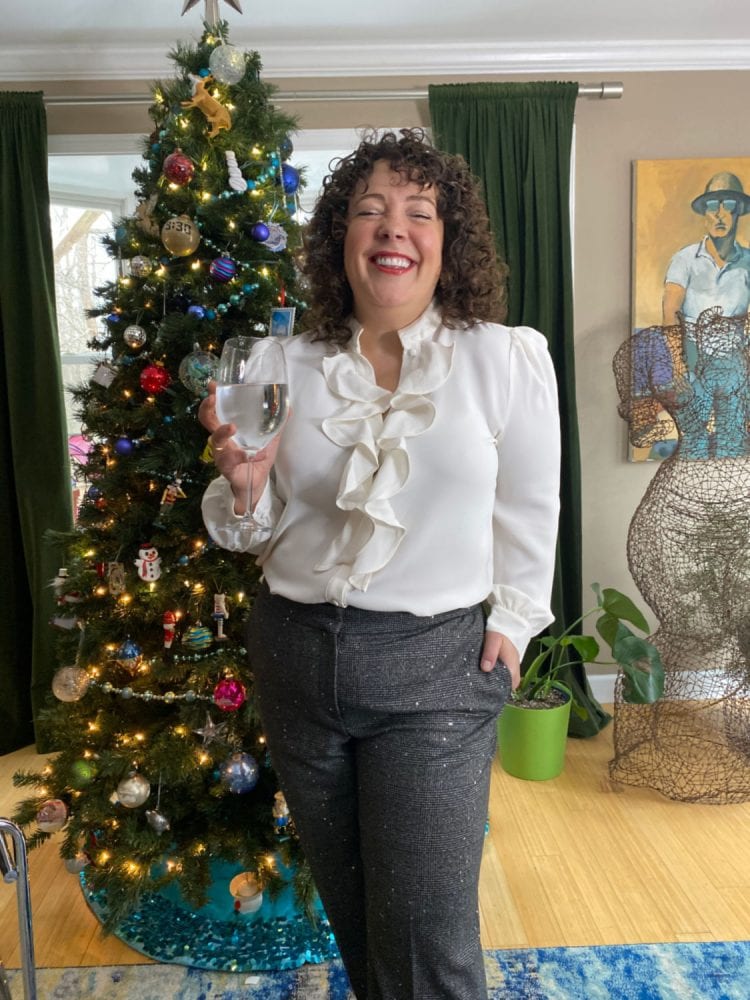 I decided to style it with this blouse. I again chose size 2. This is a super nice blouse and I love that it's machine washable. It doesn't feel tight in the upper arms but did act a little weird on my triceps thanks to the slightly puffed sleeve. It is machine washable; if you have a large bust you may want to hide a safety pin between the two buttons across the chest. That being said it's still a great buy and I know I'll wear it again.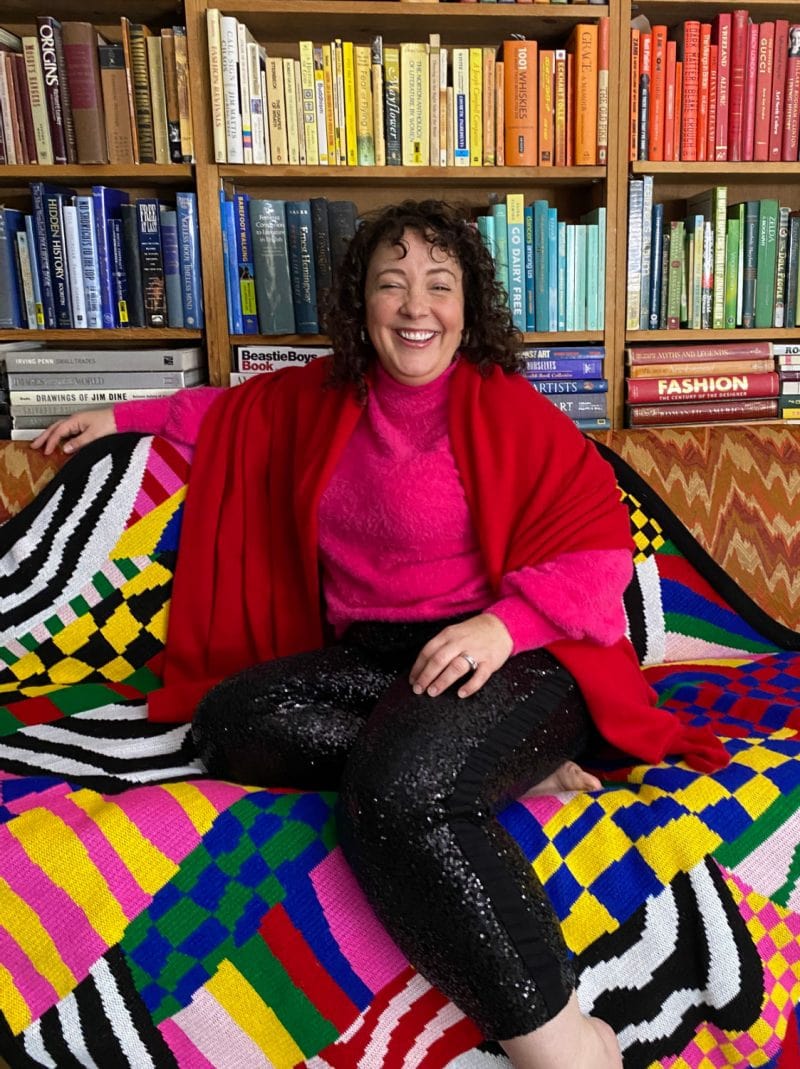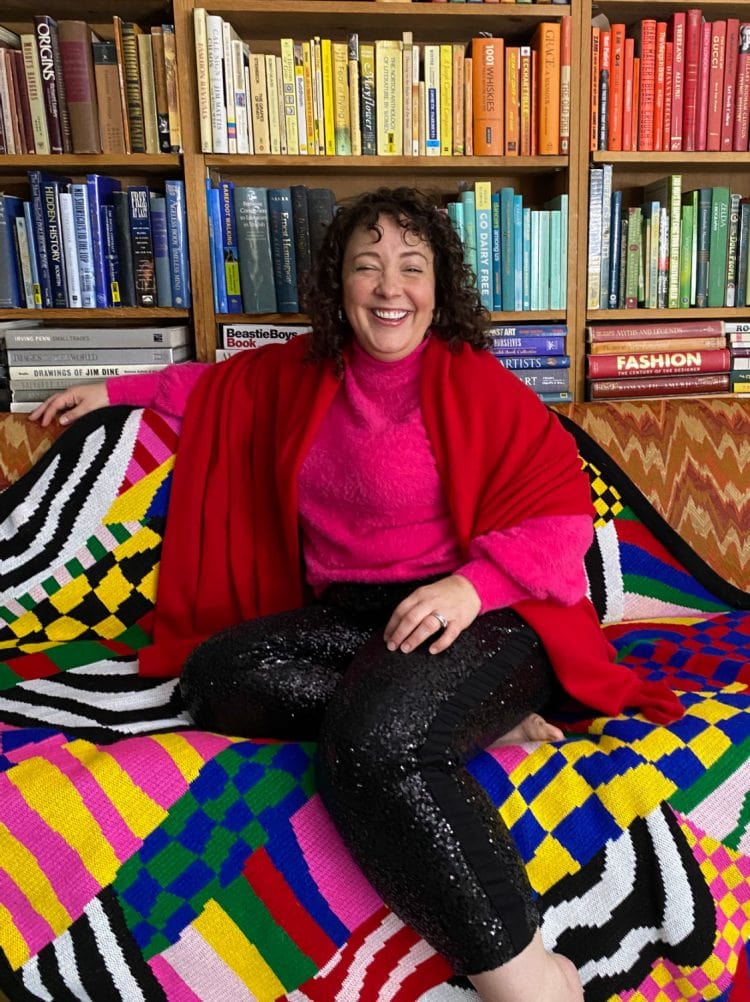 Since I am a fan of hot pink, I asked to also try this eyelash sweater. Eyelash means the sweater has a soft fringy texture. I got this also in Chico's sizing of 2. This sweater is aweeeessssssooooommmmmeee. It's stretchy but doesn't stretch out and is thin but cozy and silky soft and the same exact bright pink color as the sweater jogger set.
Eyelash knit doesn't translate well on camera and just looks like it's covered with fuzzballs. But in person, it looks luxe. Haven't washed yet.
Also in this photo (along with the sequin joggers below) is this cashmere wrap from Chico's. It's niiiiiice. Like you get it as a gift and you are impressed nice. Like you want to wear it all the time nice. The reviews say it's not finished nicely… it's an edge that is finished/not fraying but it rolls a bit. And some reviews say it sheds but I haven't experienced that. I wear it as a wrap, but also as a scarf.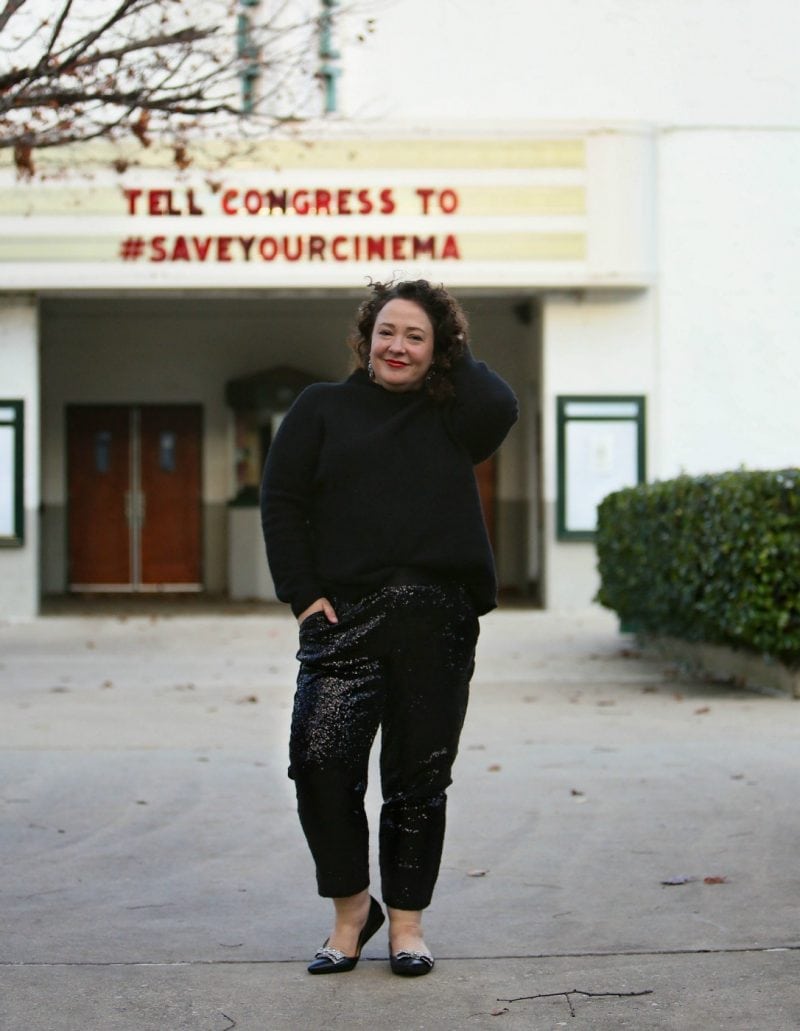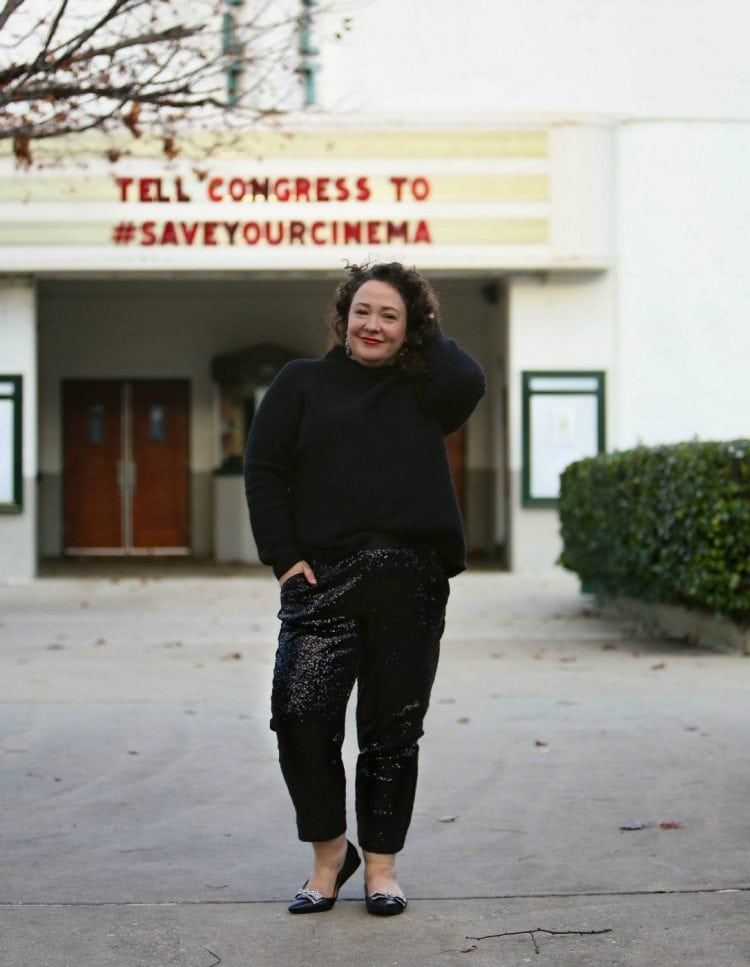 I also have this cashmere sweater which I featured in this post, and also these sequin joggers which are still in stock. I recommend both. This sweater is more fitted in the shoulders and arms, but has a bit of an a-line shape in the body. I have the sweater in 2, the pants in 2 Petite.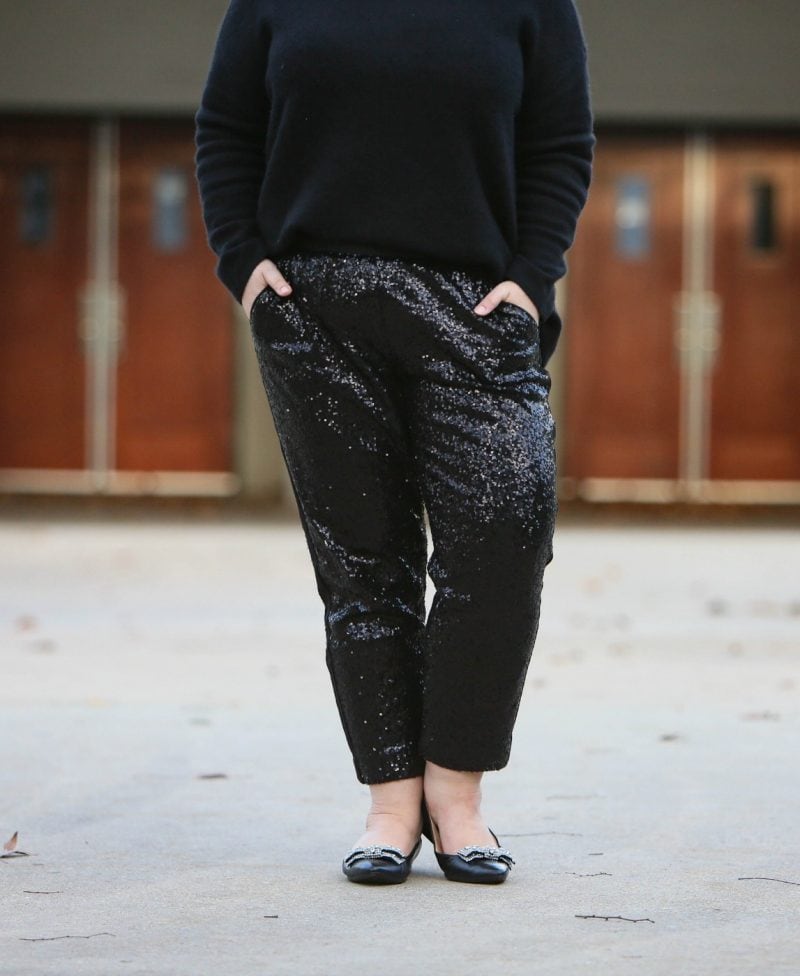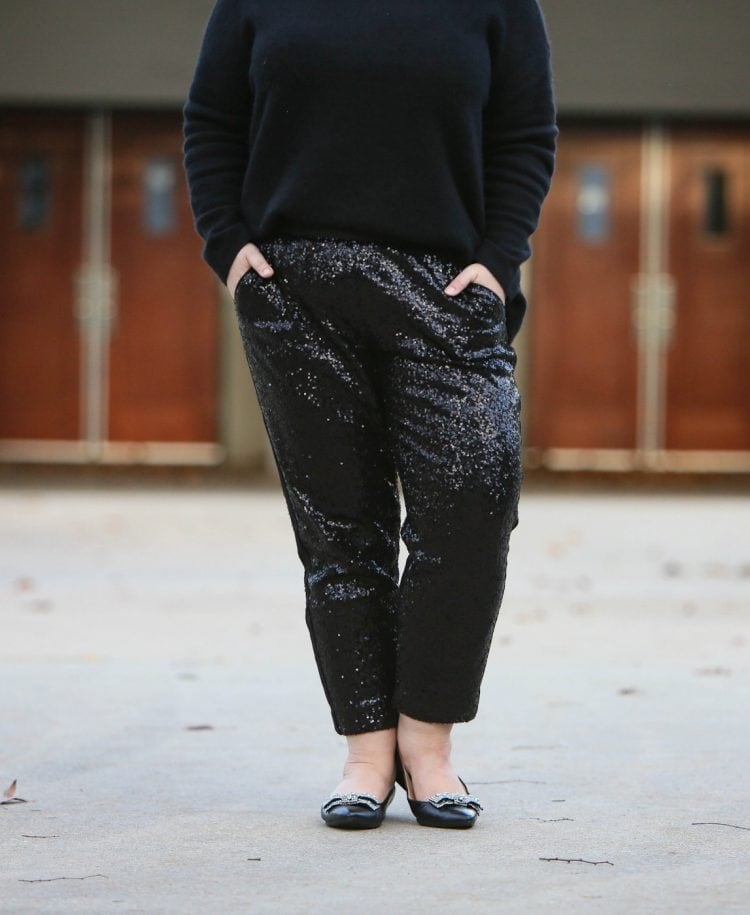 The joggers are my JAM and unlike many other sequin joggers, I don't get the Velcro effect between my thighs and have only had maybe 2 sequins fall off after at least 5 wears. That being said, don't wear these on a textured fabric piece of furniture because THAT is where they will act like Velcro.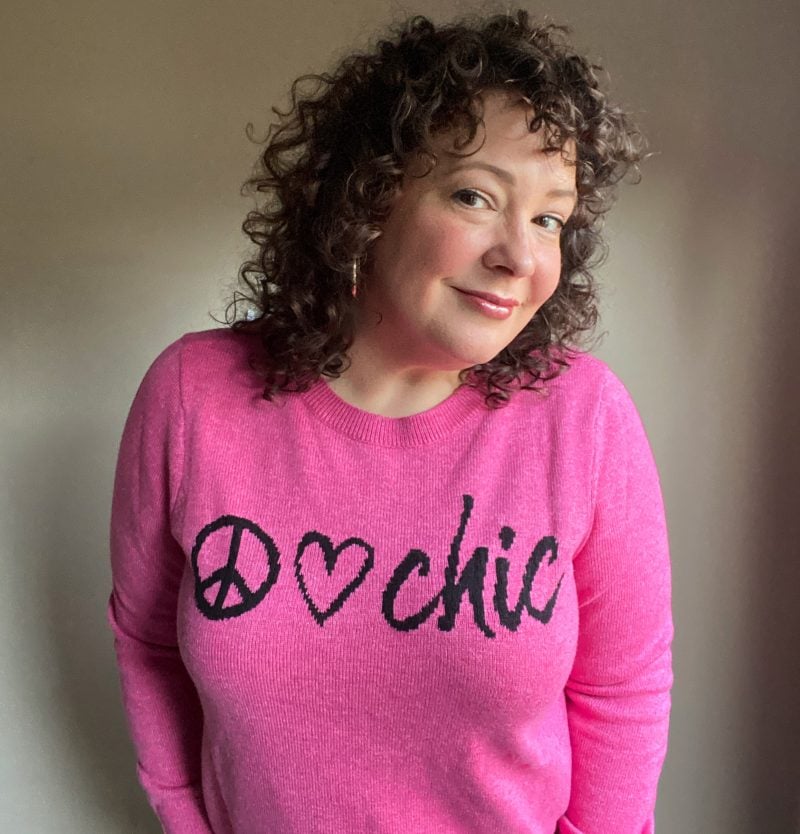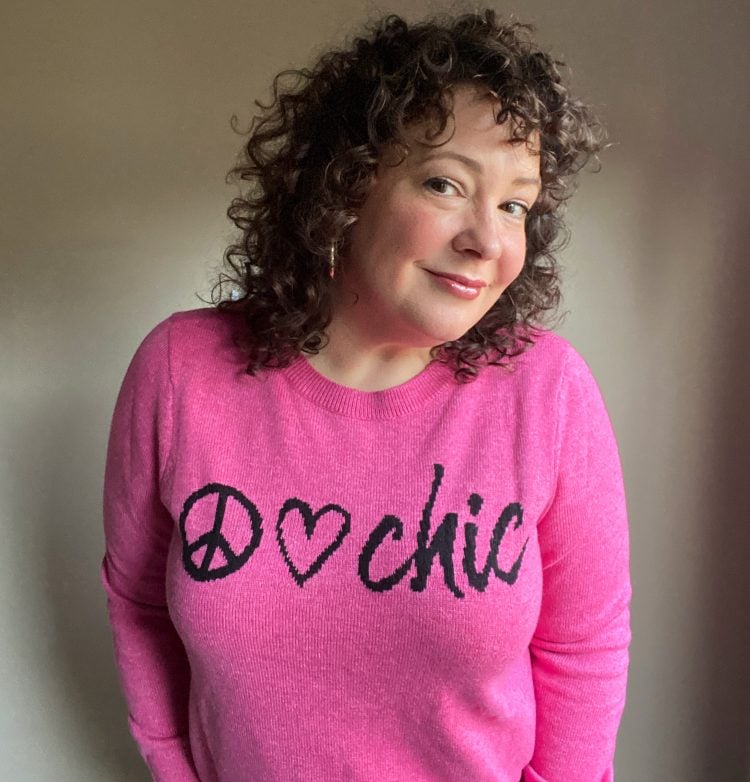 I like this sweater. It's a cashmere blend, a good weight, doesn't get all fuzzy under the arms after a couple of wears. The graphic isn't obviously associated with a brand. I find I grab it instead of a plain solid-colored sweater when I want to feel more pulled together. Again, size 2.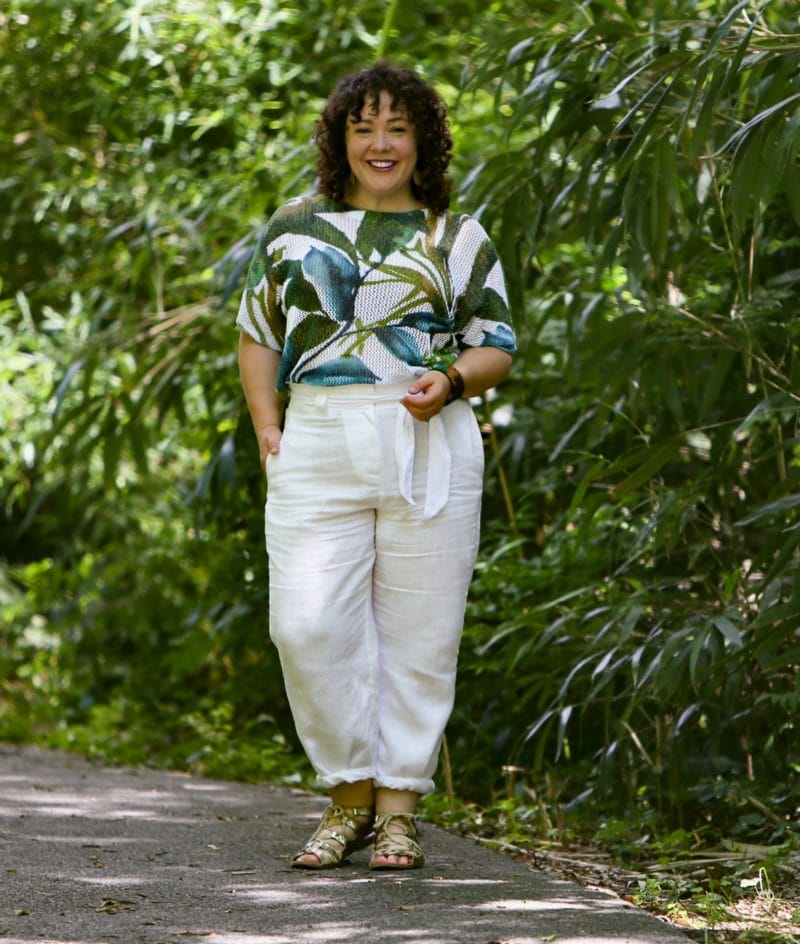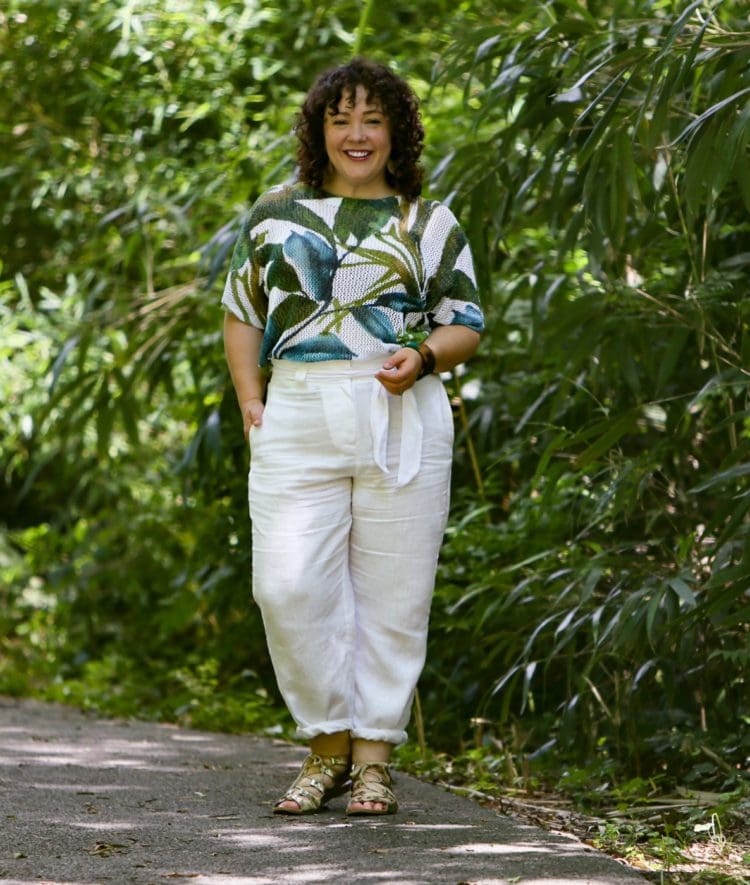 Southern readers and those on the other side of the equator, this sweater is surprisingly awesome. It's mesh which can make you think '80s, but it's elegant and the print is cool and it looks nice with regular or string tanks/camis underneath, with jeans or pants or shorts or even over a tank dress. I have a size 2.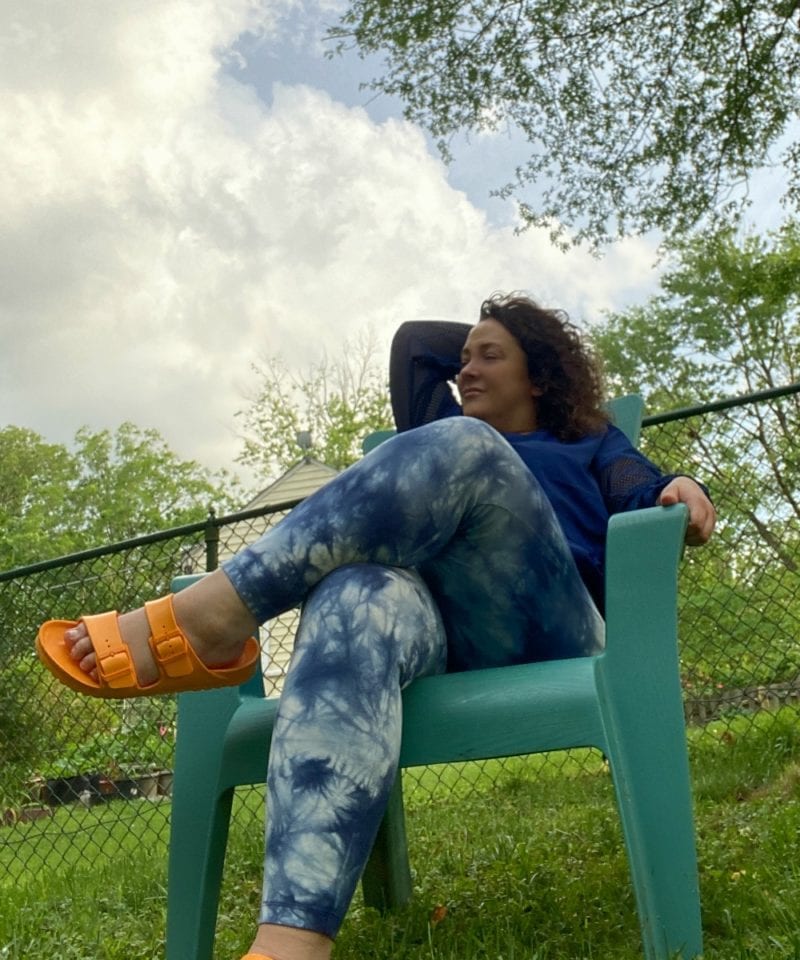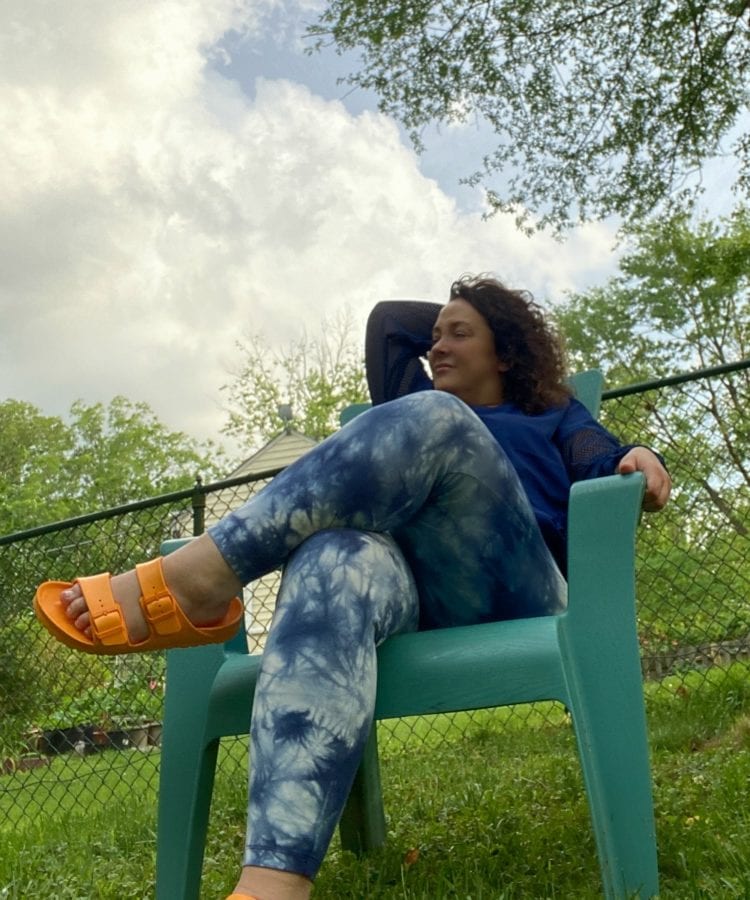 These leggings aren't for working out, they are for being relaxed and cozy and being happy to wear something other than black. If in doubt, size down.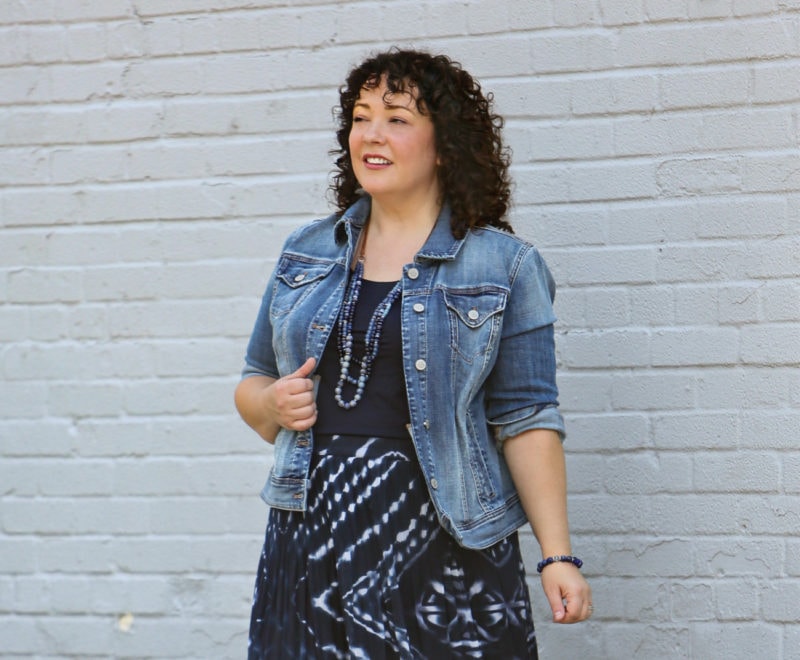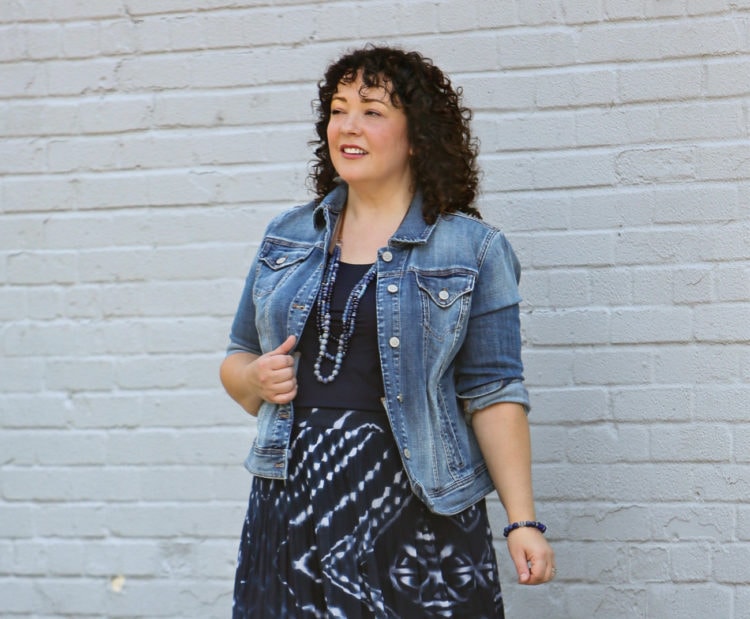 I love this denim jacket because it not only is a cool wash and a great fit, but it's a bit longer than many denim jackets, making it a greater choice for dresses, skirts, and skinnier pants. I have a 2 Petite.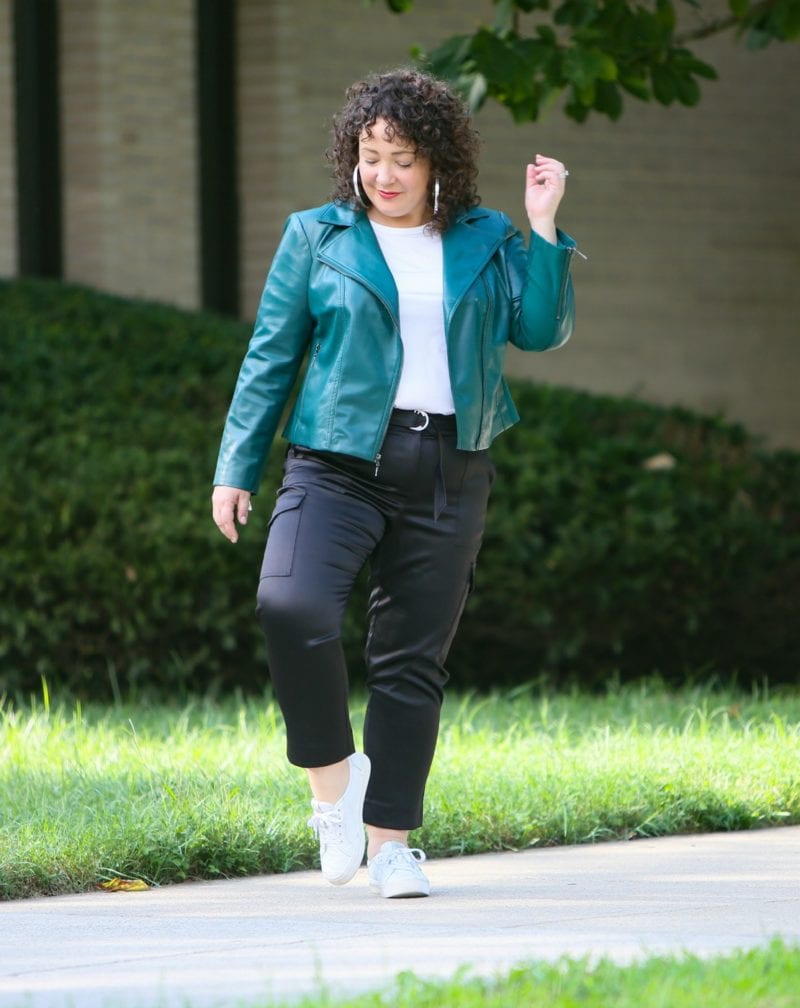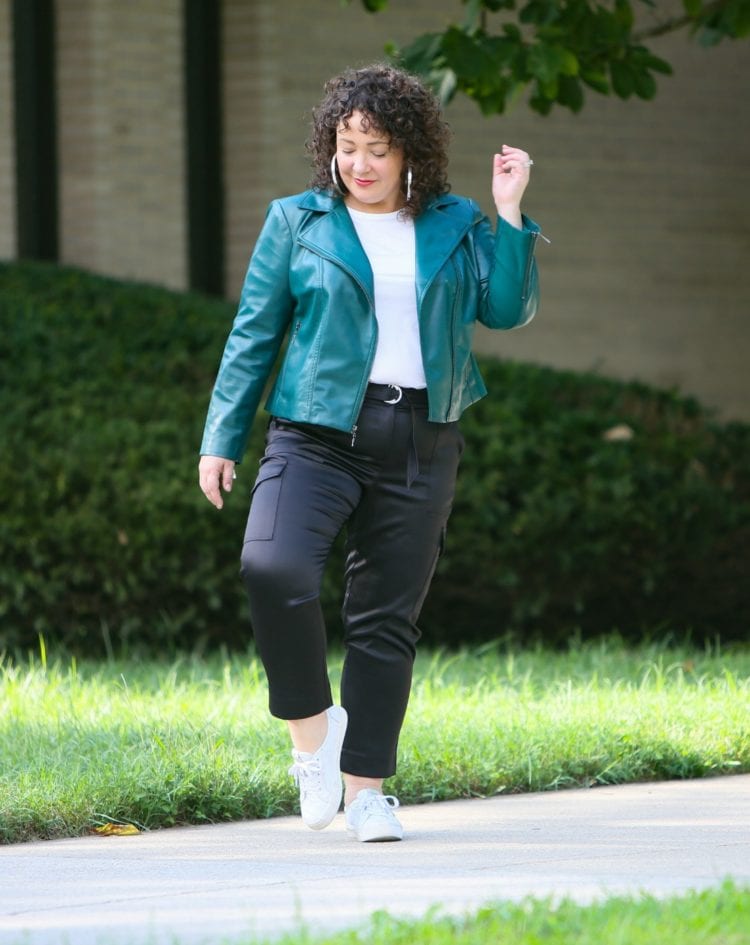 This faux leather moto jacket is buttery soft and looks real and fits like a dream thanks to hidden knit panels. It also comes in petite and the colors bone and black!
And the pants are a heavyweight satin with a hint of stretch that I was surprised to really like and have worn them since with a black turtleneck or chunky sweater and boots that slide under the pant hem. The pants come in petite and tall.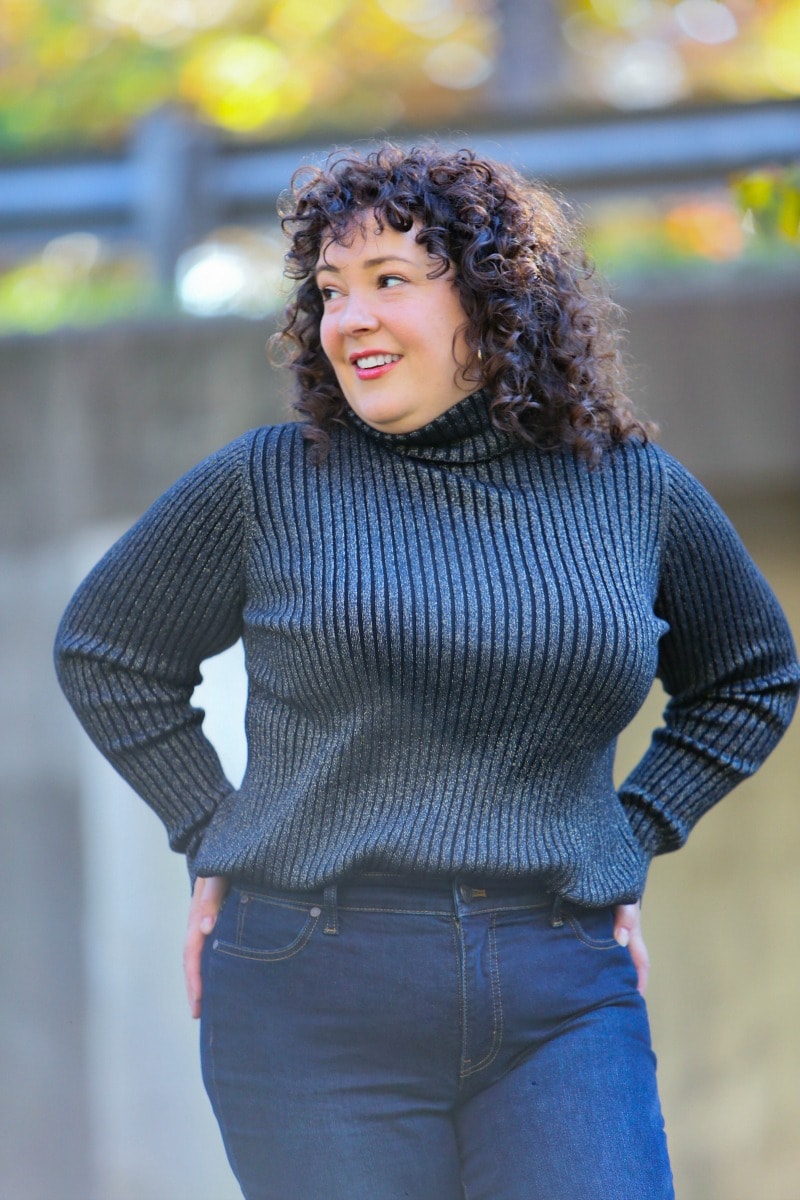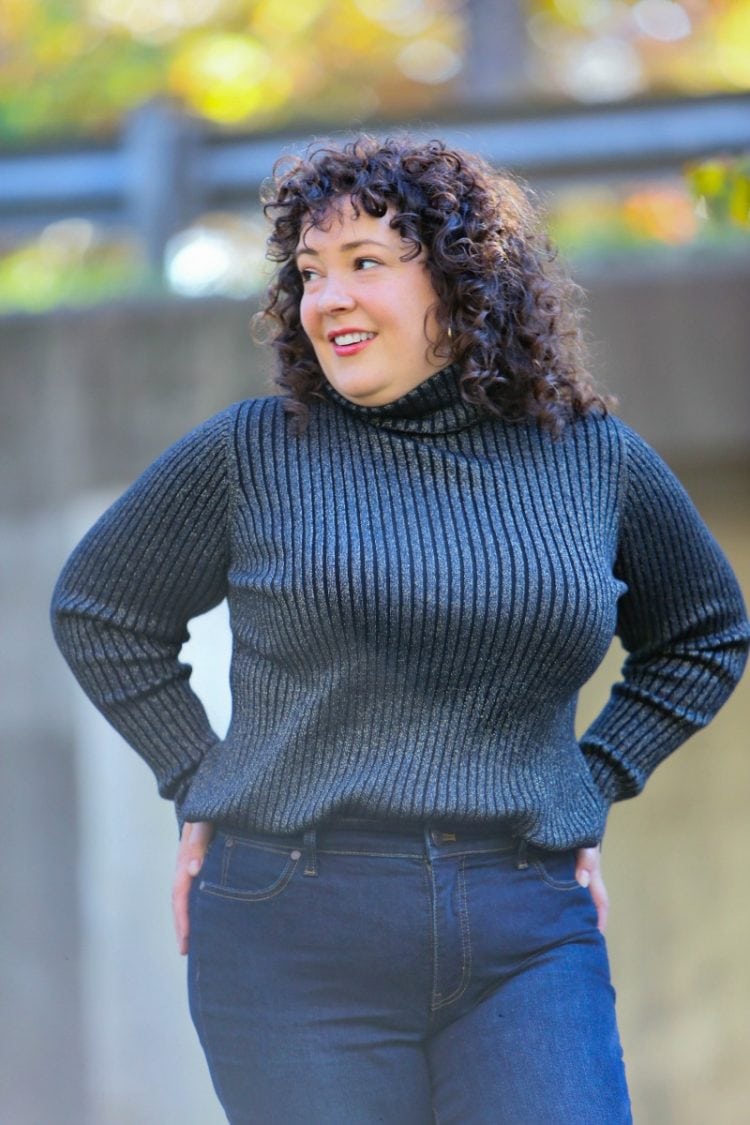 I really like this Coolmax Lurex turtleneck. It's sparkly without screaming holiday, it's warm without feeling overheated, and it has washed nicely. If you don't like sparkle it comes without but read below before you shop.
Some things I got that I didn't like:
Chico's Jewelry and Accessories I Own: My Thoughts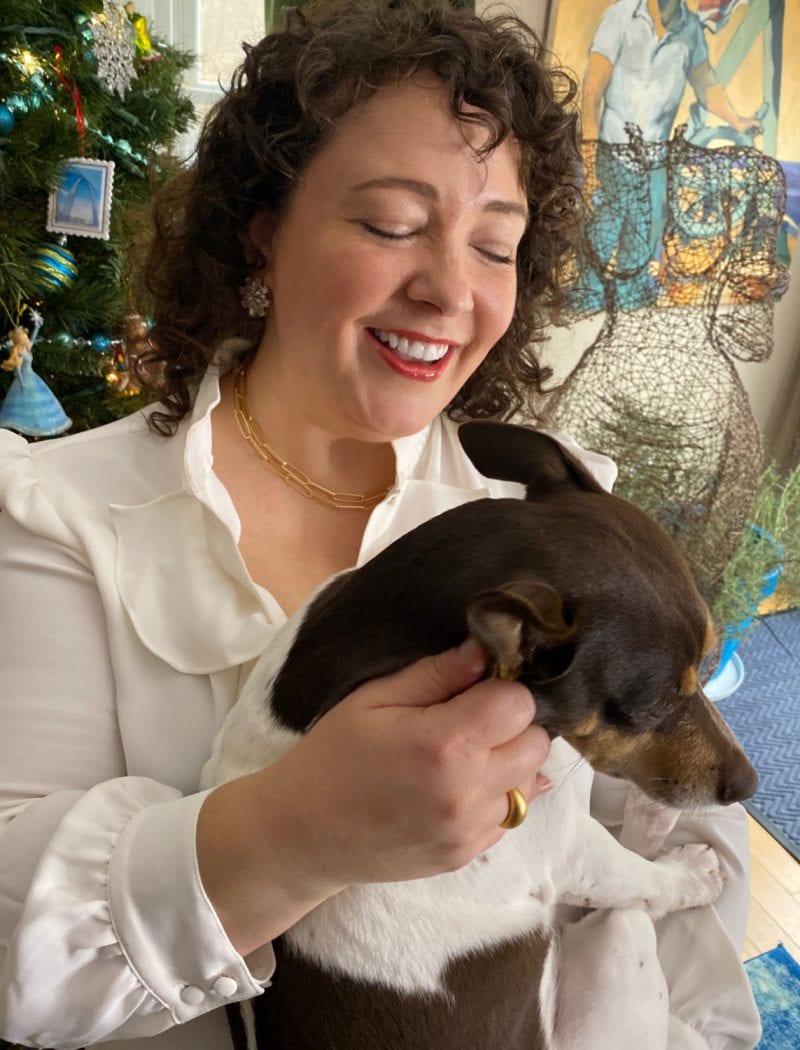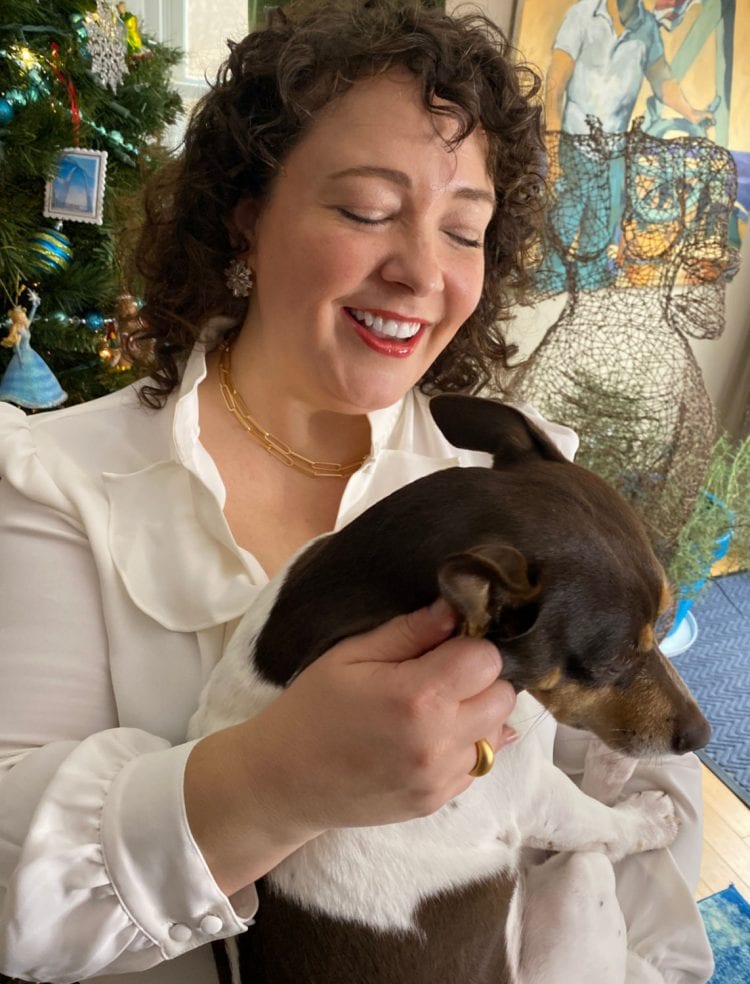 Chico's is known for their jewelry. Statement necklaces, cool bracelets, and unique quirky styles you'll find nowhere else. But they also have simple pieces and the quality is quite excellent. Some pieces currently for sale that I own: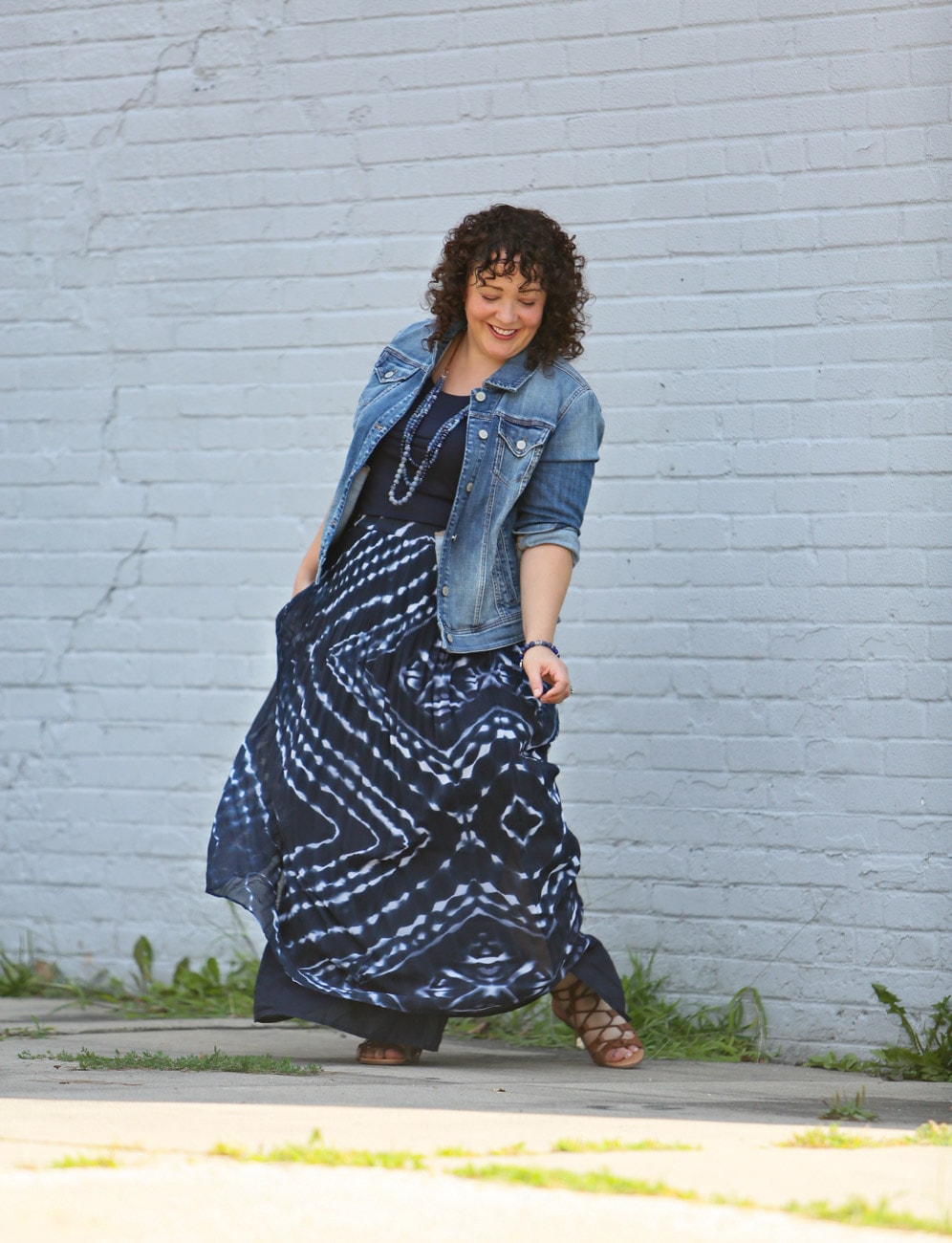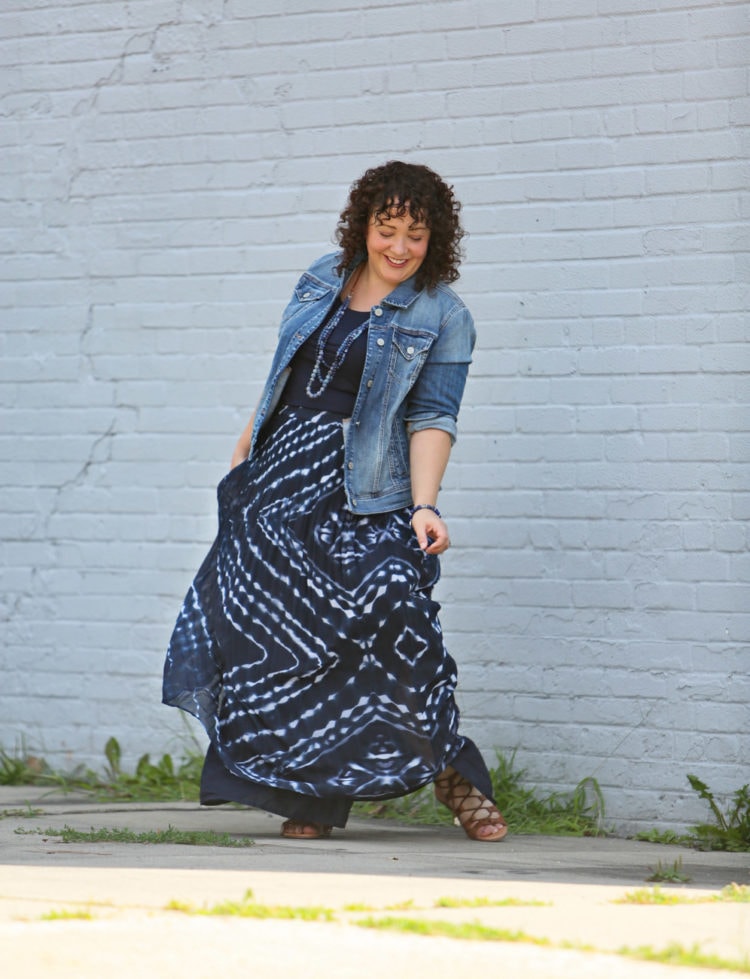 What I'd Consider Also Buying from the Chico's Sale
Chico's has some cool stuff I don't own, but am considering adding to my wardrobe with this badass sale: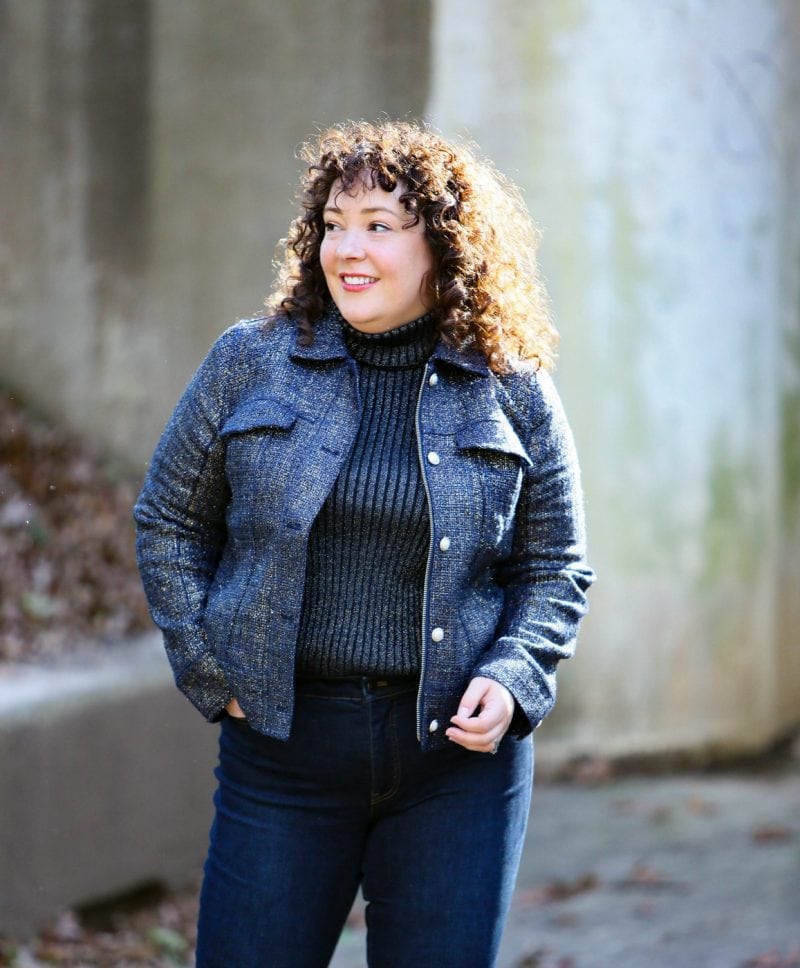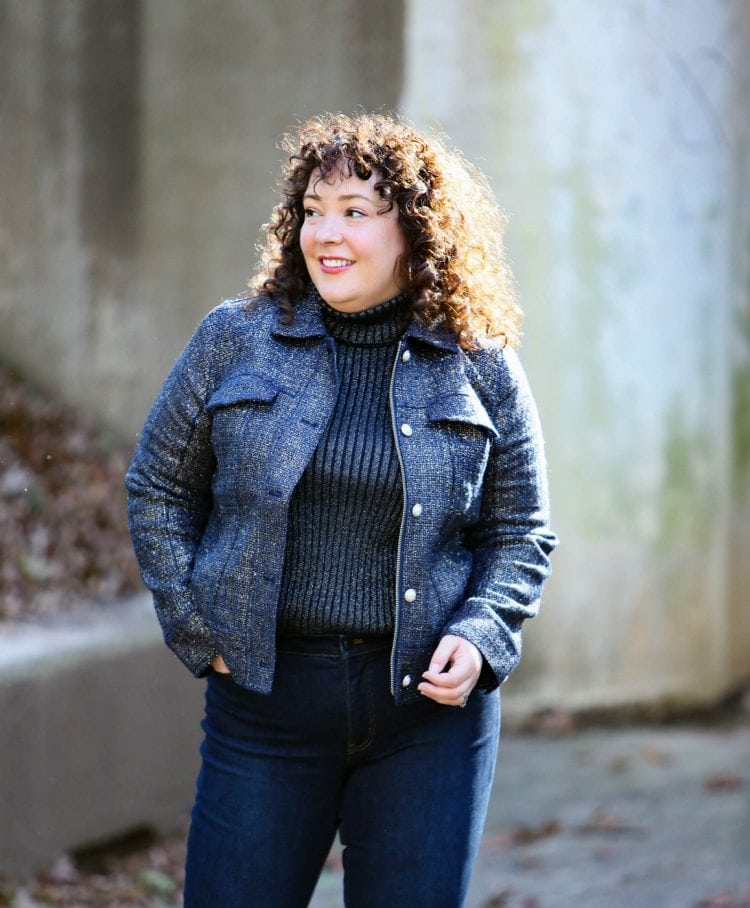 Shopping Chico's During the Holiday
Chico's is offering curbside pickup; shop online and you can pick it up at your neighborhood store. Chico's also partnered with Roadie, which is kind of like DoorDash for retail where items can be delivered to your house same day. Click here to learn more about same-day delivery.
With such a sale, I think honest reviews are important to prevent buyer's remorse. If you have made any recent Chico's purchase you want to rave about or warn others, do share in the comments and help your fellow fashion lovers!