This article may contain affiliate links; if you click on a shopping link and make a purchase I may receive a commission. As an Amazon Associate, I earn from qualifying purchases.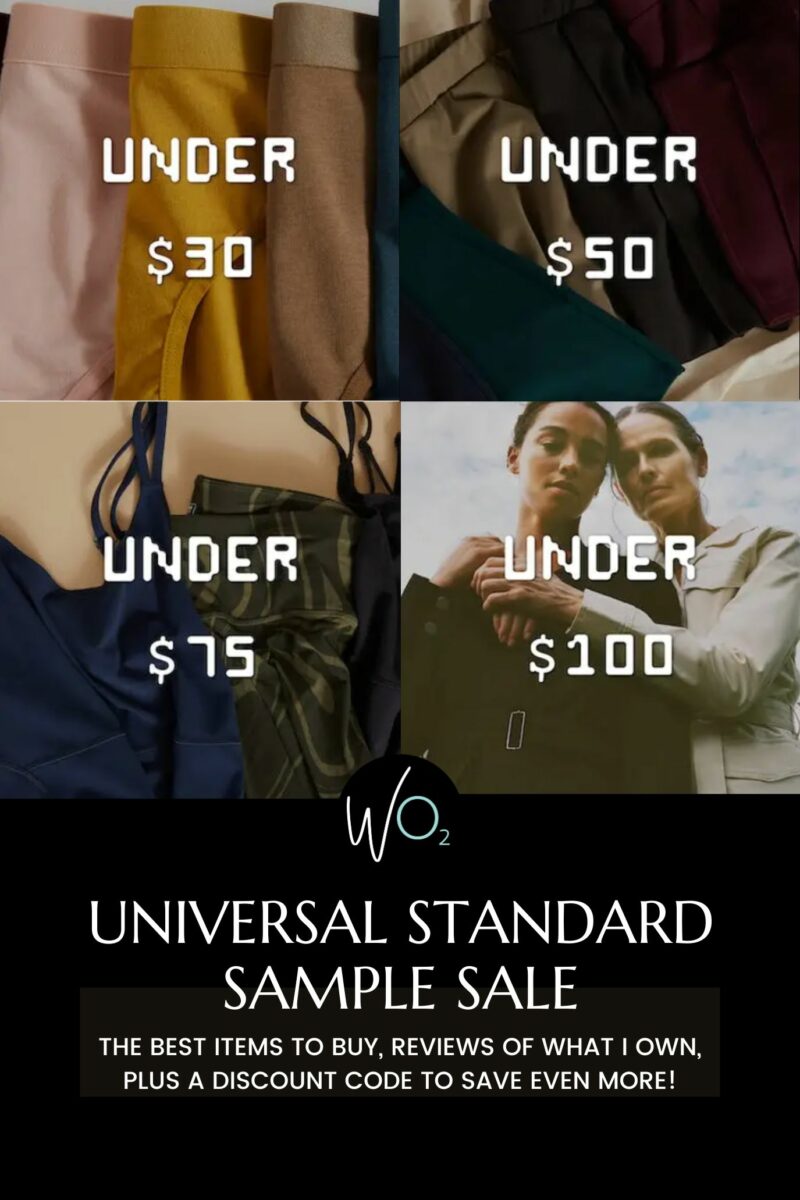 I know I am not the only one who loves the clothing brand, Universal Standard. Offering elevated wardrobe staples and unique silhouettes in sizes 00-40, Universal Standard is striving to democratize fashion. All this, and the Universal Standard Sample Sale is happening right now with up to 80% off luxe items. This sale runs through May 2, 2023. AND if you use promo code INFS-SSALISON at checkout you get an additional 10% off your purchase!
This post was originally published in 2020, but with the Universal Standard Sample Sale back, I felt it made the most sense to just update this post with the new details on the sale and my picks from the 2023 selection!
The Universal Standard Sample Sale is a mix of pieces you can rock now, and items to buy at a clearance and wear once it's fall and winter. I personally think it's smart to consider the full year with sample sales, and not just what you can wear right now. There are a lot of wardrobe staples in this sale and a lot of pieces I have recommended in the past and even featured in my capsule wardrobes!
How to Shop the Universal Standard Sample Sale
When you visit the landing page for the Universal Standard Sample Sale, you will see all 500+ items listed. However, at the top is a menu where you can narrow your search by price (Under $30, under $50, under $75, under $100, and over $100). You can also use the sidebar to filter by what size you wear with Universal Standard, what color you desire, and details like sleeve or inseam length, color, and category of garment.
Know that items sell out quickly at these amazing reduced prices, but more items may be added throughout the sale. Universal Standard is famous for doing this. Don't go bonkers, all sales in the Universal Standard Sample Sale are final. However, if you end up making a purchase you regret don't stress too much. Universal Standard clothing has a high resale value.
In the past, I have sold Universal Standard pieces on Poshmark, the Wardrobe Oxygen Community has created a Sale and Swap group on Facebook where US pieces are often shared, and there is even a Universal Standard-specific Buy/Sell/Trade group on Facebook. In fact, if you don't see what you're looking for in this sample sale, I recommend you check these sites as I regularly see Universal Standard items available in a range of sizes at prices less than retail.
Universal Standard Promo Code
All these fab details PLUS a 10% discount code? The folks at Universal Standard have provided the Wardrobe Oxygen community a promo code to save sitewide (sample sale and anything else you purchase. Use promo code INFS-SSALISON at checkout for an extra 10% off your order!
What are the Best Buys at the Universal Standard Sample Sale?
I own a LOT of Universal Standard; I've been wearing the brand since 2017. If you click this link you can see all my posts where I've worn and reviewed Universal Standard. I regularly wear and recommend Universal Standard because I find the clothing good quality, stylish yet not so trendy it goes out of fashion, and the size range more extensive than most any other fashion retailer.
Universal Standard has changed over the years, but continues to be a destination for great-fitting jeans, amazing knitwear, cool designer collaborations, and elevated workwear and separates that are hard to find in such a size range with such ethics anywhere else.
For reference, I am usually a 14 or 14 petite in most brands, occasionally choosing a 16 petite in rigid pieces like suiting trousers and blazers. I wear an XS for dresses and knits for Universal Standard and an S for non-stretch pants and blazers. For Universal Standard jeans, I am usually a size 12, finding they fit best when I go down a size from what I wear with other brands.
Do not just shop for whatever size you think you are. Each garment has its own size chart with details on fit, inseam, rise, and more. Customer reviews on the Universal Standard site are extremely helpful in determining size. Know that with any brand of denim, Universal Standard jeans will run more rigid and fitted if the wash is dark, looser, and stretchier for faded washes.
My Picks for Dresses and Jumpsuits in the Universal Standard Sample Sale
I love Universal Standard for high-quality dresses. Pieces that are basic, but never boring, Universal Standard chooses higher-end fabrics than you usually find for such pieces that dress up more easily, hold up through laundering, and feel good on the body.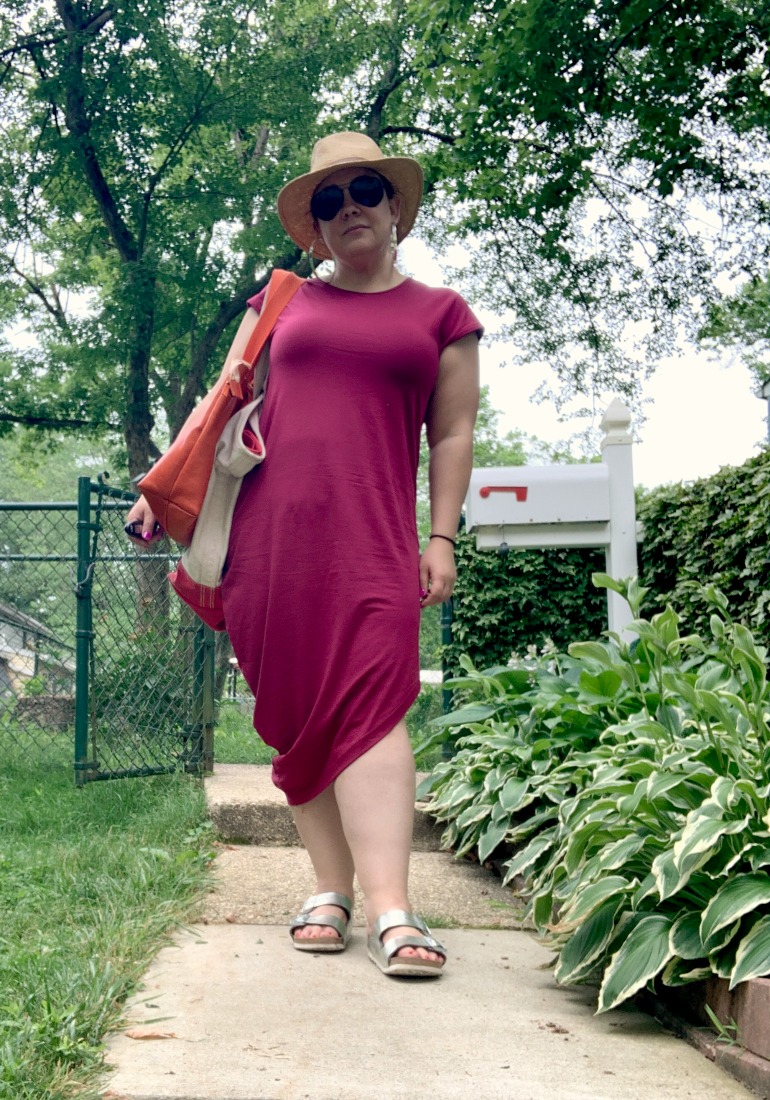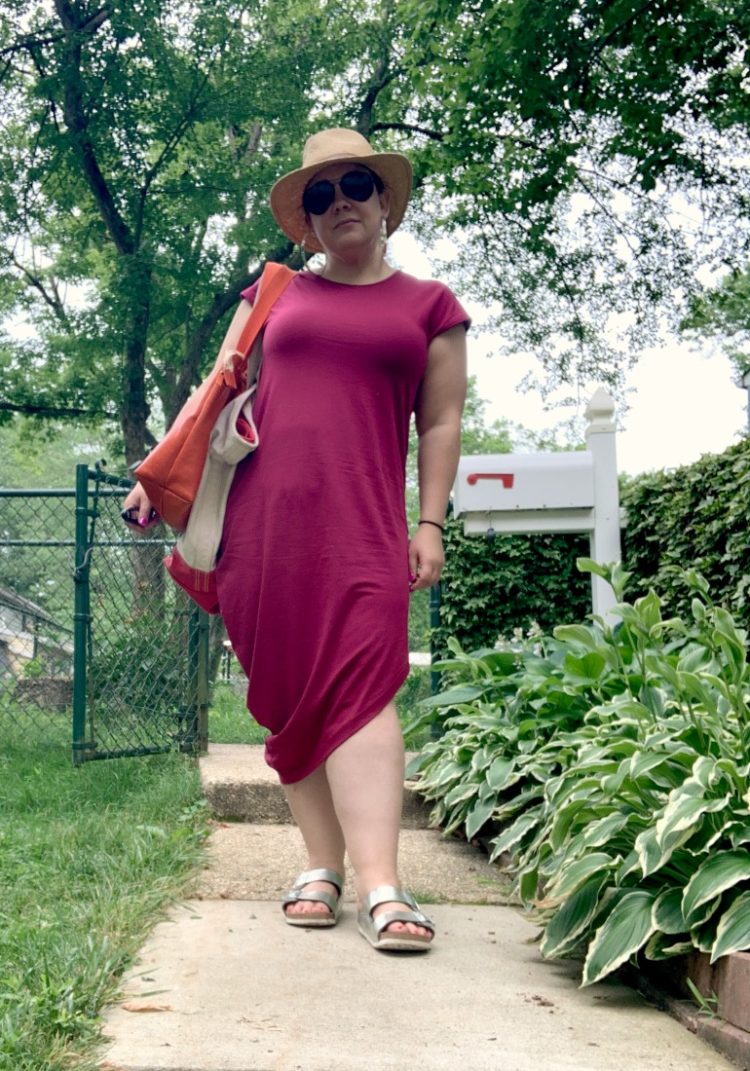 Geneva Dress
I love the Universal Standard Geneva Dress. It's like a t-shirt dress, but with a cool asymmetric hem that elevates and also creates great ruching over the lower torso and hips. Available in 11 colors, two necklines, two sleeve lengths, and even a few colors in a petite option, this is the perfect throw on and go dress. Pair with Birks for the weekend, low block heels for the office, a strappy sandal and statement earrings for a laid-back day wedding. On sale for $70, which is 45% off.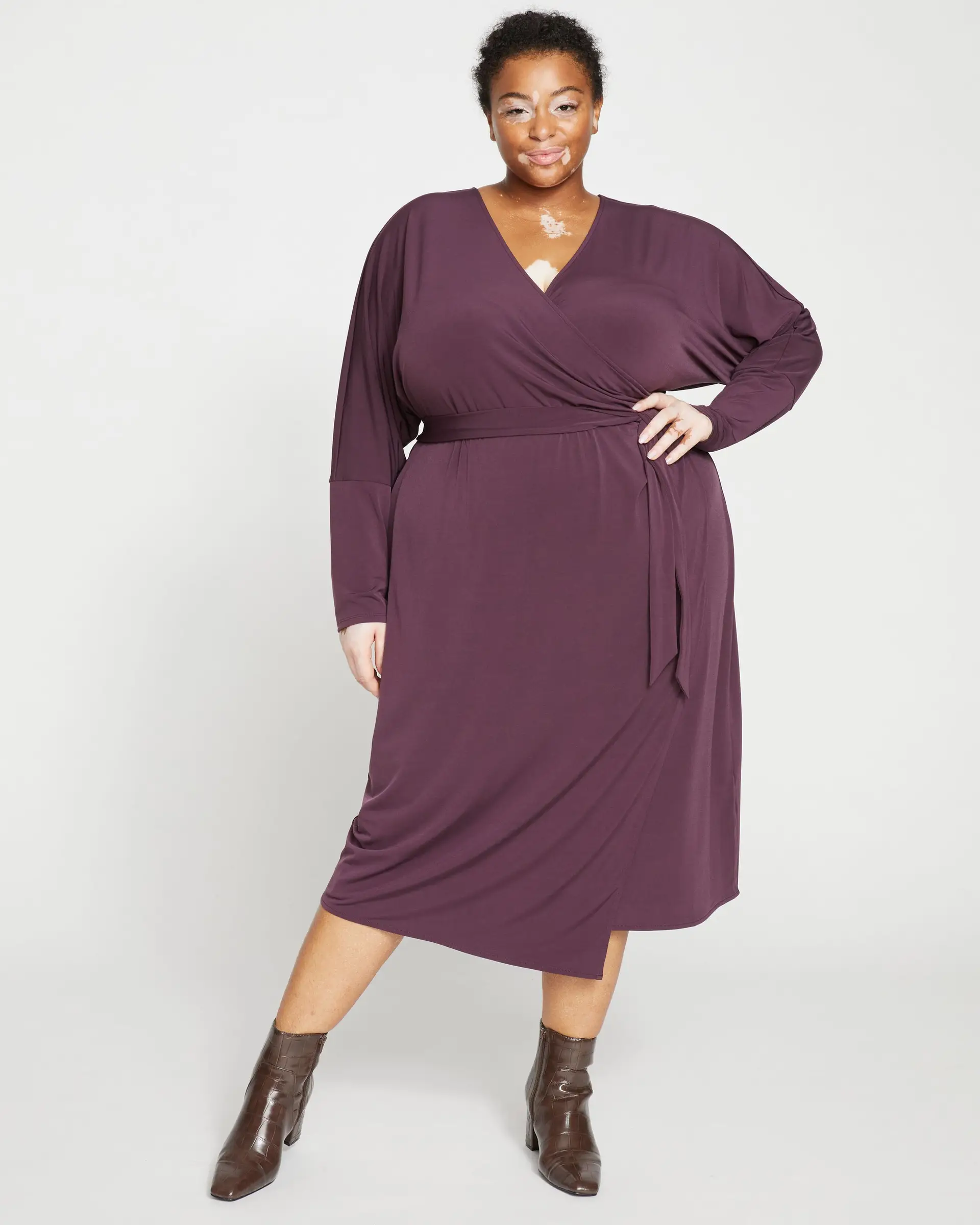 New Standard Jersey Wrap Dress
I tried the New Standard Jersey Wrap Dress when I attended a Universal Standard Trunk Show and was even more impressed in person. This is an elegant dress you can wear to work, to a wedding, to a cocktail reception, on a date, and it's a fabric that travels really well. Available in three colors, this is a wardrobe staple that will provide you years of stylish wear. On sale for $78, which is 43% off.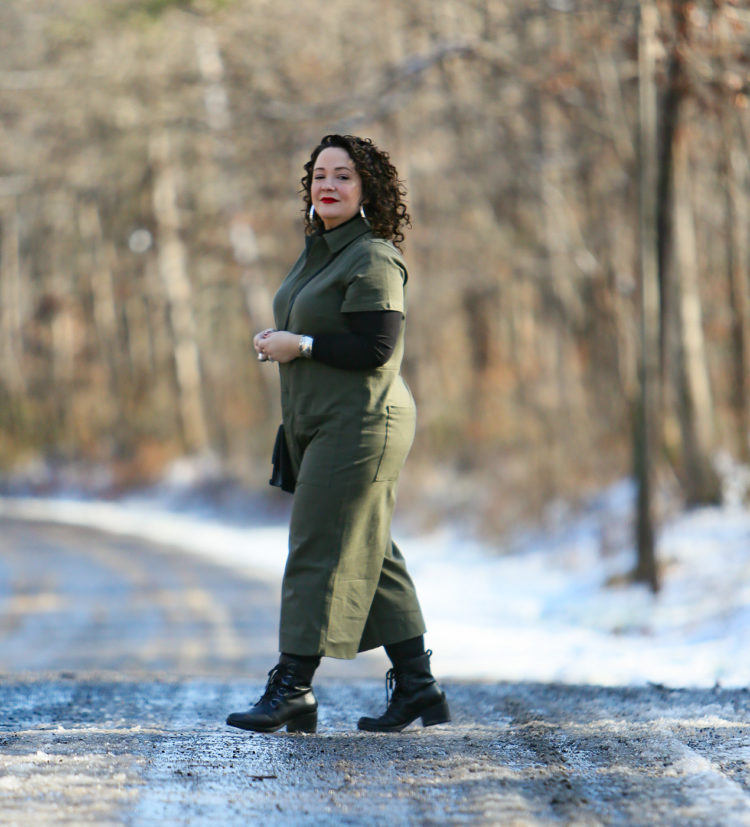 Kate Twill Jumpsuit
Coveralls, jumpsuits, and boilersuits are more on trend than ever before and the Kate Twill Jumpsuit is a great option. Stretchy, sturdy, and an easy zipper front. I own this jumpsuit and find it works in summer with Birks or sneakers, or layered over a fitted turtleneck and boots come winter. Only the Vintage Khaki color is part of this sample sale; I just have me in the Ivy version so you can see how it looks styled beyond summer! On sale for $110 which is 41% off.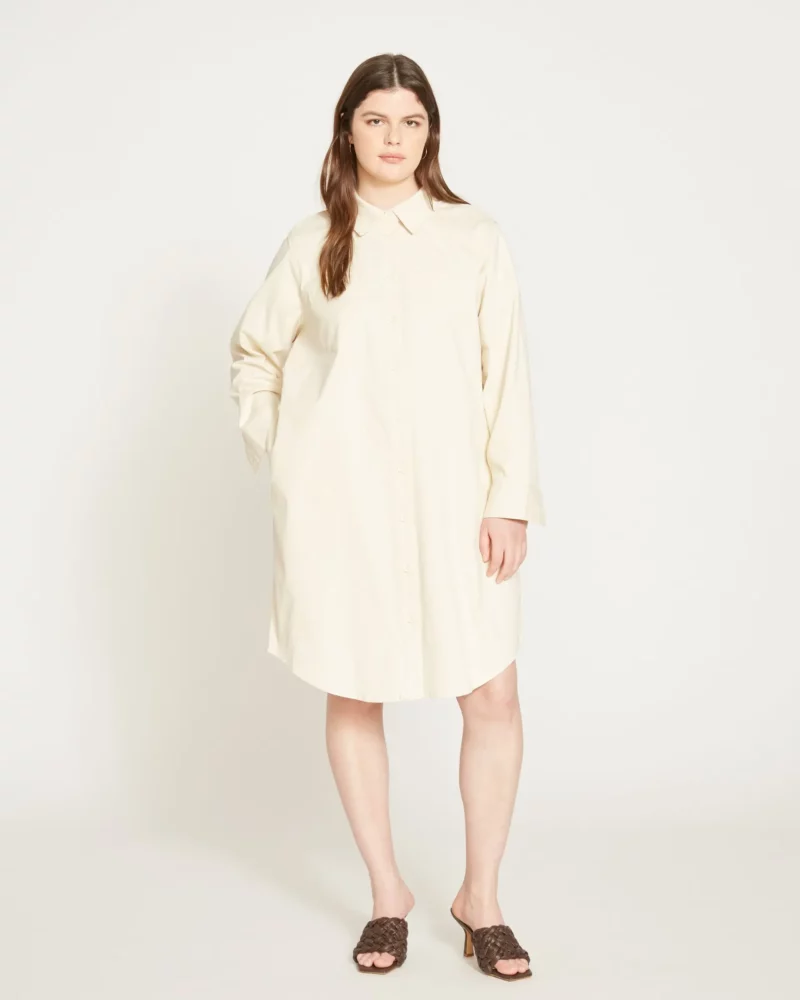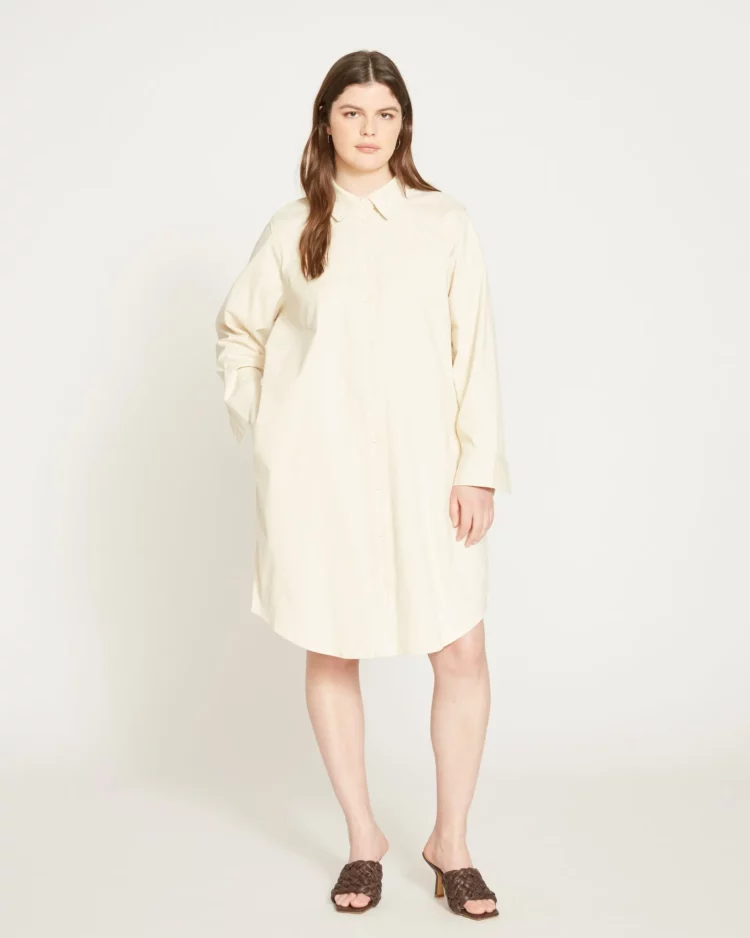 Carefree Stretch Twill Dress
Don't let the photos deceive you, the Carefree Stretch Twill Dress packs a serious style quotient. I tried it and if it was available in other colors, it would currently be in my closet. But the black and ivory colors are versatile (and not at all see-through). Selling fast, fingers crossed your size is still in stock! On sale for $68, which is 51% off.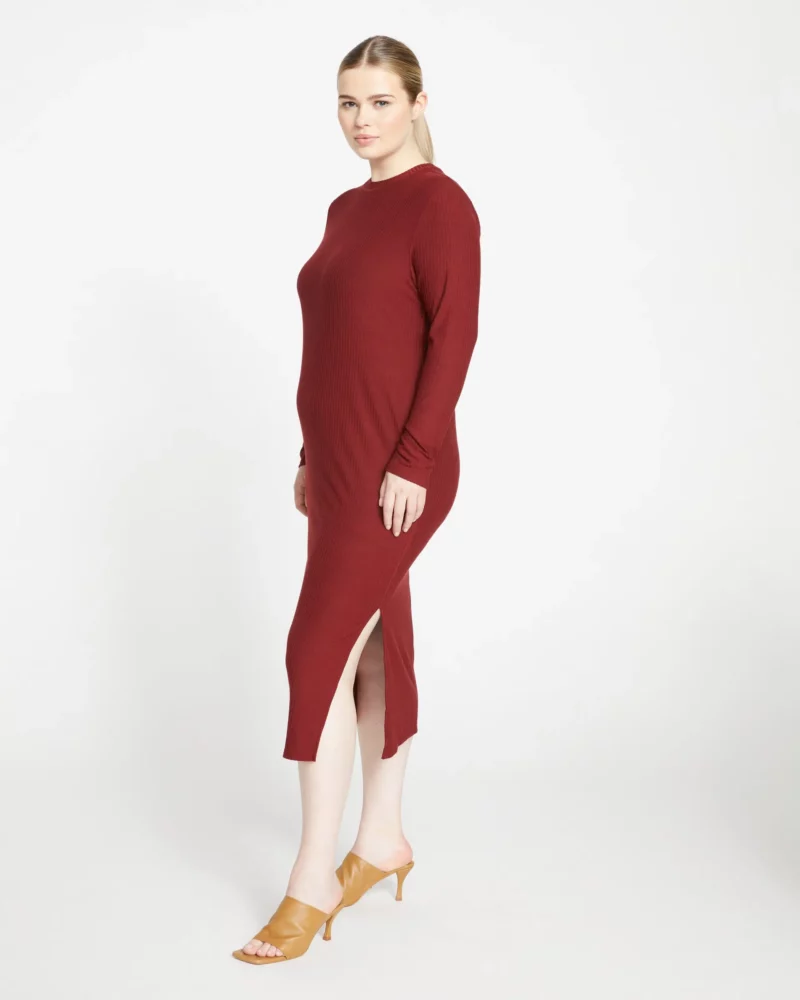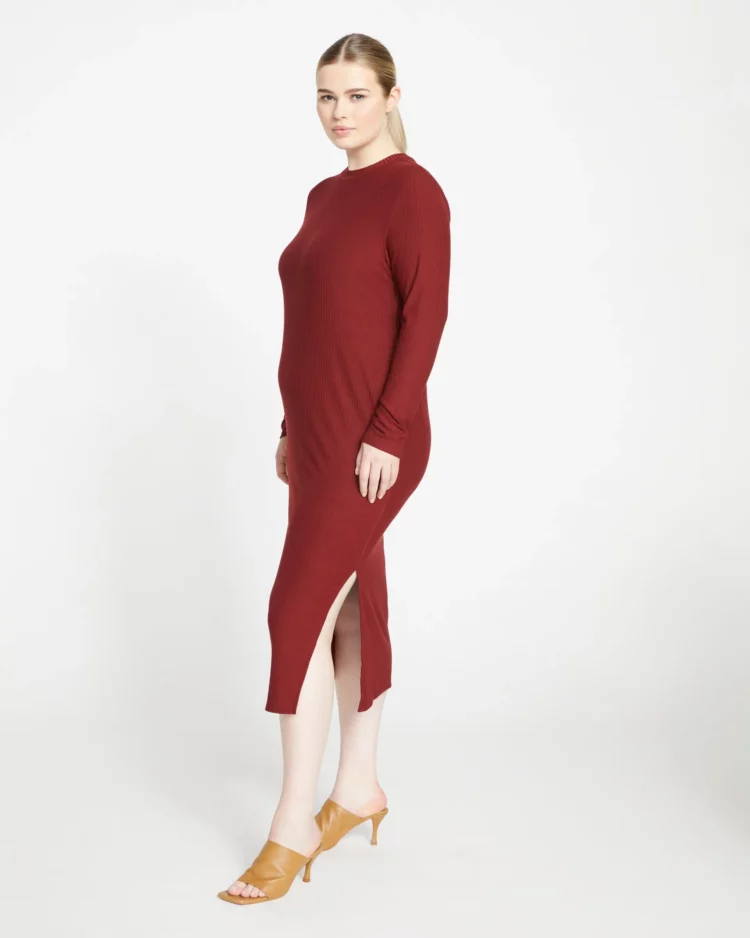 Lexi Long Sleeve Rib Maxi Dress
I recently got a sleeveless ribbed dress from LOFT (you can see it on me on Instagram) and the Universal Standard Lexi Long Sleeve Rib Maxi Dress reminds me of it, but with sleeves. I think this dress is so chic and gets such great reviews for being a surprise hit and from great quality fabric. On sale for $68 which is 54% off.
My Picks for Tops & Sweaters in the Universal Standard Sample Sale
Some of the most-worn sweaters and tees in my closet are Universal Standard. High quality, great fit, great drape, and opaque. There are actually a LOT of great knits and tops in the Universal Standard Sample Sale; I narrowed it down to the items I love the most.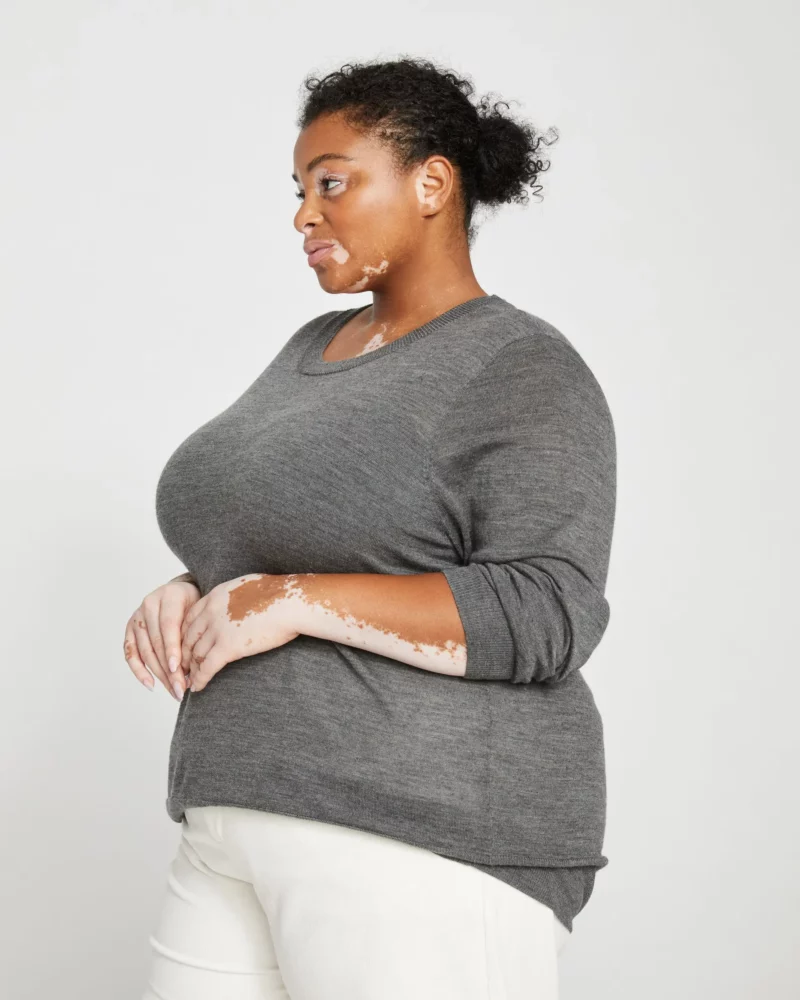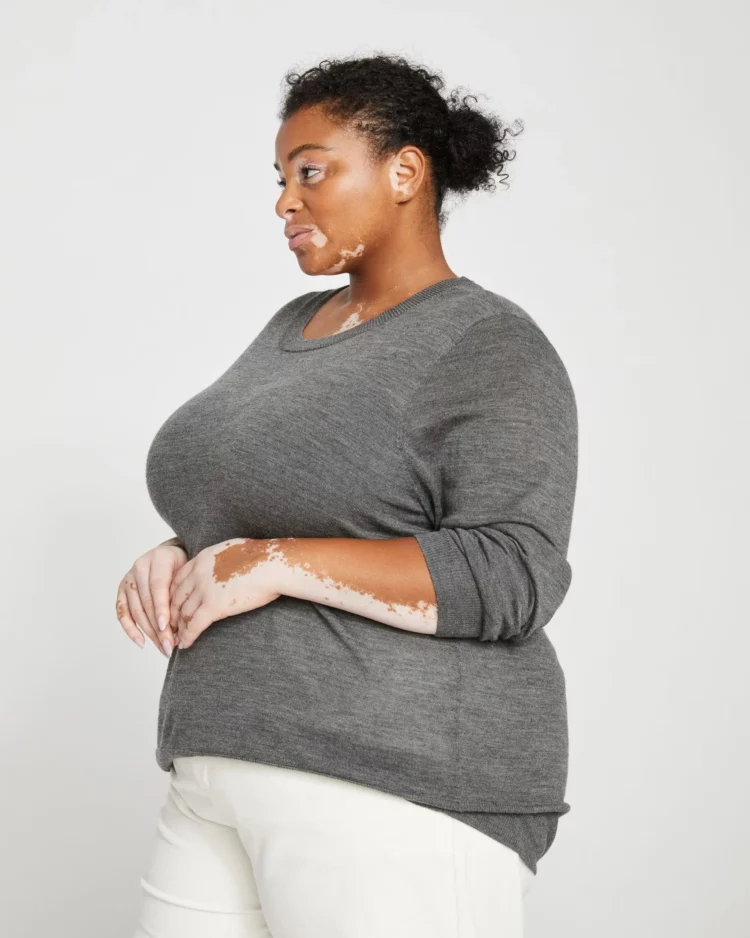 Featherweight Merino Crew Neck Sweater
I own the Featherweight Merino Crew Neck Sweater in black and love it. Not bulky, but still provides warmth, and it has a beautiful drape that you can tuck in without feeling like the Michelin Man, or wear untucked and have it look elegant. This sweater is available in four colors but is selling fast; if your size is in stock nab it ASAP! On sale for $83 which is 35% off.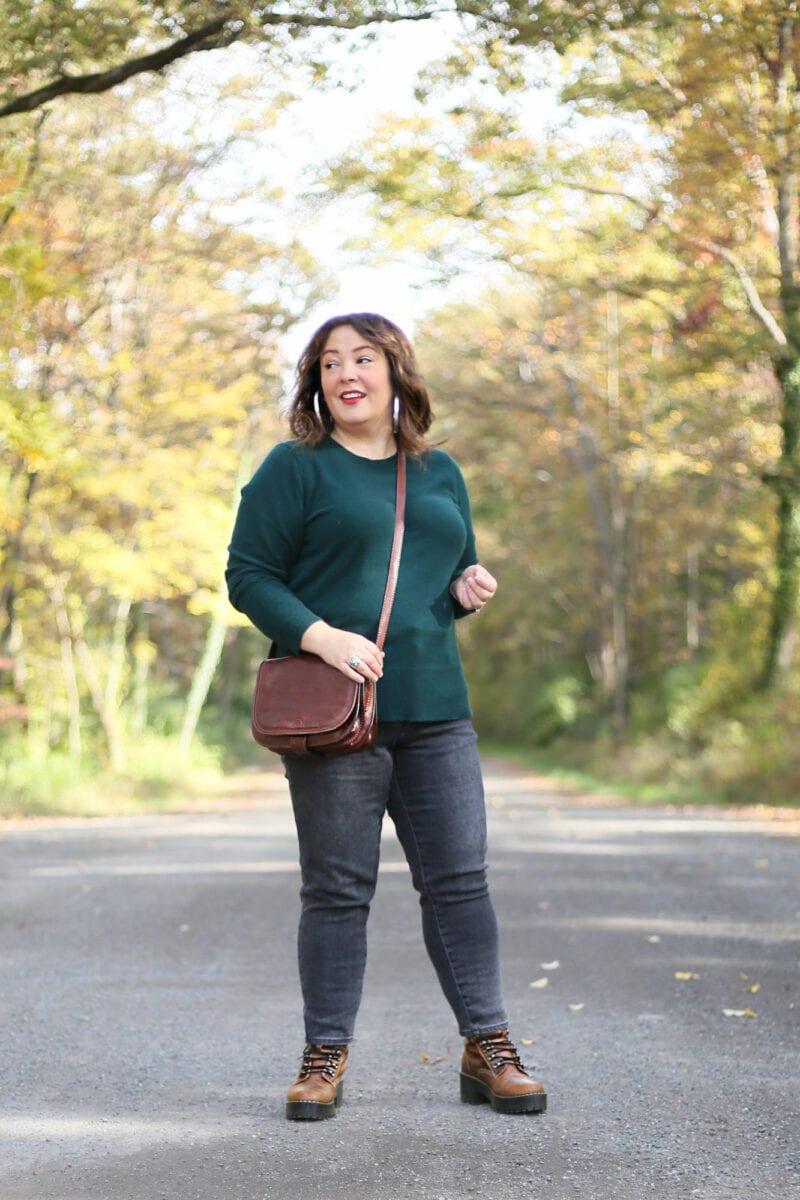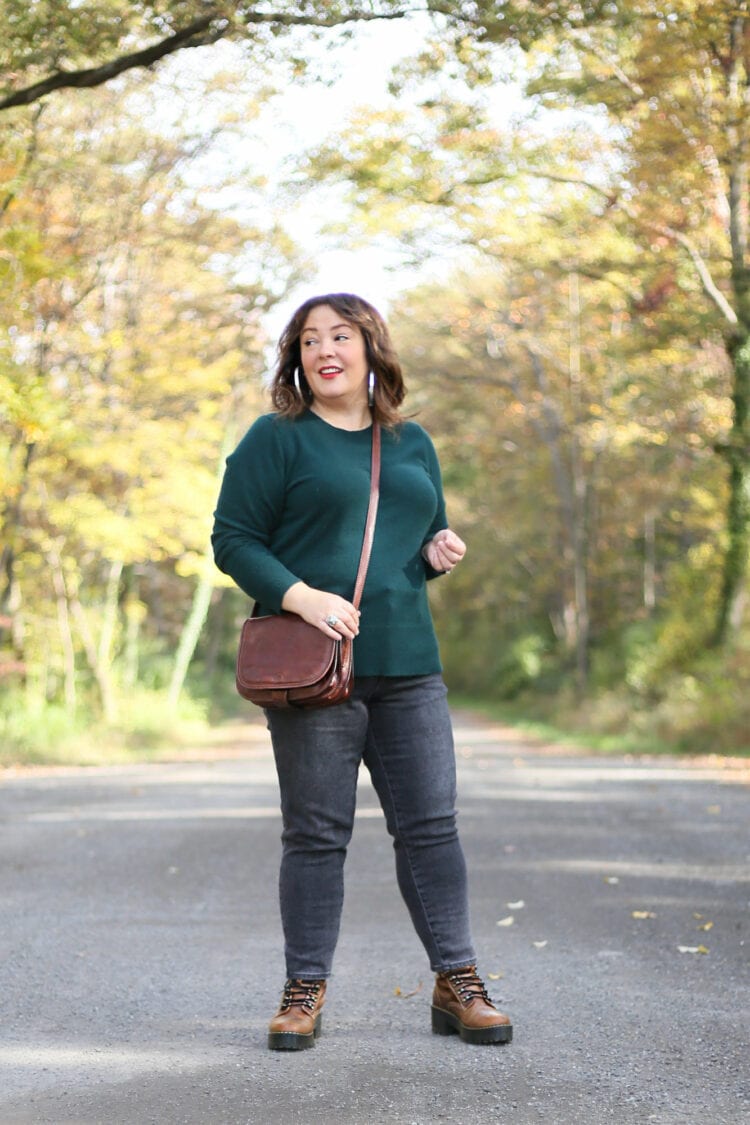 Essential Cashmere Crew
I own the Essential Cashmere Crew and find the quality to rival brands that carry cashmere for two or three times the price. Soft, lofty, but not bulky, these cashmere sweaters hold up well (two winters and counting!). You may need to use a sweater shaver to remove pills, but this is normal for most any cashmere sweater. On sale for $59 which is 40% off.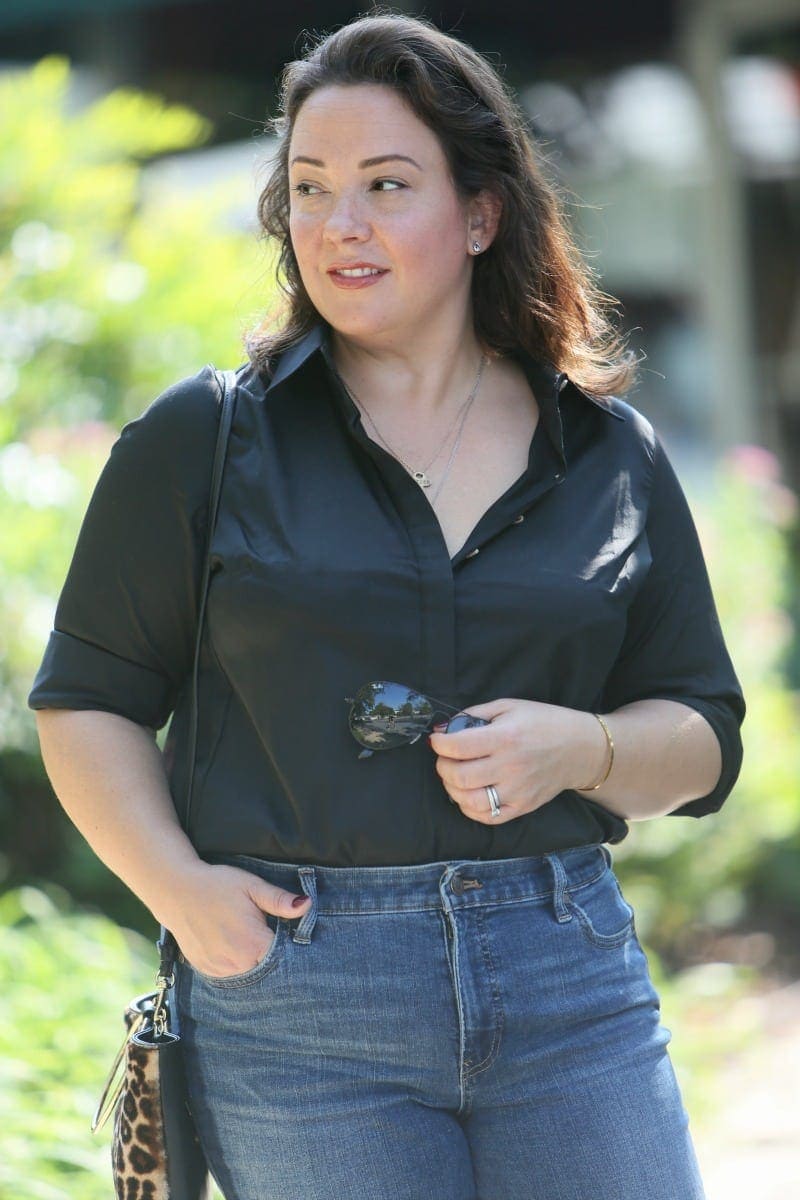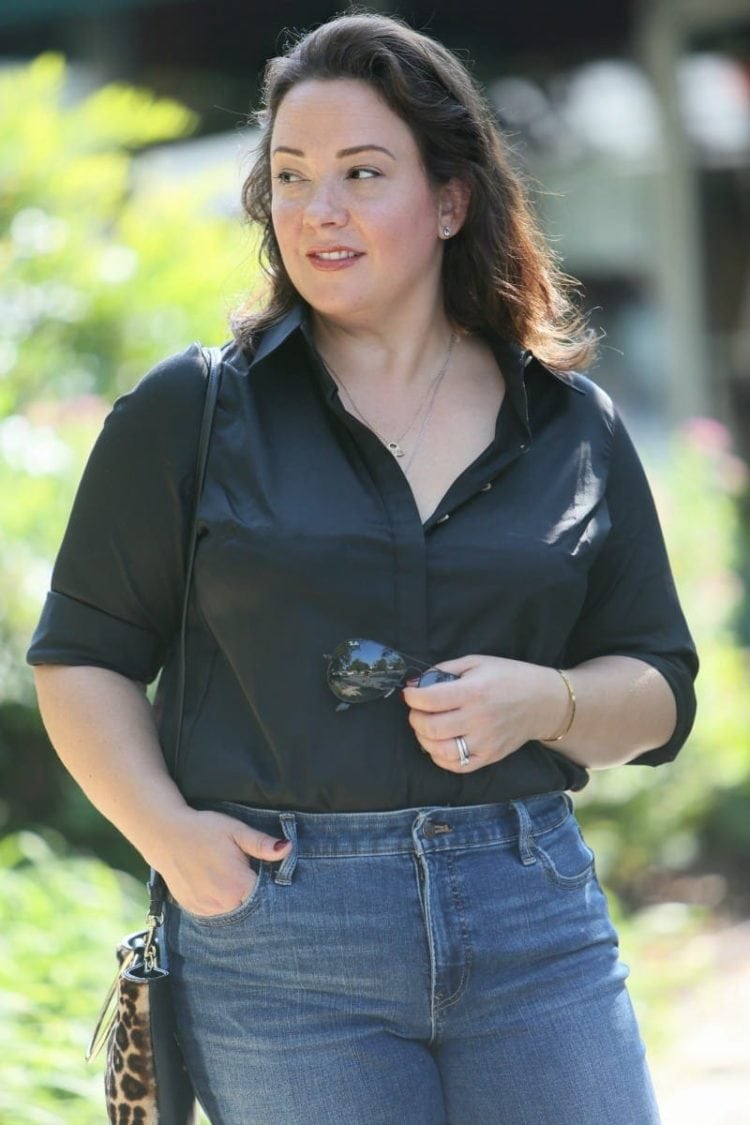 Elbe Stretch Poplin Shirt (Popover and Classic Shirt)
The Elbe Stretch Poplin Shirt is a great shirt for those of us with curves. Whether those curves are in your shoulders, your bust, or your stomach, this shirt is designed to work with, not against them. The pink and white stripe version of both the popover and the classic button-up is part of the Sample Sale and a very on-trend option for summer, and for the whole Coastal Chic trend. On sale for $68 which is 45% off.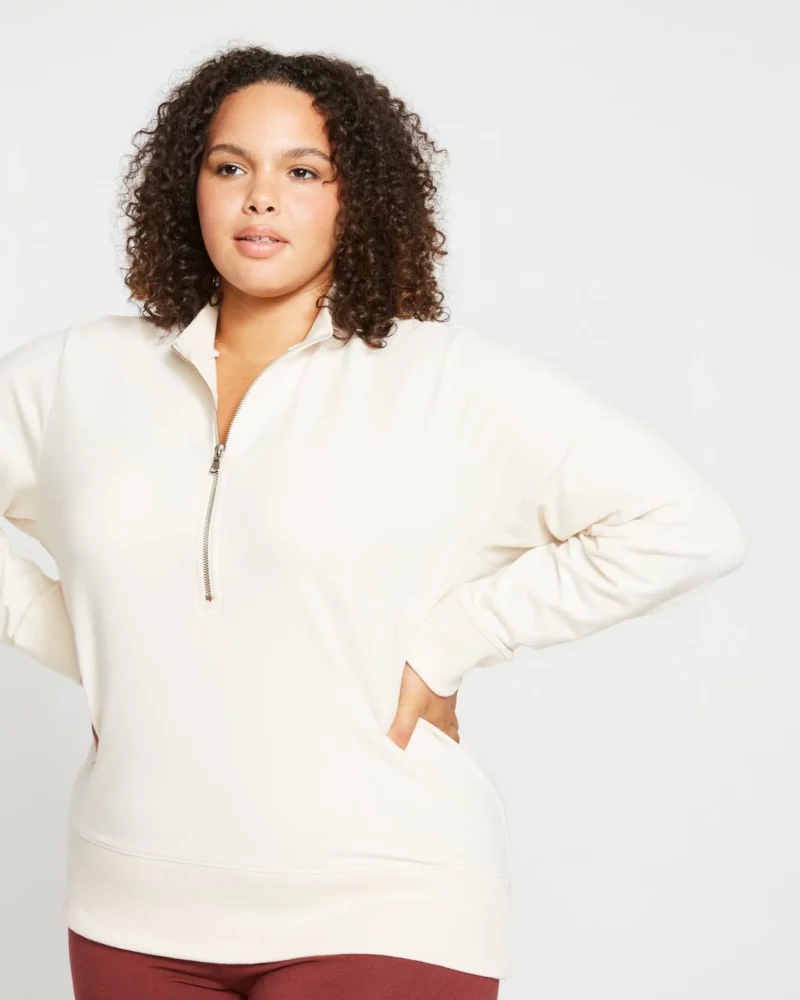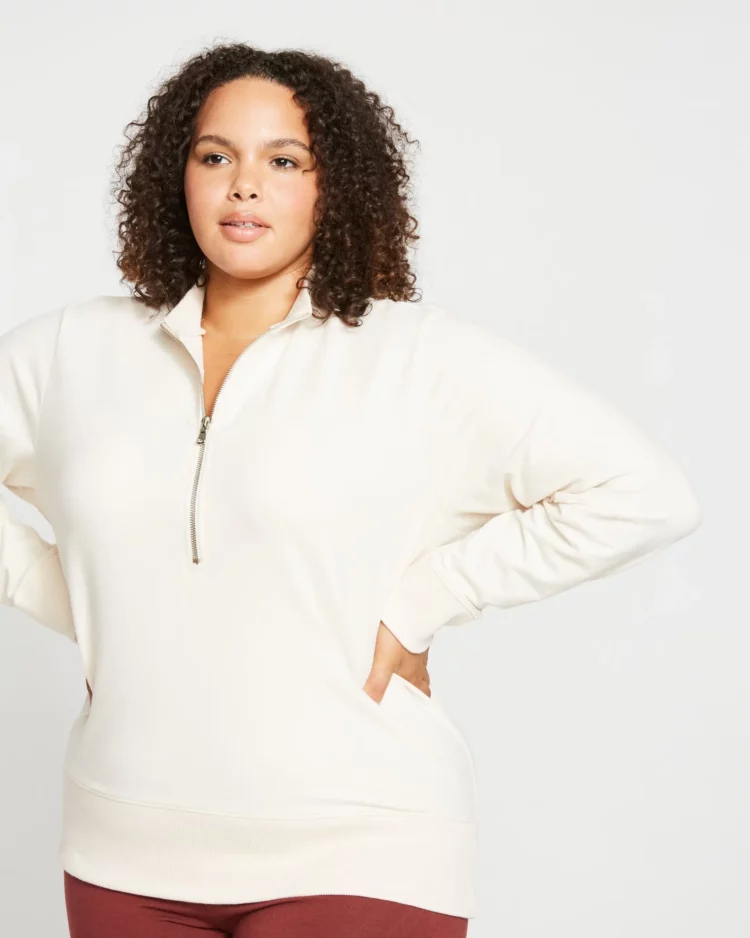 Zoe Half Zip Funnel Neck Pullover
The Zoe Half Zip Funnel Neck Pullover is an elevated alternative to your regular sweatshirt or fleece. The zip-neck is an on-trend element that also provides versatility. Zip it up, wear it open, or layer over a t-shirt or turtleneck. Soft and comfy and available in five colors. On sale for $67 which is 40% off.
My Picks for Bottoms & Jeans in the Universal Standard Sample Sale
One of the best-selling jeans are part of this sample sale, as well as some pants I own and love. Below are just a few, there are far more available in the Universal Standard sale!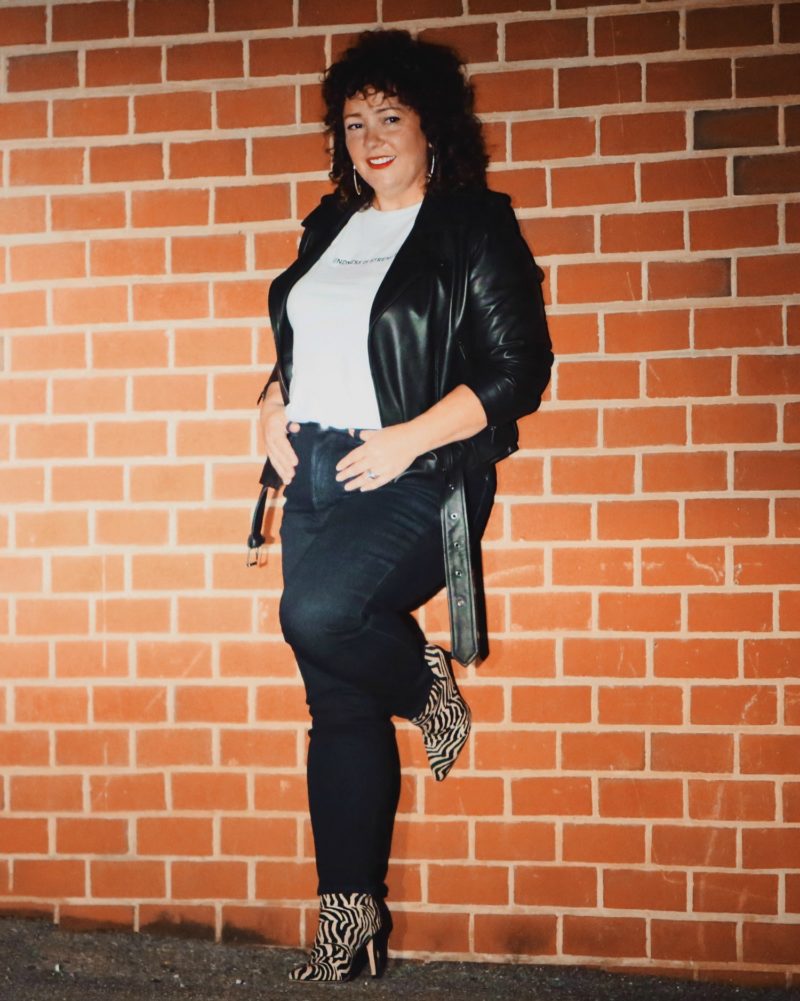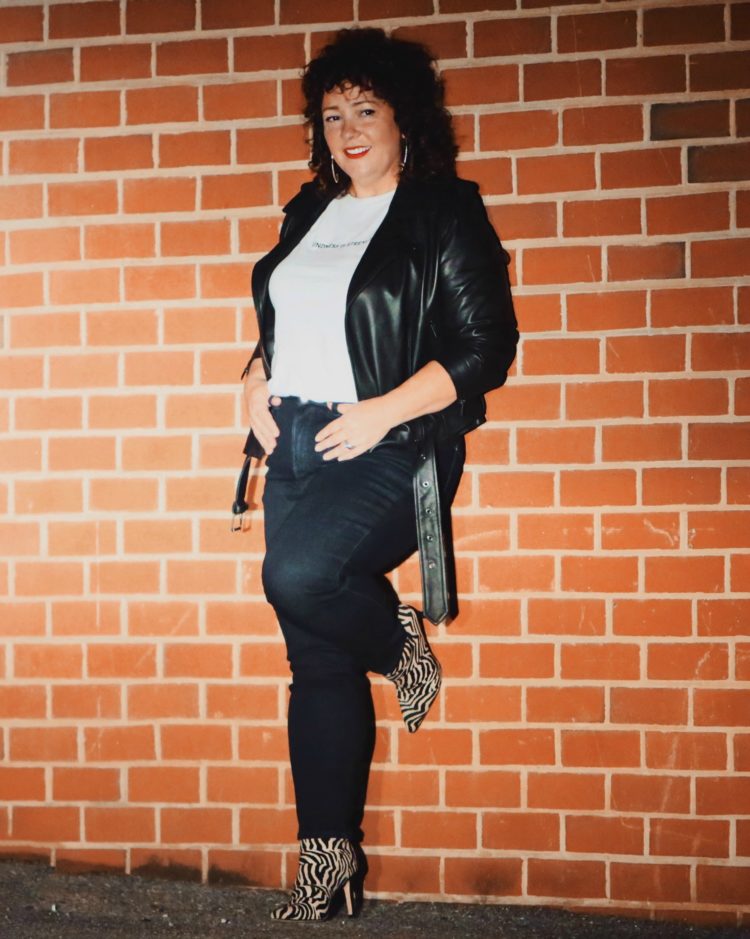 Siene Skinny Jeans
I know I've said that skinny jeans are on their way out, but if you love a skinny jean, you NEED to try the Universal Standard Seine Skinny Jean. I find it to be comfortable, quality, and brilliantly designed. Hello deep pockets, and stretch that doesn't bag out. Available in midrise and high rise, a petite fit and two inseam lengths, and a variety of washes/colors there's likely a Siene that's right for you. If in doubt, size down (I own dark washes in 12 and lighter washes in 10). On sale for $50 which is 49% off.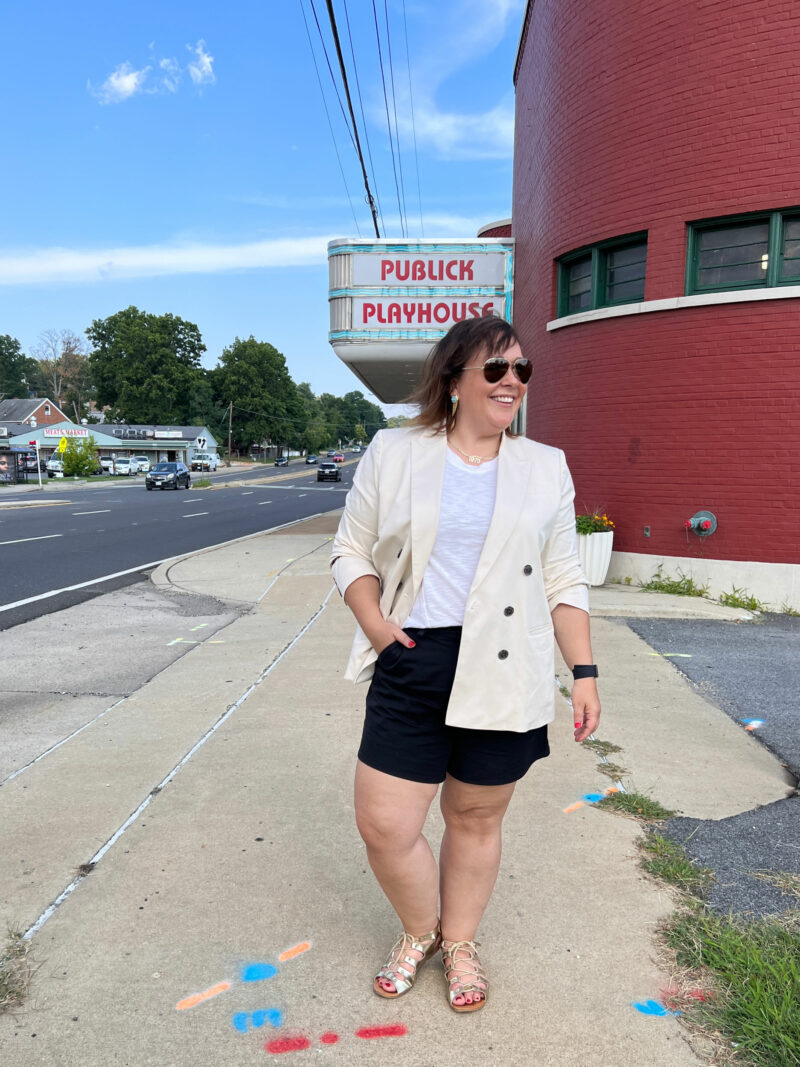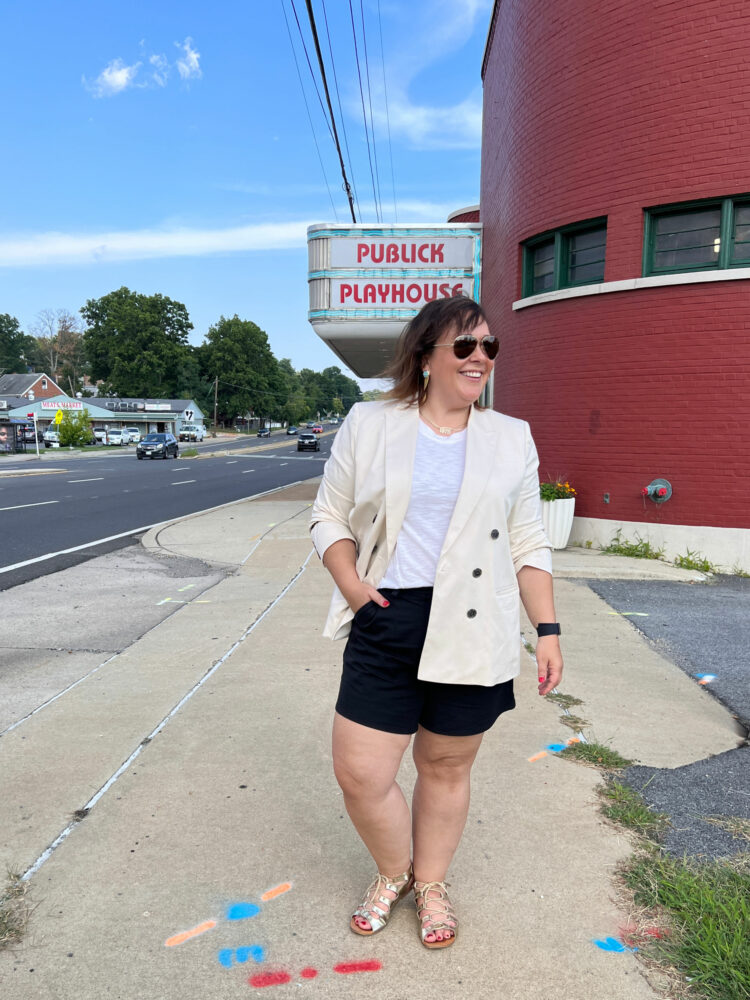 Smart Twill Stretch Shorts
I own the Smart Twill Stretch Shorts and really love them. As we grown-ass women know, not all twill shorts are created equal. These work great with my soft curves, my round booty, my solid legs. They have stretch but don't stretch out and look elevated. I've worn mine with a nice top and metallic sandals for dressier evening outdoor occasions; can't say that with a lot of twill shorts on the market! On sale for $67, which is 40% off.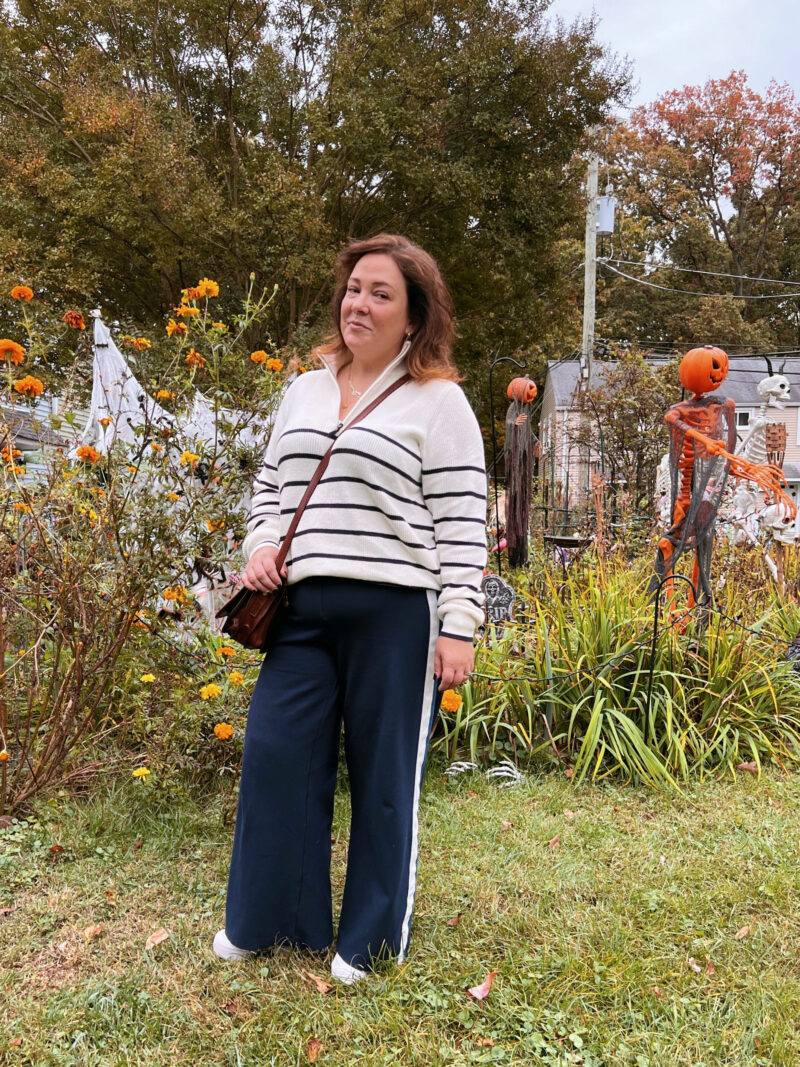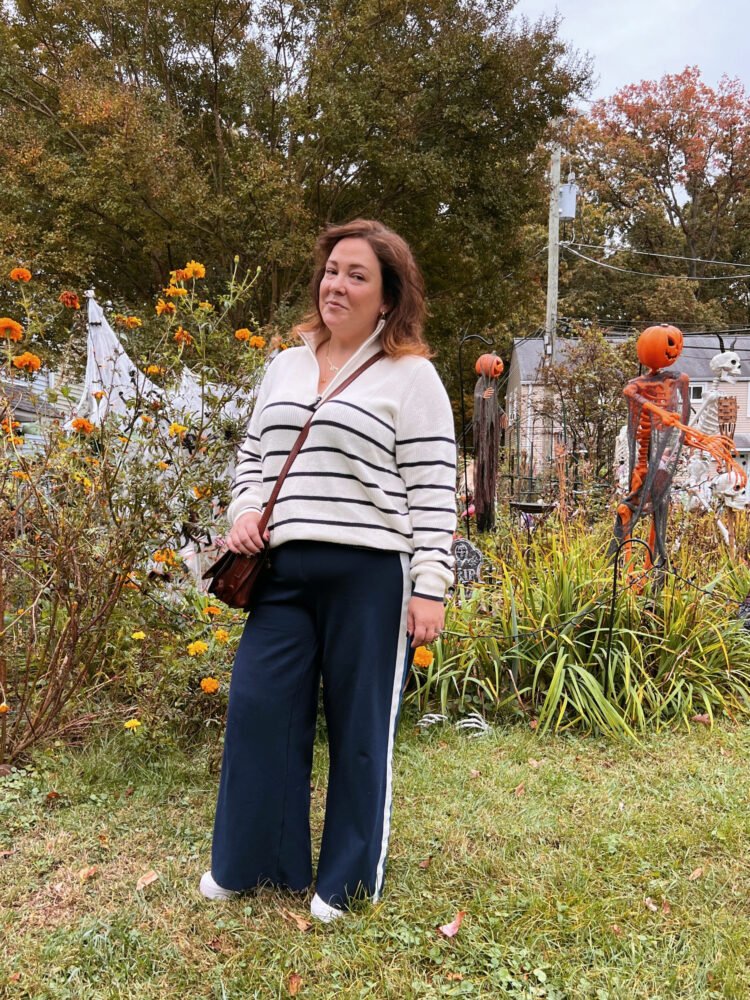 Stephanie Wide Leg Pants
I must wear my Stephanie Wide Leg Pants at least once a week and have for over a year. In spring, I wear with a t-shirt knotted at the waist. Come fall and winter, I wear with sweaters as you see above. I did have them hemmed to fit my petite stature, but the rise works just fine. These pants are comfortable, wash great, and add style with the side stripe. Only the ochre and green stripe versions or the tan solid version are part of the sample sale. On sale for $78, which is 46% off.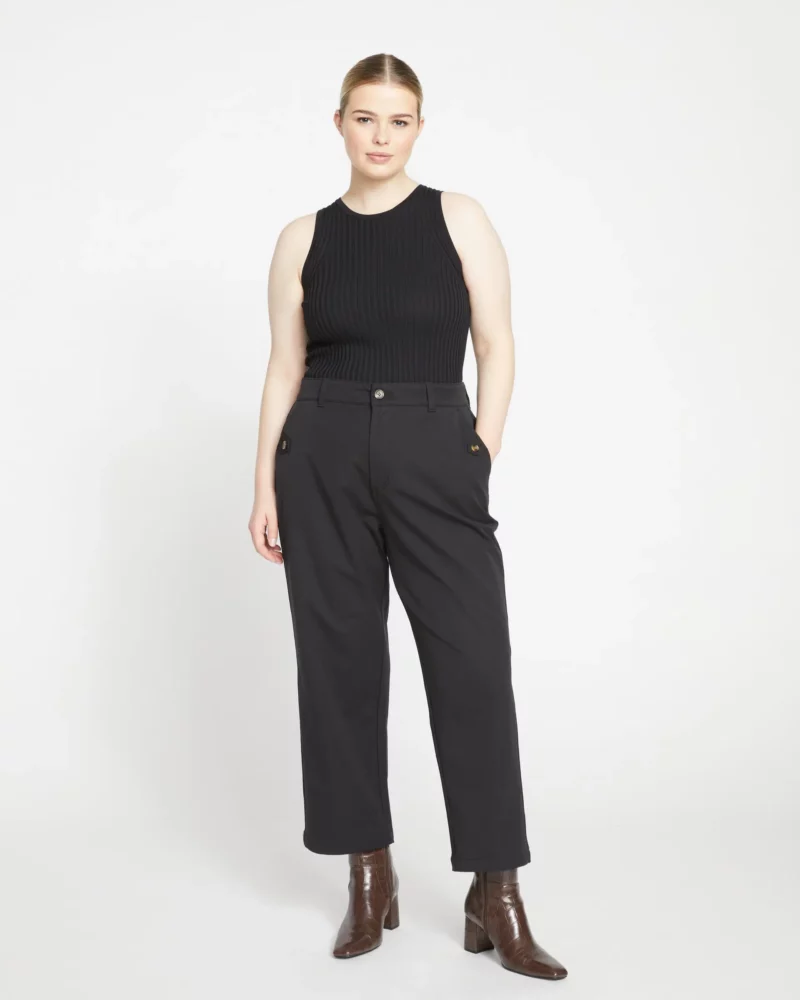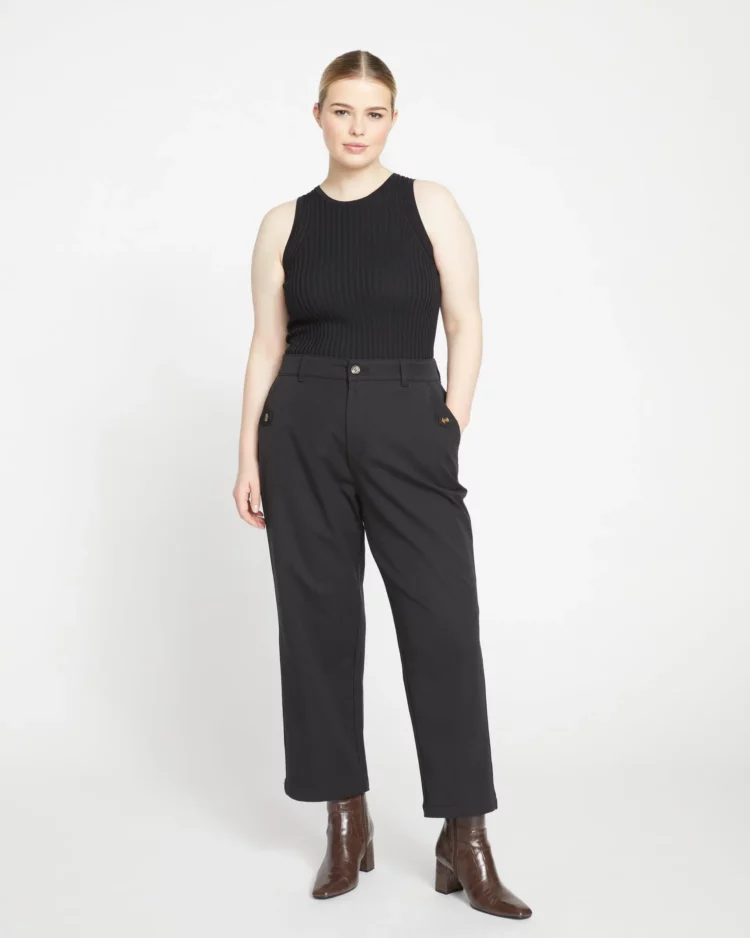 Casual Stretch Twill Pants
I ordered the Casual Stretch Twill Pants to see how they fit, and if I were two inches taller, I would have kept them. Like the twill shorts, Universal Standard has figured out how to take a utilitarian piece and make it luxe. Great fabric, great fit designed to work with curves, nice deep pockets… these are twill pants you will enjoy wearing whether for casual situations or business casual situations. On sale for $85 which is 41% off.
My Picks for Workwear in the Universal Standard Sample Sale
While in the past few seasons Universal Standard has been focusing more on loungewear and athleisure, it continues to be one of my favorite destinations for size-inclusive workwear. These are the items I personally find great for the office and beayond.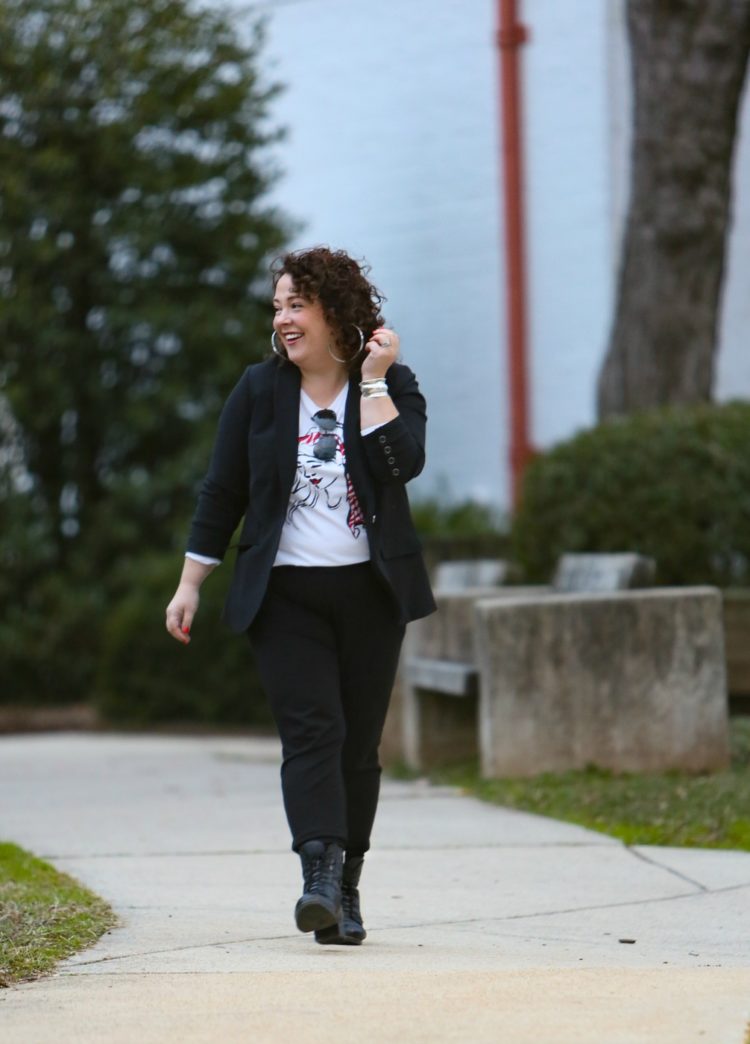 Petite Eco Rio Blazer
Sadly, by the looks of this sample sale, Universal Standard is phasing out their current petite offerings. I can only hope it means new petites in the future. In the meantime, grab the sale items while you can like the fantastic Petite Eco Rio Blazer. This is a well-designed elevated blazer that will look at home at the most impressive boardrooms but also looks fab with a silky shell and jeans for a night out. I own it and love it. On sale for $90 which is 65% off.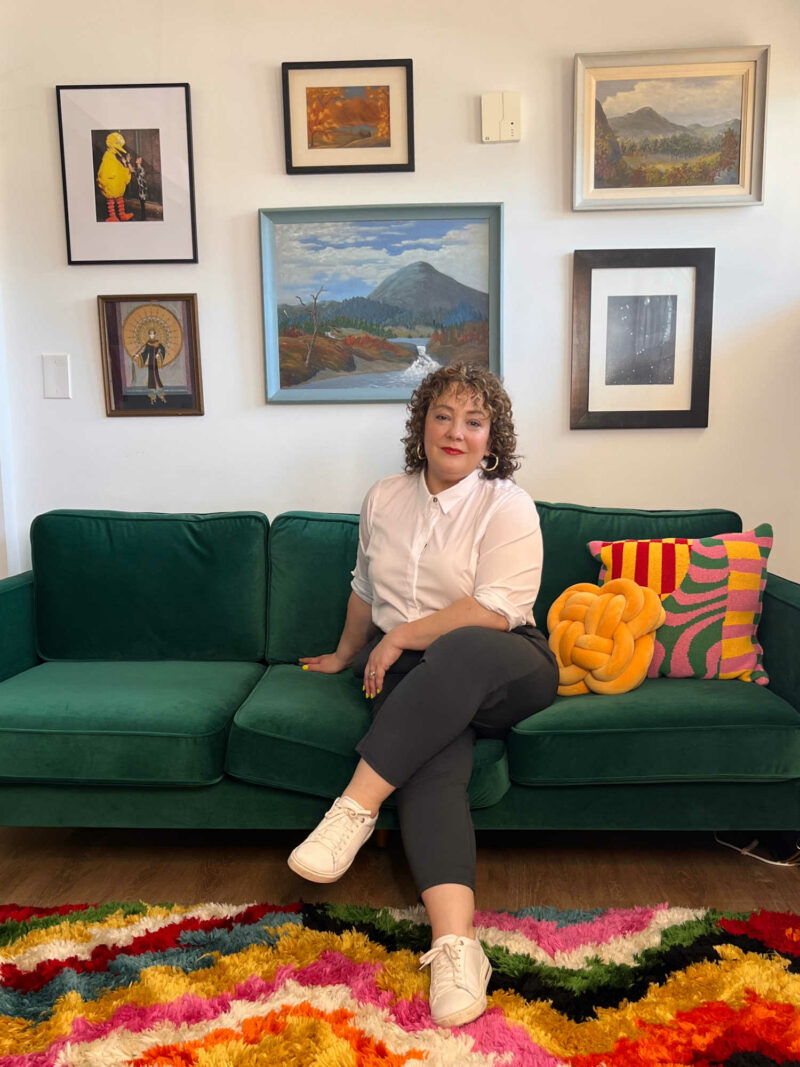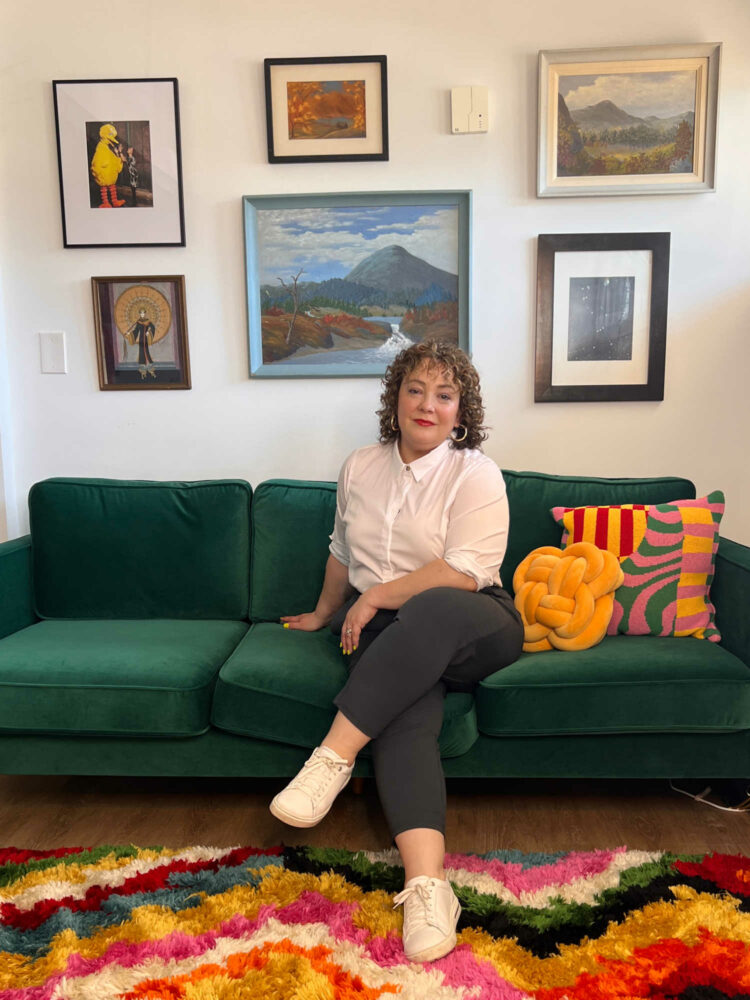 Cigarette Pants
The Universal Standard Cigarette Pants are like yoga pants but with a proper button and fly to make them appropriate for the office. When I tried these in XS I found them not the best choice for my body, but I tried them again in a size larger and really liked them. So if in doubt, size up. Available in four colors and two lengths. On sale for $78 which is 43% off.
My Picks for Activewear and Athleisure in the Universal Standard Sample Sale
Universal Standard makes really great activewear and athleisure. Great fit for a range of bodies, great fabrics that not only perform they feel good wearing them. These are my picks but do check out the sample sale offerings as there are a lot of good deals on activewear and athleisure!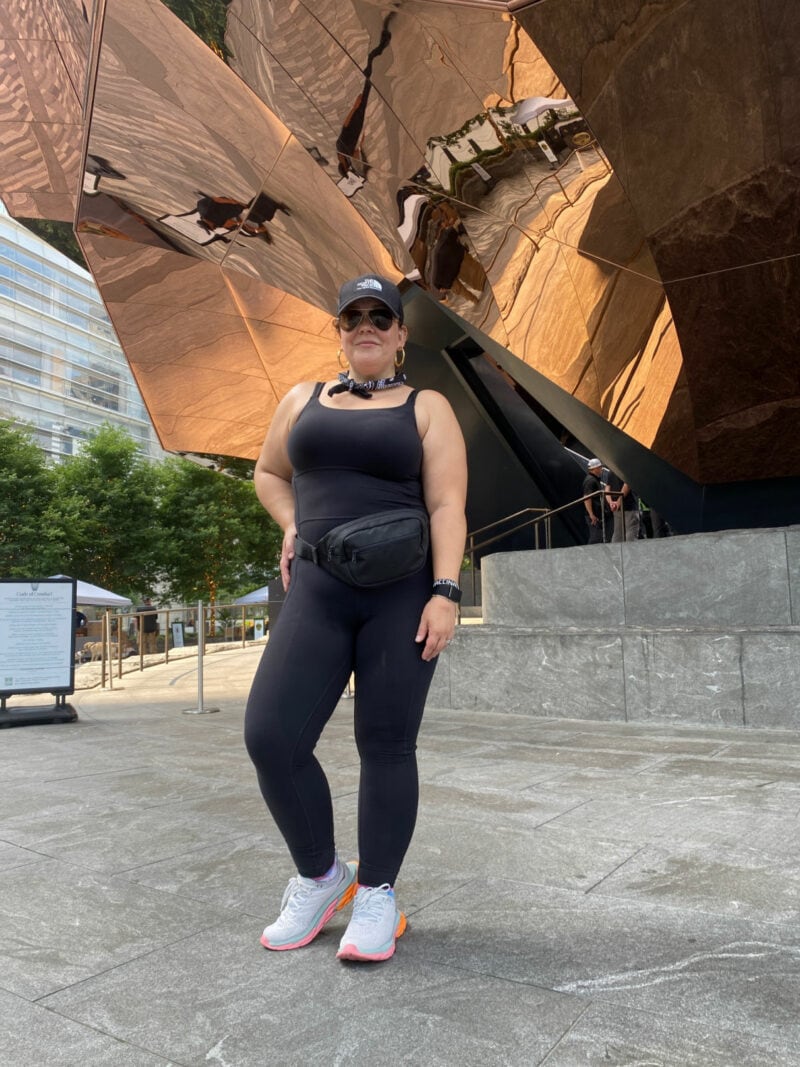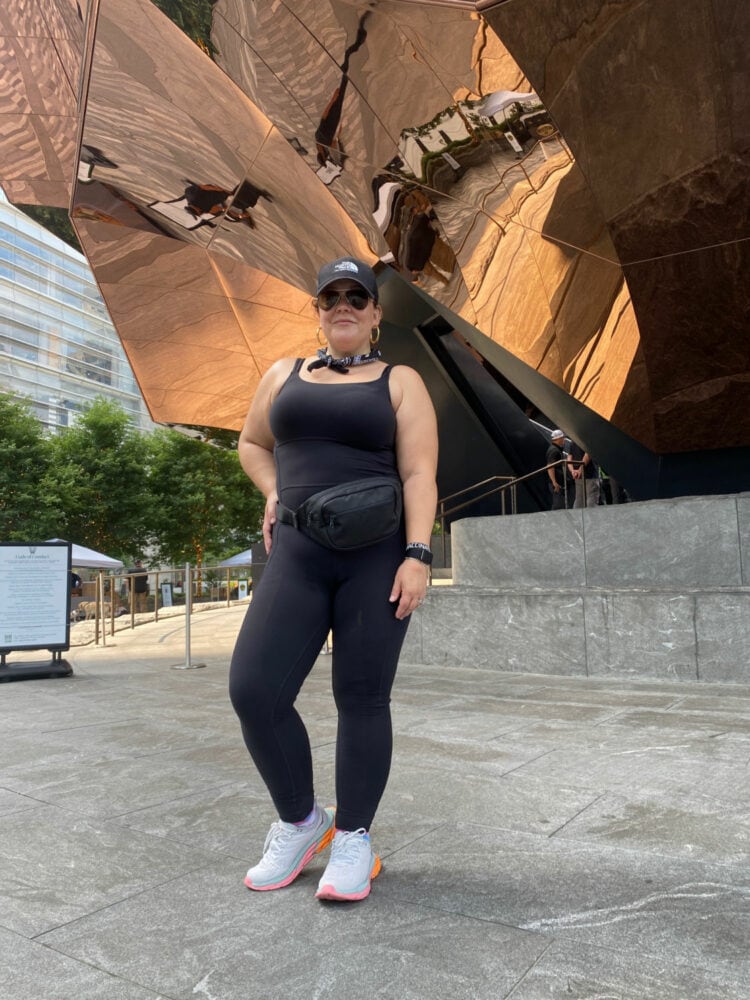 Next to Naked Bodysuit/Bodyshort
I am seriously obsessed with the Universal Standard Next to Naked Bodysuit and Bodyshort (both available at the same link). As someone with soft curves, I am not always comfortable in bodycon, and I always think I need some structure to lift everything into the "right" place. But this bodysuit has seaming in the right places and is made of just the right fabric that feels like wearing nothing but makes my curves look great. Various "Next to Naked" pieces are over 50% off.
For more info on this piece, you can read my Universal Standard Next to Naked Bodysuit review.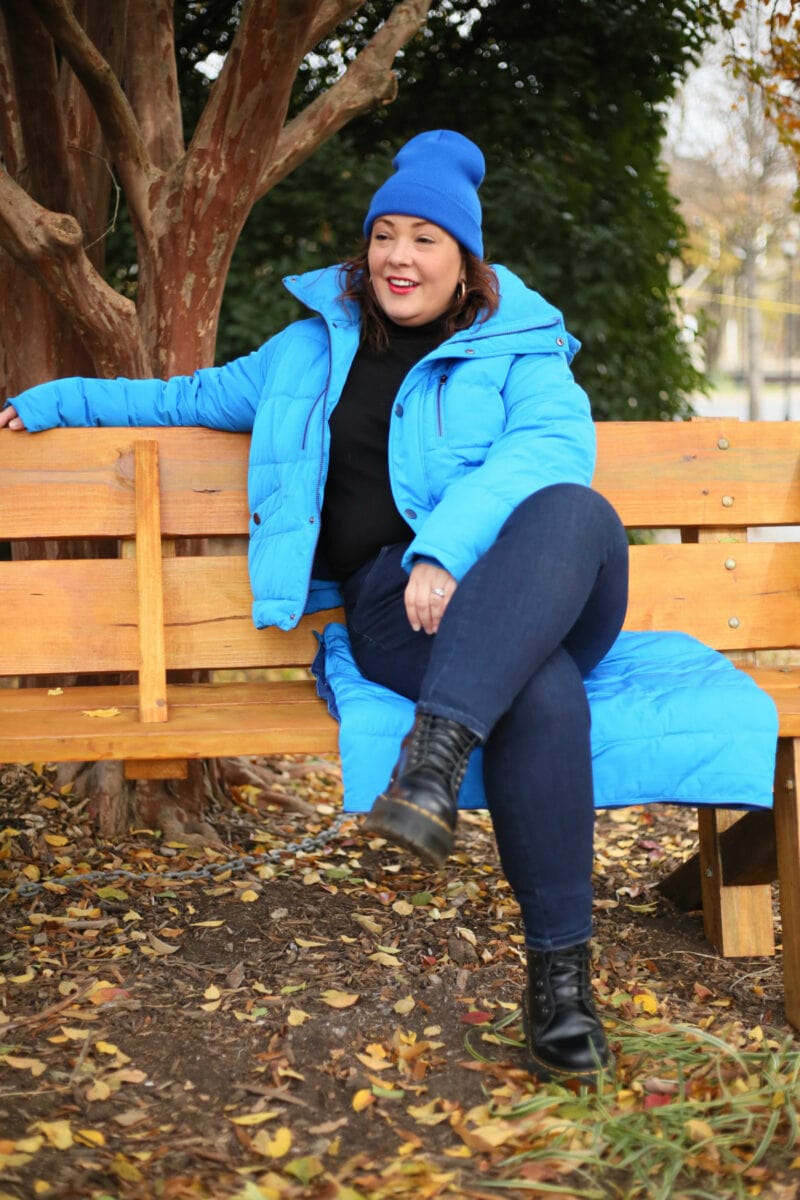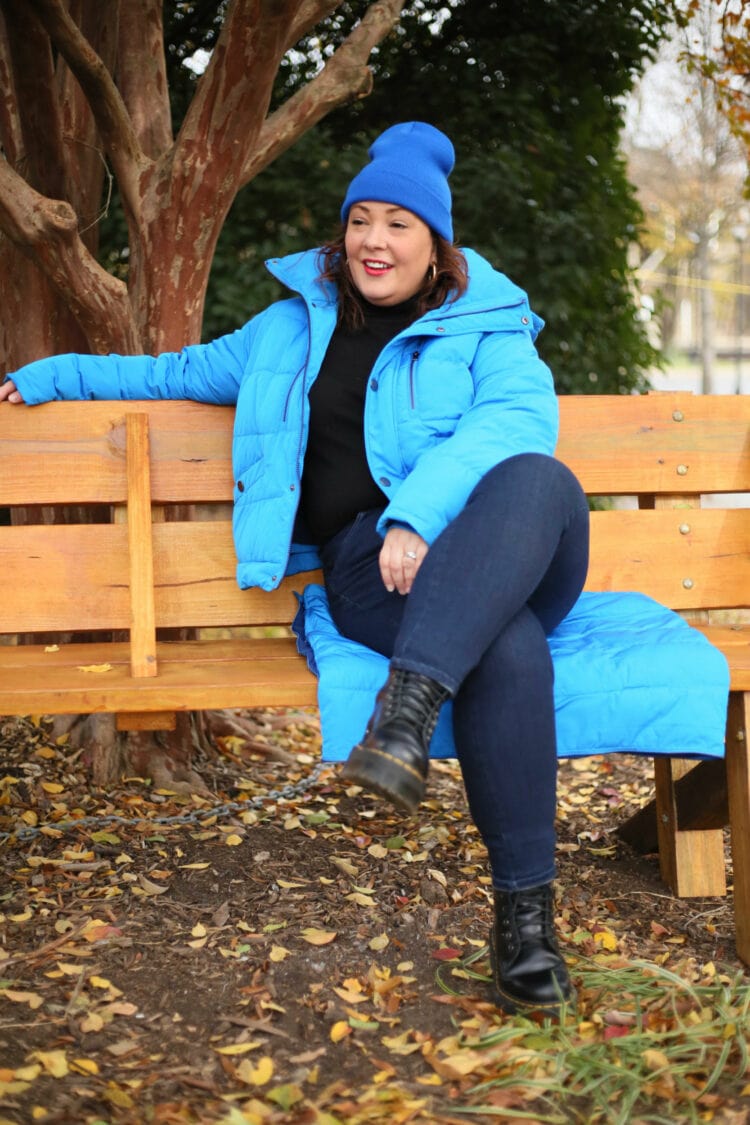 Cuffed Brim Beanie
The Cuffed Brim Beanie is an easy piece to pass on during the sample sale, but I actually really love this hat. I got one two years ago and fight over it with my husband and daughter because we all find it to be smartly shaped and that it doesn't get all pilled and raggedy looking. Also the colors are so fantastic, I am thinking of snagging another one! On sale for just $10 which is 74% off.
Happy Shopping!
I know it's scary to shop a sample sale when the purchases are final and want to help you make the most informed decisions when it comes to spending your money. I hope you find this post helpful! And don't forget to use my promo code INFS-SSALISON to save an additional 10% off on these fantastic prices!
Do share your feedback on the Universal Standard sample sale items in the comments to help out other readers, and be sure to stop by the Wardrobe Oxygen Community on Facebook where we often discuss this brand as well as other fashion retailers!