This article may contain affiliate links; if you click on a shopping link and make a purchase I may receive a commission. As an Amazon Associate, I earn from qualifying purchases.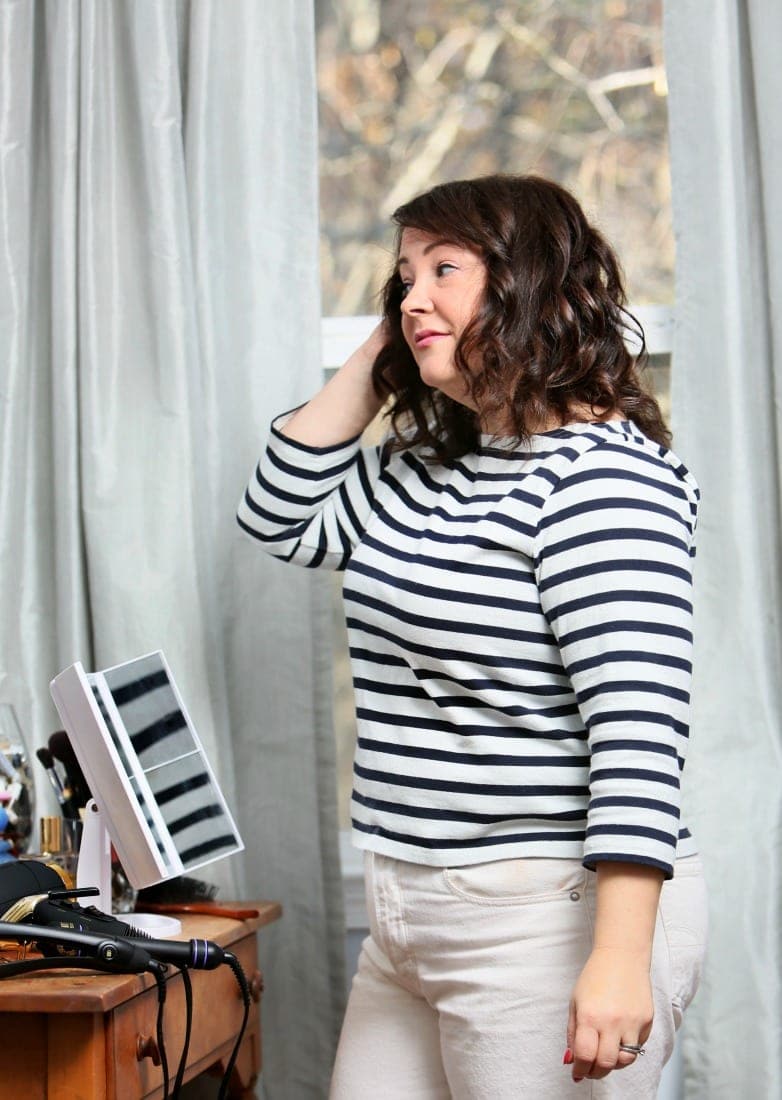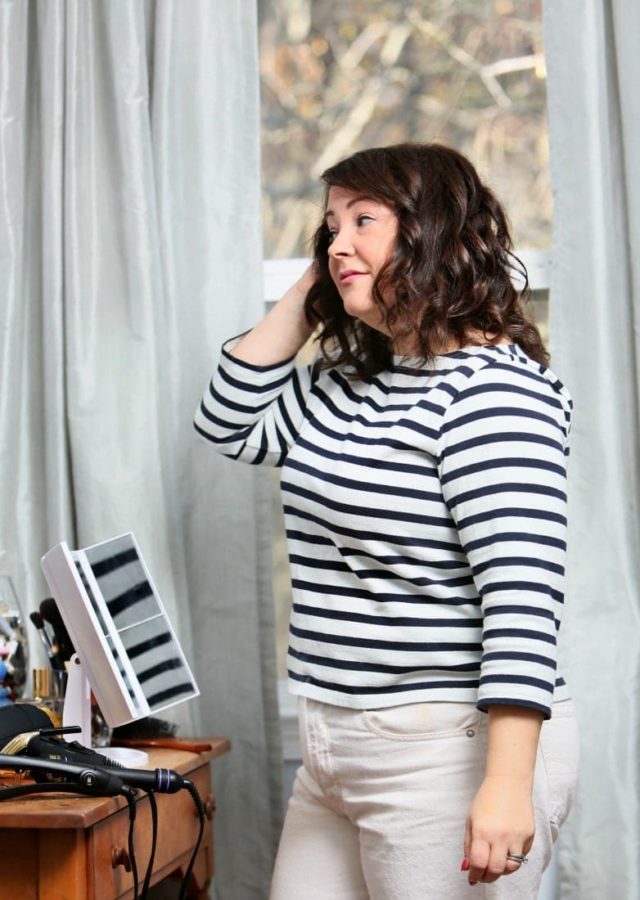 While my hair is curly in the hot and humid months of summer, when the temps drop so does my hair. My hair is limper, drier, and doesn't keep a natural curl. However, I have found that in fall and winter, my hair is more receptive to using styling tools. In the summer, a flat iron seems like a hopeless cause against curl and frizz, but in the winter it helps me achieve smooth and sleek tresses. Hot Tools invited me to try three products from their Signature Series collection and I decided to take the opportunity to explain how I style my medium length wavy hair in the fall and winter.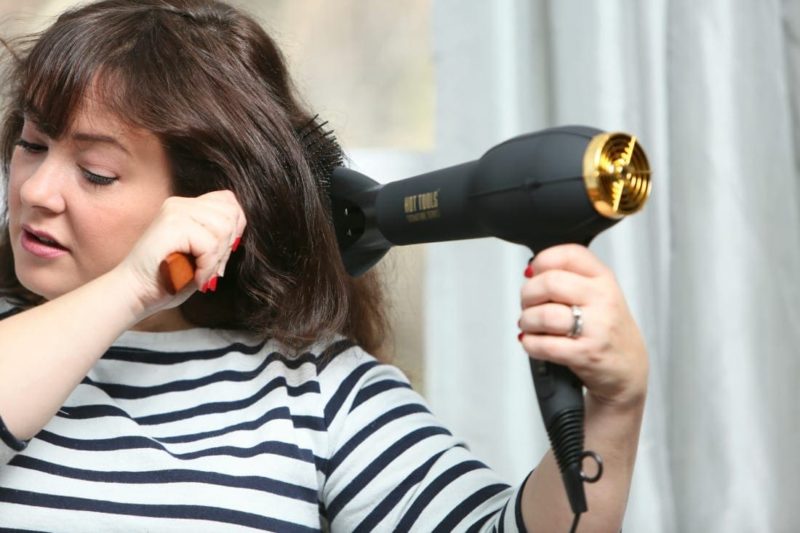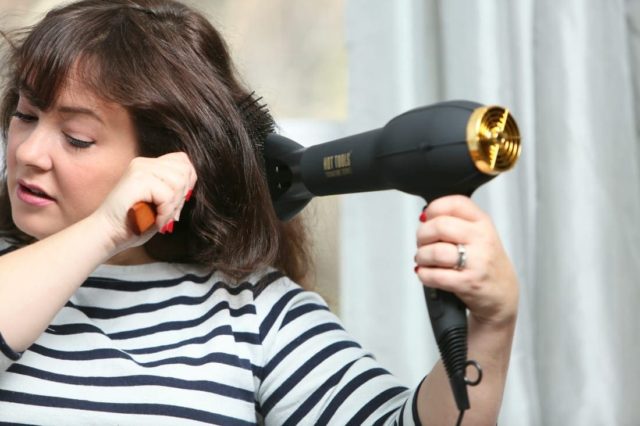 How I Style My Medium Length Wavy Hair
How I style my medium length wavy hair varies on my mood and outfit, but here I will focus on what methods and tools I use to achieve my everyday wavy look with bangs.
With the length of my hair and the thickness, I like to rough dry my hair with a paddle brush. I use a nozzle on the hairdryer to direct the heat and reduce frizziness. I use the paddle brush to direct my hair away from my face, brush down my bangs and swipe them from side to side to get them to lay flat but also curve with the shape of my forehead, and lift up hair in the back to add volume at the crown.
The Hot Tools Signature Series Salon Turbo Ionic Dryer is designed to help reduce frizz and static and I love that it comes with both a concentrator nozzle and a diffuser so it works with my summer and winter hairstyles.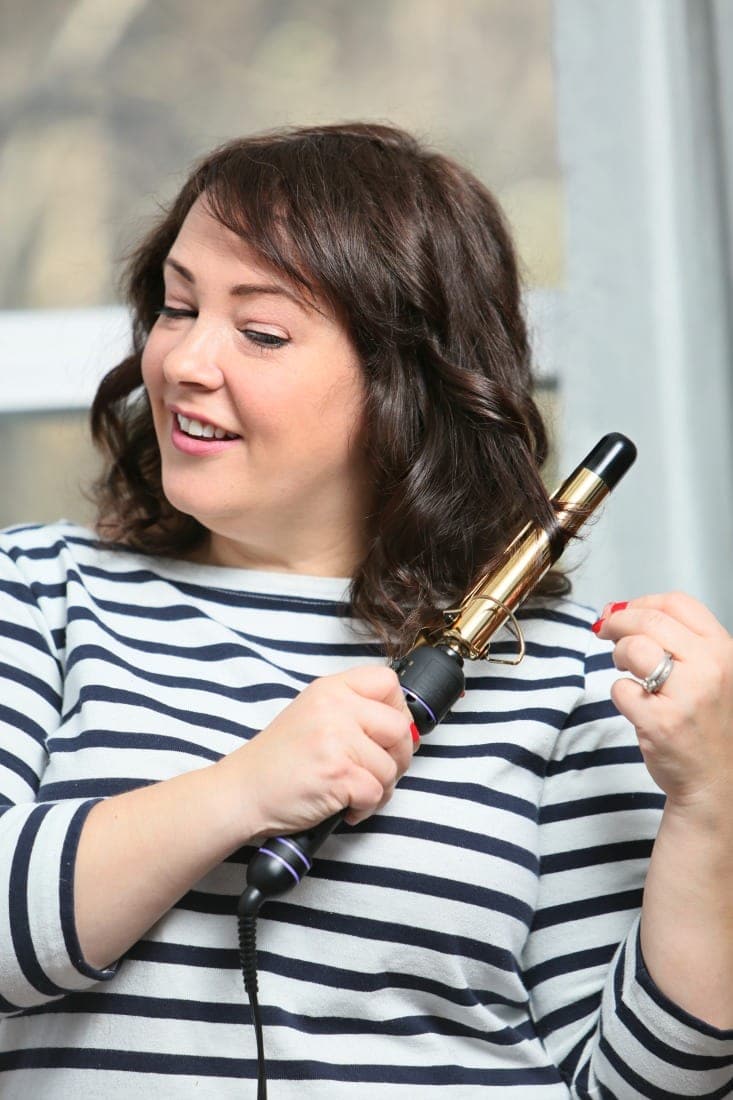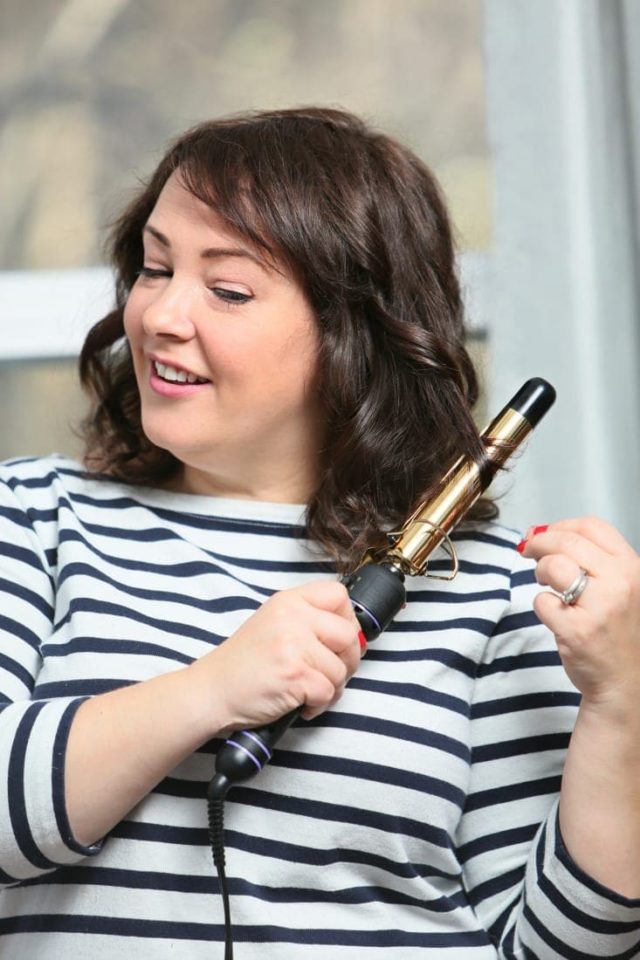 After my hair is fully dry, I take sections and curl them with a 1″ barrel curling iron. While the first pieces near my face are curled away from my face, the rest is curled randomly. I am not too particular with these curls, but I do try to curl the hair in a spiral down the barrel of the iron. This will provide wave; if you curl the hair over itself you'll end up with more volume.
The Hot Tools Signature Series Salon Gold 1" Curling Iron has gold technology to hold curls longer and can heat up to 430°F. This is by far the nicest curling iron I have ever had; it feels so… ergonomic in the hand, it's gentle yet clamps the hair in place, I can adjust the temperature easily, and unlike my old curling iron, I won't accidentally turn off the iron when curling my hair.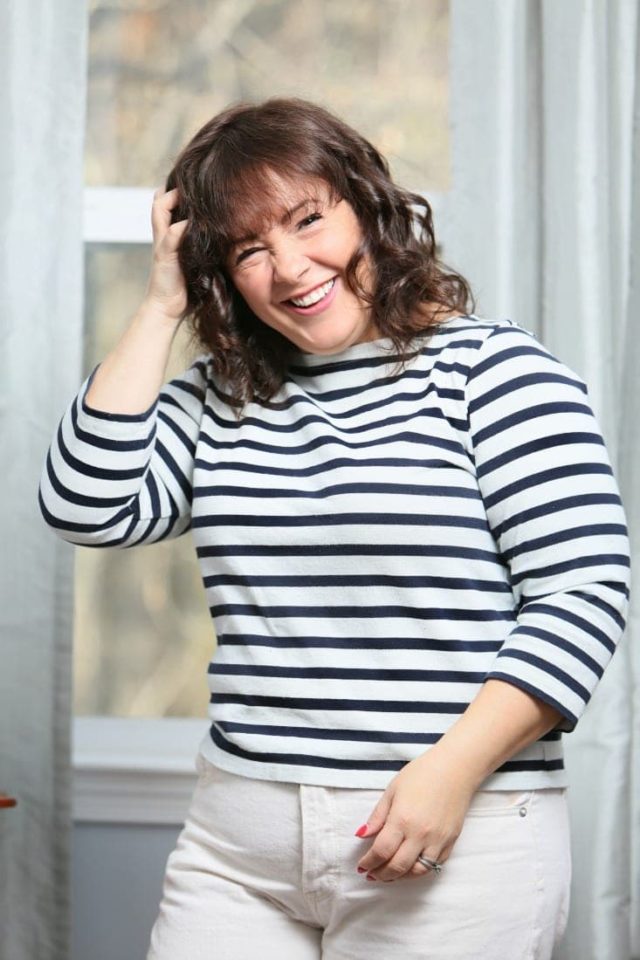 After the curls cool, I use my fingers to shake out the curls to get a more natural look. If I want a more relaxed look, I will brush out the curls with the paddle brush.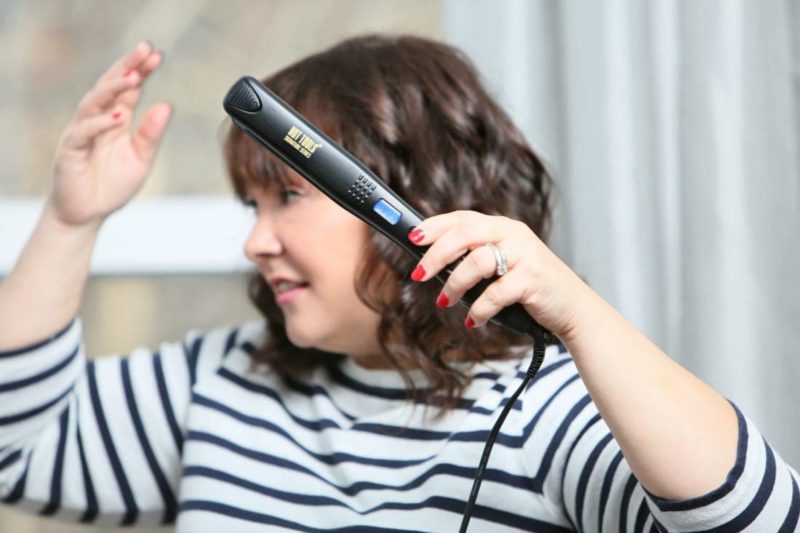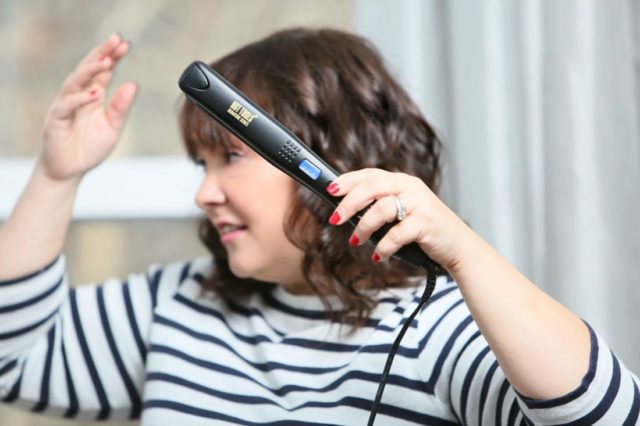 Often my bangs will flip up or out; when that happens I like to use a flat iron to smooth my bangs. I also love a flat iron for the days when I want to rock straight hair without frizziness. The Hot Tools Salon 1″ Flat Iron has ceramic technology to reduce frizz and adjustable temperature that goes up to 440°F.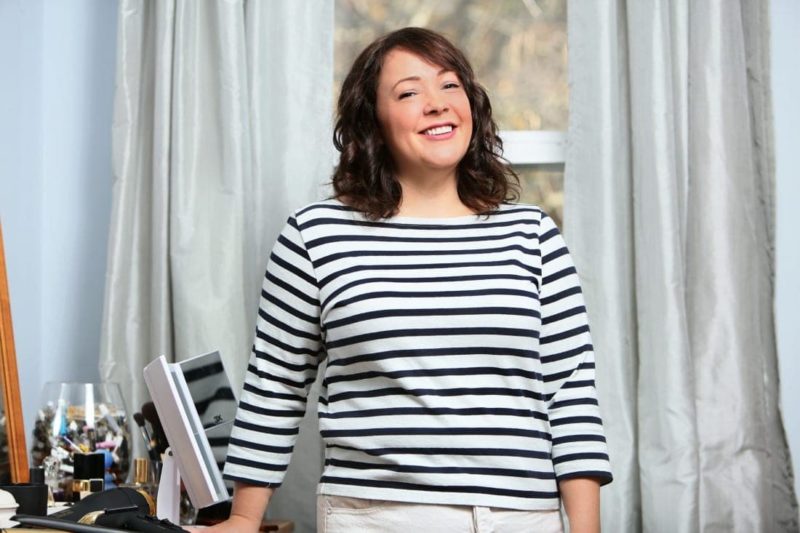 I don't use a lot of product in my hair; often I go with my hair just like this. If I want to define the wave, I'll add a shine serum to my hair. If I want more body, I'll use a texturizing spray. If it's going to be a long day or one where I may get warm (dancing, a party) I'll hit the whole hair with aerosol hair spray sort of like a humidity shield. Sometimes I wear my bangs down, but since I'm due for a bang trim, I swept them to the side. This is a hairstyle that is pretty flexible but that flexibility comes from the right tools.