This article may contain affiliate links; if you click on a shopping link and make a purchase I may receive a commission. As an Amazon Associate, I earn from qualifying purchases.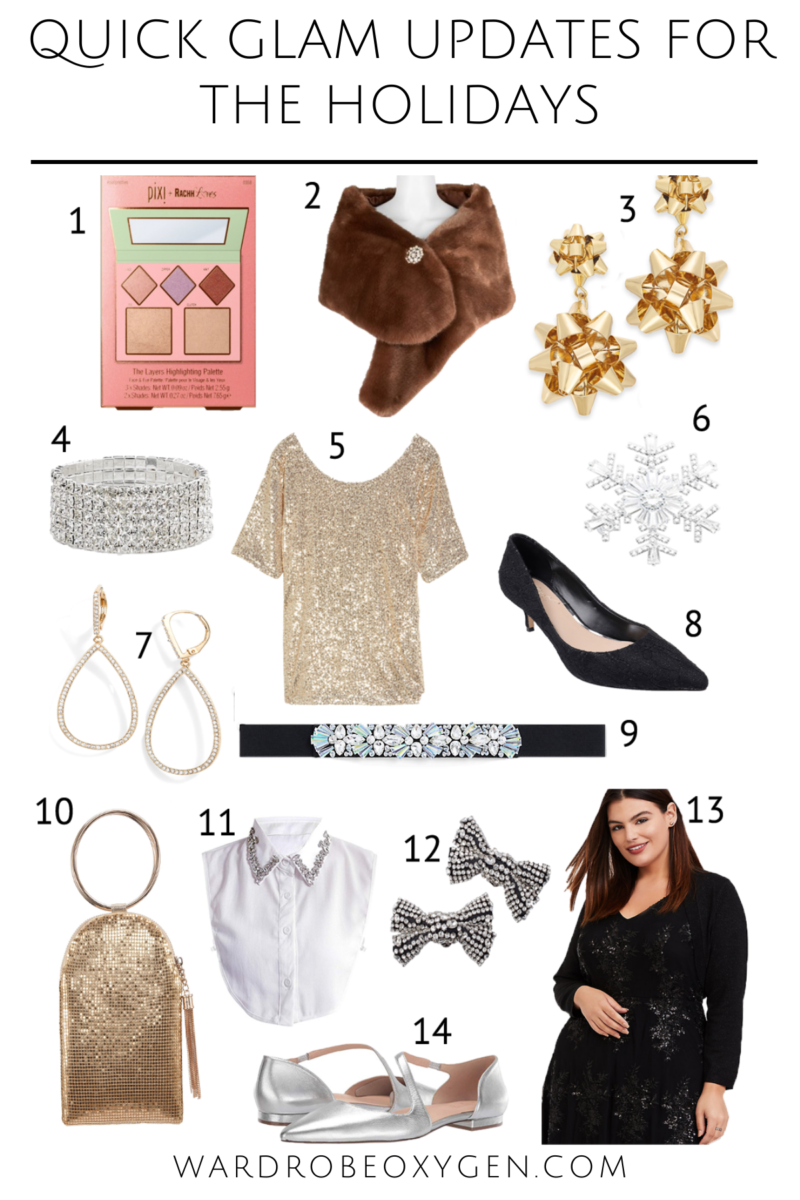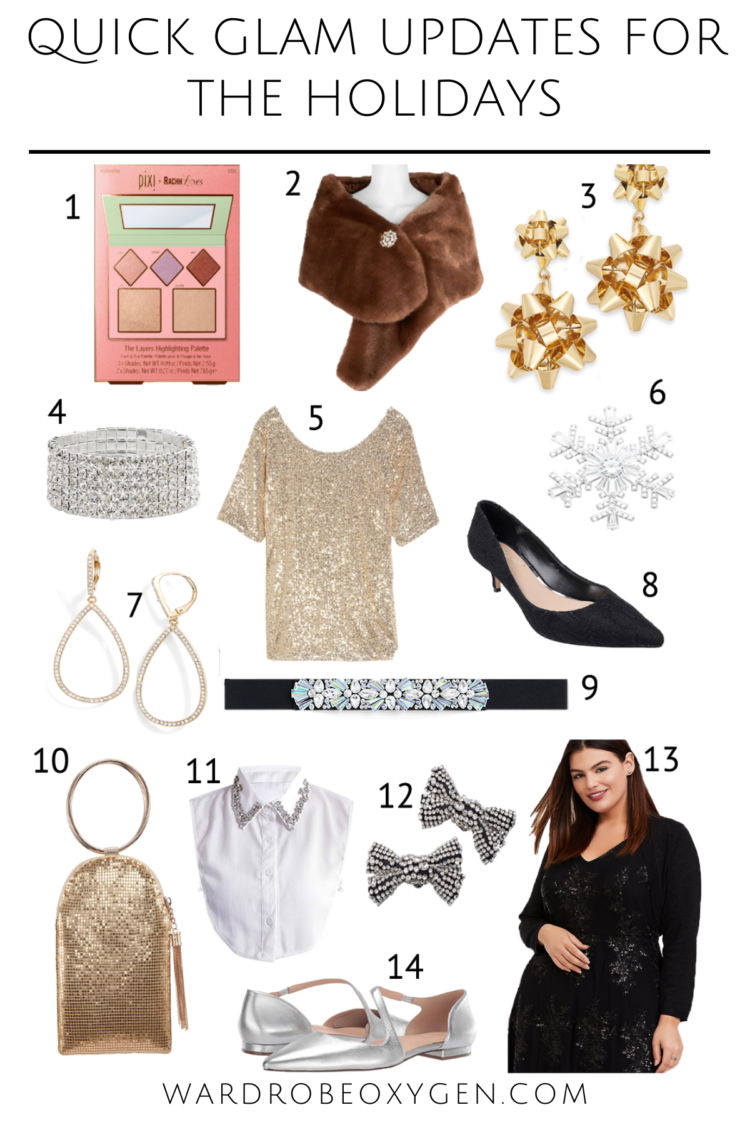 It's so easy to get caught in buying a last-minute look this time of year. A work event, a neighbor's party that suddenly has a festive dress code, a friend needs a Plus One last minute for her gala. Last-minute buys are rarely good buys, they're often worn once and if they're worn more often it's usually because we feel guilt from the cost instead of wearing because we enjoy it. I recommend having some dressy accessories at the ready to glam up the staples already residing in your closet. They cost less, are more versatile, and way more fun. I've searched the internet for some great pieces to update your current closet with some holiday glam!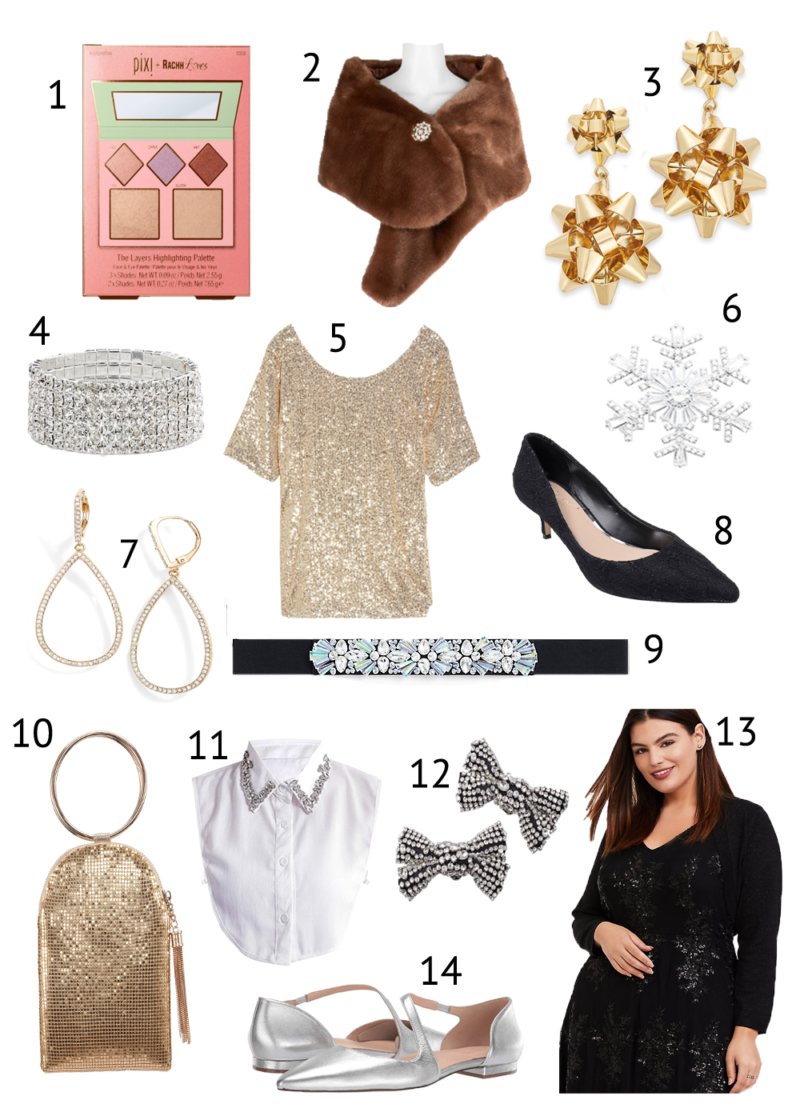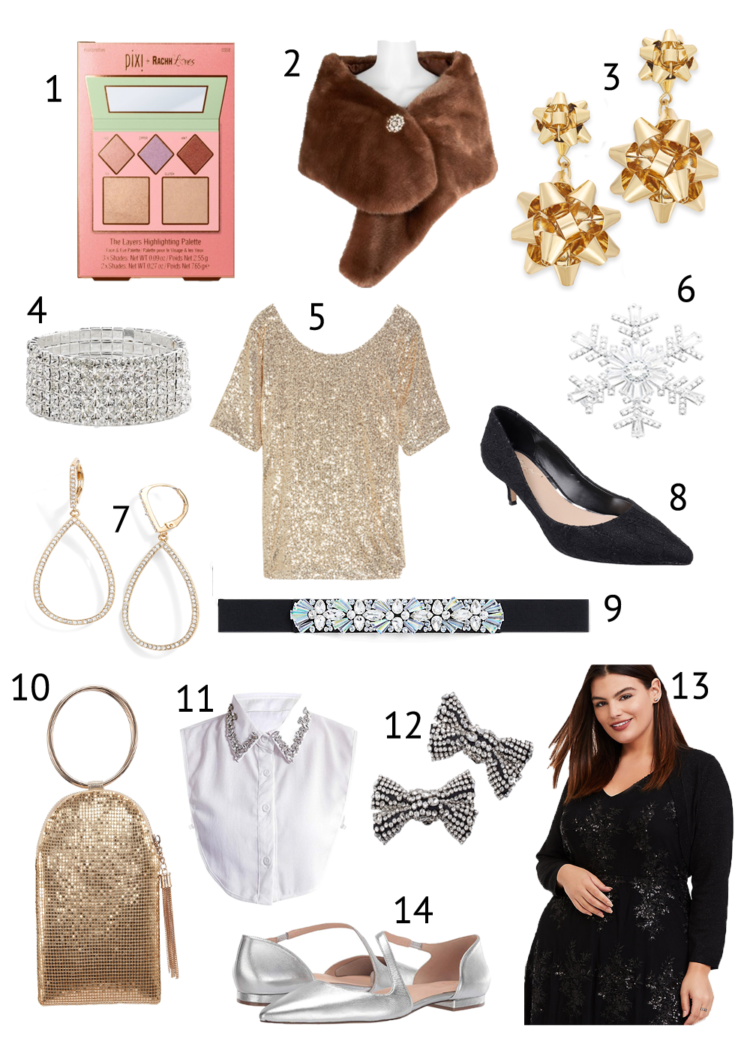 I recently received this highlighter kit from Pixi and am OBSESSED. No glitter, able to do a light hand or turn yourself into a disco ball without any makeup skills. Use your finger for a stronger look on lids (the blue is actually sheer with a subtle cool finish, the others are warmer), use a fluffy brush (I have this budget-friendly one) along your cheekbones, brow bone, and your collarbone just for a bit of a glow. Toss this in your work bag with the brush for a quick desk to drinks look over your all-day makeup!
Baby it's cold outside. For all your dressy dresses, this fur wrap is perfect. Comes in three colors and is chic enough to even leave on if there's a draft indoors.
Way more chic than an ugly Christmas sweater. Throw on these earrings (available in two colors) and your work outfit or weekend look will suddenly appear festive! And unlike clothing, earrings like these can be worn year after year and still get the same compliments while costing a fraction of the price!
A bracelet… or a sweater cuff? I bought two similar stretch crystal bracelets over a decade ago on clearance at a price similar to these. I wear them all the time. One alone looks beautiful, but wear one on each wrist over your turtleneck for wintry icy glam, or one on each bare wrist with a simple black work sheath and it's suddenly the perfect cocktail dress.
A sparkly blouse is a wardrobe must. This is the kind that you can wear with jeans for a night out with the girls, put under your black office suit for a dressy networking event, pair with black wide-leg pants for a party, or even a pencil skirt for a cocktail party. Here is the link for it in plus sizes.
I own and love this pin. Like the earrings above, it's something I've had in my jewelry box for years. Add to your sweater (like I did in this post), your blazer, use it to pin together a scarf or fur wrap like I did here, or the label of your wool winter coat and you're suddenly festive and for very little money!
Just the right size, and the right sparkle. Not too heavy, not too much of a statement, but enough size and sparkle to glam up your not-so-little black dress for a holiday event. Two colors to choose from.
A dressy shoe in a walkable heel height. This elegant kitten heel pump comes in three dressy colors and fabrics and is just the right height for formality without foot pain.
The belt you didn't know you needed. I have a very similar belt and wore it here. Replace a xelf belt or that skinny cheap belt that came with the otherwise great dress, slide it through the belt loops of your jeans or trousers, cinch a cardigan, and much more. The rhinestones will add glamour to any outfit.
Hold your drink and your purse at the same time. I have a bag very similar to this and I love it for parties and cocktail parties. It's big enough to hold my phone, lipstick, and wallet essentials and fits on my wrist like a bracelet keeping my hands free for hors d'ourves and cocktails. Four colors to choose from and under $60.
Add some sparkle to your sweaters without bulk. Remember dickies? They're so good for certain situations, creating the look of a collared shirt under a layering piece. I love an embellished one to slip under your favorite merino and cashmere sweaters to provide a festive effect.
Update your flats and pumps. A pair of shoe clips are great for adding a festive touch to shoes already residing in your closet! I have shoe clips and they're such a fun way to give a second life to your existing footwear wardrobe!
Sleeves without hiding your dress. Yes, shrugs are still a thing and they are the best for keeping warm without ruining the line of your dress. This one is a fantastic price and has a great size range.
Comfy yet festive flats. With an elongated toe and metallic finish, these flats will look great with trousers of all silhouettes and many of your dresses. Three widths available.
Shop the Post: