This article may contain affiliate links; if you click on a shopping link and make a purchase I may receive a commission. As an Amazon Associate, I earn from qualifying purchases.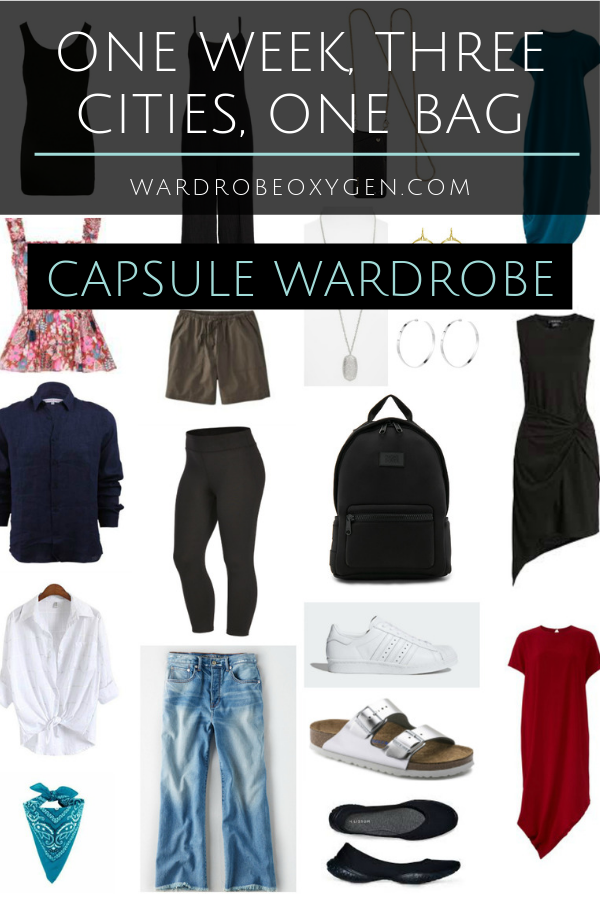 I have been sharing our family road trip on Instagram Stories and several have DMed asking me what I packed to wear. We spent three nights in Philadelphia, two nights in New York City, and two nights right outside of Boston before we came to Vermont. One week of city sightseeing, lots of walking in the heat and spending several hours away from our room with the occasional nice meal out. While we have our car for this trip, we didn't want to have a ton of clothes to deal with so we each packed a capsule wardrobe to fit in one carry-on sized bag (I fit it all in the Tom Bihn Aeronaut). Because our Vermont part of the trip is so different from the first half, I am going to focus this capsule wardrobe on the time visiting cities. Below I share my one-week vacation capsule wardrobe, how I mixed and matched, and where each look was worn.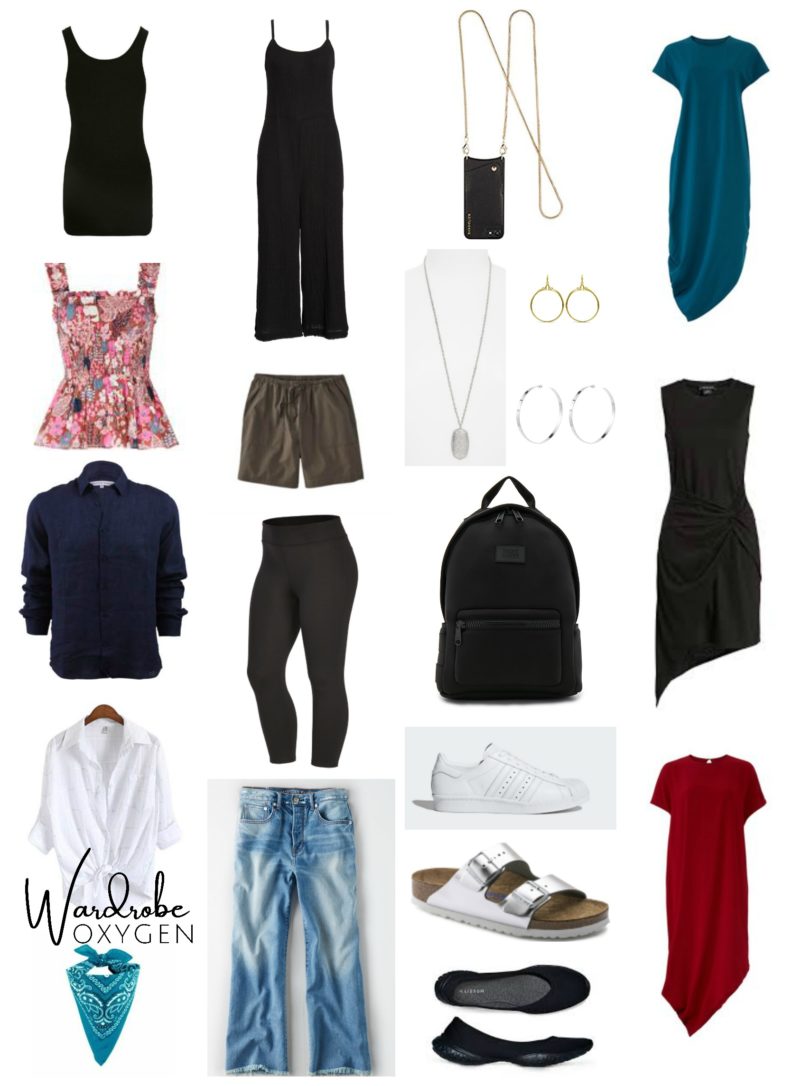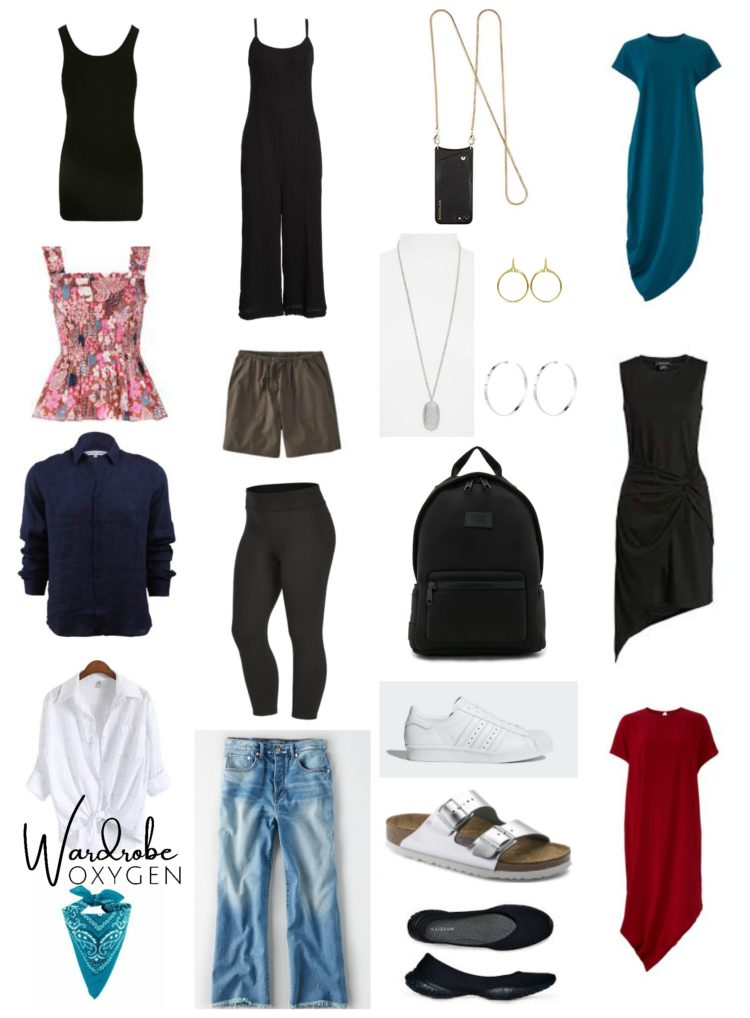 What I Packed: One Week, One Carry-on, Three Cities
Below I share links to the exact items I took and the sizes that fit me; if the item is no longer in stock I linked to something similar:
Blue dress (XS Petite) | Red dress (XS Petite) | Olive chino shorts (LP) | Navy no-iron linen shirt (14; sold out – similar) | White no-iron linen shirt (2) | Cropped wide-leg jeans (14 Short) | Black sleeveless dress (L) | Black jumpsuit (L) | Floral suntop (XL; rented through RTR Unlimited) | Black tunic tank (L) | Black lightweight capri leggings (L) | Black flats | Silver leather sandals | White sneakers | Phone case on chain | Black backpack | Gold earrings | Silver hoop earrings | Silver long pendant (old; similar) | Silver cuff (old; budget-friendly version) | Sunglasses (not shown but in collages below) | bandana

Sample Outfits from the Capsule Wardrobe
Below I share graphics of some of the outfits I wore or could have worn from my capsule wardrobe. With 11 separates, I created 18 looks though there are many other looks possible with this combination of clothing. To view the slideshow, click on any thumbnail and use the arrows to navigate. Either use the X or click outside the slideshow to return to this screen.
Day 1 : DC to Philadelphia
Drive to Philadelphia: Blue dress, silver sandals, silver hoops and cuff
Dinner in the city: Red dress, black flats, gold earrings, iPhone holder on chain
This day is proof of how versatile this dress is.  I usually don't put duplicates in a capsule wardrobe, but this dress glams up or dresses down so easily.  While it's as comfortable as a t-shirt, the asymmetrical hemline and gathering give it elegance.  With sandals, it's casual and with flats, it dresses up for dinner at a nice restaurant.  This dress comes in sizes 0-40, regular and petite lengths.
The iPhone on a chain is my equivalent of a clutch purse, but tourist version.  The chain dresses it up, I can wear it crossbody or as a shoulder bag.  I also purchased this additional pouch to attach to it; the case itself has a pocket for ID and cards but the pouch can hold my lipgloss, cash, and other essentials.  I love Bandolier cases, they all come with straps and pockets, but there are a variety of styles, colors, and sizes for different phones.  You can shop some styles at this link.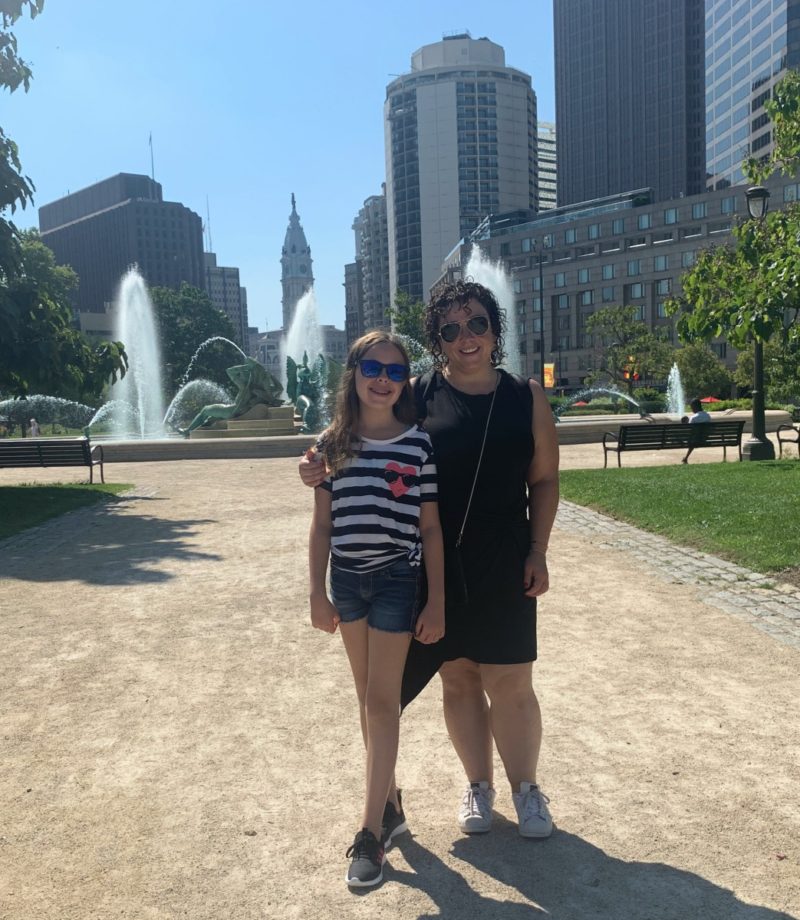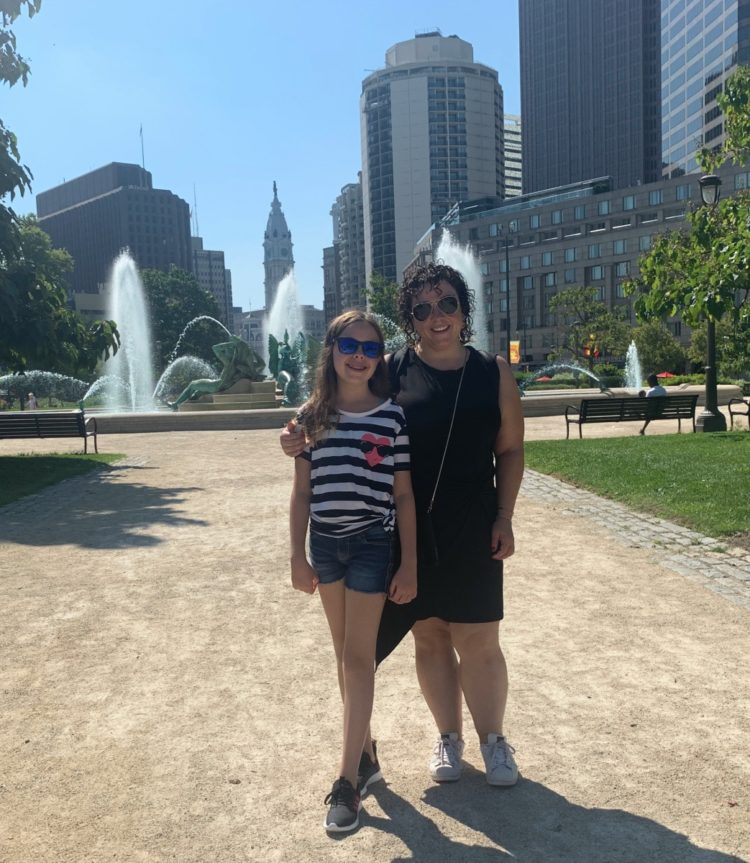 Day 2: Sightseeing in Philadelphia
Sightseeing: Black sleeveless dress, white sneakers, black backpack, silver hoops and cuff, black sunglasses, iPhone case on chain
I've had this dress since last summer and adore it; here you can see me wear it with a denim jacket. It has washed up nicely (gentle cycle, line dry), is comfortable, but the wrap detail and asymmetrical hemline keep it from looking boring. With a pair of slip shorts underneath. I'm really loving the cooling version from Thigh Society which has two rises, available up to 4XL, and free shipping on all orders over $50 (yes you too international readers!). I was comfortable walking miles in the heat. I wore these sneakers with these insoles recently to a music festival and the combination kept my feet happy all day. And they were great for walking around Philly too. Here is the link to my arch support insoles review. I've had this backpack for a couple of years and it's great for travel. The all-black hardware and branding make it look sleek, the padded straps are comfortable even when worn for hours with heavy weight in it, and the pockets make it easy to keep things organized. Here is my original Dagne Dover Dakota backpack review.
Since we were staying at the Windsor Suites which has a full kitchen and it rained that evening, we made dinner in our hotel room and enjoyed playing "Head's Up" as a family and I just wore my pajamas!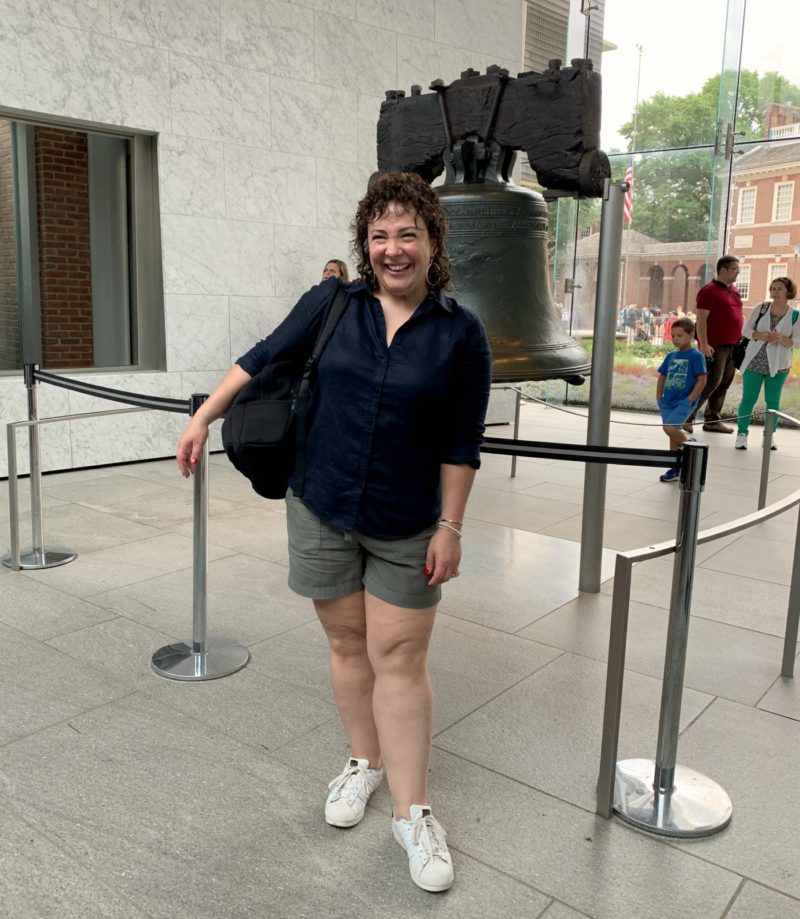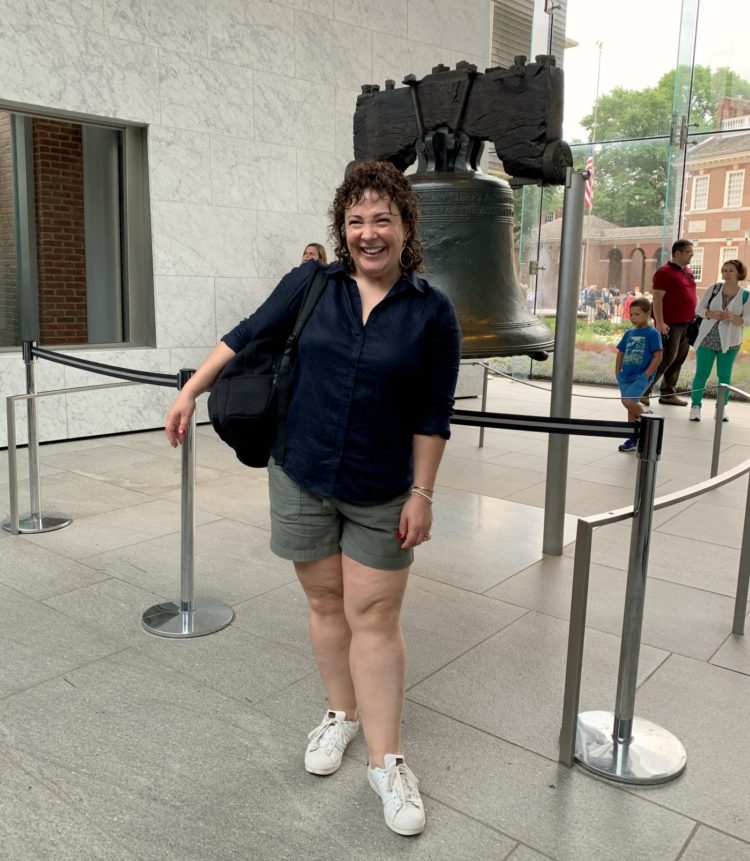 Day 3: More of Philadelphia
Sightseeing: Navy linen shirt, chino shorts, white sneakers, black backpack, gold earrings, black sunglasses
Our second day in Philadelphia had the occasional rain shower and was incredibly humid. Linen was a perfect choice for keeping as comfortable as possible in the weather. I brought along this raincoat which shoved into the backpack with my daughter's raincoat just fine when it was dry, yet when it rained it looked polished. By the time we finished our day, we were all soaking wet from rain and sweat; I hand washed the shorts and hung them to dry but threw the shirt into the laundry bag.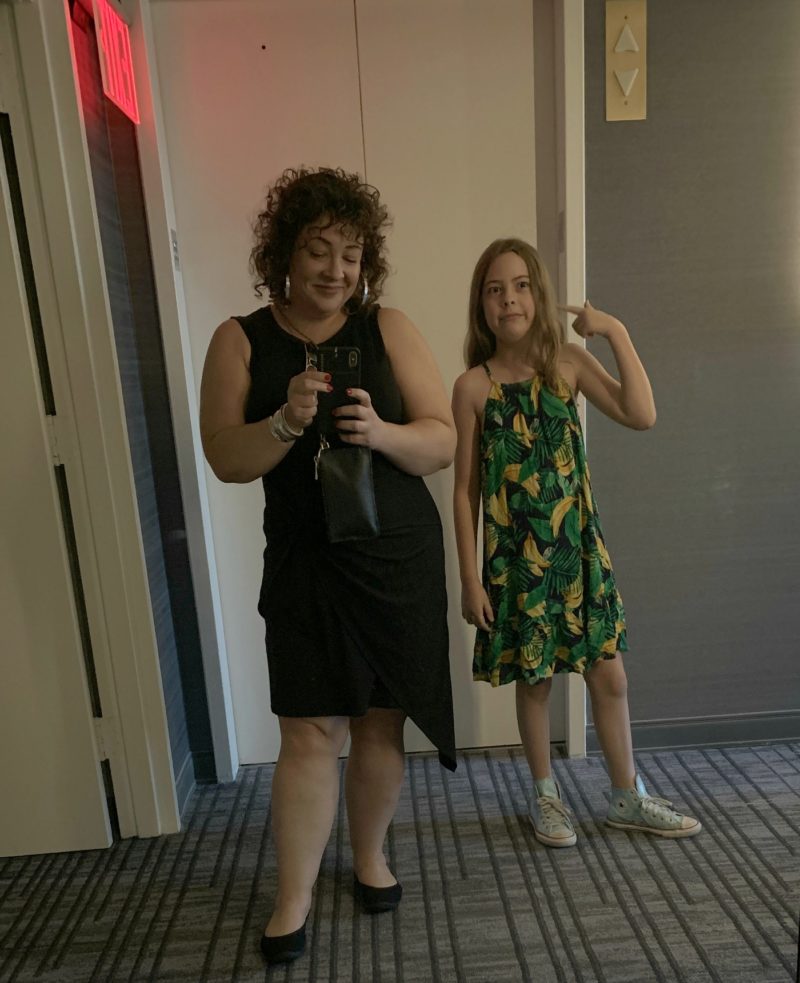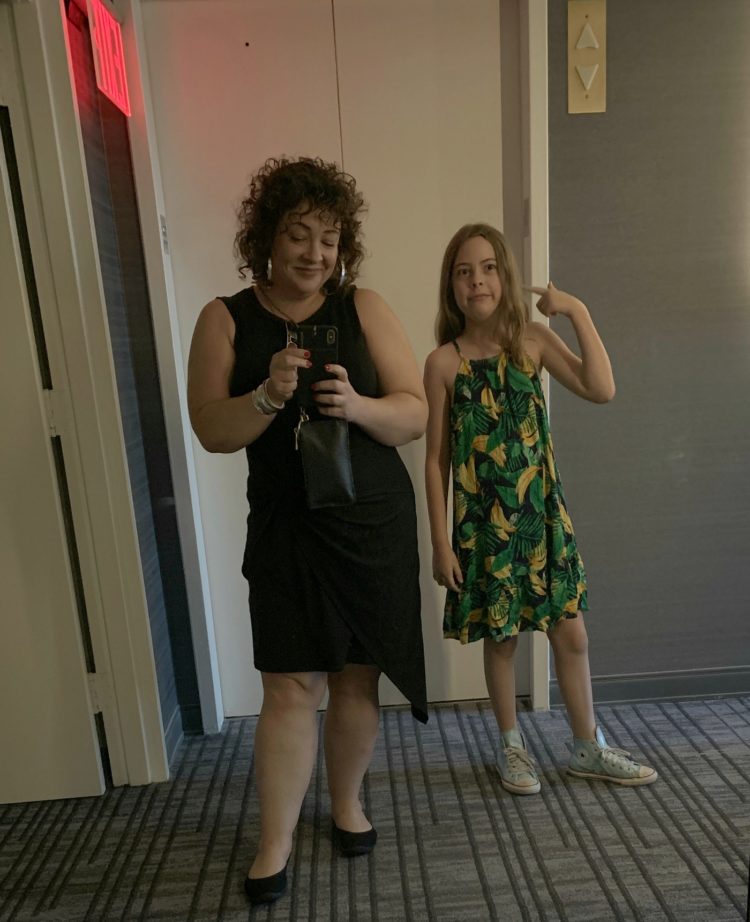 Day 4: Philadelphia to NYC
Drive to NYC and then sightseeing: Black jumpsuit, silver sandals, silver hoops, silver cuff, black sunglasses, iPhone case on chain
Dinner: Black sleeveless dress, black flats, silver hoops and cuff, iPhone case on chain
This jumpsuit is a super lightweight almost gauzy fabric; with the loose fit it's very comfortable in the heat and it doesn't wrinkle.  My black bra strap was skinny enough to hide into the strap of the jumpsuit. These sandals are on their second summer and broken in where I can walk a mile with comfort.   For dinner, switching out the white sneakers for black flats made the dress from the first day in Philly appropriate for an Italian restaurant.
These flats are fantastic; they aren't super dressy but they blend in and are so comfortable I can walk a mile in them without pain.  They also have great grip on slick sidewalks. If you are interested in learning more about these unique flats, read my honest LISSOM flats review.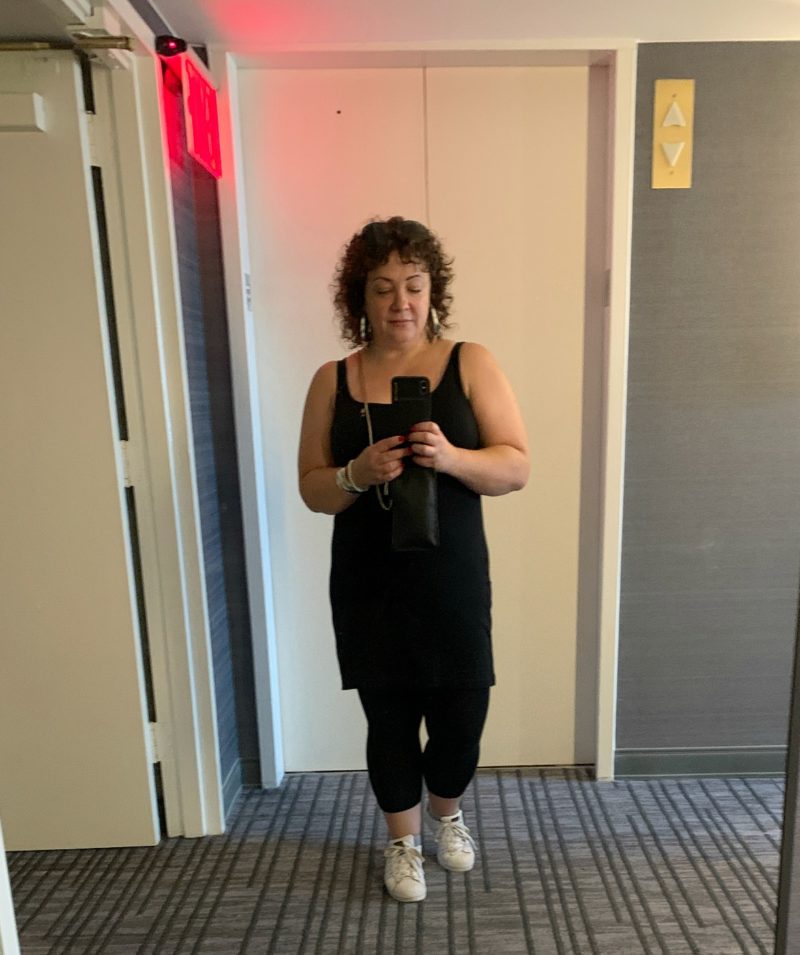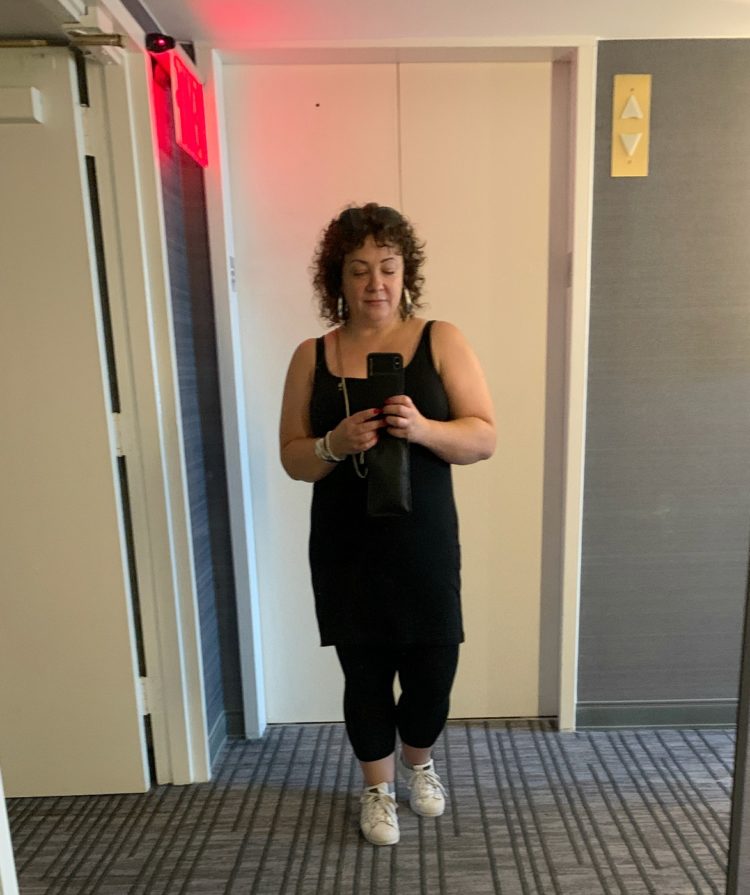 Day 5: Sightseeing in NYC
Visiting Coney Island and sightseeing in the city: black tank tunic, black capri leggings, white sneakers, black backpack, silver pendant, silver cuff, black sunglasses
Dinner and sightseeing: red dress, silver pendant and cuff, silver sandals, iPhone on chain
This look with a denim jacket is one of my favorite looks to wear for flights. The leggings are lightweight, the tank is dress length on me. I usually wear with my LISSOM flats or Birkenstocks but since we'd do a lot of walking I chose the sneakers. This was comfortable, not too heavy, and the jewelry dressed it up enough for lunch at a lovely restaurant on the water.
The same look I wore the first night in Philadelphia, but because it was a more casual restaurant I switched out the flats for the Birks. It was a good outfit after to wear walking down to South Street Seaport. Again, a pair of slipshorts underneath prevented chafing.
Day 6: NYC to Boston
Drive to Boston: red dress, silver sandals
Dinner: black jumpsuit, silver sandals, silver cuff and hoops
Typical me, I spilled some marinara on my dress the night before. I spot cleaned in the hotel sink and it dried while wearing it.
We grabbed dinner at a sushi place in the town where our hotel was just outside the city. Nothing super fancy, the jumpsuit was comfortable and easy.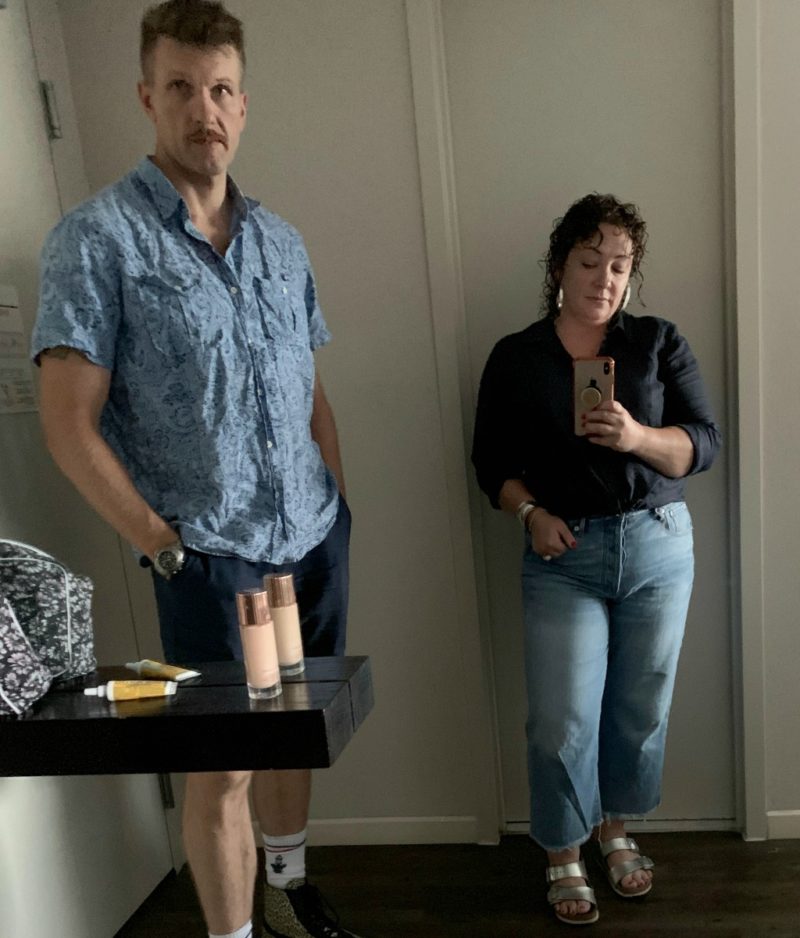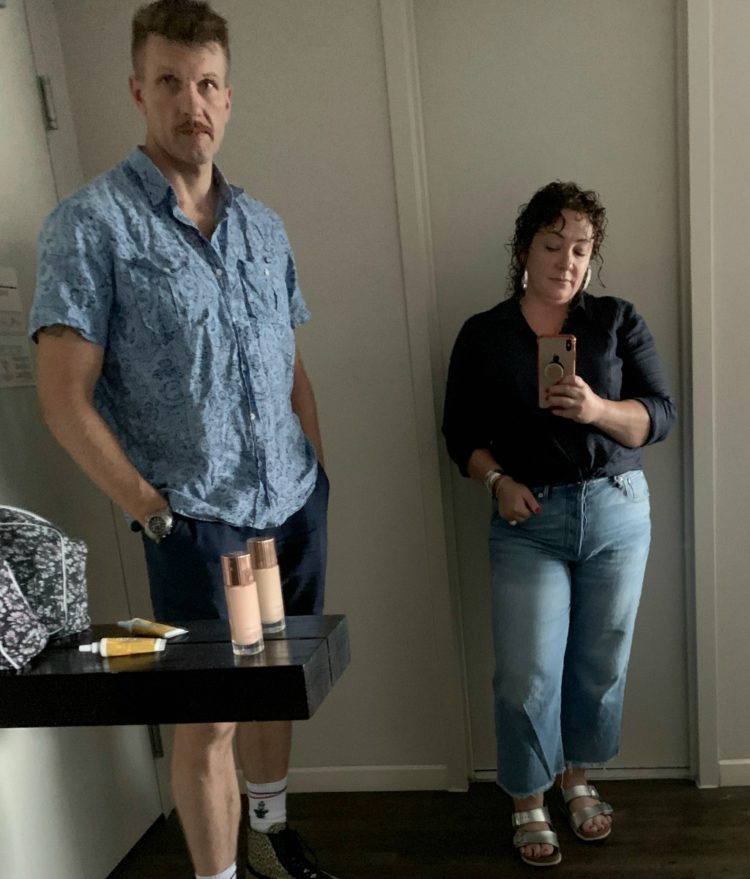 Day 7: Sightseeing in Boston
Sightseeing: floral top, chino shorts, white sneakers, gold earrings, black backpack
Dinner: Jeans, navy linen shirt, silver sandals, silver earrings and cuff
A warm and sunny day in Boston, I decided to wear this top which is fun and girly but provides great airflow. This was the day with plenty of walking and not a lot of shade and thanks to sunscreen, I was comfortable and dressed in line with everyone else enjoying the city on that Saturday.
The shirt turned out remarkably well for being washed in a sink; it was a bit crumpled so I rolled the sleeves and knotted it at the waist to make it look purposeful. Silver hoops to match the shoes, this was a good look for a bistro in town.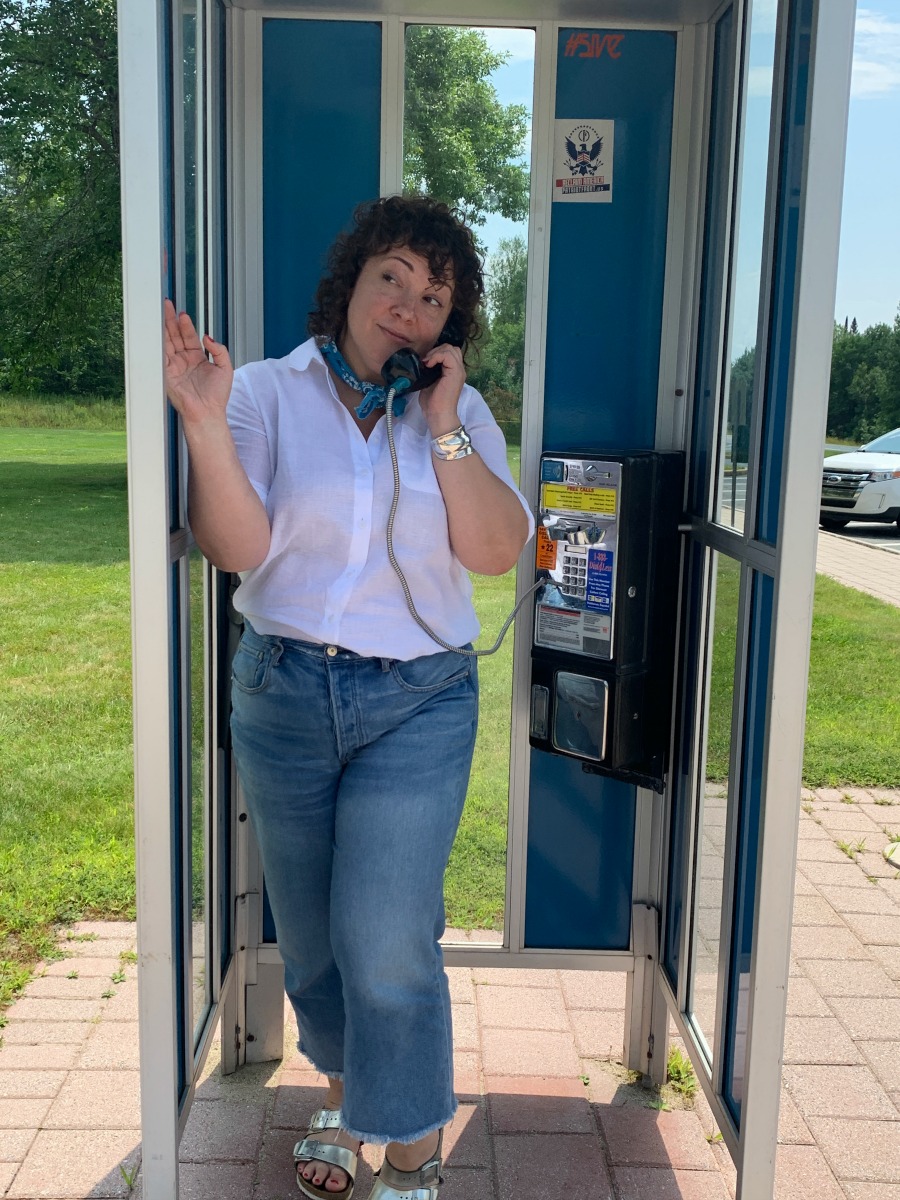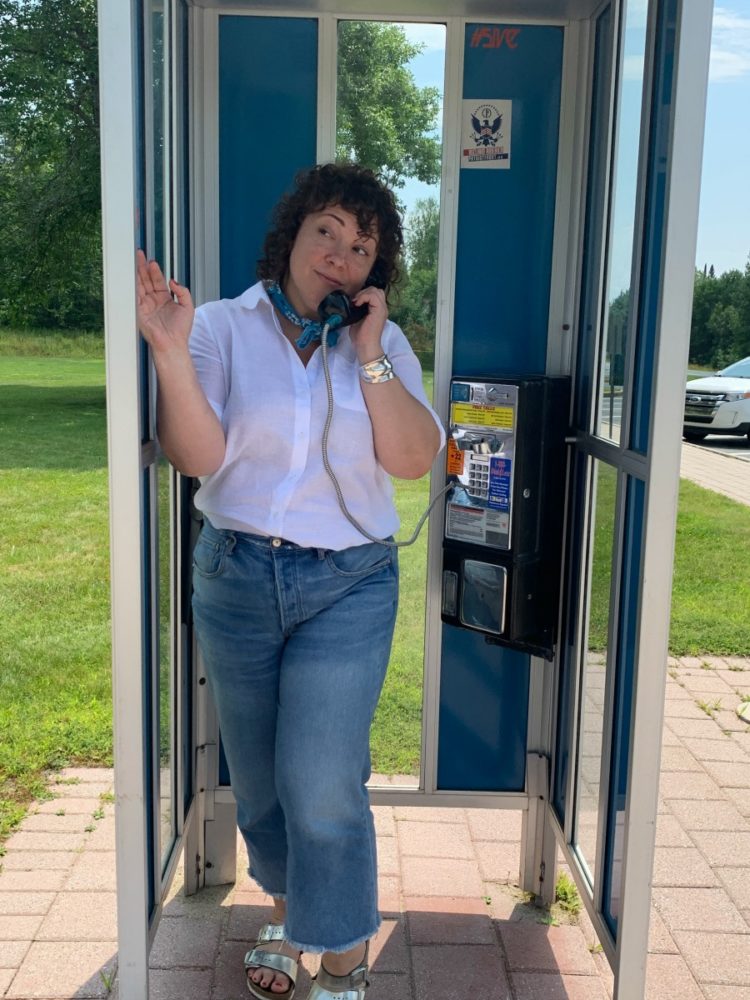 Day 8: Boston to Vermont
Drive to Vermont: jeans, white linen shirt, turquoise bandana, silver sandals
Dinner: husband's black crewneck t-shirt, turquoise bandana, jeans, silver sandals
I tucked and bloused out the shirt and tied a turquoise bandana at my throat for fun. This was comfortable on the ride and a good choice as we dropped off our bags and immediately went to an event with our relatives. It was a performance in a field, I was able to easily kick off my shoes and be comfortable on a blanket in the grass. However, we got caught in a rainstorm and the white shirt became as sheer as tissue paper. I ran to the car where I grabbed a solid black t-shirt that belonged to my husband, changed into that (tucked in, bloused out more in the back than the front).  Dinner was at our relatives' house where we grilled so I didn't see a need to change.
Now that we are in Vermont, the dress code is far more relaxed. I expect I'll be spending the whole time in shorts, tanks and tees, sneakers or Birkenstocks, and the occasional sweatshirt in the evening. I actually packed a packing cube of items just for Vermont. Since it was separate, we could leave it in the car and not have to lug it into each hotel along the way. In it, I had one pair of shorts, three pairs of underwear, three pairs of socks, one bra, two pairs of casual or workout pants, a second bathing suit, water shoes, and a sweatshirt. This way, if we didn't have immediate access to laundry I'd have some fresh clothes for the first half of the trip.  This also affected how much I had in my bag; I wanted pieces that would also work in Vermont.  If I wasn't heading to Vermont I likely would not have packed the jeans or the white linen shirt.
Tips for Packing Less on a Trip: Fewer Clothes but More Style
Plan Outfits Before You Leave. Even if you don't know the exact agenda or the weather, knowing how outfits are styled beforehand will make life easier. Know that this bag or these shoes go with the outfit so there is no guessing game and you can spend your time on enjoying the city.
Mix and Match for Multiple Wears.  No item should have only one purpose, and unless there is a special event on the trip, there should never be only one option for a situation.  What if you tear your shirt or your dress gets caught in a car door?  What if it rains?  What if you get a blister on your foot?  Everything should mix and match and be able to dress up and down relatively easily.  For example, the white linen shirt in my collage.  It was only worn once, but it could be worn tucked into the jeans, worn untucked with the olive shorts, tied over the black jumpsuit, worn open over the black tunic dress and leggings. The chino shorts and the jeans looked good with every top.  The black tunic could be tucked in and worn as a tank, has been left untucked over the jeans and worn with a long pendant necklace, and can be a swimsuit coverup.
Think Practical and Polished. This is my mantra when creating a travel capsule wardrobe. Clothing that can be spot cleaned or even hand washed in a hotel sink. Fabrics that will hold up in heat and humidity. Looks that are refined and tailored but not terribly memorable so I look clean and presentable even if it's the third time I'm wearing the outfit. I don't pack a lot of prints; solids mix and match better and are more easily dressed up.
Be Stingy with Clothes, not Shoes. Nothing will ruin your trip more than bad shoes. Unless I have a special event, I don't pack heels and make sure all of my shoes can be worn to walk for an hour straight. Have variety; if you wear the same exact shoes every day they don't get a chance to dry and cool off and are more likely to stretch out or cause blisters. Also, have a backup. I've been on trips where my main shoes got wet or damaged and learned the hard way. For example, for this trip, I brought not only my walking sneakers but gym sneakers. I had a different pair for working out but they were also backup in case my walking shoes weren't available.
Use Accessories to Set the Tone. My Universal Standard dresses can go from being a beach coverup to a cocktail dress with a change of shoes and jewelry. Accessories don't take a lot of space. I recommend bringing one dressier bag (I used the Bandolier since I wanted my hands free and knew I wouldn't go anywhere super dressy), one pair of shoes that can blend in at a dressy occasion (black flats, a nude-to-you flat or sandal in good condition, or a metallic sandal), and a few accessories to change up looks (a statement earrings, a long pendant necklace, a neck scarf are good choices).
Overpack Underpinnings. Even if I expect to wear sandals for some days, I bring one pair of socks for each day. I also bring two pairs of underwear for each day, and three bras (one dark, one skin color, one more athletic). Underpinnings don't take up a lot of space and can make a big impact on comfort during a long trip. If you can't fit that much, the next step will help.
Bring Laundry Supplies. I have these packets of Tide that I always keep in my toiletries kit; they're great for doing a quick wash, especially for undergarments. I then just hang them from a clip hanger in the hotel closet (I have also taken these hooks with me on trips but didn't for this specific vacation). I also bring individual Shout Wipes and a small bottle filled with Bac-Out to spot-treat stains.
Shop the Items in the Capsule Wardrobe: