This article may contain affiliate links; if you click on a shopping link and make a purchase I may receive a commission. As an Amazon Associate, I earn from qualifying purchases. 
We've had a few crazy seasons of fashion, where color, statements, and whimsy were embraced. And I think that's great, it gave women a true opportunity to have fun with fashion, to embrace something new and step out of the box that we were in for quite a long while. But when a trend is good, it often ends up becoming too popular and ends up losing all the charm that made it popular in the first place.
I don't believe in chasing every fashion trend, and I believe that if something really fits with your personal style you can wear it even after it has left the retail stores. Look at a street style blog (or Advanced Style my favorite site for style inspiration) and you'll see many a fashionista sporting last year's hemline, heel height, color, or It Bag with amazing style. But if you haven't yet defined your personal style, it's good to be aware of trends, and to know when to let go of passing trends to stay current. Wearing trends past their prime overshadows any progress you have made in defining your personal style. With a new season upon us, I ask you to reexamine the trendy pieces in your wardrobe and decide if you're wearing them because they help define your personal style or if you're riding a trend train that has already left the station.

Bubble Necklaces. When there's a display in Walmart featuring these necklaces in every color of the rainbow for only $5.00, it's time to let the trend go. Bubble necklaces were great, they added a wonderful pop of color to a neutral outfit and really dressed up a simple knit top or dress. Heck, I wore my red bubble necklace to death (see here and here). But this style of necklace is no longer popular. J. Crew started the bubble necklace trend, and you won't find anything on their site that even slightly resembles them. Look at celebs and style bloggers and you'll see they aren't wearing them any more.
Alternative: If you desire a big pop of color on top, consider a scarf; for spring a gauzy lightweight scarf won't add too much bulk or heat and can look very on trend. If you desire a longer necklace, consider a chain with a pendant (a horn, crystal, or natural-inspired piece is current but not too trendy). If you like the bold statement, statement necklaces are still popular, but they're shorter and more about pastels and sparkle than big pieces of primary-colored plastic and enamel.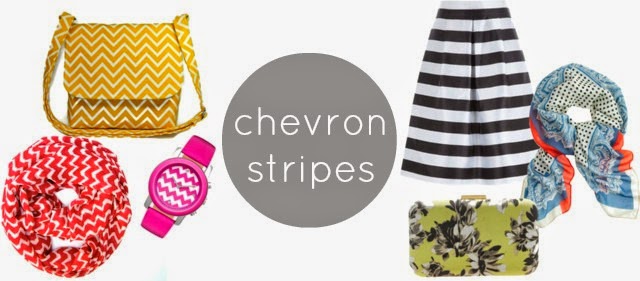 Chevron. Oh gosh, has chevron been popular! From infinity scarves to maxi skirts to area rugs and cell phone covers, I think chevron print will always be synonymous with the beginning of the '10s. Chevrons remain popular for those with a preppy personal style but for others the print may look quite dated.
Alternative: To achieve the clean look of chevron stripes, consider classic straight stripes. This season I've seen a lot of mixing stripes, be it different colors, or a mini stripe mixed with a larger bolder one. If you're looking for a scarf to jazz up wardrobe staples, consider a fun floral, or a mixed-print scarf. But don't be afraid to leave the crispness of chevron and try something a bit softer, more unexpected, or subtle. You may find the transition to be a refreshing change!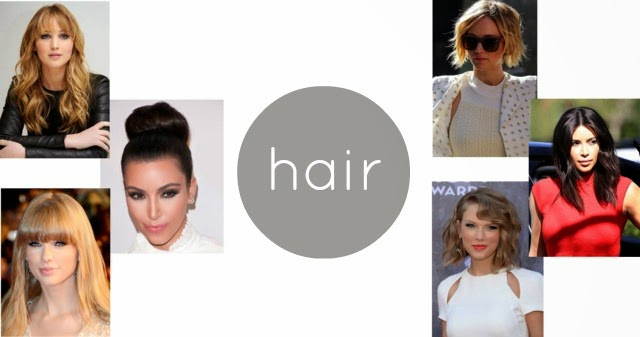 Sock Buns and Topknots and Barbie Hair. This season is letting hair be hair, with all its bendy, unruly, wacky glory. The slicked back, very crisp looks are over, and we should all celebrate. It has been a few years of hard hair to achieve without a lot of hot tools and many have resorted to falls and extensions to make it work. Retire the fake hair and keratin treatments and allow your hair to show its true self. Let it be long, cut it into a pixie, or consider the lob – a long bob that is long enough for a quick ponytail but not so long it takes an hour to perfect.  A good way to see the change in hair trends is to look at Taylor Swift; Google pictures of her in 2013 and see thick straight bangs and long hair.  This year she has allowed a bend, texture, and even cut off some of that length.
Alternative: If you wish to put up your hair, allow it to be relaxed and a bit messy. Consider putting it half up and allow it to be disheveled a la Brigitte Bardot. Let it be down, and embrace your Bad Hair Day. I type this with what I have decided to call Diane von Furstenberg Hair; my hair is frizzy, it parts in the middle and likes to feather away from my face. This spring I am going to allow it to do it more instead of forcing it into submission with bangs and perfectly crafted waves or curls.
Neon. Don't get me wrong, neon is still a fashion statement in 2014. However, we just went through a period where everyone was wearing big neon yellow statement necklaces, hot pink patent platform pumps, Breton tees done in acid green and fluorescent yellow, and lot of clear and Lucite neon accessories. It was a popular way to dress up a little black dress or make denim and chambray really pop. The thing is every time neon shows up, it comes on too strong and ruins the moment for everyone. Keep the neon tank, the skinny belt, the cashmere sweater but instead pair them with gray, khaki, and olive for an unexpected and more luxe look.
Alternative: Consider not needing that pop of color. Omigod, did I just WRITE THAT? Yes, it is possible to have your outfit look cohesive without a bright belt or necklace or shoe or bag or lip or jacket. After seasons of BRIGHT and BOLD and POP it's a breath of fresh air to have an ensemble that isn't carefully crafted and held together with accessories.  If you do desire color, consider a pastel or an icy pale version of the fluorescent brights; they seem subtle but can add much impact to your look!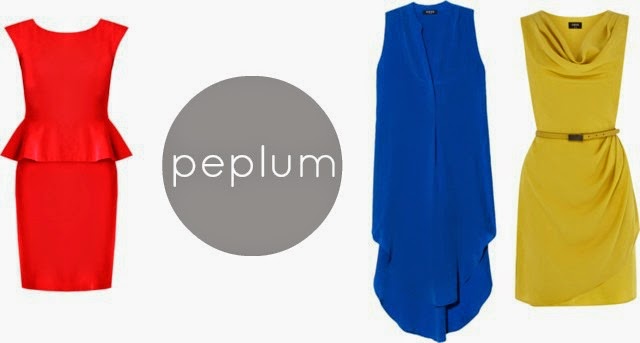 Peplum. I remember peplums from the '80s and swore I wouldn't revisit the trend… and then I bought a peplum top and a peplum dress. I found the trend to be very wearable and an easy way to update the wardrobe. While I don't think you have to burn every peplum in your closet, I don't recommend purchasing any more of them and retiring the Judy Jetson-esque stiff extreme peplums you may own.
Alternative: Draping. An asymmetrical hem or draping and rouching can add that level of interest and architecture that made peplums so popular and at the same time flatters curves and camouflages areas you wish to not be on display.

Arm Parties. You all KNOW I love my bracelets. With large breasts and a metal allergy that makes earrings uncomfortable, my wrist is a way to play with jewelry and add color or shine to an outfit. But even I, the bracelet junkie, am paring down. This doesn't mean get rid of all your bracelets, but wear fewer at a time. I used to wear my gold Citizen watch with a bangle, a chain bracelet, a stretch bracelet, and a bead one; now I pair it with only one or two pieces.
Alternative: Quality, not quantity. Stop buying the cheap flash, and save your pennies for a piece that really speaks to your personal style and makes a statement without yelling. As to what it is, it doesn't really matter this year; you can wear any color of metal, any textile, any shape as long as it works with the rest of your wardrobe and isn't paired with 20 other ones.
What trends are are you glad to see retiring this spring?  Which trends will you continue to embrace because they fit your personal style?
Follow Me | Twitter | Facebook | Instagram