This article may contain affiliate links; if you click on a shopping link and make a purchase I may receive a commission. As an Amazon Associate, I earn from qualifying purchases.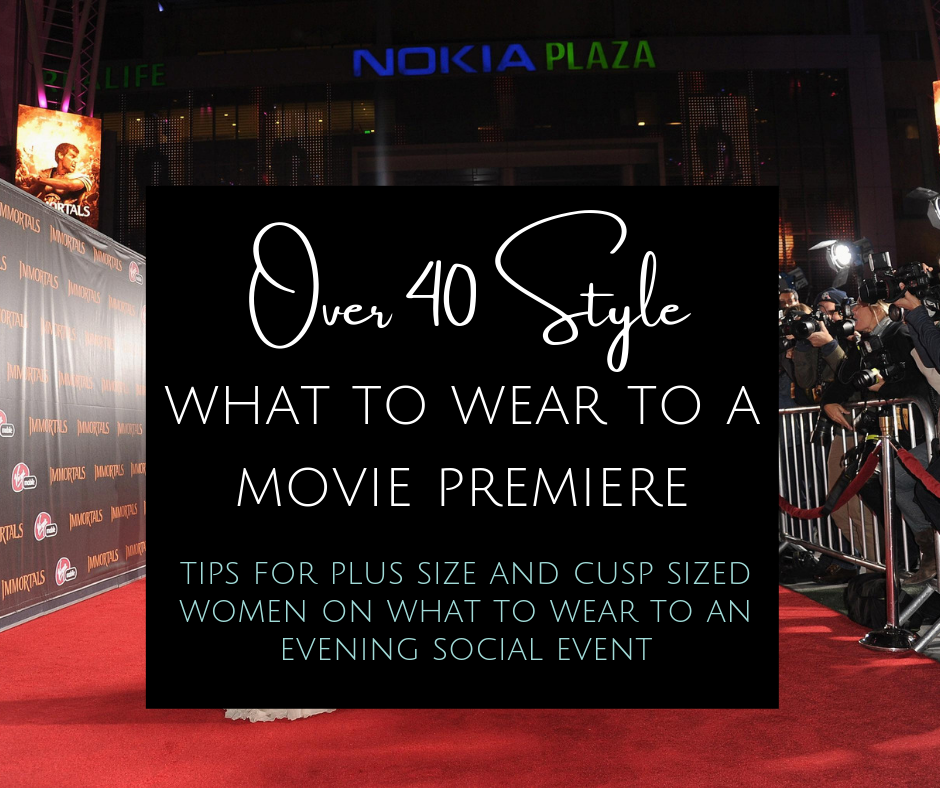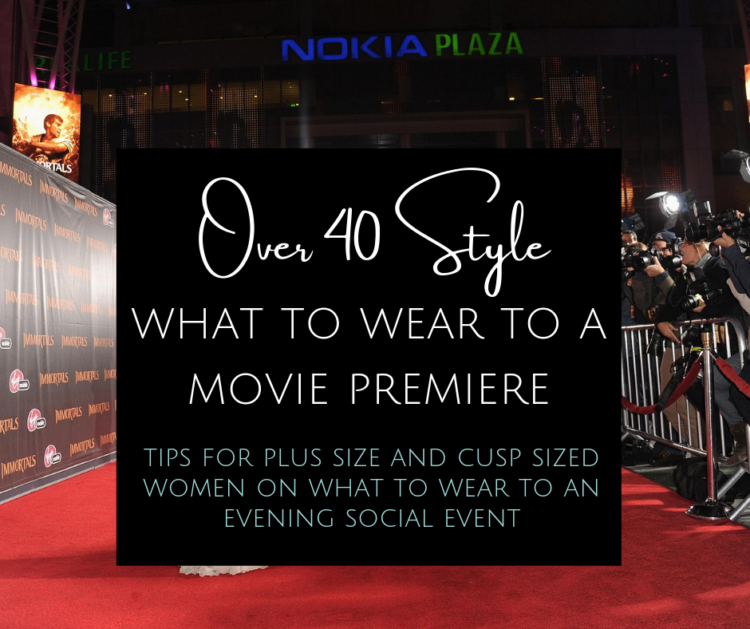 I had a reader reach out to me – she is petite, has soft curves, is over 40 and attending a documentary movie premiere. She wasn't sure what to wear and wanted my advice:
"I've been invited to a movie premiere in a few weeks, and I have no idea what to wear. Part of this stems from the fact that I've never been to a premiere before. But I don't think this is going to be a stereotypical Hollywood-type event–it's for a documentary, and it's being held in [an historic theatre in a popular city in the US] and may have some famous folks there. Adding to the dilemma is that I have a short, curvy body with a soft belly, soft arms, and a big booty, plus I'm in my early 40s and have entered that sort of "invisible" period you wrote about recently."
What to Wear to a Movie Premiere or Similar Social Event?
This reader wrote to me just as I finished playing dress-up in my bedroom with some new pieces I added to my closet. I do this when I get new clothes – I try them on with things I already own, trying to envision where I'd wear such a look and if the pieces are worthy of staying part of my wardrobe. I just received the Tresa Wide Leg Pants from Universal Standard (they now come in petite!) and they surprised me. Online they look fluid but more like a pant I could style with a turtleneck sweater and boots or a blouse and flats for the office. However, these pants have the same weight and sheen as the silky Viva Boatneck from the same brand that I wore in this post. These pants may work for the office, but they also want to be worn for chic and dressier occasions.
If you pair the Tresa Wide Leg in navy with the Viva Boatneck also in navy, it gives the effect of a jumpsuit with the custom fit and ease when using the facilities. But a column of color provides a more sophisticated and dressier effect. Black is overdone, especially by those over 40. Navy is a softer, more surprising color that is trending for fall.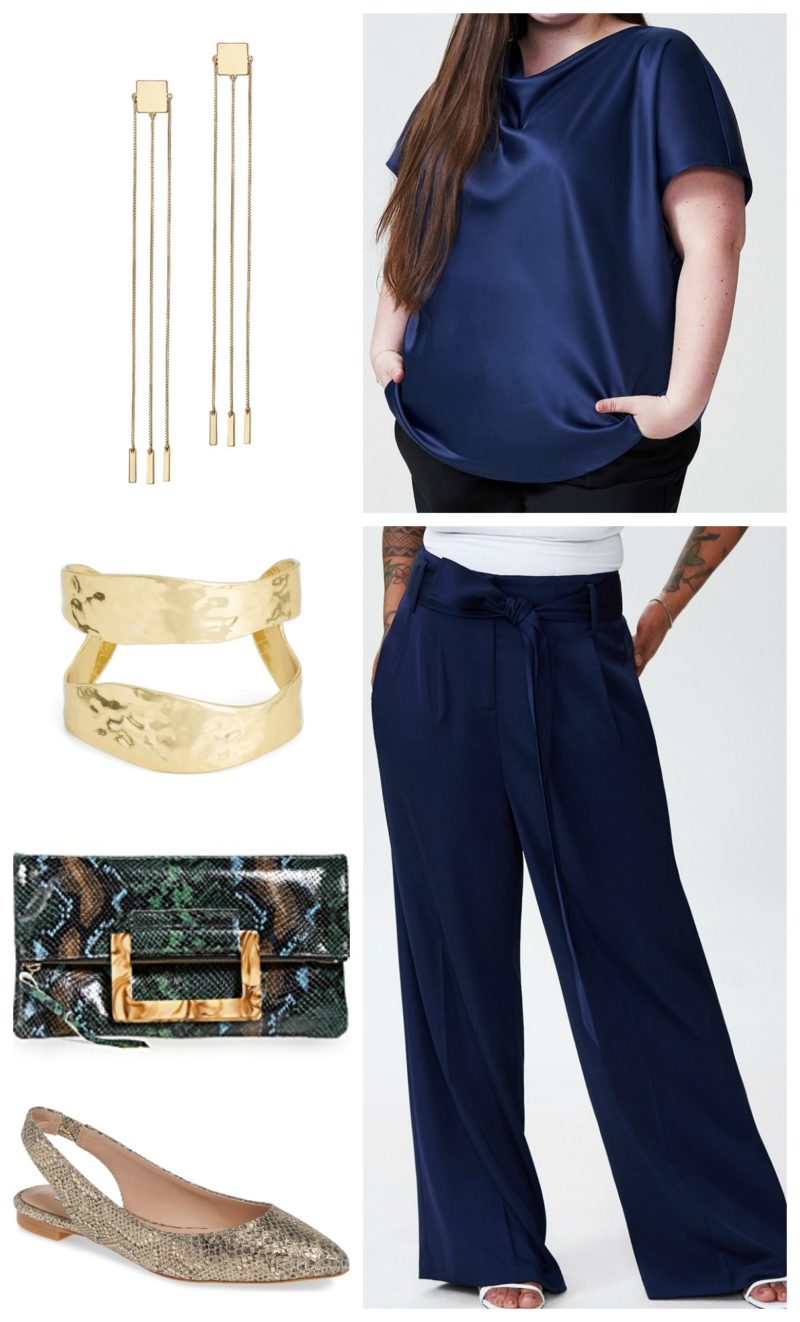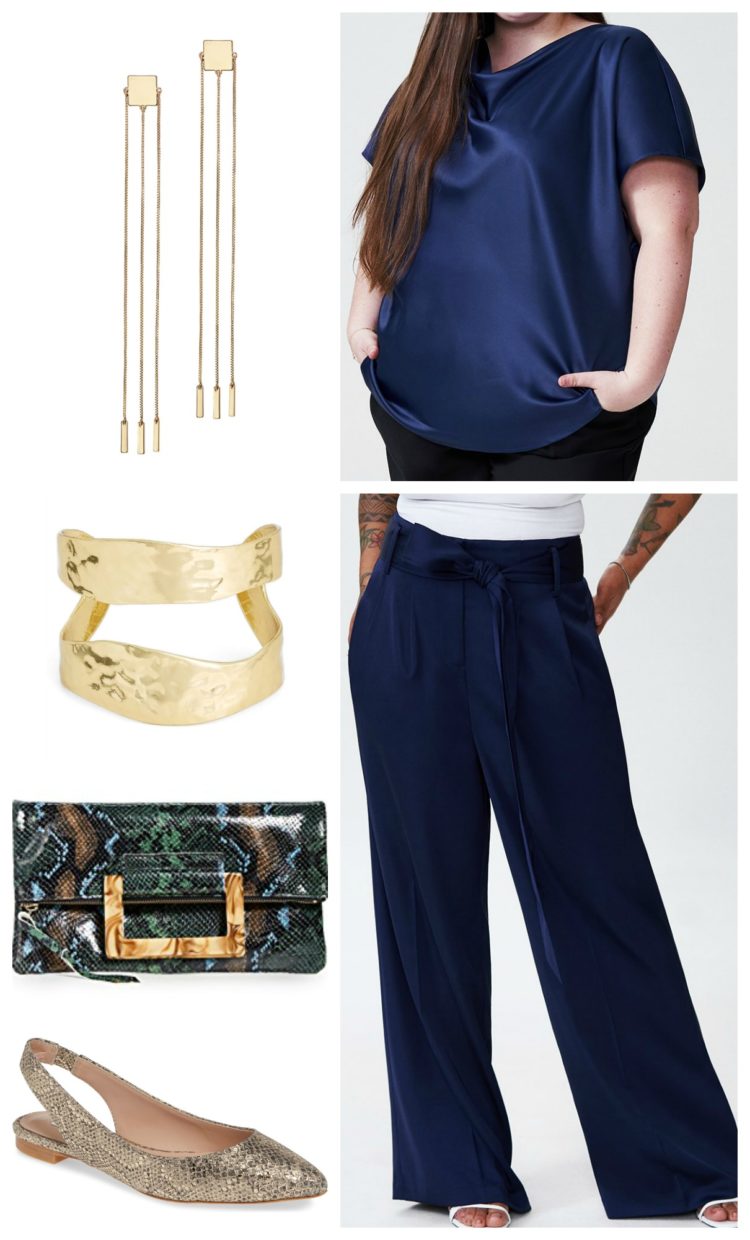 This also creates a pretty simple yet elegant base to showcase your personality. Above, I styled the pieces in a way I would likely wear it – statement earrings and a cuff bracelet in gold, a subtly patterned clutch that nods to current trends, and a shoe that won't leave feet screaming by the end of the night while still fitting with the aesthetic of the ensemble and the event.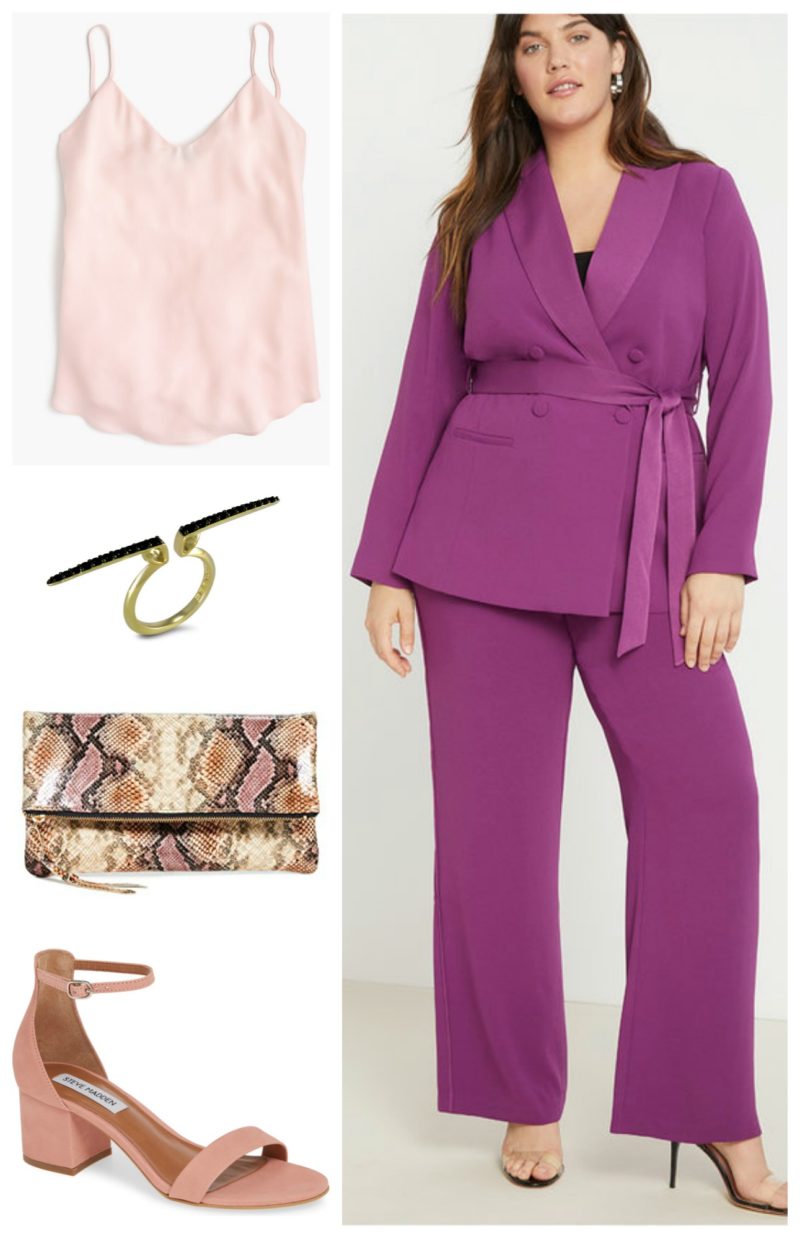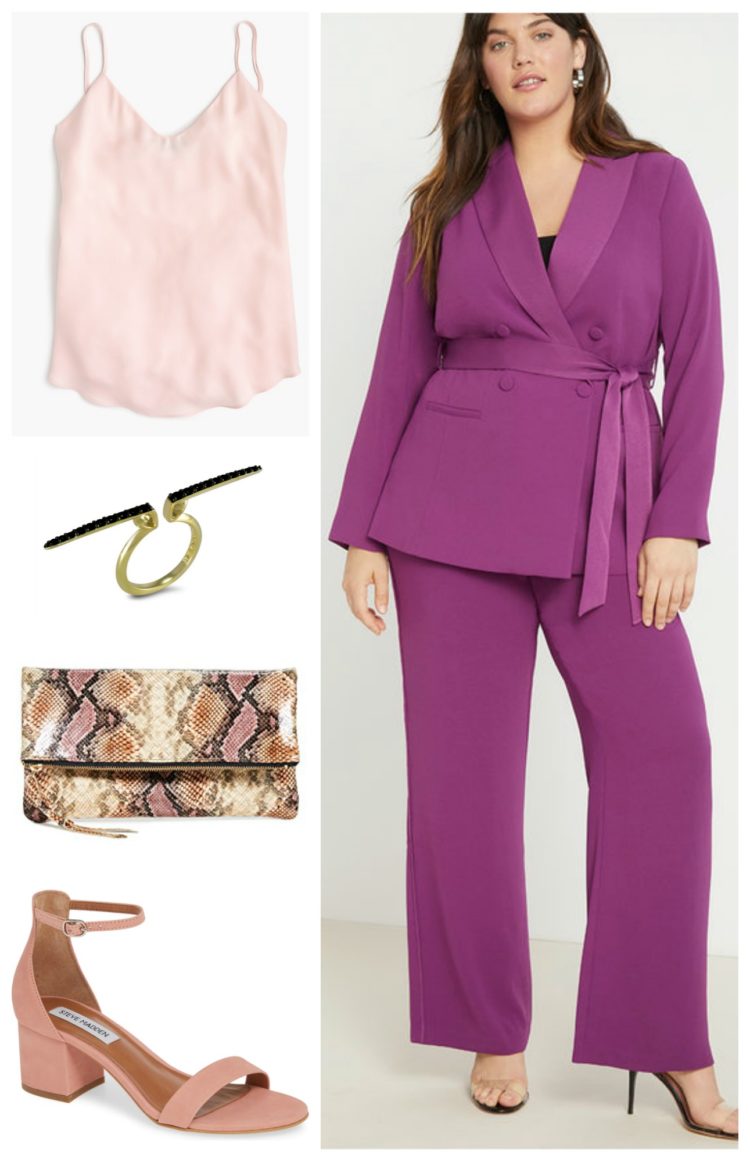 For this look, I used a pantsuit, which is a hot trend and is now available at so many different retailers. Unlike a work suit, this one has drape, trendy details like the belt, and is a festive color. While the model has it styled with a black tank, I'd recommend you choose a top that either is hidden under the jacket or is a color very close to the jacket (pink, mauve, lighter or darker plum) and a dressy fabric (no beading or sequins, but a silk, satin, or crepe is a good choice). The pink cami in the collage I own; in fact, I own three of these camis and appreciate they are machine washable and have adjustable straps. If you prefer a more traditional or masculine vibe for your suiting, choose a dressy button-front shirt in crisp white or a silky shirt in a color close to the suit and unbutton as many buttons as you feel comfortable with. Since the jacket has such detail, keep the earrings shorter (or go without and instead highlight a statement ring).
Shop These Two Looks:

Key Points When Dressing for Such Occasions:
The bag doesn't exactly match and this is on purpose. As I mentioned in my fall color trends post, elegance is now achieved when NOT matching. Having your bag match your outfit, or your earrings, or your shoes in 2019 can age you and also cheapen the entire ensemble. A subtle pattern like snakeskin is a way to buy one bag that will go with multiple looks.
There is no sparkle, just shine. When you aren't sure of the dress code, I recommend choosing shine and steering away from sparkle. Sparkle says evening, it says formal, or it says disco. Shine says elegance and can be worn any time of day. It catches the light and looks luxe but will also look appropriate if people show up in jeans with a fancy blouse and heels.
Column of color. Whether it's a jumpsuit, a dress, or a blouse with trousers, a column of color will create an effect that is more expensive, more sophisticated, and more dressy. A column of color also distracts from the shape of the body letting the ensemble be the focus.
Distraction where you want it. Uncomfortable with your midsection? Nothing better than a sash at the waist in the same color as the garment to camouflage without looking like you're trying to. Trust me, a tucked-in top and a sash at your waist or a dress or suit with a belt will look better in person and in pictures than a loose or straight shift where your body becomes one solid shape.
Be realistic with your footwear. Are you going to be able to wear 4″ heels all night? If so, rock the heck out of those fabulous shoes. But if you don't normally wear heels, a movie premiere or social event isn't the time to start. Both of these looks can work with a flat shoe. If it's the middle of the summer, go with a metallic sandal (and either a fresh pedicure or buffed and groomed tootsies). If it's cooler out, look for a flat that has dressy details. A D'Orsay/cut-out side, slingback, metallic finish, metallic or embellished details will add formality without foot pain. If you have specific foot needs and can't find shoes that have these details, look for a shoe that matches the color of the ensemble and is in a textile that blends in (for evening look for patent leather or a dressy fabric; for daytime consider leather, suede, or microfiber).
Pockets for the pose. Not used to being at events where you're going to be photographed? I can't recommend pockets enough. Yes pockets! Put one hand in a pocket, the other hand can hold your bag. Put one foot in front of the other, both feet on the ground but your weight on the back foot. You now have something to do with your hands while showcasing your look with an angle that usually photographs well. Don't shove your hands in the pockets, slide them in just to before your wrist, hands flat so the fabric doesn't bunch. Shoulders up, back, then down so you have good posture but look relaxed.
You don't have to wear these exact outfits, but I hope they can provide some inspiration for a way to dress in an elegant, stylish manner for an event such as a movie premiere without having to contort your body, kill your feet, or feel awkward. If not these concepts, keep in mind the column of color with a jumpsuit, midi- or maxi-length dress (not too much volume), a pantsuit, or a camisole or blouse with matching trousers. This is a look that can be achieved at most any pricepoint, personal style aesthetic, and size. But the most important accessory to wear is a smile – hope you have a great time!
Shop Columns of Color Outfits: