This article may contain affiliate links; if you click on a shopping link and make a purchase I may receive a commission. As an Amazon Associate, I earn from qualifying purchases.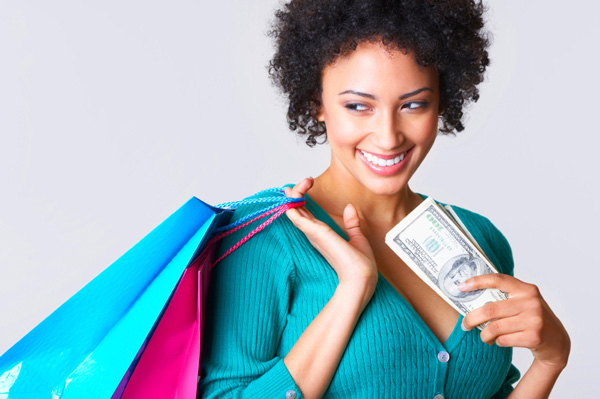 The best accessory I acquired in the past decade was getting out of credit card debt.
My Experience:
When I worked in retail, I found it far too easy to shop. I was spending at least 45, usually closer to 65 hours a week at a mall. Lunch hours were spent strolling through other shops, sipping on an overpriced coffee drink, or treating myself to a very nice lunch at a nearby restaurant. As a personal shopper and visual merchandiser, I felt I had to be a perfect example of style and current fashion and made sure to have the latest shoes, makeup, accessories and always a perfect professional manicure, pedicure, haircut and highlights. When our shop was thisclose to making the day's sales goal, they could always count on me to purchase something from the new line to get us over the hump.
When I left working at Express, they gave me my associate purchase logs. In one year, after my employee discounts, I had purchased $7,000.00 worth of their clothing. When I maxed out my Express card, I opened a Structure card and used that (hey it was the late '90s/early '00s when Structure still existed). When I maxed that out, I found out that I could use my Limited or Victoria's Secret cards and shop at Express. I won't even go into details about the major credit cards I used for salon treatments, binges at Sephora or Nordstrom, and many a steak salad at the Nordstrom Café.
As women, we are constantly attacked by media telling us to spend, spend, spend. The dress that will get you the guy. The moisturizer that will make you look ten years younger. The bag you must have this season. The five or ten or hundred items every woman must have in her wardrobe. And then of course, the purchases you need so that you can be as lovely as Anne or Mila or Kate. Magazines like Lucky
are completely geared towards assisting women on shopping, while glossies such as Vogue
and W
bring couture to Middle America, encouraging everyone to feel that they too need a fancy label on their dress to be special.
As you know, I love fashion. I love clothing. I find it to be a great way to express your personality, your individuality, your passions. Fashion can also help you feel more confident and more beautiful. But no garment is worth falling into debt. A woman cannot be strong if her finances are crumbling around her.
So how do you achieve personal style while sticking to your budget?
When I got to the point where I was fearing every telephone call, thinking it was a debt collector, I knew I had to make a major change – FAST. For me, it was changing careers. I had to get away from that which was causing the debt – easy access to current fashion. However I still had mountains of debt and wasn't willing to sacrifice style along the way.
This was when I started understanding wardrobe staples. Pieces slowly collected that could multitask and make a woman ready for any event in her life. I looked at women I knew as stylish and really examined their wardrobes. They didn't own a lot of clothes, they seemed to wear the same things over and over. And those clothes they wore were perfect. They were well tailored, high quality, flattering. Few prints, few trendy details. Classics like cashmere turtlenecks, crisp dark jeans, white tailored shirts, simple sheath dresses, elegant black leather pumps, simple pencil skirts. They would add their own look to these staples with accessories like scarves, bold jewelry, and belts.
I thought back to the exchange students we hosted when I was in high school – how they could survive weeks in another country with just a small suitcase of clothing. Even with their small wardrobes, they were ready for any event in the US. Their wardrobes were of simple pieces that mixed and matched with one another – pieces of similar fabrics, colors, and silhouettes so they made a true collection.
I looked in my own closet – spangled knit tops to wear out to clubs that still had tags on them, a dozen cocktail dresses, four pairs of leather pants (and one pair bright red!), three pairs of tall black boots, over 20 pairs of jeans. Who the heck needs 20 pairs of jeans?
I obviously had plenty of clothes at that time, and really tried to make do with what I had. My new job required me to wear all black, so when I didn't have the right item in my wardrobe, I stalked sale racks until I could find what worked at the lowest price. I often bought in bulk – who cares if you're wearing the same black pants every day as long as they are clean and fit well?
Over time, I got a grip on my finances, but realized yet another new profession and a changing figure required me to shop again. I decided to keep those stylish women and my exchange students in mind. I looked through my closet with fresh eyes and decided to purge. Gone were all the spangled club tops, the evening gowns, and any clothes that didn't fit and flatter my current frame.
However for purchasing, I needed to figure out a budget so I wouldn't get back into a financial mess. Before I went shopping, I took a month or two to look at where my money went, and what were my priorities. Thanks to my sister who is the Excel Spreadsheet Queen, I started tracking where all my money went – that pack of gum, that latte, that issue of Marie Claire
. I didn't just note how much I spent on groceries, but what exactly I purchased. I saw that a lot of my money went to food – dining out, alcohol, and purchasing items at the grocery store that I don't really need (hello another lip gloss) or that I can't afford (artisanal cheeses, sushi, out of season produce). I decided to adjust my current spending before shopping to see what I could cut and still lead what I felt to be a joyful and comfortable life.
Only then, could I figure out my fashion budget. Some months, I spent that money. Other months, I saved it up so I could get something really special. I stuck to my list of essentials, and decided I would only buy fun items when I got a work bonus, birthday cash, special events. This way, I not only stayed on budget but I was even more careful with my money and those special items not only were nice to buy, but had special meaning behind them.
Each woman's budget will be different, but it is important to first pay yourself before you do any shopping. Pay off your debt, save and invest your money. Prepare for the unexpected. Yes, a great pair of shoes can make your day, help you land a job or perfect your wardrobe but shoes won't pay the rent if you get laid off. Shoes won't buy you a new car when yours dies on the side of the highway. Shoes won't give you independence and freedom.
If your budget is small, that's actually a good thing. Small wardrobe funding requires one to do homework to find the best quality for the price, to really get to know one's body and lifestyle and only purchase that which makes sense. Keep your wardrobe small, hard-working, classic, elegant.
Tips to Stay on Budget:
Have a Life Budget. No point in having a clothing budget if you are blowing your paycheck already on other items. That being said, have priorities. Clothing is probably higher on my priority list than the list of many other women. Each woman is different – some budget for world travel, some budget for books, some budget for art supplies, some budget for home renovations. It's important to first be true to you – prioritize and then figure out where fashion fits.
Make a List, Check it Twice. If you have an actual written list that you carry with you, you're less likely to get off track when you hit the mall.
Do Your Homework. You need a black suit? Go to the mall, try on brands, and then go home. Research online for coupons, deals, maybe the same item on eBay or in a thrift or vintage store. Never accept full price unless it is absolute perfection, absolutely necessary, and still fits your budget.
Stay Away from Shopping Triggers. For me, it's malls. I only visit a major shopping mall once or twice a year because I can get lost in there and leave hundreds poorer. Maybe for you it's Target (can always justify another tee or a $19.99 sundress but it adds up), possibly an adorable boutique in your neighborhood or maybe it's Net-a-Porter. Whatever it is, accept your trigger and control your visits. Schedule them according to seasons – maybe only allow one visit each season, or maybe once a month.
Cancel the Magazine Subscriptions. I am a magazine-aholic, but I know that when I read them, I end up shopping more. Magazines do a great job of making items look amazing, and seem necessary. The most recent Vogue made me spend an hour of my life looking for a certain Brahmin bag – something I don't need, can't afford, but loved upon first sight. I did stop before purchasing, but if I hadn't received that magazine, I would have never known about that orange bag and would have still lived a happy and stylish life. For some, it may be fashion blogs instead of magazines – even if it's my blog that encourages you to shop, unsubscribe and just visit maybe once a month or every other week.
Play "Which Would You Rather." Sally McGraw of Already Pretty often hosts a "sudden death" question on her Facebook page – which would you rather do – wear only white for a year, or wear your high school colors for a year, and only your school colors. It's a good exercise for shopping – which would you rather have – that It Bag, or a sushi and sake date night with your mate once a month for a year? Which would you rather own – the perfect pair of black leather pumps, or six pairs of sandals from Payless? Which is more important, your morning Starbucks, or a pair of riding boots? Break down the price of the item and compare it to other items in your life.
Get Creative. No one knows you're wearing the same black pants every day if you switch it up. One day, wear with a tucked-in blouse, the next day with a blazer and shell. Another day wear a cardigan over them and belt the cardigan to change the silhouette. Use your small wardrobe as a brain teaser – who needs Sudoku when you can take the dozen or so quality pieces in your wardrobe and make dozens of outfits from them.
A woman should get fitted for a new bra every year. She should have the perfect LBD in her wardrobe to be ready for unexpected social events. And she should be able to sleep well at night, knowing full well what is going on with her finances. The best accessory I acquired was getting out of debt – the best accessory any woman can wear is self-confidence, and confidence comes from being true to one's self, feeling strong, and being financially solvent.


Be sure to check out the first of my How to Shop Series: An Introduction
Follow Me | Twitter | Facebook