This article may contain affiliate links; if you click on a shopping link and make a purchase I may receive a commission. As an Amazon Associate, I earn from qualifying purchases.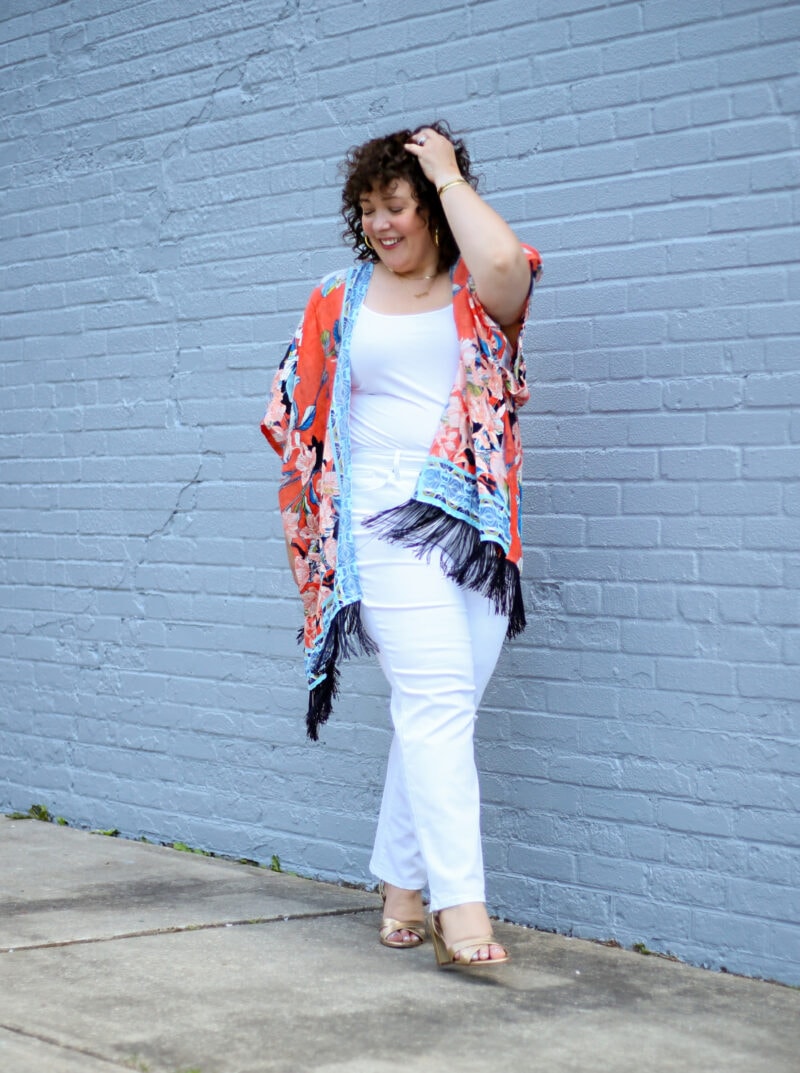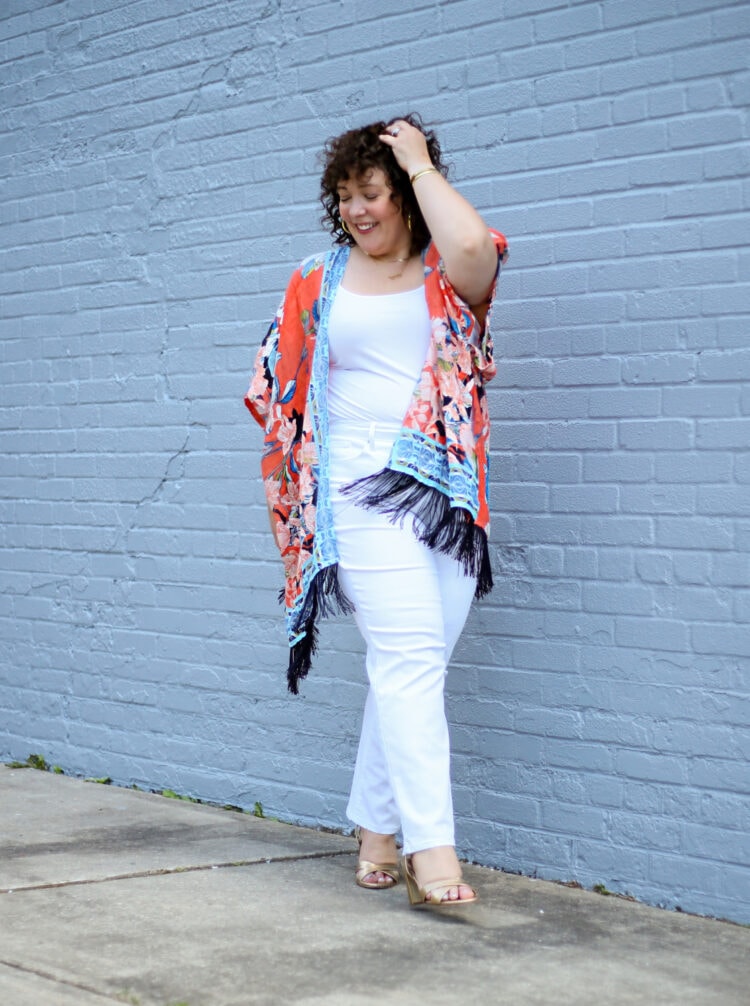 Okay, let's talk about ruanas. I've loved ruanas for winter and always have one; they're great to throw over most everything for warmth without bulk or restriction. But summer ruanas… they can feel a bit cliché, like I should be rocking them with some cropped wide-leg linen pants with an elastic waist, orthopedic sandals, transition sunglasses, a large reversible sun hat, and a very elaborate pendant necklace.
No offense to y'all who rock the ruanas with such a look, you do you and do it well. But it's not my personal style aesthetic. That being said, a ruana is such a quick way to switch up your summer wardrobe.
What is a Ruana?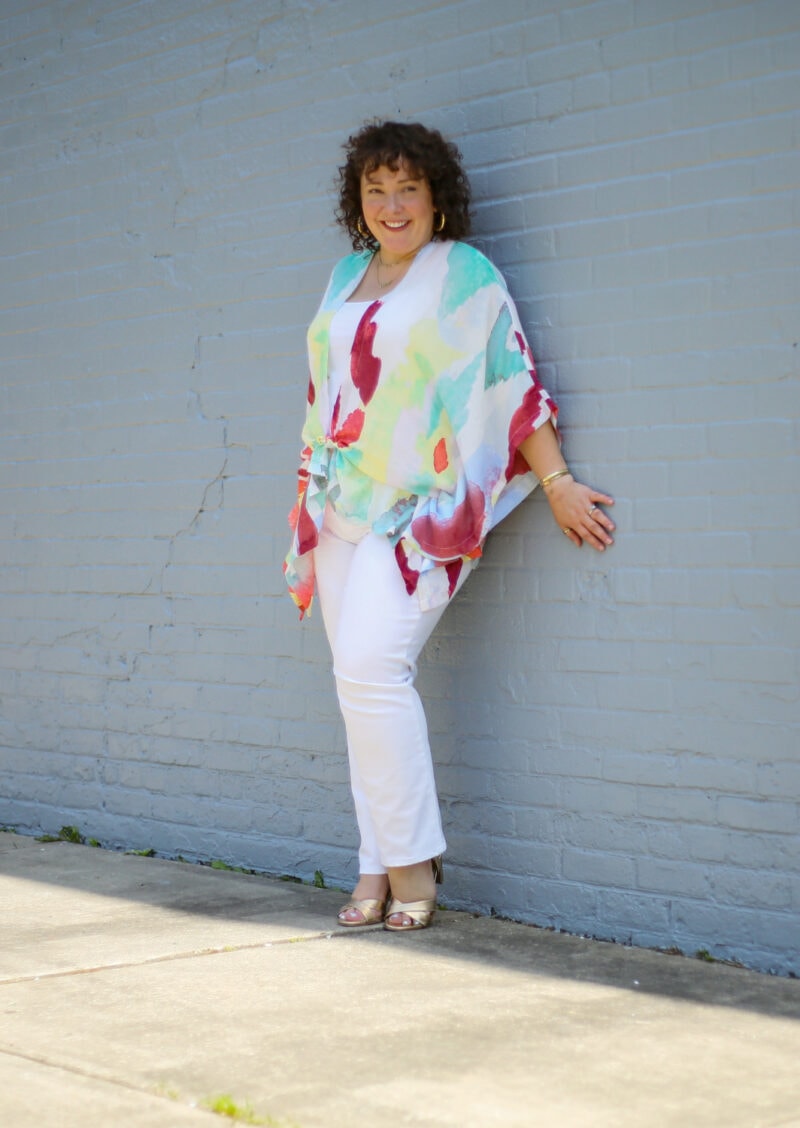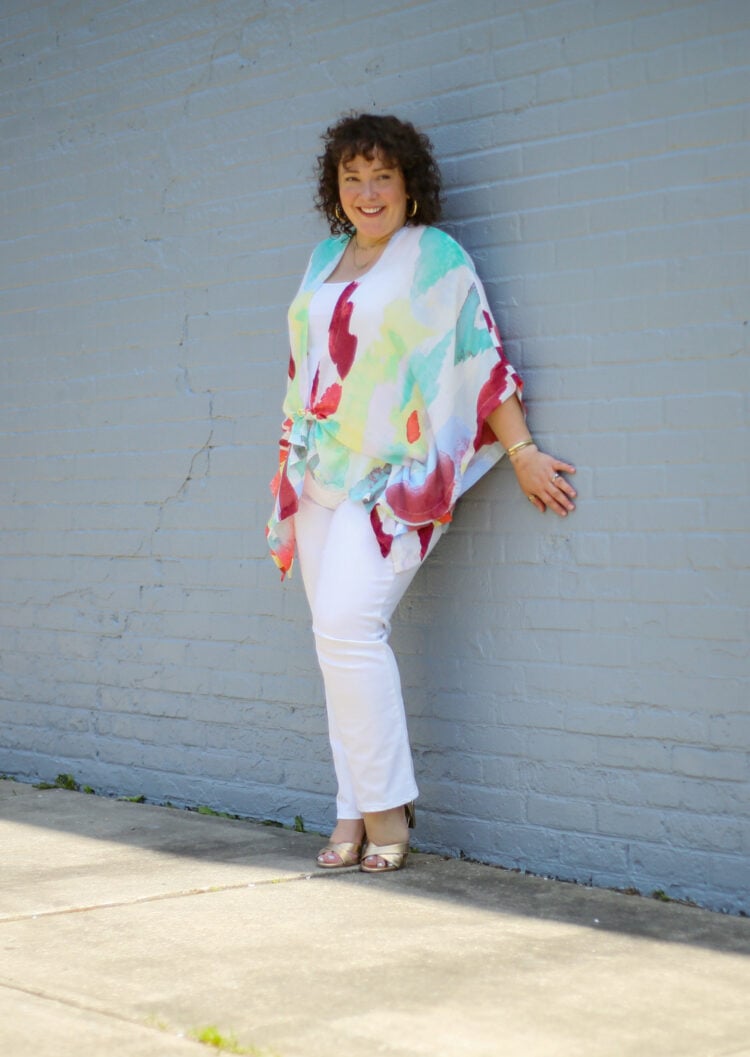 A ruana is a poncho-style outer garment native to the Colombian and Venezuelan Andes. When you lay a ruana flat on the ground it is a rectangle with a slit and occasionally a hole for the neck. Some ruanas are attached under the arms to fit like a roomy vest, others are free to hang or even throw a tail over the opposite shoulder.
Ruanas are often lumped in with pieces brands inaccurately call kimonos (read this to understand why such pieces should not use that term) and others are called wraps or robes or dusters. Made from anything from heavyweight wool to delicate lace, these toppers can be added to so many different outfits to add style as well as warmth.
One Outfit, Three Summer Ruanas from Chico's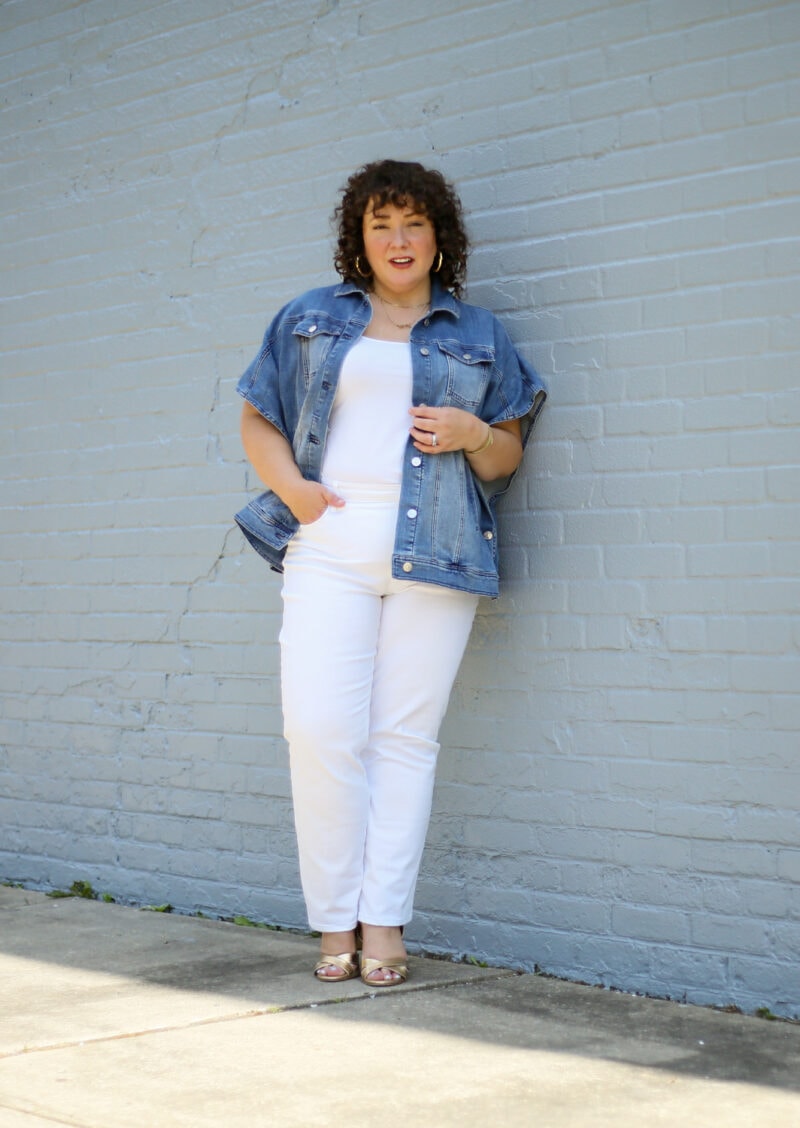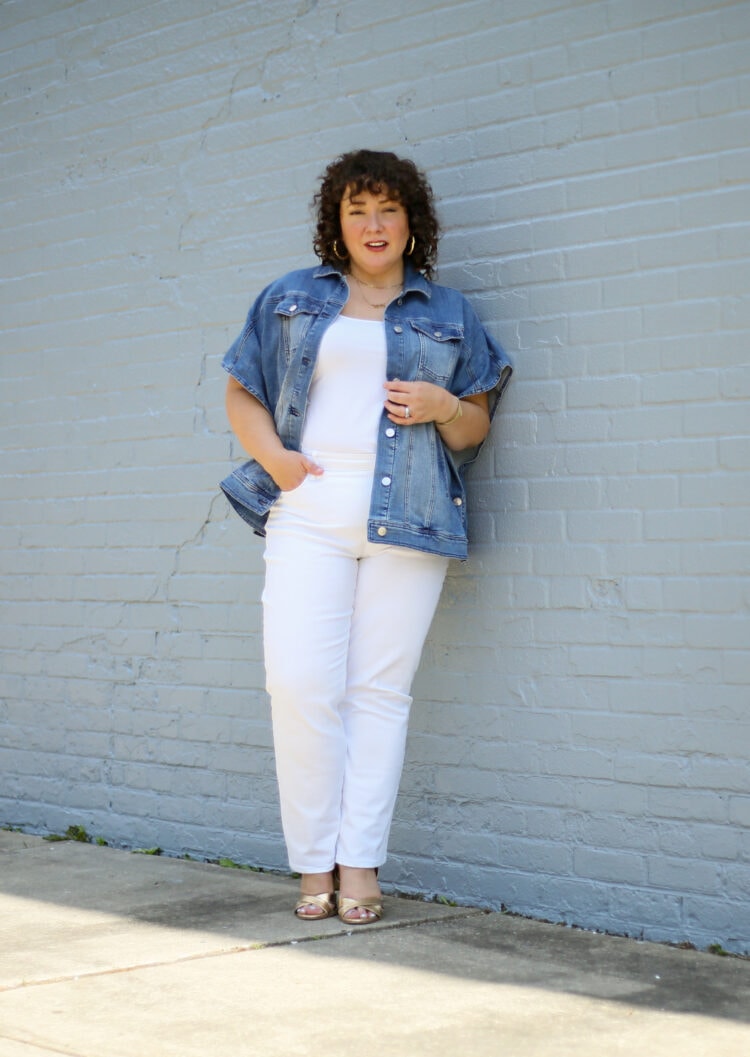 As an ambassador for Chico's I get to pick out an outfit or two from their New Arrivals each season. I really love taking something on the Chico's site that is styled one way and totally giving it a different style. And last month I saw this denim jacket/ruana hybrid and was obsessed. I planned to rock it with my Universal Standard Next to Naked Bodysuit and some Adidas shelltops.
I got it and thought it was so fun. Denim jacket effect, but this funky '80s-esque silhouette and not as heavy as a denim jacket. My husband thought it was stupid. My daughter thought it was weird. But I was like… I want to rock it not only with the US NTN, but also a white tank and jeans. And so I did!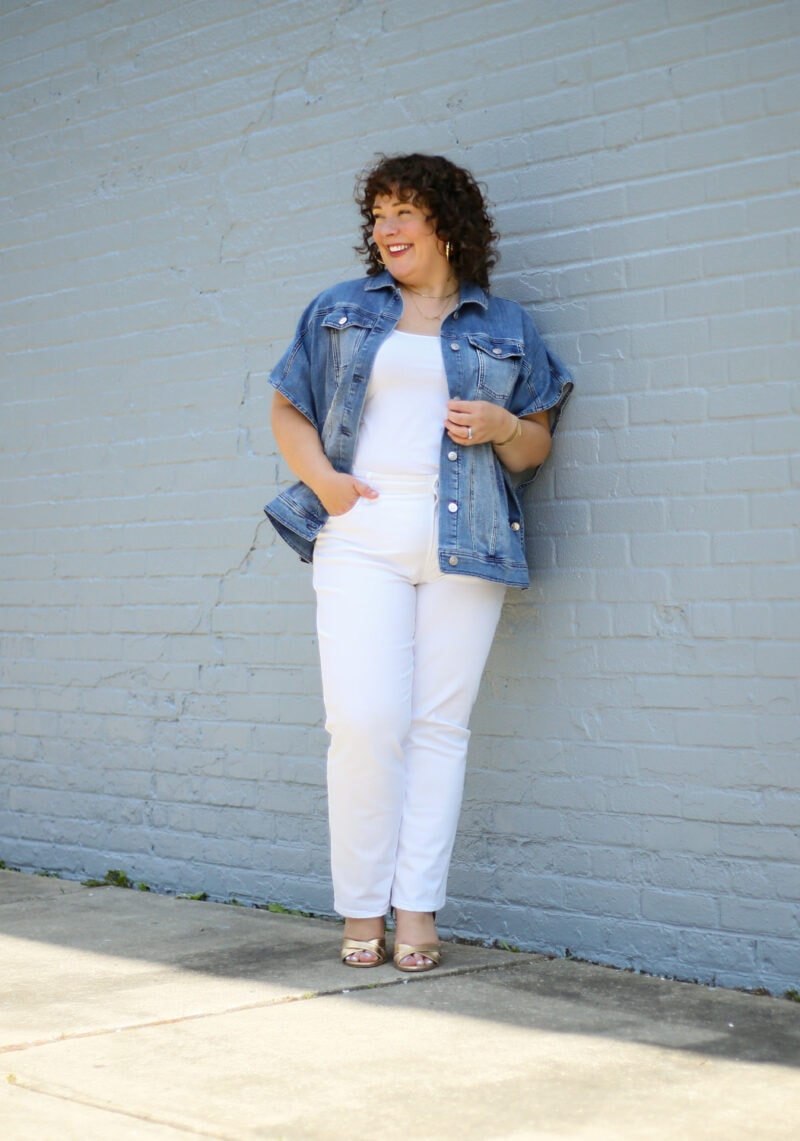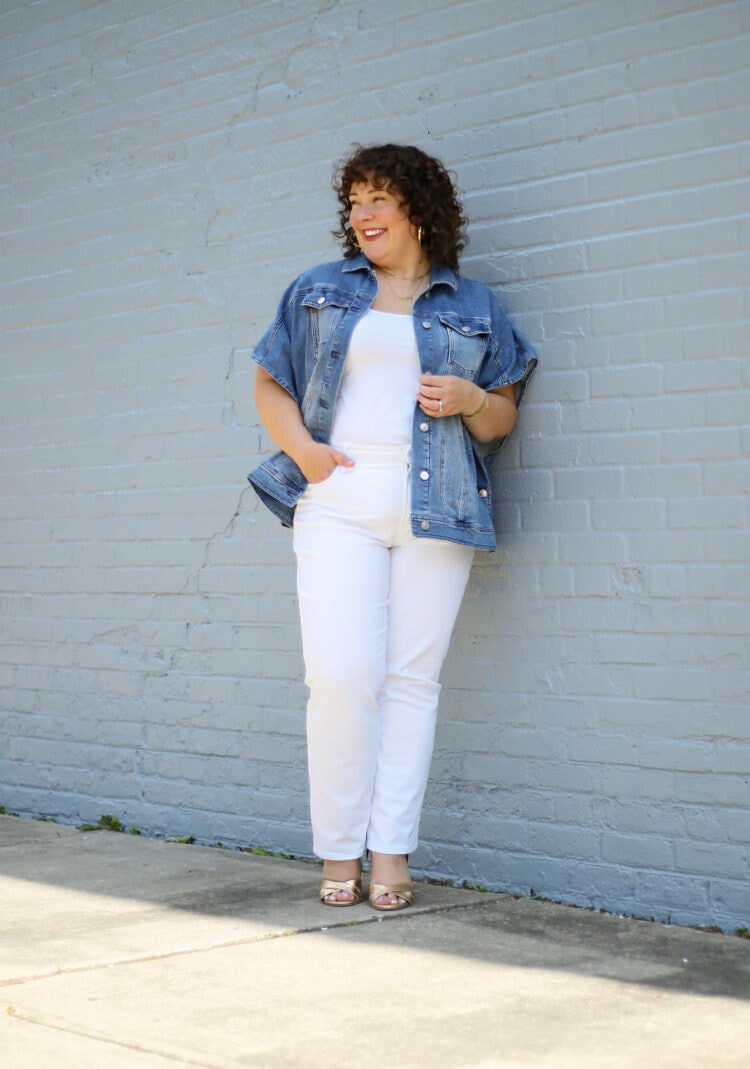 Yeah, this isn't everyone's cup of tea but I think it's super fun. And I kind of want to take some sandpaper to it to make it look old and distressed and maybe put some buttons all over it. I'll wash it and see how I feel.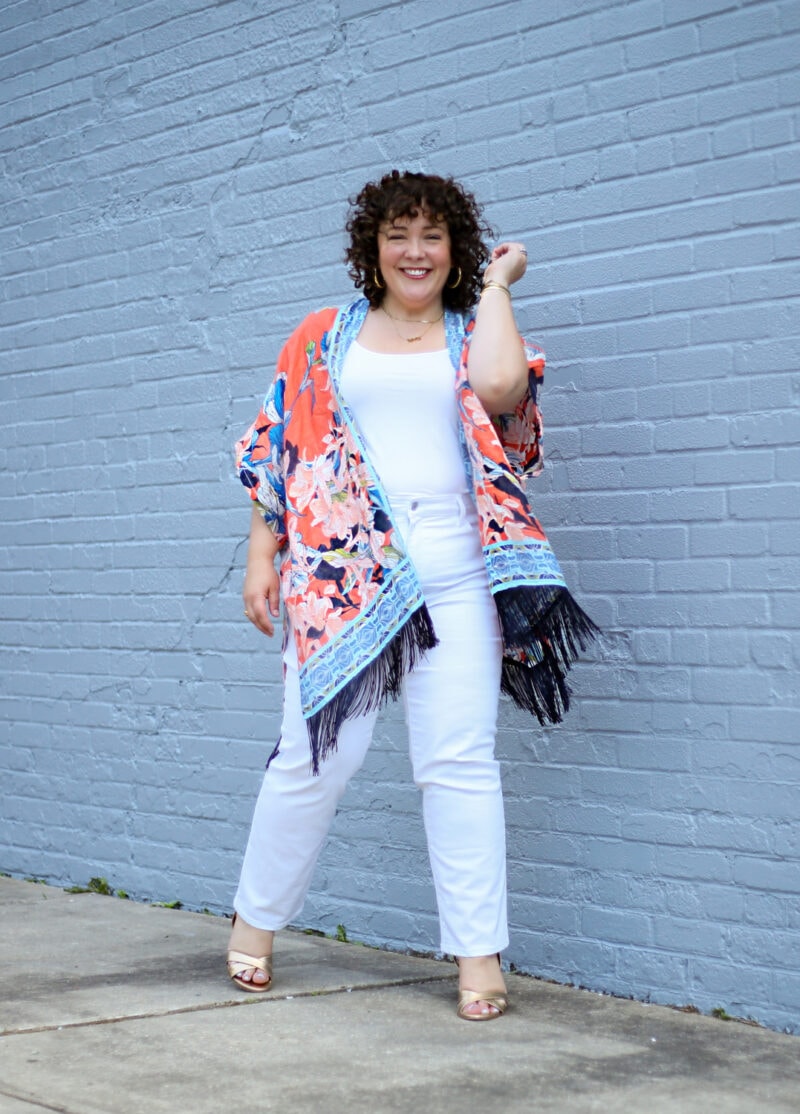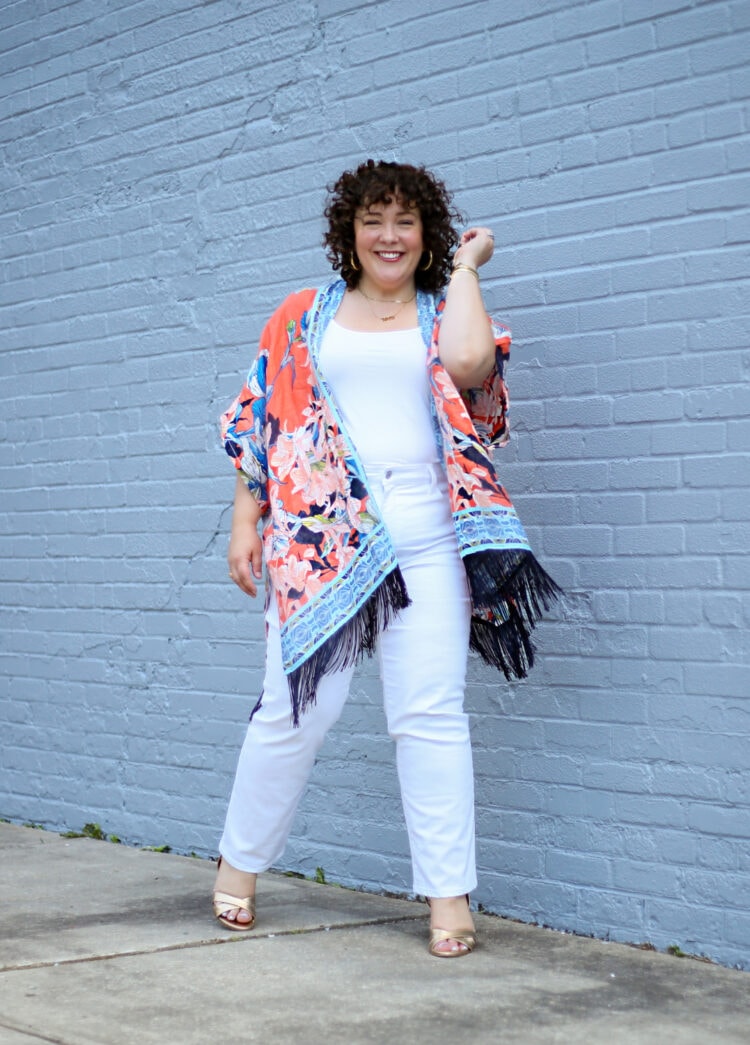 And then I saw this ruana from Chico's and was thinking this is the kind of thing I'd rock with a graphic tee and cutoff denim shorts and Birkenstocks on a Tuesday to the grocery store or a Saturday to Target. But it too would totally work with white jeans and tank and some gold jewelry…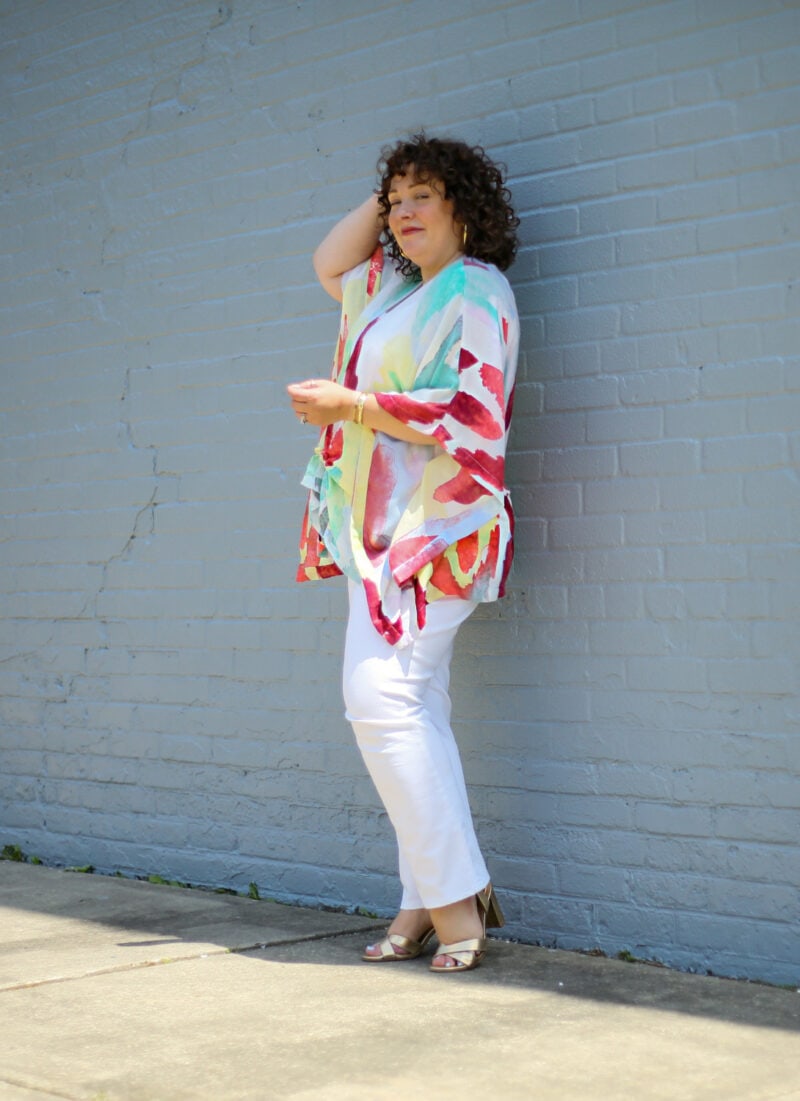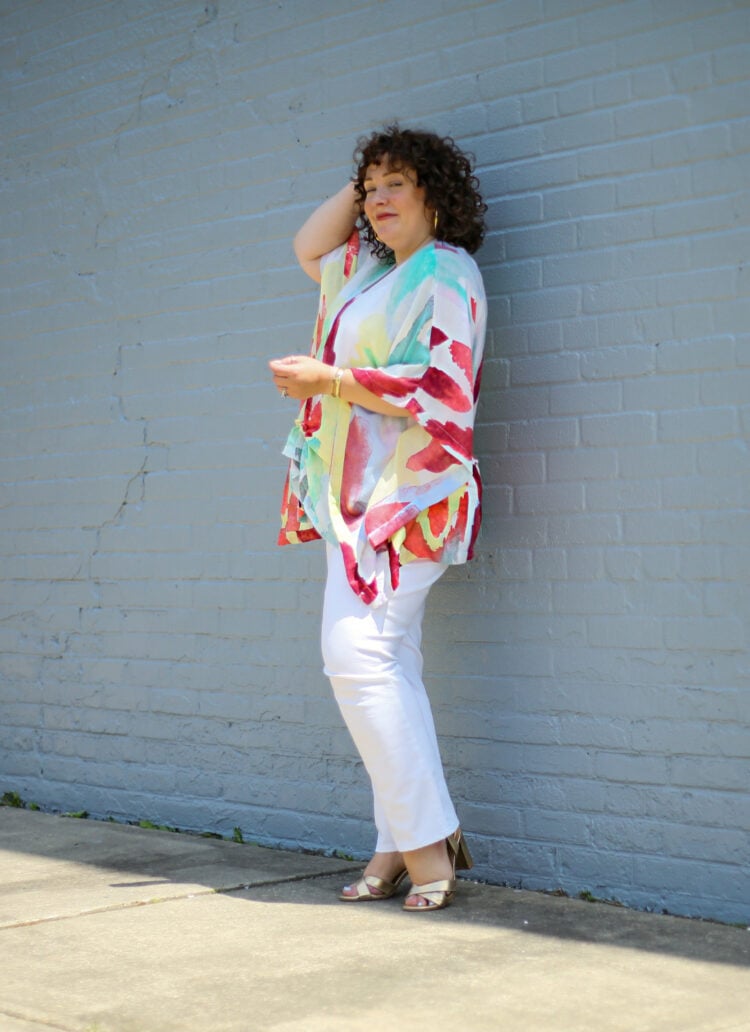 So I ordered it and when it came, this third ruana was also in the box. I didn't order it, but gosh the colors were pretty in person and the fabric really soft. I was playing with it and grabbed a little bit of it in each hand and tried tying it… and I really liked the effect. And then the topic for this article was formed.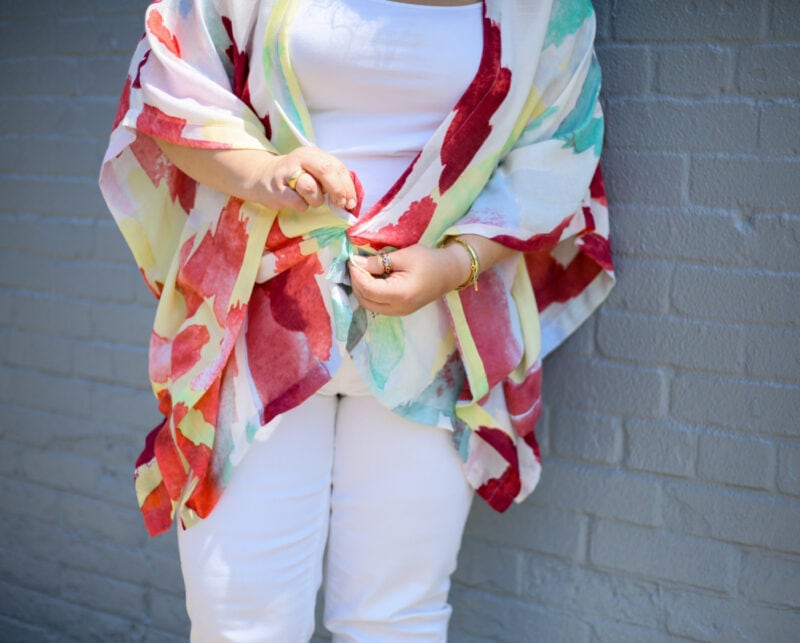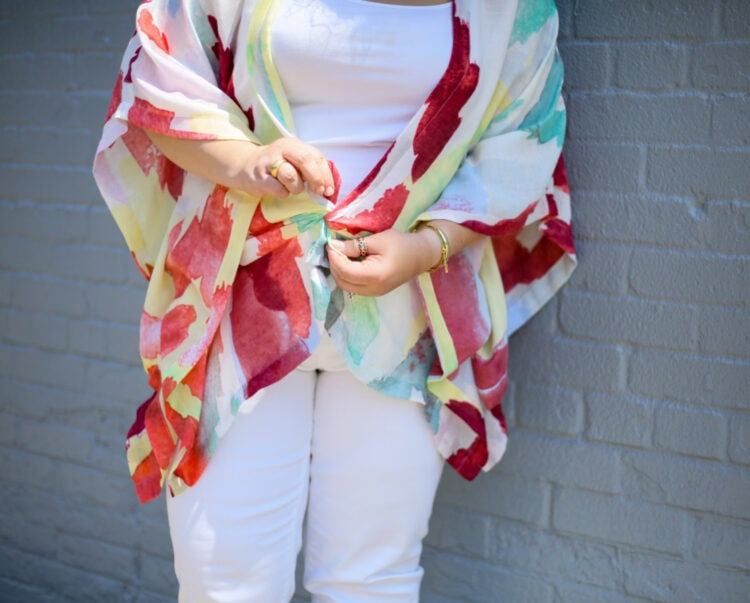 I know many of us want fun and exciting new looks for getting out in the world, but may not want to buy a whole new wardrobe. Maybe we're traveling and want to pack light. Or maybe want to update perfectly lovely but not very exciting pieces already in the closet. A summer ruana is a great way to create different looks without buying completely different outfits. Below I share some other great summer ruanas, robes, and wraps that I found online:
Shop Summer Ruanas, Wraps, and Robes: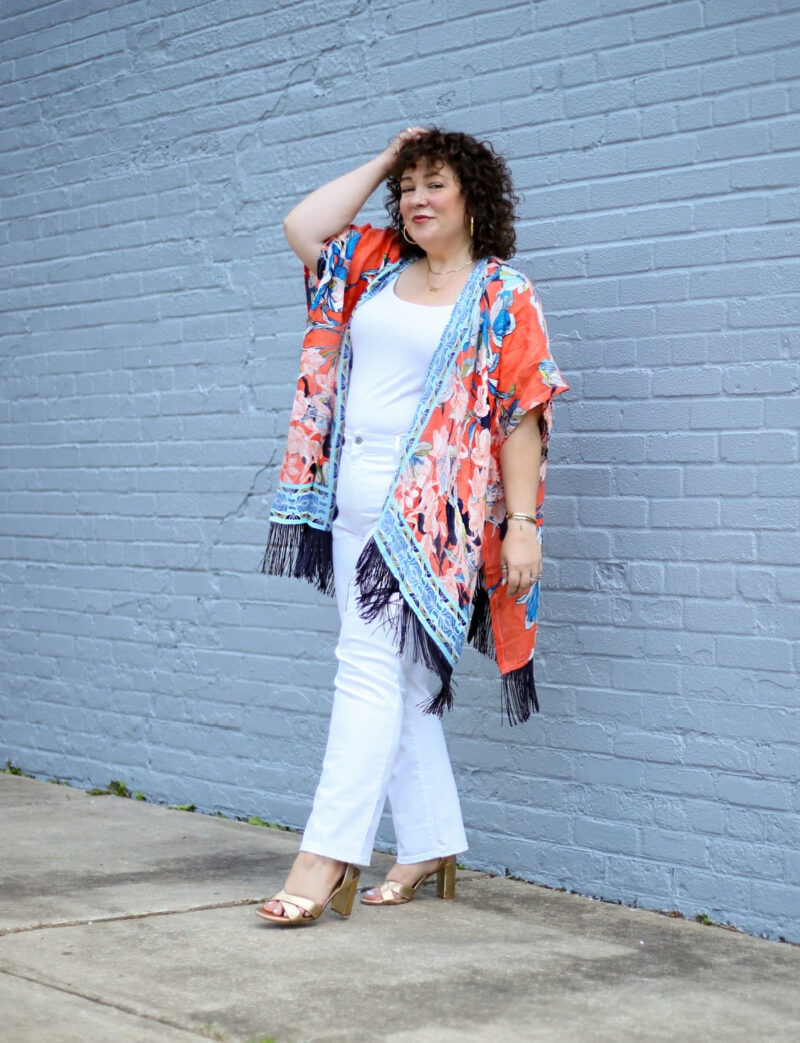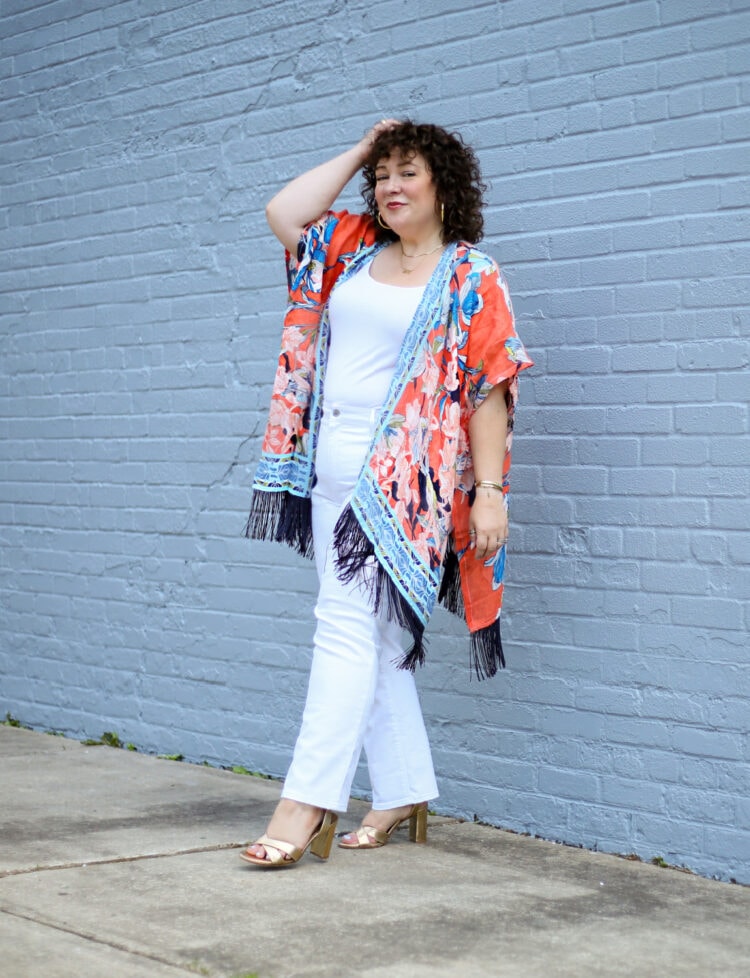 15 additional ways to style summer ruanas:
Cropped jeans, a solid-colored tank top, and flat sandals
High-waisted flare jeans, clogs, and a cami
Ankle jeans, trendy white sneakers, and a graphic tee
White tank and white linen full-length pants with metallic sandals
Belted over a tank dress
Slip over a slip or cami dress
Thrown over your overalls
Pair with a jumpsuit and metallic heeled sandals
Cotton and linen ones look smart over a Breton striped tee and Bermuda shorts
Pair with distressed denim shorts, a tank top, and sandals
Use a wide belt to cinch it over slim pants
Wear with the Universal Standard Next-to-Naked Bodysuit or a similar garment
Use as a swim coverup
Knot it in front, or consider using a brooch to hold it together
Tie the bottom like a shirt, tuck in the back and wear with wide-leg linen pants or jeans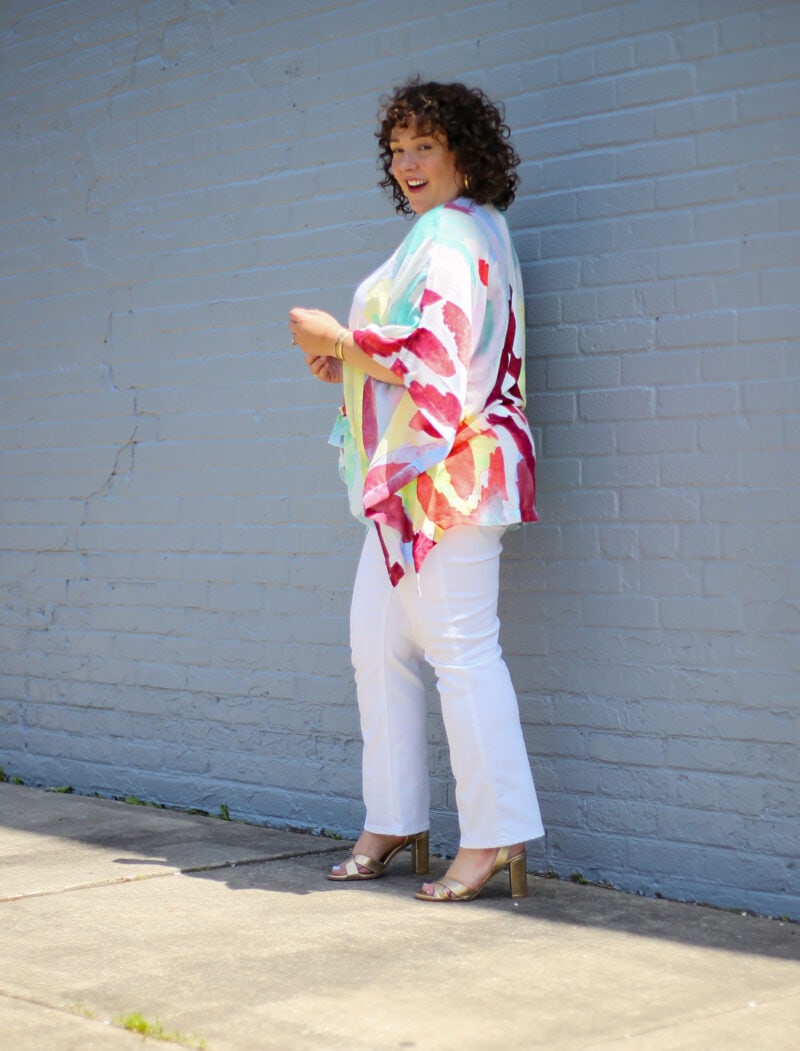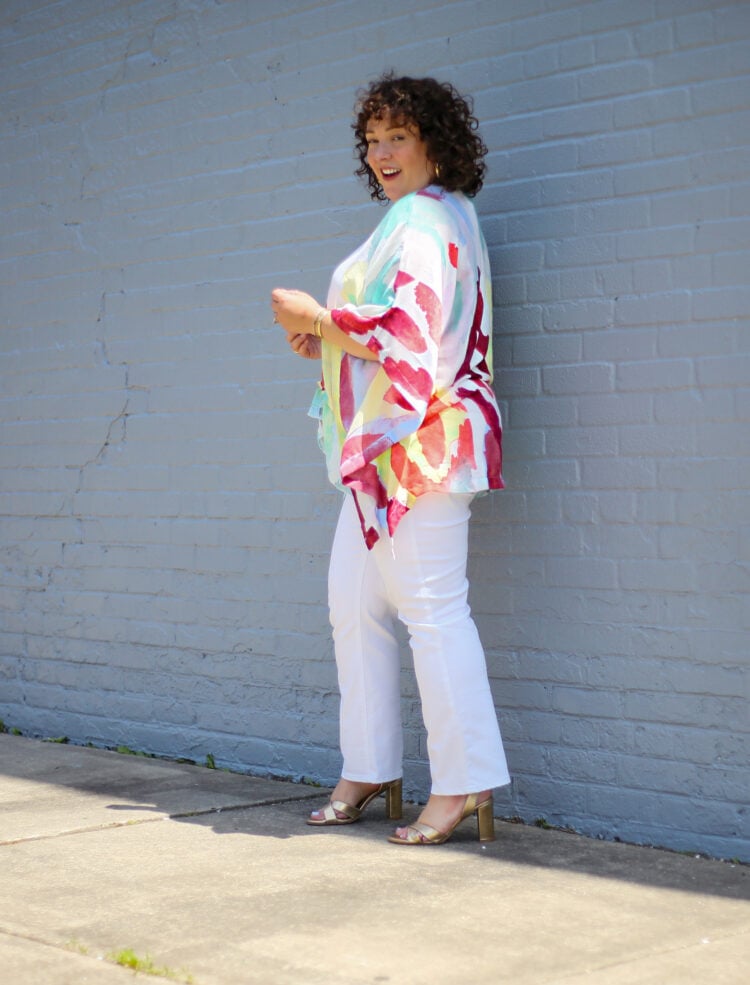 For reference, all the ruanas I am wearing are in size L/XL from Chico's I am wearing this Chico's tank in size 1 (I find the Touch of Cool collection runs big) and these Chico's jeans in size 2.5 petite. My shoes are these from Margaux (read my original Margaux shoes review for wide feet). My date necklace is from Etsy, my chain from Rellery. The hoops are from Baublebar, my wider gold bracelet from REALM, the slimmer one from Metal Marvels.
Shop the Look: