This article may contain affiliate links; if you click on a shopping link and make a purchase I may receive a commission. As an Amazon Associate, I earn from qualifying purchases. 
This spring/summer I bought two pairs of cropped (ankle length) pants. One is a pair of skinny black jeans and the other a pair of burgundy tapered slacks. I've worn them with flowy tops and sandals or ballerina flats and now I wonder how to style these pants for fall/winter. The colors and material will work very well for those seasons, but I'm at a loss of how to style them. I'm a size 16 and a bit self-conscious about my hips in skinny/tapered pants but I really like these two and would like to be able to wear them when it gets colder. I'm a university student, so style is casual, but I'm in my 30's so I want to look a bit more put together.
Ankle pants are tricky, but not impossible to style for fall and winter. I'm glad you brought up the colors and materials of the cropped pants, that is the first step into determining whether they can truly transition into colder weather. Chino is iffy, cotton sateen is too summery, and I'll wag my finger at anyone who wears seersucker or linen crops come fall (unless you're in a tropical locale!). But denim, stretch twill, ponte, and other thicker fabrics with a tight weave can transition quite nicely.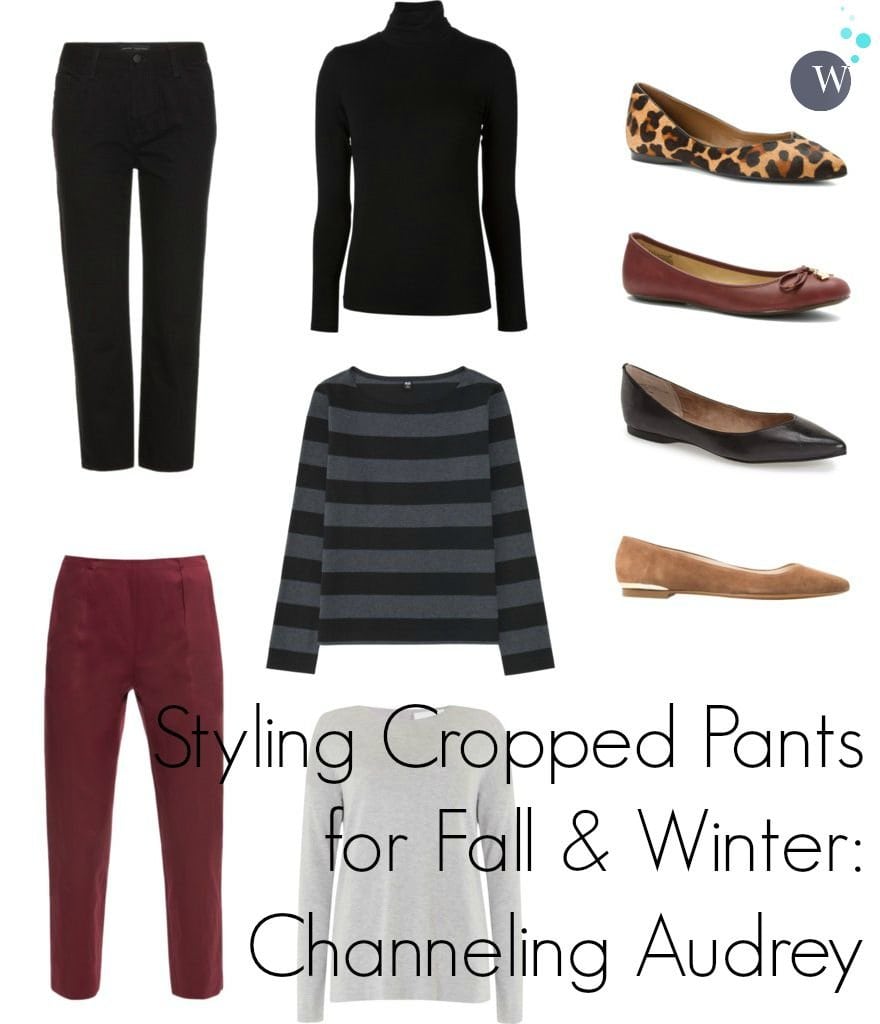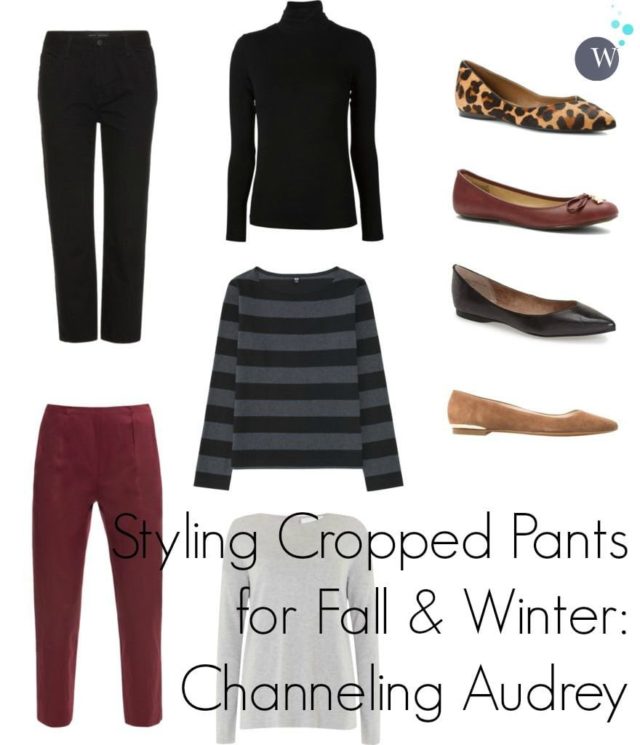 Shop Similar Looks: Jeans | Pants | Turtleneck | Striped Sweater | Gray Sweater | Leopard Flats | Burgundy Flats | Black Flats | Tan Flats
The easiest way to transition cropped pants into fall is to do what I call, "Channeling Audrey." Known for her sleek look with flat shoes, cropped pants, and a turtleneck, using Audrey Hepburn for inspiration is a chic way to make ankle pants look seasonally appropriate when the temps drop. I don't recommend this look for winter as the effect is ruined when you add hosiery; while your ankles may be bare it is balanced for milder temperatures by the sweater on top. A blousy or slouchy sweater will ruin the effect; to balance your hips consider creating volume on top with a boatneck, turtleneck, or horizontal stripes. As for the flat, one with a pointed toe or teensy wide heel will also provide balance.
A fall work alternative is pairing the cropped pants with closed-toe pumps in a dark color. Style the pants as normal; such a slim fit looks great with a boyfriend blazer or longer cardigan.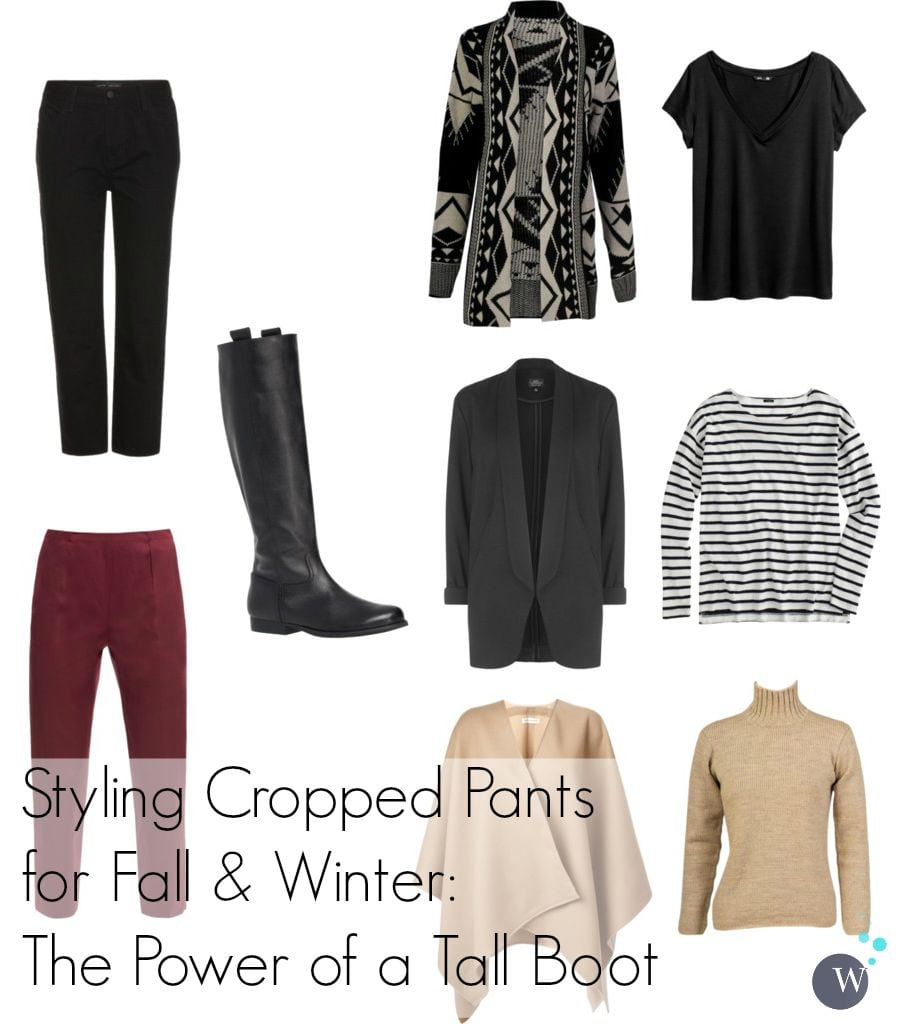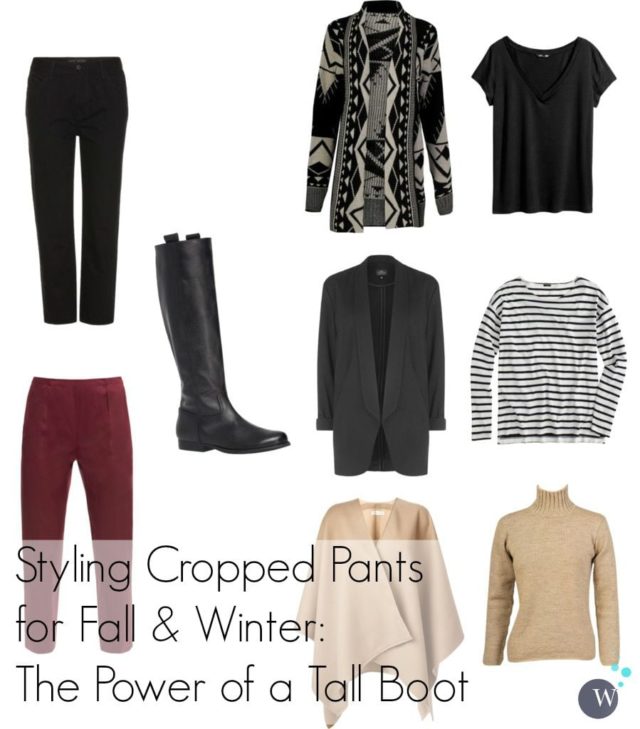 Shop Similar Looks: Jeans | Pants | Boots | Sweater | Blazer | Wrap | Tee | Striped Top | Turtleneck
The best way to make cropped pants work in winter is hide the fact that they're cropped. Since both styles are skinny, they'll slide into a pair of tall boots quite nicely. Layers will also add to the wintry feel; a boyfriend blazer, sweater coat, or wrap will hide your hips in a seasonally appropriate fashion and the boots keep your figure from being too top heavy.
If these pants "feel" like summer and you have to work really hard to style them in the colder months, it's best to store them and not wear again until spring. While it's tempting to "make it work" with summer pieces to extend your wardrobe, it's not worth it if it sacrifices your style. A woman's style is not determined by the size of her wardrobe but how well she knows her style, her body, and the situation at hand.