This article may contain affiliate links; if you click on a shopping link and make a purchase I may receive a commission. As an Amazon Associate, I earn from qualifying purchases.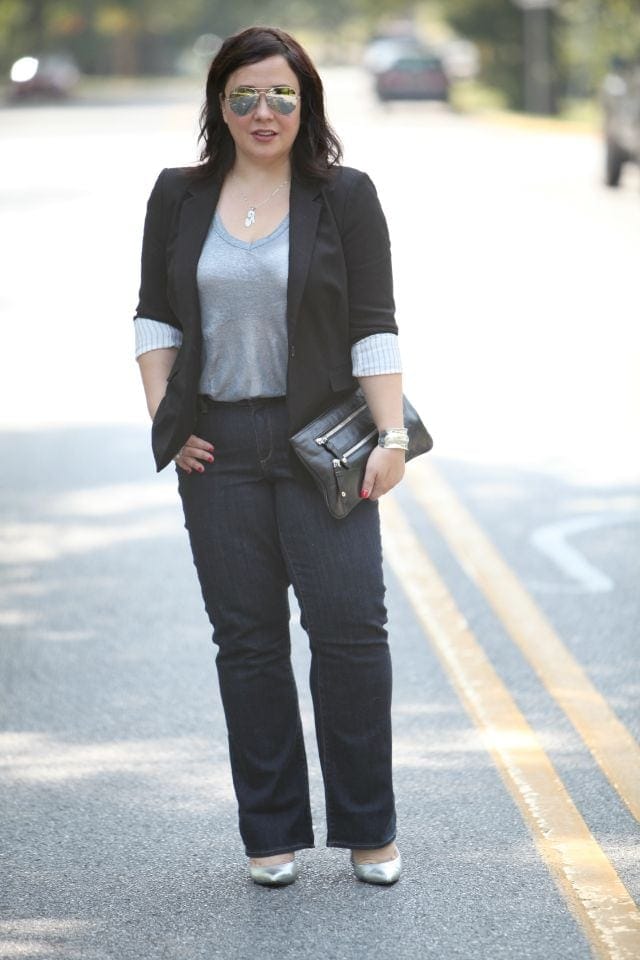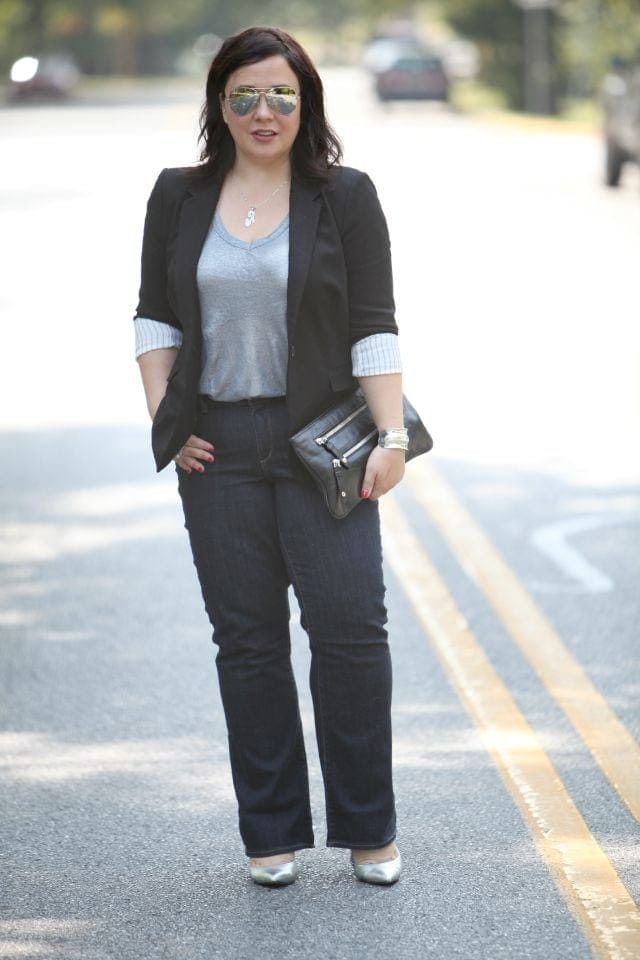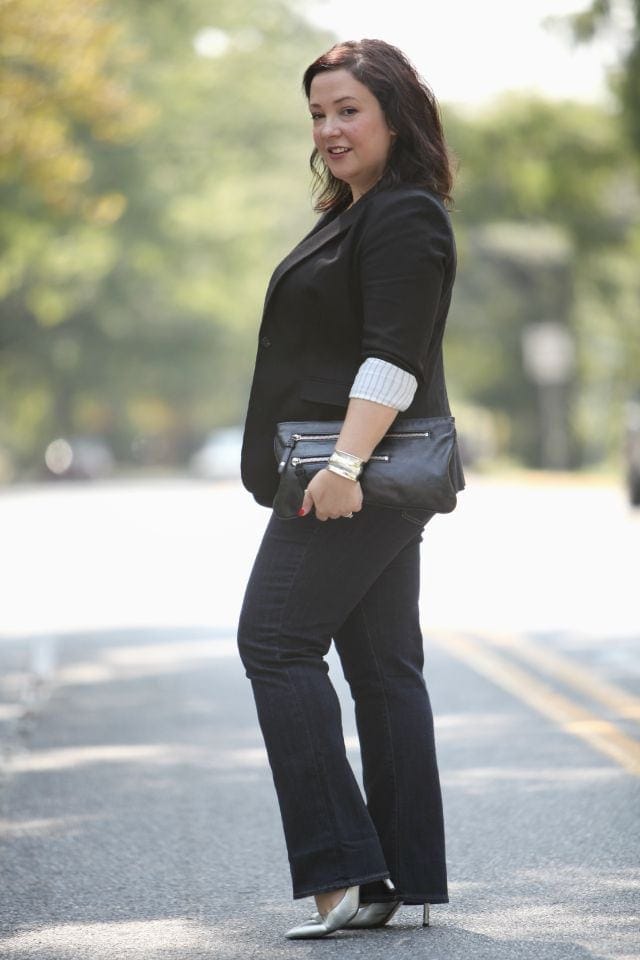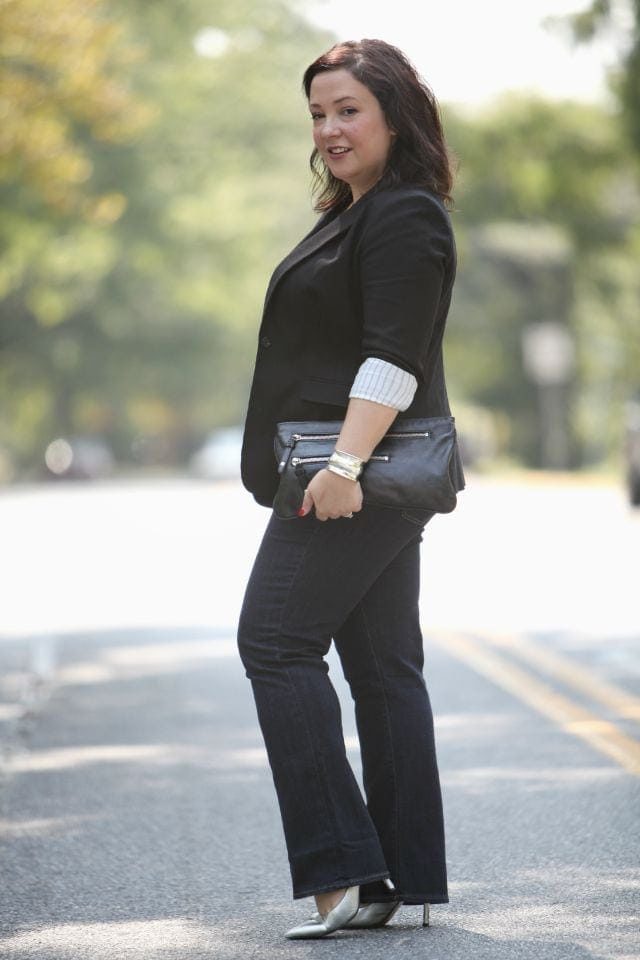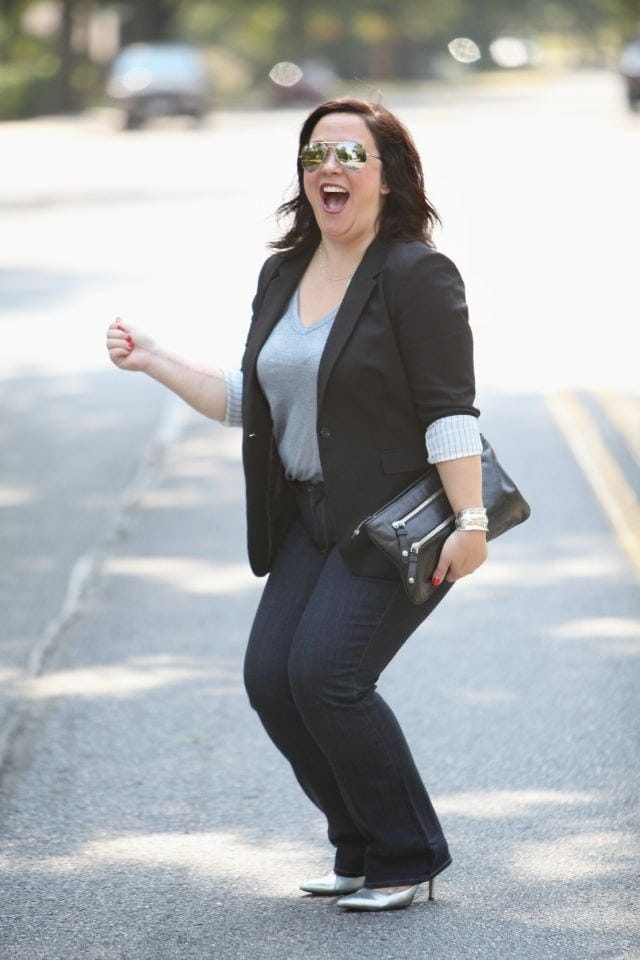 Blazer: Vince Camuto (plus size version) | Tee: Anthropologie (plus size option) | Jeans: c/o Talbots | Shoes: Nine West (lower heel version) | Bag: Hobo (similar) | Bracelet: Had forever (similar) | Necklace: Etsy | Sunglasses: Ray-Ban
SSDD: Same Style, Different Day!  You know me, blazer, tee, jeans, and pumps are my go-to.  Talbots sent me their Flawless Five Pocket Jeans to check out; I chose a 14 regular of the Straight Leg and they were way too big (I am a 14 with Gap and LOFT).  I visited the Annapolis Talbots to exchange them where the staff was amazingly helpful. I tried several different cuts and sizes of the Flawless Five Pocket collection.  My favorite was the Ankle in Oyster; I usually shy away from ankle jeans because they're usually too slim in the thigh and calf but these were amazing… except they didn't have my right size in stock (the 12 regular would have been best).  The stores are still getting in Fall stock, so if you stop by and they don't have your size yet come back a week later!  I went with the Bootcut in Deep Oyster; these are a 14 Petite in the non-curvy cut.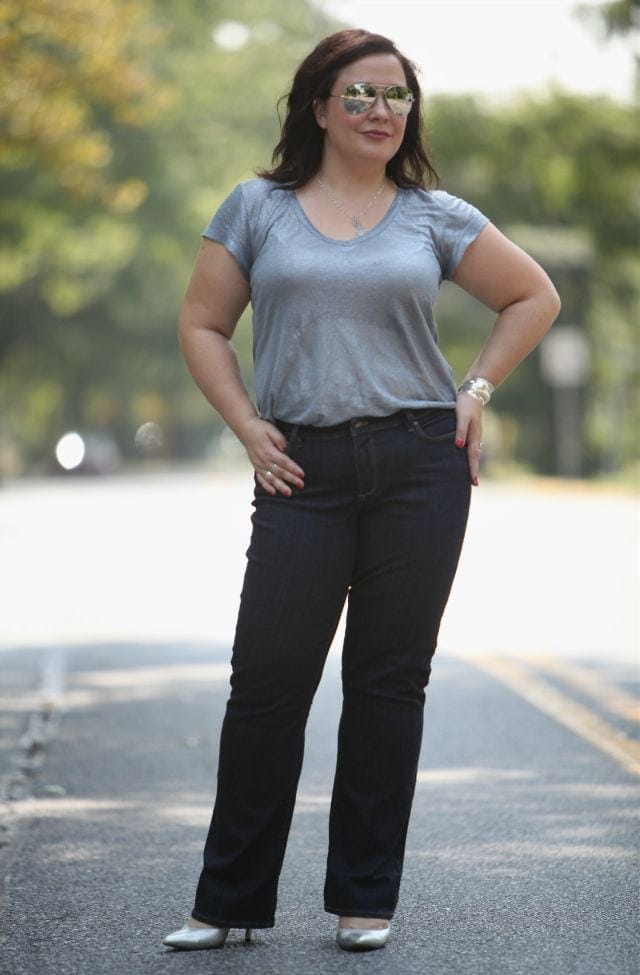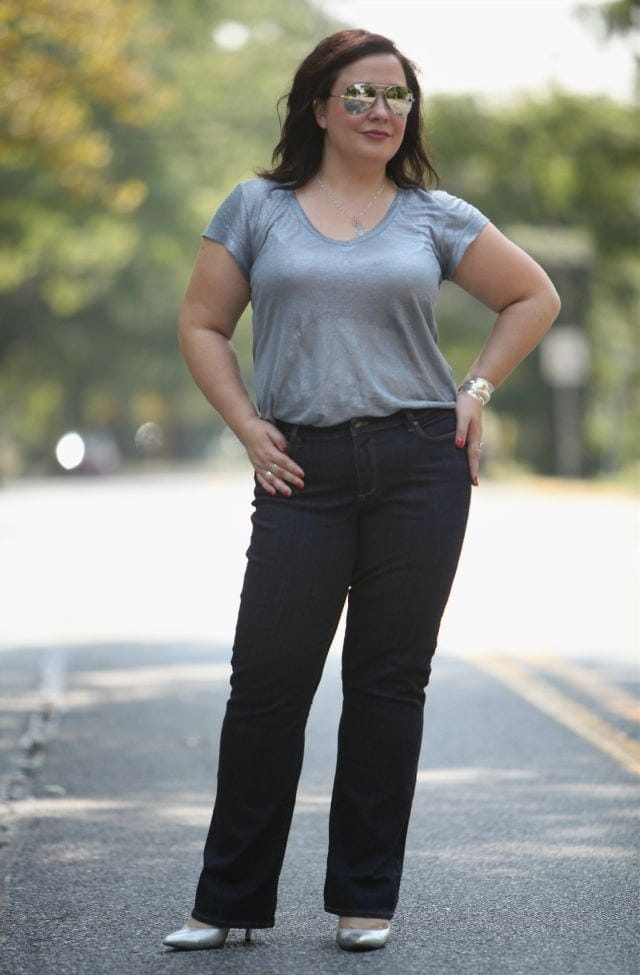 At my size, I usually go in Anthro and only look at the housewares.  At my budget, I just look and don't shop.  Twice in my retail days I interviewed for Anthro and received an offer to be a visual merchandiser and both times I declined and stayed with my current company.  I justified it by saying I'd spend my entire paycheck there, but honestly I think I was scared to try something new.  That pretty summed up me back then, I'd regularly pass on great opportunities for fear of change or failure.  One thing I love about blogging is almost daily I am forced out of my comfort zone.  I push through writer's block, I believe in myself even when I receive criticism, I've become comfortable with public speaking, social engagements where I know not a soul, and pitching myself to brands.  And when I walked into Anthro the day I bought this tee I didn't think about how I can't afford or fit in most of the store and just enjoyed exploring.  And through that exploration I found a few things I felt would fit, and this tee (this is an XL) was one of them.  While $68 may seem cray for a tee, it's a linen blend with metallic threads that shimmers in an elegant way, drapes in an elegant way, and is that thing that works with a pair of jeans (or denim shorts like I did for the Lenny Kravitz concert last week) to make that "not trying too hard" look for a concert, movie, or a couple drinks with friends at the local bar.  I like that it looks equally good untucked (or half tucked) with denim as it does fully tucked into a pencil skirt.  I've wanted something like this tee for a long time but have never been able to find out that fits right; sometimes it's better to spend a bit more for  the right thing.  And sometimes… well more often than not, it's good to get out of your comfort zone.
Shop the Look: