This article may contain affiliate links; if you click on a shopping link and make a purchase I may receive a commission. As an Amazon Associate, I earn from qualifying purchases.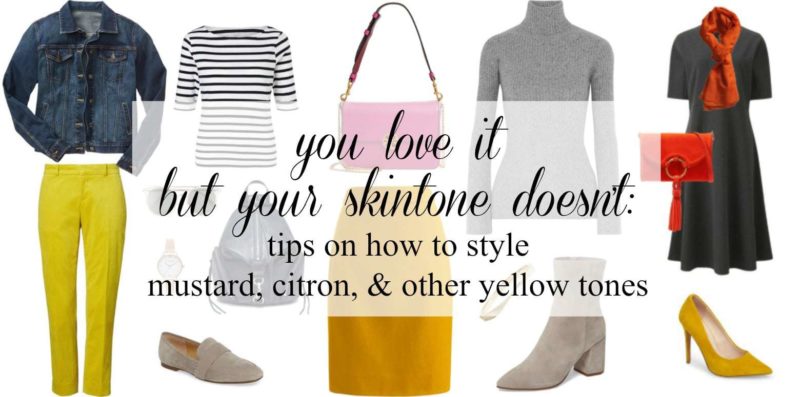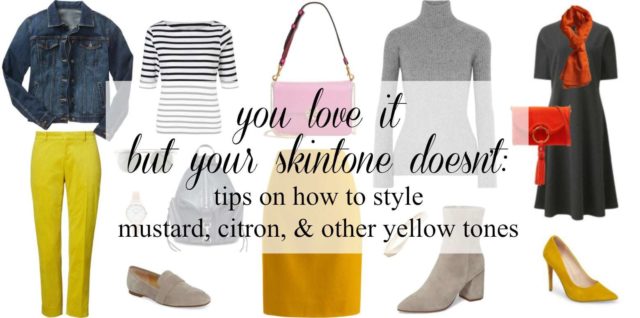 I'm just mad about saffron… but saffron's not mad about me. This fall, one of the hottest colors is one of the hardest to wear. Shades of saffron, citron, curry, mustard, chartreuse, canary, and gold are everywhere from the runway to the mall. It's an autumnal version of yellow that's rich, modern, and unique but hard to wear with many complexions. If you're like me and drawn to the color though it clashes with your complexion, read below for tips on how to wear citron, one of the hottest colors this season.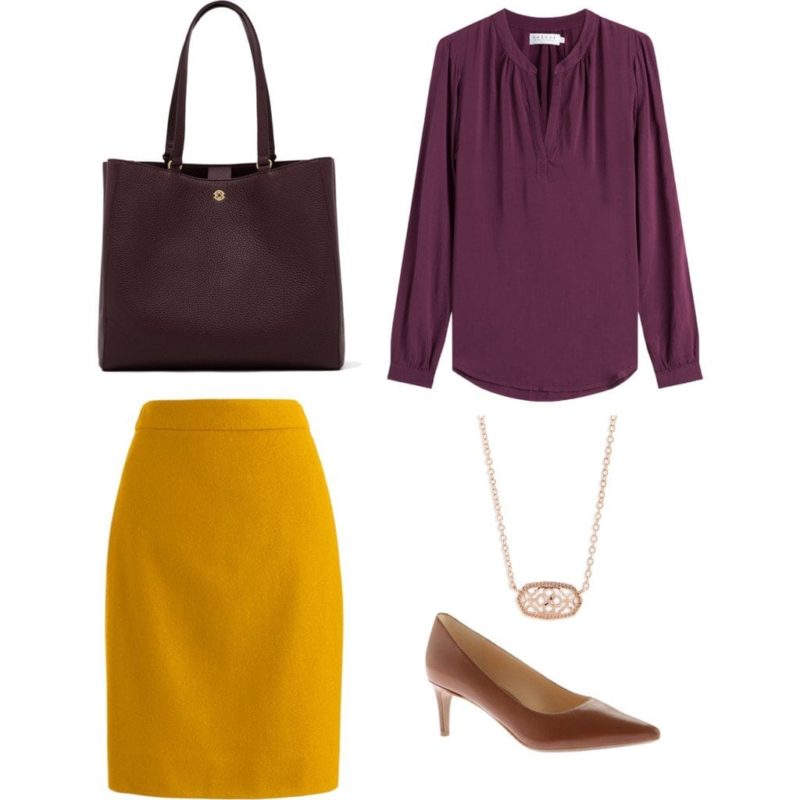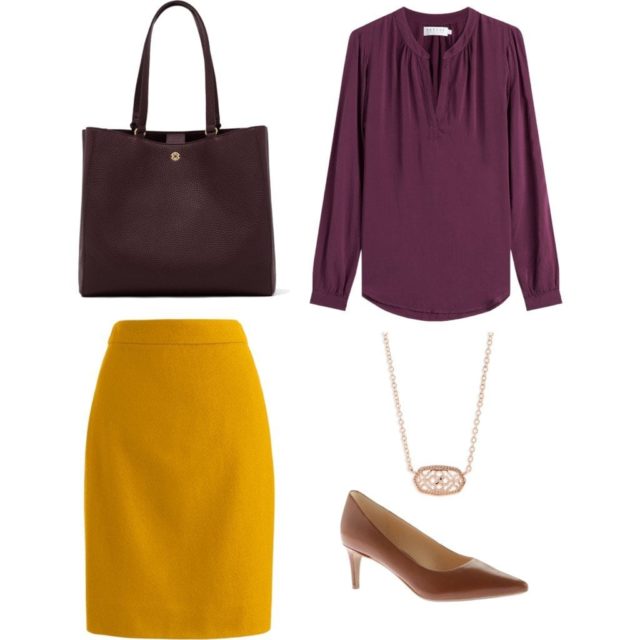 Shop the Look:
Skirt | Blouse | Tote | Pumps | Necklace
Citron is a color that looks amazing with a huge variety of colors, so it's easy to find a shade that is flattering to your skintone. Plum and shades of deep purple can be quite flattering and a popular color with retailers this time of year. This looks shows how citron can work great for the office, styled with a dark plum blouse and work tote and brown pumps. If plum isn't your color, try other rich colors like teal, navy, chocolate, and oxblood to bring elegance and a sense of professionalism to the color.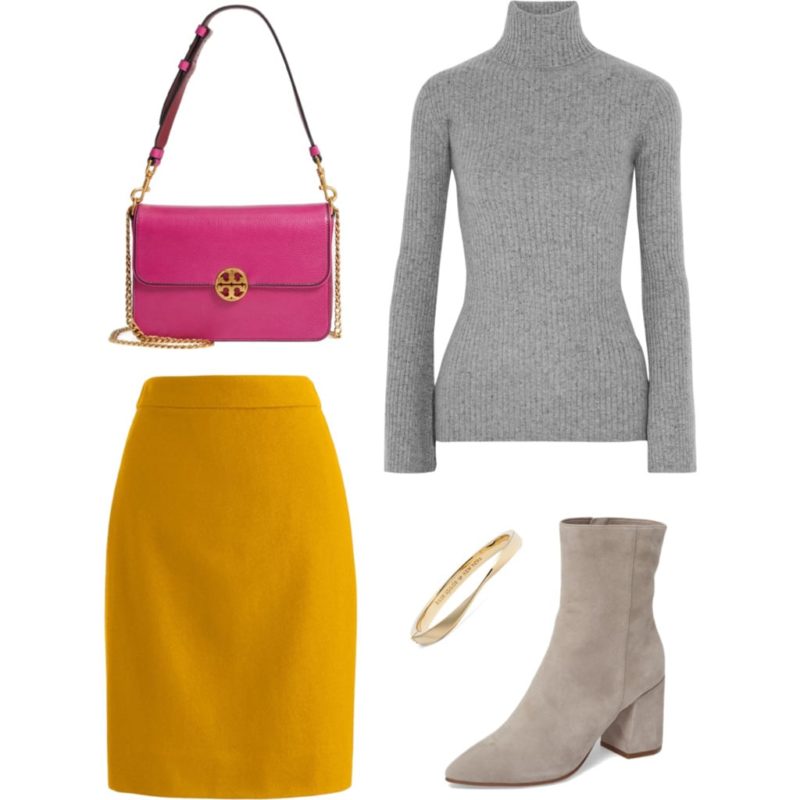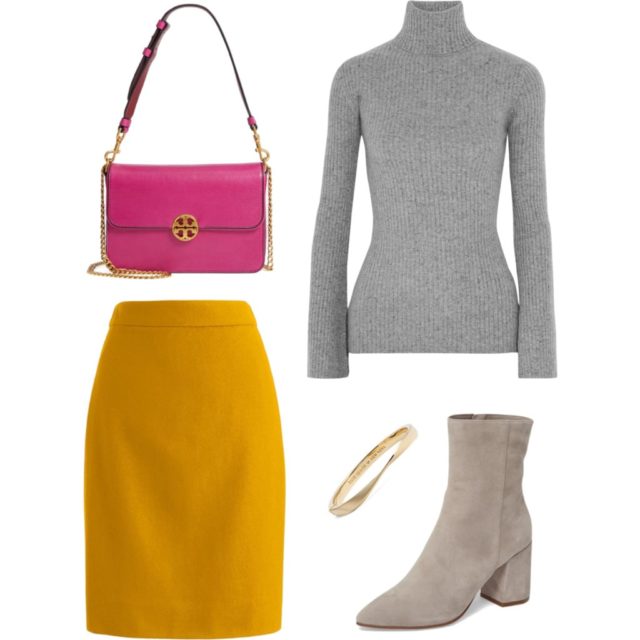 Shop the Look:
Turtleneck | Skirt | Tights | Boots | Bag | Bracelet
For the colder months, consider a continuous line of one color, letting the bright piece be the statement. Here I used a heather gray color from turtleneck sweater to tights to suede boots. Keep the look sleek with a bag in the same color, or add another pop of color for some cheer during the darker winter days. Hot pink, orange, and various shades of green complement citron nicely. With such a bold color you can keep accessories to a minimum; here I added a bit of shine with a slim gold bangle bracelet. For more inspiration see how I styled a citron skirt with black.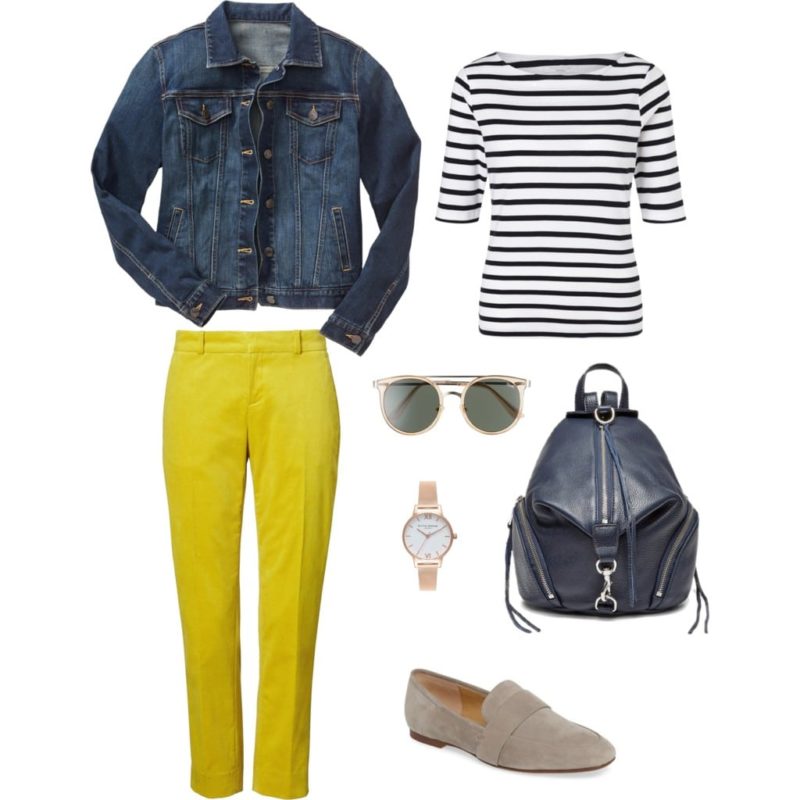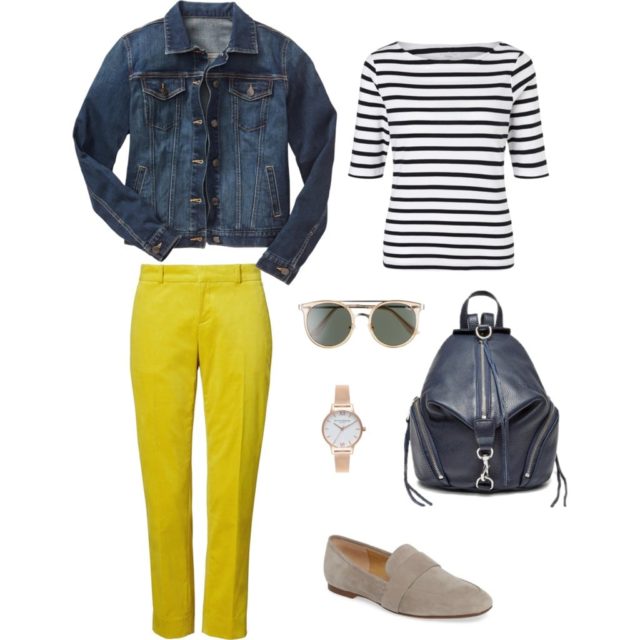 Shop the Look:
Pants | Jacket | Top | Bag | Shoes | Sunglasses | Watch
Such an acid color may seem too intense for the weekend, but when styled with classic pieces, it ends up pulling the look together and elevating the style quotient. Paired with denim and Breton stripes, any shade of yellow from mustard to chartreuse can look polished and not clash with your skintone. While I kept accessories pretty neutral with this look, don't be afraid to add your personality with printed loafers, your favorite sneakers, or bags and shoes in your favorite color. Denim can easily be switched out for a leather moto jacket, the stripes for your favorite band or message tee. For more inspiration, see how I styled citron with a Breton top.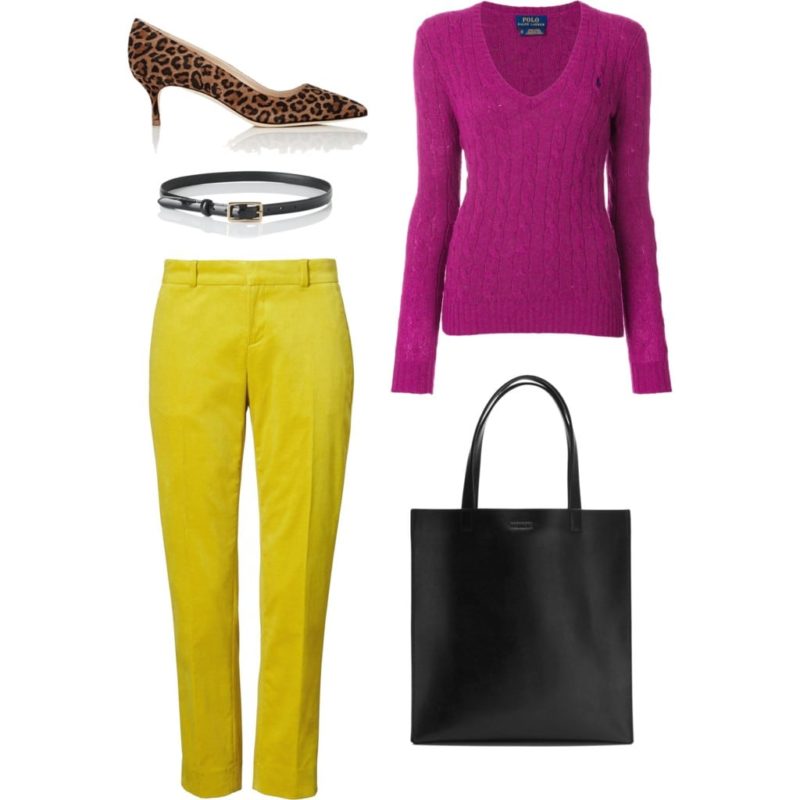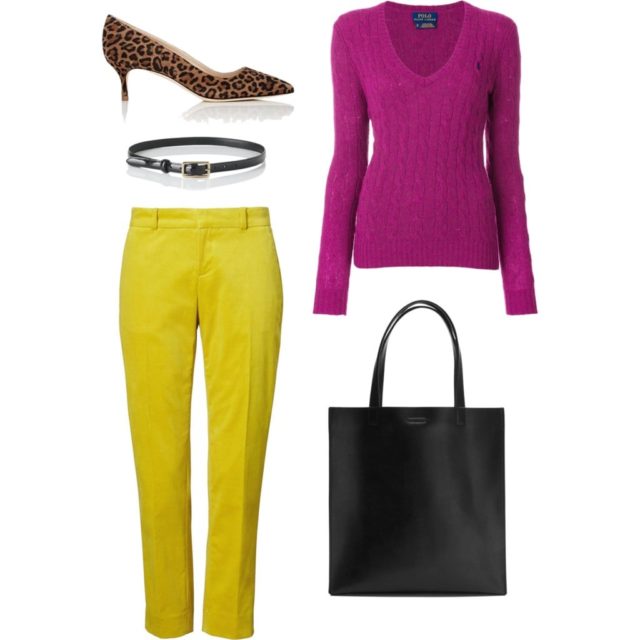 Shop the Look:
Pants | Sweater | Belt | Pumps | Bag
Don't be afraid to mix brights with brights. The key to keeping from looking juvenile is having a rich undertone to the shades (less neon, more brass) and grounding with texture and dark colors. Here, I paired fuschia with citron but balanced the hues with leopard calfhair and black. Use suede, calfhair, corduroy, cashmere, and velvet to add richness to the brights and create a more seasonally appropriate effect. Animal prints are an unexpected neutral and often come in calfhair or suede versions of belts, pumps, booties, loafers, and flats. A patterned silk scarf at the throat or in place of a belt can also add a feeling of luxe elegance.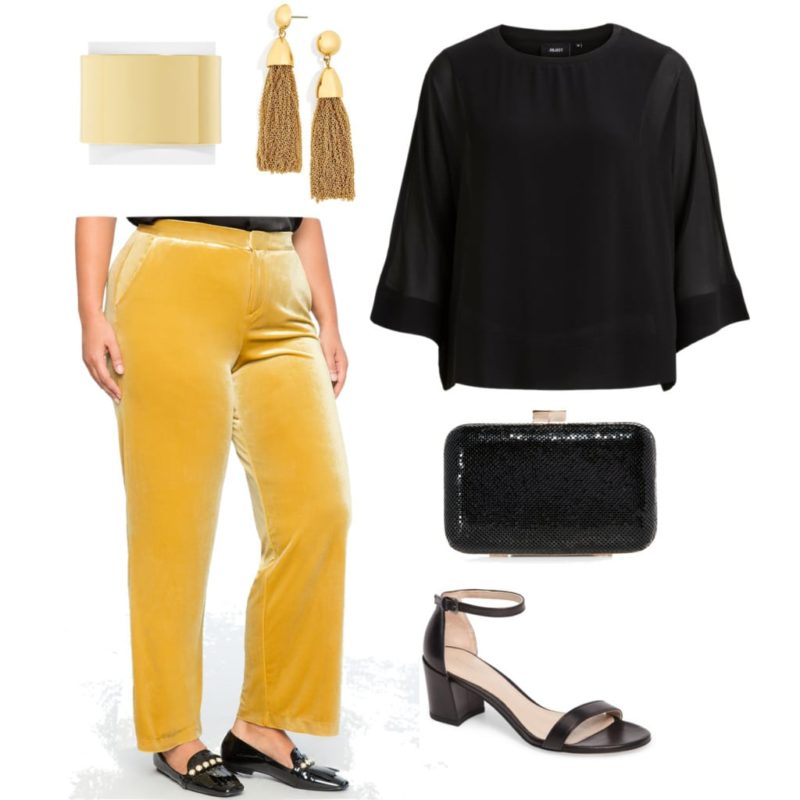 Shop the Look:
Pants | Blouse | Earrings | Bracelet | Bag | Shoes
Treat this gold color like a true gold and you'll find it glams up quite nicely. In velvet and silk, the color looks especially luxe and pairs beautifully with neutrals like black, ivory, winter white, and chocolate. Style with gold and citrine jewelry for after hours sparkle. For a holiday event or cocktail party, pair velvet trousers with a black silky blouse, black heels and a black clutch. Add shimmering gold statement jewelry and a bold lip for extra glamour.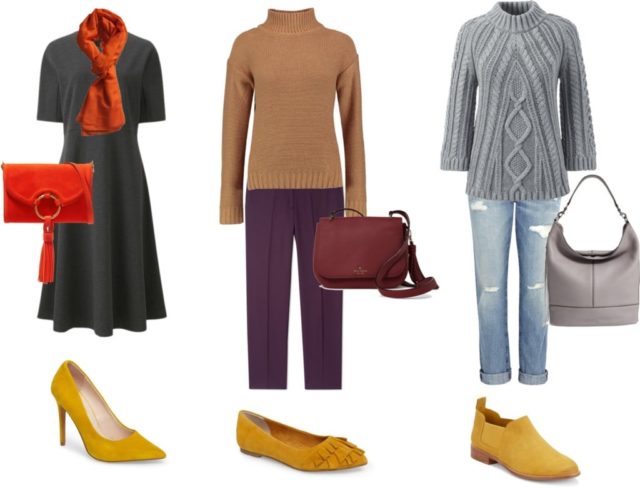 Shop the Look:
Dress | Scarf | Bag | Pumps | Sweater | Bag | Pants | Flats | Sweater | Jeans | Bag | Booties
Mustard, citron, curry and the rest of these golden colors are an unexpected neutral that bring a fun touch to all types of outfits. It's a great color that can add a punch to denim, dark and light neutrals, but also look great with all sorts of colors. Here I show how a mustard-colored shoe can work for the office as well as the weekend in pumps, flats, and booties. What's great about a yellow-toned shoe is that it's not constrained to a certain season. Wear in winter with a black dress and black tights, and pair in summer with a white cotton shirtdress.
How to Wear Citron and Other Yellow Tones:
Pair with Denim. It's a natural pairing, highlighting the weave and texture of denim. Dark or distressed, they all work.
Style with Jewel Tones. To make the color look luxe and right for the season, pair with other rich colors like oxblood, plum, berry, peacock, teal, navy, and chocolate.
Mix Warm with Cool. Citron looks extra luxe when paired with a cool neutral like grey or styled with silver toned jewelry.
Bookend the Color. If yellow isn't your color but you want to wear it, consider it as pants or a skirt and "bookend" it with more flattering colors near your face and at your feet.
Make it an Accent. Citron and mustard are great accent colors. A skinny belt, a pair of statement earrings, or a pair of shoes will be more versatile than you would think and will add that little pop to elevate any ensemble.
Shop the Looks Featured in this Post: