This article may contain affiliate links; if you click on a shopping link and make a purchase I may receive a commission. As an Amazon Associate, I earn from qualifying purchases.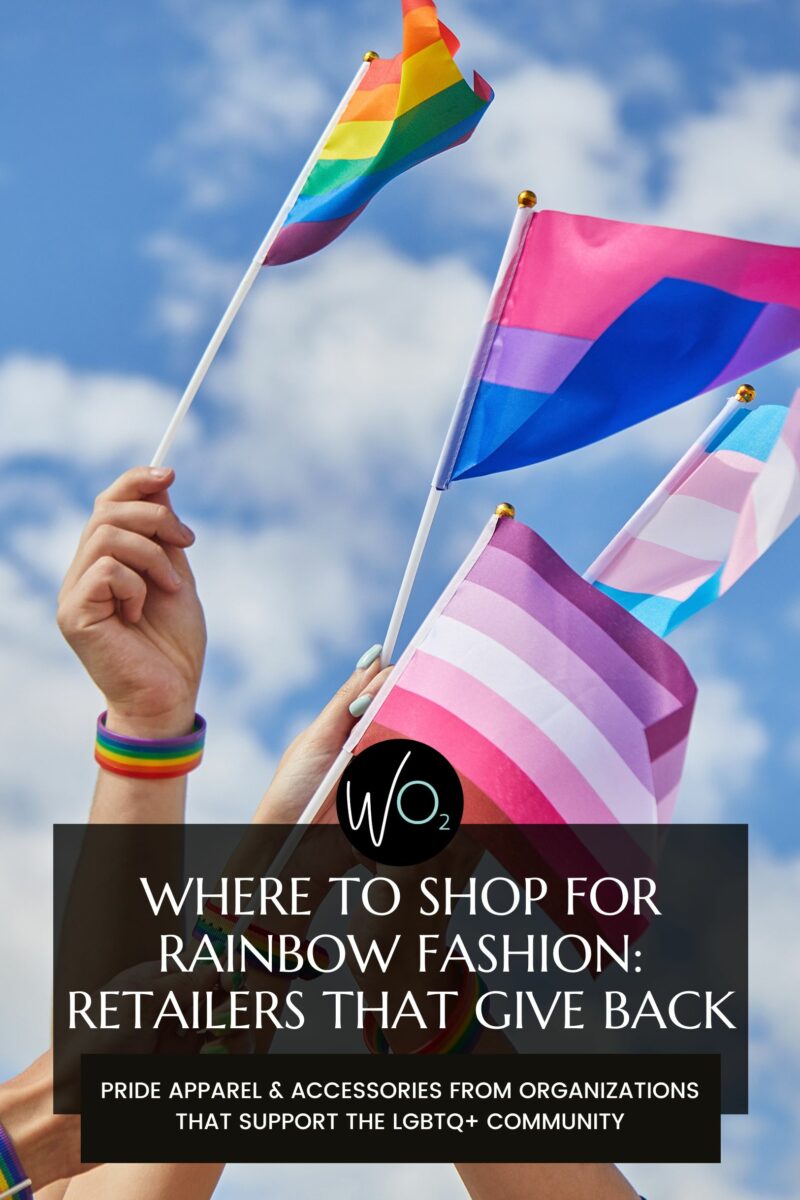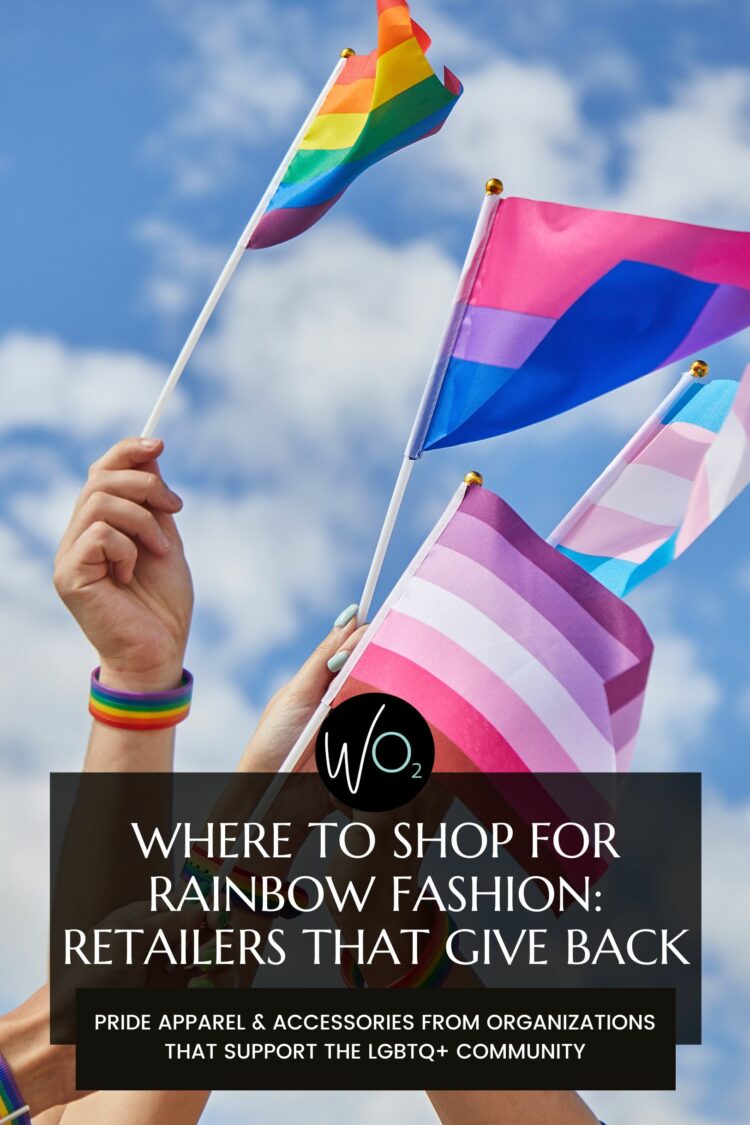 A reader asked me where to shop for rainbow fashion after being inspired by my rainbow-striped Breton shirt. If you're desiring a wardrobe to show your Pride or because you love rainbows and color, I gathered together some of the best rainbow fashion for you. Most of this Pride apparel also supports LGBTQ+ causes.
When searching for the best places where to shop for rainbow fashion, I found that some of these items below give back to LGBTQ+ organizations; when they do I will state that and what organization they are supporting with your purchase. Many of the retailers featured below are LGBTQIA+ owned; I too will share that information when applicable.
This post was originally published in 2021 but updated for 2023 with rainbow and Pride items that are currently in stock. It was surprising how many companies had Pride-specific lines donating to LGBTQ+ organizations in 2021 and this year they don't have one. Therefore, this year I made an even more concerted effort to feature primarily products that support the LGBTQ+ community while also looking great!
Where to Shop for Rainbow Fashion and Pride Fashion and Accessories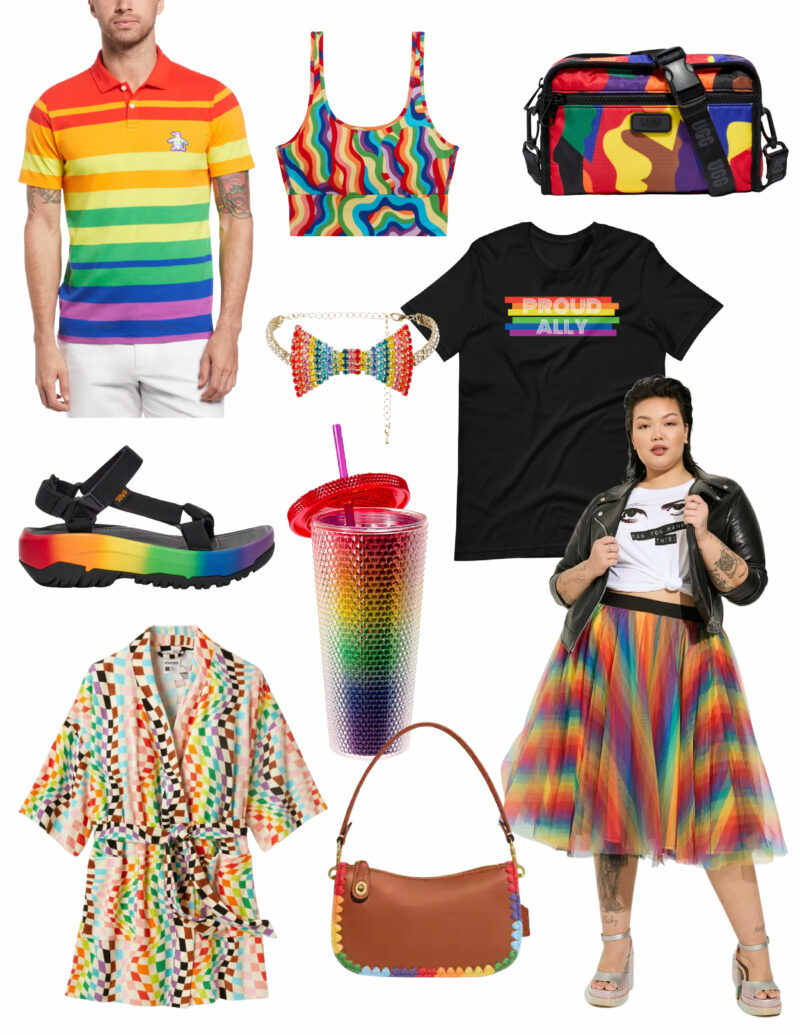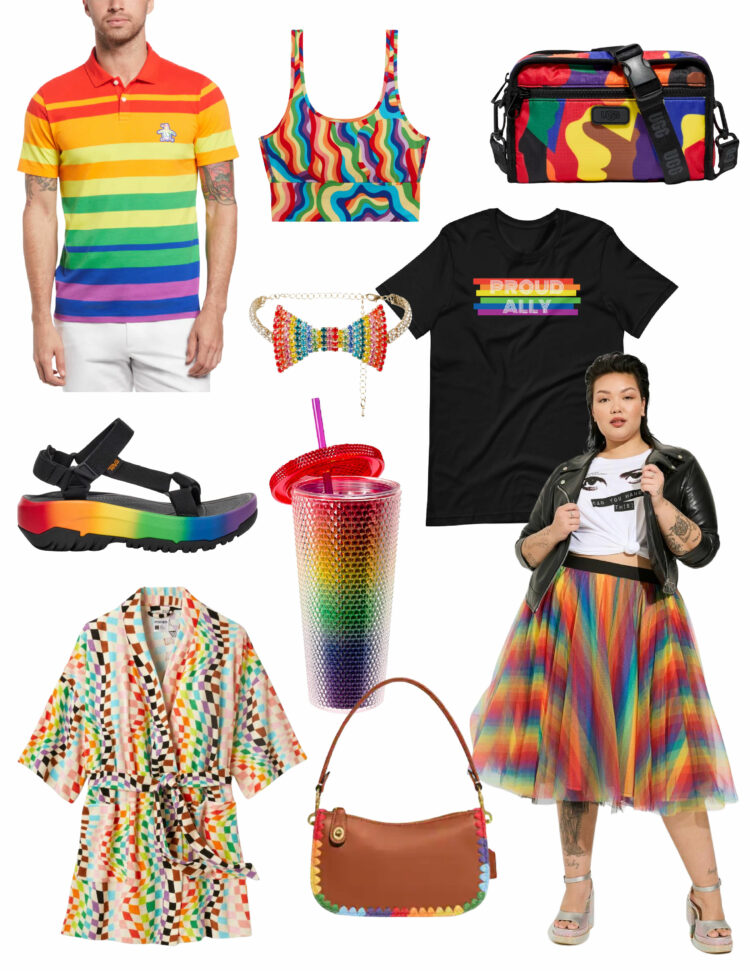 This engineered striped shirt from Original Penguin is available in sizes XS-XXL.
Available in sizes XS-4X, this longline bra is from TomboyX, a sustainable B Corp queer-owned company.
Cast in durable ripstop nylon, this bag from UGG has an adjustable, removable strap so you can wear it your way: as a crossbody, belt bag, or clutch
Crafted of gold plated rhodium metal with rainbow prong set rhinestones, this necklace from Meghan Fabulous is sure to brighten up your look 
Available in two colors and sizes XS-3XL, this t-shirt is from Queerencia, a Black & LGBTQ+ owned brand
An all-gender style that celebrates self-expression, this rainbow platform sandal from Teva pops with a vivid gradient. 
Holding 24 ounces of your favorite cold beverage, this double-walled tumbler with straw is from West & Fifth
Available in sizes 10-30, this skirt from Torrid has 20% of the proceeds donated to GLAAD.
Available in sizes XS-4X, this cotton blend robe gives back to GLESEN. GLSEN leads the movement in creating affirming, accessible and anti-racist spaces for LGBTQIA+ students. 
This glove-tanned leather bag with crocheted trim is from Coach. This year marks a decade of partnership between the Coach Foundation and the Hetrick-Martin Institute, and continuing partnerships with the Point Foundation and CenterLink Community of LGBTQ Centers. All three organizations create supportive environments where LGBTQIA+ young people can thrive.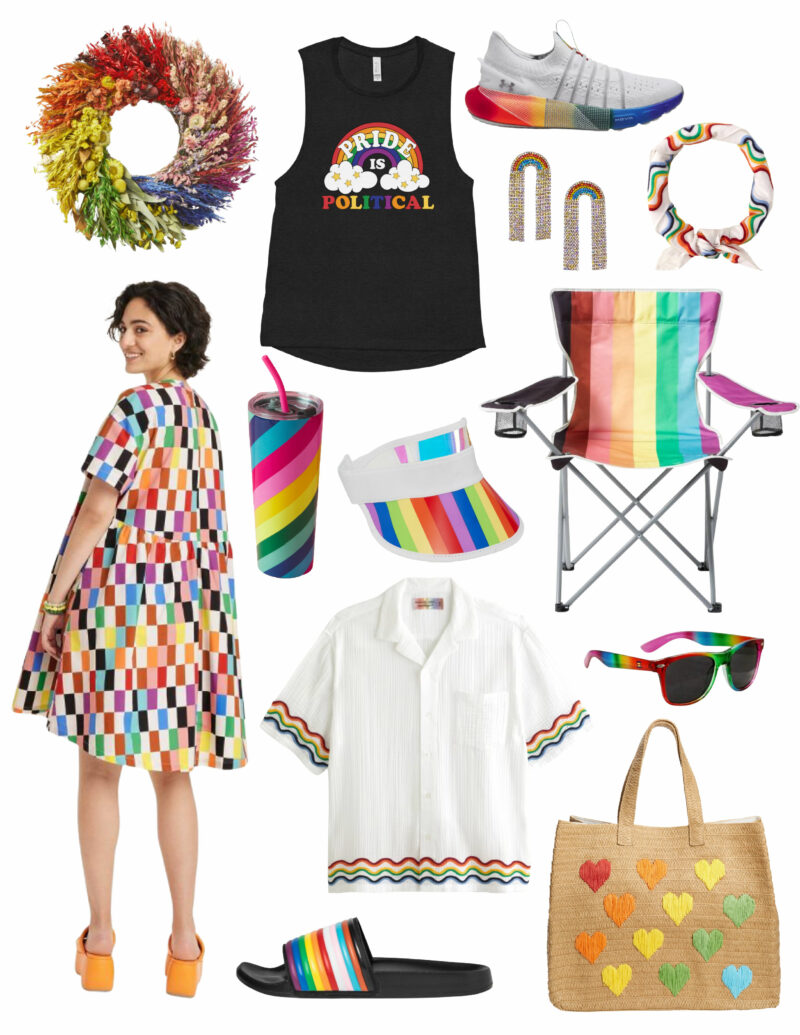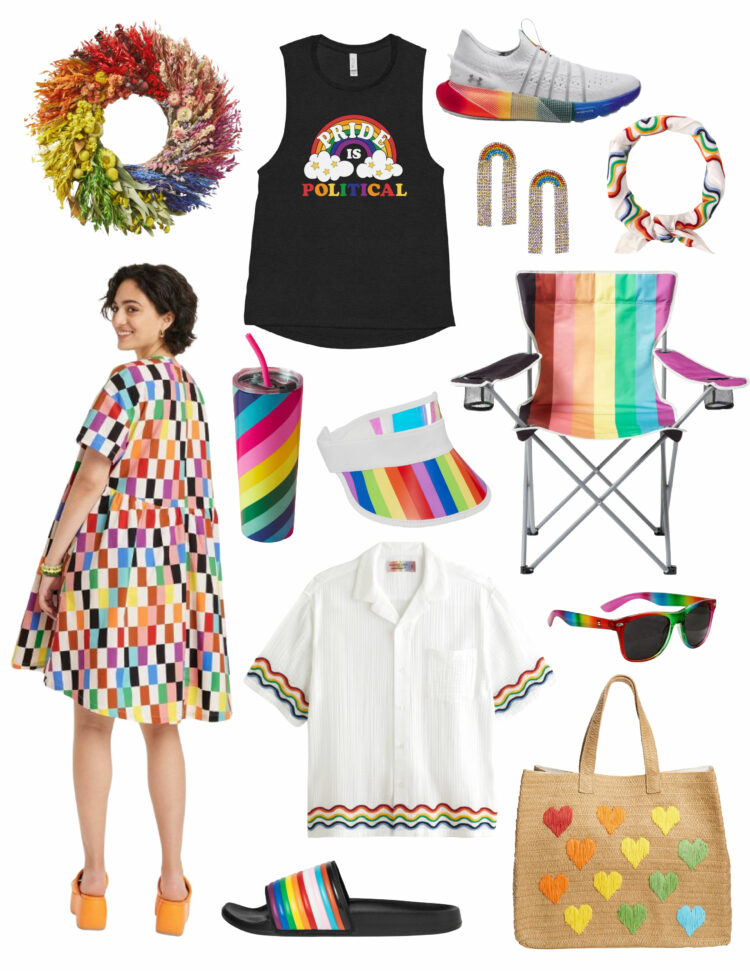 Hand assembled from air-dried delphinium, larkspur, craspedia, strawflower, avena, and eucalyptus, this wreath from Williams-Sonoma is available in two sizes
Available in 3 colors and sizes S-2XL, this tank is from March for the Movement, March For The Movement, an AAPI, Queer-Owned, Women-Owned business
These unisex shoes from Under Armour support Unmatched Athlete, WorldPride, and Rainbow Labs, each with the goal of providing safe places for LGBTQ+ athletes and allies to play and compete
Channel your inner happy vibes with these dramatic rainbow cascading drop earrings from Meghan Fabulous
Embroidered rainbow swirls on a white ground, this bandana from Abercrombie & Fitch supports The Trevor Project
Made from 100% cotton, this dress designed by LGBTQIA+ artist partner Alice Butts is available in sizes XS-4X
Made from stainless steel, this 24 oz. drink tumbler from Cambridge will keep your drink chilly in style
From Old Navy, which is donating $50K to the Ali Forney Center
From the Pride collection at Target
Supporting The Trevor Project, this shirt from Abercrombie & Fitch comes in sizes XXS-3XL with regular and tall options
From the Human Rights Campaign, these sunglasses offer 100% UVA and UVB protection
From the Target Pride collection, these unisex slides come in sizes XXS-XL
This large lined paper straw tote is from BTB Los Angeles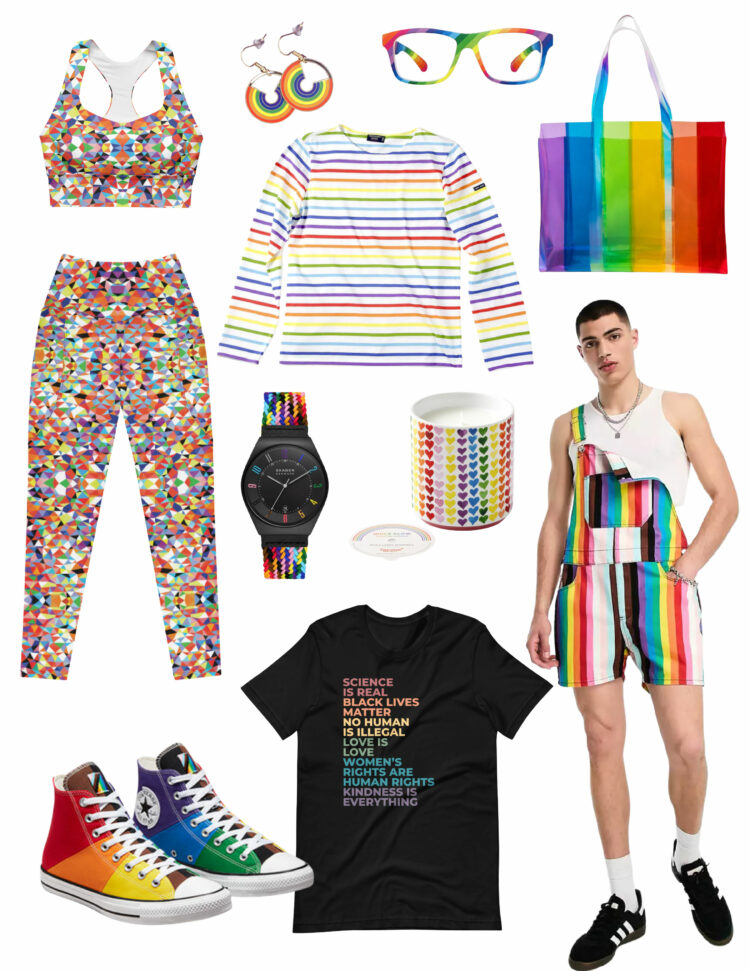 The sports bra is available in XS-3XL; the pocket leggings are available in 2XS-6XL and both are from The Phluid Project
From Dissent Pins and available in 24K gold plated or silvertone, 50% of the profits from these earrings are donated to T.A.K.E. Resource Center (Birmingham), The Ali Forney Center (NYC), and The Trans Lifeline
At such a great price (under $20) how can you resist? I've ordered prescription glasses from Zenni before with great success.
Available in sizes XS-4XL; Saint James donates $15 per shirt to the Born This Way Foundation
Part of the Target Pride collection, this tote supports GLSEN
From Skagen, through June 30, 2022, 100% of proceeds from their Pride collection will be donated to InterPride
Williams-Sonoma is donating 50% of the purchase price of each bergamot-neroli candle to The Trevor Project
From ASOS Design, these shortalls are available in sizes 2XS-4XL
Designed by LGBTQIA+ employees and allies at Converse. Converse has pledged and donated nearly $2.5M to local, national, and international organizations since their first Pride collection in 2015
Available in two colors and sizes XS-5XL, this shirt is from Gay Pride Apparel, a company founded by two first-generation Mexican-Americans and members of the LGBTQ+ community
I had several more items I found that didn't make the collages so I added several into the carousel below:

Pride Month is June and many retailers offer rainbow and Pride-related merchandise at that time. Do you have any suggestions on where to shop for rainbow fashion and Pride accessories, especially from companies that support the LGBTQ+ community?