This article may contain affiliate links; if you click on a shopping link and make a purchase I may receive a commission. As an Amazon Associate, I earn from qualifying purchases. 
I really promote having a closet of wardrobe classics here at Wardrobe Oxygen, but I think it's also important to add zest to your sartorial staples with seasonal trends that catch your fancy. This fall, there are so many trends that are extremely wearable and can really add interest to your wardrobe classics. Here's a few of this season's trends that I think will update all the basics in your closet!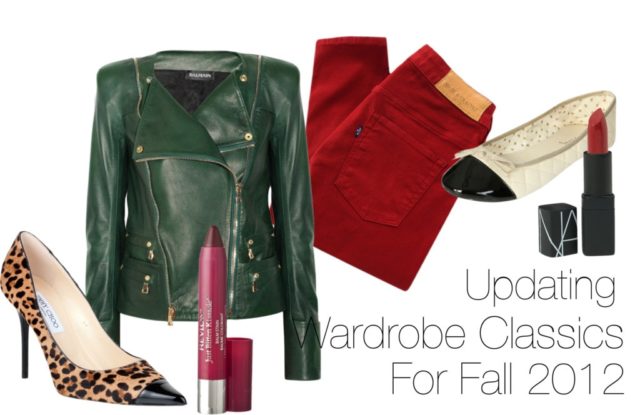 Leather Jacket
Leather is hot hot hot this fall, and I couldn't be happier. I have already added two leather skirts to my wardrobe this season, and am looking for a leather jacket and possibly a leather top. While all leather is en vogue right now, a leather jacket is a piece that will not update your wardrobe for the season, but can easily become a wardrobe classic for many seasons to come.
A leather jacket is more of an investment piece – while there are many faux versions on the market, most of them look like faux, and they don't insulate and fight wind as well as leather. Also a real leather jacket will age nicely, getting softer and molding to your figure. If you choose a style that is either pretty simple and streamlined or incredibly unique (signature color, exaggerated details, etc.) this can be a piece you wear for years.
Biker-inspired jackets are back en vogue though they never really left the fashion scene. A blazer is also a great look that is trendy now and will still be stylish next winter. While black is always chic, this is a great season to try an unexpected hue like oxblood or dark green. Pair with everything from knits and jeans on the weekend to using as a blazer to toughen up office-appropriate sheath dresses.
Cap Toe Shoes
I saw this trend start earlier this year and was pretty excited. I love when fashion grabs hold of a trend that is extremely simple to replicate at any pricepoint. The small addition of a cap to a pair of heels or flats take them from ordinary to extraordinary. While this is a popular trend for fall, it's not necessarily one that will be seen as passé in a couple months' time. I recently splurged on a pair of suede Mary Janes with a gold cap toe, but I have seen cap toe shoes everywhere from Chanel to Payless. Not only that, you can DIY a pair of cap toe shoes quite easily! I do recommend if these shoes are for the corporate environment to spend a bit more – cheap shoes often look that way, wear more quickly, and you can lose credibility or authority speaking to clients in cheap-looking shoes.
Wear cap toe shoes in place of your traditional flats or heels – a pop of color or shine will add depth to your classic ensemble. I love the look of tone on tone cap toes, it's a great alternative to a classic leather ballet flat!
Wine-colored Lips
It is amazing how lipstick can completely transform not only one's face but her entire ensemble. Adding a new color of lipstick to your beauty routine will quickly give a new life to your wardrobe classics. This season lips are the color of wines – deep reds, dark berries, and rich plums. While glosses were hot for the summer, this fall lips are more creamy. Stain balms, creamy or matte lipsticks and lip crayons take center stage; pack up your high-shine glosses and shimmery sticks for spring. Lipsticks can come at most any pricepoint, and I do find that department store brands do usually have longer wear and are better to your lips, but there's some great drugstore products out there that will let you try this trend for less. I have the Revlon Just Bitten Kissable Balm Stain in Romance (deep red) and Crush Begun (dark wine) and love them for their longevity, and of-the-moment stain with a hint of shine look.
Colored Skinny Jeans
This summer brought denim in candy colors, this fall the colored denim trend has continued but with shades more appropriate for the season of falling leaves. Skinny stretchy jeans in Bordeaux, navy, dark green, mustard and brown are being paired with slouchy sweaters and ballet flats, blazers and booties, and knits with tall boots. This is a trend that can easily transform your closet of wardrobe staples without paying an arm and a leg. While colored jeans are available from most any designer at all sorts of pricetags, I am a fan of the Old Navy Rockstar skinny jeans – at less than $30 they can help you update your wardrobe classics for very little money.
Follow Me | Twitter | Facebook