This article may contain affiliate links; if you click on a shopping link and make a purchase I may receive a commission. As an Amazon Associate, I earn from qualifying purchases.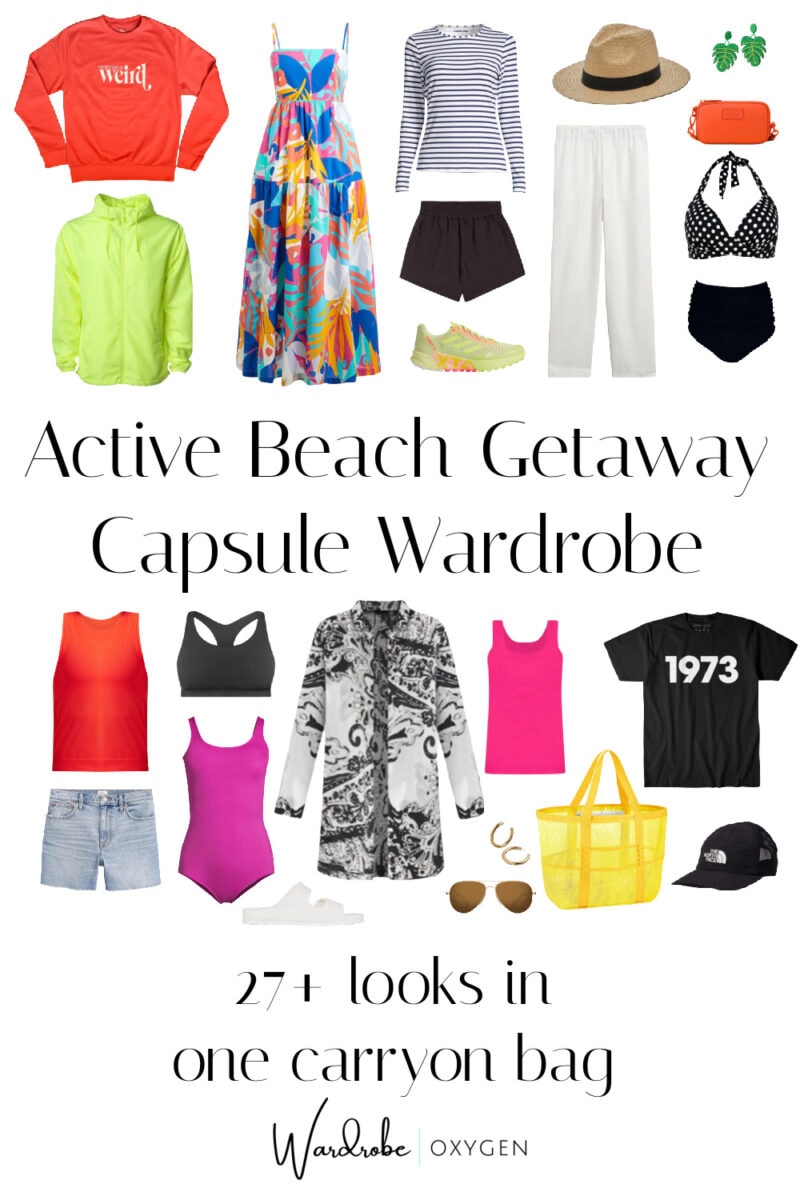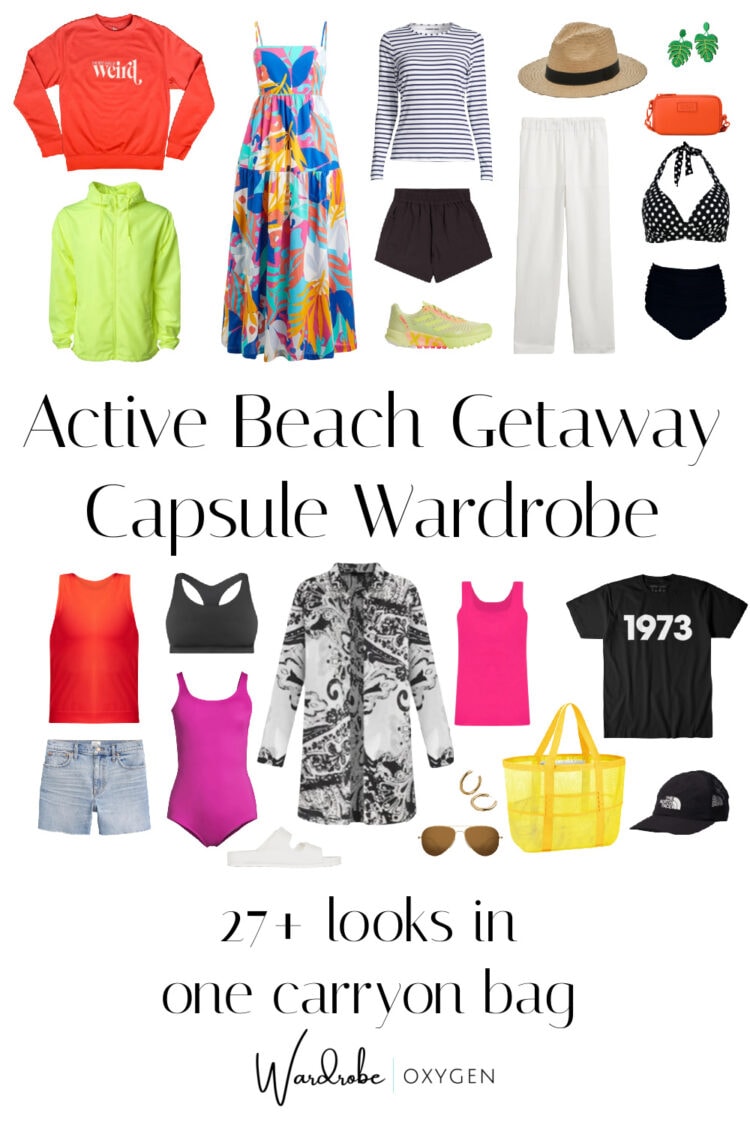 I recently went to the beach for a long weekend with some of my best girl friends. I looked at what I packed and realized if I added just a couple of items, I'd have a great active beach getaway capsule wardrobe that would extend far beyond three nights.
I decided to take some of the items I packed as well as other pieces that were similar in stock or would coordinate nicely to create this summery active beach getaway capsule wardrobe that's ready for a nice restaurant or a morning run, full of color, fun, and of course a lot of versatility.
I really believe in having the pieces in your closet live multiple multiple lives. And when you're building a capsule wardrobe, I encourage you to think outside the box having your closet favorites extend beyond their intended purpose. You will see in this capsule wardrobe I have streetwear as a beach coverup, activewear worn as streetwear, the same item dressing up and dressing way down.
An Active Beach Getaway Capsule Wardrobe
This active beach getaway capsule wardrobe will have you dressed and ready for outdoor activities and elegant dinners, action-packed mornings, relaxing afternoons, and festive evenings. With a black and white base, this capsule gets energy from bright pops of color as cheery as popsicle on a hot summer day.
Everything in this capsule wardrobe is available, at a minimum, up to size 20. All sizes are listed next to the links to the products below the collage.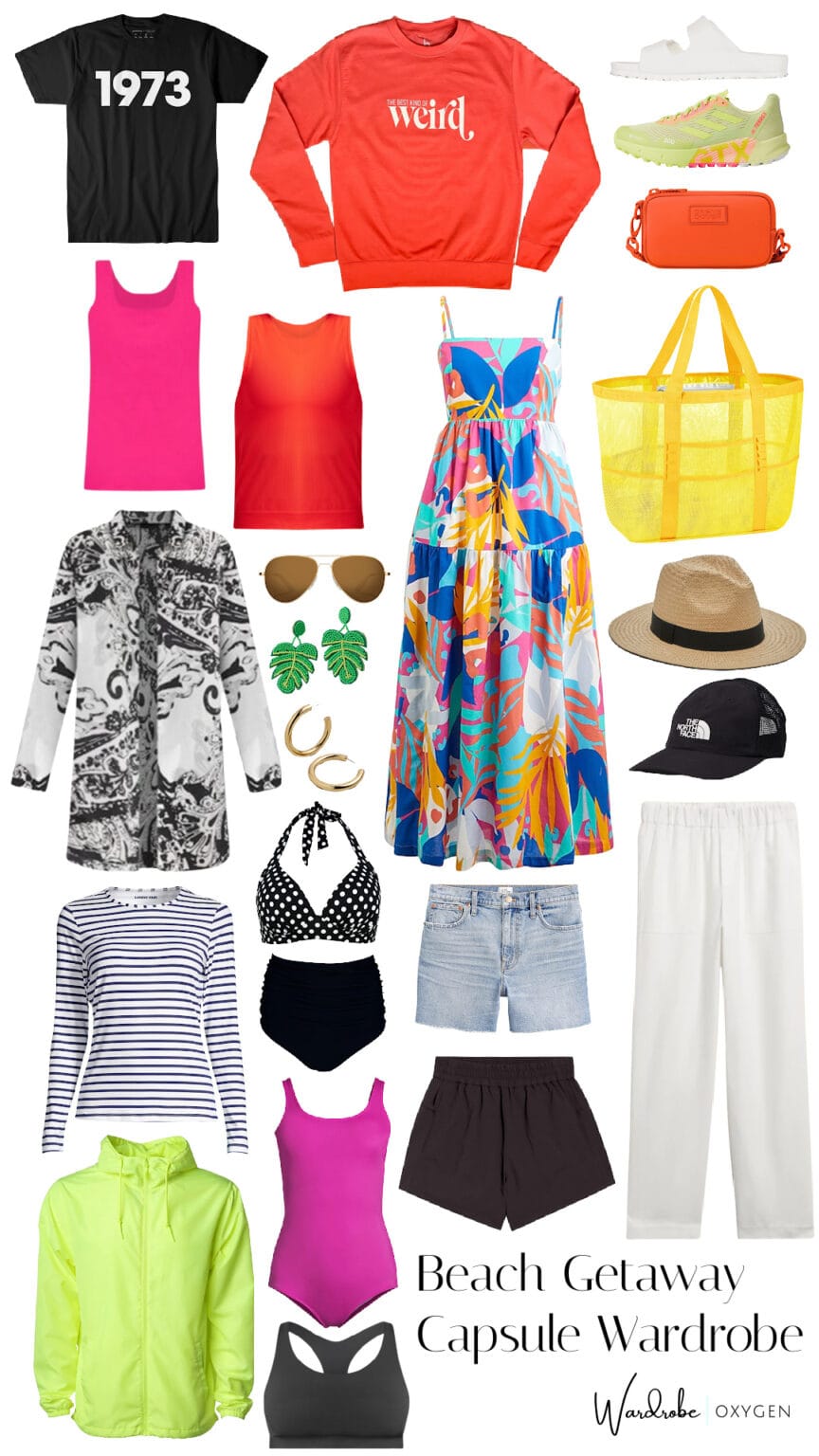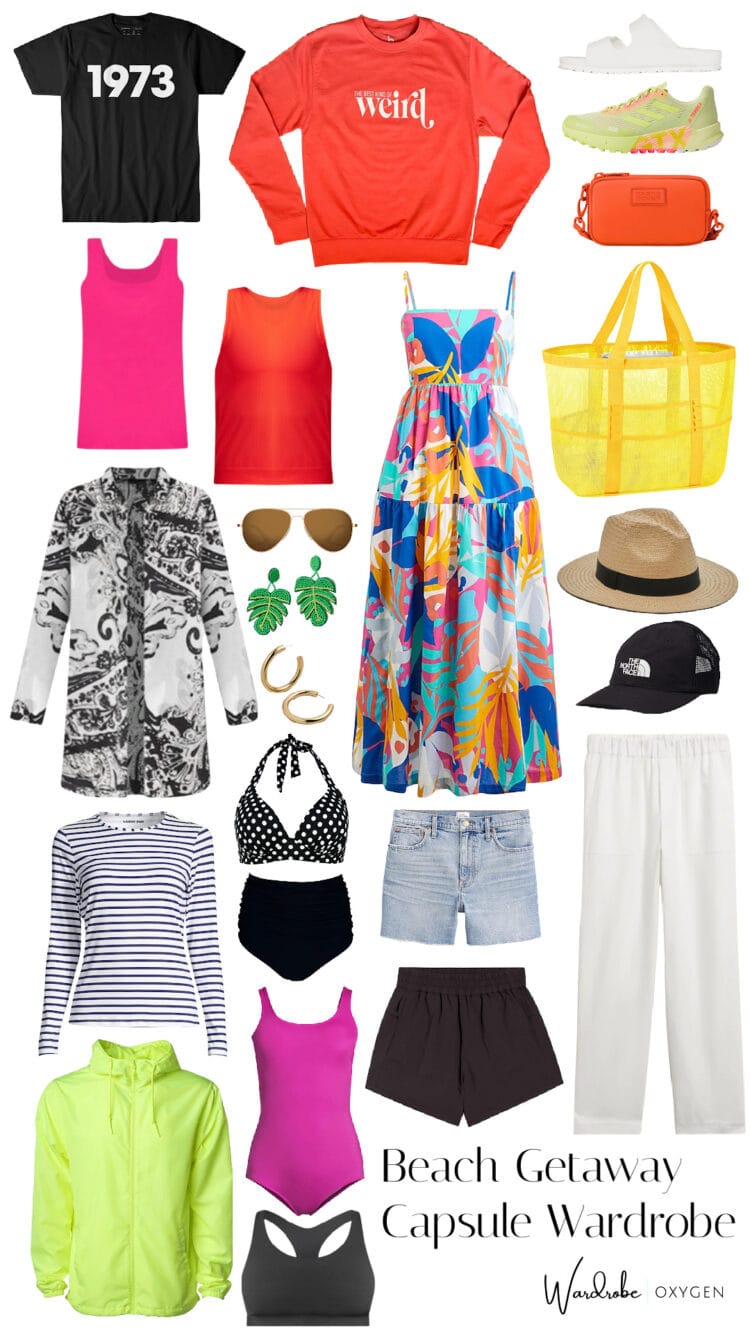 black graphic t-shirt (XS-4XL) | hot pink microfiber tank (0/2-20/22) | orange tank (XXS-XL) | black and white linen tunic (0/2-20/22) | striped rashguard (XS-XL; link to 1X-3X) | hooded windbreaker (0/2-20/22) | orange sweatshirt (S-3XL) | printed sundress (00-20) | polarized sunglasses | leaf earrings | hoop earrings | halter bikini top (32D-40G; similar for smaller busts 2-14; similar 1X-3X) | black swim bottom (4-24) | denim shorts (23-37) | pink swimsuit (2-18; link to 16-26) | black shorts (00-40) | black sports bra (XXS-3X) | white sandals | sneakers | orange bag | yellow tote | straw hat | baseball cap | white pants (XXS-XXL)
Look closely and this capsule wardrobe isn't terribly creative or innovative. But what makes it look like that is the use of color. If you are one who resorts to dark colors and neutrals because they seem the most versatile, let this be a wakeup call. Color can be versatile, and color can make more utilitarian piece appear to be more luxe. And color makes pieces look more "signature" and less like you're wearing that same black/gray/beige thing again and again.
I challenge you this summer when you buy a staple – a jacket, a swimsuit, a basic tank, a bag – and buy a color that you enjoy instead of a color that will blend in/not show wear/fit some archaic style rules about what you can or can't wear because of your body or your age or your skintone. I think you'll be pleasantly surprised.
Beach Getaway Capsule Wardrobe Outfits: 27+ Looks
Below are 27 separate images featuring 27 different outfits created from this capsule. To see any of these looks larger, simply click on any of the images. There will be arrows on the left and right of the images to scroll through. To return to this page, click the "X" at the top of the screen.
It is hard to assume situations when it comes to a beach getaway. How long is it? How warm is it? What sorts of activities? Is the beach community rustic or a bustling community or a tropical paradise? I made this beach capsule wardrobe based off my experiences at Rehoboth Beach, Delaware and my vacation last summer to Davis Park, Fire Island.
Use this as a general guide, adding more activewear, footwear, casual attire, or dressy pieces based upon your destination and itinerary as well as your personal needs and priorities.
Reviews of Items in this Capsule Wardrobe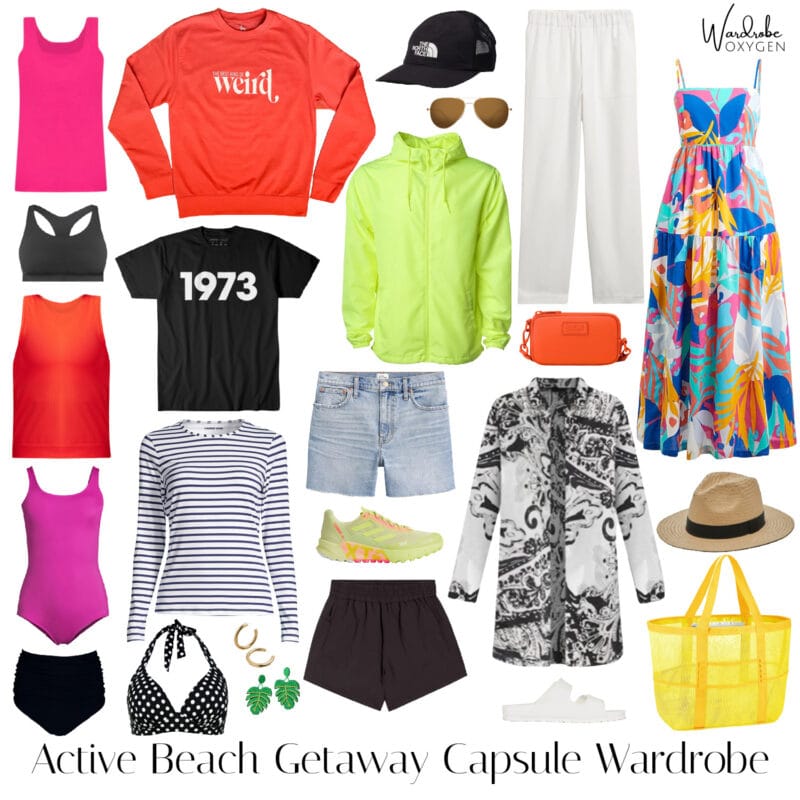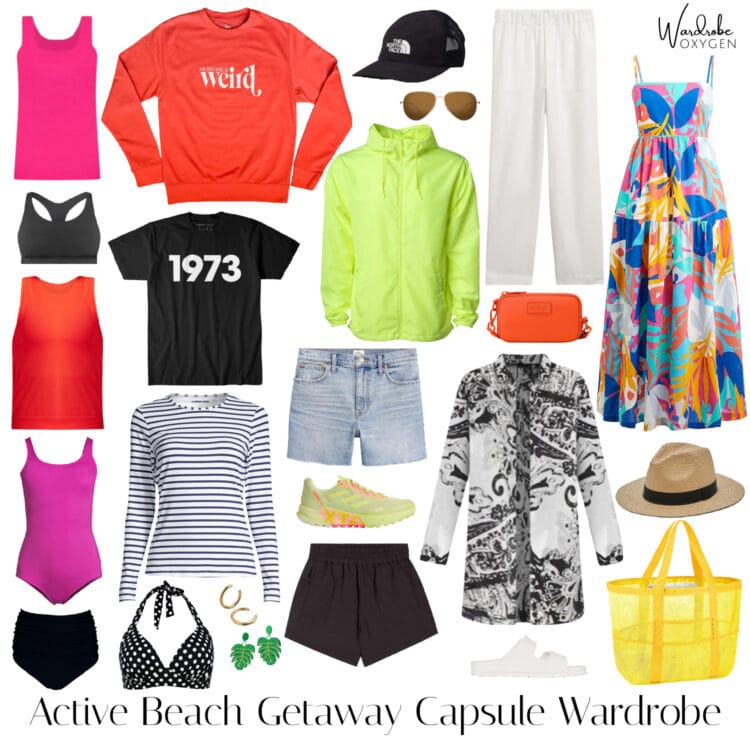 Links to Items in this Capsule Wardrobe:
black graphic t-shirt | hot pink microfiber tank | orange tank | black and white linen tunic | striped rashguard | hooded windbreaker | orange sweatshirt | printed sundress | polarized sunglasses | leaf earrings | hoop earrings | halter bikini top | black swim bottom | denim shorts | pink swimsuit | black shorts | black sports bra | white sandals | sneakers | orange bag | yellow tote | straw hat | baseball cap | white pants
Since this active beach getaway capsule wardrobe is based off my own closet, I can attest to a lot of the items featured here, and can share fit tips:
1973 Black T-Shirt: You can see me wear it in this blog post and this post on Instagram. I have size Large. It is a year old, has gone in the dryer several times and look almost new.
Orange Sweatshirt: The sweatshirt says, "The Good Kind of Weird" and is merch for a muralist and home influencer I follow on Instagram. I own it in 1X because I wanted it a bit oversized. I've put it in the wash and dryer a dozen times and it still looks and fits great (no shrinkage).
Pink Tank: Most every capsule wardrobe I create includes one of these tanks from Chico's. Made from microfiber, it's a bit dressier than a regular knit tank, holds its shape, washes great. I've even worn them for workouts. I wear a size 2.
Orange Tank: I don't own this exact tank in orange, but I have an older version in orange and this version in black. This is a favorite top because it is great for fitness, but can also look polished enough for street wear.
Black and White Tunic: I don't own this exact tunic, but I've owned a lot of Chico's linen and have other tunics and wear them often. You can see me wear a different (slightly shorter) Chico's linen tunic on the beach here and as streetwear here. If in doubt (or if you have fuller arms/bust) size up.
Striped Rashguard: It's UPF and it's Lands' End and it's awesome. I have the Large Petite, you can see it on me here.
Windbreaker: I actually link to this one from Chico's which I took on my beach getaway, and you can also see me wear in this Instagram Reel. I like that it's UPF 50, battles wind, moisture wicking, and will keep you dry during a light shower. Oh, and tons of secure pockets. If in doubt, size down.
Sunglasses: If you're in the Wardrobe Oxygen Community on Facebook you know I am obsessed with these ROKA aviator sunglasses. I used to be a Ray-Ban aviator gal, but these give the same effect while being far lighter weight, more durable, polarized, and don't slide down my nose even if I am sweaty. They look great even if you have a big head like me.
Hoop Earrings: Like the Chico's tank, I always include these hoops because they're pretty lightweight, bold enough to make a statement, and a reasonable price. I wear them almost daily.
Halter Bikini Top: I own this same top in a different print and love the fit and comfort.
Pink Swimsuit: I own this in black and think it's the best swimsuit for grown-ass women.
Denim Shorts: I think these are the 2022 version of the same shorts I bought last summer from J. Crew and you can see me wear here and here. Go up a size; they'll still fit but won't ride up as much.
Black Shorts: I did a full review of these shorts at this blog post. I own size XS.
White Sandals: Not everyone finds the EVA Birkenstocks good for walking but I wore these and walked several blocks multiple times a day in them without blisters. Harder to walk when wet though.
Sneakers: I recently got these and really like the arch support and they're comfortable for my wider feet. The bottom is extra grippy for outdoor activities. I'm wearing them in this Instagram Reel.
Orange Bag: This bag has been seen in a previous capsule wardrobe and I took it on my beach getaway. It's big enough for a large phone, sunglasses, a lip product, and a small ring of keys and has pockets for multiple cards and cash. You can see me wear it here and here I wore it as a crossbody. You can also remove the strap and carry it like a clutch (or a wallet in a tote).
Straw Hat: I bought essentially this same hat from Banana Republic at least five years ago and it's still going strong. I wear it ALL THE TIME, and love that it comes in sizes.
Baseball Cap: I've had this hat also for several years. I like that it's pretty nondescript, it's a pretty neutral timeless brand, and it's a trucker cap style so it has ventilation and doesn't smash down my hair/sits higher.
The rest of the pieces are similar concepts to what I own, or achieve a similar effect (the dress I thought was a fun print and not jersey so it will dry fast and not cling in the heat). Since most of the pieces are pretty simply, you likely can find similar at other retailers, in other sizes or colors, or may have such pieces already in your closet!
How Many Days Will This Capsule Wardrobe Cover?
This capsule wardrobe was created assuming you have access to a laundry while on your vacation. While I have two swimsuits (wear one while the previous day's suit is line drying), everything else I only have one piece for a category, and they are worn for multiple situations where they may get sweaty, sandy, or just need a proper refresh.
That being said, nothing in this capsule wardrobe is so delicate that it can't be cared for by washing in the sink and hanging to dry until its next wear.
But with that, I was able to create over 27 unique looks from 14 garments that includes swimwear (I considered the two-piece as one garment). These looks can be re-worn for additional days, and if you add a few items from your closet (I can envision a lightweight sweater, a straw or raffia clutch, a pair of dressier sandals, a white linen shirt, and some walking- and water-friendly sandals) you can get another half-dozen looks added to this capsule wardrobe and may not need a single other thing for the remainder of your summer!