This article may contain affiliate links; if you click on a shopping link and make a purchase I may receive a commission. As an Amazon Associate, I earn from qualifying purchases. 
There are #gifted clothes in this post.
Monday: The Basics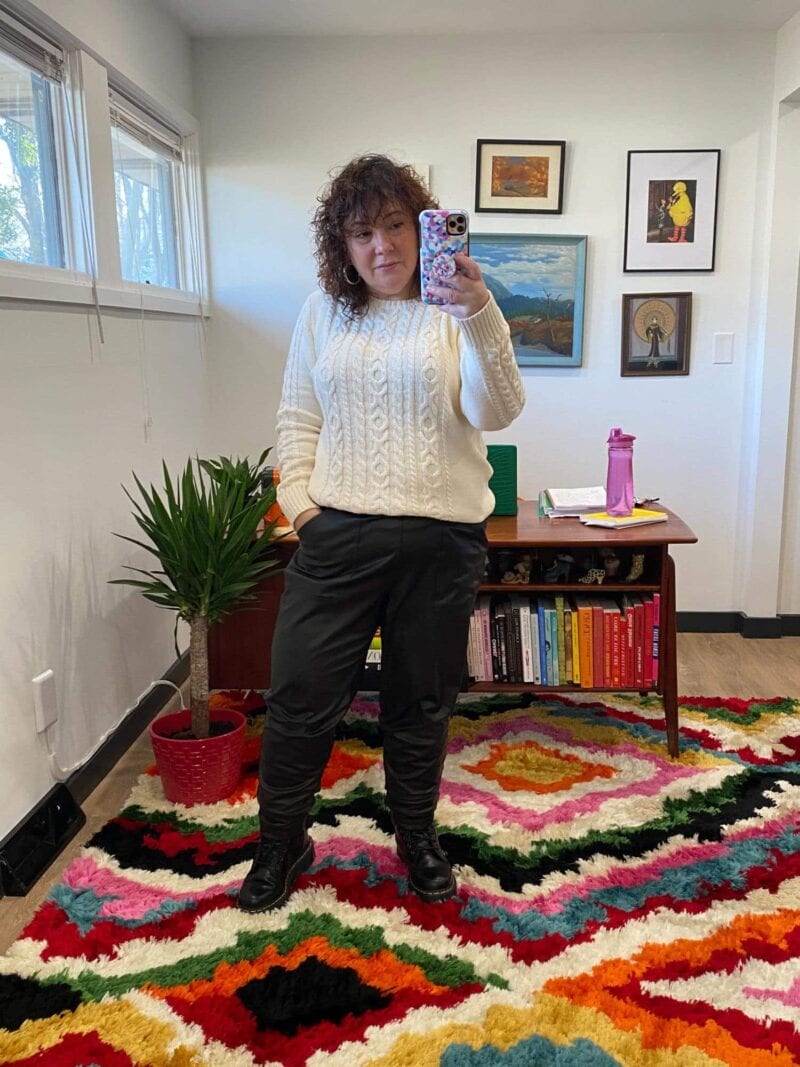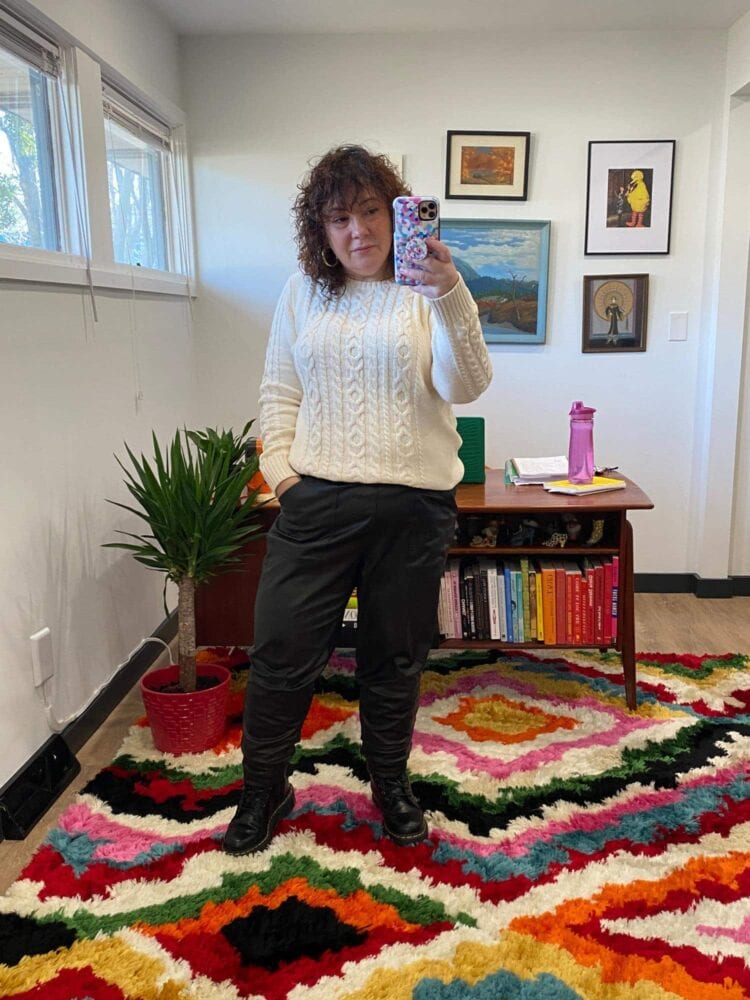 Monday was the kind of day where I am glad to have mix and match basics in my closet… and also that I document my outfits. I remembered this look and essentially replicated it. The sweater is L.L.Bean size XL, the joggers are my Spanx faux leather joggers I've had for over a year, and then my Doc Marten 'Jadon' boots. The hoops are Baublebar.
A few have asked recently on social about the sizing of the Spanx faux leather joggers. I think they run slightly large, especially after wear and washing. I am wearing a size Large, and I am usually a size 14 with a booty and solid legs. The waist is roomier this year than last year, the legs about the same size. If in doubt, size down. For example, if you are a size 10 I think you would be happiest in a medium. For more details, check out my Spanx faux leather joggers review.

Tuesday: Star Wars, But Make It Fashion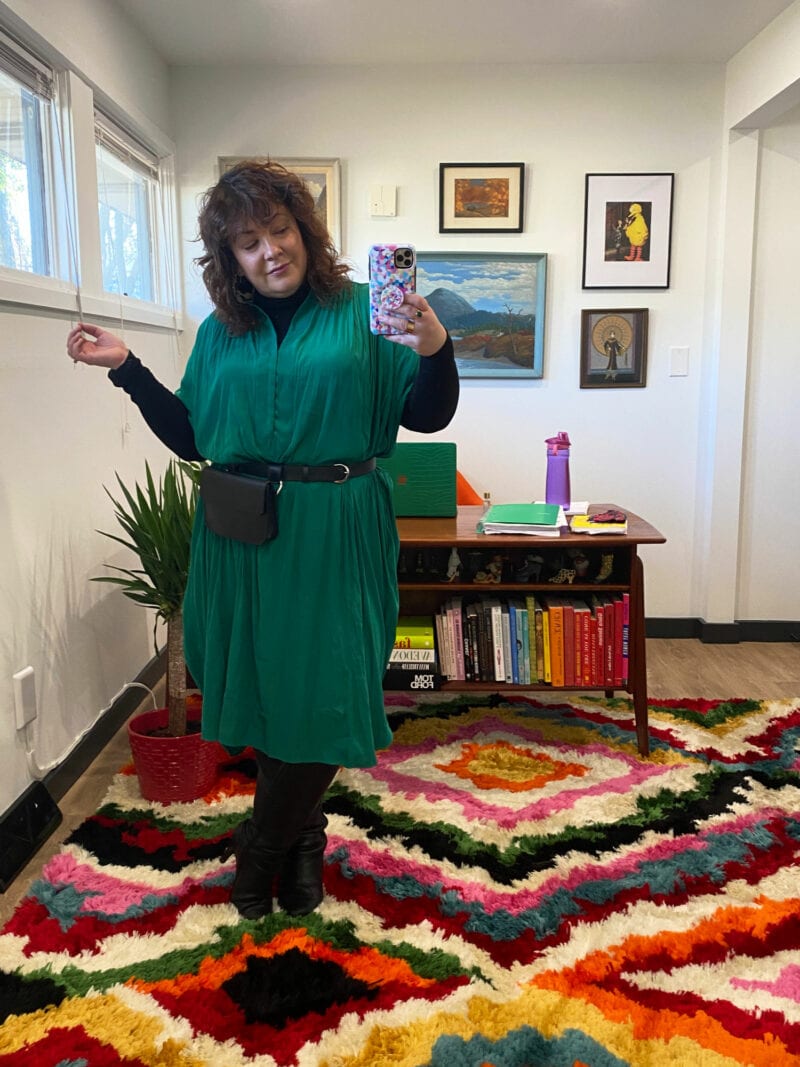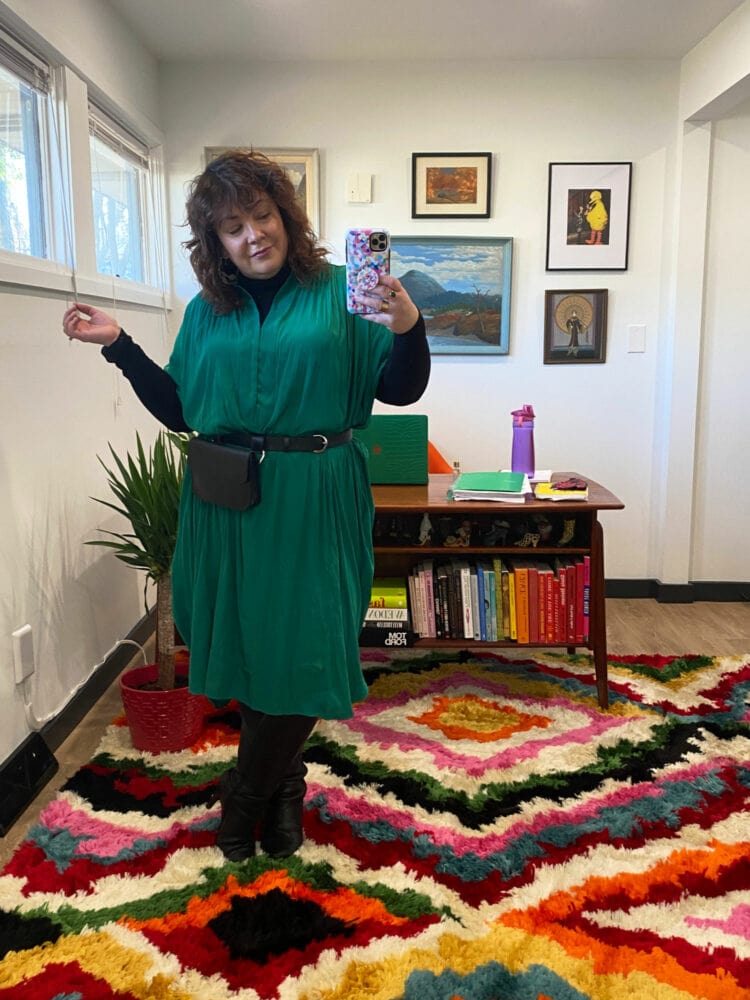 After writing my Ever by X One Dress review and then Carrie's review if the Ever by X dress fits plus sizes, the brand thanked me by sending my another dress in the color of my choice. I chose the emeraldine, which I thought would be a great color for the holidays but also for spring through fall. The color is as bright as it looks online; a true emerald green.
I love this dress. This is a great dress to wear year-round for a variety of occasions, but I also love it as a housedress. It's silky but not clingy or sheer, it has pockets, it's heavy enough that you don't feel exposed, the neckline isn't too low but not too conservative for a bit of sex appeal, and you can even button it up if you're cold. This is the kind of dress that's great when you like the idea of being naked but you don't really want to be naked. And it washes up easily and air dries super fast so you can bum around in it over the weekend at home, and then have it ready to be worn to the office on Tuesday!
Here I wore it with my Universal Standard foundation turtleneck, tights (which I hate, yes, even Snag and Hipstick ones but know they're a necessary evil in the winter), and boots. To make the black feel purposeful, I tried a variety of black belts in my closet in place of the self belt. A skinny belt looked too small, an obi belt too heavy. I ended up using my old Universal Standard belt bag previously worn here (no longer available, this is similar).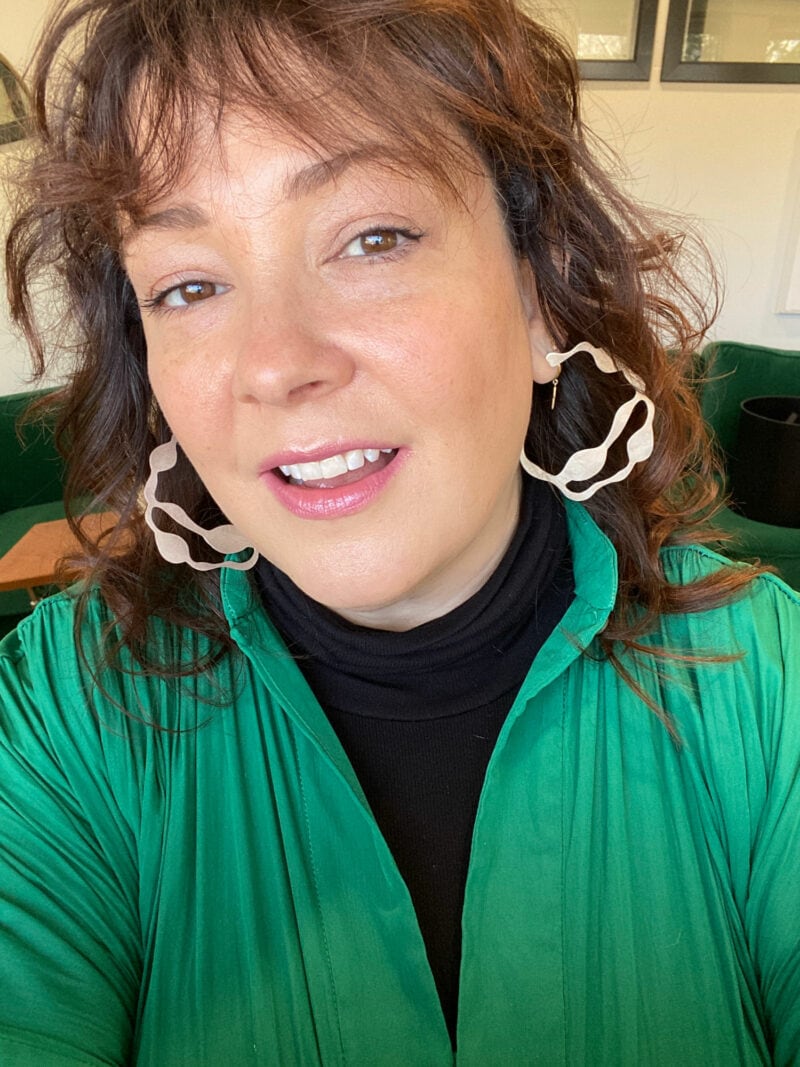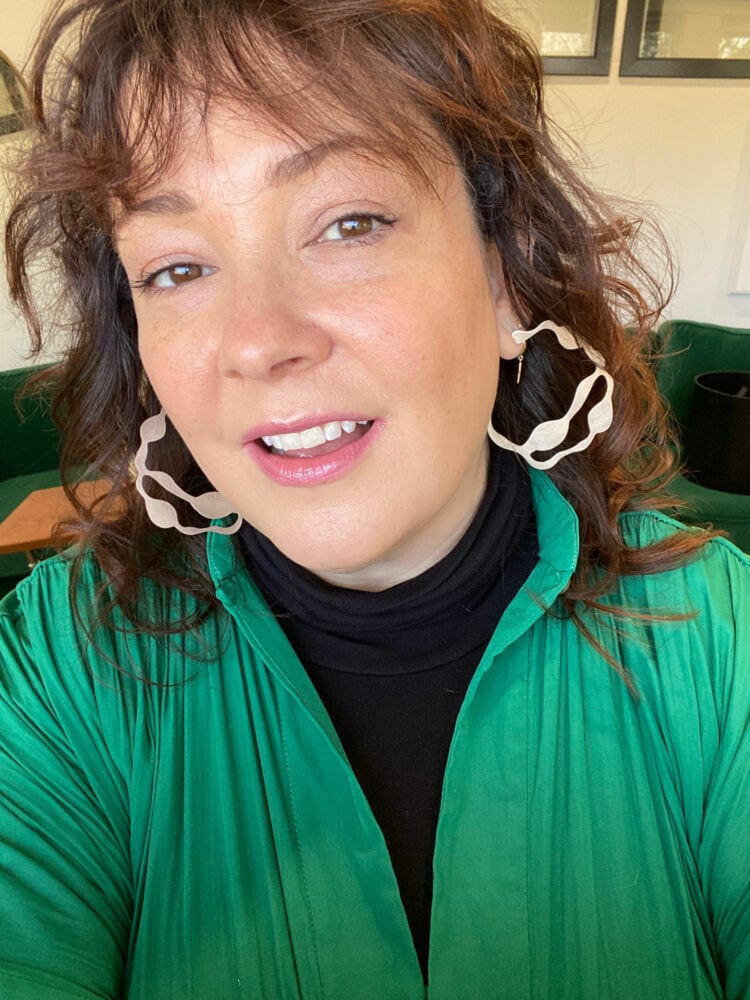 It felt a bit Star Wars but I liked it. I added my Denisa Piatti custom hoops because this look was modern yet sort of artsy/eclectic and I felt the earrings had the same vibe.

Wednesday: Cashmere and Corduroy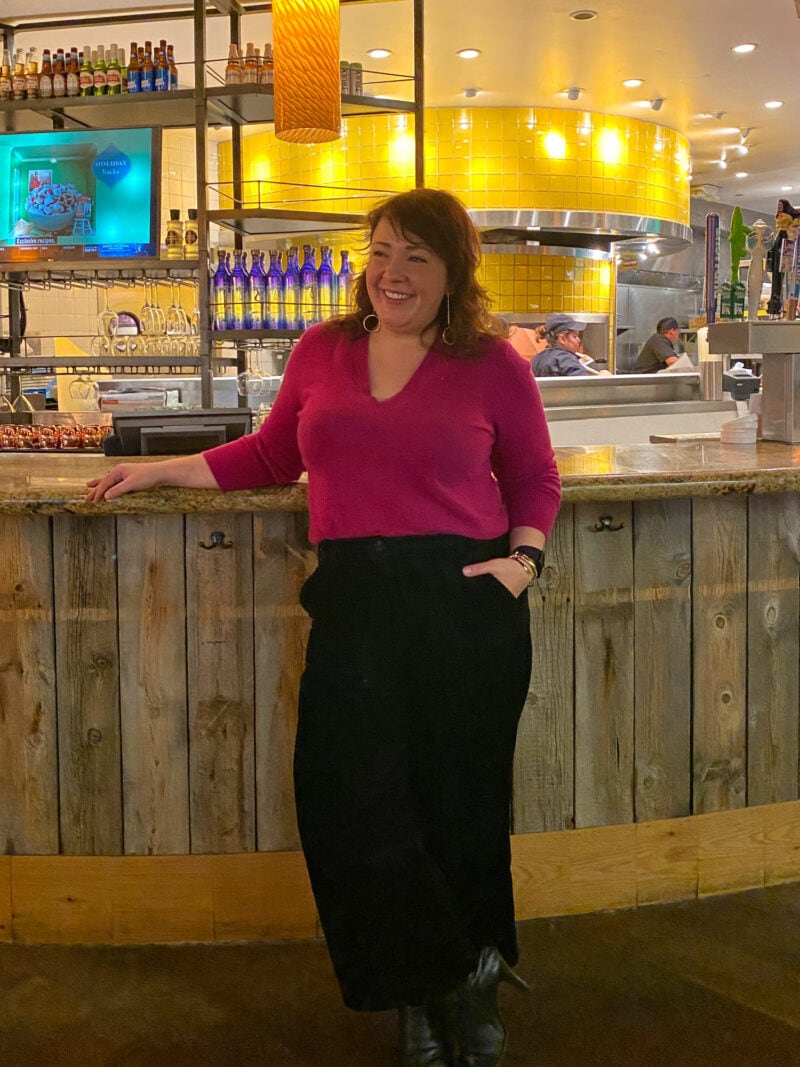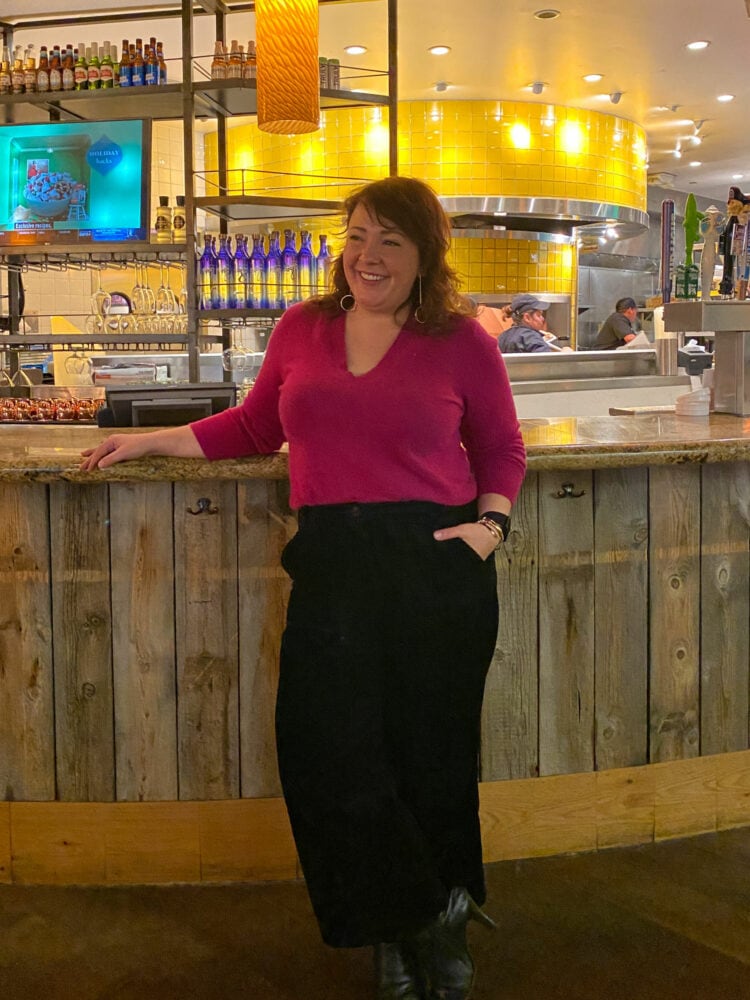 Wednesday I didn't go into the office as I had a lot of errands to do and also took my mom to an appointment about 45 minutes away. I got her to capture my "OOTD" at dinner at the end of the day. I am wearing my Universal Standard cashmere v-neck in size XS with a new pair of corduroy pants gifted to me from Seasalt Cornwall (size 14). I finished the look with the same tall boots from Tuesday slipped under the cropped pants and my now-discontinued Jenny Bird Medium Edie hoops in gold.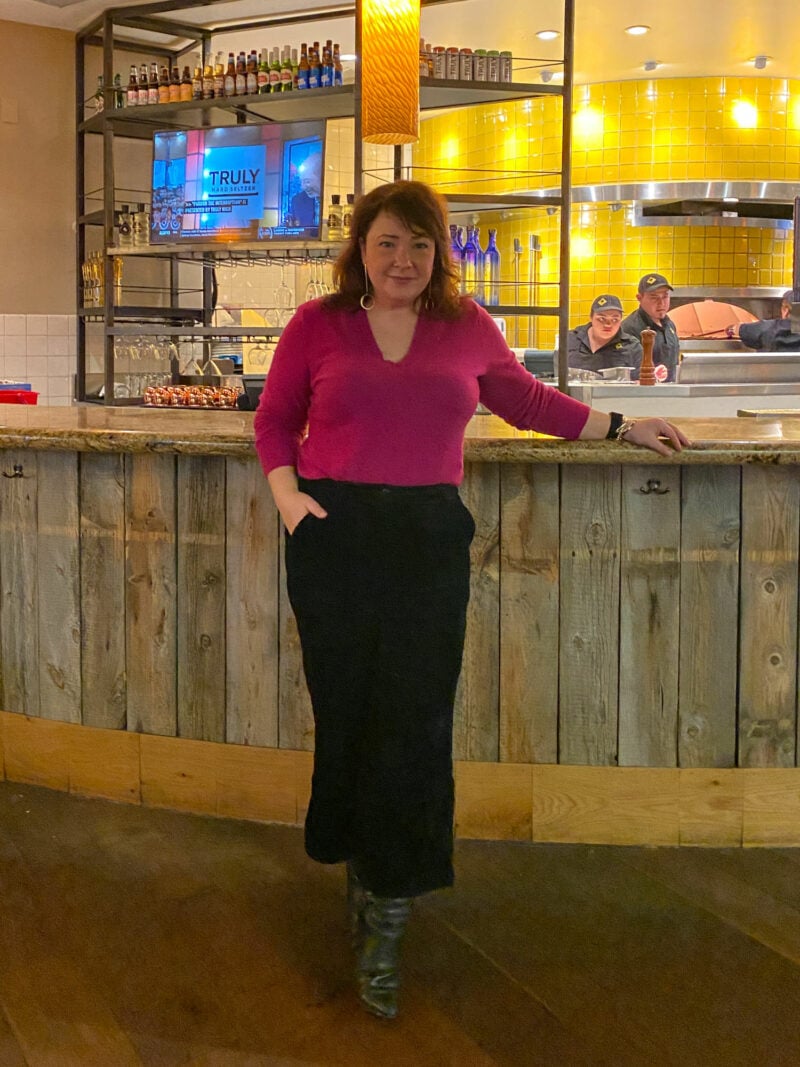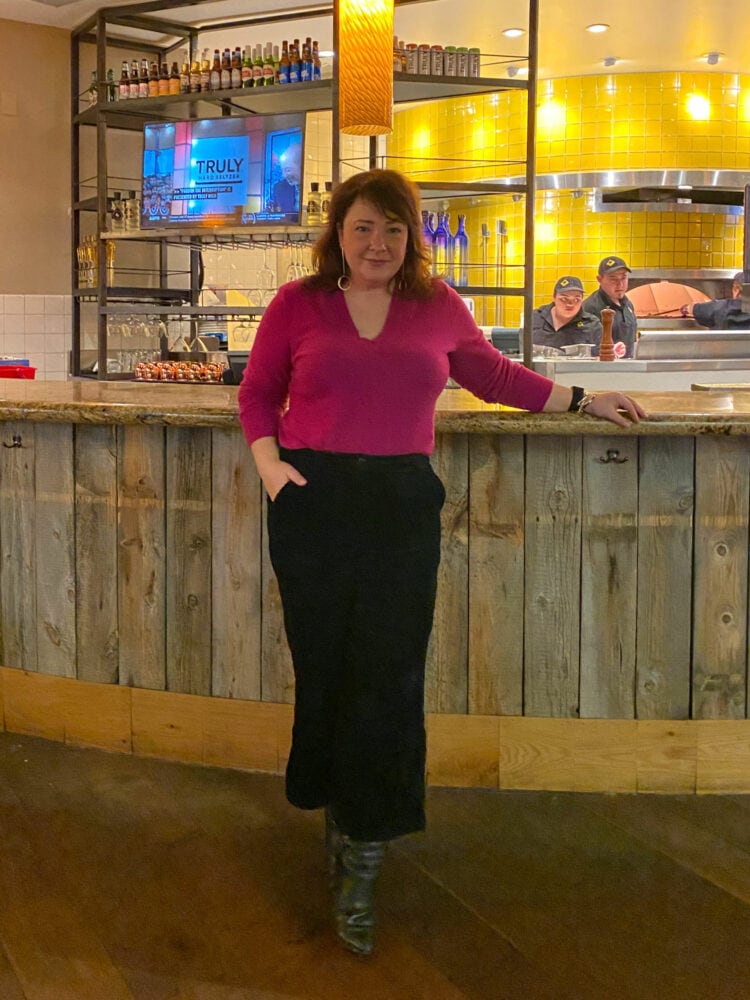 I had not heard of Seasalt before they reached out, but I liked their commitment to sustainability and that they go up to a US 22/24 with petite options. While not everything from Seasalt is my personal style aesthetic, I found some items that really appealed to me like these wide-wale cropped pants. I found they fit pretty TTS and it makes me want to try more from this US brand that ships to the US ($10 shipping here or free for orders $150+). Stay tuned, I'll be sure to capture these pants in better lighting so you can see the detail and fit more clearly.

Thursday: Winter Classic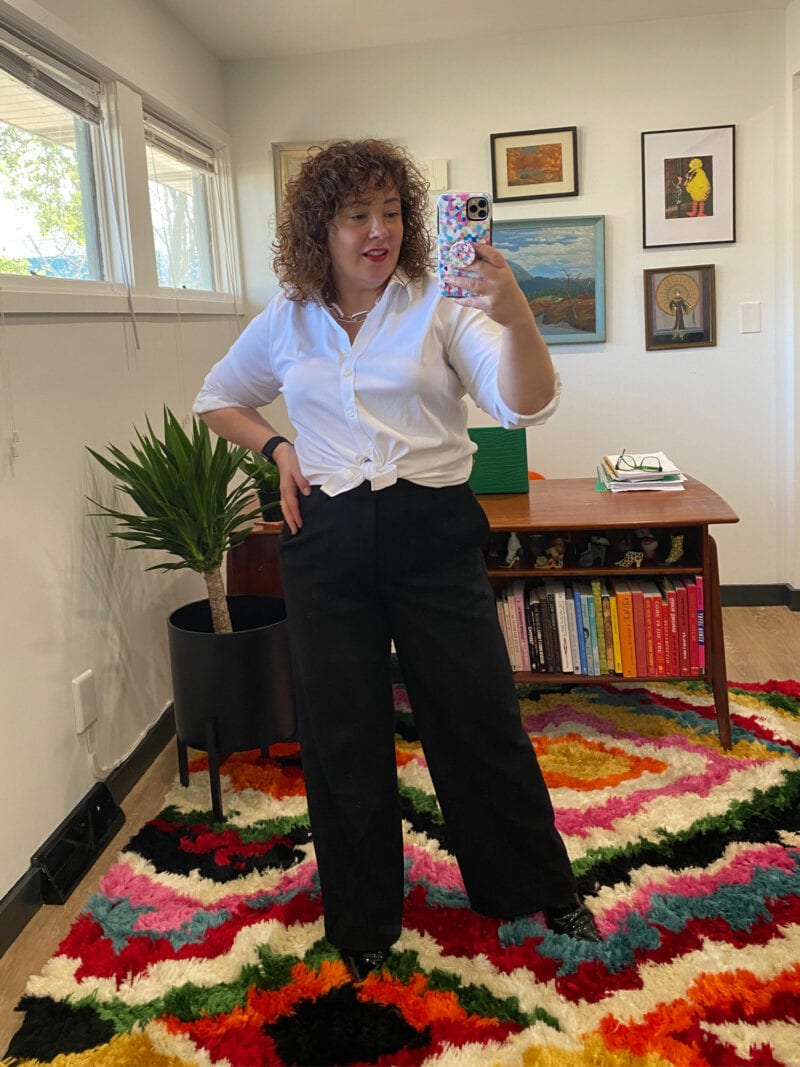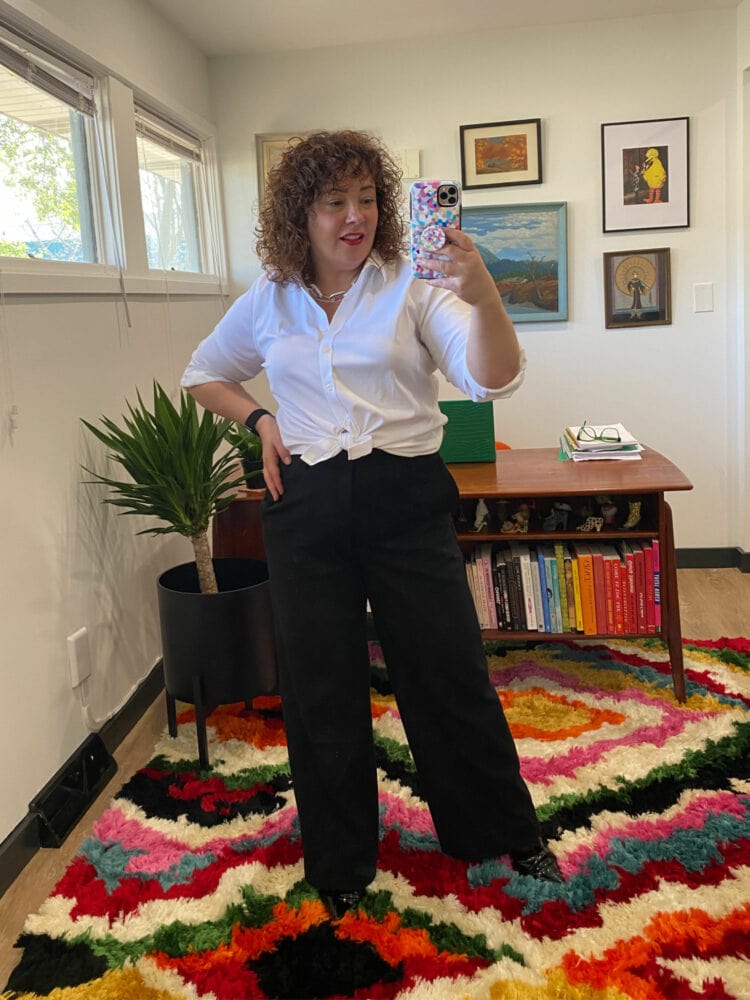 If you follow me on Instagram, you know I had a lot of stories about this white shirt from Chico's. It is an awesome shirt; you don't need to iron it, it's opaque yet silky and soft but also crisp, it fits my bust and shoulders, it makes me like button-front shirts. And at the time of writing this, it's 30% off. For reference, I am wearing Chico's size 2. It is tied in a square knot, just making sure the outside of the placket side is folded over first to have the space between buttons and tie smaller/less stomach showing.
The pants are Banana Republic Factory and no longer available, but these pants from Banana Republic are a similar cut with a nicer fabric (mine are a wool blend that looks like flannel and collects lint like crazy). The necklace is my mega link from Jenny Bird (sold out; here is a thinner version), the boots are extremely old from ASOS (love them for cool wide width shoes).

Friday: Photo Shoot
I will have an Instagram post coming up soon in partnership with Lane Bryant, and these are two photos from the shoot featuring the clothes that the brand gifted to me.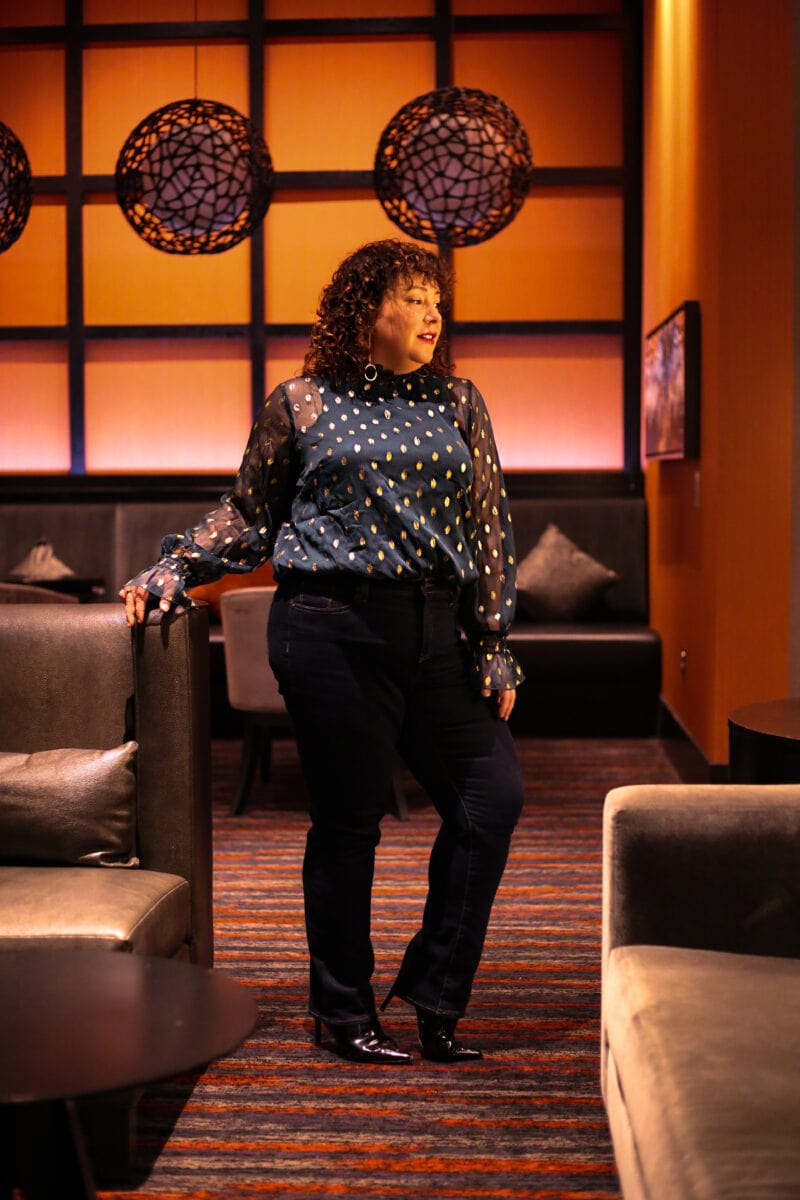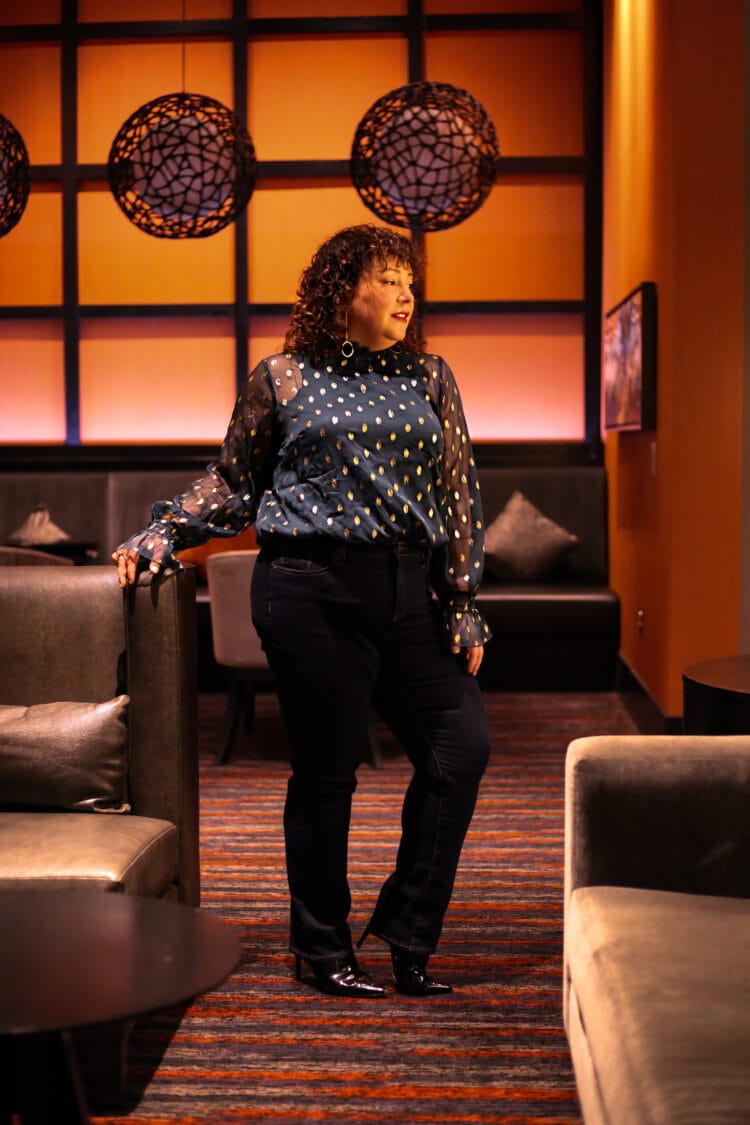 For this look, I am wearing these Chico's jeans in size 2 with this top from Lane Bryant in size 14. I think this is a pretty cute top; it looks nice untucked with skinny ankle pants and a pair of pointed flats, boots, or pumps but also looks good tucked in. It is the teal color, but the space was dark so it's hard to see. It also comes in black, and it's a good "I need to look festive but it's cold out and I don't feel like having my boobs on display" kind of blouse. One review says you need a cami which confused me as it has a built-in opaque lining on the torso.
I am wearing with it the teal Talbots crossbody I featured in the Friday Shop (not seen here but you can see it on Instagram), my ASOS booties from Thursday, and my Jenny Bird "Edie" hoops from Wednesday.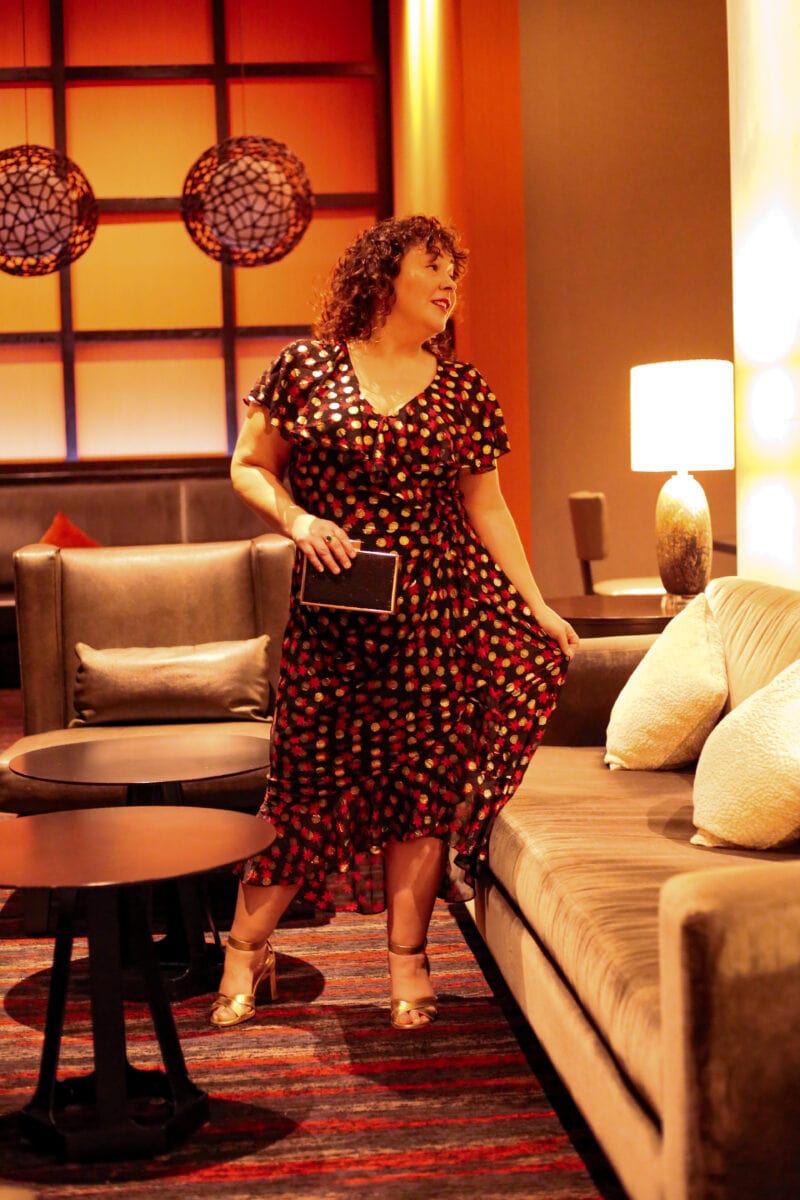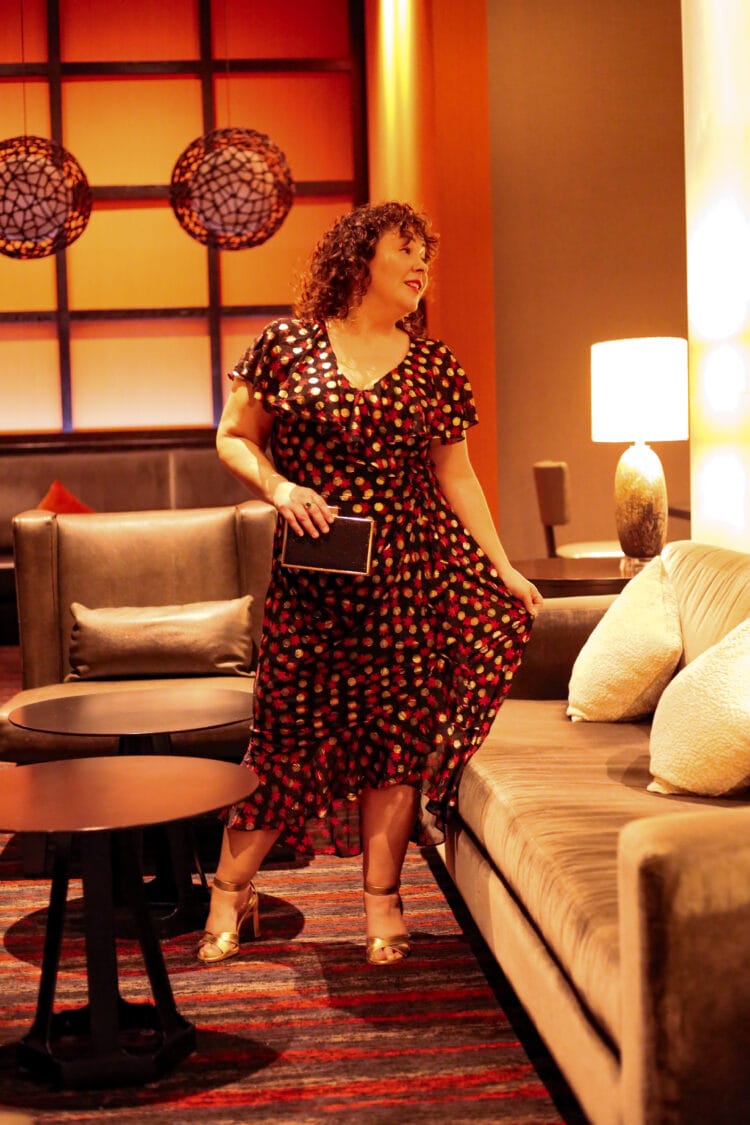 For this look I am wearing this dress from Lane Bryant in size 14 with the Uptown Sandal from Margaux and an old sparkly black and gold box clutch I got from Karl Lagerfeld for Macy's about five years ago. This shoot made me realize this clutch fits my five-year-old iPhone but not my 2021/2022 phone so I am donating it to Uncommon Threads, an organization in Massachusetts that empowers women through fashion. I am now on the hunt for a similar goes with everything clutch as I bet such bags will be on clearance after the New Year!
Anyway this dress… I am not a fan. I like the concept, I think the fabric is pretty, but the cut is weird. First, you can't zip it up on your own, which is always frustrating. Second, it has gathering on the side of the torso which I think is to create an hourglass effect, but unless you have a pear/curvy lower body just ends up looking like a maternity dress emphasizing one's stomach. The dress gets great reviews online and luckily a lot of those reviews have photos so you can see if they have a similar shape as this dress is a great price. If in doubt I suggest sizing down; the dress has some stretch.

Saturday: Day of Rest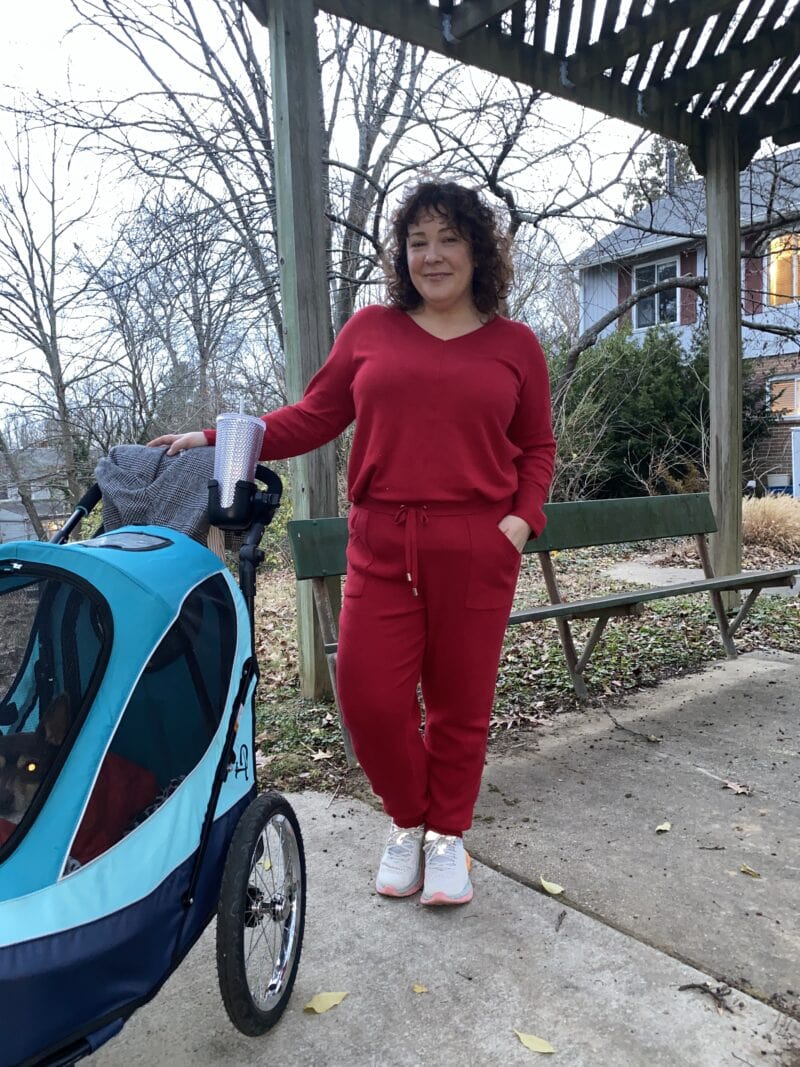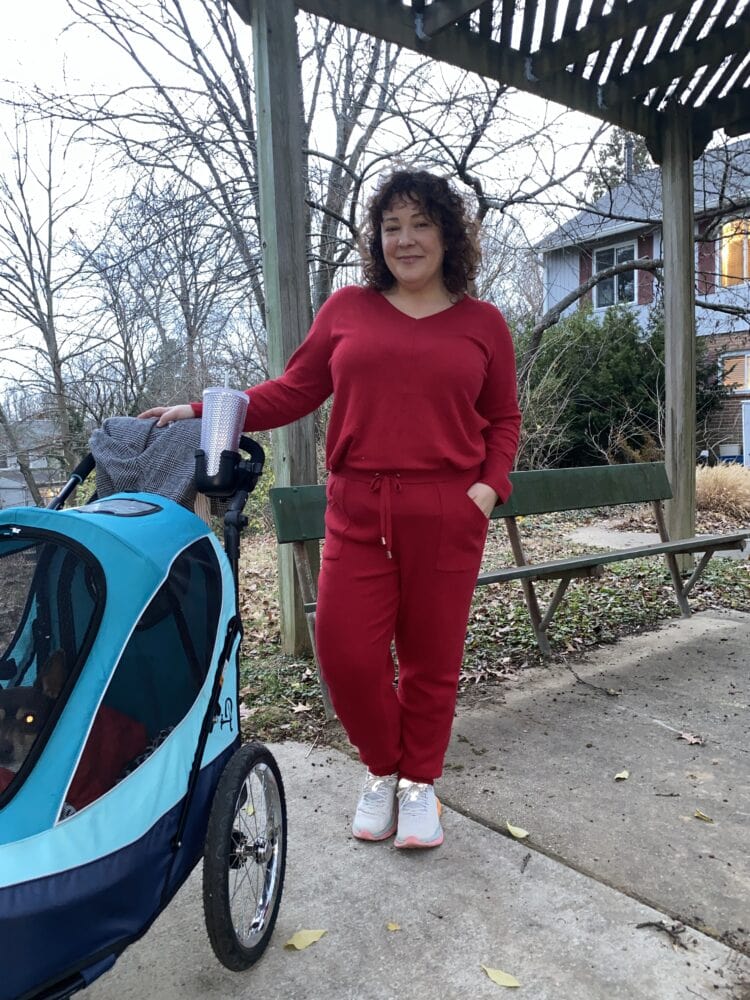 The week was so fast-paced, I spent Saturday doing a whole lot of nothing and feeling cozy. Last winter I was obsessed with Chico's cotton cashmere separates. I was happy to see they brought them back and the brand was kind enough to send me these joggers (size 1.5) and this sweater (size 2). AND at the time of writing this, the pieces are 30% off! My husband captured this photo when we took a break from lounging to get a walk in.