This article may contain affiliate links; if you click on a shopping link and make a purchase I may receive a commission. As an Amazon Associate, I earn from qualifying purchases.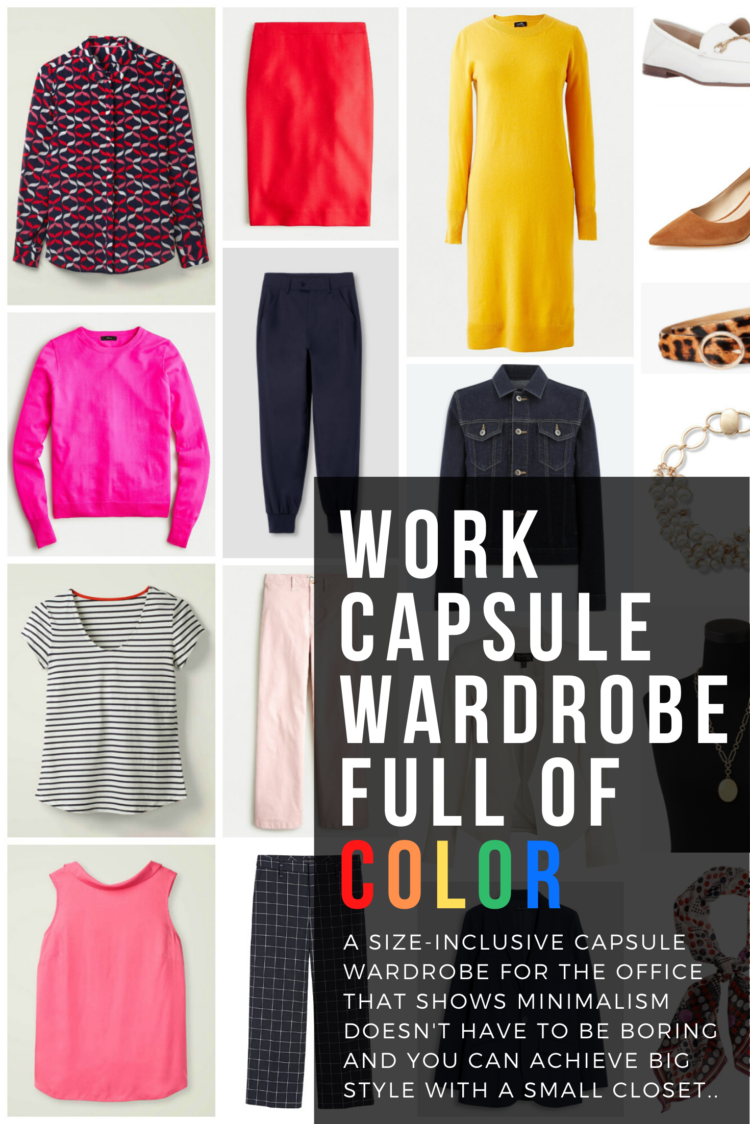 A reader reached out to me asking about how to incorporate color into a capsule wardrobe for work, and to find work fashion that is modern and vibrant in a size 16.
"Hi Allie, I hope you can help me. I recently got a new job and I'm switching from a super casual office to a business casual dress code with the occasional nicer look for client visits. I don't want to buy a lot of new clothes, and I don't want to have to resort to boring colors. I love color, I love print, and I love having fun with fashion. I'm struggling to find anything in a size 16 that isn't juvenile or really boring. I'm sometimes a 14W, sometimes in pants I take an 18 but usually 16 works for tops, dresses and knits. Where should I shop?"
Minimalism and capsule wardrobes don't have to equal neutral colors and boring silhouettes. In fact, I find when a closet is full of happy colors and fun silhouettes, it's more enjoyable to wear the pieces over and over and play with mixing and matching. I made a colorful size-inclusive work capsule wardrobe; everything in this capsule wardrobe is available at least up to a size 20 and nothing in it is boring yet it's appropriate for a grown-ass woman. There is a mix of more casual looks for office days and pieces to dress more formally for client visits. This capsule will also work with items that likely are already residing in your closet to extend the potential outfits for now into late spring.
A Work Capsule Wardrobe Chock Full of Color
I stuck to size-inclusive clothing brands that offer at a minimum up to a size 20. Several of the pieces are available in tall and petite as well. When looking for work fashion up to a size 20, my favorite retailers are Talbots, J. Crew, Banana Republic, Boden, Universal Standard, and the Halogen in-house brand at Nordstrom. Everything in this work capsule wardrobe except for the accessories is from these brands because I shop them, I know them, and I trust their quality to pricepoint.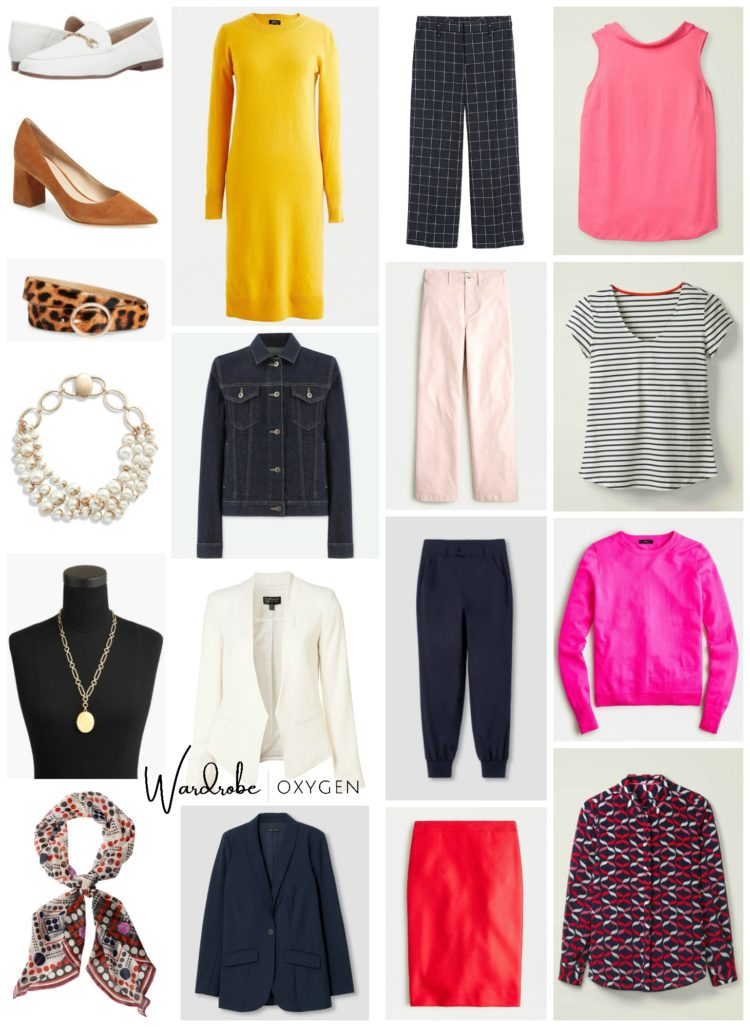 Shop the Capsule Wardrobe:
printed silk button-front shirt (available in other prints and solid colors) | striped tee (available in solid colors too) | pink sleeveless blouse (also available in blue) | pink sweater (available in other colors) | denim jacket | white jacket (available in other colors) | navy blazer (available in two other colors) | navy cuffed trousers (also available in black) | pink chinos (plus-size option) | navy plaid cropped pants | red pencil skirt (available in other colors) | yellow sweater dress (available in other colors) | printed scarf | leopard-print belt (plus sizes of same belt) | pearl and gold necklace | gold pendant locket | camel suede pumps (available in several other colors) | white loafers (available in several other colors, textures, and prints)

Sample Outfits from the Capsule Wardrobe
I was able to take this capsule wardrobe of 12 pieces of clothing and some accessories and create 25 different outfits. Below is a gallery of all 25 looks. Click on any thumbnail graphic in the gallery to see the full-size images and descriptions. Hover over the images to find arrows to advance and go back within the gallery. Click the X at the top right of an enlarged image to close the gallery and return to this blog post.
If your office is more casual, consider adding a pair of trendy white sneakers and maybe a graphic tee. If your office is more formal, switch out the chinos for a pair of wide-leg trousers in camel, blush, or gray and the striped knit tee for a silky one in a solid color like orchid or cerulean blue. The leopard belt could be replaced with a solid color in patent leather (mixes best with other leathers and suedes) or a snakeskin. The camel suede pumps also come in blush, beige (suede and patent), snakeskin, and even a pale spring green that can be a fun colorful neutral. If white loafers aren't your thing, they can easily be replaced with a pointed-toe flat, low-heel pump, or a slingback in any neutral or accent color (or a leopard or snake print). If the navy joggers-inspired suit pants are too trendy for your taste, a classic navy suit (I like this jacket and these pants (here's the plus sizes link) from Talbots) can be switched out easily.
Shop Possible Capsule Additions:

While this capsule wardrobe may not fit with your personal style aesthetic, I hope it inspires you to think in the idea of capsules. Note how each piece of clothing was styled at least three times in completely different ways. Think about items in your current closet and how they may be styled in different manners, or that one item you could add to your closet to make everything else work better together. And remember that being a minimalist or sticking to a capsule wardrobe doesn't mean clothing has to be boring. Play with color, print, and silhouette. You may find it makes the work of paring down your closet that much more enjoyable!
Shop the Colorful Work Capsule Wardrobe: