This article may contain affiliate links; if you click on a shopping link and make a purchase I may receive a commission. As an Amazon Associate, I earn from qualifying purchases. 
While I share at least one look each week on Wardrobe Oxygen, I clearly wear more items during the week.  And some of those looks I remember to photograph.  I regularly share those photographs on Instagram Stories, but I wanted to share them here too.  It shows how I mix and match the same pieces in my closet over and over to create completely different looks.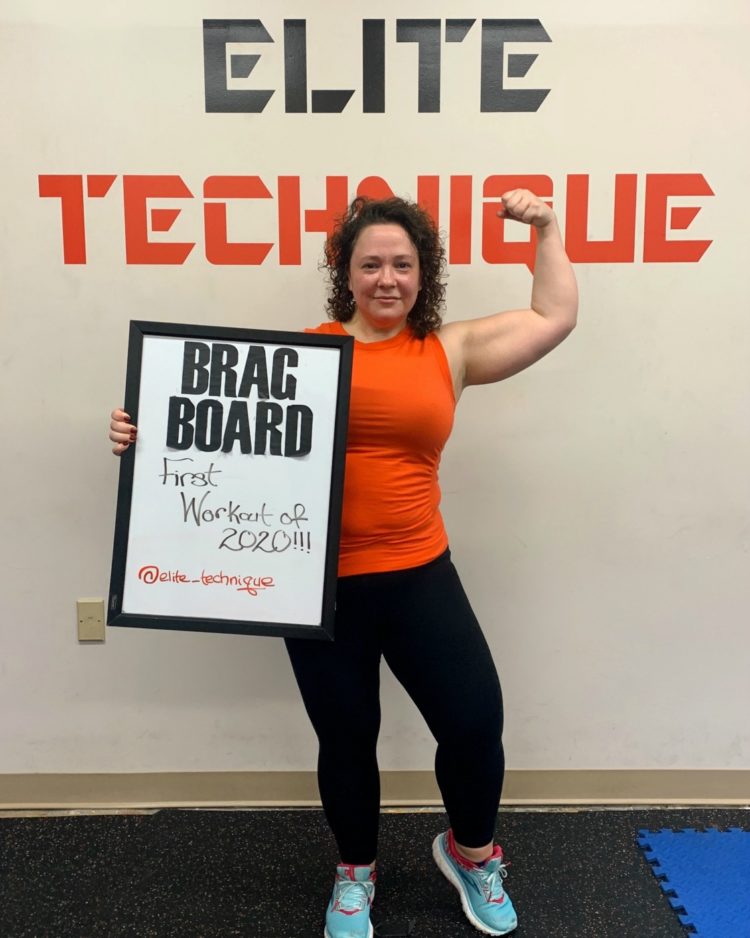 First workout of the new year at my gym, Elite Technique! I'm wearing one of my more recent activewear purchases – the Foresthill Ascent Tank from Athleta (size Large). I like the wool blend, it wicks away moisture, the perforated back keeps me cool without exposing me, and it's my favorite color.  I've washed it so many times and though it says lay flat I sometimes throw it over a shower curtain rod but sometimes throw it in the dryer with my other activewear and it hasn't shrunk and still is richly colored and a great fit.  As for the leggings, I don't remember which ones they are!  Likely the Zella Live-In Leggings as I have three pairs (I only buy when they're on sale and I wear Large). The shoes are Brooks, they're the Ghost 12 and a special color for Zappos' 20th anniversary.  I got them free as part of a promotion for Zappos' anniversary and are my first Ghosts… but dang they won't be my last!  They are so comfortable and so springy.  Not good for leg day because they do have a lot of boost in the heel, but really good for running, elliptical, and cardio classes.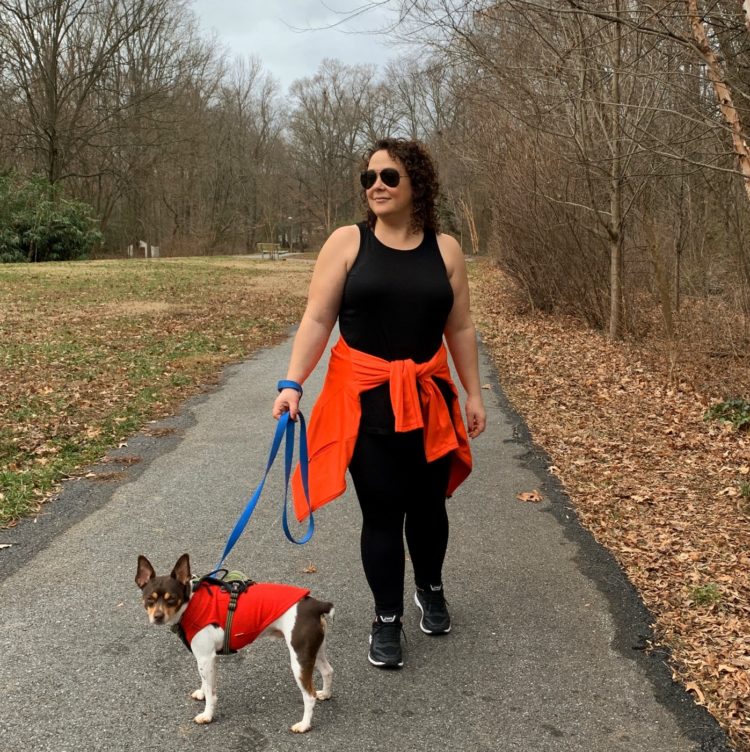 Another activewear post! We've had the weirdest winter.  Usually in January we're dealing with ice and snow but we've had several days in the 60's like this one.  I am wearing the Soma Split Back Tunic (Large) and the Soma Moves Nonstop Leggings (Large), both which I featured in this post.  I love both these pieces and wear them quite often.  The description of "split back" doesn't sound appealing to me; I have one of those tops from Old Navy and I hate it because my back is on display as soon as I bend over in the slightest.  But this one, the split is right at the waistband so it just gives freedom of movement without exposing skin. The leggings are so good.  They're not heavy but they stay opaque.  They have a nice high waistband that stays in place and deep side pockets that can hold things like your phone, sunglasses, and a wallet.  I've even slipped my water bottle into them! The shoes are Asics, I bought them a year or so ago from Nordstrom and I think this is the current version of them.  The orange jacket around my waist is from Talbots and it's old.  I did an in-store event with Talbots… gosh I think it was four years ago and received store credit and it's one of the things I bought.  It has held up beautifully, and again is my favorite color.  I love that it has exterior pockets but the way the pockets are stitched inside it's like two pockets in there too.  I regularly use it for the gym because the jacket can carry my wallet, earbuds, lifting gloves, lip balm, and phone and have it all secure and not have me look like a sherpa. I was looking at Talbots' New Arrivals and this looks like a very similar jacket, especially based on the customer reviews.  My jacket is an XL and it's a bit big so if I was buying this year's version I'd get a large.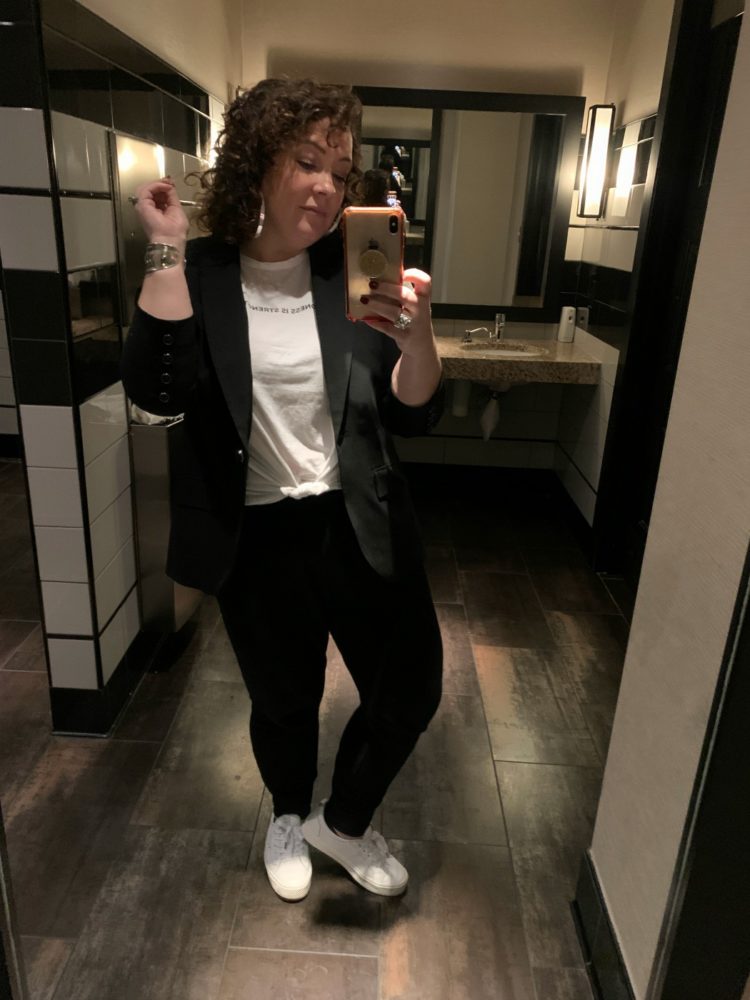 This is essentially the same look from this blog post.  Same blazer, same joggers.  The t-shirt is from J.Jill from a collab they did with Christian Siriano and they sent me the shirt last year for free to promote it but it has become a favorite.  The shirt is still available but in very few sizes (for reference I got a Large Regular and find it to be roomy and not to shrink in the wash).  The sneakers are from Cariuma; I was sent them to feature on Instagram Stories but I like them so much I wear them regularly.  I find them pretty roomy for my wide feet, very low profile so my feet don't look like marshmallows, and I like that they look trendy but aren't obviously some brand.  All this plus the company is very eco-friendly and has cool business policies. The earrings are from Jenny Bird (gifted from the brand); they're no longer available but these look similar and I love these which are more budget-friendly.  The cuff is very old; I write about it in this blog post. The ring is from REALM (gifted from the brand). I wore this look to go out to dinner to celebrate my daughter's birthday with family.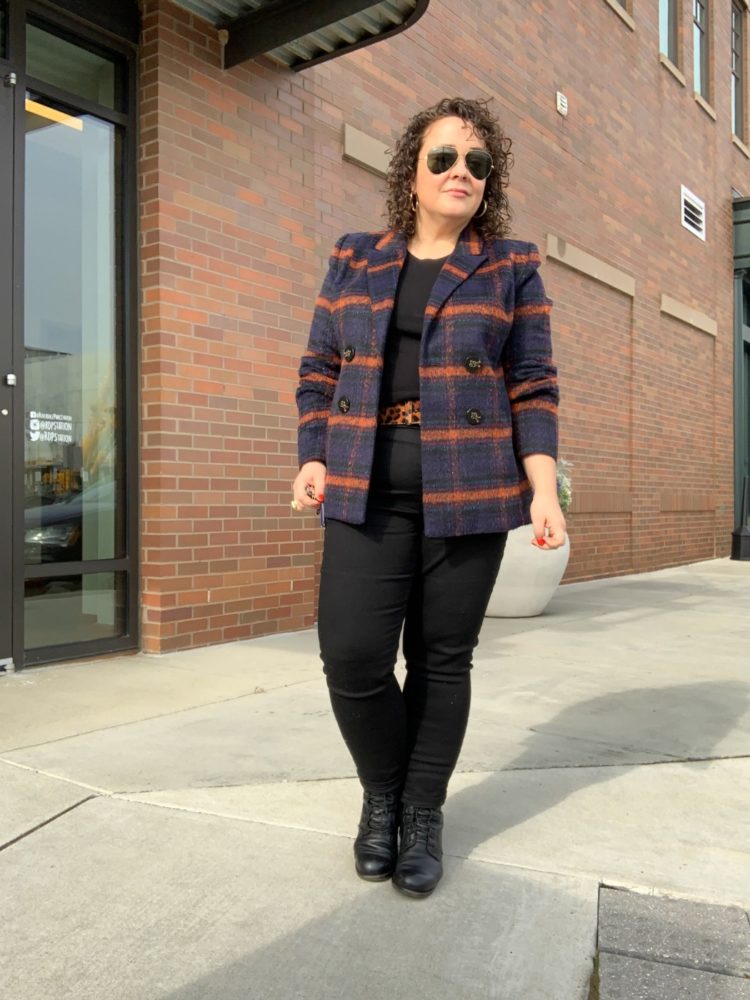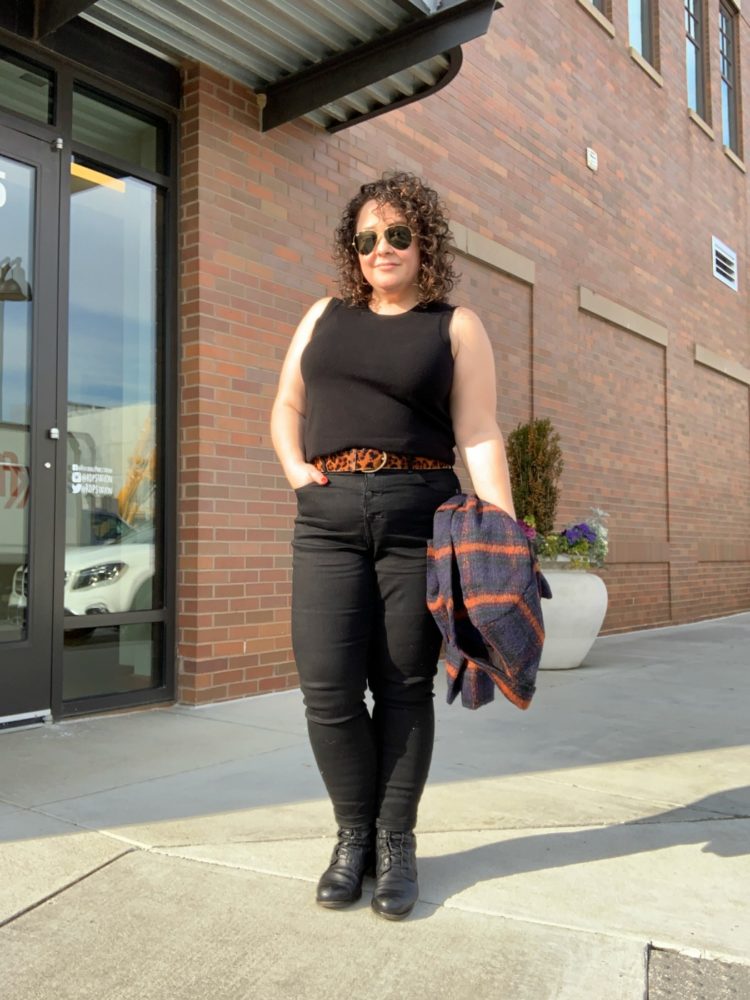 Earlier this week I shared an outfit and said I was already wearing the jeans and belt… well this is what I was wearing earlier in the day!  I was running errands – picking up Girl Scout cookies, going to the grocery store and UPS store and tailor and I treated myself to a solo lunch at a nice restaurant. The jacket is from cabi; it was part of their fall collection so it's no longer available, though you may be able to find it on eBay, Poshmark, or at a cabi outlet store. The black shell is cashmere and from Everlane; it comes in four colors and they also have a matching cardigan for a classic twinset.  I got size Large and I love it; in fact as I type this I'm wearing it! Same cashmere as their crews, a nice fit, hits right at the waistband in a classic twinset manner, hides my bra under the arms. The jeans are also Everlane (32 short) and both pieces were gifted to me by the brand.  The belt is also cabi and also from last year but in Monday's blog post I offer a similar one.  The boots are from La Canadienne and I adore them and wore them today too! The earrings are from Chico's (a gift from the brand, really awesome, good quality and only $20) and the sunglasses are Ray-Ban.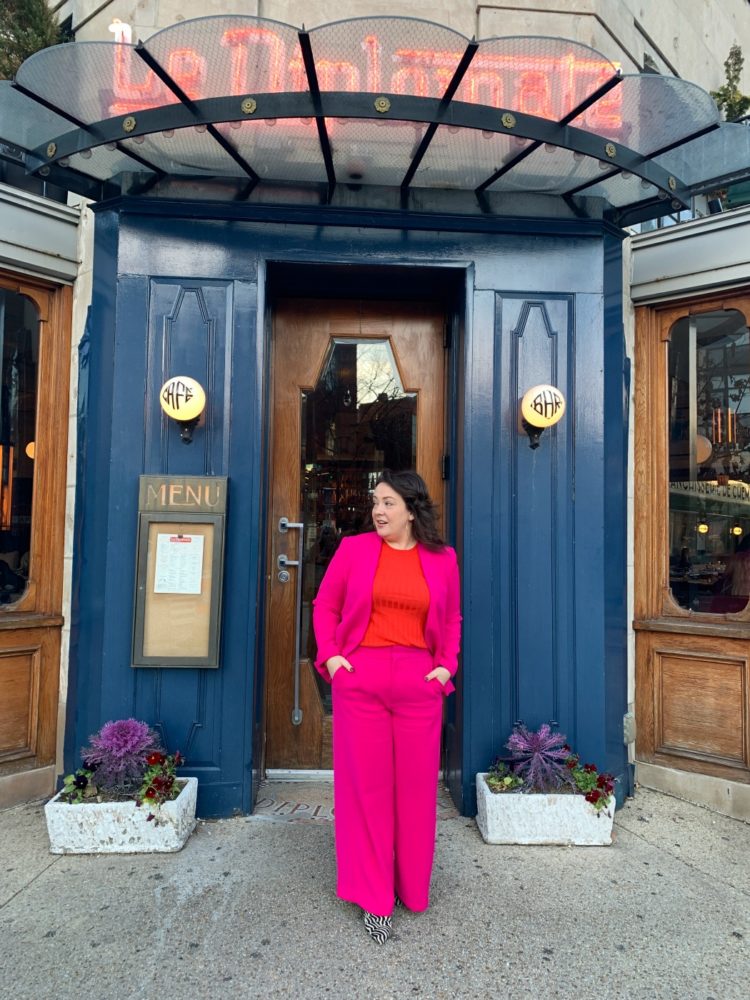 This is the same exact suit and sweater I wore in this blog post, I just switched out the shoes for my MIA sock booties that I've worn to death all fall and winter.  The exact bootie I have is no longer available but DSW has one that unless you're looking at the top of the boot it is exactly the same. My friend hosted a lunch at Le Diplomate, a popular French restaurant in DC to celebrate the restaurant now offering lunch service on Fridays.  I knew there would be photos taken, in fact I knew I'd be sharing the lunch on Instagram so I wanted to look cute but also be comfortable.  As soon as I got there I removed the blazer because it was more casual but was glad to have it for photos.  This was perfect, the shoes added pizazz and kept it from feeling corporate, the sweater is pretty on its own, and the pants are machine washable which is a good thing because I dropped part of my dessert in my lap!  Neither the jacket nor the pants are still available in this color but they have more neutral colors available (they're from Banana Republic, both pieces are size 14 and sleeves and pants shortened by my tailor). The sweater is still available and on sale for $47.  It's washable merino, not itchy, fitted without being too clingy for the office, and comes in a ton of other colors too.  For this I purchased a size Large.
Shop the Looks: